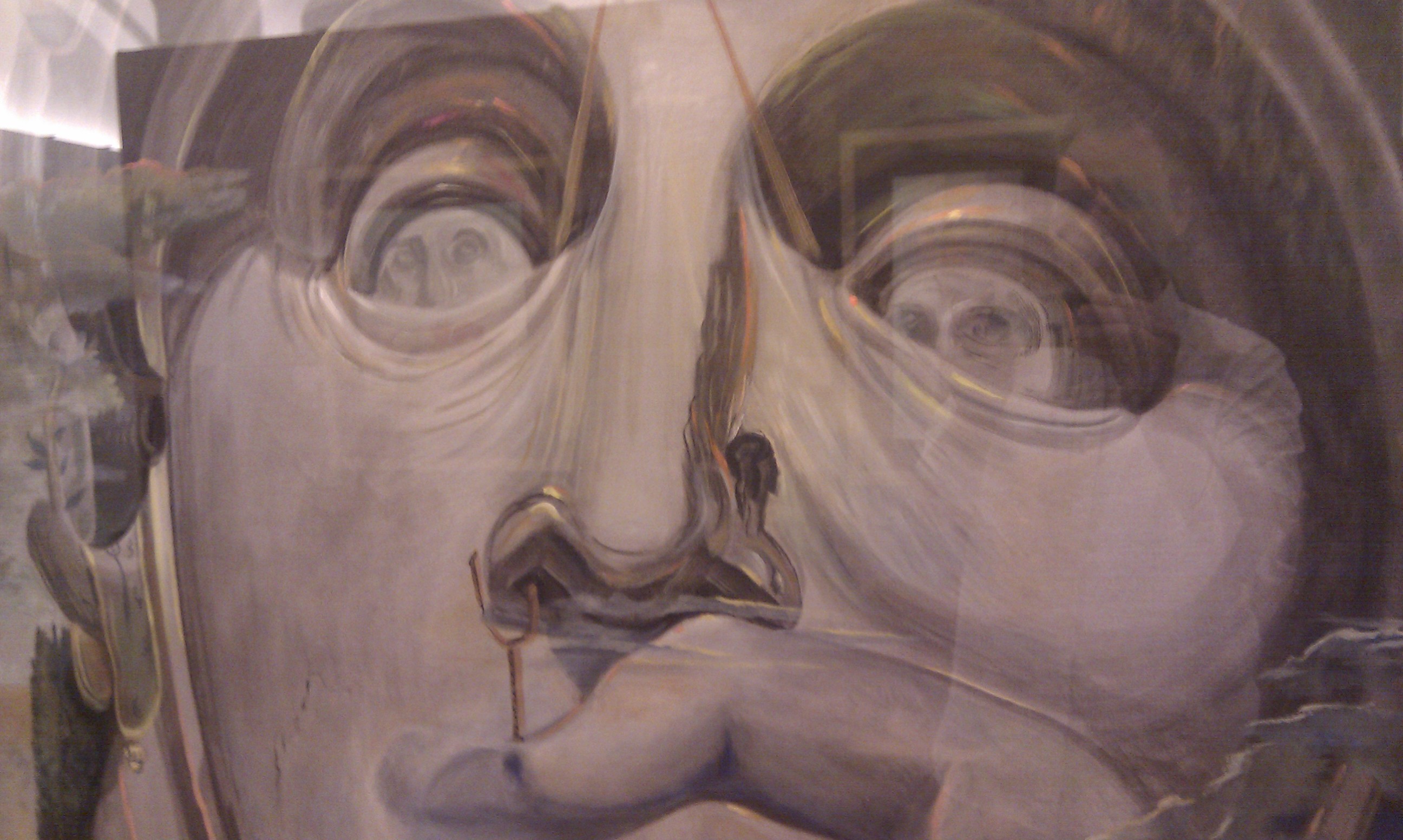 We're here: N42.20772 E2.36152. It's a free camping spot up in the hills south of the Pyrenees, near Olot. We're parked 'on a wonk' (on a sideways slope) but it's a good wonk as the shower will drain and our heads are uphill for sleeping! We're about 1000m up. Some cyclists with all their camping gear just cruised past us and waved.
The weather is: sunshine has given way to grey cloud as soon as we got into the hills.
Today's post header refers to a question I asked myself earlier. Would I rather pay the €12 entrance fee to the Salvador Dali Theatre-Museum in Figueres, or spend it on 12 litres of wheat beer from Lidl? Answer at the end folks, and it may be a surprise.
After Charlie decided it was get up time at 3am, then the Brit removal guys left at 5:30am, then the road cleaners turned up at 6, we ended up kipping until 9am again. Tempted to stay yet another night in Sant Feliu, we tore ourselves away and headed for Girona.
Our Rough Guide tells us of Girona: "It's a fine place, full of historical and cultural interest, and one where you can easily end up spending longer than you'd planned." After a frustrating search for parking, quite the opposite happened to us as we exited north for Figueres having glanced about at the streets as we searched in vain for somewhere to become immobile. The town looked pleasant enough, but these days we can't help but judge places based on motorhome friendliness. Girona, you score nil points.
Figueres is home to the Dali Theatre-Museum, the second most visited museum in Spain (number one spot goes to one in Madrid). Dali was born here, and spent the end of his days here too. Word is after he suffered severe burns in a fire 5 years before his death, he was effectively imprisoned by his guardians, manipulated and made to sigh blank canvases. Before the accident, he'd insisted on building his own museum on the site of a building burnt out at the end of the civil war.
Unsurprisingly, the whole place is surreal. We already knew that his best known pieces were not inside, the ones with the melting clock faces and elephants with stick legs. Nevertheless, what's in there remains an impressive collection, and defies the standard 'canvas on a wall' approach. I coughed up a euro to see figures inside an old caddilac (reported to be owned by Al Capone, and used by Dali to take his dead wife for a last drive) get drenched by sprinklers installed in its roof. It was less than spectacular, but had to be done.
Other pieces in there had us climbing stairs to view a room through a big lens, making the objects appear as Dali's Mae West painting. Another standing a few meters back from a huge wall painting, to see it transformed into Abraham Lincoln.
I was struck by the huge range in form and styles he used. From physical objects (like a bread piece in a basket sat in front of a painting of it) to minutely perfect figures on surreal oil paintings to wonderful still life photos of his wife (in varying states of undress). The sheer volume of work was amazing too, he must have worked non-stop to churn it all out.
After an hour or two of browsing, we quit the museum to go release Charlie from the van in the municipal parking (10 points to Figueres) and headed out of town. I quite fancy seeing some mountains close up, so instead of nipping the 30 odd km north to France, we've headed west, parallel with the border which runs along the upper reaches. Ju spotted one oddity on the map: due to a historical cock-up by the French, a small area of Spain around Llivia is completely surrounded by French territory. Nuts.
Our first attempt to free camp took us to Olot. Turns out Olot has not-Olot going for it! With the exception of a well stocked jigsaw puzzle shop and a less well stocked Lidl that is.
We duly about turned and headed into the hills. Dave's clutch is playing up, making mountain driving interesting, but I think it's just a stretched clutch cable. I'll have a look tomorrow.
Last but not least, the winner would have to be the wheat beer. Sorry Dali fans, but I felt like I was watching a masterpiece movie in Russian. I was sure it was all good stuff but didn't understand a great deal of it.
Cheers! Jay