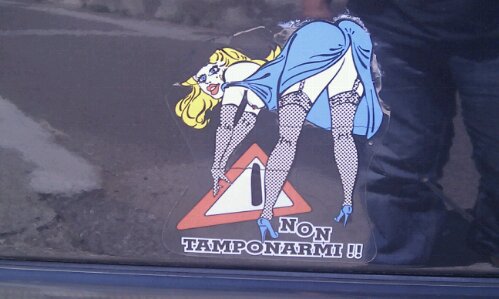 We're here: N45.88839 E8.94927. It's Camping Parco del Sole, in Southern Switzerland, and it's idyllic.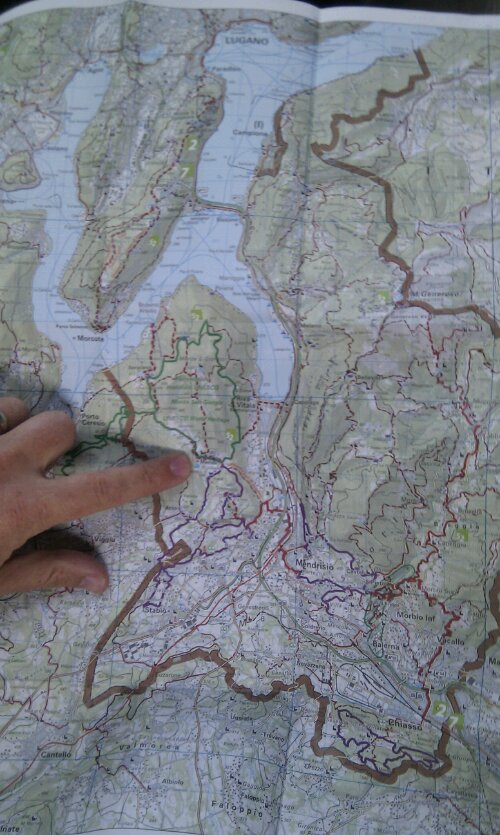 The weather is: sunshine all day, clear bright light illuminating the foliage and giving a 'the colours turned up too high' surreal aspect to the world.
Camping cheques. We have a love-hate relationship with them. We bought 29 night's worth last year and have so far managed to use, well not many. Few campsites accept them, and those that do only at certain times, which haven't coincided with us being there. We were getting fed up with them. Today they came into their own, feeling like free money as we got them so long ago.
In Cannobio we were towards the top western edge of Lago Maggiore. Our gadget stash battery condition was: dead. Our dirty laundry cupboard: full. Campsite time. Ju gets out the camping cheque book. I cast my eyes skywards, some chance. Minutes later she's found two sites, and checked on t'interweb they still take the cheques. They're both in nearby Switzerland, which gets us excited, a new country, excellent! We also discover the diesel is much cheaper than Italy, every penny's a prisoner! We choose a small, family run site which is shown as surrounded by vines in the photo.
Heading off this morning, the S34 north along Maggiore expands and contracts as it twists along the western lake shore. Only once did I have to jab at the brakes, squeezing past a truck who himself edged along the rock wall. Just a few km further and we spot a 'Police Stop' sign. Huh? We slow down (even more, Dave's the definition of slow). Rounding a corner a vision from the past appears: a good old fashioned land border crossing. Somehow we'd forgotten overnight that Switzerland is not in the EU, no transparent border here! A uniformed customs officer has pulled the car in front of us. We stop behind and Ju grabs our passports, Charlie's pet passport and vehicle docs. No need though, we're casually waved through into the land of chocolate, watches, shrewd neutrality, dodgy bank accounts and mountains.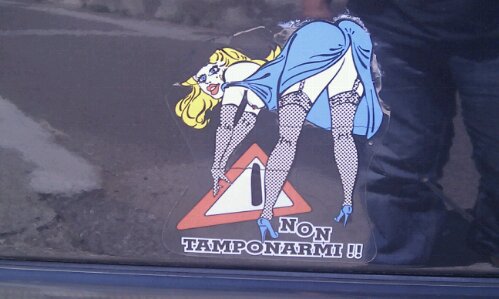 Nothing much seems to have changed, something we see time and again at land crossings in Europe. Our eyes are attuned to one thing though: spotting garages. The first one soon pops up among a glut of them. Arghhh! €1.92 a litre! Italy was running at about €1.65 for self service. Humph, we're a bit deflated.
Suddenly the winding lakeside road decides it's had enough, turns left and piles straight into the mountain side. An 80kph sign appears and we plough into the tunnel, popping out into the light, blinking, and then into a second one. This one's a biggie, maybe 5km of darkness with me guessing our speed as the GPS goes dark. On our exit I'm only 2kph off the limit, I feel relieved as we'd built up an enormous tail.
Driving along the Swiss roads, we look for indications Italy has fallen behind us. There are no Lidls. Many signs are in German. The price of diesel is €1.60 a litre. Huh? Why so suddenly cheap? Doh! The 1.92 was Swiss Francs. Again we'd forgotten we've left the eurozone. We may not be in culture shock, but we are in culture sizzle…
After a few panic-induced circular driving actions around towns (we'd not paid for a motorway vignette so needed to avoid them), and some hillside switchback negotiating, the lake reappears. I'm immediately confused as it's on my left side, not my right as I'd expected. Ju stares at me and tells me it should be there. Eh? Confusion clears when Ju explains its not Maggiore, but Lugano we're cruising along. It's just as beautiful, with the wooded hillsides plunging straight down into the shimmering surface, and the odd snow covered peak impressing us from on high.
We laugh as satnav continues to announce we need to follow '2'. That's the name of the A road here. In Italy it babbles out some gobbledygook at every road junction. 'Follow 2' is all we get here. Swiss simplicity, we love it. 2 takes us down through the town of Lugano, which Ju remarks has made up for her missing Monaco. It has an exclusive air to it, you see, enhanced by an almost total lack of parking opportunities. We plough on, there's washing to be done!
Quickly 2 swings left and over the lake. Strangely both our free A road and the motorway cross the lake? To our left is an Italian enclave: Campione d'Italia. It's a lakeside town surrounded by Switzerland. That's not like the Swiss, surrounding folk? We've no idea why this little anomaly exists, although the whole Swiss-Italian border here doesn't appear to have any logic behind it, squirming to and fro on the map, cutting lakes and towns in two.
A final squeeze through an improbably narrow village brought us into our Swiss idyl. Wooden hills, vineyards, postcard towns, friendly waving locals and a beautifully maintained campsite (cheques accepted) – wonderful.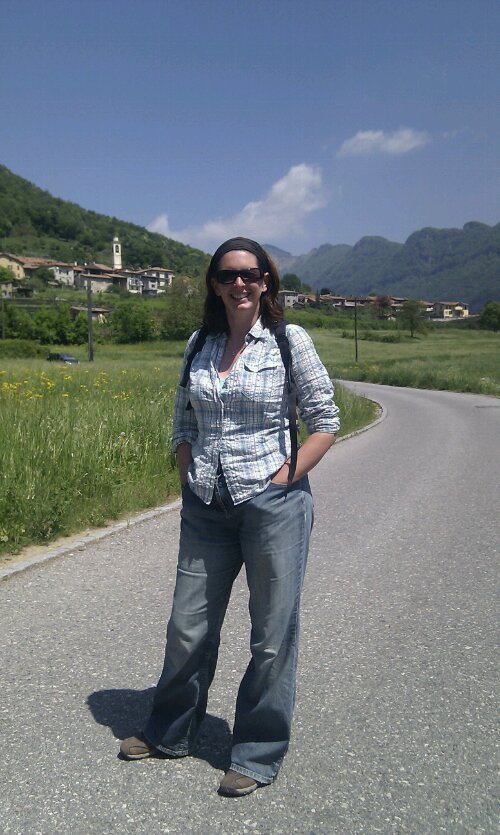 As we waited for reception to open we strolled around Meride, the closest village, hoping to find a cash point. We needed a few Francs to pay the tourist tax (about 7 Francs for two nights), to buy a weird Swiss electrical hookup adapter (10 Francs), to pay for washing (2 Francs) and buy wine, beer, meal out (unknown number of Francs needed). The tiny place had no cash machine but the signs revealed we'd stumbled upon another UNESCO site. The 1097m Monte San Giorgio turns out to be peppered with triassic fossils. We're planning to tackle it tomorrow.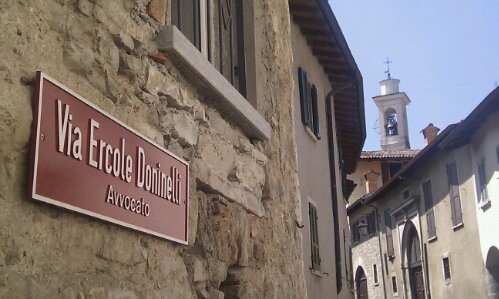 Next stop: Arzo. As we strolled down the road we came across a marble quarry. Disused now, but with huge blocks of the stuff stacked up, a lifetime's supply for the 3 mask-wearing sculpturers shaping it in an open air workshop into basins, benches, table tops and the like.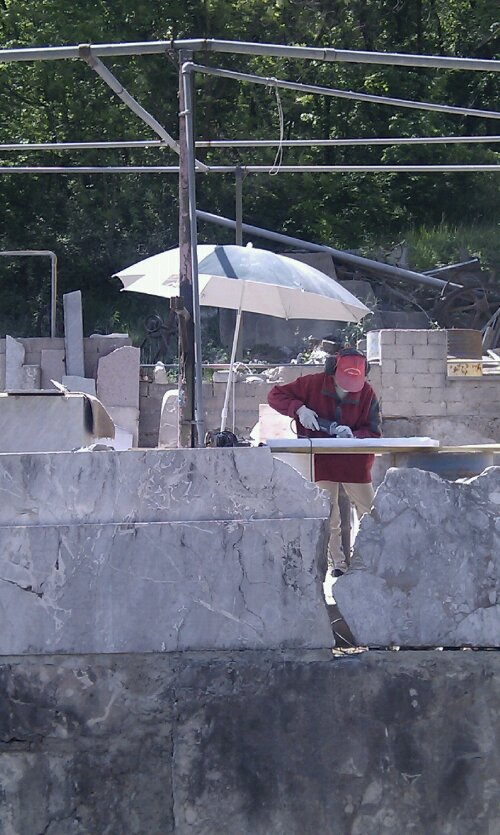 Further down the road a tanned leather-skinned man was heaving huge logs into a splitter being powered by his running tractor. He takes the time to wave to us.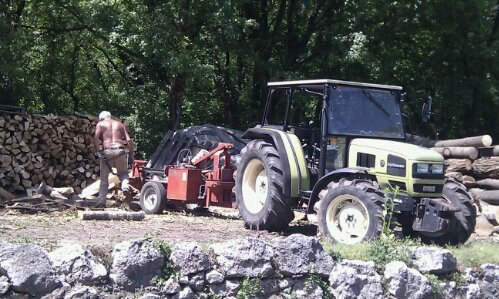 Little Arzo is a pleasant spot and comes up with the goods: a cash machine next to a coop supermarket. Ju gets out 50 Francs and we stare at the note, all foreign cash looks like funny money to start with.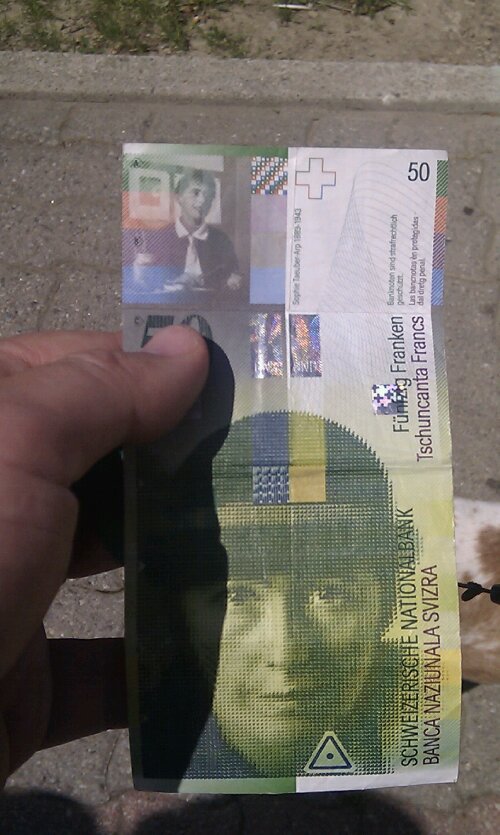 This one has the denomination written in Italian, French, German and a language we don't recognise. A loaf of bread from the coop gets us washing machine change from the fifty. Nothing else is bought as it's too expensive: a 1 litre box of cheapo wine is over €2. I couldn't find any Swiss wine for less than a fiver either, or would have bought some to try.
For now, the washing is on the line, Ju's taking a shower, Charlie's kipping and I'm listening to the sound of birdsong as the sun casts lengthy shadow across the grass. I need to walk up the hill to the town to get a signal to upload this, then it's beer o'clock!
Cheers, Jay