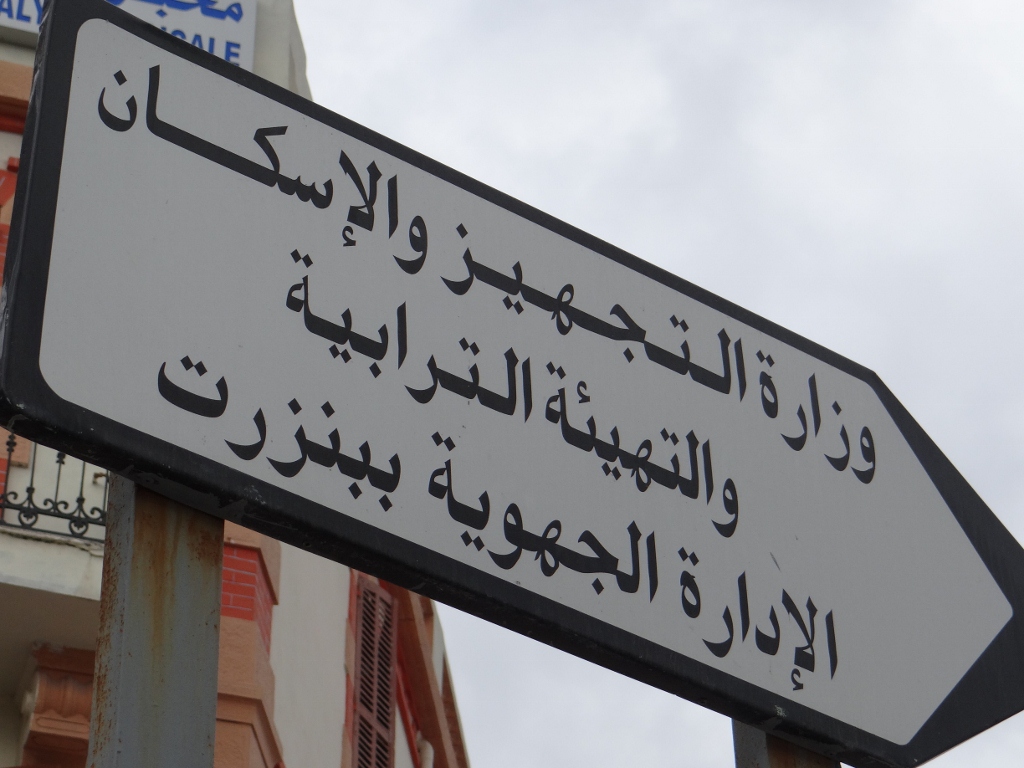 Dave the motorhome is parked in a tough decision of a parking place. It took most of the day before we finally sneakily parked up outside restaurant Sport Nautique in Bizerte (N37.27216 E9.87950).
The best laid plans went awry last night. Our retreat into a youth hostel, albeit one that we had to virtually demand to be allowed to enter, didn't bring the sleep filled night we'd hoped of. The cause of this was two fold; a roaming pack of wild, but friendly, flea laden dogs locked in the compound with us, who liked to howl, and Charlie's insatiable appetite. The latter of the two saw our pooch scoff something while roaming the beach which didn't agree with him, the only cure known to pooch kind is grass, thick green luscious grass. Of course there was no such grass in the youth hostel compound we were locked in, only paving, weeds and the roaming flea carriers.
A loudly grumbling stomach had our pooch waking us up to get outside. I carried him to the far end of the compound while Jay, armed with a bamboo stick, scared away the friendly fleabags. Charlie eventually had a wee and we all piled back inside. Half an hour later he wants out again, so the show starts again. Once we realised it wasn't for unfinished business and instead a grass hunt we headed back to bed. As Jay had handled the midnight police caller so well last night I offered to placate pooch on the sofa. So began a long, long night of whimpering dog and me having to hold him down from roaming and scratching at the door to get out. I felt so sorry for him, but there was nothing out here that would make him feel better so no point in letting him out. Eventually we fell asleep, and not much later the morning call to prayer kicked in.
So today has been a bit of fuddled haze for me. We couldn't stay another night at the youth hostel, we didn't want to after the surly receptionist charged us three extra dinar for no reason, then the gate man asked for a tip! We drove to the end of the road by the beach and set off for a walk to clear the cobwebs. As we climbed over the dune a voice from within the scrub said Bonjour. Surprised we replied and carried on. A figure climbed out of the scrub and walked down the dune towards the car park. Another man wandering along the beach by the car park entrance also headed in that direction slowly, something didn't feel right so we cancelled our walk and headed back over the dune to Dave. The second man stopped ambling around by the walkway and started towards the car park. As we got within earshot he was shouting something towards Dave. The first man then appeared from behind he back of Dave. It could all have been totally innocent, but it felt otherwise. How glad were we that we cancelled our walk!
A quick check of Dave and nothing had been tampered with, so we set off back into Bizerte. This time the town was much busier, but we still managed to squeeze into a space by the waterside – a stretch of road which was deserted on yesterday's public holiday. Our plan was to find the police station and ask where we should stop. Finding the station we piled in, and back into 1970 – think Life on Mars! Men stared at us and eventually a young officer asked if he could help. Just as we got talking to him an older officer started shouting and pointing at Charlie, he and I beat a hasty retreat leaving Jay to discuss our accommodation.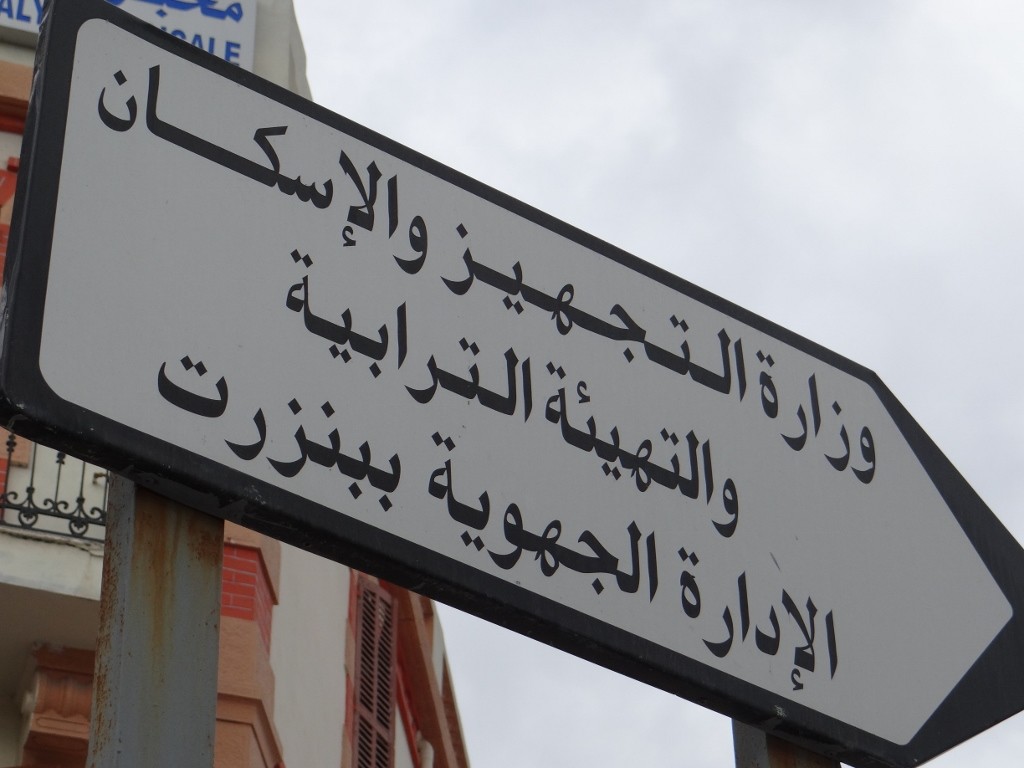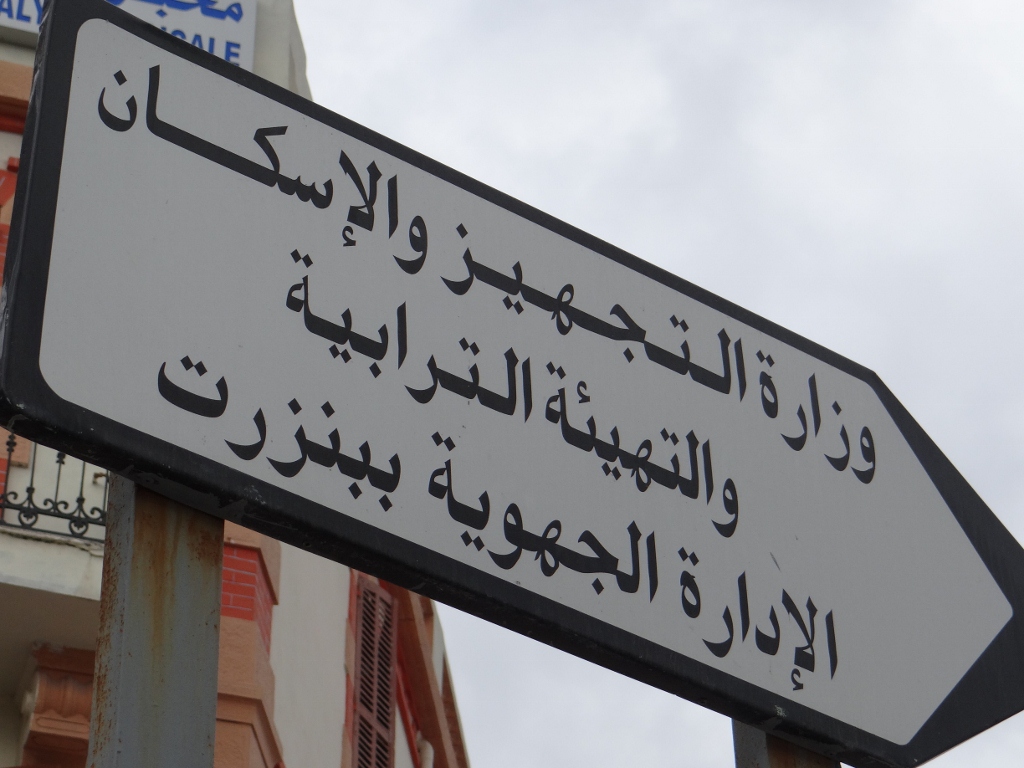 So many people here speak French, but so few know what a camping car is (French for motorhome). The advice from the police (get a taxi to your hotel) made it clear they didn't understand our plight. I suspect they have much bigger things to worry about right now as it's the anniversary of the revolution and people have been protesting around the country.
Eventually Jay got a suggestion for a guarded parking out of them and we walked off to have a look at it. Next to the mosque among the food stalls, heavily laden with oranges, and poultry stalls, a pen of squawking chickens with several of their number in various states of decapitation and plucking around them, we found the tiny car park. We had no idea how we would get to it and at 0.7TD we doubted it was guarded at night. Being right in the middle of things didn't appeal, so that idea was quashed.
As we sat and looked in our guidebook we spotted one of the faux guides who tried to pick us up yesterday, he'd scored himself three French tourists, his persistence had finally paid off. Spotting them heading into the medina we followed, as we were here we might as well sightsee a bit, and the group of young lads fascinated by Charlie were now making moves to pull at his tail – time to go. Passing a dead rat as we entered I spent most of my time trying to keep Charlie from snuffling on the floor for fear of rat poison being down. It didn't take long for us to get lost, wandering around looking at small shops, carpenters making goods and metal being hammered and melted into shapes. We were spat out on an unfamiliar street just as the rain started.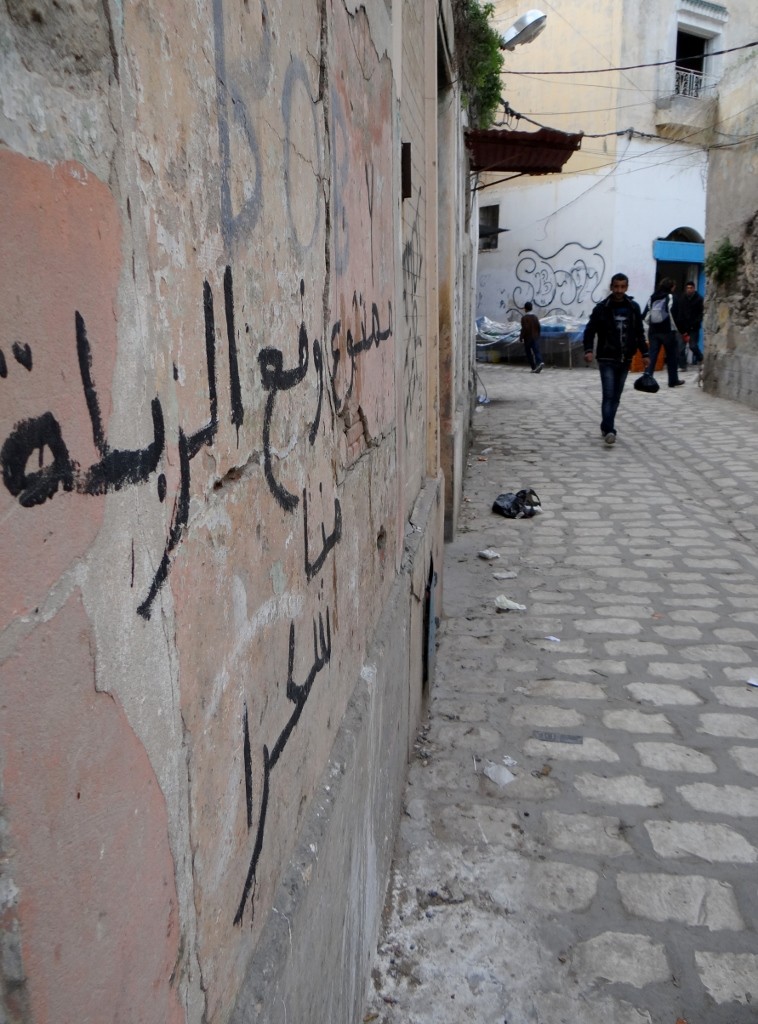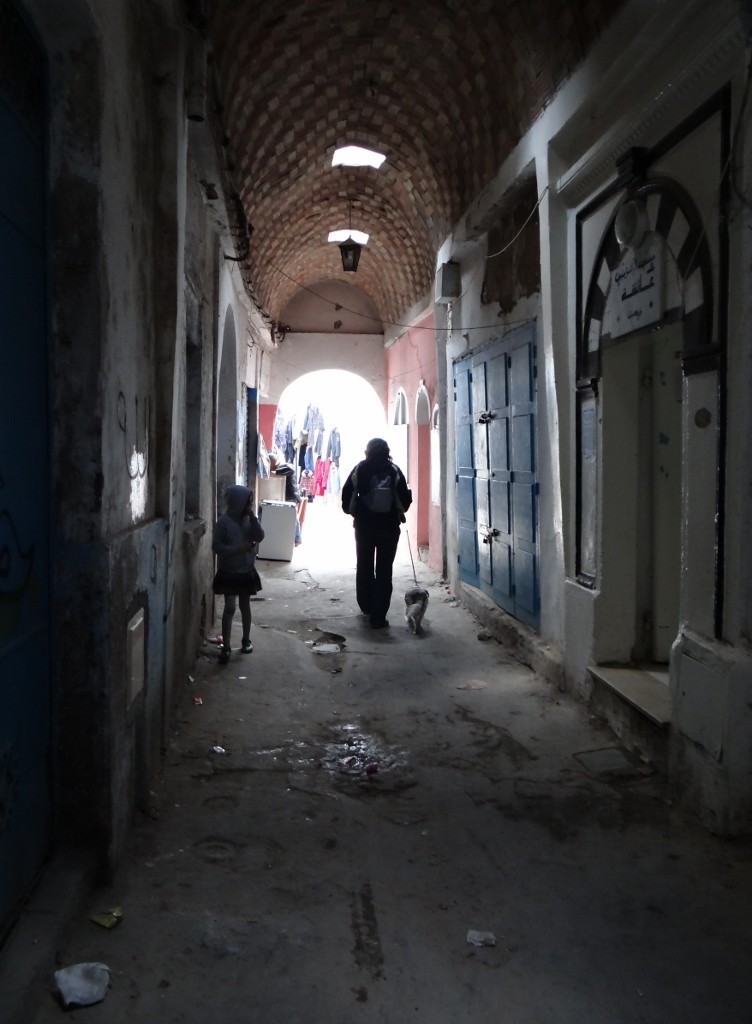 Asking a passer-by she gave us directions back to the port and off we set in the pouring rain. Taking a short cut back through the medina (where a friendly chap pointed us in the right direction instead of the dead end we were heading down) we found a road we recognised and got back to Dave. Our next plan was to head to the tourist office on the other side of town in the Zone Touristique. We found it easily and got all excited when the man suggested we could park in the hotel car park next door. Asking at the hotel Jay was confronted with concerned faces, in-depth discussions in Arabic and a phone call – eventually a price was given 50TD (€25) needless to say he left, we wanted to park in their car park, not rent a room!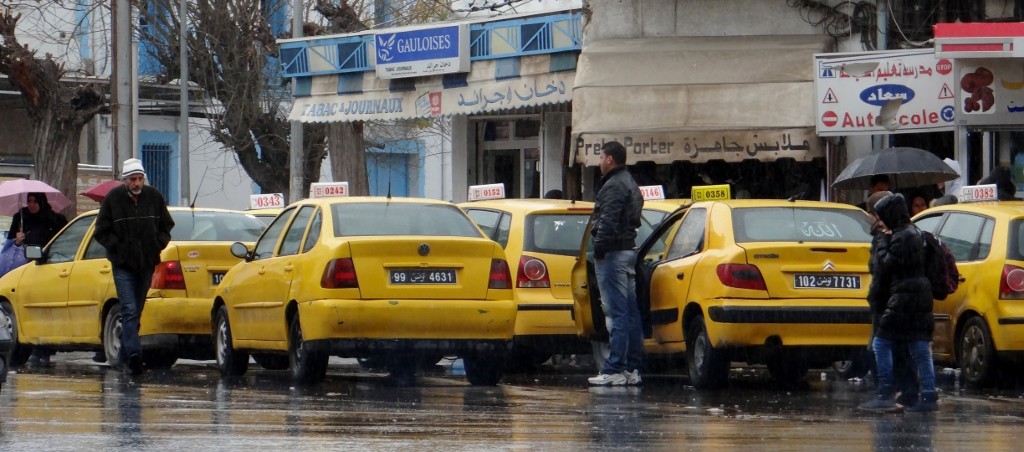 Another plan was formed, drive along the coast. Hopefully we'd get out of town and find somewhere to stop, if not we'd keep driving until it got dark and we could hide somewhere. With no decent map we ended up on a road which rose steeply up to an army camp with a great view over the town but big no photo signs in front of it. Carrying on the road dropped back down again and brought us back to Bizerte – like the Hotel California, we could check out, but never leave! We spotted a big cemetery to the locals who died ousting the French in 1963 and a big car park in front of it – relieved we dived in.


Jay went to explore, before a thunderous black cloud threatened to soak him, only to be whistled at and waved off by a fella guarding the cemetery, well it was closed, which explained the empty car park. Feeling uneasy we sat out the thunderstorm then drove around for a bit looking for somewhere else to stop. No luck finally brought us to the conclusion that we needed to return to the tourist information.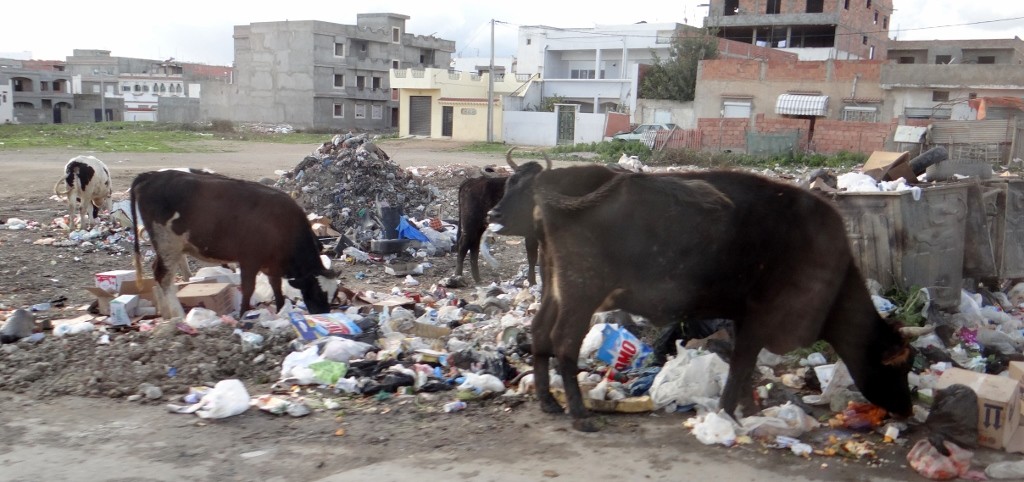 Ploughing our way through streets which had turned to rivers – it was at this point we realised there is a total lack of drains on the roads – we reached the tourist office and both went in. A mountain of brochures and leaflets sat on the floor in a room to our right, but no one was to be seen. Some foot stomping and a bonjour later a man appeared, the bloke who had spoken to Jay earlier. Again we explained our plight and that the hotel wanted too much money to park, so we offered to call another hotel. He disappeared and reappeared a few moments later, the other hotel had said no. Refusing to leave until we had a suggestion, we waved the map he had given us and pointed to another youth hostel marked on it, yes it was there but no parking. Where do we park then? Eventually he asked two men carrying in yet more leaflets. Beaches were only OK for cars they said, and eventually suggested the marina.
Of course when we got here the marina has a huge sign in front of it saying we can't go in, and the car park we're in is marked private, but we parked in it anyway. As more rain fell a man loitered in the bushes in front of Dave looking through his windscreen, he was getting soaked but refused to move, I refused to acknowledge him and after 15 minutes he circled around Dave a few times and left.
Maybe it was the midnight police wake up, maybe it was the potential bike theft, the warnings from the youth hostel security guard about thieves, or maybe we're just here at the wrong time – on the second anniversary of the revolution – but at the moment Tunisia isn't feeling very welcoming. Thinking back we've had these feelings before, a sickness in the stomach, a constant fear – it's culture shock. I can only hope the group of men having a massive argument next to Dave leave soon (on occasions like this I pray for rain) and we get a good nights sleep. Things should look different in the morning.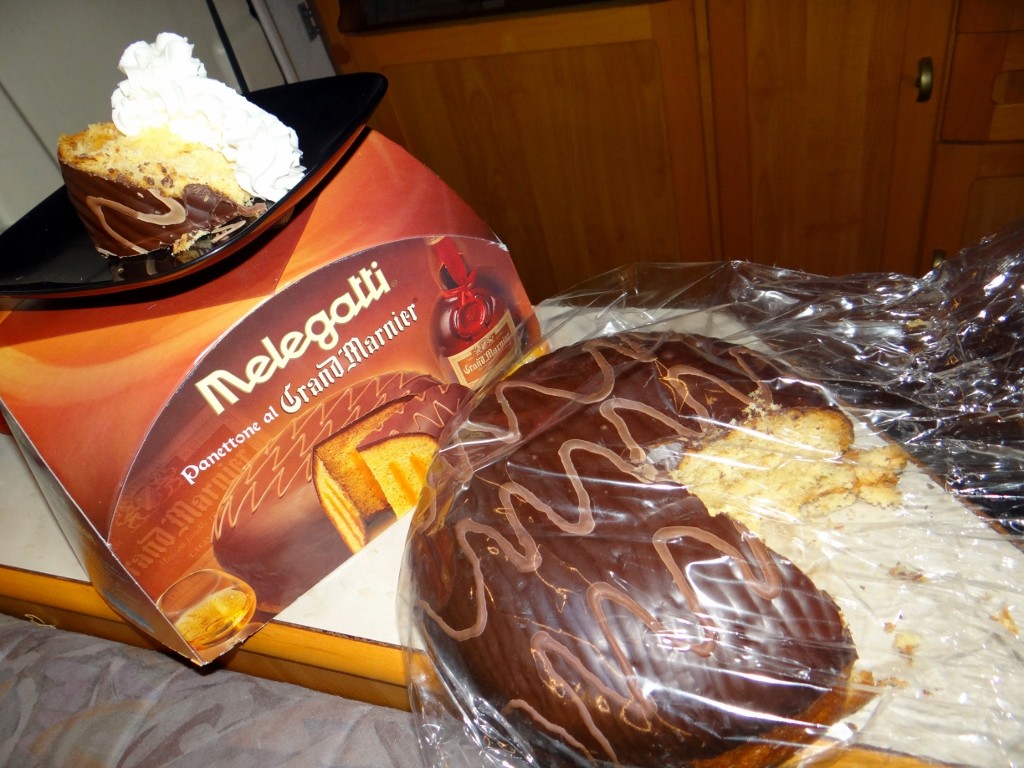 A big thank you to everyone who responded to my plea on facebook and twitter for places to stop. We've got a good few now (but could always do with more if you know of any!) and are about to actually plan our trip, we had hoped we wouldn't need to, but for our peace of mind we need to get organised.
Ju x