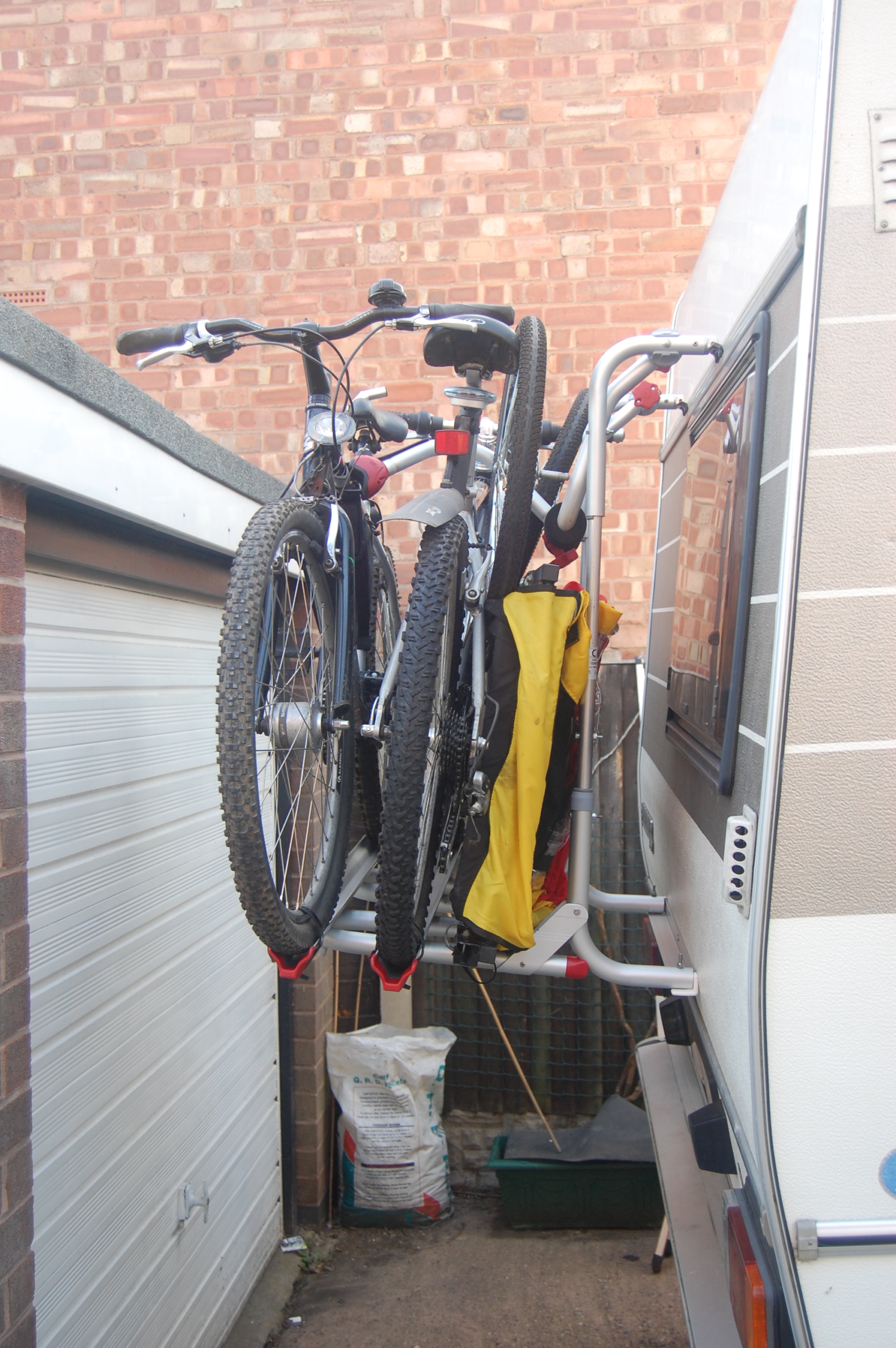 We've not posted anything for a day or two as quite frankly there's not been much to say. Ju's been busy at work and I've been busy cleaning and gradually clearing out the house (via eBay, parents houses and the loft so far). The renting agency chap came this morning, took some photos and we had a chat about why his laptop at home was running like a dog, and the pros and cons of iPad versus iPad 2 (hey, I've been a bit lonely and missing all the 'pooter speak; he couldn't get out the door fast enough poor chap!).
Took Charlie for a walk which took up a couple of hours and then set about the job of fitting the bike rack which came this morning. After about 30 mins of playing about with the parts I sussed there was nowhere on the back of van it could fit. If it fitted OK on the outside, avoiding window/lights/number plate, there was nowhere to install the bolts on the inside and vice versa.
After a bit of meditation (staring at the rack hoping for inspiration) it hit me. I needed to engineer some sort of telescopic aluminium tubing so I could avoid the window. Quick search on t'Interweb revealed a few places you could buy the tubing from but something stopped me buying it; perhaps the Scottish blood in Ju's side of the family (family moto: 'every penny's a prisoner!'). Popping my head in the half empty garage I spotted Ju's old pair of crutches. Perfect. A bit of hack sawing, angle grinding and drilling later and the rack's bolted into the van. This is my Dad's influence rubbing off: after his long years working on farms and down the coal mines (I just spell checked this and at first this said cola mines; I was tempted to leave it :-)), he can make anything, with anything. Feels pretty sturdy, but we'll see how it copes with some Romanian roads, or indeed the potholed tarmac which passes for UK roads at the moment. To top it off, Charlie's chariot fits as well as our bikes.
Good lord, just re-reading this, it's not exciting stuff is it, and I've got another 5 or 6 weeks before we head off. I've still got a fair bit of painting, clearing, cleaning, shelf fitting, ebaying and admin stuff to do, but what on Earth's going to keep me going for that long? Ah well, Solar PV panel tomorrow, although that **should** be straightforward enough…