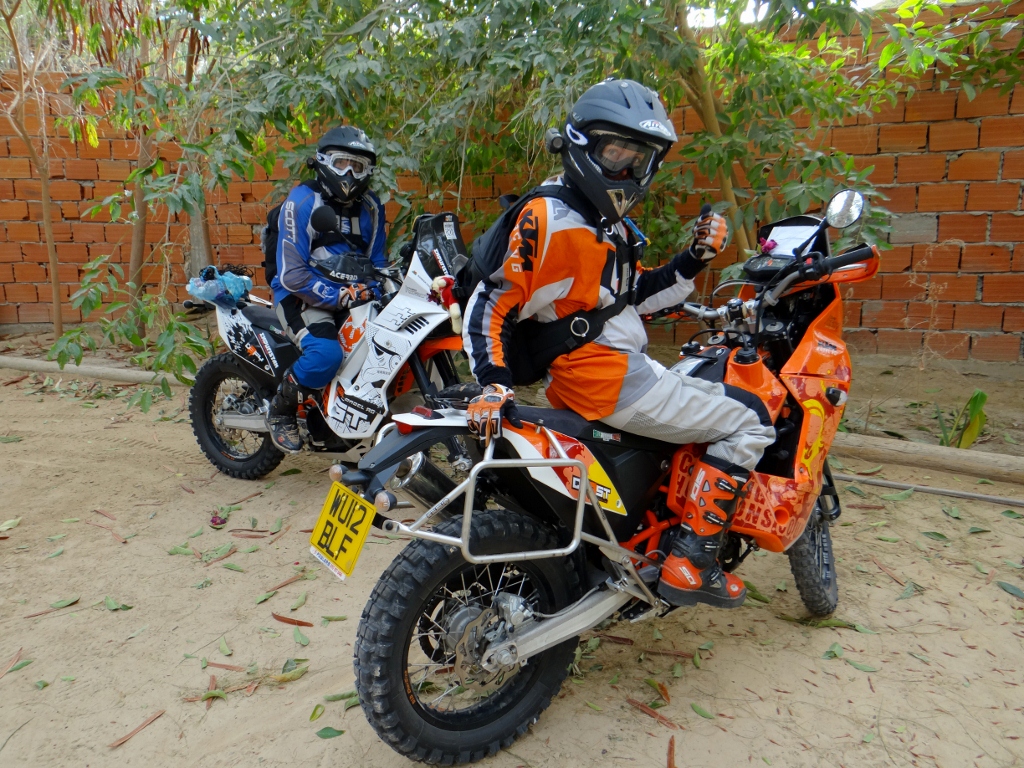 Dave the motorhome hasn't moved, he likes his little space, tucked away in Camping Les Beaux Rêve in Tozeur.
Last night as we were Skyping family a low rumble had us turning around to look out of Dave's windscreen. It announced the arrival of a couple of bikers, as we're the only ones on the campsite we were very pleased to see some other people. As they pulled forward we were overjoyed to see the big yellow square of British number plates. Always keen for a nose around a motorbike Jay popped round to say hello and to offer a drink. A short while later Dave was bursting with the sound of laughter as Clare and Sam told us of their adventures. They're biking around the world, as well as top to bottom of it, and they've only just set off – it looks like it's going to be one helluvan adventure!
Clare has only recently learned to ride a motorbike, but she looks the part on her Alice in Wonderland KTM. Sam has opted for a Star Wars theme, very appropriate around here. Check out their website or Facebook page to see what they're up to. They make me feel old and fuddy duddy as they talk so passionately and without a hint of fear about their plans. Their next stop is Libya, their visas to enter run out on Friday!
We saw off the last of our Christmas cake and before we knew it the clock showed 2am, we could have talked with them all night. This morning we planned our next couple of days, a driving free day relaxing around Tozeur today with a tour of the local areas used in the Star Wars movies tomorrow, then on to another campsite.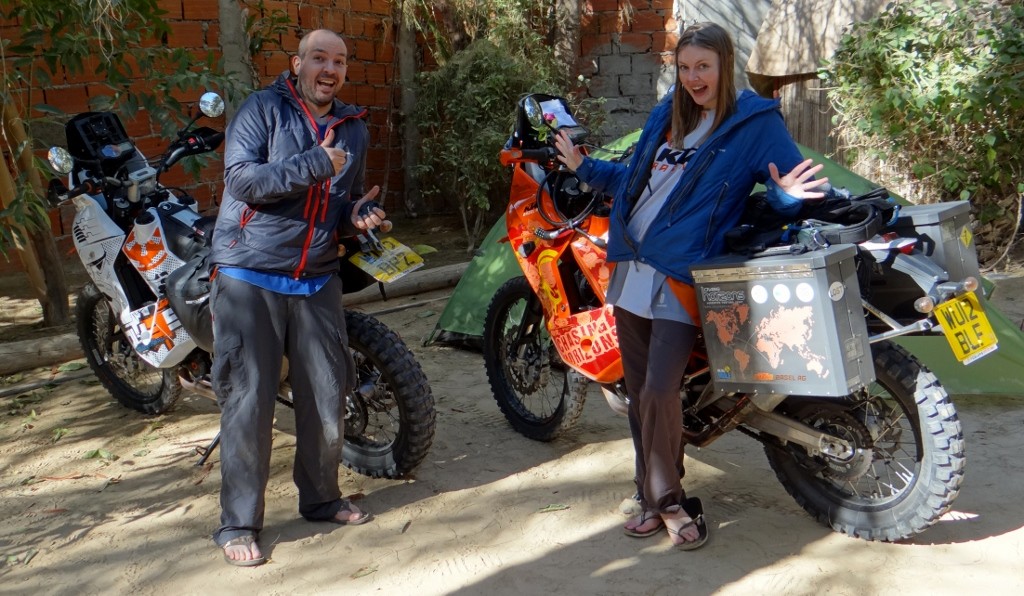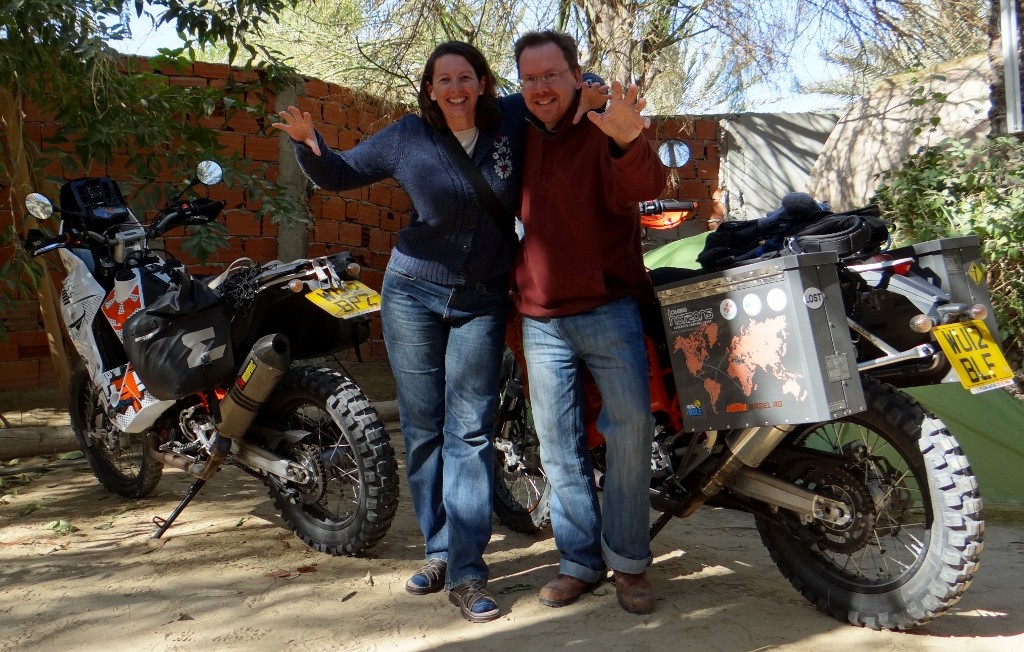 We chatted with Sam and Clare (and of course had our photos taken by their bikes) before saying a tentative farewell as we were off out for a walk and they may have moved on by the time we got back. After a quick hand wash of some tshirts, as we're running low, we headed off to the Belverdere area of the city.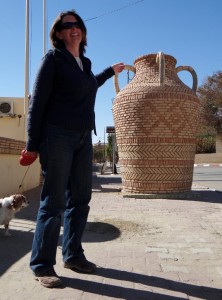 A young boy spotted us leaving the campsite and fell into step along side us stroking Charlie. We stop and smile, so he asks for a stilo (pen), we carry on smiling and walk off – he'll have to try harder than that! We strolled a crazy-paving road, lined with a palm tree truck fence, which followed one of the oasis springs. A chorus of dog barks from a pack of wild dogs had Jay reaching for sticks and stones as I picked up Charlie. The father of a young family who were walking up ahead of us ran back and joined Jay to fend off the pack who scattered once they realised there was no cavalier king on the menu today.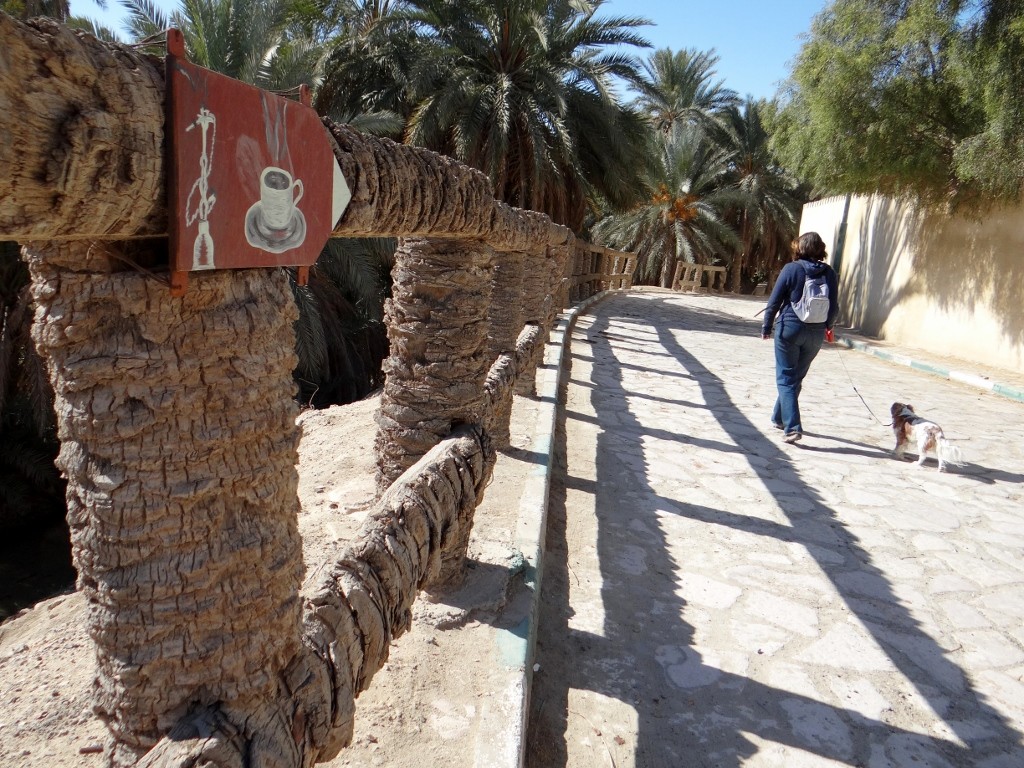 A brick arch announced that we had arrived at Tozeur Park (there are brick arches for everything around here), walking under it we're greeted by a couple of men with camels. They continue to lie in the sun and shout over asking if we want a ride, there's no hard sell, it's nice. Tozeur Park appears to be some sort of a folly, designed to get the tourists with huge models of musical instruments, a childrens play area, a large statue of an eagle, bizarre human faces badly stuck onto a large lump of rock which has steps up it to the Belverdere (viewpoint) on the top. To cap it all the whole thing is surrounded on three sides by a golf course, battling to stay green in this desert land.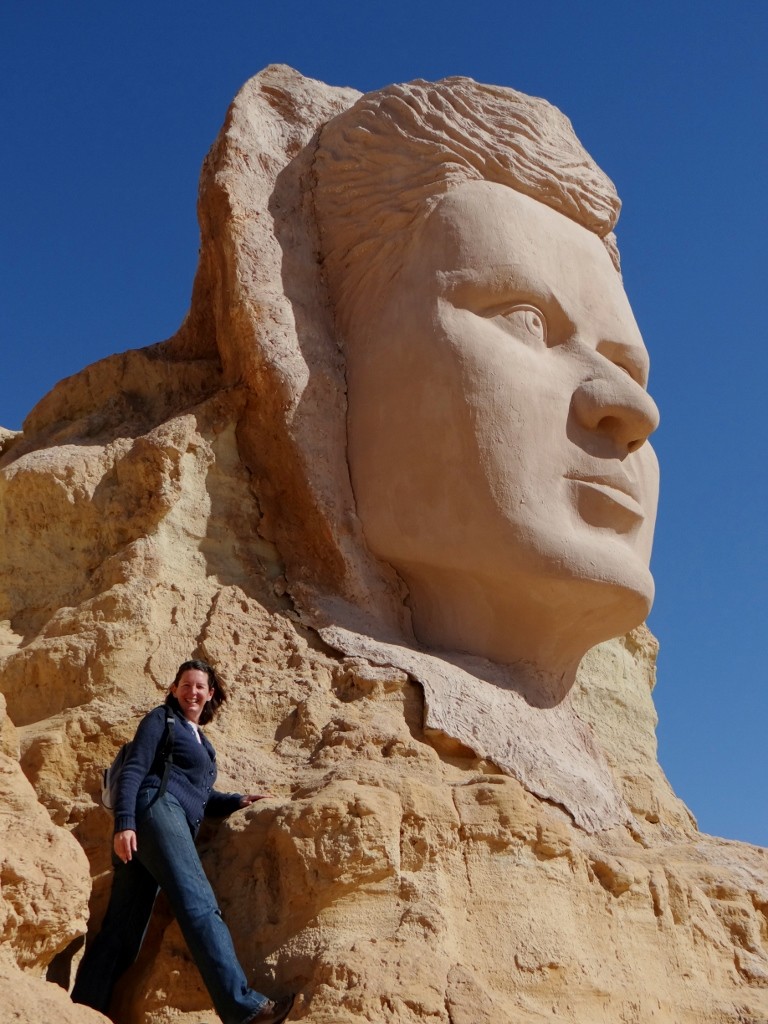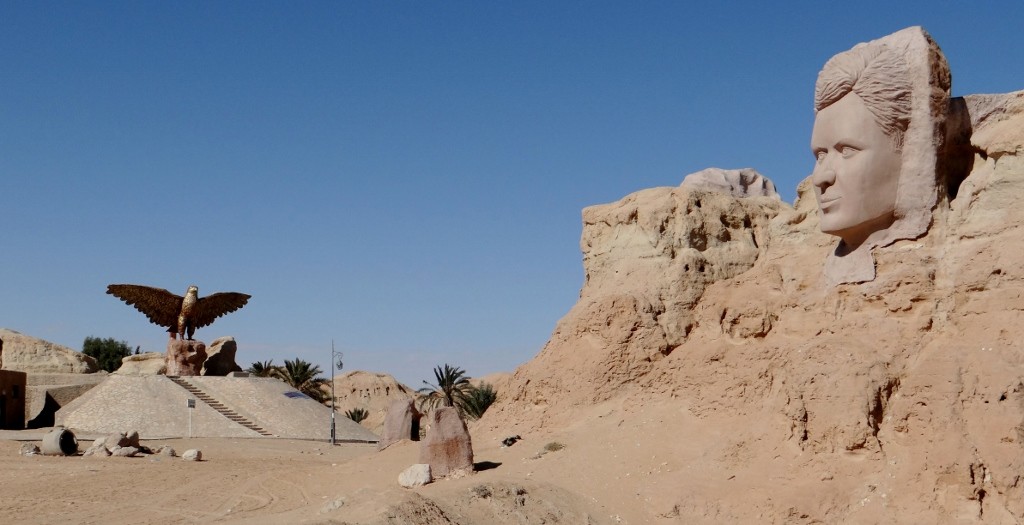 We had the place to ourselves, so Charlie got in some rock chasing while we looked around the random exhibits. Climbing the steps we looked out across Tozeur to the red mountains of the gorge we visited yesterday. To our left shining white tourist hotels popped up above the palm tree tops and around the rest of the view the oasis of palm trees abruptly stopped, halted by the vast desert and shimmering salt flats in the distance. We sat for a while and looked over the scenes playing out below us; a red tractor and a few figures wandering around one of the golf course bunkers, a man riding a donkey across a dirt plain, a blue tourist bus filling with passengers and leaving one of the hotels.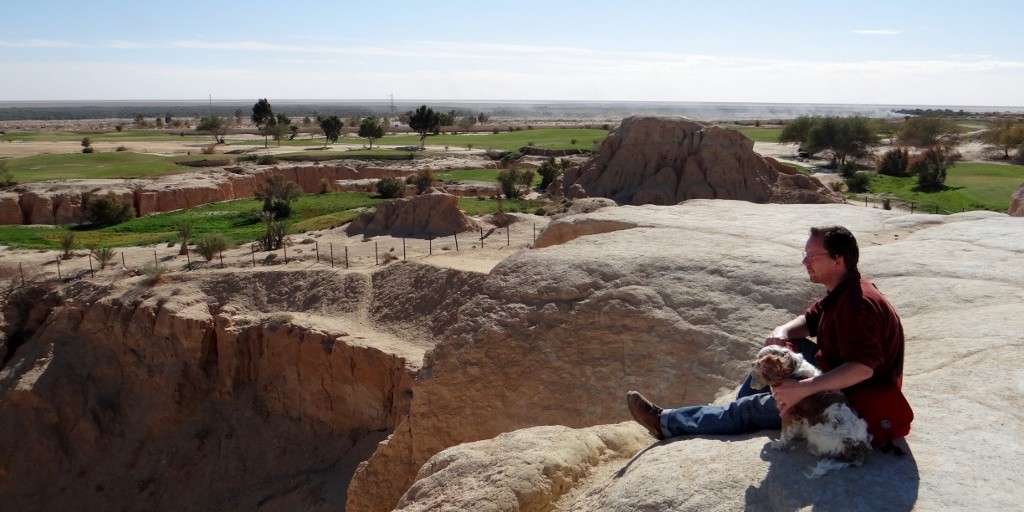 The wind picked up, kicking sand into our eyes so we walked back to the steps. Jay jumped down from the rock onto the top step and landed with an expletive, or four, having twisted his ankle. As he lay on his back swearing just a little bit about being stupid, Charlie tried to lick his face while I attempted to keep hold of Charlie and dig out the strip of ibuprofen that permanently lives in my bag for such occasions. A quick check that nothing was broken (by asking, do you think it's broken? – I should have been a doctor!), Jay hobbled down from the rock. A camel ride seller saw him hobbling and asked if there was a problem, from the concern on his face I honestly think he would have given Jay a free ride back to the campsite, or nearby hospital. Determined to keep it moving we thanked him and hobbled on.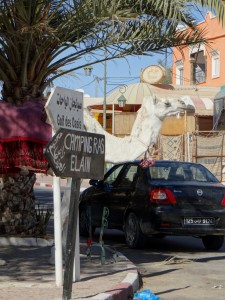 Walking eased the pain a bit and soon the drugs kicked in. It didn't take long to get back to Dave where Jay is sat with his foot up and ice packs on it, with regular doses of ibuprofen. If there are any doctors, nurses, physiotherapists out there who can offer advice on the best treatment, we'd appreciate it. Do we rest it, or keep it moving – it's a tough one. Either way the swelling is going down and it's only throbbing now – his Asda boots may have saved him from going fully over on it, it's been a lucky escape.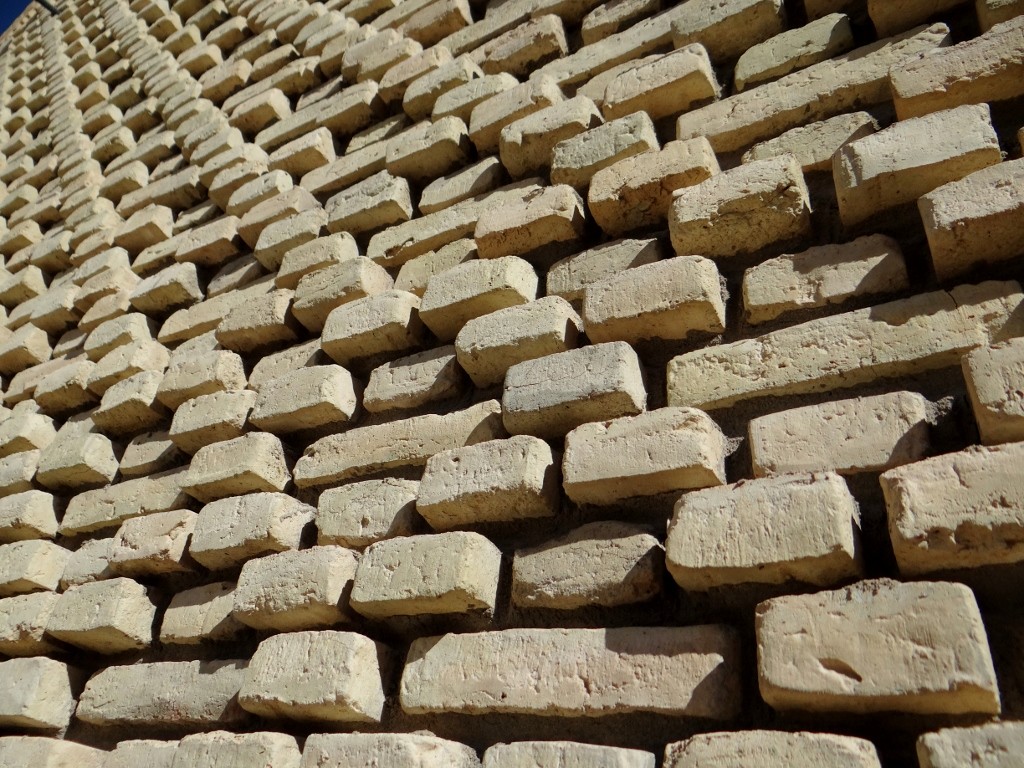 Jay's afternoon with his foot up has given him chance to finish off his list of places to stay in Tunisia in a motorhome. At the moment, he's suggesting it might be the best list (say it Top Gear style)…..In The World! and he might be right. He's collated it from all the information everyone kindly sent through when I made a plea for a safe place to sleep. If you're planning a trip over here, it's the best starting place we can think of for stop overs!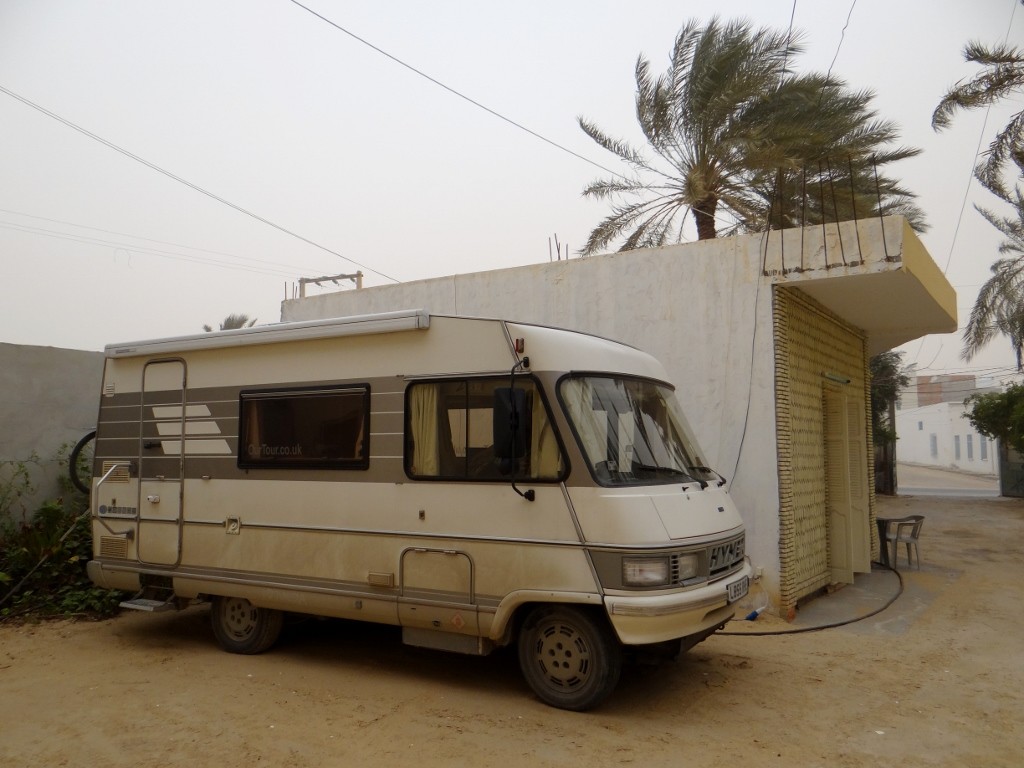 Sam and Clare rode back earlier, they'd been out to see some of the Star Wars sets but got caught in a sandstorm before they could reach Luke's house out on the salt flat. They've decided to stop here again tonight and have a long ride tomorrow, which is great news for us, not so good for their backsides tomorrow. The sandstorm extinguished the sun and the wind whipped up so I grabbed our washing off the line before it got covered. Dave is once again a drying machine, thank goodness for electric hook-up and heaters!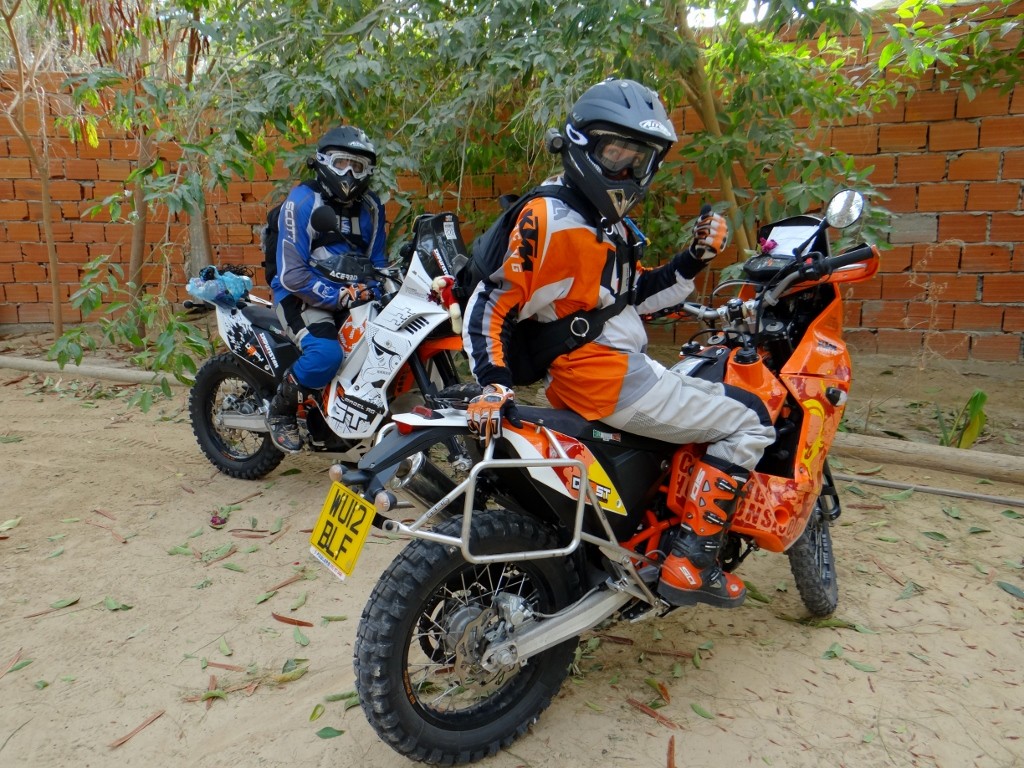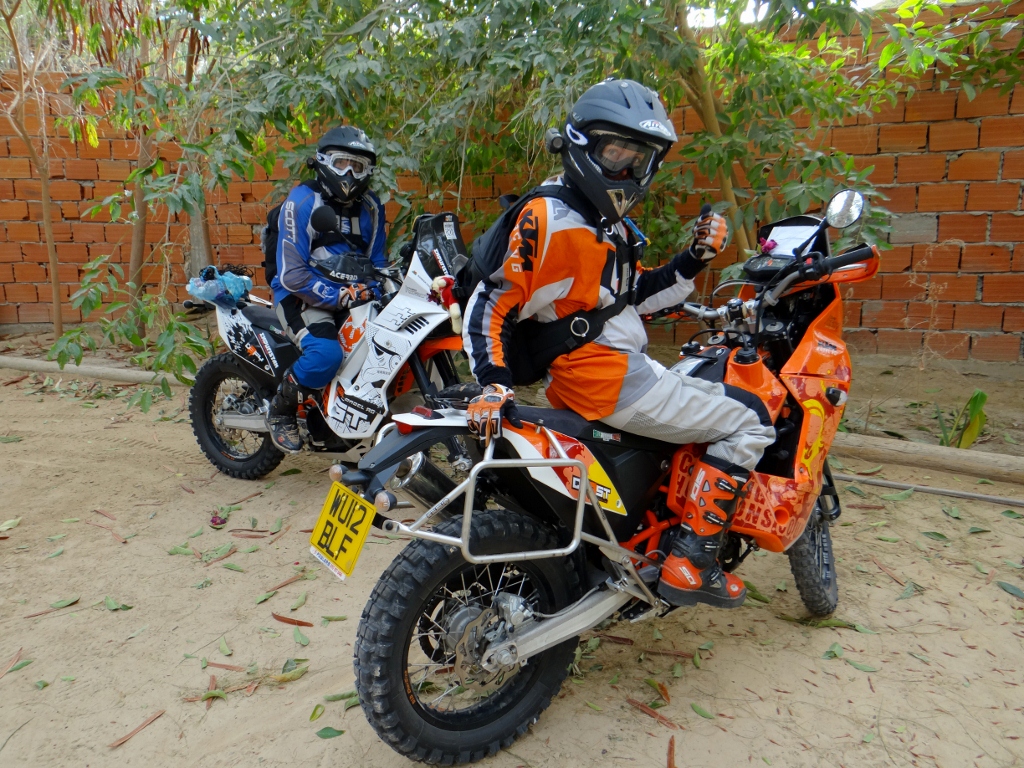 This evening we're hoping to sample the 'delights' of Berber Pizza, a hole in a wall near the campsite. Clare and Sam are feeling brave enough to join us too – it could be another late one!
Ju x