The below guide has been written based on our experiences touring Greece in a motorhome and will hopefully give you a good idea of what it's like to travel there. However, things do change, so before you set off it's worth checking for up to date travel information from the Foreign Office website, and the latest driving regulations on the AA website. At the bottom of the guide we've added links to our daily updates while we were in Greece, so you can live the adventure with us.
General Information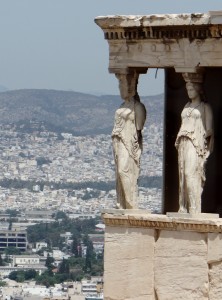 Country – Greece
Capital city – Athens, 1900 miles from Dover
Currency – Euro
Languages – Greek (English is widely spoken in the tourist areas)
Visa requirements – Part of the EU so visas not required for EU citizens.
Borders – Part of Schengen zone, but no land borders with other Schengen countries. We had no border formalities when arriving by ferry from Italy (also in Schengen zone), however passports were checked as we crossed into Bulgaria.
Telephone country code – 30
Emergency numbers – 112 EU wide hotline for fire, police and ambulance
Time – Greece is two hours ahead of the UK – which we only found out after a couple of weeks!
Our visits
April 2013 – June 2013
Duration – 75 days
Route – Ferry from Italy to Patra. Followed coasts of Peloponnese in anti-clockwise direction. Across south of mainland via Delphi to Athens then north to Evvia island, around the Pelion peninsular, inland to Meteora then north east to Halkadiki, a trip around the Sithonia peninsular then north to cross into Bulgaria near Promachonas. See Map.
Miles driven – 2405
Average daily spend – €36.97 (€33.70 not including repairs)
Average spend on overnight stops – €2.69 (63 free nights – 3 free aires, 60 free/wild camping, one charge of €5 to use service point. 12 paid nights – 11 on campsites, 1 at paid parking)
Costs
Diesel
In Greece prices varied by about 20c between stations, even if they were right next to each other! The prices we paid were between €1.41 and €1.29. As we further up the country the cost seemed to decrease. Unleaded fuel was quite a lot more expensive than diesel.
LPG
LPG was widely available above the Gulf of Corinth, but was more difficult to find on the Peloponnese. We only needed to fill up twice and paid €0.76 and €0.83 per litre. As well as being available at some petrol stations, there are also dedicated Auto Gas stations which are often signposted from quite a long way off.
Eating out
As we arrived in Greece from Italy wefound eating out to be good value, however those who have travelled to Greece from Bulgaria and Romania have found it to be expensive. Unlike Italy main dishes already have a side dish so you don't need to order a separate one – we over-ordered for our first few meals (but a double portion of chips wasn't such a bad thing). When we were unsure we tried to make what we were ordering add up to around €10 per person, then we knew we'd be OK. On the Peloponnese when we'd had a big meal, we'd be given a free desert – usually fruit drenched in honey.
We often ate out in the village or town where we were free camping for the night, asking the taverna owners if it was OK. They got some business, we got somewhere to stop for the cost of a meal – everyone is happy! Sometimes in the less touristy places there is no menu and we've also been invited into the kitchen to look at all the dishes slow cooking in pots, speak to the cook and place our order with them. If you're having wine try to order it by the litre or half litre as it's much cheaper than the bottle and often quite good stuff. There is often a cover charge applied to your bill which includes water and bread.
For snacks you won't go far wrong with Tyropita – cheese pies. You can also get spinach ones and meat ones, they're all baked in flaky pastry and under €2 make a great lunchtime snack. And don't you dare leave without having some Baklava – a sticky sweet cake made from flaky pastry (there might be no other kind of pastry in Greece), filled with nuts and drenched in syrup – it's lovely, but make sure you buy the fresh stuff from a large metal tray in a cake shop (which are sometimes also newsagents)
1 x Cheese pie €1.20

1 x turkish coffee, 1 x sprite, 2 x large Baklava in cafe in Pylos €8.90

Meal out in Pylos, One starter, two side dishes, two main dishes (already including side dishes) a litre of wine and a free desert (which we struggled to eat) €37.00

2 x huge cream cakes from shop (eaten on way home!) €3.60

'two fish, one salad?' = three deep fried fish each, a greek salad to share and litre of wine €28.00

Ice creams – €1.00 – €2.00

Greek salad to share, a whole crab with chips and beef burger with chips plus litre of wine €22.50

Litre of house wine in restaurant while sheltering from the rain in Plaka – €3.00

Chicken on a skewer, chips and greek salad each €10.00

2 x large gyros (kebab) and salad wrapped in pitta bread at Smile Gyros in Athens €8.50
Supermarkets – supermarkets used Lidl, Carrefour, local super, mini or street markets and fruit and veg vans (all of the big supermarkets accepted our visa card)
To keep costs down we also refilled our water bottles from the numerous drinking fountains in towns and cities – we weren't the only ones! We found in season fruit and veg to be very cheap in stalls by the roadside, or on the small vans that drive around with a loud speaker (don't confuse them with the scrap metal man or rug selling man, they all work the same way!). Meat selection in Lidl was often disappointing but the quality of what they did have was good. Don't be put off if there is no meat on show in the butchers, ask as it's often still in the chiller. If you're spending time at the harbours check out the fishing boats as some of them sell straight from their decks – we got one kilo of fish (four biggish ones) for €10.
1l UHT milk €0.75 (over €1.30 for fresh milk)

Smallish loaf of bread €0.90

500g mushrooms €1.79

125g mozzarella ball €0.89 (not often available, but tonnes of Feta!)

6 x 1.5l still bottled water €1.25

500ml cheapest larger €0.54

1.5l carton of cheapest w

ine €2.65

4 x chocolate mouse €0.99

100g budget chocolate bar €0.59
Travel
Fuel
Unleaded and diesel widely available and at nearly every service station an attendant will do the filling up for you. LPG (Autogas) is reasonably well available above the Gulf of Corinth. In the Peloponnese it was limited and we didn't travel to any of the islands so don't know about availability there. In addition to service stations there are also AutoGas places which sell only LPG. When filling with LPG you will need the same dish type adapter as used in France. Many service stations away from the motorways close on Sundays.
Tolls / Vignette
No vignette required. Greek motorways (many of which are more like UK dual carriageways) are toll roads and the prices vary depending on which one you are on. We paid €6 to go 15 kilometres on one, and €3 to go 70 kilometres on another! There's usually a road running parallel to the toll road, but it is often just a single carriageway and will take your through the local towns and villages. If you are going any sort of distance it might be worth paying the tolls as the local roads can be very windy and slow. 
Road regulations – the ones we know of!
Traffic drives on the right and overtakes on the left, so you need to ensure your headlights are deflected either with stick on adapters or duct tape. Distances are all in kilometres, and so are speed limited. As you pass the name sign for a town the urban speed limit of 50kph applies, unless otherwise stated, until you leave the town.
You must carry warning triangle in your vehicle as well as a fire extinguisher and first aid kit. Your are not allowed to use your horn in a built up area unless it is to avoid an accident, and you can be fined for this (unless you are the fruit and veg van wanting to tell people you are there, or need to say hello to a friend! – see the standard of driving section below). Police can impose fines but not collect them on the spot. The fine must be paid at a Public Treasury office within 10 days. Vehicles may be towed away if parked illegally, or if violating traffic regulations.
There are rules around who has priority on the road, but in reality it can be a bit of a free for all – especially with scooters. At some junctions and roundabouts we weren't entirely sure so we just took our time and gave way to anyone who looked like they weren't stopping. 
Road conditions
The roads across Greece were generally good. The surface was sometimes a bit bumpy, but not too potholed. On the main roads there is a general principle that you drive on the hard shoulder to make a single carriageway into a two lane road.
Road signs on the main roads are in both the Greek and Latin alphabets, minor roads often only use the Greek alphabet – it's really worth trying to learn it so you can translate. Be aware that in Greece motorways signs are green and other main roads blue – the opposite way round to most of Europe and the UK – and as most of the motorways are toll roads, it's worth trying to avoid the green signs.
Roads through the hills are often lacking in crash barriers, and hairpin bends aren't always marked as so – generally you'll just get a sign for a corner or chevrons on the actual corner. Care needs to be taken on roads cut into the rock as the netting used to stop rocks falling into the road if generally not there in Greece, so you can come around a bend and find rocks on the carriageway. You might also find goats in the road, sometimes with a shepherd but in the hills they seem to roam on their own and like to sunbathe on the tarmac!
Before a set of traffic lights there are yellow lights which flash if the main set are going to change to red shortly – especially helpful when the main set is around a corner – if you see flashing yellow lights, start to slow down as you won't make the main set before they go red.
Standard of driving
Greek drivers do not adhere to the rules! Don't be surprised to be overtaken on a blind bend with double white lines, or for someone to run a red light, honk their horn in a built up area or scooter down a street with a tray of drinks in their hand. Greek drivers are very confident, especially confident that they will pass you before the car coming in the opposite direction will reach them. They sometimes seemed reckless and impatient as solid white lines are routinely ignored, even double white lines are often crossed on blind corners.
Like most drivers on the Continent, they will sit on your bumper waiting to over take – we would indicate to let them know when it was clear to pass, sometimes slowing down to make sure they did get past before an approaching car reached them. Despite all of this they aren't aggressive drivers and would often honk a thank you as they overtook us.
Overnight stops
Aires/Service points
Generally Greece doesn't have Aires – dedicated motorhome parking with services. The one we used was just a car park near a beach but did have manhole cover that you could lift to empty your black and grey water, and was free. We asked at campsites when we needed a service point, some was let us use it for free others charged around €5.
Campsites
We only stopped in a few campsites, as we only go to them when we needed to do the laundry or when the location prevented us from free camping (such as in Athens). The prices varied considerably with the cheapest being €13, the most expensive (in Athens) €26 and the facilities at both were very similar.
Many campsites are set up for tents only and add on motorhome places as an after thought – the ones we stopped at were either recommended to us, or were from a motorhome database so we knew we could get in and out of it and there would be a service point. The places we stayed at were of a good standard and clean although the facilities were often a quite tired looking. There are some ACSI sites in Greece, and the Groups of Greek campsites also run their own 'loyalty scheme' where you can get a percentage discount by collecting stamps on a card when you stop at other sites in the scheme.
Free / wild camping
Wild camping is illegal across the whole of Greece, however the law doesn't seem to be enforced – even when additional signs are added to warn that you'll go to jail or face a huge fine. We found the locals very welcoming, at one stop a chap came to greet us pointing out a good place to stop and where to get water from (there are loads of water taps in every town or village – a red top means it's drinking water).
We free camped most of the time, venturing onto campsites when we were in Athens, and when we needed to do our laundry. We used PeeJay's free camping database to find many of the places we stopped, and as we got closer to summer we found more motorhomes joining us. We met some people who had free camped on beaches for months without any problems. The only problem we had was kids drawing on the side of Dave while we were sleeping in a car park Galatas, but it easily came off with some alcohol hand cleaner.
Contact with home
Phone
Our mobile phone always found a signal in Greece – call charges were around 30p to make and 10p to receive (per minute). Text messages are free to receive and around 10p to send.
Email/Internet
We used our Europa SIM when we first arrived in Greece, then at our first big town we stopped at a Cosmote shop and bought their 'Internet on the Go' SIM. This gave us 14 days to use 2GB of data for €20. We could easily by top-ups for it from the minimarkets and cigarette kiosks dotted around the country. We bought the wrong kind of top up first time, so it's worth taking the packaging with you when buying to make sure you get an internet top up as opposed to a phone one (the bloke in the shop swapped it for us once we realised our mistake). You go to a dedicated website which tells you how much time and data you have left and you can type in the codes from your top up here and select what top up package you want next – 30 days, 14 days or 1 day. We found this to be really easy and straightforward to use and we got a data signal everywhere – although it was a bit weak on the tips of some of the peninsulas.
Post
The post offices have a blue and yellow front and have Hellanic Post written on them (in Latin and Greek). You can buy stamps there or at most places selling postcards. The opening times for post offices in smaller towns are somewhat erratic, the times are posted on the door, but not always followed. When buying stamps we take with us what ever it is we want to post to make it easier, but often the people behind the counter speak some English.
Read our daily updates
The links below will take you to our last day in Italy and the ferry ride over to Patra in Greece, at the bottom of each daily update there is a link to take you forward to the next day or back to the previous.
Greece – April – June 2013