The below guide has been written based on our experiences in Germany and will hopefully give you a good idea of what it's like to travel there. However, things do change, so before you set off it's worth checking for up to date travel information from the Foreign Office website, and the latest driving regulations on the AA website. At the bottom of the guide we've added links to our daily updates while we were in Germany, so you can live the adventure with us.
General Information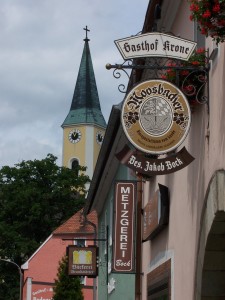 Country – Germany
Capital city – Berlin, 600 miles from Dover
Currency – Euro
Languages – German
Visa requirements – Part of the EU so visas not required for EU citizens.
Borders – Part of Schengen zone. No border formalities with other Schengen zone countries.
Telephone country code – 49
Emergency numbers – 112 EU wide hotline
Our visits
August 2012
Duration – 31 days
Route – Crossed border from Czech Republic near Plzen. Travelled south to Regensburg then south east to Passau by the Czech border. We nipped across the Czech Republic to reach Bad Reichenhall, we then followed the route of the Deutsche Alpine Strasse to Garmisch Partenkirchen then headed north via Dachau to Munich. We then travelled North stopping in places like Nuremburg, Gottingen, Paderborne, Hannover and Hamburg before heading North West to the North Sea coast then into The Netherlands. See Map.
Miles driven – 1755
Average daily spend – €45.50 (€42.18 not including repairs)
Average spend on overnight stops – €5.00 (15 free nights – 10 free aires, 5 on friends drives, 16 paid nights – 13 paid aires, 3 campsite)
Costs
Diesel
€1.39 – €1.57. When in Bavaria we nipped across the border to fill up in Austria which is cheaper (as is fuel in the Netherlands). Prices in Germany seemed to vary throughout the day, we parked in a supermarket just before lunch, by the time we came out just after 1pm the price of diesel had gone down by 2c a litre. Friends in Hannover confirmed that prices change throughout the day – not sure if this also occurs in Bavaria and other regions – the cheapest time to fill up is in the evening on a Sunday, Monday or Tuesday, with prices going up as the weekend approaches! Keep your eyes peeled and fill up where you see it cheap, not when you're about to run out and you'll save quite a few euros.
LPG
€0.79 We saw LPG at several roadside petrol stations, but we did not need to fill up so don't know what adapter was used.
Eating out
The food is generally meat and potatoes in some form or another, we can thoroughly recommend the Schweinshaxe (pig knuckle) if you're hungry. We mainly ate in beer gardens which offer good hearty food at reasonable prices, as well as beer! You may see a pfand on glasses, this is a deposit to make sure you take the glass back. We also found that soft drinks were generally more expensive than beer, so unless listed on the bar menu as a Radler or Alster, when a bar makes up a shandy it can become quite expensive.
2 x hot main course, plus two large beers at a campsite €25
2 x hot main course, plus one large radler (shandy) and two large beers in Bavarian restaurant €35
2 x roasted pig knuckle and potatoes, one large beer, one small radler in Munich beer garden €31.80
1 large beer and small radler in Munich beer garden €11.80
1 takeaway box of chicken chow mein €3.50
1 x roasted pig knuckle, potato dumpling and large Rauchbier (smoked beer) plus 1 x chicken nuggets and chips and a large sprite in Bamburg beer garden €24
Small bottle of pop from kiosk in Hamburg €1.30
Ice creams ( cone and one scoop) €0.70 – €1.20
Supermarkets – supermarkets used Edeka, Netto, Lidl and Aldi (only Edeka accepted my visa or MasterCard, so cash was needed for all purchases).
Supermarkets are generally closed on Sundays. When buying drinks all bottles have a pfand (deposit) on them, glass and plastic – generally around 25c a bottle, which is claimed by taking the bottles back to the same chain of stores (doesn't have to be the same store, but you can't take back Lidl bottles to Aldi, the machine just spits them back at you – we tried!). You'll get the deposit back in the form of a voucher to use in the store, or some machines offered you the option to give it to charity.
1l UHT milk €0.45
Loaf of bread €1.11
250g mushrooms €1.49
125g mozzarella ball €0.49
1l still bottled water €0.35 (plus 25c pfand)
6 x 330ml bottles of White beer €1.99 (plus 25c pfand per bottle €1.50)
1l carton of wine €0.49
100g budget chocolate bar €0.54
Travel
Fuel
Unleaded and diesel are widely available. LPG is also available at many petrol stations, we also saw other types of auto gas to so take care which you fill up with.
Tolls / Vignette
No vignette required. The motorways are all free and well maintained.
Road regulations – the ones we know of!
Traffic drives on the right and overtakes on the left, so you need to ensure your headlights are deflected either with stick on adapters or duct tape. Seat belts must be worn by driver and all passengers. You must carry an emergency warning triangle and first aid kit. High visibility jackets are recommended. Studded tyres are forbidden but if you have an accident and the conditions warrant winter tyres (there aren't specific dates, it just depends on the weather) and you don't have them fitted, you are liable.
You'll see yellow diamond shaped signs, these mean that you have priority. If you see one with a black line through it, you no longer have priority, traffic from the right does – this is usually on approaches to roundabouts. When turning right at traffic lights beware as pedestrians and cyclists crossing the road have priority over you, often you'll have a flashing yellow light to remind you, but not always. Distances are all in kilometres, and so are speed limited. As you enter a town (passing the yellow name sign) the urban speed limit of 50kph applies, unless otherwise stated, until you are out of the town, this is marked by another yellow sign with a red line through it.
Several larger towns have emissions restrictions in their centre (often the area inside a ring road), these are signed as Umweltzone. To enter these zones you need to have a sticker on your vehicle and the colour of the sticker is determined by the level of emissions. More information can be found here. Being an old diesel motorhome we couldn't qualify for a sticker, initially we stayed outside the Umweltzone, however when visiting people or businesses within it we had to go into it – we were never stopped, fined or questioned when we did.
There are numerous cycle paths, if the paths are on both sides of the road you should cycle on the side in the same direction as the traffic.
Road conditions
We mainly used the free motorways to get around, they were very well maintained however this did lead to us being stuck in several traffic jams caused by roadworks. Diversions are signposted as Umleitung (or a capital U and an arrow). The signs are yellow – the same as secondary road signs and town names, which can be a bit confusing. Where there are roadworks and/or diversions, the normal road sign is still in place, but a red cross is stuck over the closed junction or name of the town which is no longer reachable.
When exiting motorways a blue Ausfahrt sign indicates where the exit is. The exit road often goes into a tight corner or tightens up as you loop around, it is well worth taking note of the separate speed limit for the exit lane and reducing your speed accordingly. Along the motorways the service stations like we have in the UK are also supplemented with more frequent parking areas. These generally have loos and picnic tables to eat at and offer a good alternative for a rest.
There are also several driving routes dotted around the country including The German Alpine Street (Deutsches Alpine Strasse), The Romantic street, The German Fairytale Route (Deutsches ???), these are marked out by small brown tourist signs along the route.
Standard of driving
On the motorway the standard of driving is generally good, if very fast. Some stretches have no speed limit so cars will fly past you, our van sometimes wobbled in their wake! We saw very few accidents, but in some areas there were many posters telling drivers to slow down.
We found that when letting other drivers out into the flow of traffic, signalling for them to pass or go before us etc, we were very rarely thanked – it doesn't seem to be the norm here.
Overnight stops
Aires/Service points
We found Stellplatz to be in many towns (although not always called Stellplatz). It is worth investing in a book or database of the stellplatz as some are free and in great locations. In bigger cities there are often several places you can park and one specific motorhome parking with services which is more expensive and a short way outside the centre. In Munich overnight parking was €15 at both the Alliance Arena and Olympic Park, in Hamburg there was a Stellplatz within walking distance of the city centre for €19.
The transport network in German towns and cities is great and you can usually buy an all day ticket which covers up to 5 people on all buses, trams, underground and ferries for €6-€12 – dogs are welcome too.
Campsites
With over 2000 campsites there are plenty to go around, we travelled across Germany in August and never booked ahead for any place we stopped. We stopped in a couple of campsites mainly for laundry sessions as we struggled to find self service laundrettes, they are usually only in the larger towns and cities especially those with a large student population. Sites were good but depended on the region. In the site we went to in Bavaria pitches were marked and a long list of rules were in place. The site we stopped in which was by a lake in the former East Germany had no marked pitches and few rules. However both sites were impeccably clean with great sanitary facilities.
We did find at one campsite on the Rhein that the ACSI price wasn't the best deal, they offered a Stellplatz price where you paid €8.50 for parking for the night and extra for any of the services you wanted to use – electricity, loo, showers, laundry, wifi etc – this would have worked out a better deal for us so probably worth checking first what the costs are.
Free / wild camping
We were told that you aren't supposed to free camp in Germany by the side of the road and that you must get permission before camping on private property. Due to the large number of Stellplatz and marked motorhome parking areas we never had to do this. One evening we stopped at a restaurant and asked to sleep in their car park if we ate there that night, they were happy for us to do this.
Contact with home
Phone
Our mobile phone always found a signal in Germany – call charges were around 30p to make and 10p to receive (per minute). Text messages are free to receive and around 10p to send.
Email/Internet
We struggled to find free wifi hot spots. Those that we could see were all secured. Some campsites offer free WiFi, but many charge a few Euros per day to access it. As we were travelling around for a month we bought a SIM for our laptop dongle – there is more information here.
Post
Post offices are called Deutsche Post and have a yellow sign outside them. Stamps are called Briefmarken.
Read our daily updates
At the bottom of each daily update there is a link to take you forward to the next day or back to the previous. The links below will take you to the first day of that part of our tour, so in this case you will also get our two days in Switzerland in the middle of our trip through Germany.
Germany – August 2012