The below guide has been written based on our experiences in Bulgaria and will hopefully give you an idea of what it's like to travel there. However, things do change, so before you set off it's worth checking for up to date travel information from the Foreign Office website, and the latest driving regulations on the AA website. At the bottom of the guide we've added links to our daily updates while we were in Bulgaria, so you can live the adventure with us.
General Information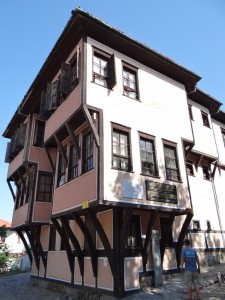 Country – Bulgaria
Capital city – Sofia, 1458 miles from Dover
Currency – Bulgarian Lev (лев in Bulgarian). 100 stotinki (стотинки in Bulgarian) = one Lev. One Lev is pegged at just under half a euro, so we divided by two to work out prices.
Languages – Bulgarian is the only official language, although many younger people speak some English.
Visa requirements – Part of the EU so visas not required for EU citizens staying less than 3 months.
Borders – Not part of Schengen zone so passports are checked at the borders.
Telephone country code – 359
Emergency numbers – 112 (EU wide helpline) or 166 Police, 160 Fire, 150 Ambulance
Our visits
June 2013
Duration – 10 days
Route – Drove north from Greece into, then clockwise around the Rila mountains. We then headed east to Plovidiv before turning north to visit Koprivshtitsa. We then we east again through the valley of roses and up through the Shipka pass to Veliko Tervano, then north into Romania at Ruse. See Map.
Miles driven – 641
Average daily spend – €47.69 
Average spend on overnight stops – €3.04 (8 free nights wild/free camping, 2 paid nights on a campsite)
Costs
Diesel
On average around 2.61 Lev (€1.30) with little variation between stations.
LPG
LPG was widely available and cost us 1.17 Lev when we filled up by the Romanian border (€0.56)
Eating out
We ate out a few times and found it to be very cheap and good quality. Many restaurants also have a menu in English.
€20.00 – salad, starter and 2 x main plus beer and wine at restaurant near border (we had no Lev at that point but they accepted Euros!)

3 Lev (€1.50) – 500ml beer and a fanta in mountain restaurant
40 Lev (€20) – meal out 2 x starter, 2 x main and several drinks!
Supermarkets – supermarkets used were Lidl and Billa.
We were expecting everything to be really cheap coming to Bulgaria after Greece and Italy, but in the supermarkets the only thing that stood out as being very cheap was the beer. We managed to pick up a 2.5l bottle of beer for less than a Euro!
Loaf of bread 0.72 Lev (€0.36)

1 Litre UHT Milk 1.39 Lev (€0.70)

Six Eggs 1.69 Lev (€0.85)

1.5 Litre of still water 0.49 Lev (€0.24)

250g Ball of Mozerella Cheese 2.19 Lev (€1.10)

100g Bar of chocolate 0.99 Lev (€0.49)

4 x Chocolate Puddings 2.19 Lev (€1.10)

1 Litre Box of cheapest wine 2.99 Lev (€1.50)

500ml Bottle of Beer 0.69 Lev (€0.35)
Travel
Fuel
Unleaded and diesel were widely available with many fuel stations. We weren't in the country long enough to track and price movements, however we did notice very little price variation between service stations. One station we visited wouldn't take our credit card, so make sure you always have enough cash on you to cover the transaction just in case.
Tolls / Vignette
A vignette is required for the majority of the roads, they are marked with a sign at the side of them and we couldn't see a way across the country without using them. It can be bought at the border if you are in a car, but we were directed to buy ours at a service station – they are on sale in nearly all service stations. It cost us €13 for a month (you can pay in Euro or Lev), however if you were only planning to drive across the country you can buy a week vignette for €5. Costs went up if you vehicle was over 3.5t. As we left the country we had to go through a vignette check point where a visual check was done to make sure our vignette (a sticker on the windscreen) was in order.
Road regulations – the ones we know of!
Traffic drives on the right and overtakes on the left, so you need to ensure your headlights are deflected either with stick on adapters or duct tape. You must carry a high visibility jacket for each person, a first aid kit, warning triangle and a fire extinguisher.
The use of dipped headlights during daylight hours in compulsory and the use of your horn in built-up areas it is prohibited between 10pm and 6am (9am on public holidays), and between Noon and 4pm – unless to prevent an accident. If you have a GPS with speed cameras on your 'Points of Interest', this function must be disabled, and the use of radar detectors is forbidden (we saw several mobile roadside speed traps, so keep your speed down!)
Winter tyres must be used during winter conditions (no definition as to when or what that is just yet as the law has only just come in) and snow chains must be carried from 1 November to 1 March and used where needed. Fines issued for driving offences must be paid on the spot, and an official receipt issued. Wheel clamps are used for illegally parked vehicles, and those causing an obstruction can be towed away.
As you drive along you'll see yellow diamond-shaped signs, these mean that you are on the priority road and others must give way to you. If you see one with a black line through it, you no longer have priority, traffic from the right does – this is usually on approaches to roundabouts. If we're not entirely sure who has priority we just take our time and give way to anyone who looks like they aren't stopping.
Distances are all in kilometres, and so are speed limited. As you enter a town the urban speed limit of 50kph applies, unless otherwise stated, until you are out of the town. Seatbelts must be worn by driver and all passengers in front and rear seats.
Road conditions
The roads in Bulgaria are mainly in a poor condition. There are quite a few miles of smooth EU funded tarmac, but even some of those now have pot-holes in them. Motorways swap between smooth tarmac and a bumpy patchwork without any warning.
Smaller roads (some of them still the main route) can be very badly pot-holed. We experienced one of the worst we had ever driven in as we went around the bottom of Lake Iskar near Samokov, there were so many deep pot-holes it was impossible to avoid them all – one was over a foot deep and took up all of one side of the road. Keep your speed down as pot-holes can appear anywhere, and also watch the car in front of you – it will undoubtedly swerve to avoid them and give you a bit of warning.
Standard of driving
The standard of driving that we saw was OK. People were generally courteous and would thank us when we indicated that it was safe for them to overtake us. We went slowly due to the random pot holes, so we were overtaken a lot. On some of the dual carriageway roads people would sometimes drive in the centre lane as it was often the smoothest. 
Traffic on the roads was not limited to cars and lorries, there were also a good few horse and carriages, especially in the countryside. These tended to stick to the edge of the road, leaving as much space as possible for us (and others) to pass.
Overnight stops
Aires/Service points
We didn't use any aires or service points and were unable to find any listed on any database we have.
Campsites
We only stayed on one campsite (camping Veliko Tarnovo) which had been recommended to us by fellow motorhomers. It is run by an English couple and the facilities are to European standards.
Free / wild camping
We free/wild camped most of the time when we were in Bulgaria. When we stopped at an attraction, such as the Rila Monastery or The Seven Lakes, where we had to pay to park we would check with the attendant if it was OK to sleep there too – it always was. We've also slept in the middle of a couple of towns, once checking with tourist information another time asking a security guard. We had no bother from anyone – other than curious glances.
Contact with home
Phone
Our mobile phone generally found a signal in Bulgaria. Call charges were around 30p to make and 10p to receive (per minute). Text messages are free to receive and around 10p to send.
Email/Internet
We used our EuropaSIM on most days and always got a good signal – even in the mountains. We also found  free wifi in Tryavno and at the campsite.
Post
We went into a couple of post offices. Both were full of counters each with a sign about it saying what they do – people were paying bills there – but also very quiet with hardly any customers. Once a window became free we went there and bought stamps for home. A postcard/letter to the UK cost 1Lev (50p) to send.
Read our daily updates
The link below takes you to our first day in Bulgaria. At the bottom of each daily update there is a link to take you forward to the next day or back to the previous.
Bulgaria – June 2013