The below guide has been written based on our experiences of Belgium in a motorhome and will hopefully give you a good idea of what it's like to travel there. However, things do change, so before you set off it's worth checking for up to date travel information from the Foreign Office website, and the latest driving regulations on the AA website. At the bottom of the guide we've added links to our daily updates while we were in Belgium, so you can live the adventure with us.
General Information
Country – Belgium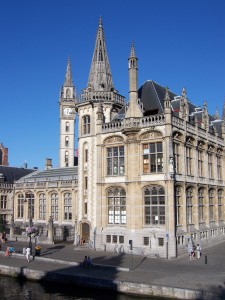 Capital city – Brussels, 135 miles from Dover
Currency – Euro
Languages – Flemish, French and German (English is widely spoken)
Visa requirements – Part of the EU so visas not required for EU citizens.
Borders – Part of Schengen zone. No border formalities with other Schengen zone countries.
Telephone country code – 32
Emergency numbers – 100 Ambulance, 101 Police, 112 EU wide hotline
Our visits
September 2012
Duration – 3 days
Route – Crossed border from The Netherlands just south of Eindhoven, then travelled east to Gent and Bruges before heading south to Ypres and over the border into France. See Map.
Miles driven – 377
Average daily spend – €49.70
Average spend on overnight stops – €0.23 (2 free nights – 2 wild camps – 1 paid aire (well paid 70c to stay after 9am!)
Costs
Diesel
Diesel €1.43 – €1.50. Diesel was cheaper in towns than on the motorway and also cheaper in Belgium than Germany, so fill up before crossing the border if you're going that way. It was around the same price as in The Netherlands.
LPG
€0.70 LPG is available at many service stations. However when we tried to fill up at one station the fitting was a type we hadn't seen before and the pump was self service. Luckily we were only going to top up because it was cheap, we would have tried harder to find an attachment if we were about to run out.
Eating out
Restaurants seemed quite expensive and we didn't eat a meal out in any of them as we were only in the country a short time. In the southern French speaking part of the country Walloon) the restaurants often had Plat du Jour offers on at lunchtimes.
A large beer and a wine in Gent €8
6 inch Subway sandwich in Bruges €3.30
McDonalds meal with extra fries in Bruges €8.90
Ice creams ( cone and one scoop) €1.00
Supermarkets – supermarkets used Lidl. We found Visa cards difficult to use in many places, not just supermarkets. Most supermarkets are closed on Sundays and very few are open 24 hours.
1l UHT milk €0.42
Loaf of bread €0.99
125g mozzarella ball €0.41
1l still bottled water €0.49
100g budget chocolate bar €0.45
Travel
Fuel
Unleaded and diesel are widely available. LPG is available at lots of petrol stations and often self service. We tried to fill up at one station the fitting was a type we hadn't seen before and the pump was self service, so try not to get too low just in case.
Tolls / Vignette
No vignette required. The motorways are all toll free but this comes at a price, they are often bumpy and have pot holes.
Road regulations – the ones we know of!
Traffic drives on the right and overtakes on the left, so you need to ensure your headlights are deflected either with stick on adapters or duct tape. Seat belts must be worn by driver and all passengers.
You must carry an emergency warning triangle, first aid kit, fire extinguisher and high visibility jackets. Studded tyres are allowed from 1 November to 31 March. Distances are all in kilometres, and so are speed limited. As you enter a town the urban speed limit of 50kph applies, unless otherwise stated, until you are out of the town.
There are many cyclists and cycle paths running alongside, or as part of the road, especially in the North of the country. You'll see yellow diamond shaped signs, these mean that you have priority over other vehicles. If there isn't one of these signs, or you see one with a black line through it, you no longer have priority, traffic from the right does – this is usually on approaches to roundabouts and in some residential areas. We've read that it's illegal to go through an amber light and saw many red light cameras to back this up, so we took extra care to slow down approaching traffic lights. When turning right at traffic lights beware as pedestrians and cyclists crossing the road have priority over you.
When parking we discovered that you often need a parking timer so the traffic warden knows how long you have been there, as many are limited to a couple of hours. We started by scribbling our parking time on a piece of paper and bought a timer when we saw one at a service station, however we've been told many Tabacs (newsagents) or Tourist Informations will give you one for free if you ask.
Road conditions
We mainly used the free motorways to get around at first these were Ok, but the further south we got the worse they got. There were also roadworks on several of the main routes often causing huge tailbacks. Where we encountered roadworks, black sticky tape was used to cross out the route that was closed.
The smaller roads tended to be in a bad condition, many are made of huge concrete slabs and have bad joints so you feel like you're on a train track. We saw many instances of the road surface breaking up and in Walloon most every secondary roads had a sign saying it was degraded or deformed, seems a sign is easier and cheaper than repairs!
Standard of driving
On the motorway the standard of driving is generally quite good, just be aware that drivers are forthright on sliproads and junctions and go where they want to, often at speed. Overall the drivers are courteous and will wave thanks if let in or out and their driving standard isn't as bad as we had been told.
Overnight stops
Aires/Service points
There are quite a few aires in Belgium, mainly across the north. Those in the south are widely spread, but as it's a small country they aren't very far apart – however it does pay to plan a little if you need to use the services. The ones we did use were always fully functioning and clean.
Campsites
We've only ever passed through Belgium for short periods, generally on our way to and from the UK, so haven't needed to go to a campsite.
Free / wild camping
In Belgium parking up pretty much anywhere is tolerated for a night, as long as you're legally parked. We stopped on roadsides in town centres, car parks by lakes and dams and never been bothered – except by locals driving around so it's worth picking your spot with care.
Contact with home
Phone
Our mobile phone always found a signal in Belgium – call charges were around 30p to make and 10p to receive (per minute). Text messages are free to receive and around 10p to send.
Email/Internet
We struggled to find free open wifi hotspots. But there are loads of ones you can connect to and pay a few euros for. Some cafes and tourist information offices offered free wifi as does McDonalds. All campsites seemed to offer it, but often charged a few euros for it.
Post
We've never needed to used the Post Offices in Belgium, but they are open Monday – Friday 9am – 5pm and some open on Saturday mornings if you need one.
Read our daily updates
At the bottom of each daily update there is a link to take you forward to the next day or back to the previous. The link below will take you to the first day that we entered Belgium.
Belgium – September 2012