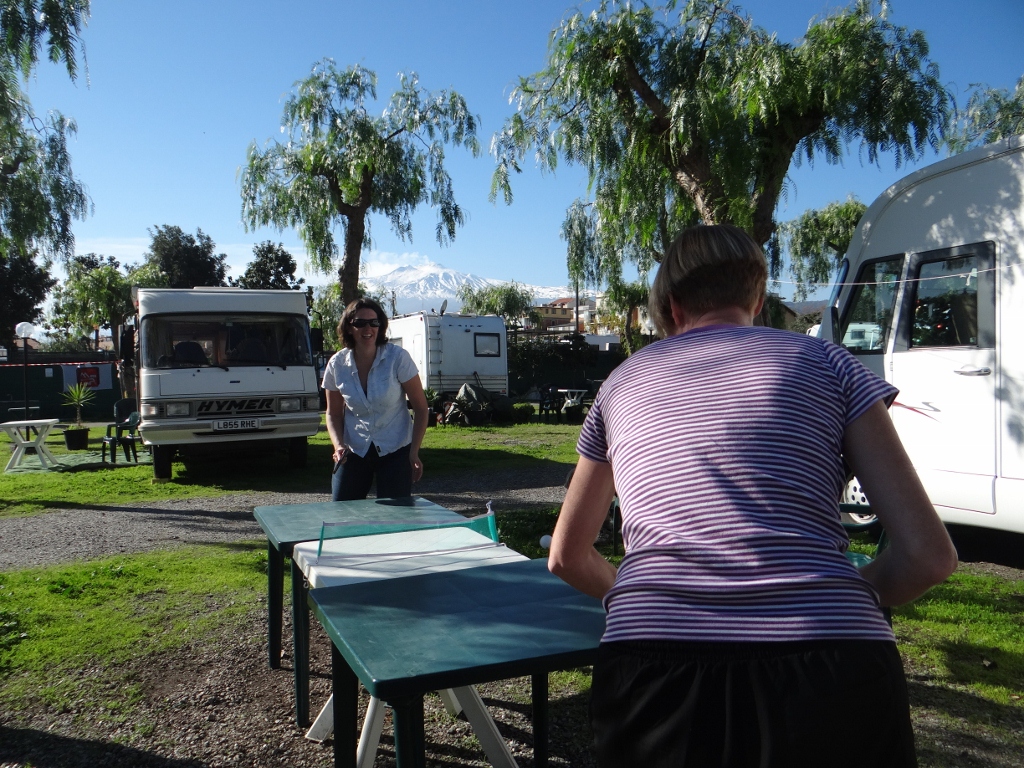 Dave the motorhome is parked up, with other motorhomes – something that hasn't happened for ages. We're in Eden Parking in Giardini Naxos (here: N37.82224 E15.26699, about half a mile from where we free camped by the sea a couple of nights ago).
Last night our new book finally went live on Amazon. A monkey ate my breakfast is now available to buy as either an eBook or Paperback – we can't believe it, we've published a paperback! It's only taken us about 10 months. We're going to have to buy a copy ourselves just to see it and feel it so we know it's real. There now follows some shameless advertising – If you think you can't face any more James Bond films or The Great Escape for the millionth time, please feel free to buy our book and read that over the Christmas period (and pop a review on Amazon), if you like our blog we're pretty sure you'll love the book as it goes into all the details about our time in Morocco earlier this year – and it will make us very happy!
Enough of that and back to my normal update. To celebrate it's launch we cracked open the start of our Christmas stash – well technically that was at the Greek/Roman theatre yesterday were we snacked on honey roasted macadamia nuts. As we watched the Muppets Christmas carol we pigged out on Minstrels then moved onto Turkey and Chestnut Stuffing crisps. The road we were on was quiet and after our walk we were shattered – unsurprisingly we all slept like logs.
This morning we were wide away by 7.30am – excited about Christmas and having some company. We gave Dave a token pre-Christmas clean out, turned over his sofa covers to hide the worst of the dirt on them and set off for Eden Parking. It was only about 5km away, so we were parked up and hooked up by 10am. Opposite us are fellow Brits Helsonwheels, who we got in contact through Glen Swatman who has been reading our blog, they found this place about a month ago – it's perfect and only €6 a night which includes electricity and wifi – be warned Jay is unloading the last few weeks worth of videos, so if the Queens speech is a bit dull you'll still have something to watch!
As we chatted to them one of the more multi-lingual motorhomers, Rene from Germany, came over and asked if we wanted to join in the Christmas dinner tomorrow – for only €9 each of course we would. He reeled off the food we'd get – we only recognised the word lasagne – which is being cooked by some Italians in the motorhomes next to us, and also includes some booze so we'll be more than happy.
We sat around in the sunshine with a smoking Mount Enta as a backdrop – rather surreal. As we chatted to Helen and Helen (makes it easy to remember!) Charlie followed their dog Zach around like a lost puppy. Our unused table tennis kit got an airing and we played a few games before a Jay got out the BBQ. He cooked up some of the random meat products we'd bought from the supermarket for Christmas dinner, yesterday when we thought we'd be spending it on our own!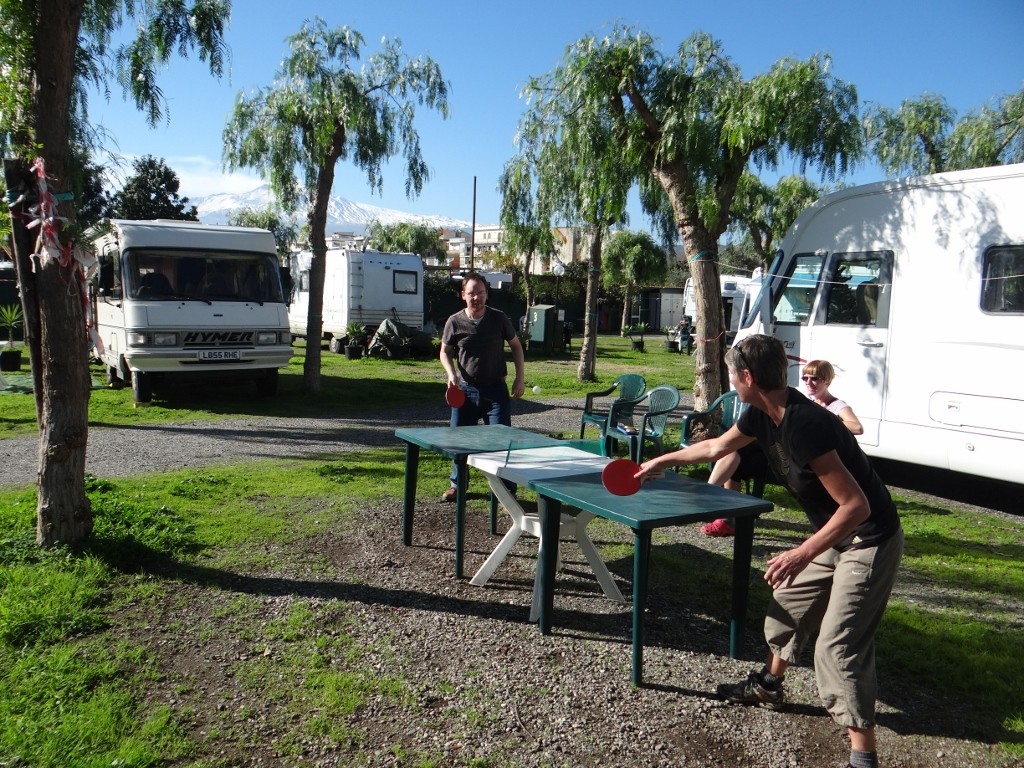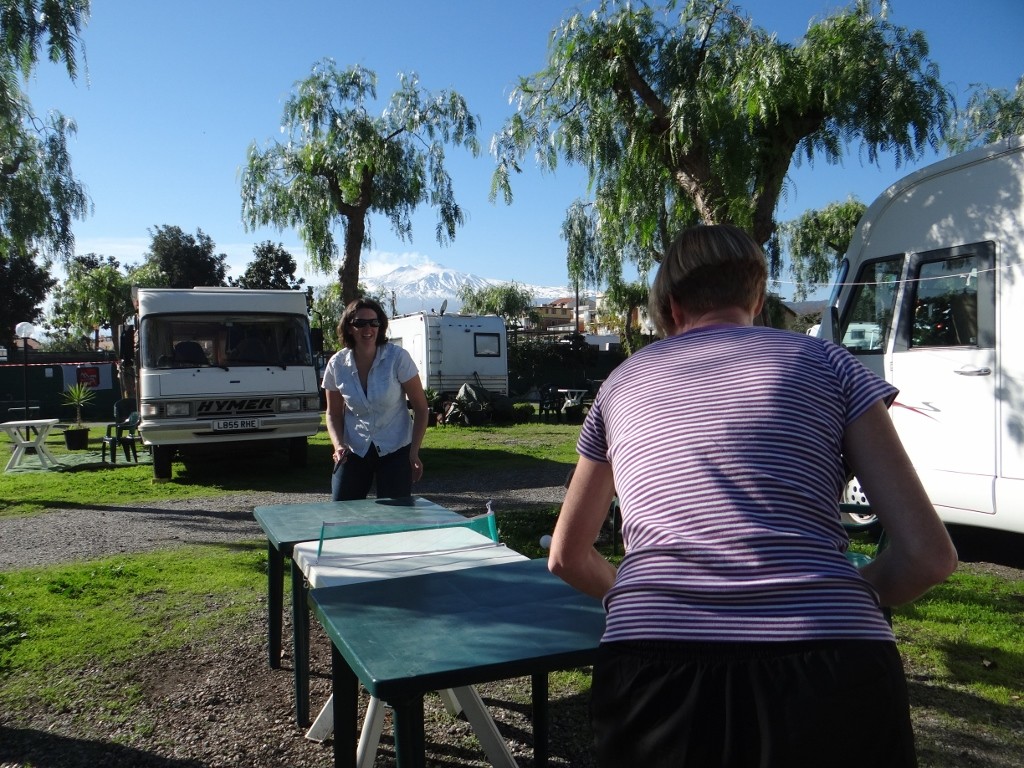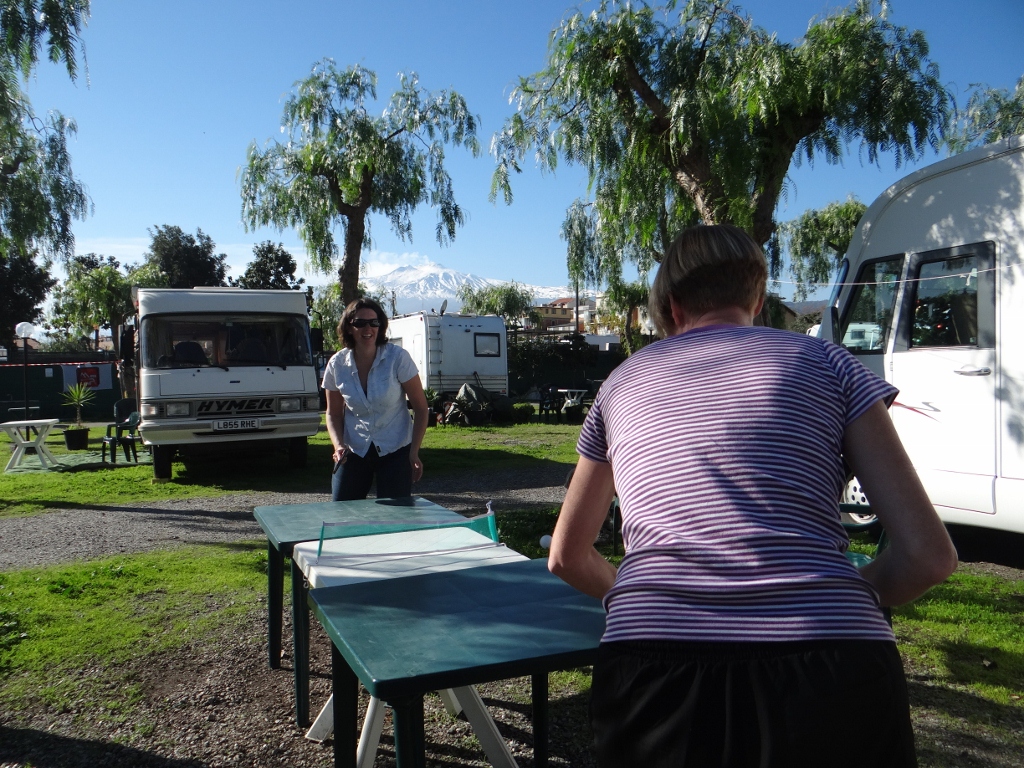 It's a great site, really relaxed. As we arrived a fake grass mat was pulled next to Dave so we didn't drag dirt into him and plastic table and chairs were moved over to our area. Our Italian neighbours were explaining to us that Etna only had one smoke plume recently, now it has two – much excitement. The sun is shining and looks set to do so tomorrow and hopefully the next few days. I know everyone in soggy England will hate me for saying this, but I might have to dig out the sunscreen!!
Tonight we're cobbling together some fajitas and it's time to start on our wine stash – fingers cross it'll last until Boxing day morning when the shops re-open! I do miss the traditional Christmas dinner, a fork full of turkey, pigs in blankets and stuffing would go down a treat right now – but it's going to be great to spend the day with some Italians and Germans, and British – it'll be a linguistic challenge but one that will no doubt get easier the more the alcohol flows!
Sleep tight everyone, just one more sleep until Santa. Have a perfect Christmas and be sure to let me know if the Doctor Who Christmas special was any good.
Ju x