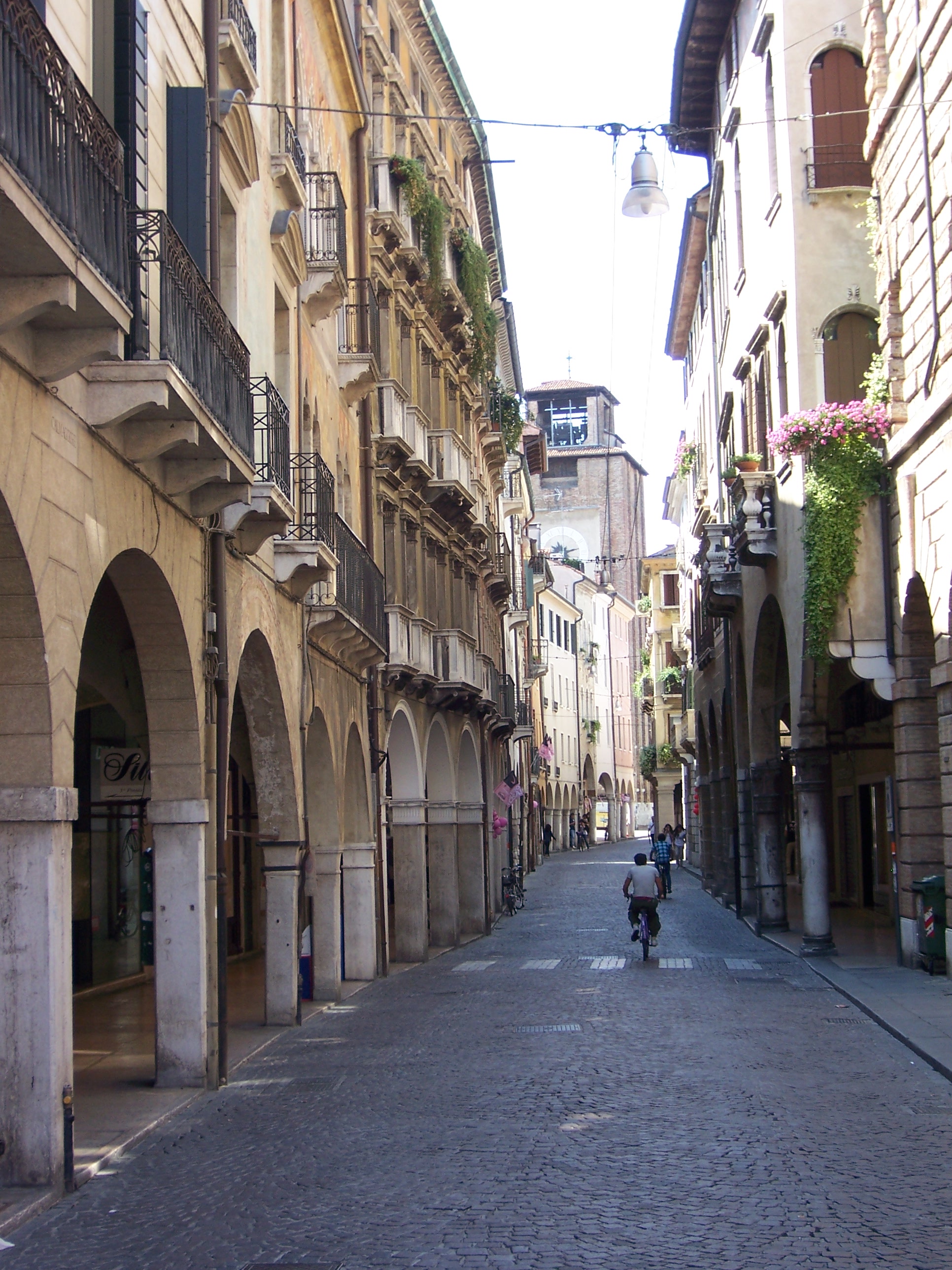 We're here: N45.66762 E12.26385. It's a free sosta about a 15 minute walk
from the centre of Treviso, which is itself a half hour drive north of Venice and the Adriatic sea.
The weather is: hot. It's umpteen degrees in Dave, and Charlie's hiding under the table, attemping to heavy breathe his way to a comfortable temperature. I'm tempted to fling him under a nearby cold tap.
I guess it was inevitable. After the past days traveling through achingly beautiful landscapes and enchanting, immaculate towns, coming south was going to be a come down. I think I'm starting to turn into the people they get to write the Rough Guide. Not for that I'm getting close to their writing ability or knowledge of the country, more that I'm getting fussier about places and our present town of Treviso just doesn't make the mark. Having said that, I'm finding I'm ofter super-critical of a place the first day we're there, and find places far more enticing the day after. Maybe it's because I've had to drive and am a bit frazzled from an hour or two's hazard perception. A bit more on Treviso below.
Last night a Ukranian-registered minibus pulled up next to Dave and three guys sat around the back with a gas stove, cooking something delicious. They spoke loudly in what we assume was Ukranian, but sounded Russian to us. I was keen to say hello, but these guys looked pretty tough. I spinelessly let Charlie do the introductions, popping him on the floor in the sure knowledge he'd go for a sniff of their grub. When I retrieved him, instead of the usual 'ah, look, little dog' reaction, they were all staring at him in silence and confusion, and then at me when I apologetically collected the furry fella and quickly legged it. I decided they were vodka-drinking hard men.
Since arriving in Italy, we've not had a single meal out in an effort to keep our budget on-track. We decided last night's town of Belluno looked a good place to break the piggy bank open. An earlier foray into the town  had revealed a rustic-looking place, clad with wood and with swings hanging from the archways out front. Sadly the swings were up when we arrived, but the outside seats were full of locals swishing tall wine glasses and elegantly sniffing away before taking a sip. No-one was eating but we asked inside if we could eat (actually I mimed putting food in my mouth, my Italian is that bad). Sure, come on in, and with that a local chap and his wine are evicted from the single table downstairs and we were installed.
We knew something of Italian meals, seemingly having innumeral courses – antipasto to start (meats, olives, bread and the like), then first course, second course, dessert and finally coffee. As it turns out, that's not how it worked here. The waiter came over and read out the menu, using a few notes on a scrap of paper to remind him what was on offer. This was all in Italian, so we were left a bit desperate, trying to pick out a word we might recognise. I hear the word 'wurst' – German for sausage – this region is officially bilingual and was Austrian until 150 years back. Ju heard 'Lasagne'. The food came and was delicious, exceptional, as was the house red. Once we'd eaten it, we half expected the waiter to come and offer another course but no, that was it. I supped an espresso and we headed back to Dave for some Lidl profiteroles, releaved to find the Ukranians hadn't annexed Dave or razed him to the ground for my previous dog-related indescretion.
8am this morning and we woke to hear animated foreign (we had no idea of the language) voices and the sound of parcel tape being pulled off the roll. A few accidental knocks on the side of Dave and my curiousity had me pulling back the curtain. We found more Polish and Ukranian vans had arrived and were busy with a steady stream of arriving punters, collecting parcels, selling various foodstuffs, handing over newspapers, magazines and fags, all with unfamilar Russian-style writing on them. This went on until we left an hour later, euro coins and notes changing hands. We got a few smiles and hellos, softening my perception of the these hardly-looking folk a little. A friendly Italian fella at the service point explained Italian's don't like doing the low-paid jobs (who does?) and these vans drive across Hungary, Poland and Slovenia once a week, acting as a bus service for maids and cleaners, and at the same time parcel and food couriers for the Italian Ukranian and Polish populations.
The drive here was an easy one. After the past days of two-handed steering wheel wrestling, it was back to one or two fingers doing all the work. Even the non-toll roads were in good nick, straight and wide (with more Giro resurfacing work in evidence). Our arrival in Treviso called an end to the easy travelling as we circled around the city looking for a motorhome shop, frantically trying to work out how the myriad of junctions worked. The bodged hinge on our habitation door is not long for this world and we need a real fix. The shop owner was very helpful, but didn't have the hinge. Our quest for one continues and divides opinion in Dave. I've given up and think we should get one posted out from Hymer UK; it'll cost about £50 and we risk it being lost en-route. Ju thinks we should track down a Hymer dealer in Italy, Slovenia or Austria and get one from them. Watch this space folks.
Treviso is, once you're in the centre, a pretty place. As with all the Italian places we stay, it's been here forever, at least a couple of thousand years. Many buildings have plaques announcing they were built in 1200, 1456, 1794 – bascially they're old as the hills. Many more are new – Allied bombing in 1944 doing away with the need for many of these little plaques, and killing about 1000 people.The city stands in a rectangluar moat, formed by diverting a couple of rivers, and we watched a few people canoeing and rowing on it. A pretty cool way to spend a roasting hot afternoon.
Tomorrow, we're heading for the big one: Venice calls. Although we'll not actually get into the city until the day after, we're mentally preparing ourselves for a stinking lagoon, pressing crowds, roasting temperatures, wincingly expensive prices and hoards of hungry mozzies. Bring it on.
Cheers, Jay