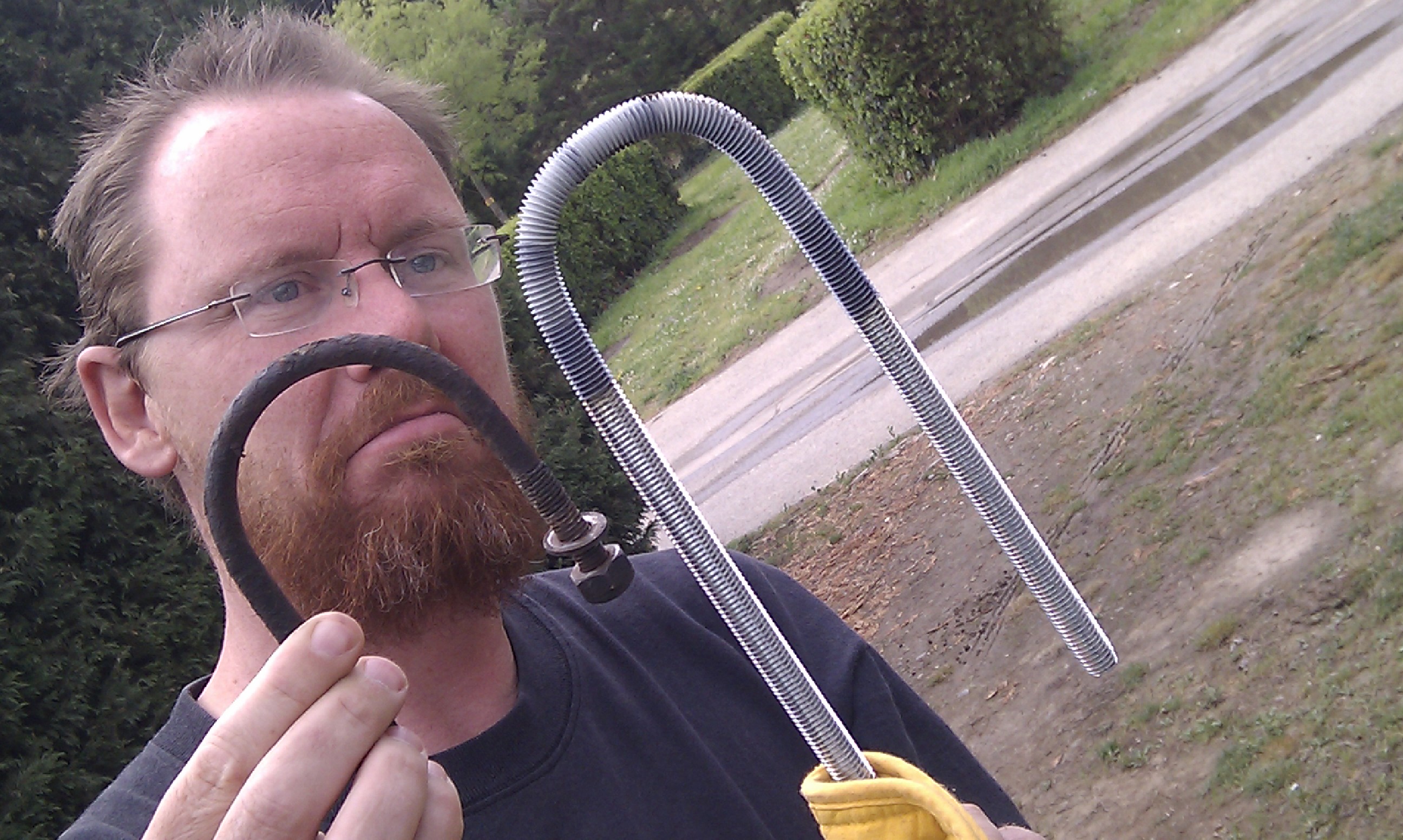 We're here: N43.20021 E2.35373
Weather – cloudy and some rain this morning, brightened up in the afternoon
I slept like a log last night, ear plugs in and I was gone. J however was on pooch watch, so didn't sleep too well with the noise of the cars, Charlie snoring, the thought of manic drivers rear ending Dave or the imminent arrival of the police to move us on. So, this morning to cheer him up I cooked an almost full English breakfast. Bacon, beans and sausage (from a tin) and mushrooms – it was tasty and worth the effort and huge pile of washing up.
We realised yesterday when Dave is at the garage the fridge will need to be switched off, so we're going to have to eat everything in it:
– our stock of British bacon from Gibraltar
– our pile of Tortilla Espagnol from Spain
– several varieties of cheese from our first shop on return to France
– a huge packet of Serrano Jamon from the Spanish mountains (well actually Lidl near the mountains!).
It's going to be tough, but I believe we can do it!
Dave's clutch is getting more troublesome. The bloke at the garage tightened it to get us to Narbonne and get it fixed, but none of us knew we'd have almost a fortnight to wait. We've been driving around as carefully as we can, taking toll roads to reduce clutch usage, but J thinks it's definitely on its way out, and soon. So instead of a tour around the region we headed straight for Carcassonne this morning. We'd planned to stop at an aire here, but after looking at our campsite books we found Camping de la Cite. It doesn't just have a view of the fairytale turrets of the Cite peeking over it's hedge dividers, it's also only a 10 minute stroll along a canal to the old town and best of all it an ACSI site, so it's only costing us €16 a night! The aire was €12 and had no hook-up or helpful staff – more on those shortly.
It's taken us six months to get to Carcassonne. I've wanted to visit here since reading Labyrinth by Kate Mosse, and today I found out that you can fly here from East Midlands. If you're after a weekend destination, do it. It's beautiful.
At the campsite I asked at reception if there was a place in town to buy the parts we need to fix Dave's air ride suspension. She helpfully suggested a couple of places, but when I got back to Dave J was reading the messages we'd had through about bending the metal rod we'd bought to make the parts. So, out came our safari chef (not just a BBQ/oven for Dave, but now a furnace too!) and J turned into He-man. He heated up the rods and bent them into shape. We then discovered our hacksaw wasn't up to the job, but I remembered seeing some plumbers vans fixing up one of the shower blocks, so we wandered over and helpfully (see I said they were a helpful lot) they were happy to let J use their vice and hacksaw – which was way superior to ours!
Parts made, we discovered the nuts we'd bought were too small – seems the rod is 12mm not 10mm (lord knows what the woman on the till charged us for, but as it was less than €2 it makes sense she got something wrong there!). So, we were back at reception getting directions to a shop within walking distance. As I got the details J found a tick on Charlie. It was his first one ever, and huge! We grabbed the tick remover and twisted it off, it was disgusting and full of poor Charlie's blood when we squashed it on the pavement (don't want it hanging around and getting back on him).
Finally we set off along the footpath to Carcassonne, we made for the new part of town – the fairytale castle can wait one more day – and found the parts we needed. We stopped off for a look at the canal du midi which runs past the town and then came back to Dave to finish the job. J fitted it all and pumped in the air – it seems to be working. The big test now is if the air stays in it – and so far it has! Fingers crossed when we finally move off the campsite, we'll have a much smoother ride and less clonking.
Tonight we're going to consume lots of wine to celebrate and eat more of the fridge contents.
And don't worry, we haven't forgotten, today we've been on the road for six months, so there's another blog post to follow – musings and facts.
Ju x