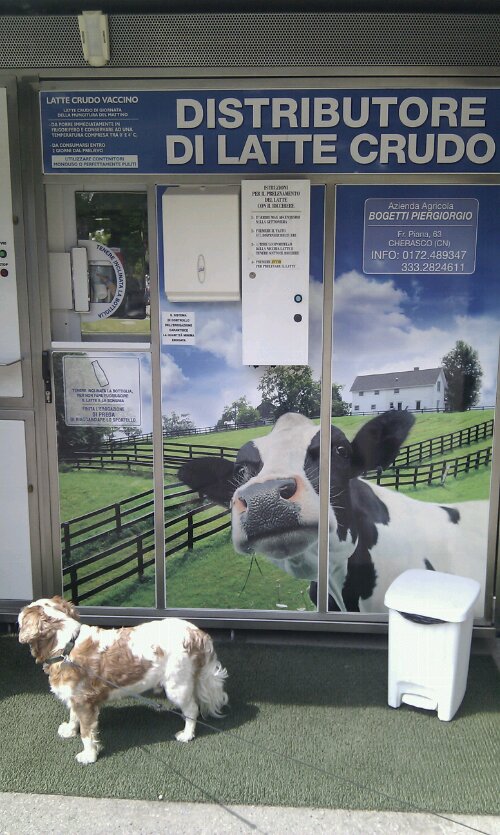 We're here: N44.64891 E7.85444. It's a free aire about 100 meters from the small town of Cherasco in Piedmont, Italy. The parking spot is fabulous, clean, quiet, occupied by just a few Italian motorhomes and, incredibly, it has free electricity. So much for our fear that in Italy it might be hard to find free parking places.
The weather is: depending on which neon pharmacy sign you believe, between 22°C and 26°C. The cloud's moved in now, but it's still roasting.
Despite being parked next to a train track, and the local churches each hammering out the hourly chimes, we slept like logs. After a quick grey water emptying session we consulted our database of aires. Cherasco pops up, an hour's drive east and free. A comment left by a previous French visitor says the town is pretty. Sorted.
The landscape changed quickly on our way here. The Alps disappeared almost immediately, leaving us driving through the Italian equivalent of Lincolnshire, flat fields of crops spread out to either side of a narrow road. Like Lincolnshire, overtaking opportunities for our pursuing locals were limited, although it seems the solid white line doesn't mean 'no overtaking' here. Either that or the locals just ignore it. Lots of lorries headed towards us, but the road stayed wide enough to save our wing mirror.
It was a short drive and pretty much featureless. After the pleasant surprise of the aire, we wandered off for a look at the town. Our guide books had told us a few things about the Piedmont region: it's affluent, the food and wine are outstanding and it's as much French as it is Italian. The first of these is easy to confirm, the houses in the town are huge with their outer walls intricately painted. The shops are boutiques, with just a few items in the windows. The roads are lined with poplar trees, several hundred years old. Basically, it's a plush spot. As for the food, we've not tried it as we're heavily loaded with French supermarket grub. Lonely Planet advises this is a capital of snail farming, so maybe there's the French link for you, we don't know.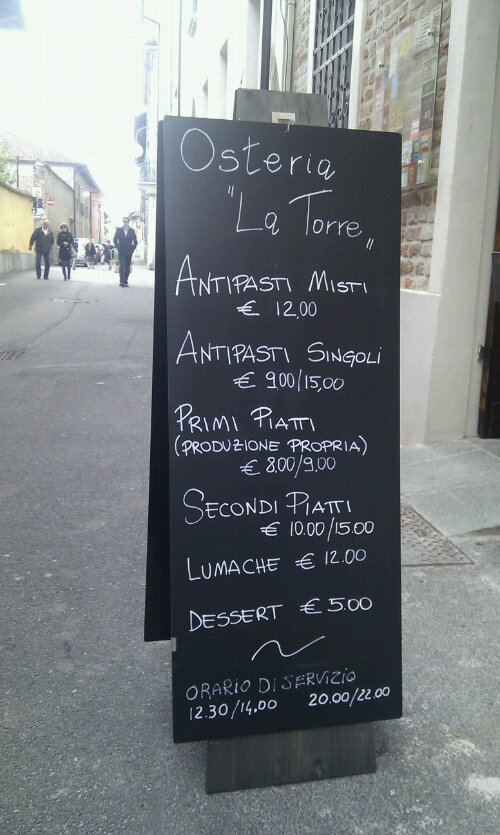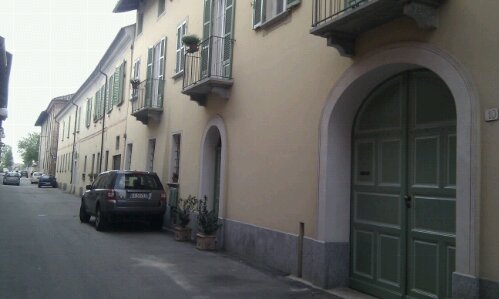 Anyhow, our trip into town yields a pleasant surprise: the Tour of Italy bike race is heading this way. The BBC news told us the British world champion Mark Cavendish is in the race, but was angrily accusing a fellow sprinter of knocking him off in a 75mph spill which removed an amount of his skin. As far as I can tell Cavendish (who we love) is always bad mouthing someone and we hope he's OK. The tour won't be up here for another 10 days, and we're aiming to intercept it north of Venice in a couple of weeks.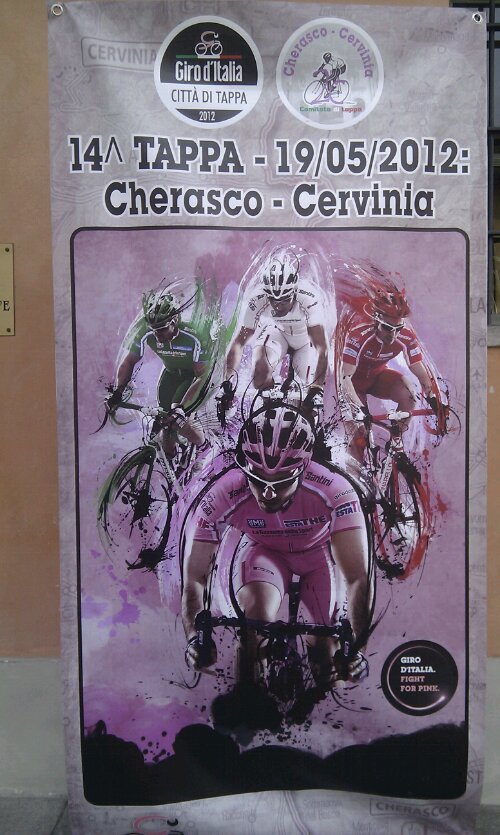 After Charlie had met some local pooches, giving us chance to practice our buongiornos, we headed over to the brick castle. It's in private hands now, so we had a quick gawp at it and then walked to the edge of town as we'd read the castle sat on a clifftop. Sure enough, the land drops off with a view over the valley (wooded hills, accompanied by a motorway and various factories and outlets).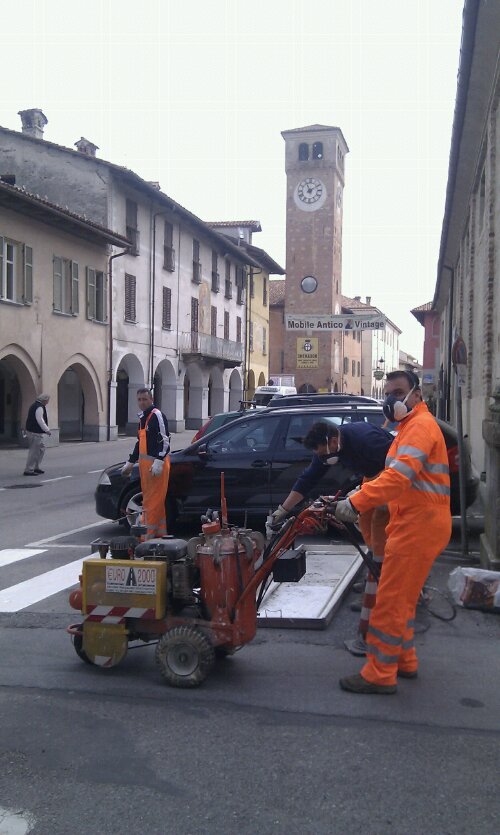 By this point we fancied a bite and headed back to Dave, via a machine sat alongside the path which sold fresh milk (€1 a litre) and also bottles (we went for the biggest, a 1 litre glass one with cows painted on it). The machine even moos as it dispenses the milk, hilarious.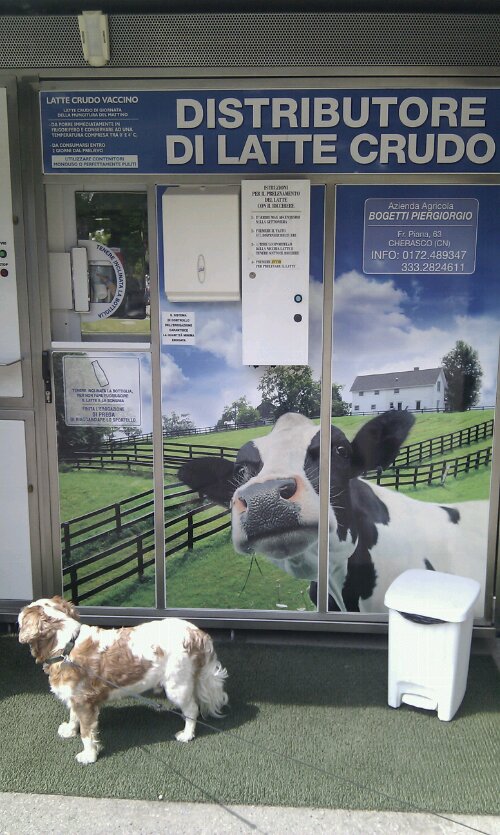 Back at Dave, we consider moving him. Although there is free electricity, the point we're parked up against is full of cables, no room for ours. Before we have time to shift, our kind Italian neighbours come over and ask about the poster we have about our Morocco guide. It turns out they often go there, and they tell us, in French, about how there are motorhome parks near Agadir with room for over 1000 motorhomes, mostly full of French folks hiding our for the winter. At €10 a night, with on-pitch water and electricity, we understand why. Gino (I think that was his name, I was struggling to keep up with his fluid French) then helps us connect our cable to his extension lead, even advising us if he leaves before us tomorrow he'll plug us directly into the wall box. I tell him he is an angel (my French doesn't stretch to more), he disagrees. He tells us this area had lots of money, and points you the archery field behind us, Robin Hood he laughs, there's no money for such things in the South. Assuming we stick to our budget, we'll be back in Italy in November to explore the south and find our for ourselves.
The clouds are looking blacker now, we may be in for a repeat stormy performance. The poplar trees in town tell us it is an offence to stand under them in heavy wind or rain, as you may be hit by a tree or lightening. Seems odd the authorities need to stick these signs up, but we'll heed the warning nevertheless.
Cheers, Jay