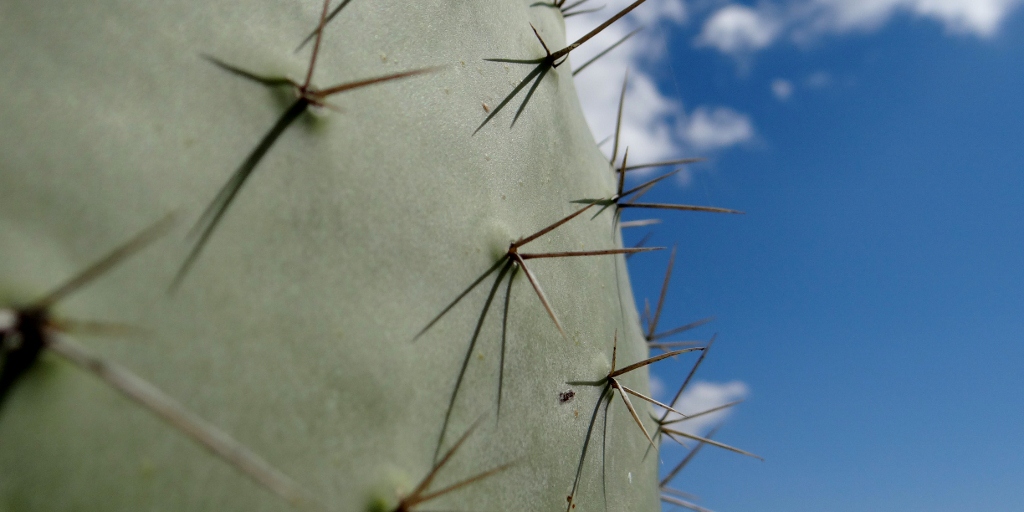 Dave the motorhome feels like he is back in Europe. We are parked up 10 kilometres from Hammamet in the purpose built resort of Hammamet Yasmine (N6.37148 E10.54552). Around us are four and five star, white washed hotels which wouldn't look out of place on the Costa's of Spain. In front of us is the 740 berth marina, brimming with millions of pounds worth of luxury yachts, their shining white hulls are making Dave look decidedly tired and dirty.
Last night in Kairouan on Charlie's evening walk we headed away from the hustle and bustle of the medina we found ourselves at another of the attractions on our barely used 'global ticket'. The Aghlabid pools were closed, but a side gate was open so we went in for a look. The municipal waterworks of the city many years ago, water travelled 36 kilometres to them by aqueduct and was stored in several pools with the hope of relieving the town of the summer heat. Instead they were a terrific mosquito breeding ground and a source of maleria. Thankfully visiting in the winter it was bug free, and quite underwhelming.

Dropping Charlie back in Dave we headed through the medina to the other side of town where the supermarket was situated. A guy started to walk with us in the medina, asking where we were from, which hotel we were staying at etc. We knew he was trying to get us into a carpet shop or restaurant so I fibbed and told him we were stopping in the youth hostel, but he couldn't work it out, everyone European stays at the Kasbah. We carried on purposefully and he went away looking confused.
Reaching the supermarket the queues for the check-outs looked like the queues earlier that day at the post office. But in need of a few bits we grabbed a basket and headed in. It was one of the better supermarkets we've been in – it even had a cheese section (a rare thing, normally it's only cheese triangles or processed slices). At the checkout our basket contents would have Jamie Oliver starting up a campaign, the only healthy items were two oranges, but as we planned to slice them and cook them with orange liqueur I doubt even they'll be that healthy. We had an email a while back asking what sort of things are for sale food wise here in Tunisia. Well after a few weeks in the country and many 'supermarkets' visited I can conclude that they are:
55% Biscuits, cakes and sweets

10% Tuna and sardines

10% Tomato puree and spicy harrissa sauce

10% Non-diet fizzy drinks

15% Other stuff (which doesn't often include fresh stuff like fruit, veg, cheese or meat!)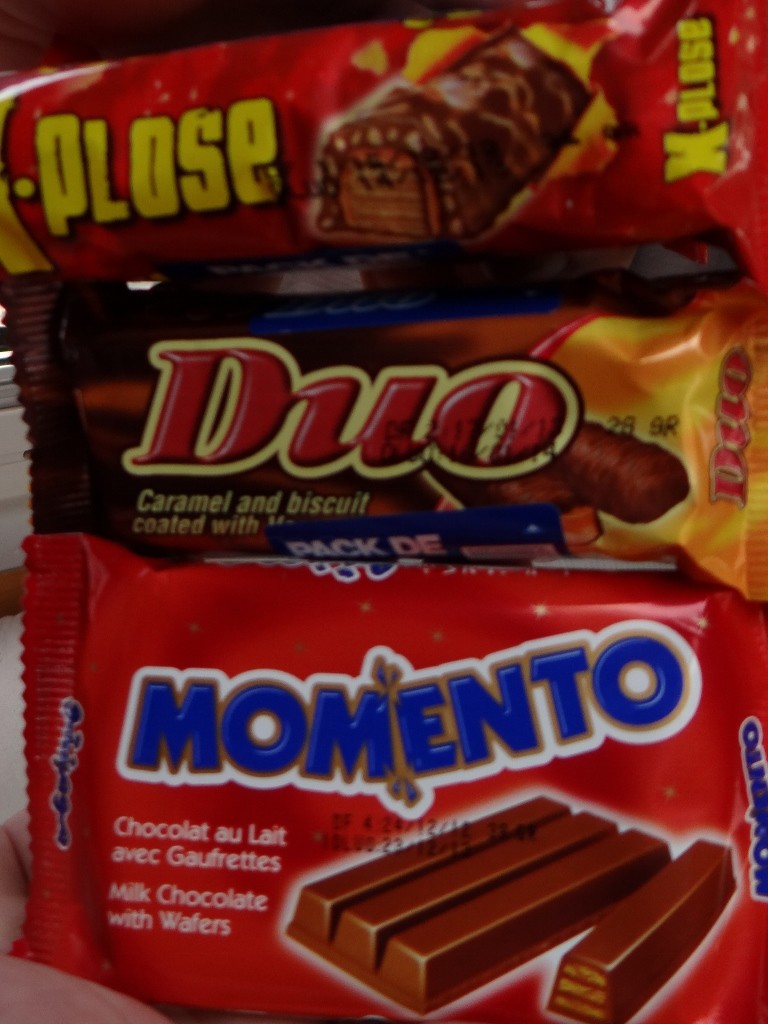 We had a small wager on our way back through the medina, as Jay suggested that we would not be stopped by one single tout – he was right. We got back to Dave without a single shout of 'Hello?', 'Bon Jour?', 'Come into my shop'. But then it was getting on for 8pm and most places were busy shutting up.
Too tired to bother to cook any of the heavily garlic impregnated mince we'd bought earlier, which is slowly stinking the fridge out, we set off in search of a near by place selling chips which we'd spotted earlier. Like most other stuff it was closed, so we dived into Speedy Food – a motoring themed fast food joint. Huge alloy car wheels were the basis for the tables with 'Evo 2' sports car seats placed around them. A huge vegetarian pizza between us cost just 5TD (€2.50).
This morning I heard the call to prayer being sung out from the many, many mosques in the town. It was 5.30am and accompanied by the guard's dog barking – which it had done all night. As it was my turn on pooch watch I didn't have the luxury of ear plugs, so endured a sleepless night. Charlie even tried to join in the barking at one point – I swear he was telling it to shut up too!
We ate our breakfast with the curtains closed, opening them only at the last minute before we reversed out of the car park. We were both fed up with Kairouan and just didn't want to face it again. Driving north the sense of relief grew with every mile of distance we put between ourselves and the holy city. It could have been a wonderful place, but I think we just got off on the wrong foot with the motorcycle touts followed by the rain – Charlie is in serious need of a shower from all the dirt in the medina. The huge empty plain that is Sebkha Kelbia (a dried lake) stretched out to our right, on our left little shops sold pots covered in glitter which sparkled in the sunshine and had the look of a playgroup creation.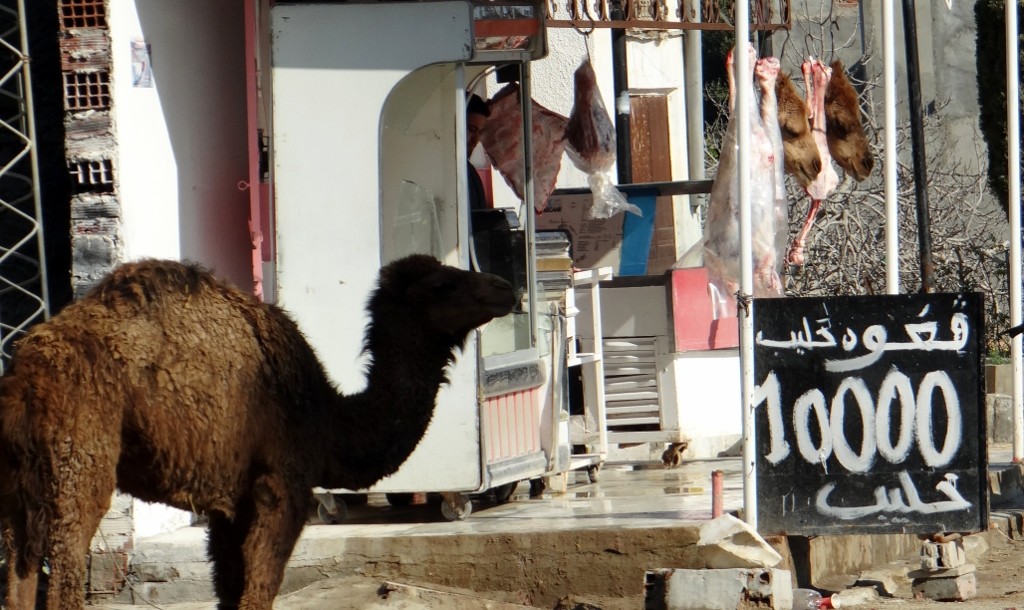 Reaching Enfida we followed the signs to the small hill-top Berber village of Takrouna passing the Commonwealth and French Military cemeteries where those who fought over this tiny village now rest. We parked Dave at the bottom of the hill and climbed up using the beautifully refurbished 'Tourist Route'.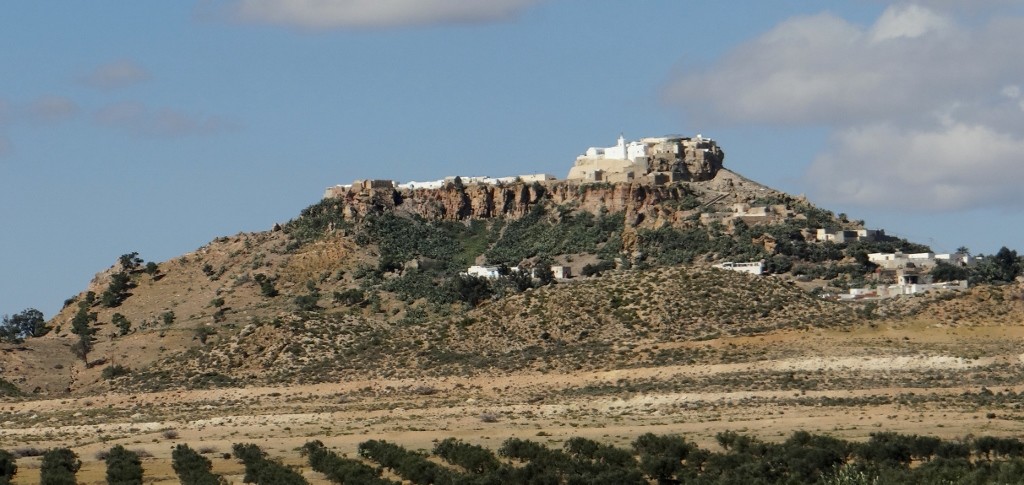 The view from the top across to the sea was beautiful, fields full of neat rows of olive trees leading the eye to the water. The view from the back over to the mountains was still stunning, despite a huge factory sat in the middle of the plain – it almost looked like it was drawn on, the product of an idea generation session in a far off office 'OK, so we've worked up what the factory will look like and we think you'll agree it's barely visible except from the top of Takrouna'.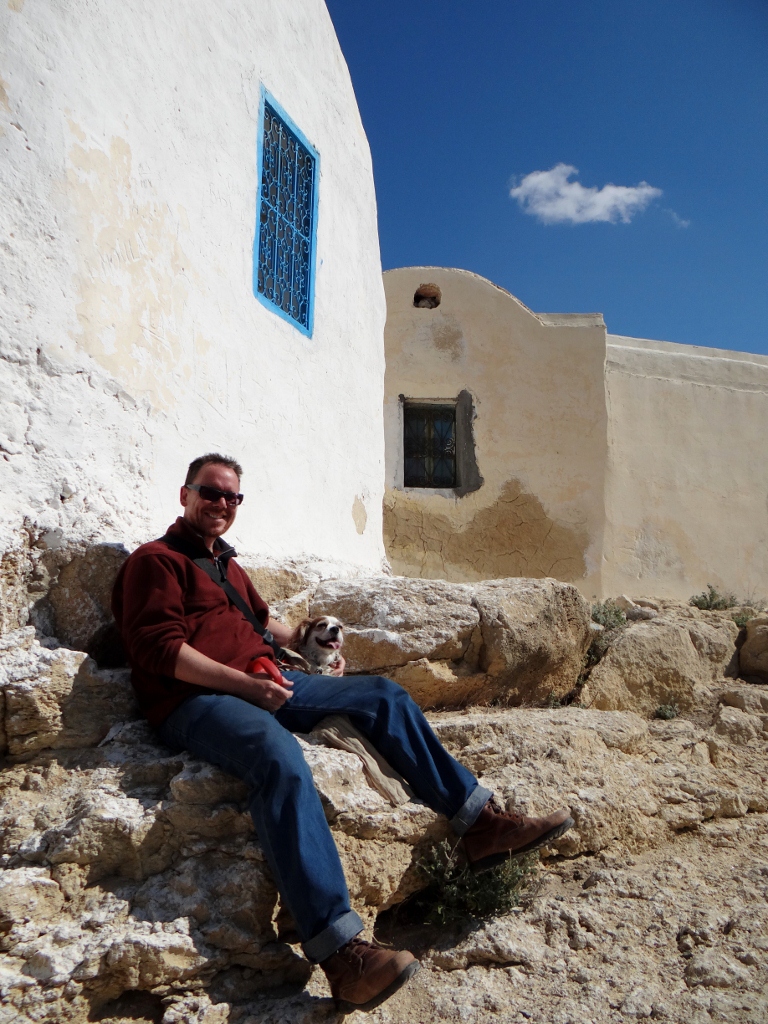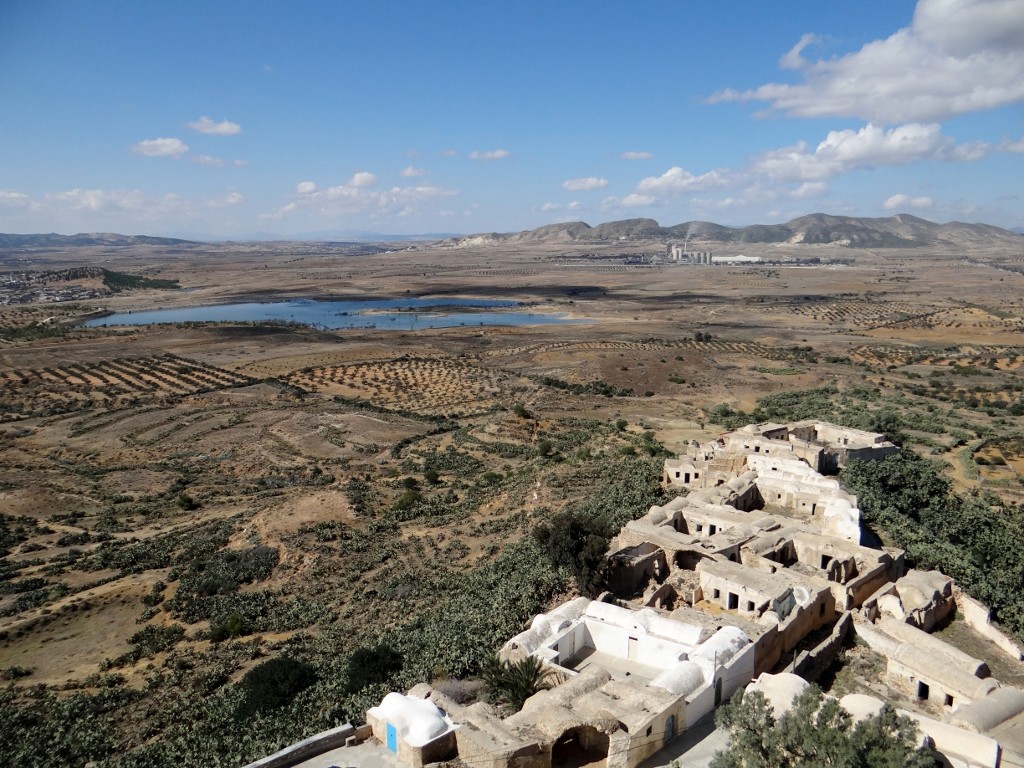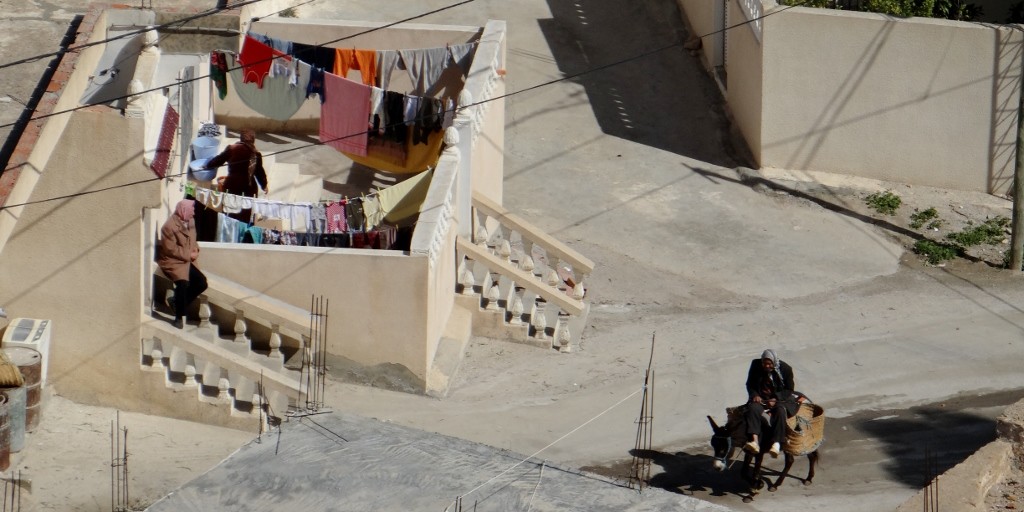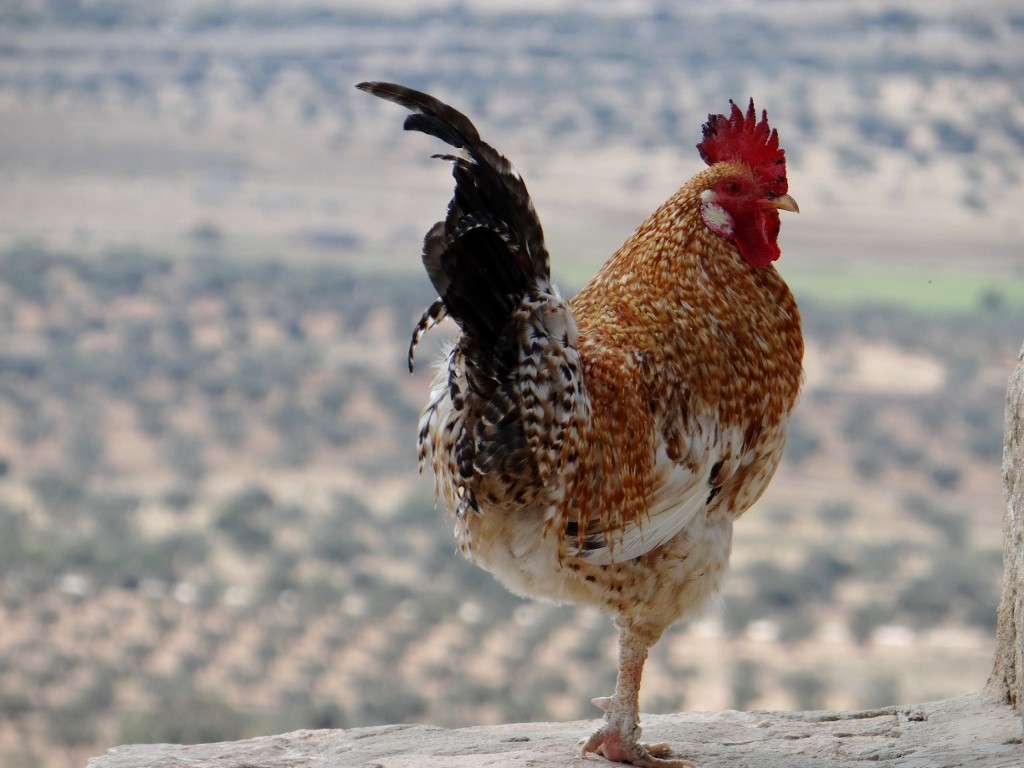 Feeling guilty about by-passing the war cemeteries we popped in on our way back. Firstly stopping at the slightly tired looking French cemetery where around 300 men are buried facing into paths which form a double cross. Sitting on each grave is a helmet of concrete, a simple concrete cross or stone above bears the name of the person lying there who 'died for France'. A couple of kilometres down the road we came to the, now all to familiar, sight of the Commonwealth cemetery, carpeted in grass the rows of graves faced each other neatly trimmed plants and shrubs at their bases.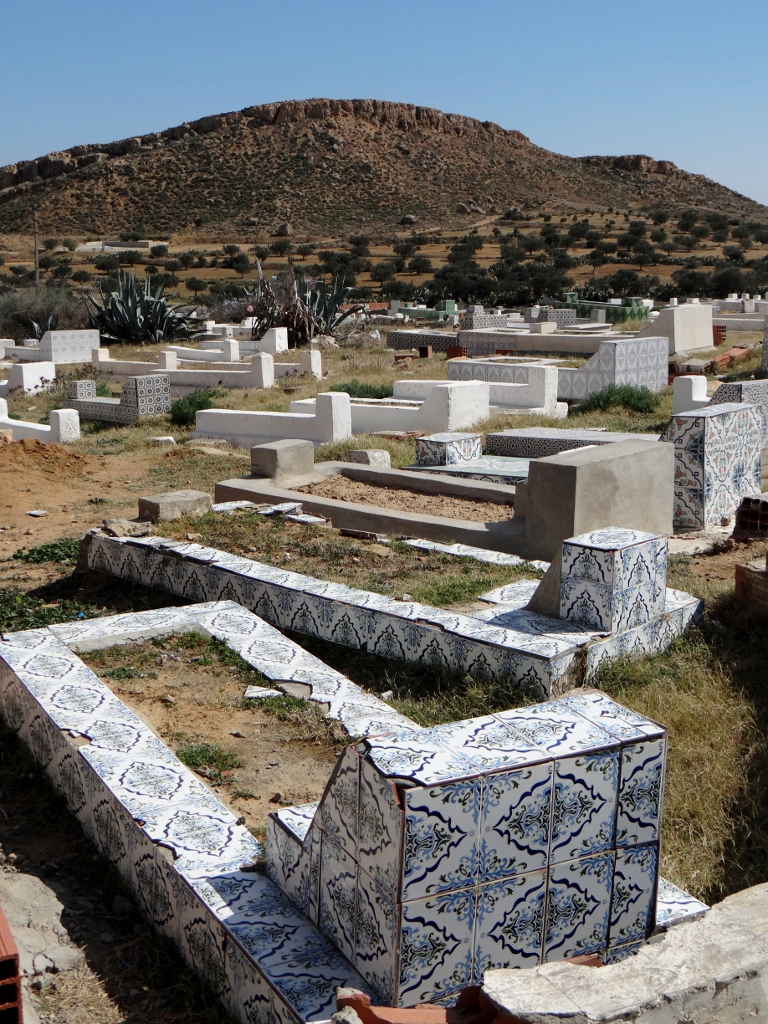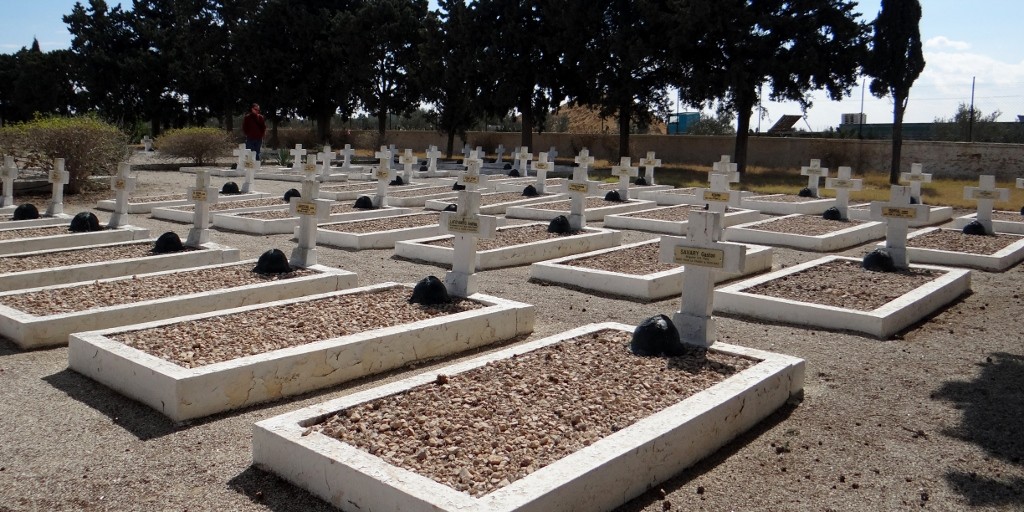 As we walked across the grass a man approached us and introduced himself. Jeffrey looks after all the Commonwealth graves in Tunisia, Morocco and Algeria, We chatted with him for a short while, explaining about our visit to see my Grandfather's grave in Oued Zarga. He told us how it was one of the different cemeteries as they couldn't get access to water there, so the graves were surrounded by gravel and his team had been there just the day before pruning the trees and plants.
Jeffrey and his team do an amazing job keeping these little piece of home in pristine condition, especially when you consider the surroundings many of them are in. I asked him about the visitors book for the cemetery was as we couldn't find it on our visit. He explained a local woman looked after it, and would walk to the cemetery each day from her village 2 kilometres away to check everything was OK. Unfortunately our visit didn't coincide with hers, so he gave me a blank visitors book page so I write a message and he would make sure it got inserted into the book. The message was simple 'Visiting David William Smith (Plot E14), my Grandfather. Thank you for looking after him.'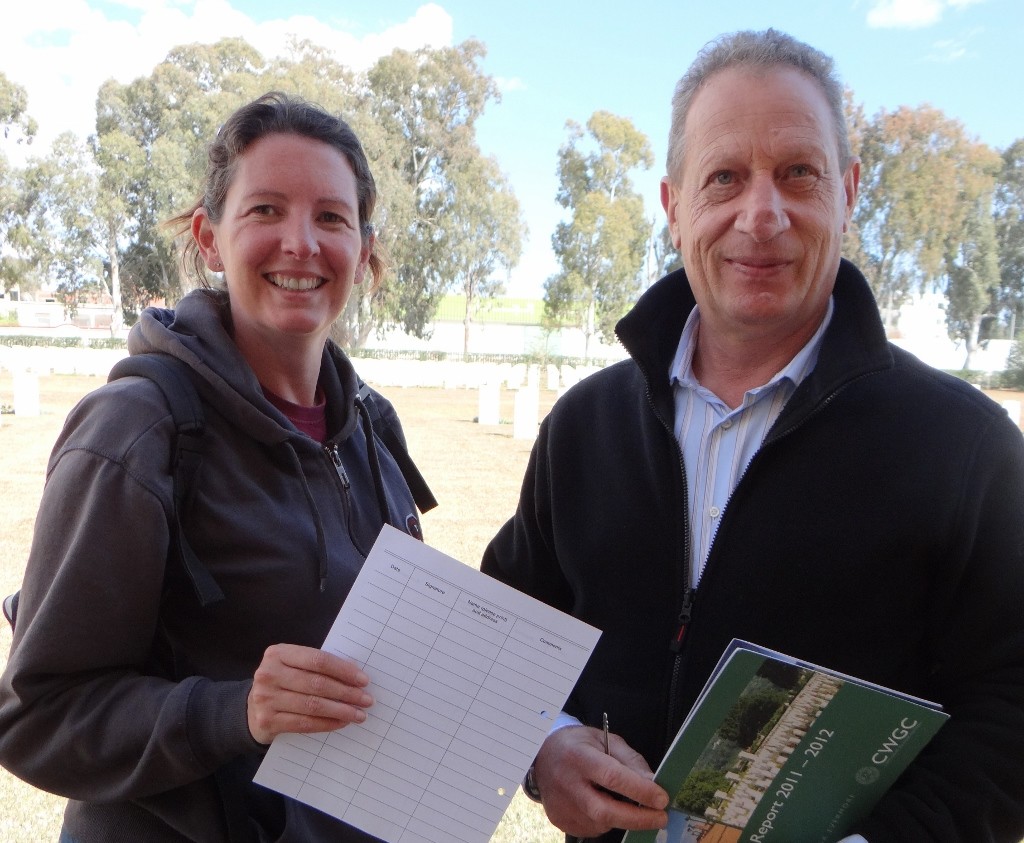 Tears in my eyes we got back on the road and carried on north towards Hammamet Yasmine. Cars coming in the opposite direction were flashing everyone, unsure what was up ahead we carried on and found a police road block pulling over all cars, taxis, louages and lorries and checking papers. We were waved straight through. Seeing all the local folk sitting there we realised how lucky we've been, we've only been stopped three times – twice for our papers, one of which was on the pipeline road towards Algeria (understandable), and once in Touzer where the officer welcomed us to the town and checked we had somewhere to stay!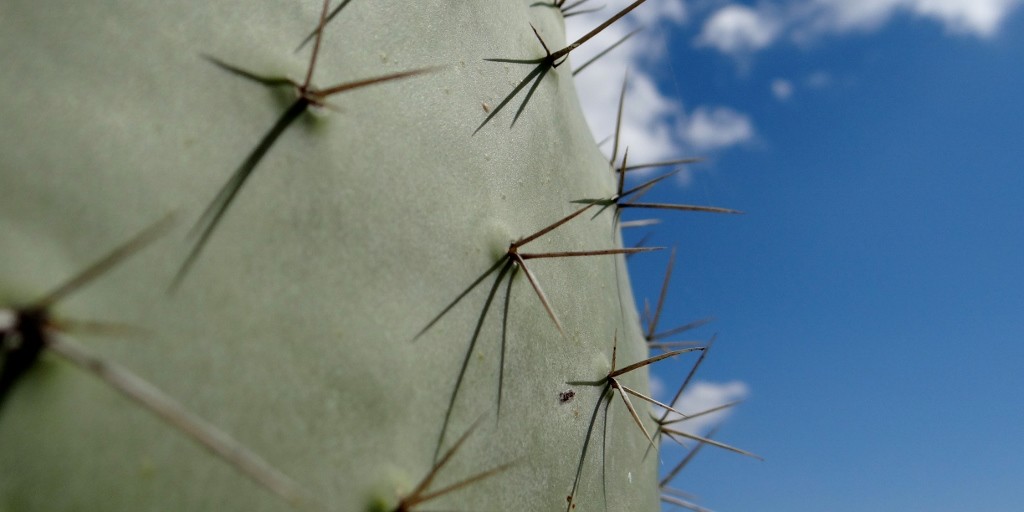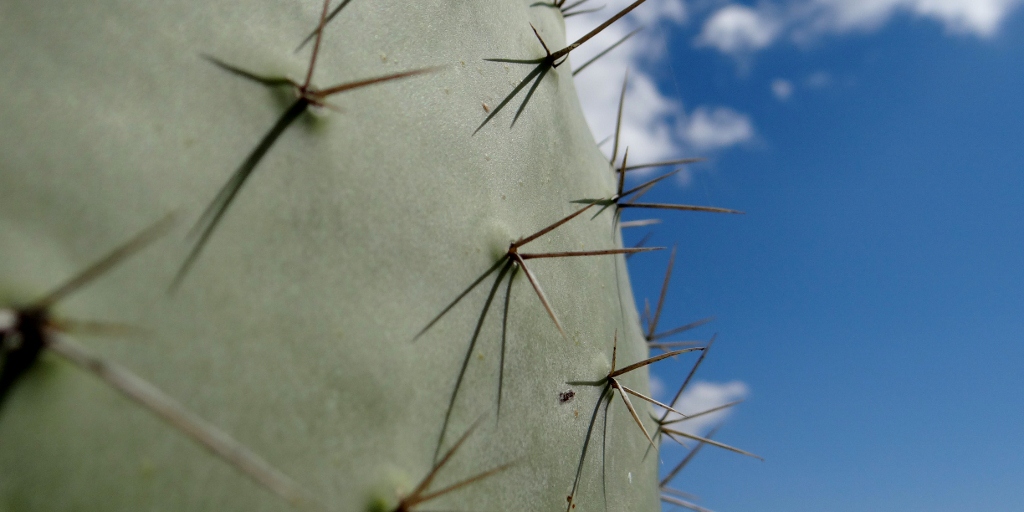 Another police roadblock was positioned at the entrance to Hammamet Yasmine, they glanced over as we drove past and into Europe. White hotels sit either side of the palm tree lined boulevard, the only giveaways that you're not on the Costas are the stuffed camels in the souvenir shops and the odd bit of Arabic writing. We spotted the marina and eventually found our way onto it, parking up on its far side by the beach. After a spot of lunch we walked around it to the Captains office where Jay asked if it was OK to stay the night. The woman at the reception desk pointed to the best place to stay on the CCTV cameras, tucked away behind the spanking new boat repair centre – handily out of sight of the expensive boats and right next to the police and guard national stations.

We walked back to Dave and drove back towards the tunnel that leads you into the main part of the marina – how we missed it first time around, we'll never know! Once in place Jay and Charlie had a snoring competition during their afternoon naps while I read our Rough Guide to see where to go next. Our ferry is on Saturday, it has come around quickly, but I think we're ready to leave now.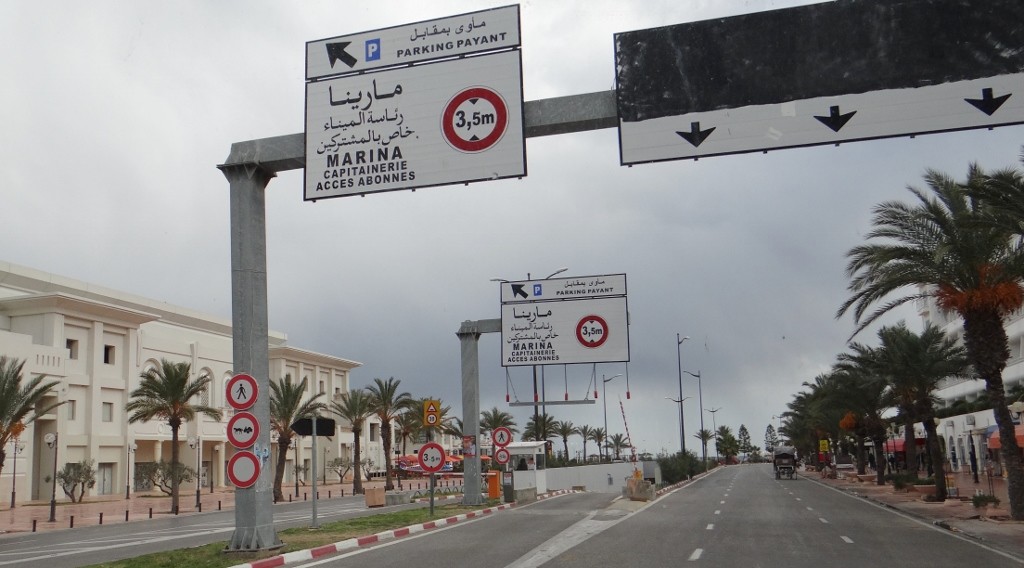 Jay is cooking up something with a garlic mince tonight, so Dave is stinking – still it hides the smell of Charlie. Tomorrow we'll hopefully reach a campsite so we can get some laundry done and get the stinky medina dog clean too.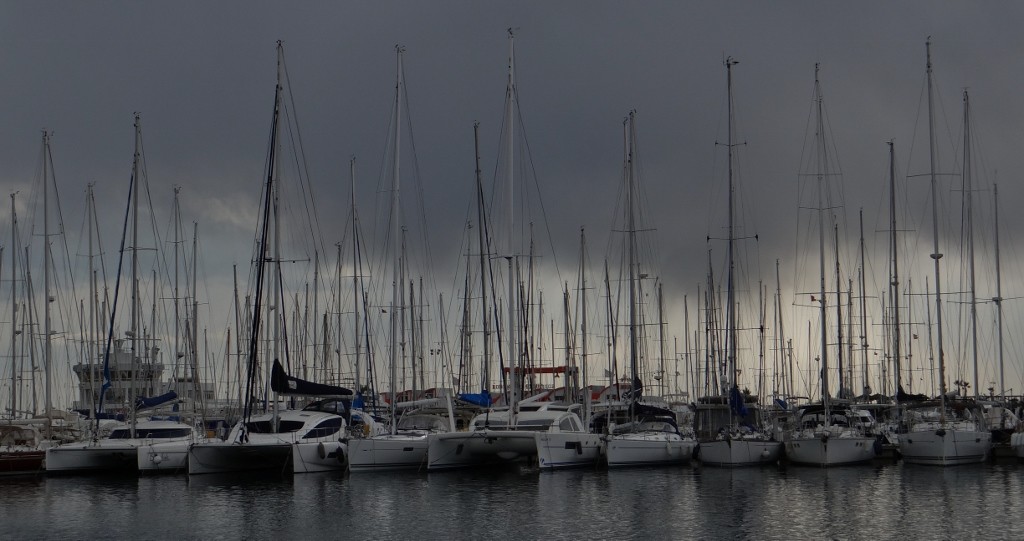 Ju x