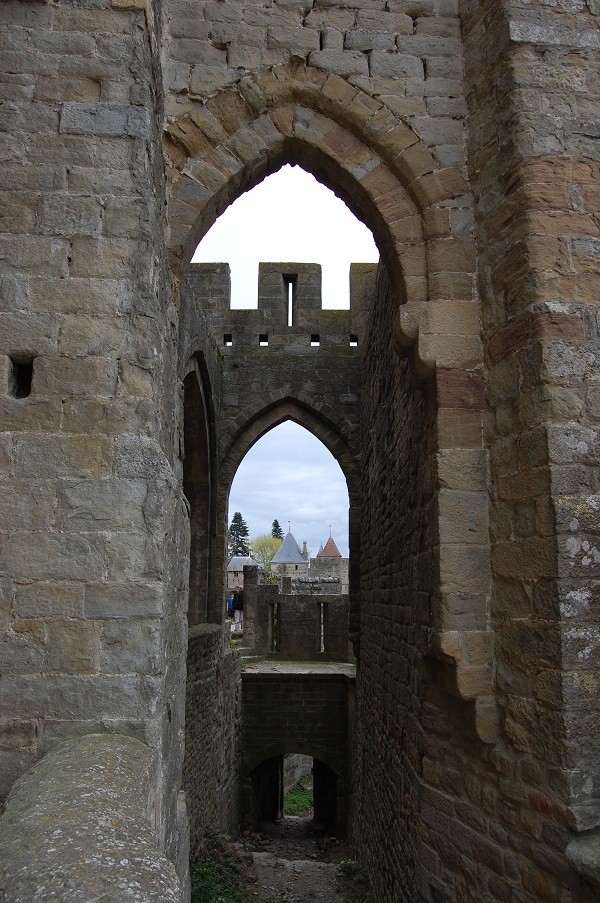 We're here: N43.20021 E2.35373
We're at the Camping de la Cite campsite about a 15 min walk into Carcassonne old (and new) towns, down a shady path alongside a stream. The site's very good, with a perfect motorhome service point and new shower blocks. We're holing up here for a few days using the ACSI card to get a €16 a night rate before we head back to Narbonne for open-engine surgery.
Weather – mixed bag.
Carcassonne's got an international airport a few km away, bringing in 3 or 4 million visitors a year. Mike, who's following our blog and being an all-round really helpful guy, tells us the East Midlands (Nottingham UK) to Carcassonne route's been going for ten years, so there's a good chance everyone reading this knows what this place is all about. Just in case we have managed to go somewhere some of you haven't, I'll sum it up:
The old part of the town is a huge medieval fortified town, built on top of a Roman fortress. It was falling into ruin and the French government were about to pull it all down in 1849 but local opposition saw it restored. On first glance, everyone must think 'Walt Disney', as its walls and turrets look like a film set. The restoration on the turrets caused some questions over authenticity, as the tops of them are made from slate and are pointy, when they should be flatter and made from, well, tiles we think. Our view: the really authentic state would be a pile of stones, we much prefer it like this.
Historically, the old fortified town was another Cathar bolt hole. The Catholic crusaders, who had previously killed everyone at Beziers as an act of terrorism, took the city commander hostage when he came out to talk, effectively getting the place without having to tackle the huge walls. It seems they later killed him too after imprisoning him in his own dungeons, nice. More here if you're interested: http://www.cathar.info/carcassonne.php?key=carcassonne. 

The Catholic Inquisition was also holed up here; there's a tower named after them and a museum of torture with some of the implements they used to extract 'the truth' from 'heretics'. More niceness; glad we live in more enlightened times.

The new town is built on the other side of the river, after the inhabitants tried to oust their new lord and master, and were chucked out, only allowed to return on condition they build in that spot.

Carcassonne is also the name of a German board game, apparently, I'd never heard of it.
After doing some more work on Dave's air suspension (one of the inflation bags was all cock eyed) and tidying Dave, we headed up to the old town walked the place for a couple of hours, listening to the various languages of the tourists. It's free to walk about the town, and €8 to go into the inner fortress, which we didn't bother with (no dogs anyway). The defences are incredible, but ultimately useless when a crafty attacker just nabs your main man during peace talks! The hotels in the old city look fantastic, as did the food, this must be a great place for a weekend break.
Once we'd had our fill of castles and churches, we wandered back to Dave and Ju's hit the Campervan Cookbook, making up some choccy biscuit treats. They look delicious, but she's having an afternoon kip now so I have to wait before I can tuck in.
Cheers, Jay
P.S. After a run of votes for beard removal, the beard lovers have rallied, it's almost neck and neck. We're sadly quite excited about it all. :)