We're here: N41.27229 E2.04301
The weather is: still hot and sunny!
Last night Charlie gave us quite a scare. On our evening stroll along the beach I looked round to see fishing wire coming out of his mouth. J finally managed to get his jaws open to release it and now we're pretty sure there wasn't a hook on it, but we're still keeping a close eye on him. He happily snored all night, so everything appears normal.
This morning we were up with the larks. Well not exactly, the clocks have changed, but our body clocks haven't yet, so we woke an hour later than normal – around 9am. At 9.30 our alarm went off, reminding us that of the town functioning clocks we have, we've only changed one.
We had breakfast, then while I got dressed and prepared Dave for the off, J and Charlie had a last walk on the beach. We set off towards Barcelona and I suddenly remembered that I fancied nipping to see the Aqueduct near Tarragona (where we'd stopped). Luckily we hadn't got too far just as a cheap petrol station handily presented itself. We pulled in, filled up and turned around back towards Tarragona. The Spanish had helpfully built two main roads right next to the remains of the aqueduct, so we followed one until we saw a sign and pulled in.
There was one other car in the car park and a small sign pointing us to the entrance gates of a park. Inside a notice board pointed us along one of three walks to get a panoramic view. Off we set and within about 100 meters the trees parted to reveal an amazing view. Two storeys of arches reached up above us and spanned the valley we were stood in. The aqueduct is from roman times and was used to bring water into the city, it's amazing any of it still exists – but here it was right in front of us with no one else around.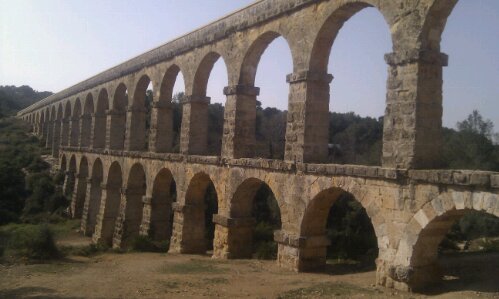 So, what do you do when all alone and next to an ancient aqueduct (part of a unesco world heritage site)? You drag Charlie up the side and walk over it!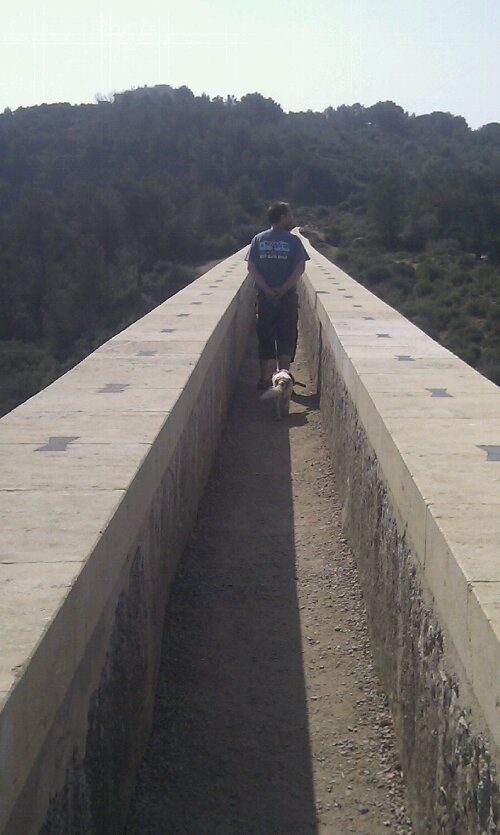 We followed the path the water would have taken all those years ago, although I don't suppose it had a view of the AP7 toll road booths and high rise flats in those days. Then, when we reached the other side – well we walked back. Not an earth shatteringly exciting read for you, but it was fun for us, looking down over the sides and imagining being up there building it all those years ago.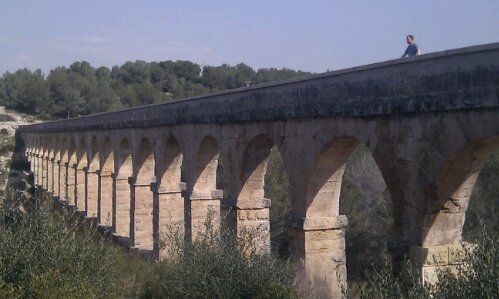 After our fill of Aqueducts we treated ourselves to the toll roads up to Barcelona. It saved us about 45mins and Dave's suspension from major clonking on the coast road. The toll road people kindly make you stop several times and pay up, so you're not faced with a massive bill at the end. It cost us around €13 but meant we got to our campsite in time to get the washing on and out to hopefully dry before sunset.
We were originally going to stop at an aire in Barcelona for around €25 a night (with hook up and wifi), then our friend Dave (no relation to Dave our van) who'd been this way in his van Nancy, suggested a campsite north of Barcelona which was only €16 with an ACSI card and has a bus service. It got us thinking – out came the books and we're now at a site just south of Barcelona that takes camping cheques! We've slated the camping cheques in the past as we have struggled to find places that will accept them. Here they've saved us quite a few euros on the standard rate and even a euro off the ACSI rate. Also the campsite washing machine is huge – and was seriously needed. Only downsides are no wifi (so you'll have to wait for Charlie and J's reenactment of the spaghetti scene from Lady and the Tramp) and we're next to the airport. But fortunately we're so close to the beach, that the sound of waves drowns out most of the noise.
Tomorrow we plan to get the bus into Barcelona for €2 each. We asked at reception if dogs were allowed on the bus and with a straight face the man replied 'If they are small and in a bag'. Charlie might not be small, but we have some big shopping bags and he seems to like being carried around, so we'll see how we go.
I've almost finished reading the first of the two newspapers my Mum and Dad brought out with them. Not for the news bit – BBC website does that – but for something other than books to read. We've also got magazines Bob and Pauline gave us, so today we've chilled out and read stuff while the sun has been busy drying our clothes.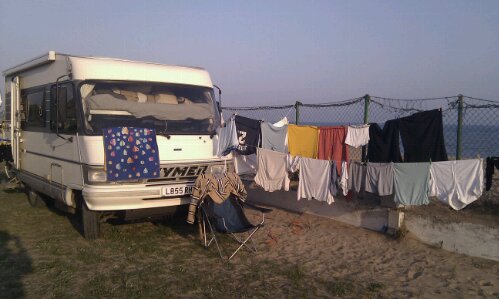 Charlie loves this place and he happily wandered off on his own onto the beach for a sniff about. But after yesterday J chased after him and brought him home. Our reward? He ran under Dave and got himself an oil stripe on his back from the leaf springs, so he needed a shower – he wasn't happy!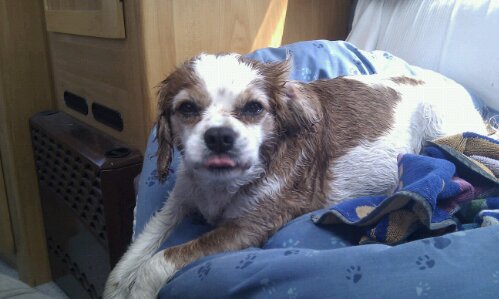 Tonight is my turn to cook, so I've been over to the campsite restaurant to size up their takeaway menu. Burger and chips looks promising!
Ju x