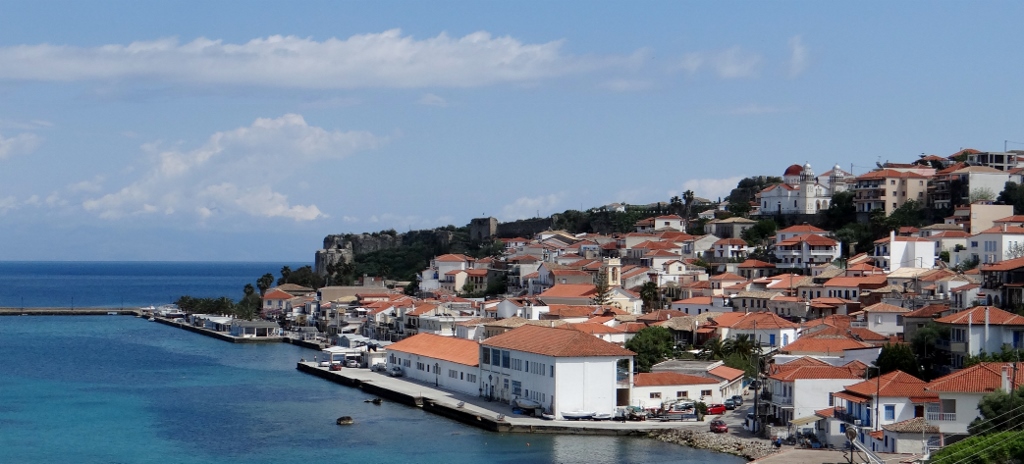 Dave the motorhome is being pampered, his tired tyres are resting on a bed of grass and his weary metal body is being shaded by tall trees. All of this luxury comes at a price though and for Dave it's being turned into a washing line – his ear-like wing mirrors, supporting a rather large load. We've splashed out on a campsite for a couple of days, and Jay has the gas BBQ going as we chill out in our camping chairs at Camping Koroni, in Koroni (N36.79960 E21.95068).
Last night as we read up where to go next we realised we were about to reach Koroni. Our guidebook describes it as 'beautiful…, with tiled and pastel-washed houses arrayed in a maze of stair-and-ramp streets that have changed little since the medieval Venetian occupation'. Reading that you may think it sounds idyllic, to me it says – narrow! Checking on our friends Adam and Sophie's website, who visited here previously, my thoughts were confirmed. Looking at our budget, which has been under for weeks, and double-checking that the campsite close to the town accepted our ACSI discount card, we agreed to have a little holiday and stop on a campsite for the first time in what feels like ages.
I finally got to sleep around midnight, constantly convinced that someone would come banging on the door asking us to move. Silly really as no one has batted an eyelid at us being parked anywhere in Greece so far. I'm sure that will change once Easter is upon us or as we reach the bigger cities, but for now everything is chilled out and free camping while strictly speaking is illegal, is accepted. When I woke this morning very keen to move on and get checked in, so we set off just after 9am, which meant that the cafe tables lining the street were empty; it's hard enough to squeeze Dave through a small town, but even more so with an audience. A delivery to the local shop stopped us, but no one minds waiting around for things to move, life is very relaxed here.
Our drive took us over the end of the little 'finger' of The Peloponnese, through lush green valleys. The hills covered in rows of olive trees and newly green grapevines, sitting orderly soaking up the sunshine as Dave rolled past. It didn't take long to reach Koroni, we've slowed right down and don't travel more than 20km a day now. We were greeted warmly at the campsite, a full list of facilities was reeled off before apologies that the pool was empty as it was being painted. But we can still relax in the sun loungers around it. Asking where we should park, the reply 'you can park anywhere' is always a good one to hear. Here the reason was because we were the only motorhome – the season really won't start for another three weeks at least.

The best pitch on the site was pointed out to us, best because it's the widest and with the most natural shade, I reversed Dave in and Jay got out the camping chairs before I'd even had chance to hook up the electricity. Then we sat and relaxed drinking in the warm sunshine. Just after noon we set off to explore. First stop was the beach, just 50m down some steps from the pool, a locked-up beach bar being the only thing on the short stretch of sand.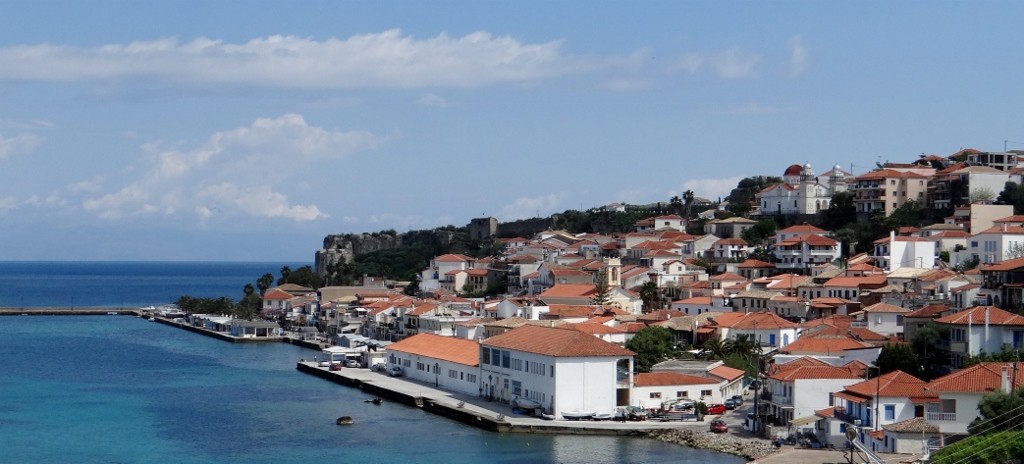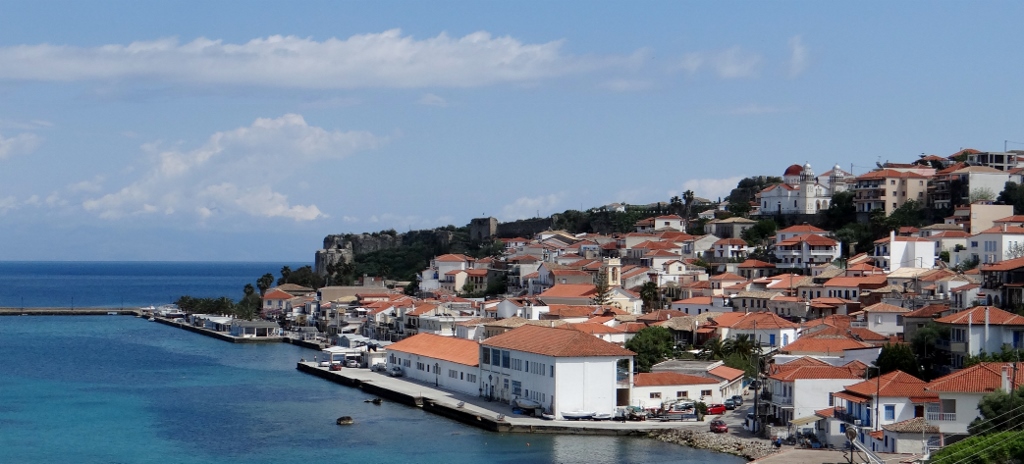 We wandered along the water's edge and were soon in the town of Koroni, tables and chairs lining the waterfront between the beach and the harbour were mainly empty, but a few people sat with their tall glasses of water next to the tiny cup of a Turkish coffee. We sat on a bench on the harbour-side and looked out across the Messinian gulf to the snow-capped Taiyetos peaks on The Mani – the next finger along of the Peloponnese.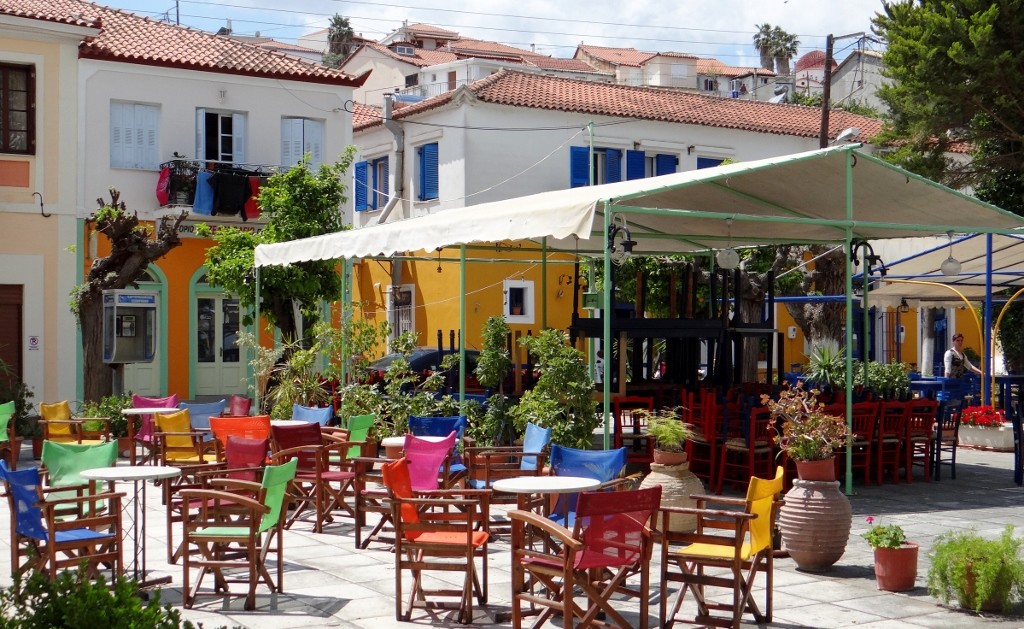 Wandering around the narrow steps and alleyways of the town we reached a sign for Panayia Elestrias, as it was the first tourist sign we'd seen we followed it. It led uphill to a long driveway with security gates, the metal railings on either side were topped by crosses, yet the driveway and its manicured gardens looked like it would lead to a five star hotel. After a quick peek over the other side of the hill, to confirm there was nothing else down there that could be the church, we went in.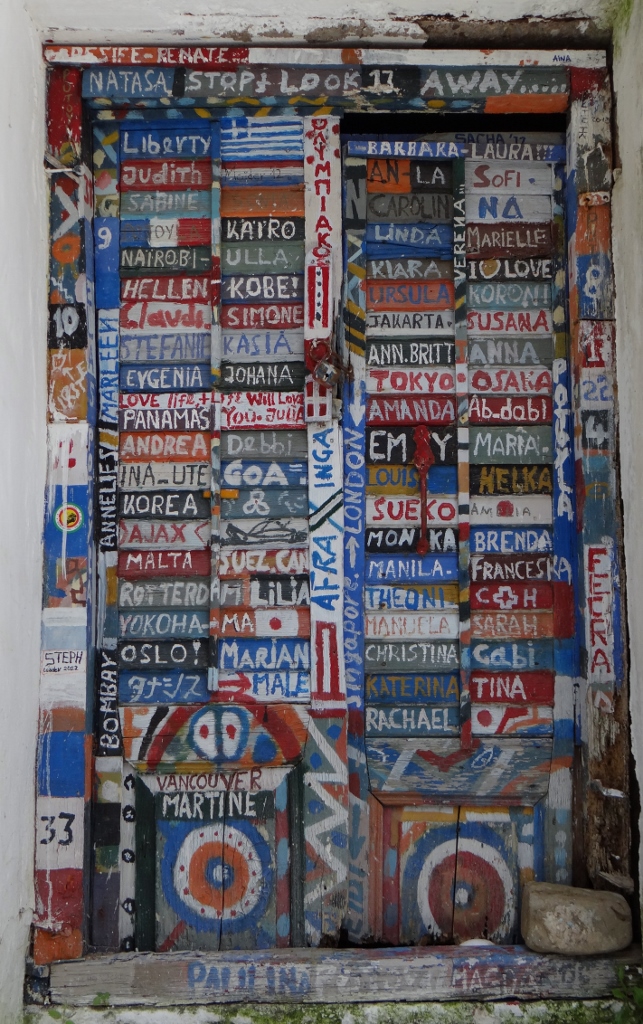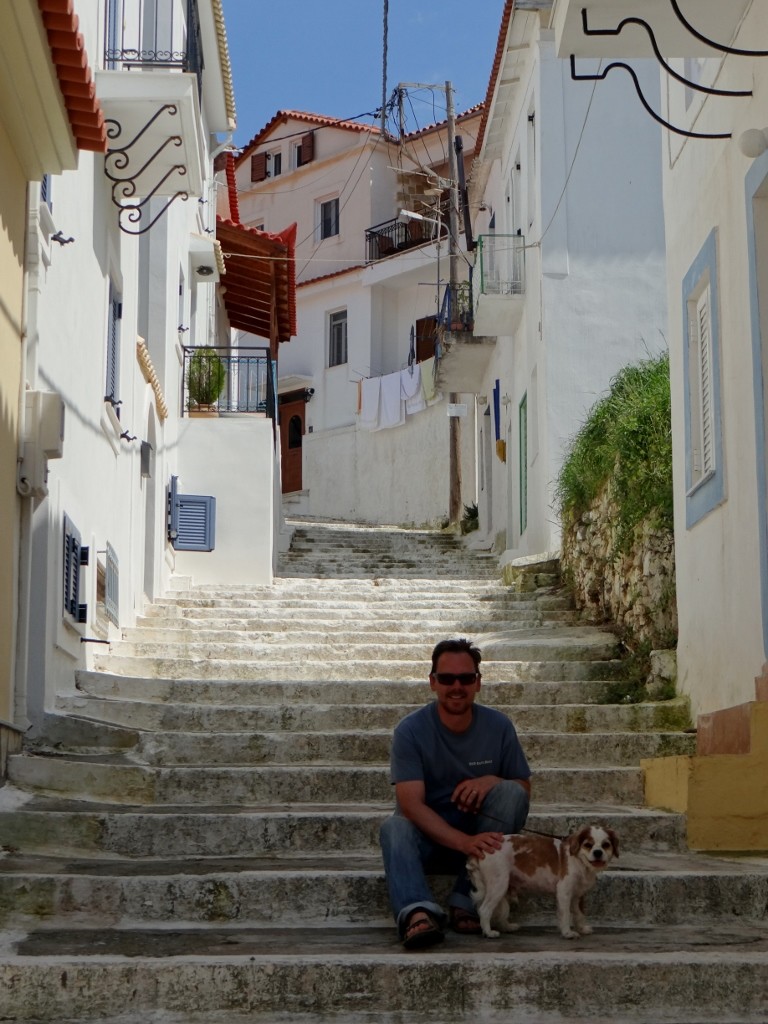 The pristine gardens, water fountain and marble paving ended at a chapel, down the side of it a sign pointing to the site of the Holy Statuettes. Jay suddenly had a flashback and remembered reading how a church had been built here to house a miraculous icon which had been unearthed with the assistance of a vision of Maria Stathaki who was buried next to the church. I wasn't suitably dressed for a church, so Charlie and I stopped outside while Jay nipped in to find the icon – he didn't do as well as Maria though!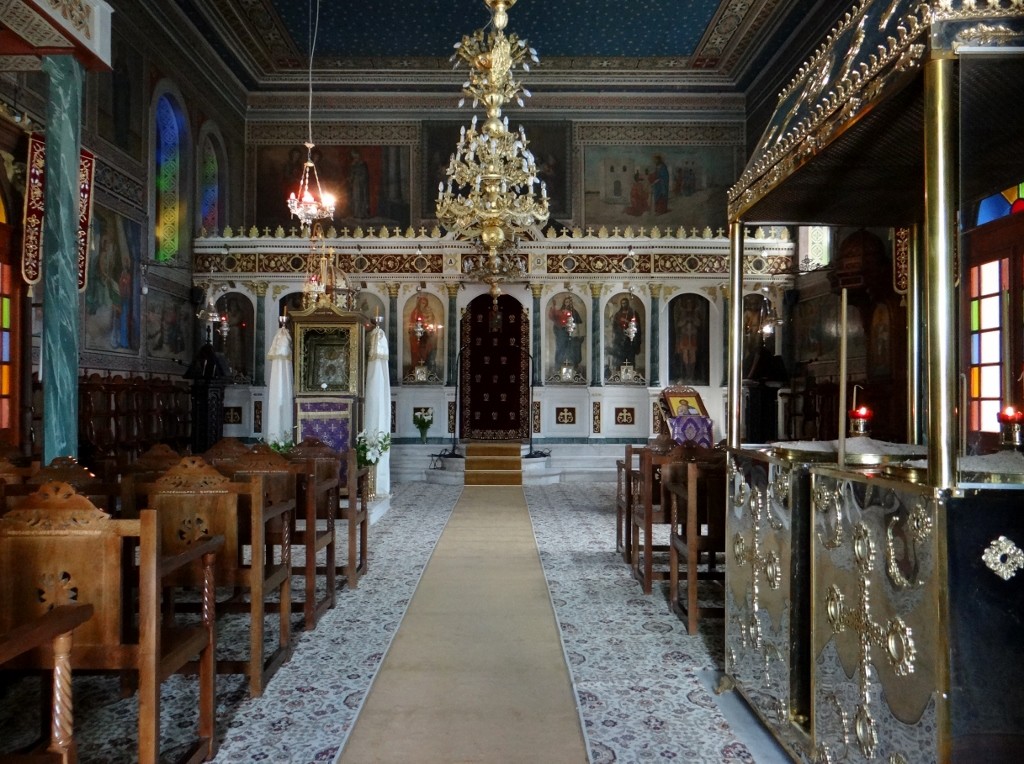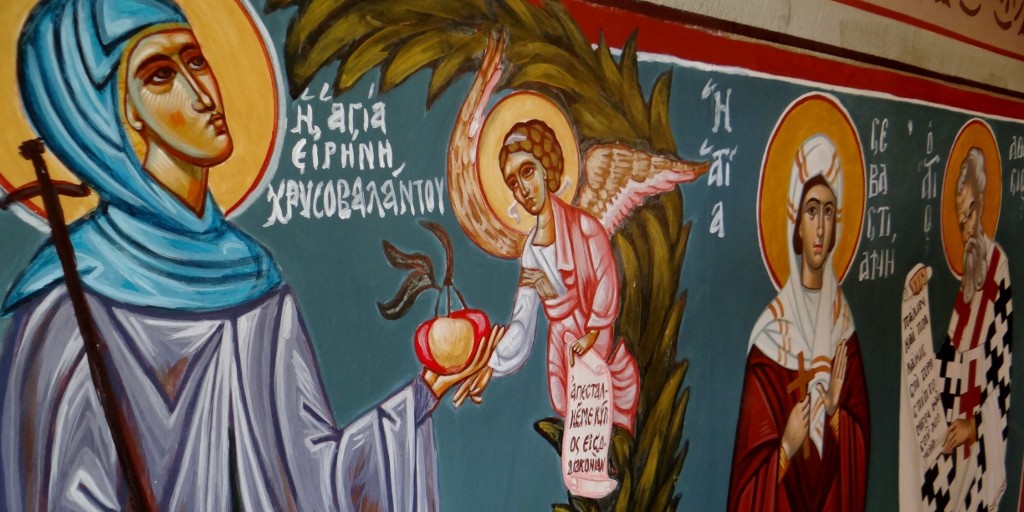 Steps led us up to the side gate of the citadel which perches next to the town on the end of the peninsular. Most of it is taken up by a nunnery with outbuildings and chapels seemingly carved into the rock. The ancient fortress is a strange place, with two large churches inside it as well as a few homes, gardens and olive trees. We walked around the walls looking out over the blue ocean, then turned inland to walk along one of the few streets.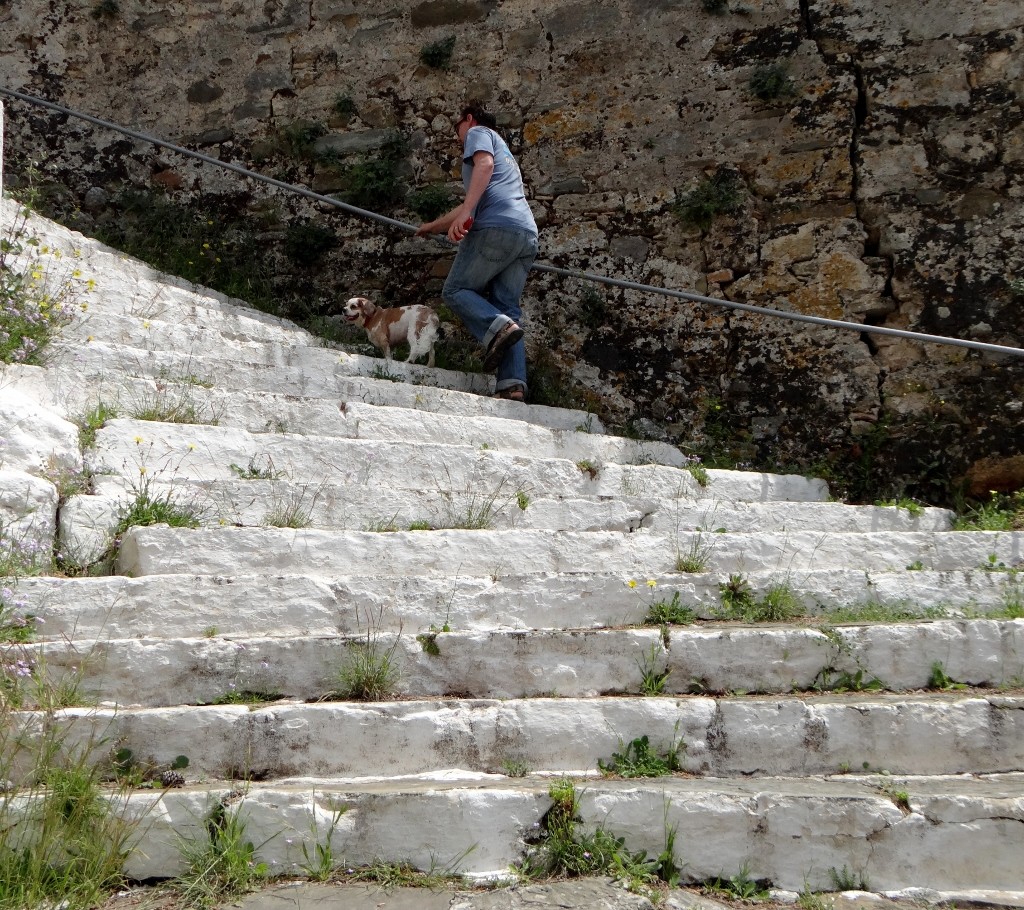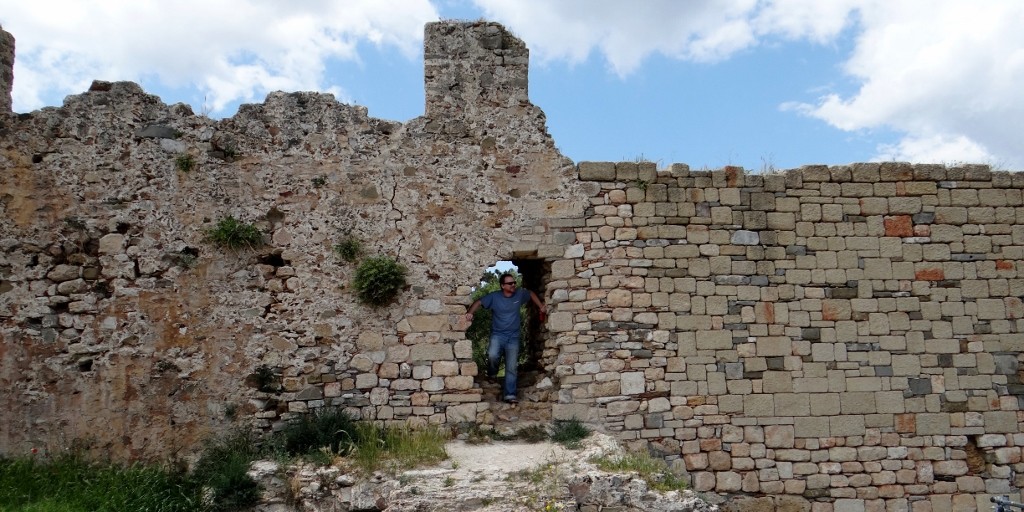 An old man and his daughter, who were painting their house, pointed us in the direction of another gate with good views of the castle for photographs. We stood chatting to them for a while, the old man explaining to Jay how Hitler had ordered a huge chunk of the castle to be blown up and how things were around there during the war – he had been born and lived in that house, like his father, grandfather and great grandfather before him, so he knew his stuff. Meanwhile Catherine, his daughter, and I chatted about cats, dogs, where to eat and the financial crisis.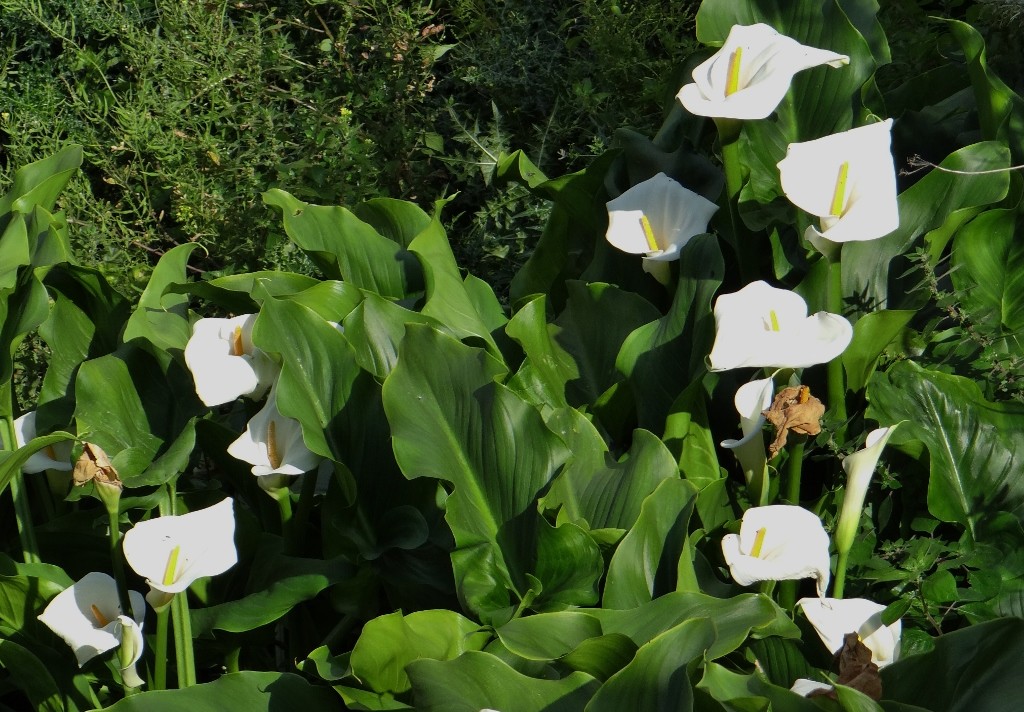 Eventually we headed back to Dave, our skin slightly sun kissed despite both being smeared in factor 30. Another motorhome had arrived on the site and as I put a huge load of washing in the machine a third motorhome appeared. A phone call from our insurance broker brought good news, they've sorted out the problem with our insurance (turns out we were on the wrong type of policy) and at no extra cost to us – yay for Insurance Choice!! We celebrated by lunching on some of our cheddar cheese and with it came the end of an era, my bottle of Heinz salad cream, which I had in the fridge at home, has finally been finished. Don't believe everything you read on foodstuff – the bottle said Best Before July 2012 and eat within eight weeks of opening, it's been fine despite being open for more than 80 weeks!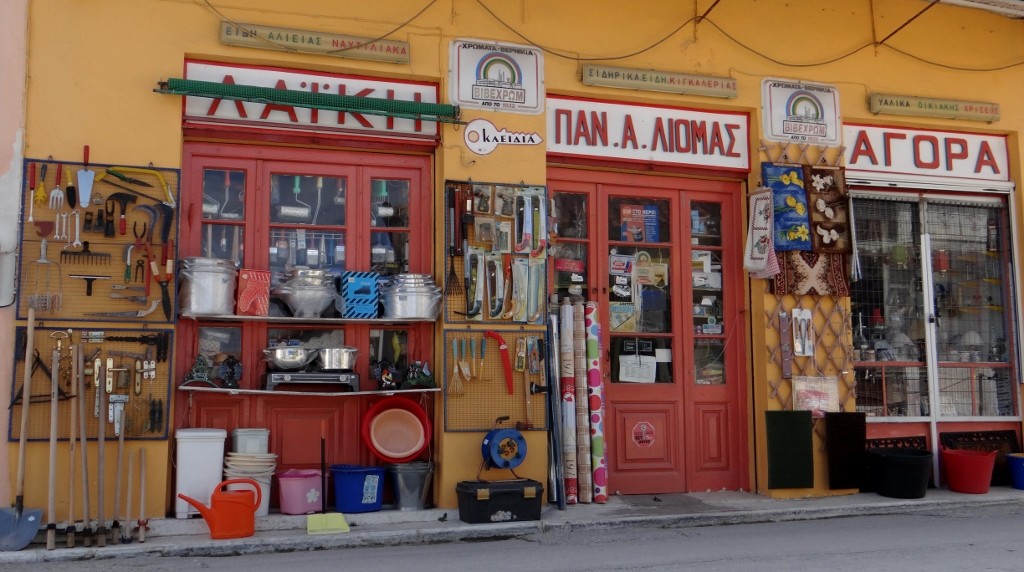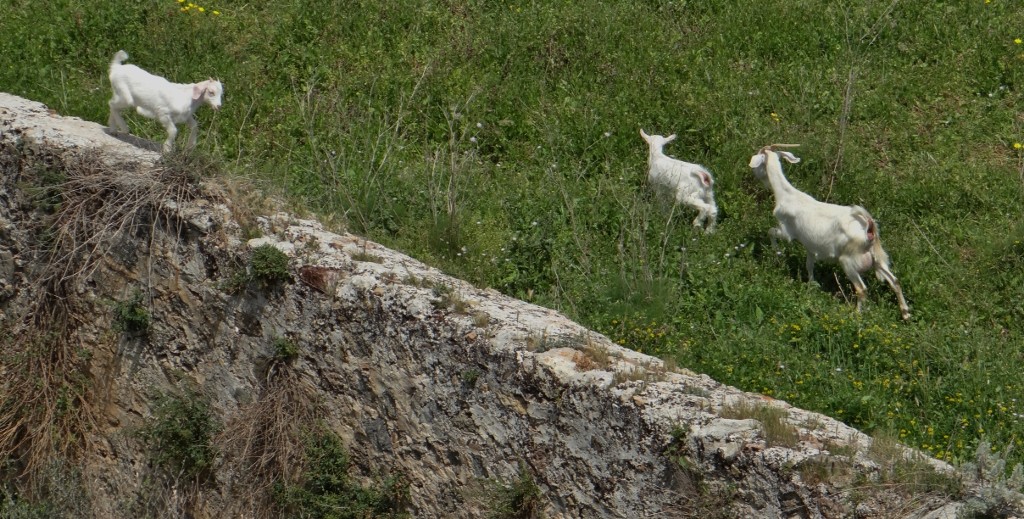 We sat outside in the late afternoon sun reading a brochure from a local estate agent, half of it was in English, probably their best market right now. This part of Greece is just beautiful, tranquil and so relaxing. We're really going to struggle to leave.
Ju x