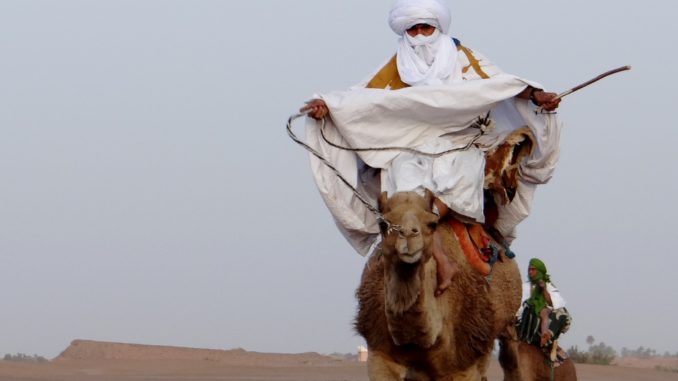 Zagan the motorhome's innards are caked in a fine layer of dust after the wind's picked up the Sahara and chucked it about these past couple of days. We're at a small family campsite beside a kasbah and beneath the palms, Camping Oued Draa, which is about 1km north of Ternata on the N9, a few miles north of Zagora (N30.407456, W5.869533). We're not sure, but we think it costs 50Dh a night to stay here with electricity, we'll find out when we come to leave!
Edit:although the price inc. electricity in Campings du Maroc is 40Dh. When we came to leave the owner charged us double. I checked he knew we only stayed one night, and told him we had the latest 2016/2017 book with his prices. This is the first time a site owner has chosen to rip us off. Beware if you come to Camping Oued Draa!
The choice to stay here was largely driven by the fact we didn't want to spend another night in Zagora, but equally didn't want to head much further north as, to be blunt, I'm crawling about with a hangover. Meeting five year full timers Martin and Deana (not sure how to spell that I'm afraid) in Mhamid led to me drinking vast quantities of their cold beers, recently sourced on a visa extending trip back to Spain. A cracking night swapping tales, and a cracking headache in the morning. Ju was restrained, as ever, and pulled today's driving stint, drawing a few stares from folks alongside the road in a country where most drivers are male (and none are hungover).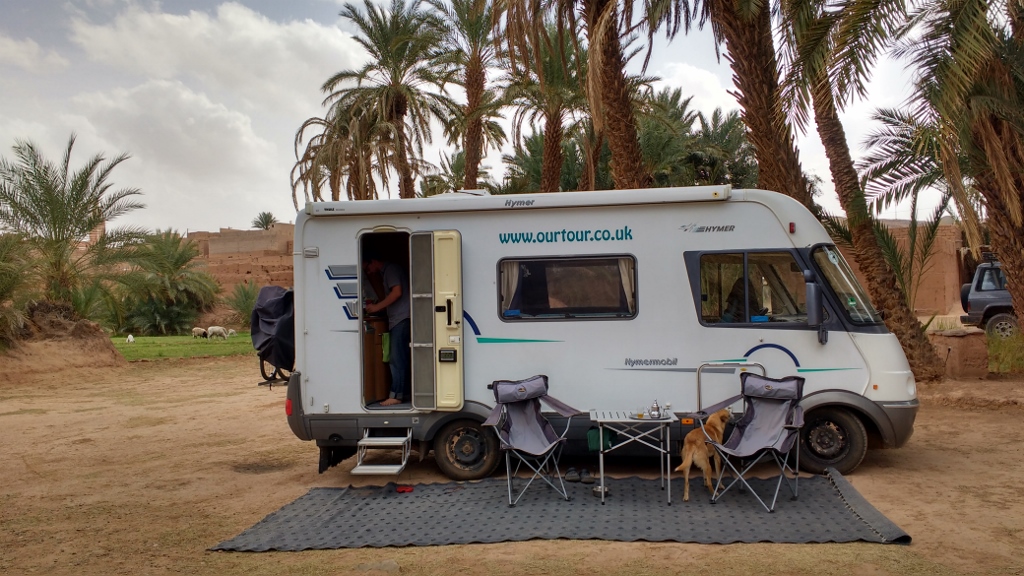 One of the levers which pulled us down to Mhamid was the nomads festival taking place this weekend. And more specifically, the promise of camel racing. Before we started this motorhoming malarky Ju and I had a winter holiday in Finland where we were treated to the hilarious sight of lycra-clad fellas on skis racing reindeer around a frozen lake. Once our eyeballs had alighted on the words 'course de dromadaires', we were sold.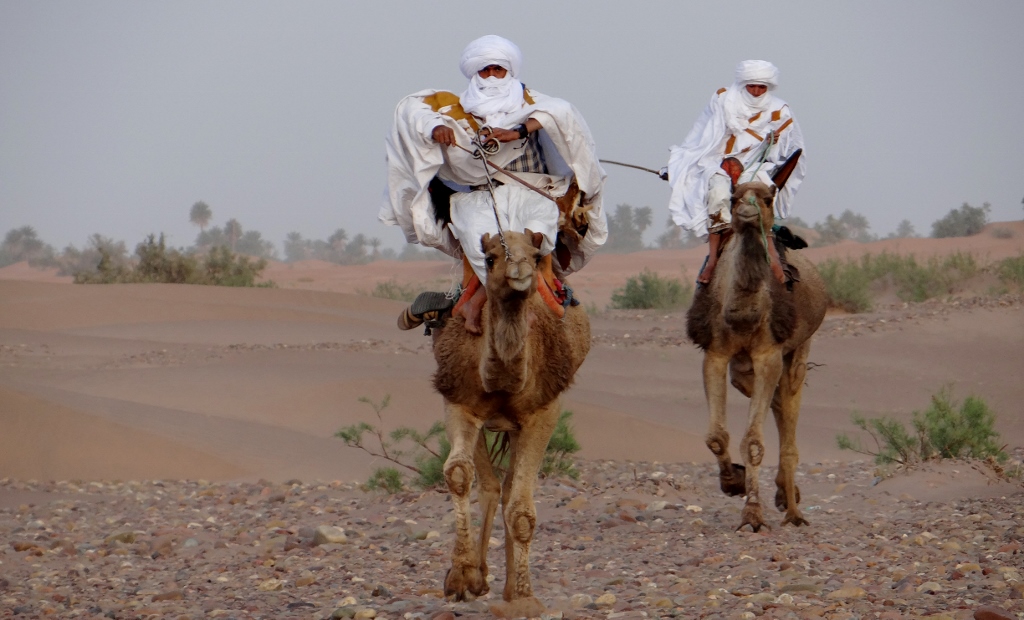 The festival included a large stage with various local and international bands and dancers (including Polish Flamenco!), a demonstration of Berber tents, debates about nomadic life and sales of a range of stuff made in the area, but if I'm honest we barely paid lip service to that lot, the camels were our bag.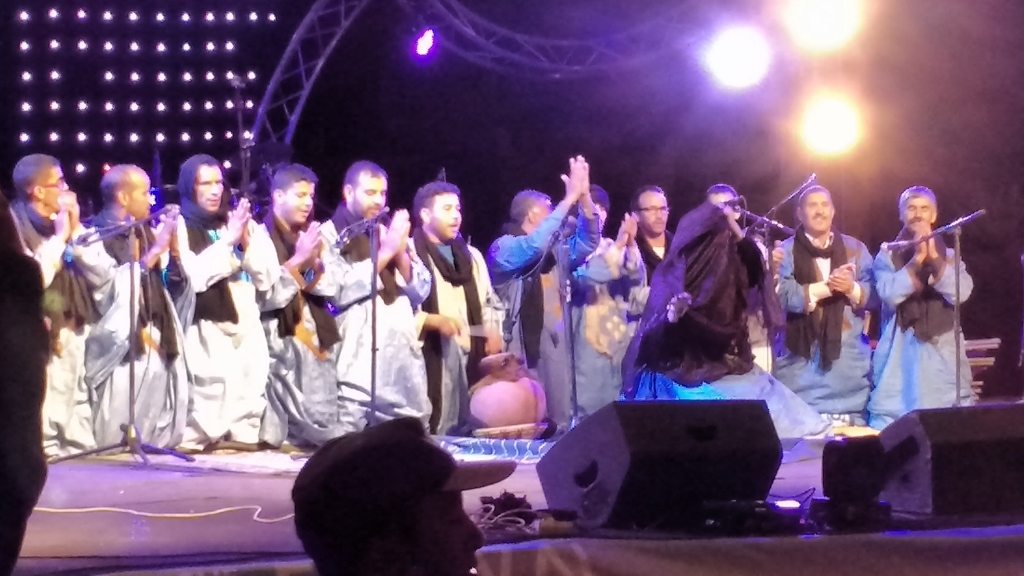 We did go and watch some local guys singing for a while. It was hard to describe what they got up, so Ju recorded a short video.
As you'll see it was rhythmic, involved a lot of clapping, and went on a while. I enjoyed it, but also have an increased respect for the Queen after standing watching for only ten minutes
So, anyway, back to those camels. Mhamid's population must have doubled for the festival; Western faces just about outnumbered the Moroccans. In anticipation of the race, which took place in the river bed, we were ambling down to the adjacent hotel where all the dignitaries were gathering for the welcome ceremony, when this lot appeared to our left: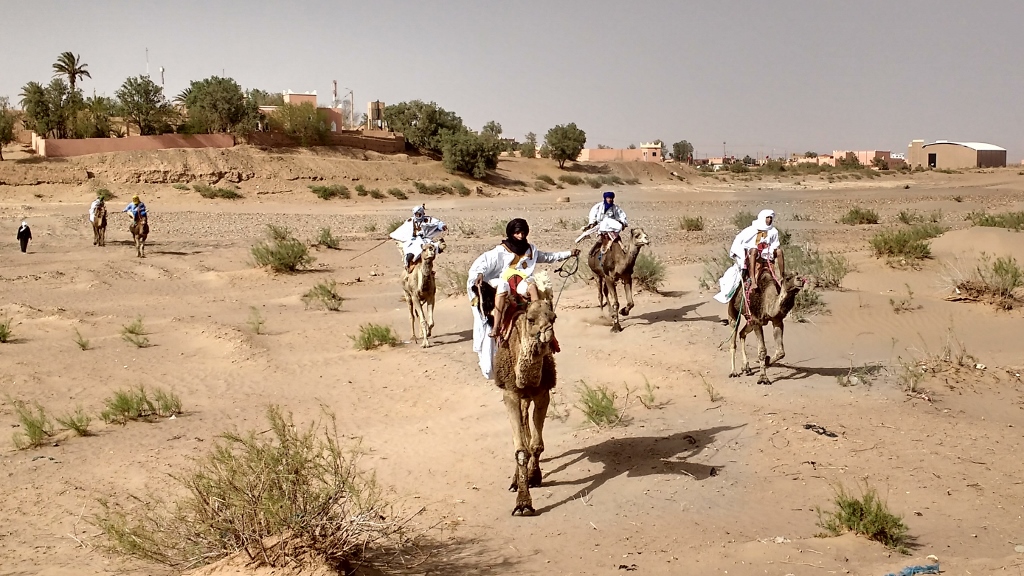 Plodding off up the road in front of us, they were arranged in the courtyard of the hotel where our camera, and 300 other cameras, practically melted in a frenzy of camel snapping. I swear we have 3562 photos of the indignant beasts and their enigmatic (until their whip out a mobile phone or ciggy) riders. In an effort to save our website server from also melting, I've cut 'em down to just these few.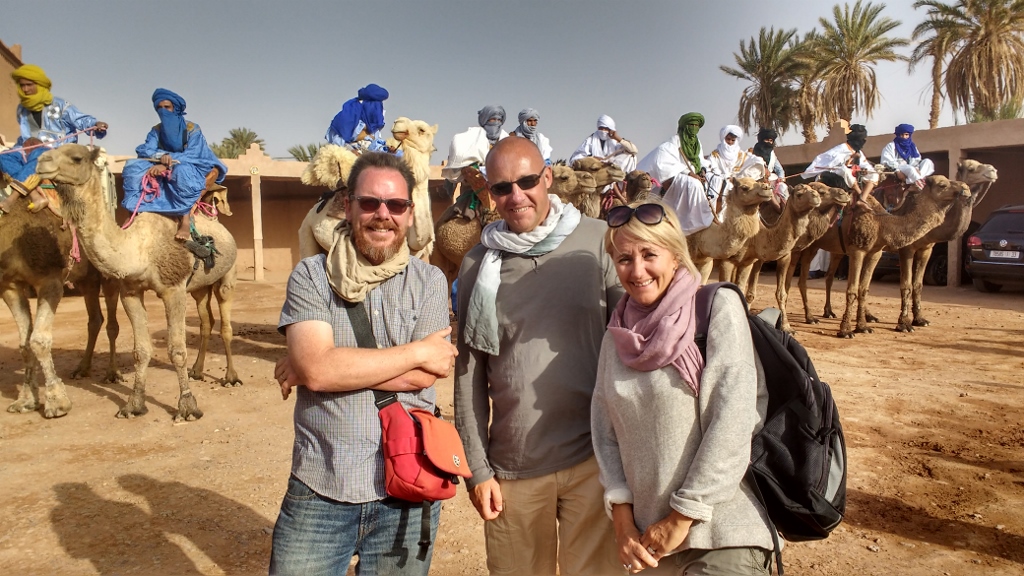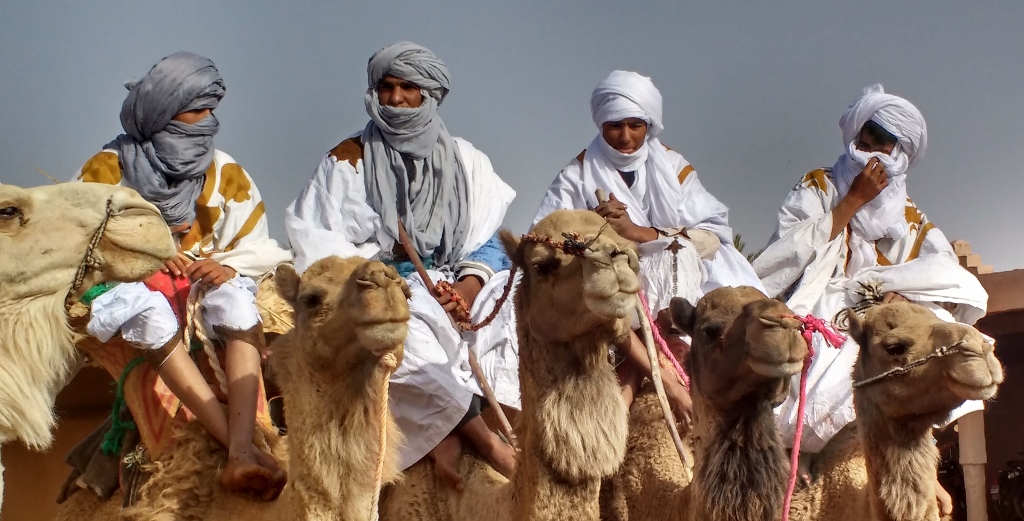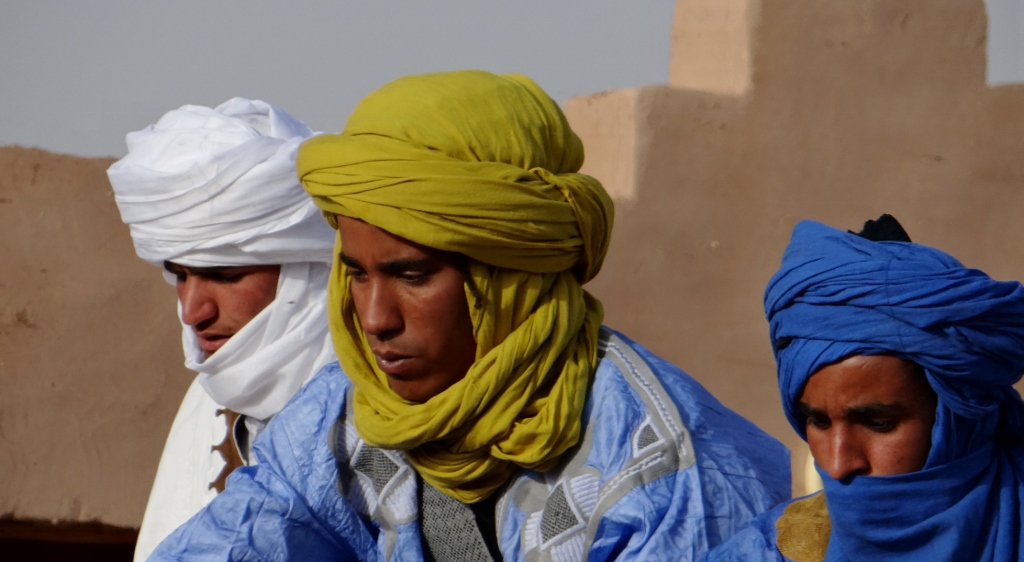 After a couple of hours of hanging around, listening to the same local band as we had seen the night before, and braving a stroke or two of the camels it was time for the race. The race itself felt entirely authentic, in a 'real Morocco' sense. It was an hour late, given the fact the much-schmoosed-over Governor was himself an hour late arriving for the opening ceremony. It had zero crowd control and no information, so half of us piled into the river bed for the best view – the river bed being the course! It had no apparent starting gun, wave of flag or command. And best of all, the camels legged it off all over the place, it looks like they aren't that easy to steer. Our position in the sandy river bed was overrun with a bow-legged, flat footed beasty, causing much hilarity and not a little eye widening.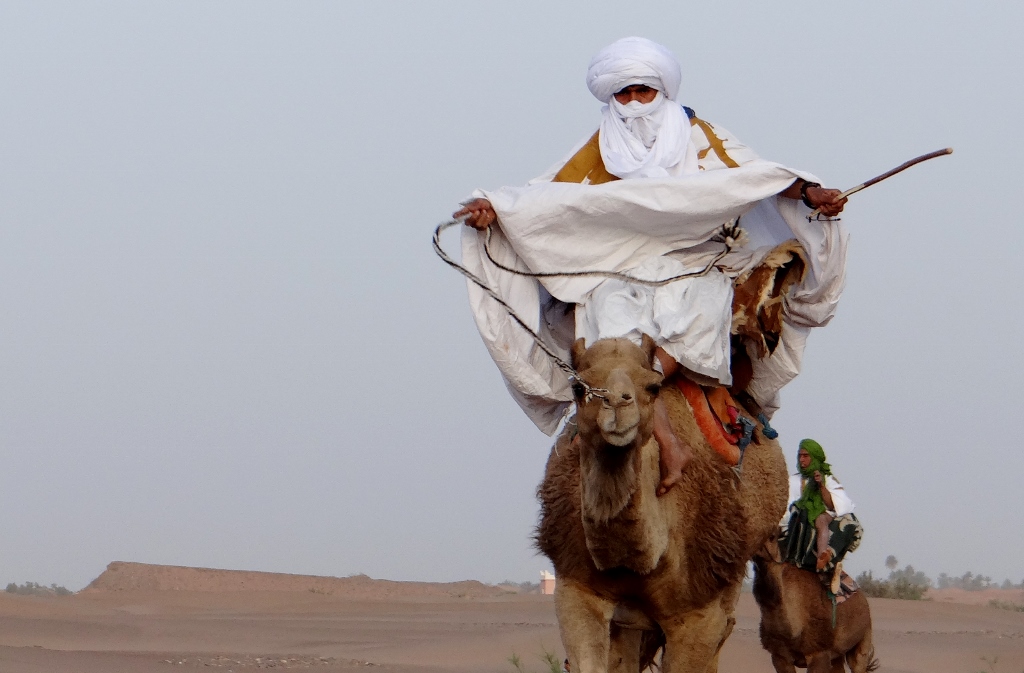 So, there you go. Culture in the form of a crowd of shaggy, nose-ringed, ill-tempered, soft-footed, all-knees beasties. The festival actually continues today, but the main event of 'sand bread' baking just couldn't compete. After wondering about the sanity of driving about in the dust-thick air, we followed half the motorhomes on the campsite back up the tar-and-dirt road north. In the end the air remained largely clean, but for the occasional small twister kicking up distant bits of the desert.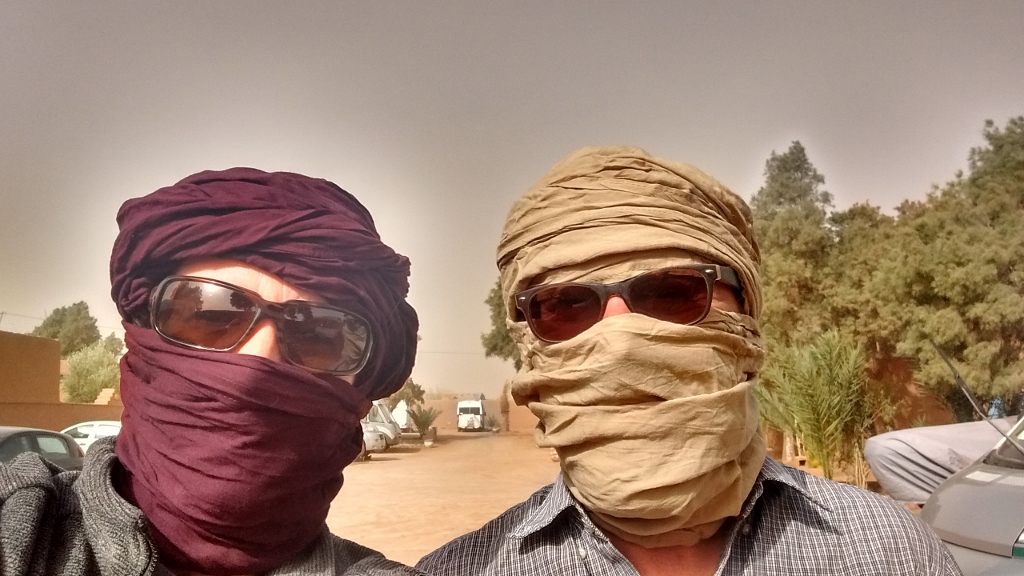 Stopping off in Zagora we grabbed a kilo of fillet steak, for €9 from a smiling man literally up to his elbows in dead cow, and piled in here. My head hurts, sorry, so I'm off, but I'll leave you with a bunch more pics from Mhamid and the drive back up the N9 to here.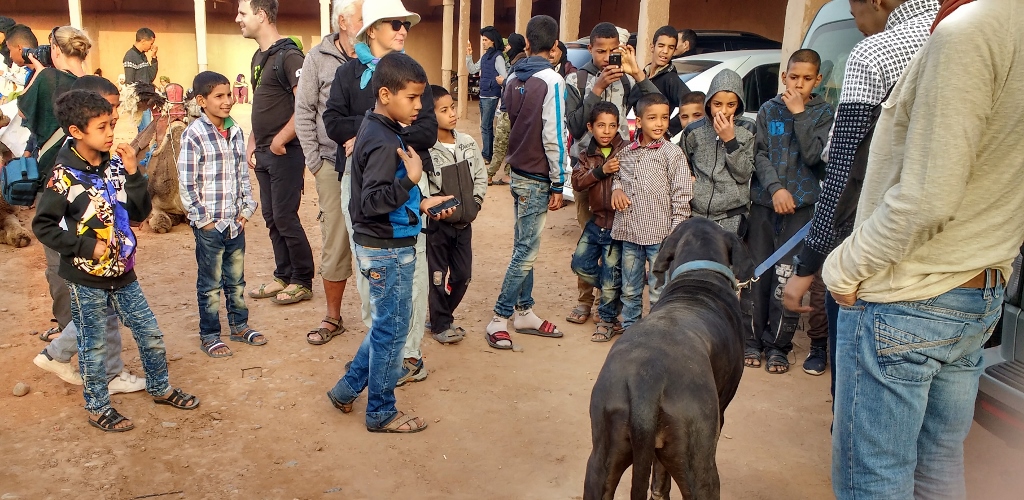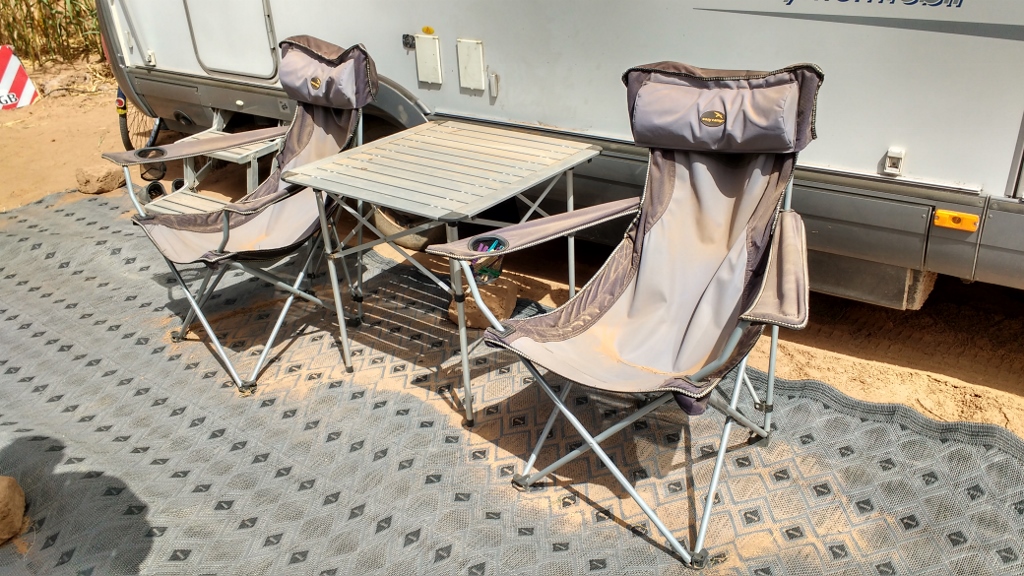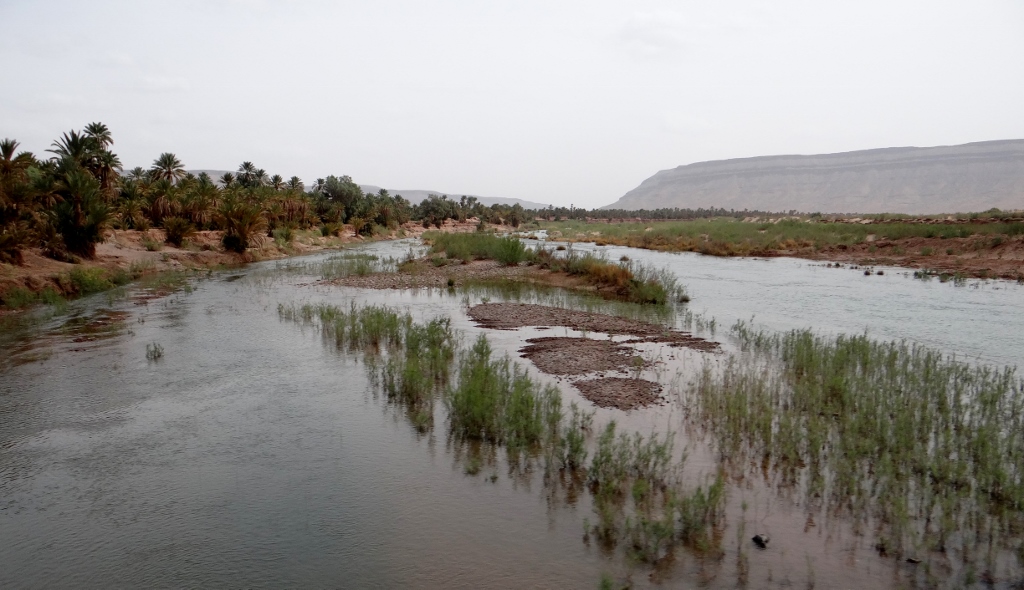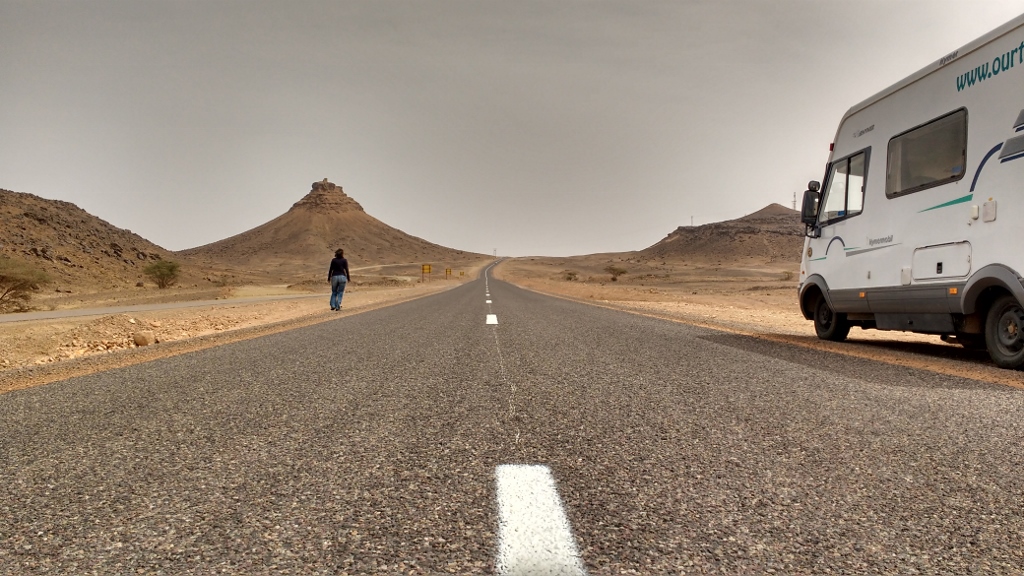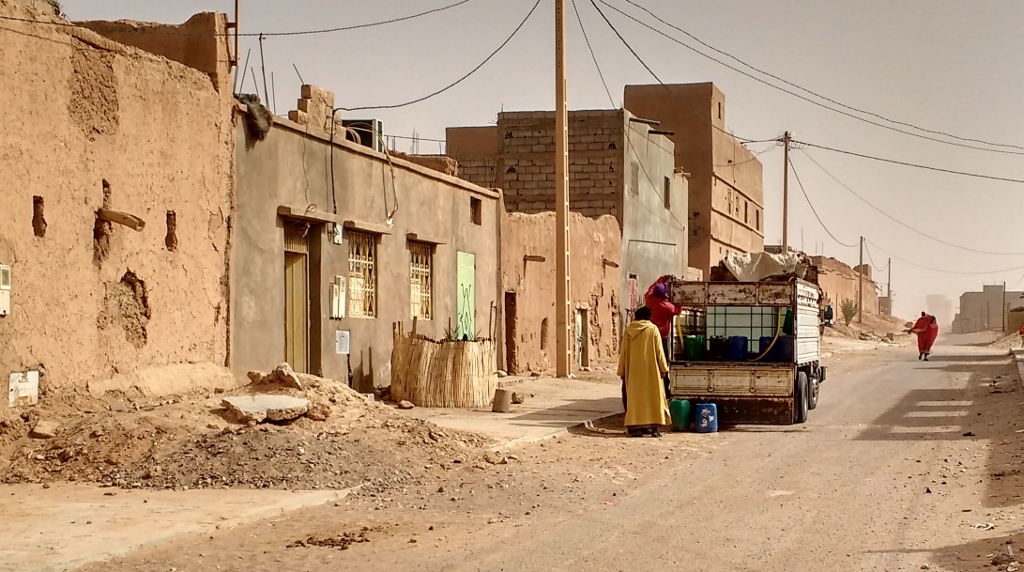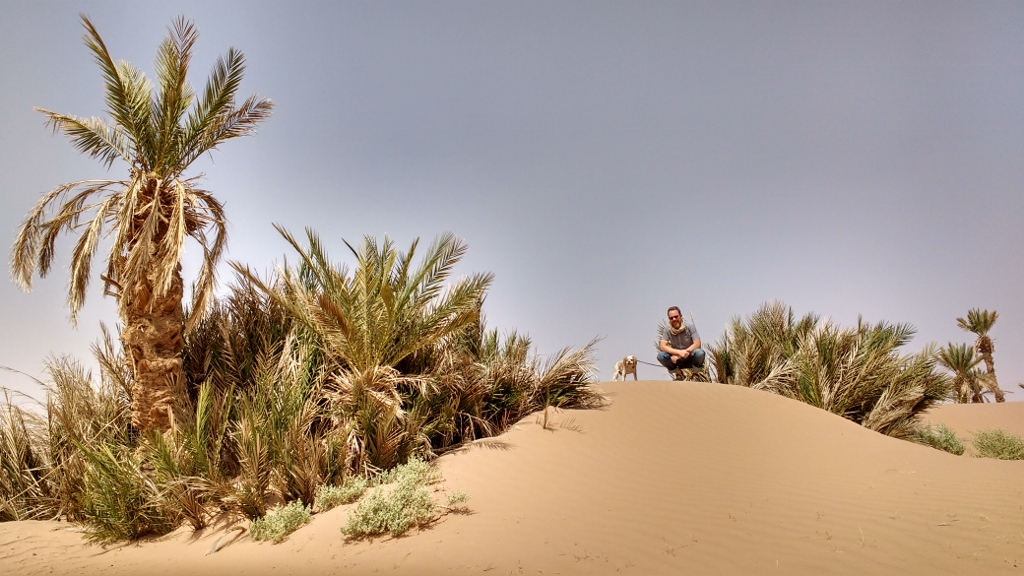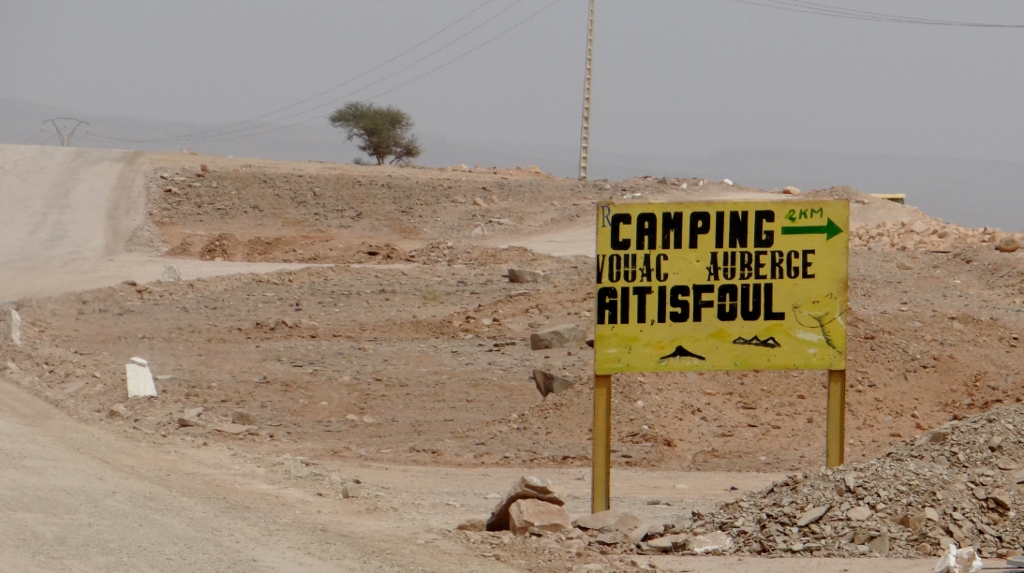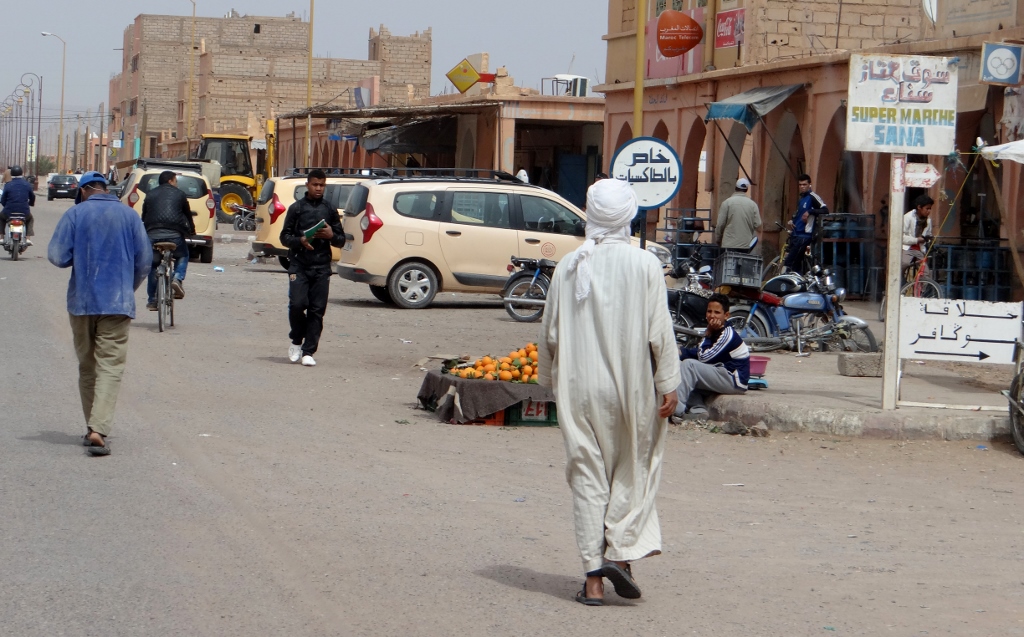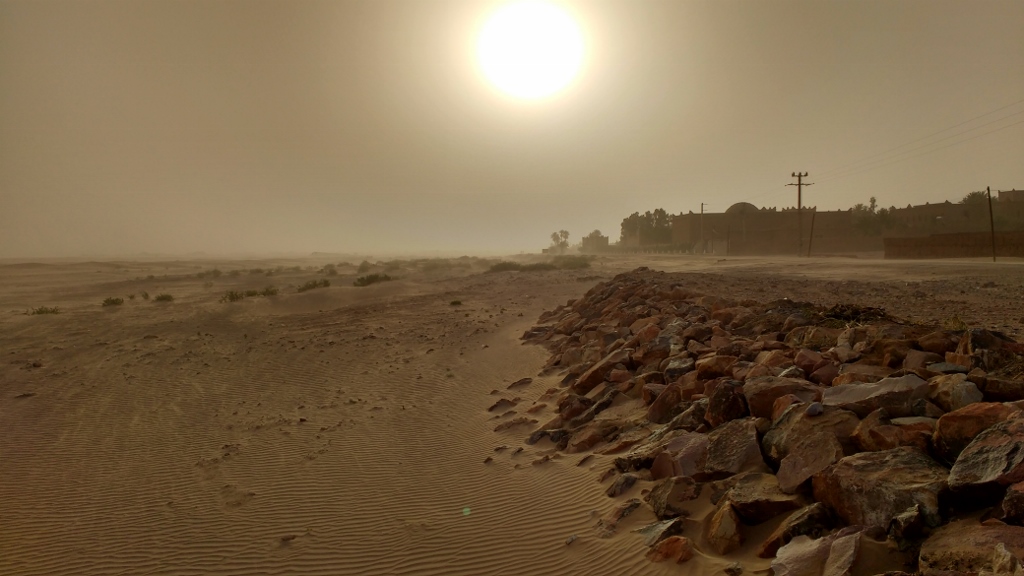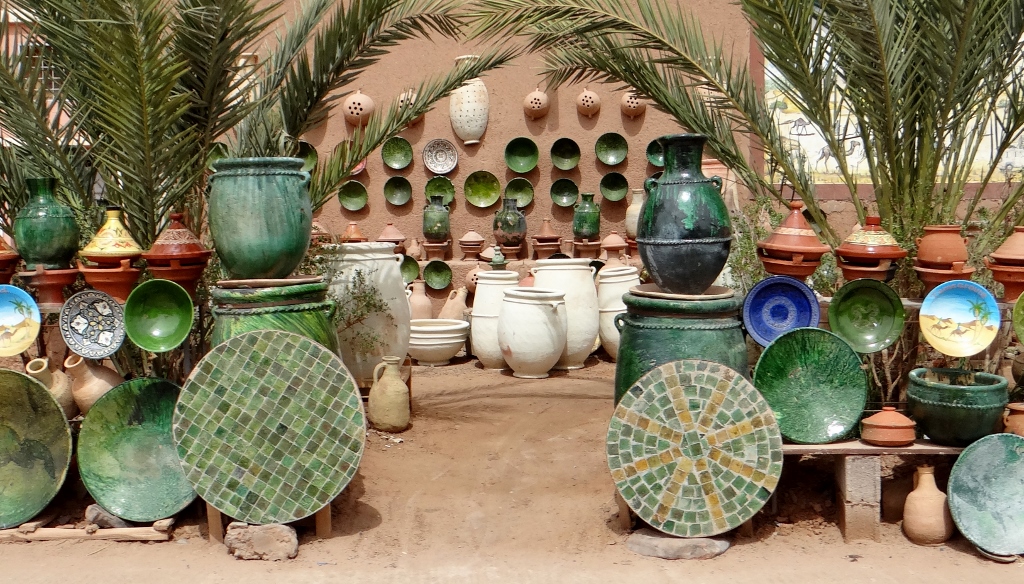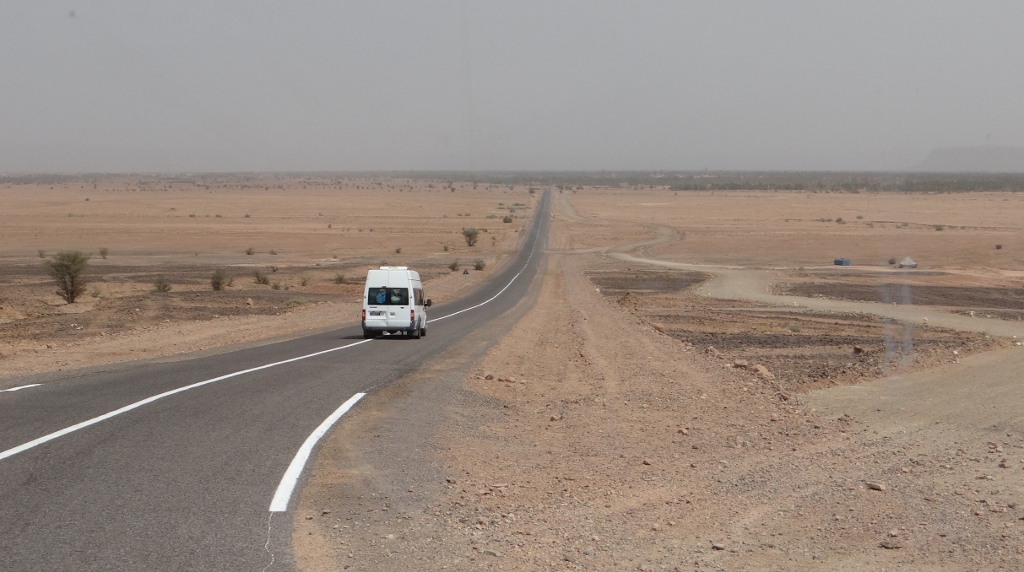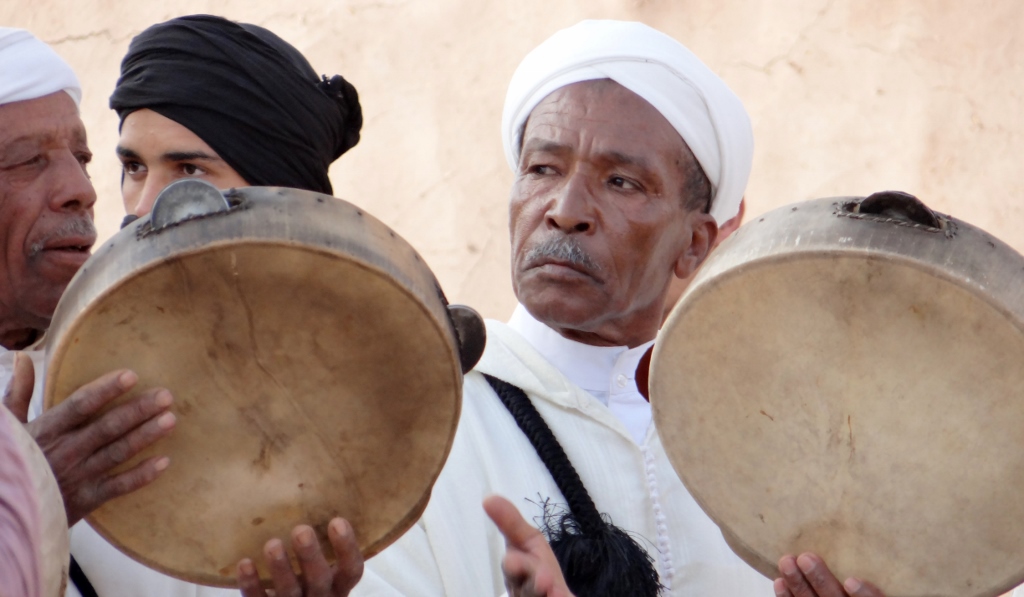 Cheers folks, Jay