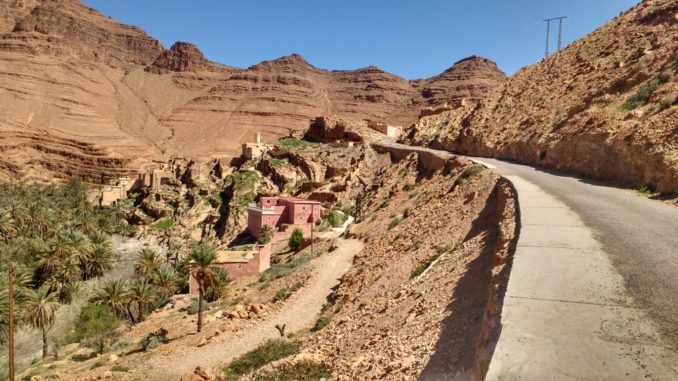 Zagan the motorhome's windows are full of palm. Green fronds, sunlight and shadow, backed by high orange cliff faces. We're in a small, calm guarded parking area in one of the Ait Monsour Gorges, a place of Lawrence of Arabia-inspired boyhood dreams (N29.547902, W8.877461). Small frogs in the steady flow of water close by are making outsized amounts of noise, bulging cheeks like bubble gum, leaping from the sandy banks to hide under rocks or mud when we get too close. This is the domain of Mustapha, an easy going guardian who pulled up his lanyard to show his decade-faded card: proudly telling me "I am official", and asking if I'd seen his name in the Campings du Maroc book (I had). It costs 25Dh (roughly £2) a night to stay. Incredibly we can get a mobile Internet connection here, albeit a slow one, and we have to dance about a bit to get it to work.

The sky at the painted rocks yesterday somehow failed to be magnificent. Once the crescent moon dropped below the mountains at around 10:30pm I'd hoped to be treated to a show: the Milky Way in full glory, but sadly it was a no-show. Despite practically zero light pollution, only the usual array of constellations were present, and I headed to bed disappointed.
In the morning Ju took off for a run while I pondered the smooth beauty of the rocky, calm place we were sat in. A few converted lorries were scattered around the rocks, huge but tiny in this endless landscape. The French youth seem to have the monopoly on this particular mode of living, folks who've opted not to fit in. The back doors of one of the lorries was open, and in the absence of courage to ask, I guessed from the tools within that they made their living as a mobile workshop. Ju returned hot and bothered, the sun making running even more of a chore than usual. After an in-van shower (I'll never get over the novelty of having a hot shower and a cold fridge everywhere), we decided to head to Ait Mansour. Daniel, a French blog follower who treated us to a drink in Marrakech (and who is rapidly becoming our Morocco guardian angel) suggested we shouldn't miss the place, so in we came.
The drive here took us along a sinuous route through dry hills, villages and small almond groves. The trees rapidly erupting in pink, just in time for the Almond Blossom Festival in Tafraoute. Or is the festival erupting just in time for the trees? The dates for it are shifting backwards with the wind, and we've speculated whether they're waiting for nature, or desperately buying time to finish the roadworks going on in the town?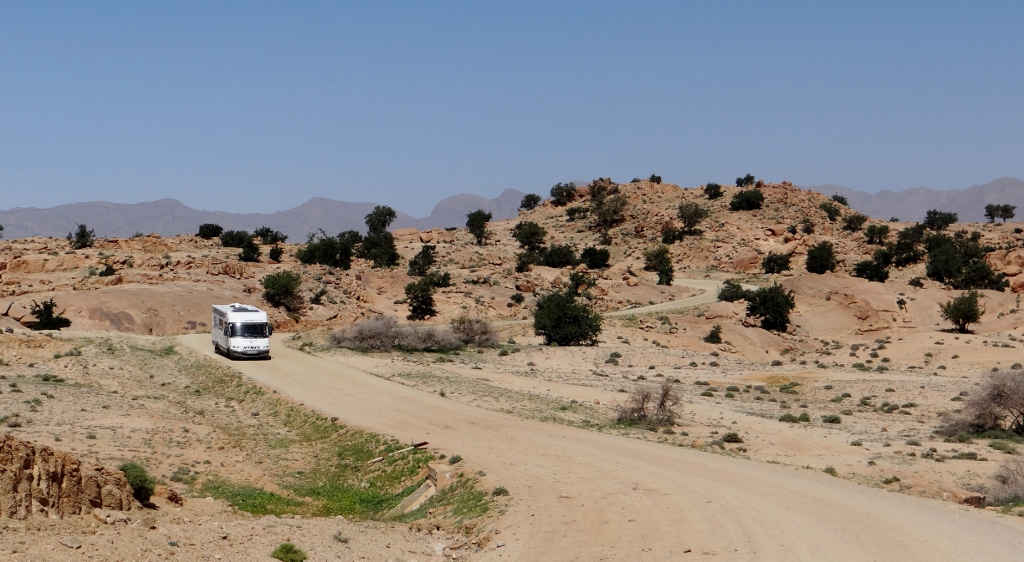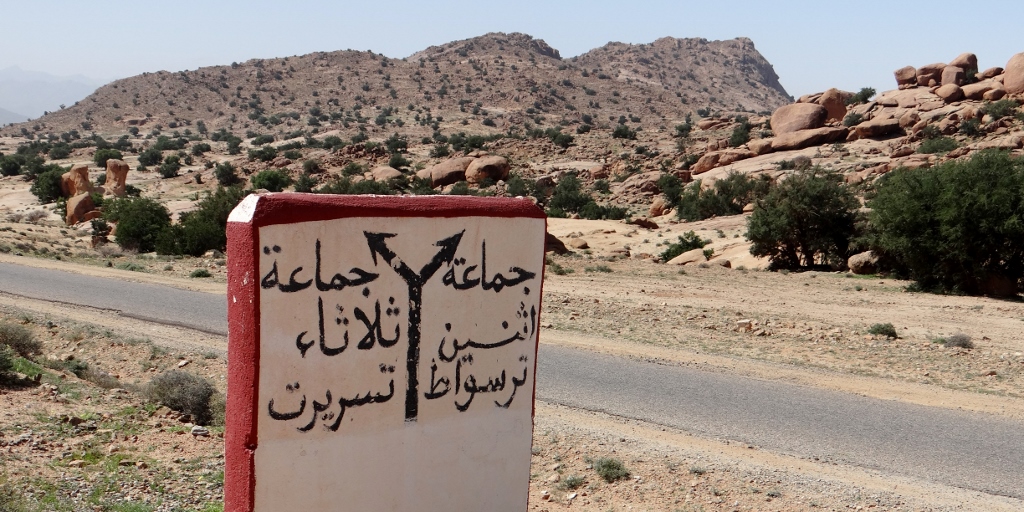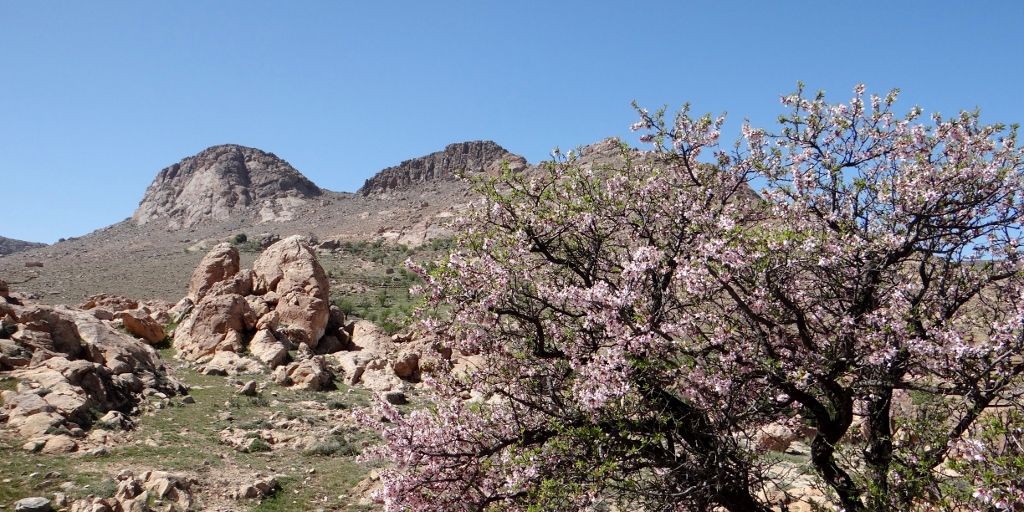 Although only the tarmac on the road was only wide enough for a single vehicle, the roads here impress me with a certain efficiency. Instead of sinking capital into twice as much goudron for roads hardly used, you're quite fairly expected to slow down and pop two wheels on the gravel either side when passing the few vans and cars you come across. That said, a fair bit of effort had gone into adding a couple of feet to the road, flat grey concrete broadening the hairpins and in other likely spots.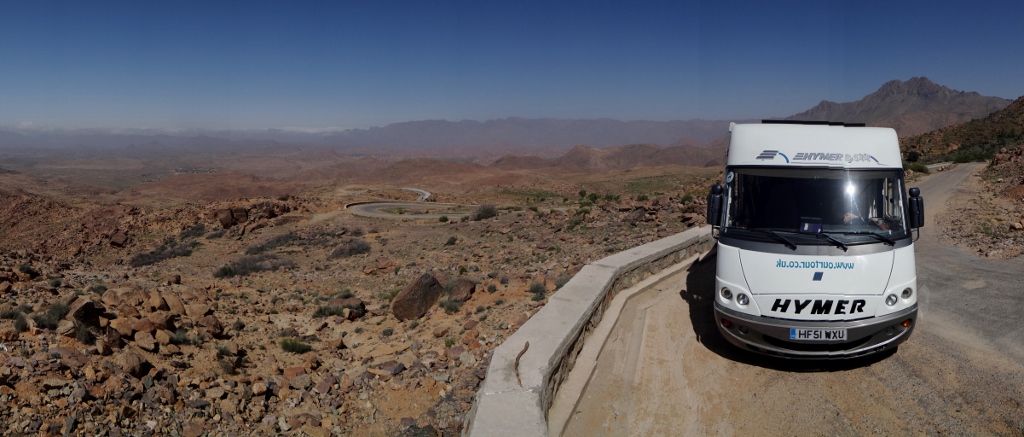 At one point high on the gorge, before the walls went high and palms appeared, our jaws hit the floor. Pulling Zagan over to one side we walked to the other side of the road and peered at the scene, eyes wide. Morocco's more well known gorges, the Dades and Todra, which are on the main tourist route, fade in my memory compared to this. I imagine Crocodile Dundee stood alongside us, pointing at a photo of the Todra Gorge and asking with creased eyes: "call that a gorge?", then pointing out ahead at the impressive cascade of black and orange rock and remarking "that's a gorge!"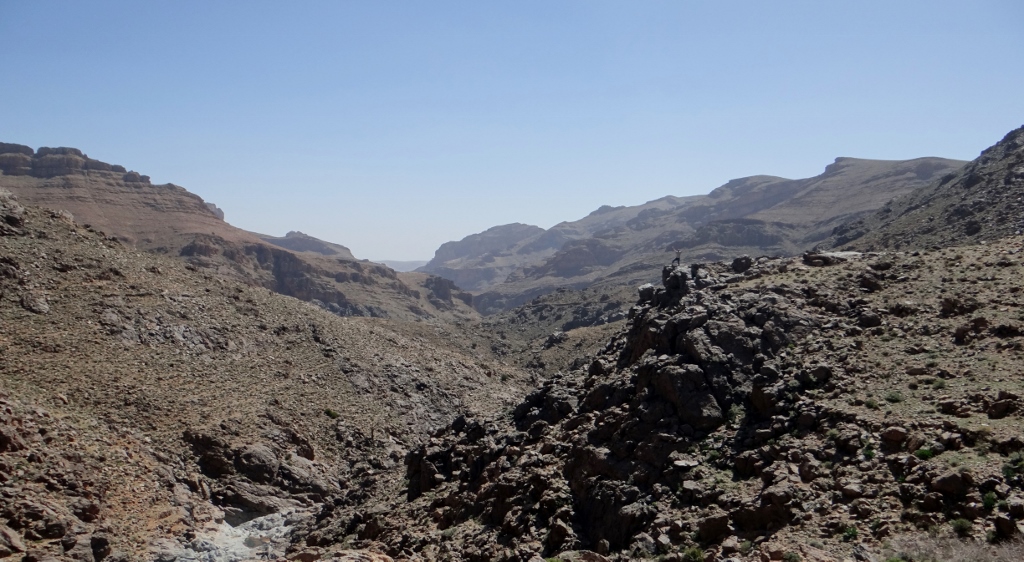 At this point we pulled out our GoPro and stuck it to the window, recording the final 13 minutes of the drive, as it'll do a better job of showing the outlandish scene than my dry words will. I felt a rush of joy on this drive, one which I can easily imagine wouldn't have been possible with a soft and squishy vehicle like ours just a decade ago.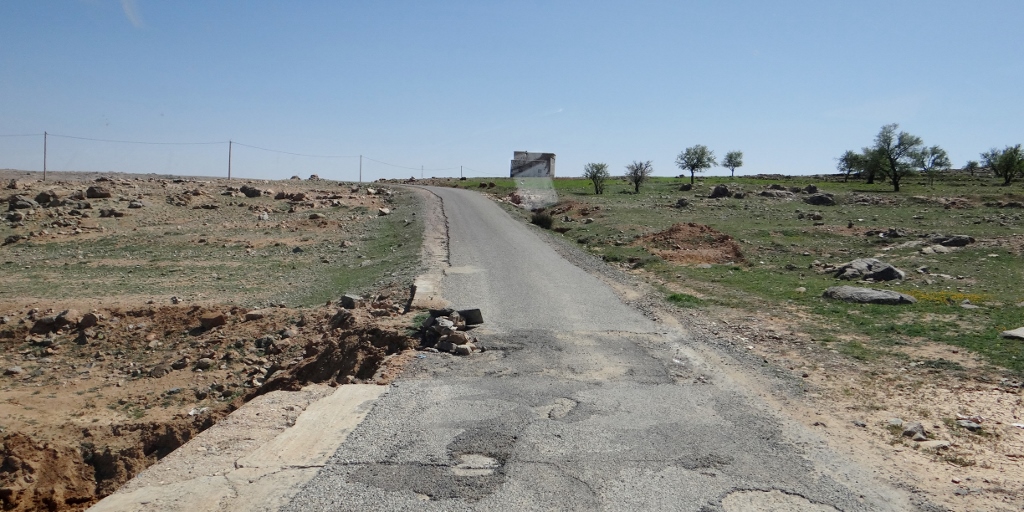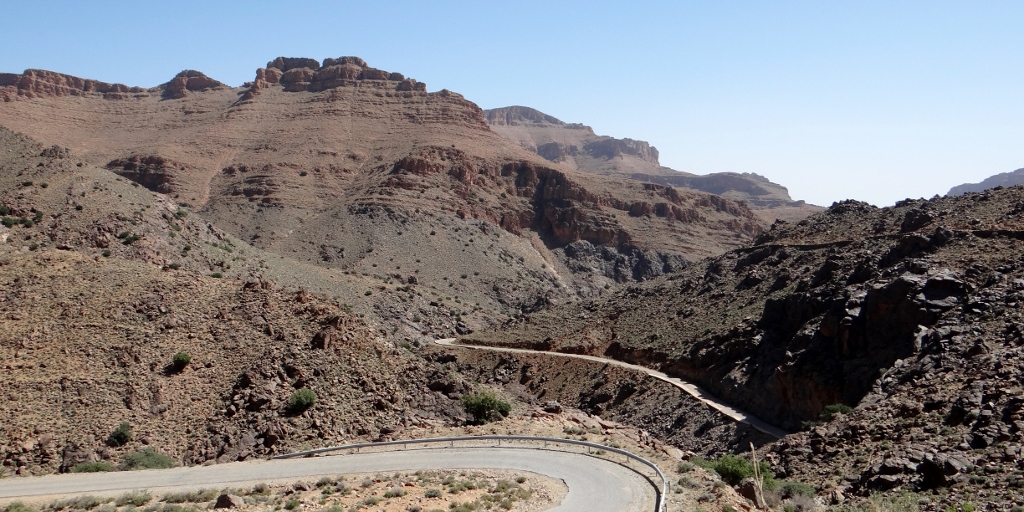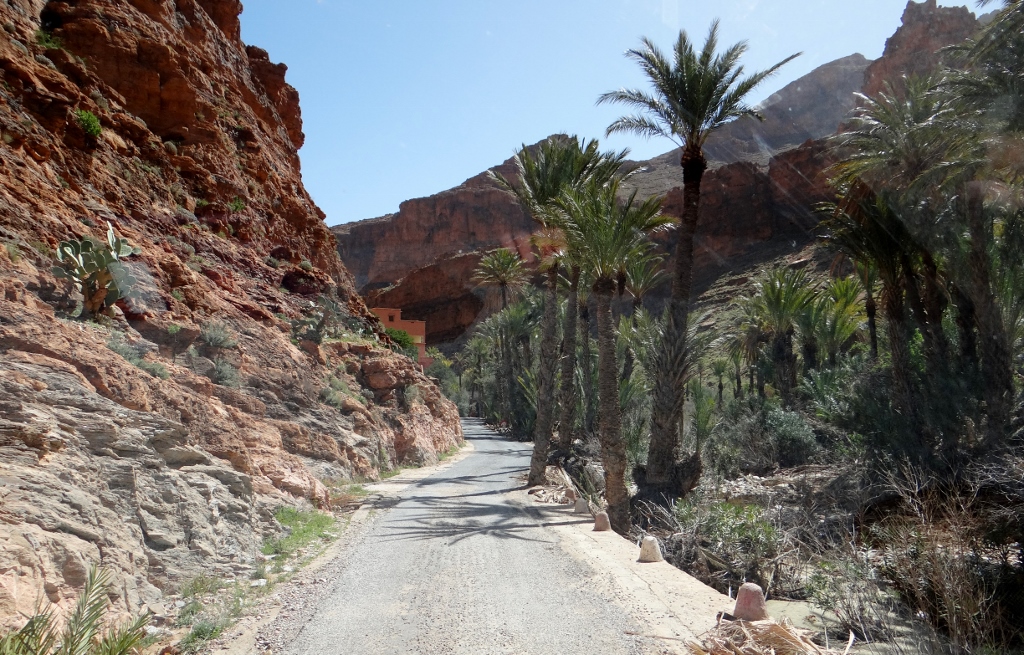 When we arrived Mustapha, the parking guardian, was lying in the lee of one of the leaning palms, chatting to his wife, who sat quietly listening, clad all in black. She was so demur I didn't notice her at first, standing back a little as I thought Mustapha was on his mobile. Later on his fatima (I don't know her name) was less passive, collaring a couple of German tourists who were about to drive off without paying the 5Dh day rate!
Finishing his conversation, Mustapaha slowly rose, pulling himself up and placing a coke bottle in a hiding place in the neck of the palm, smiling and shaking my hand. In rapid French he started to answer all the questions I hadn't asked, which us van dwellers normally have about water and waste. When he'd apologised for there being no satellite TV reception, I smiled back at him, casting a hand around us, why would we need satellite TV, there is so much to see? At this point he realised I wasn't French, given my appalling grasp of the language, and switched to mime. Taking our ageing Michelin map, he sat down and explained it's now possible to drive all the way through the canyon, several miles of oasis and out the other side, drawing on a new road from Souk-el-Had-d'Afella-Irhir (a village I suspect is somewhat shorter than its name) to Izerbi. This is becoming a common theme of our second tour of Morocco: roads are appearing from nowhere.
Parked up and settled in, and having had a quick chat with our French neighbours from Cognac, whose motorhomes are in a wagon circle next to us, we headed out for a walk along the road. Although it's undoubtedly a beautiful place for us tourists to wander, the oasis is a working place. The latest set of palm fronds to die and collapse under their own weight up in the heights have been cut down, thousands of these coarse, spiked branches lie at the feet of the trees. Heavy bunches of brown dates hang high above us on yellow arms. I picked one up from the ground, stupidly convinced it was plastic at first, light, smooth and unnaturally strong.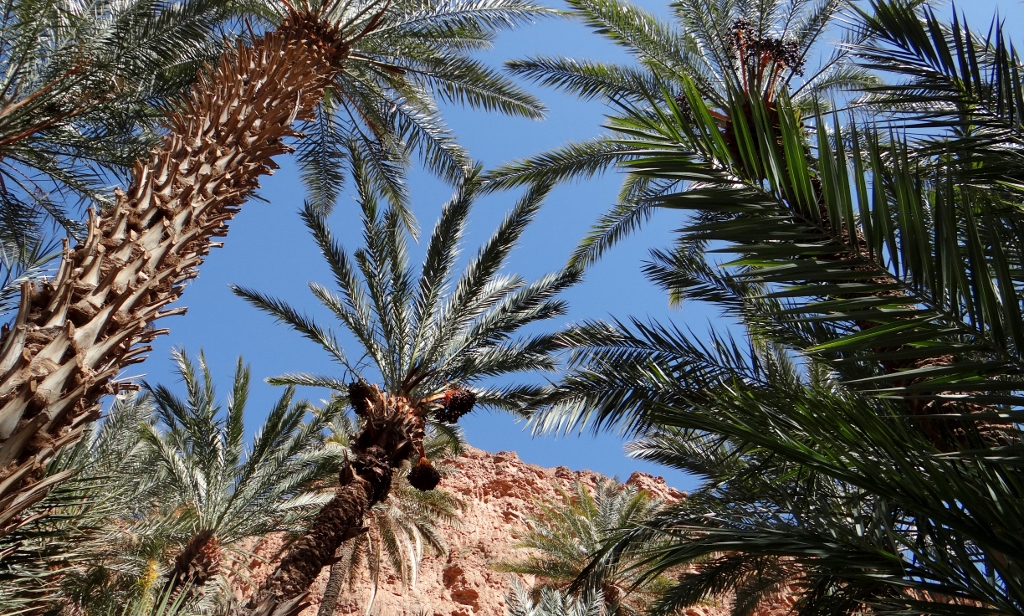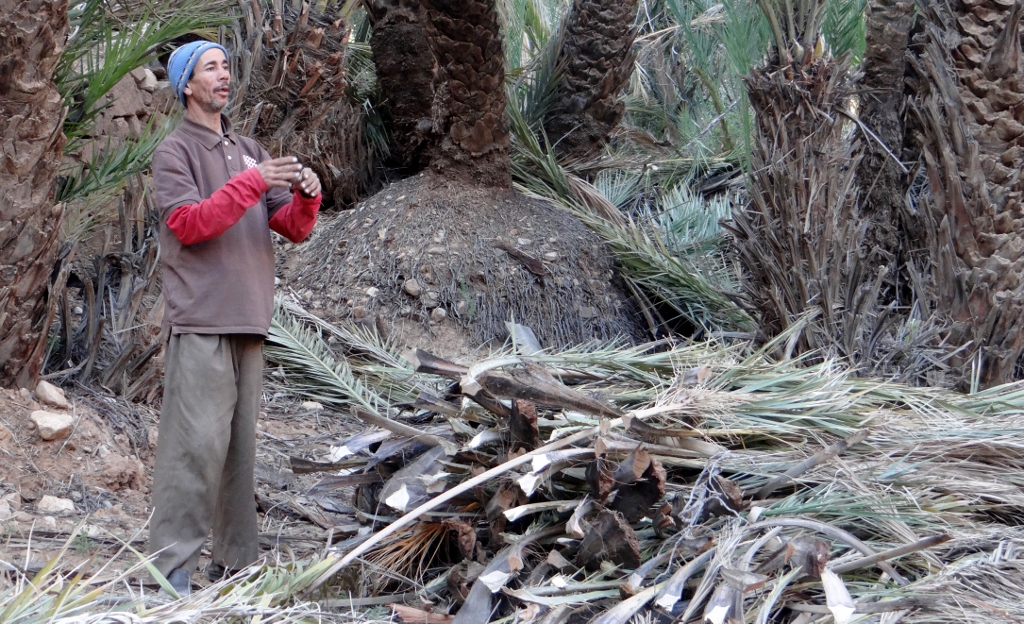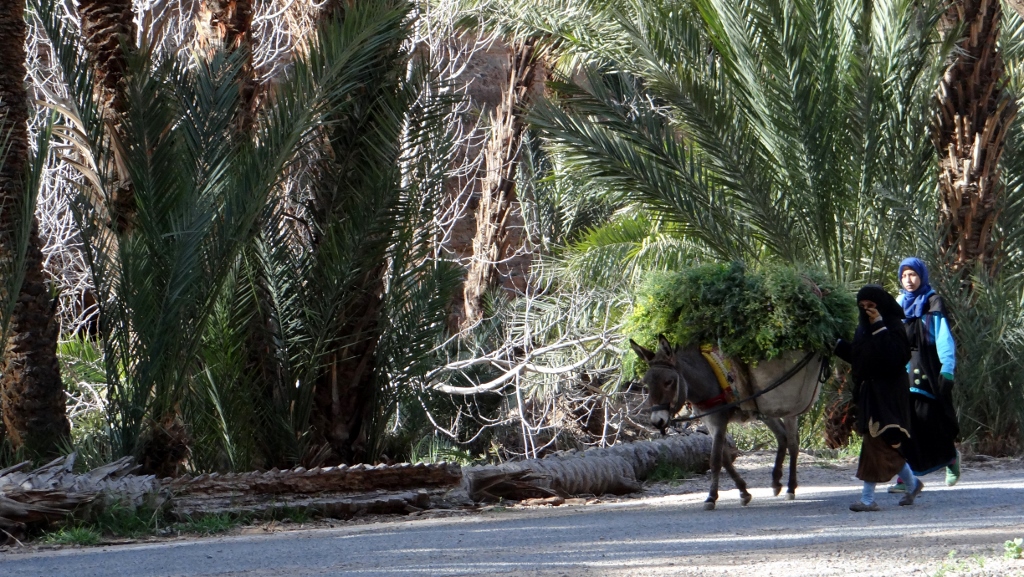 There are a string of 13 villages in the gorge, and we walked to one of them this morning, hanging onto steep rock like a Greek fishing village, or an Italian hill town, though far less polished. Here services run in pipes and cables in the open air. Old and new buildings rub shoulders, concrete, mud and rock. Semi-vertical paths to houses take concentration to navigate, making us wonder at the extraordinary difficulties the elderly and infirm must be living here.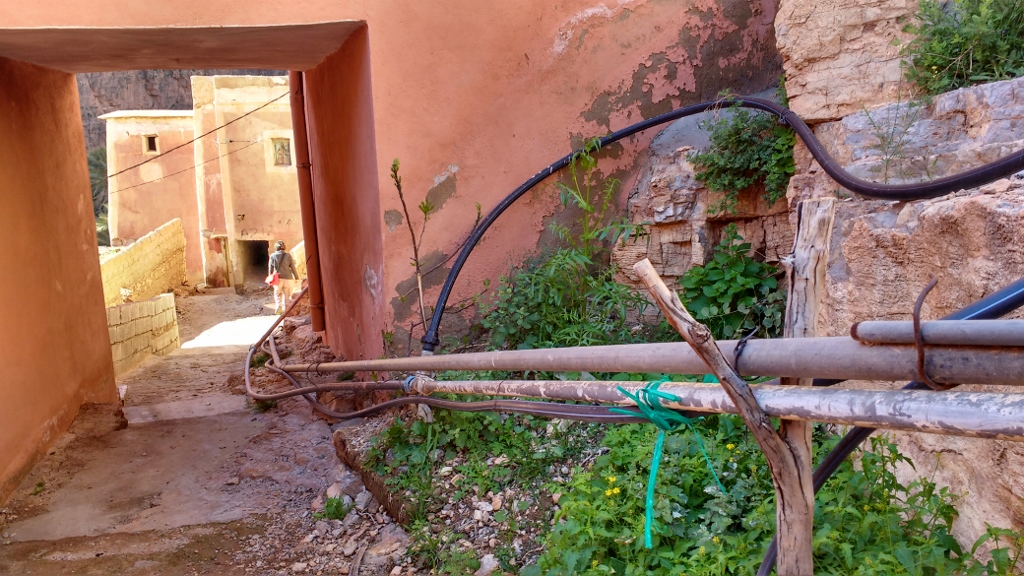 Later on after breakfast of bread, jam and honey, the bikes came off the rack and we rode a handful of miles down the gorge. There are few folks here, and they all acknowledge us (the men at least, women are more reserved, with me anyway). Some greet with just a silent hand, lifted palm forwards. Most use French, but unusually always ask how we are: "Bonjour, ça va?" The odd one uses Arabic or Berber: "Labas?" None have asked for anything, not even the kids we met at the extent of our ride, three of which had just started to learn French at school. We bumped into the French lady who'd helped make Ju's boots in Tafroute, she's spending three days cycling the circuit of the gorge with a friend. They related how a local in the valley had insisted they stay with his family last night, for free. The bitter-sweet touch of mass tourism hasn't stretched this far into the mountains; it's a pleasure to be here.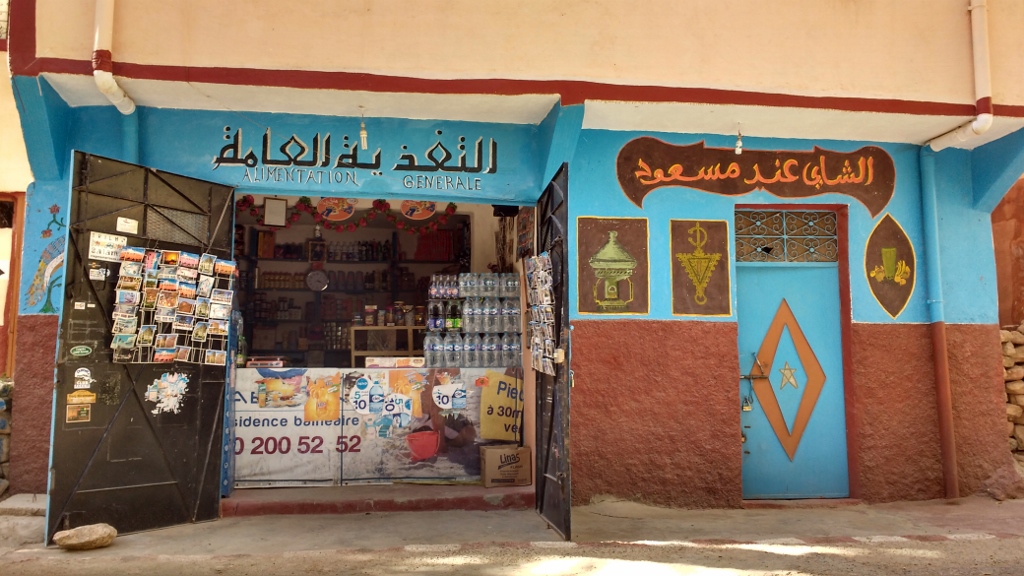 Although I know I've already failed, I don't want to wax on about this place, but it really is a beautiful thing to look at. The villages perched on rock cut into swirls and waves along millennia-old layers. The palms filling the valley floor, their tops bursting outwards like silent, green fireworks. But at the same time we can see the inherent toughness of living here. A chap walking past with a T shirt shot full of holes. A mangy miserable dog, slinking about, uncared for and unloved. A lady bent under a donkey-load of greenery walked slowly past the van; we saw her again struggling along miles further down the valley. Local life looks calm, simple, and hard.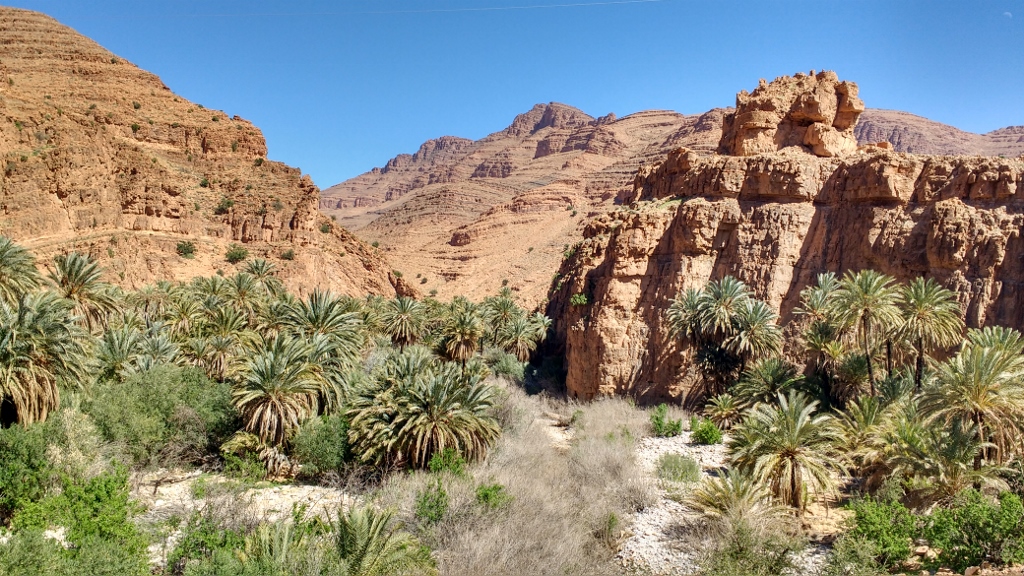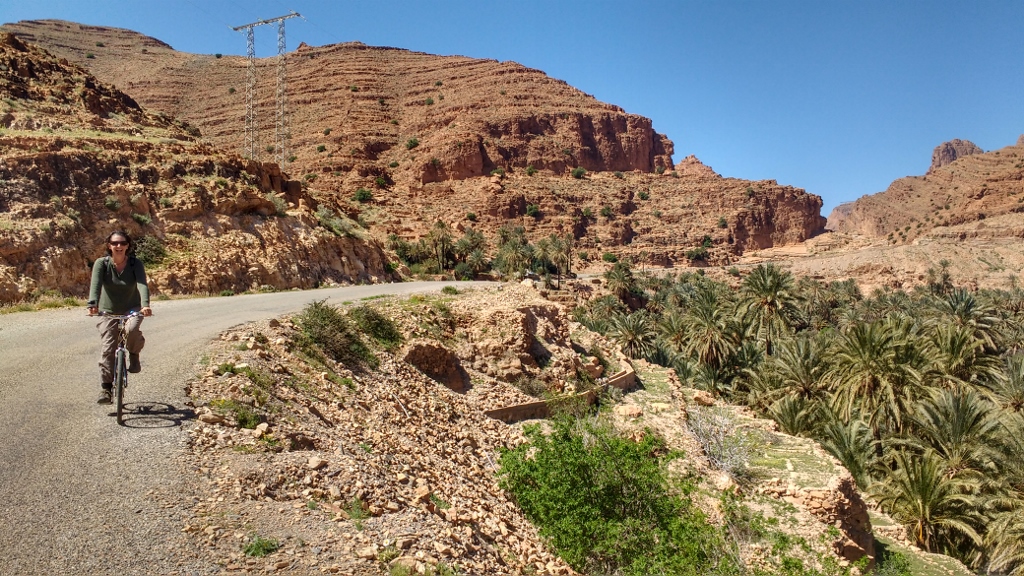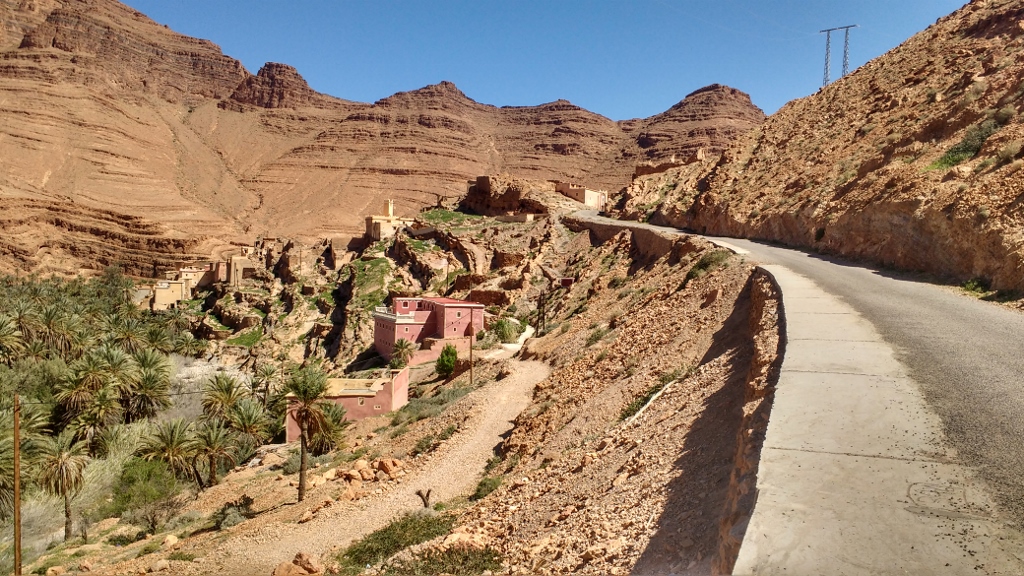 Our French neighbours have driven in a Hymer like ours through all 15km of the gorge, proclaiming it to be magnifique, so we know we can make it too, brushing sides with the trees from time to time. The plan is to head out down the valley tomorrow, then over to Izerbi and finally south on the R107, again following a route suggested by Daniel. If it looks and feels anything like here, we can't wait.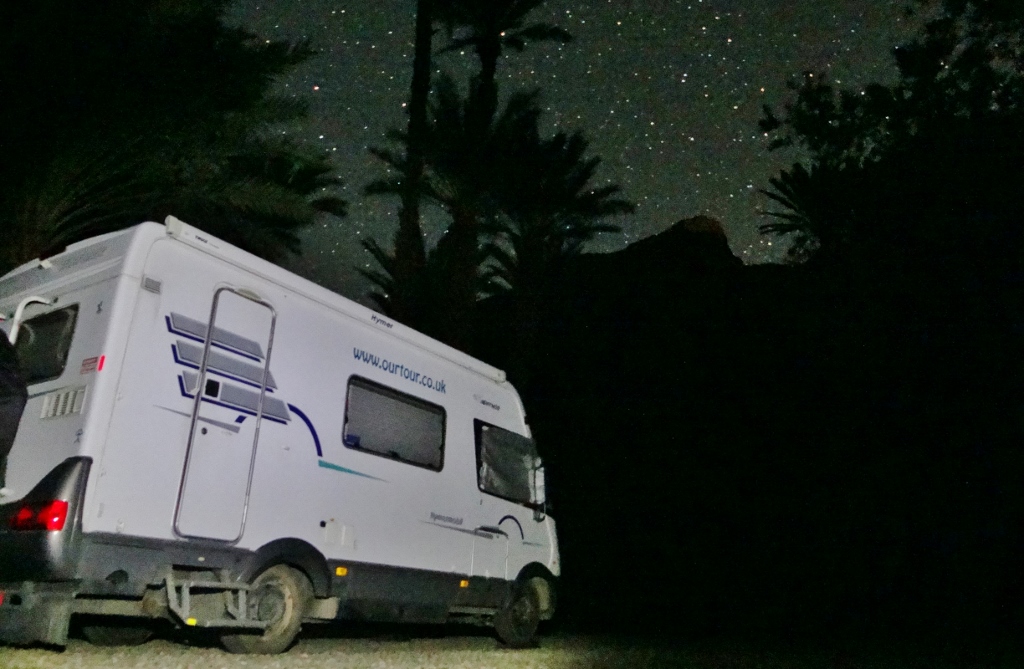 Cheers, Jay