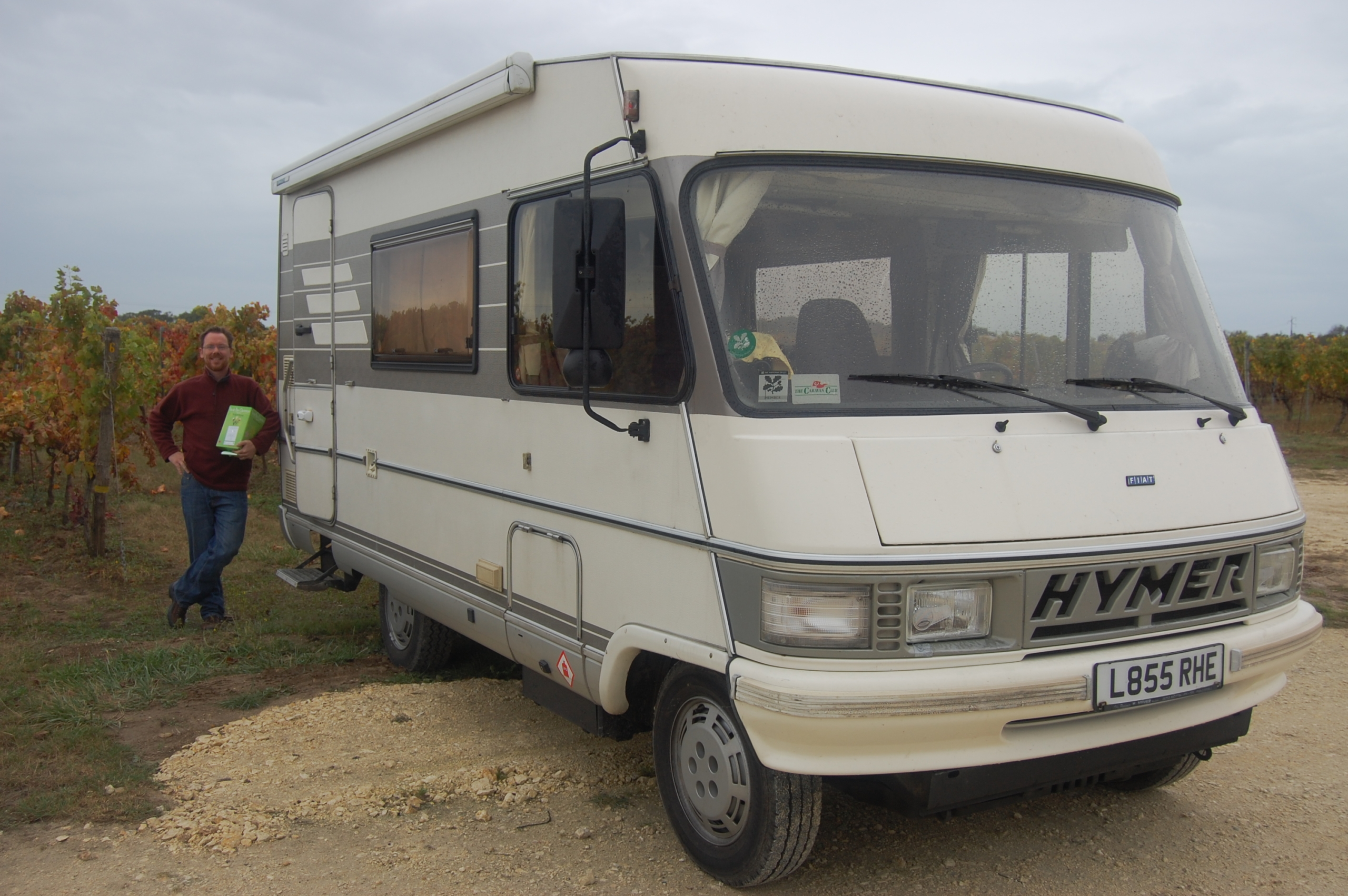 If you're thinking of buying any sized motorhome there are quite a few things to consider, such as who will be using it, how you're going to be using it. This determines layout, size and weight etc. Any decent motorhome magazine will give you details of the general practicalities to consider. We've listed below the things that were important to us when we were buying our van for this trip. Firstly some background on us:
We have bought two motorhomes in the past ten years – both over 15 years old
We bought the first from a dealer (Harvey – a petrol Autosleeper Harmony Talbot Express) and the second privately (Dave – a diesel Hymer B544 on a Fiat chassis). Our budget's always been a little tight, although these things are all relative; we met a couple travelling Europe in a van they bought for £1000.
We have no children but do have a small dog
We used our first motorhome for short trips – up to two weeks and have lived full time in our second motorhome for 6 months, and plan to live in it for 18 months
We don't work from the van
We have no sports which call for large storage (kyaks, surf boards, skis etc)
We travel little and often – usually moving every day or two days
We stay off campsites whenever possible to minimise costs and increase flexibility
We're both in good health and relatively fit, which helps when climbing into and out of an elevated bed, for example
We don't carry a motorbike, moped, car or quad bike
We don't plan to stay anywhere with continual freezing temperatures
We're travelling on half decent roads; no 4 by 4 action for us
Our experiences on short trips with Harvey (the Talbot) helped us to decide what were our main requirements for when we came to purchase Dave (the Hymer) for our long term trip:
1. The bed
In Harvey the bed was made up using the front seats, the two benches (and cushions) behind them and the table. This worked OK for short trips, but had some disadvantages:
The bedding took up lots of the under seat storage space
It was hard to make the beds up with two people inside the van
It took quite a bit of bending, huffing and puffing to lower the seats and get the various cushions and supports in position
The cushions were a compromise shape between sitting and sleeping, so were not best shaped for either of these (not flat enough for sleeping, too flat for sitting)
One of the main reasons for choosing the Hymer was the drop down bed above the cab. It has the advantages of a fixed bed, but the biggest advantage is that it takes up no room in the living area:
The bed takes about 5 seconds to drop into place
It's always made up, and no under seat storage is taken with bedding (apart from a spare set of duvet and pillow covers)
It's flat, comfortable and the corner isn't missing from the bottom of it like on a lot of fixed beds; ours is also fitted with a memory foam topper for extra comfort
When the bed is down it has quite a lot of headroom, which we found lots of overcab beds didn't
The Hymer's bed isn't perfect though. It takes some effort to push it back up when it's loaded with bedding and pillows. Also we've left the ladder in storage in the UK to save space as the B544 layout has seats next to the bed, so we stand on those to climb in and out, without the ladder you do need to be able bodied to get in and out of bed.
2. The table and seating
We learned from the Talbot that having a fixed table was important for us. In the Talbot the table tops were stored behind a bench and inside a cupboard. The table legs were wide metal tubes which slotted into holes in the floor and were stored on shelves above the seats. These tables worked well on short trips, but the hassle of trying to get the table tops out when the van was well packed got a bit much for us (we're lazy!).
Dave has a fixed table; as soon as we stop driving, it's there ready for meals, reading maps, drinks, whatever. It's also large enough for four people to eat at with seating for at maybe six at a push, so we can eat meals with people we meet on the road.
3. Driving it
We knew we'd be racking up the miles, so there were several things we thought about when we came to looking at driving:
We've not found much difference between petrol and diesel in terms of how well the van drives, but diesel's much cheaper in Europe
We wanted to be satisfied that our new wan was mechanically sound. The Talbot came with a 3 year AA warranty as we bought from a dealer. We don't know how useful this was in practice as we never claimed against it. Our Hymer was bought privately so we made sure it had a full service history and we had it checked out at our local garage for a full service and MOT before we set off. While we had a full service and part replaced on the Hymer when we got it, and the clutch has failed after six months, the total cost for these was €2100, that's probably less than the additional cost of buying from a dealer
The Talbot was right hand drive and for short trips into Europe it didn't makes much difference – especially with Julie in the passenger seat to look for traffic at roundabouts and junctions. For the longer trip we opted for left hand drive as it makes it easier to see oncoming traffic and to position yourself for overtakes (either you overtaking or being overtaken by others). My guess is the biggest overall security risk for us on this trip is driving, and having a LHD van makes it easier for the driver to avoid an accident
Our drive at home wasn't very long. We needed a van that would fit on it and we'd also heard that in some countries things cost more for vans over 6m – such as ferries, toll roads, bridges and tunnels. Dave the Hymer is only 5.5m long, so the only length challenges we have are in parking. Julie gets out whenever any reversing is involved and helps me with hand signals we've worked out over time. We can fit the van into car-sized parking spots as long as there is space behind for the rear overhang
The Talbot didn't power steering, so while it was fine to drive, it was harder work in tight spots. The Hymer has power steering, which is fantastic
We've never had a van with cruise control so haven't missed it. We hear it is great, but as we tend to avoid long runs on motorways, I'm not sure how much use we'd get from it
TOP TIP – The biggest challenge for me driving the Hymer has been getting used to the width. Instead of the van doors being right up against the seats, they're perhaps a foot away. I use a trick the previous van owner taught me to position the van: I use the mount points for the windscreen wipers – if I look at the passenger one and it's in line with the edge of the road, I'm almost as far over as I can go. If the driver's wiper mount point is in line with the centre line, I'm about right on that side too.
4. Storage
There seems to be a universal rule of thumb with storage: the more space you have, the more stuff you carry. Having managed with minimal storage space in Harvey the Talbot, Dave came with enough storage space for us, but still we adapted it a bit to make it work better:
We fitted our wardrobe with shelves – as we don't hang anything up – so we both have a shelf each for clothes and the bottom shelf if used for laundry and drinks
Any shelves in a van need a high lip, door or some other sort of restraint, otherwise things fly off during transit. Dave has small shelves under his overhead cupboards, they has a small lip but it's not enough on corners, so we make sure stuff is well wedged in! For smaller items like underwear, we pack these into canvas bags which are then stuffed onto the shelf
5. Aesthetics
Purely down to personal opinion this one. The only thing I would say is we found our Hymer to be rather an ugly beast when we first got it. After six months we love it.
6. Power and gas
Some thoughts on the electrical and gas supplies in the van:
We knew we'd be on a budget, so we'd be mainly avoiding campsites. Therefore we wouldn't have access to 220V power so we needed to generate, store and convert our own electricity. It's a complex job working out how many amp-hours of leisure battery storage we'd need, the peak output of the pure sine wave inverter we'd need, the average output from 100W solar panels etc. It was made even more complex for us as our lifestyles changed drastically when travelling, from several hours of 37″ plasma TV a day to none. We had a guess that we could manage with a single 100Ah battery, a single 100W solar panel and a 300W modified sine inverter. This all works perfectly well for us, and we might even have been fine without the solar panel; it's hard to tell without doing lots of battery monitoring
If you want to fit solar, check there's enough room on the roof
LED lighting will use practically no power compared with incandescent bulbs – look out for it, although you can fit it yourself
Our Talbot had room for two 3.9Kg UK gas bottles. We couldn't tell how much was left in them, had to switch supply between them manually, and couldn't refill them outside the UK. We'd considered getting a Gaslow system fitted to our new van when we got it, but we were lucky enough to get a van with an LPG tank fitted (it's used for the living space, not to run the engine). It has a single 30 litre LPG gas tank (no need to swap bottles), with a float gauge (so we can't see what's left) and we can fill it at hundreds of garages and gas bottling locations. LPG tanks are, in our opinion, fantastic and worth the high price (see Adam's payback calculator if you're interested in Gaslow).
We wanted to be sure that we used the minimum of gas for keeping us warm in the van, so we fitted thermal curtain liner to all our curtains for insulation and to block out light. The van also came with external thermal cab window covers which we use when we can (not always so easy when wild camping), but that's all we've done. We've read about what's needed in cold climates, such as blown air heating to keep cupboards warm (the Hymer already had this), an insulated and heated grey water tank (which we don't have), a generator to keep your heating fan running (another thing we don't have) and a big old gas supply (which we do have) – so we'll have to make some adjustments if our plans change and take us to colder places.
We read that some people had a gas oven and hardly used it, so we didn't bother fitting Dave with one. We missed it a little, but have recently found that our Safari Chef BBQcan be used on the hob as an oven.
7. The tyres
We met a couple in Northern Spain who'd been full timing for four years. They gave us this advice on maintaining a motorhome: look after your batteries and tyres. Tyres and batteries are not cheap to replace, but after finding our leisure battery would hold no charge, and then having a tyre blow-out which damaged the van, we of course agree. Check the tyres are of a good make and are relatively new – no cracking evident, lots of tread etc. Check the leisure battery holds charge if you can.
We've avoided the cold so far so can't offer advice on snow chains or winter tyres.
8. The legal stuff
We're no lawyers; but we knew that there were legalities we needed to be aware of during the buying process:
There's a legal limit to the van's overall weight – including passengers, diesel, LPG, fresh, grey and black water. Ours is stamped on a metal label in the engine bay. If we go over this, we risk trouble with the law, but maybe more importantly we'd risk our lives when descending a lengthy 1 in 4 mountain pass. This wasn't so much of a problem with the Talbot as we didn't have very big water tanks, or lots of items on board. Dave's maximum mass is 3.1 tonnes and there are also axle limits, so if you plan to carry a heavy load at the back, such as a motorbike or back-box, you might easily go over the rear axle limit. We removed a very heavy back box that he had on and replaced it with a lightweight bike rack. Just as we were setting off and fully loaded we checked we were underweight at a public weighbridge (cost us about a fiver – we did a Google search for a local one). It's worth noting that depending on when you got your licence, you may be limited to a maximum of 3.5 tonne van on your 'normal' car licence
We needed to make sure we had on board all the stuff to make us legal in the countries we visited – red and white stripped board for the bike rack for Spain and Italy, high vis jackets, emergency triangles etc – the AA website is good for letting you know what you need
We bought privately but as the previous owners hadn't had the van for more than a year we actually got a few months warranty from the dealer they bought the van from. Usually we'd expect no warranty on a private sale. It is of course a trade off between the higher cost from a dealer and the added security of whatever warranty they offer you
9. Security
Security can mean lots of things to people; I'm referring to avoiding theft from the van, or theft of the van. We're by no means security experts, or thieves, so it's hard to know what the risks are and how best to avoid them. We didn't really choose Dave with security in mind, as it seemed to us the best security measures were our actions – mainly where we parked and making sure nothing is ever left on display – which would have the most affect on security. In hindsight, some things to look out for:
How easy is it to jimmy the windows open? Fantastic door locks and alarms aren't much use if you can quickly crack open a plastic window, jump in and grab some stuff and exit the scene.

If someone smashes a cab window, can they open the doors from the inside and carry away all your gear easily?

If you have a safe, realistically how hard will it be for a tooled-up professional thief to remove it in one piece and take all the contents away with them?
10. General condition
A few thoughts on what to look out for on the general van condition:
You'll know quickly if you like the furnishings, veneer and so on; you'll get a good feeling!

If you can, it's worth testing absolutely everything, even if you're buying from a dealer. On our older vans, something always been bust. Broken things should be fixed by a decent dealer, and are a good bargaining point on private sales

Look out for signs of water ingress; Dave has leaked around windows and skylights but we've repaired it quickly

On panel vans look out for rust repairs; it'll come back through quickly once it has started

Check the windscreen for chips. Our Hymer has a huge windscreen and had some chips, but they'd been repaired and have caused no problems. Our insurance covers windscreen replacement

Dave has some useful stuff fitted by previous owners – surround sound speakers which are good for watching films on a laptop, and fans mounted on the dashboard which help keep us cool
We hope this is of some interest to you, and maybe some use if you're looking to take a break and travel Europe or further afield for a while! Cheers, Jay and Ju