Dave the motorhome is preparing himself for the ferry ride to Tunisia; by not moving again – he's still parked up in Idea Vacanze a motorhome sosta in Sicily's capital city, Palermo. We had originally planned to sleep at the port tonight, but after seeing it yesterday we changed our minds. The plan for today was a full-on sightseeing day, without Charlie. He was tired out from walking around the city yesterday, so we left him in Dave and headed off armed with an all day bus ticket each and a map with all sorts of scribbles and bus numbers on it from the bloke in the sosta office.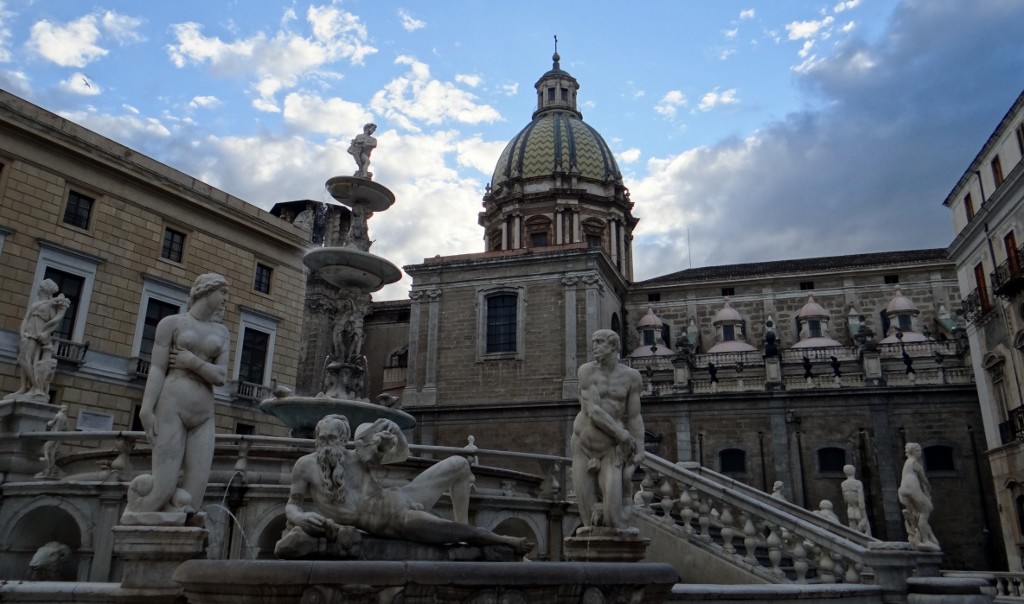 We had two sights we wanted to see today Catacombe Cappuccini – famous catacombes – and Stanze Al Genio – a tile museum which is the number one thing to see according to people on trip advisor. Our whole day has been a blur of bus numbers, we even have a favourite bus stop here in Palermo – well technically it was the one we spent the most time waiting at! 101,107, 327, 109, 104 and the elusive 812- which only seems to run every two hours on a non-festival winter day – all had us standing at bus stops for a good couple of hours.

Reaching the tile museum the doors were closed, a voice on the intercom told us is opened at 4pm. Reaching the catacombes the doors were closed, a sign on the front reminded us how the Italians need at least three hours for lunch.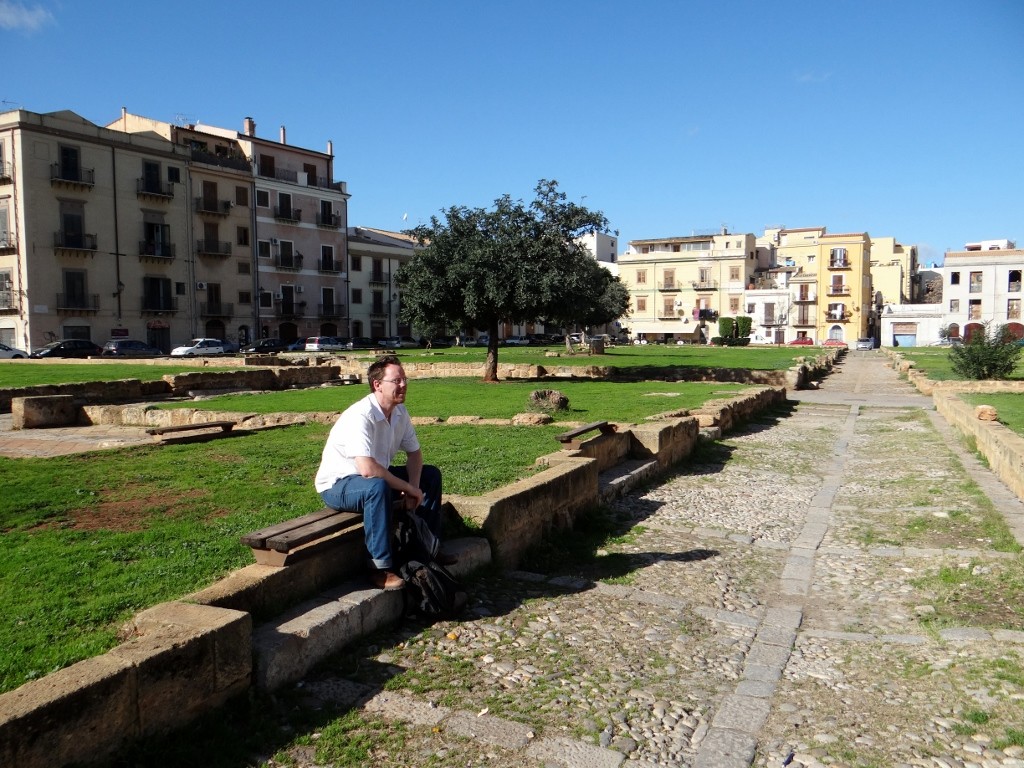 A new plan was devised in the nearby necropolis. It might sound like a strange place to visit (well maybe not after the list above), but here in Italy the necropolis (cemetery) is the best kept place in any town. Palermo was no exception. Immaculately clean and tidy, full of colour from a million bunches of flowers we strolled around to the sound of singing coming from one of the family tombs (I hope it was the living!). We headed back to Dave for a spot of lunch and to check on Charlie, then it was back out again to see the sights.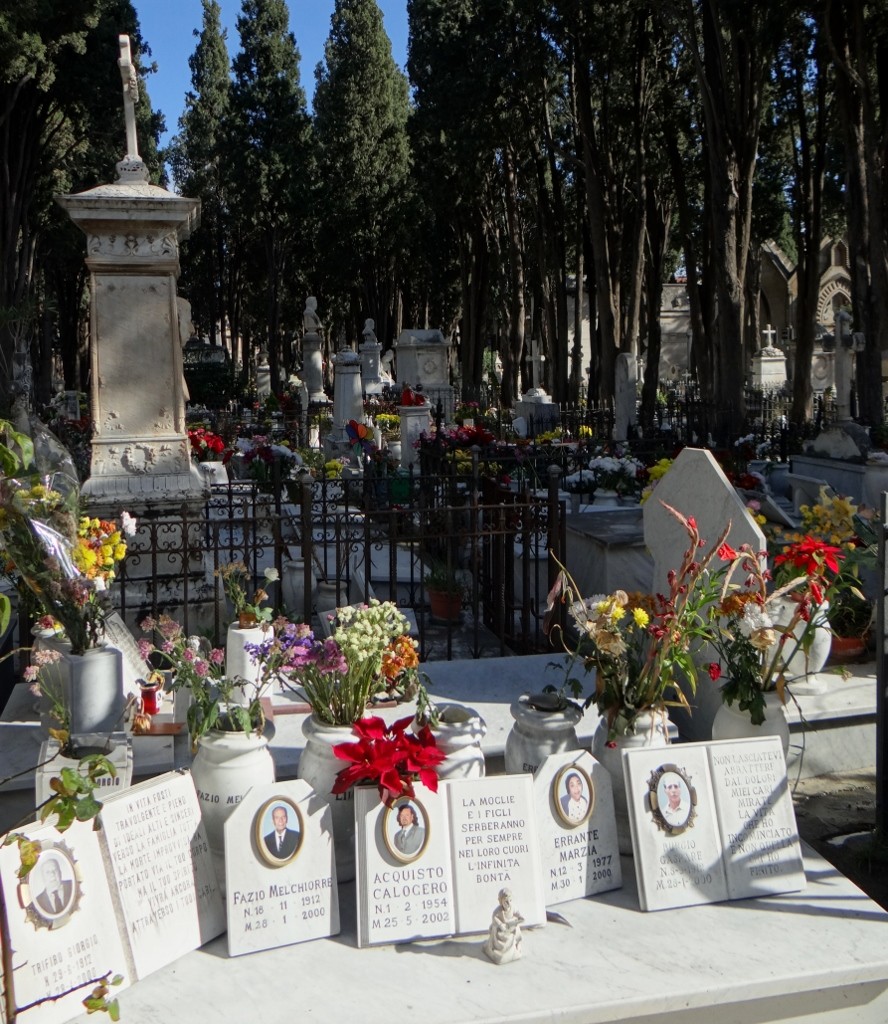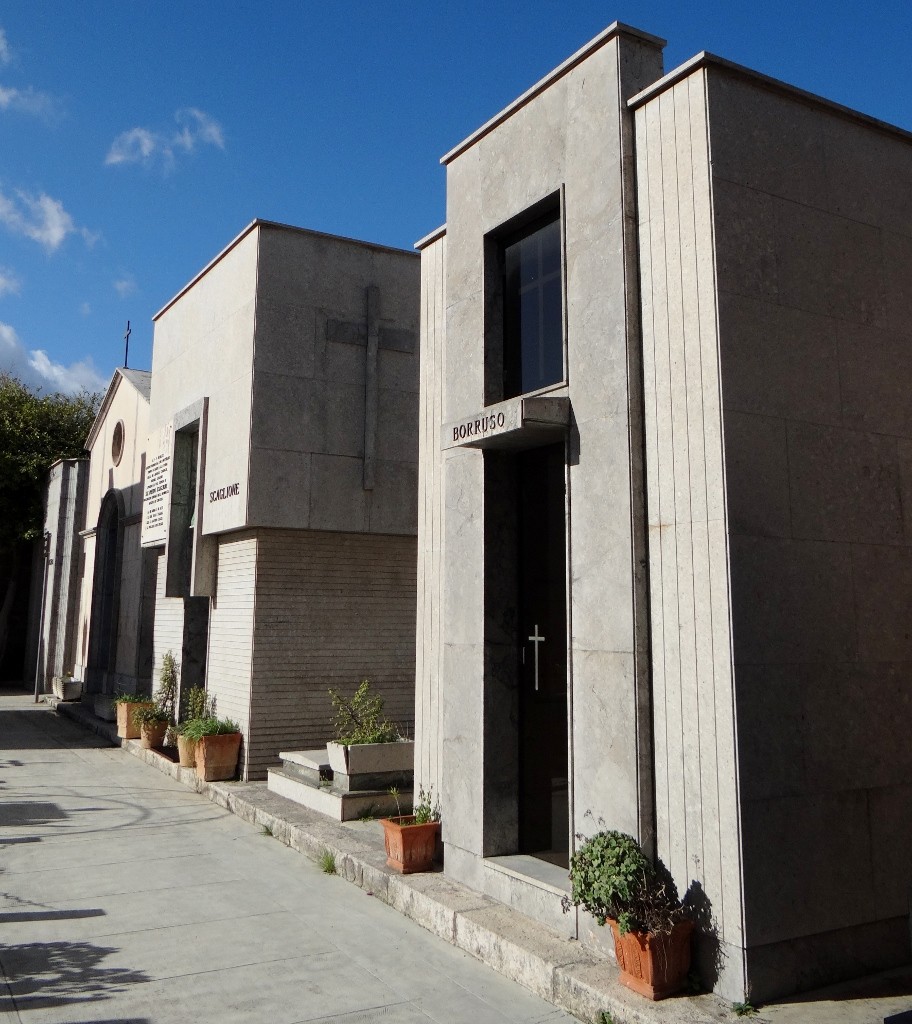 More buses, more walking (rather than waiting for the bus) and we made it to the catacombes just before it got dark – not that it mattered really, after all they are underground! Descending into the cool tunnels we were greeted with the most fascinating sight – corpses, hundreds of them, all dressed up in their finery. It was a strange sensation, almost as if it was a film set and they weren't real. Tags around their necks with their names, dates of birth and death, ages and other information showed that they certainly are real. The were separated by gender, class and age – a whole area was put aside for children and babies – their tiny bones wrapped in white gowns like dolls.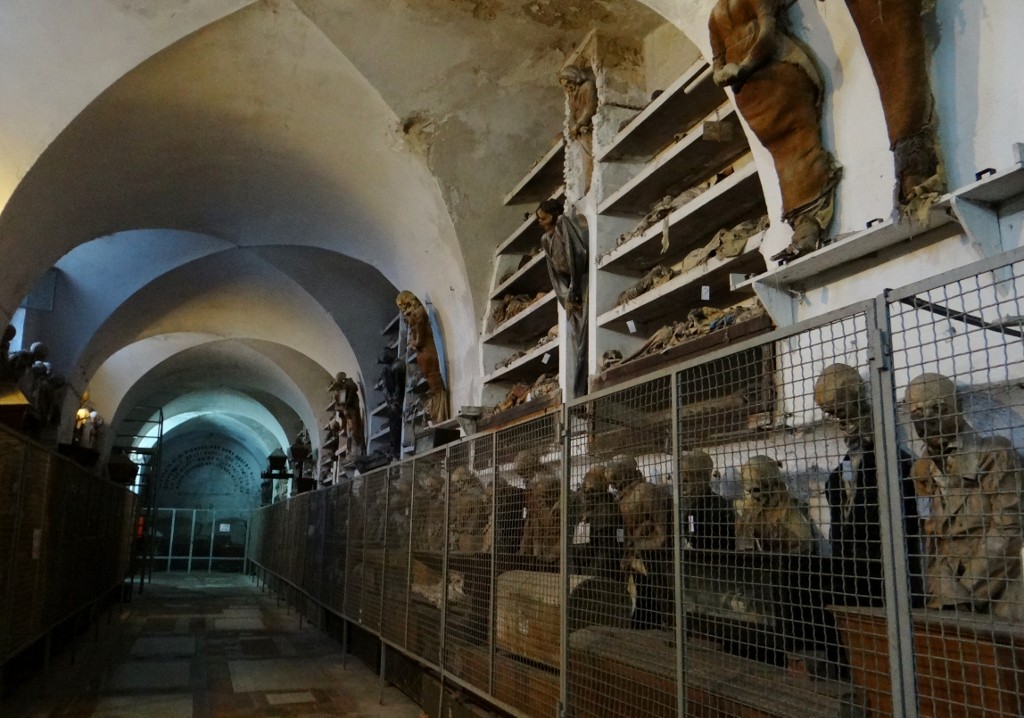 A morbid, or more imaginative, person could have spent hours down there, looking at each person wondering about their life – but to me it simply fascinating to see. No matter who you are, or what you do in life, rich or poor you end up like this. It makes you realise how short and valuable life is and also made me all the more certain that I want to be cremated.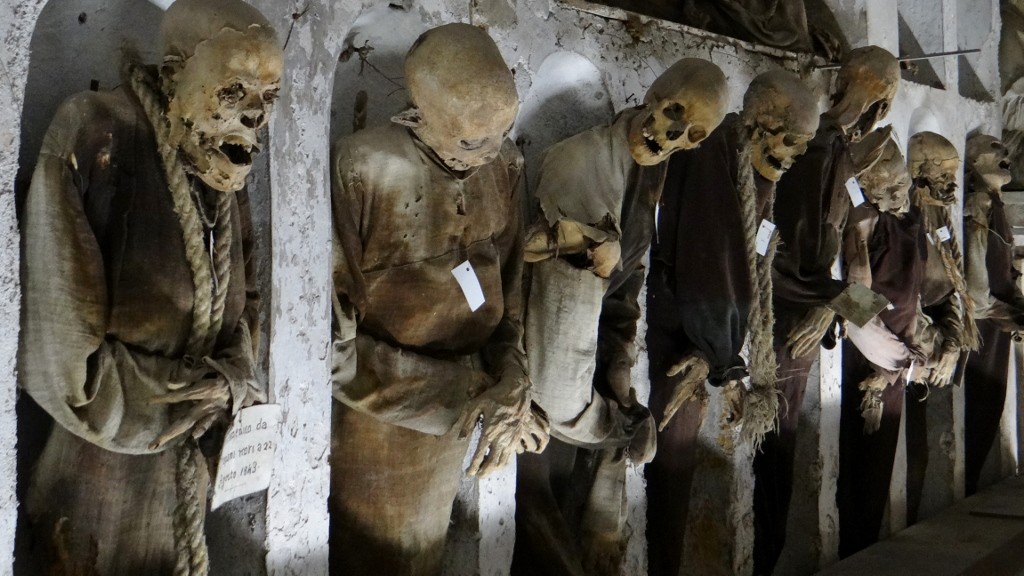 Back on the buses we aimed for the tile museum. One bus had us worried, it went off our map – a kind lady saw our worried looks and told us where we were and that we'd be OK if we stayed on back to the main station. Eventually we reached Stanze Al Genio aka the tile museum, and once again the big wooden doors were shut. Jay buzzed the intercom again and we were let into a large, dark room containing motorbikes and acro props which were holding the roof up!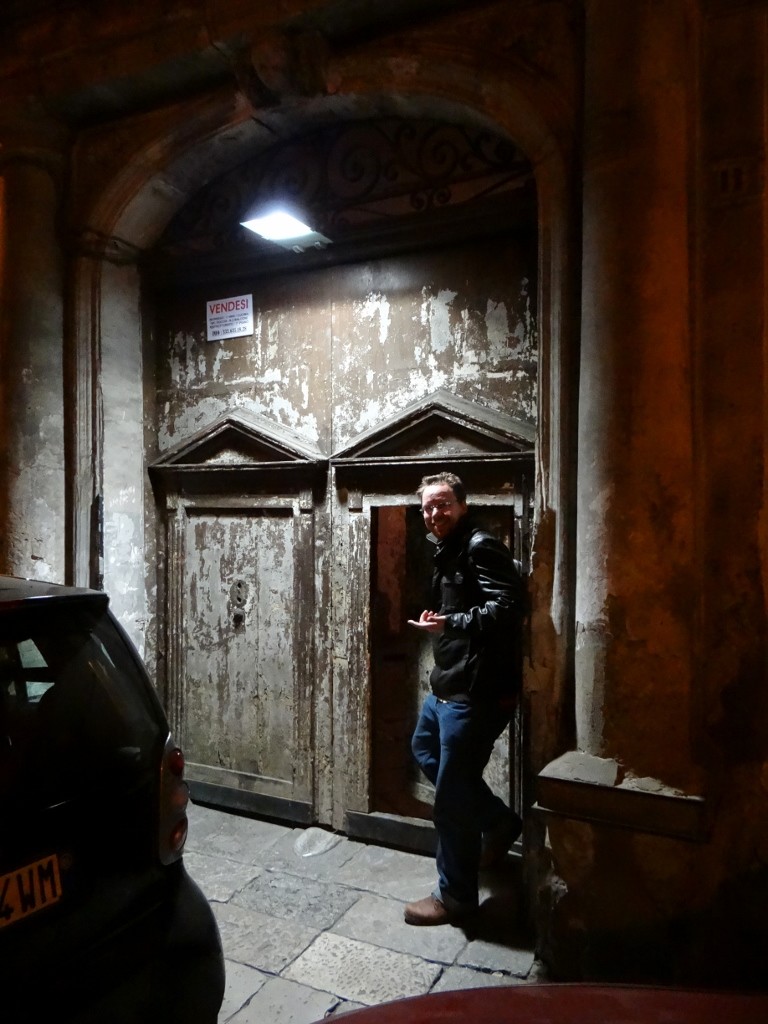 Claudio greeted us at the top of the stairs and handed us membership forms. He told us that the museum was a private association and we needed membership cards. He went on to explain that visits are normally only by booking in advance, but we were lucky as the home owner was out! Unsure as to what we'd let ourselves in for, we went along with it and filled out the forms.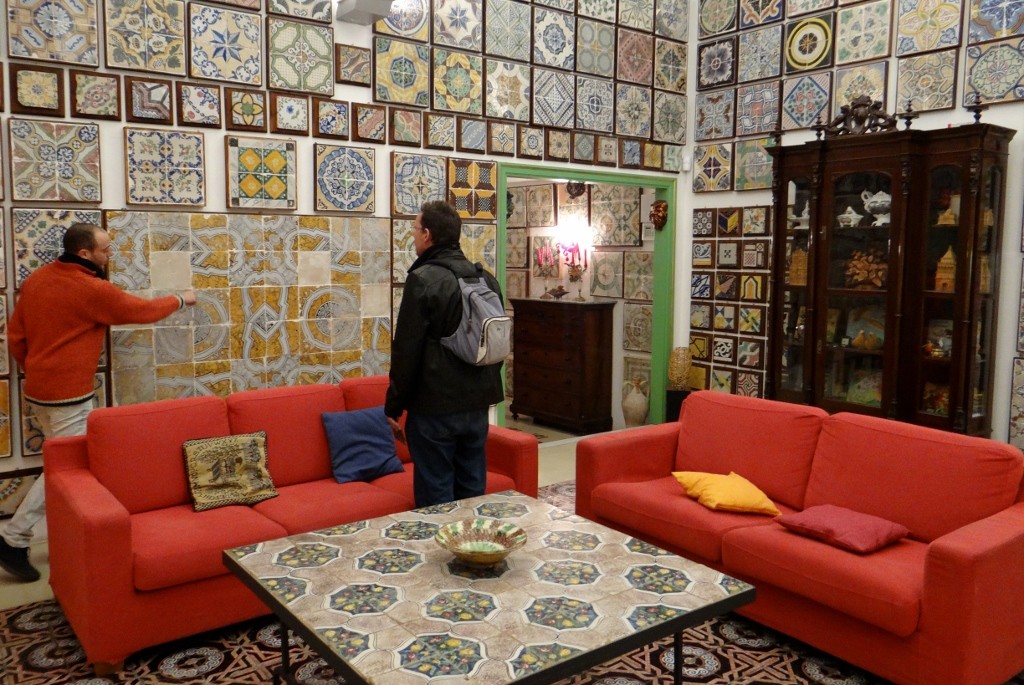 Claudio showed us through a door into a someone's apartment where the walls were covered in old tiles made across Italy a few hundred years ago. The homeowner had built up this collection over 33 years and when he was out Claudio showed people around it. If we had gone round it on our own it wouldn't have been anything special, but Claudio's passion for the tiles, their patterns, the meanings of what was on them was infectious. I loved it in there, and would seriously love to live there – although I would want to try and make the random ones into patterns like a huge jigsaw puzzle. If you're ever in Palermo it would be well worth making an appointment to visit.


Our final bus brought us back to Dave weary from a full-on day. Charlie was so pleased to see us, either that or he figured we'd forget we'd fed him at lunchtime and he'd get seconds! I'm desperate for an early night, but we've an early start tomorrow, so a Dave needs a bit of a once over before we can hit the sack. I'm so glad we have a cabin booked, if the sea is calm enough an afternoon nap is most certainly on the cards! Our ferry leaves at 10am, but we've been warned that as it's run by Italians and Tunisians, it will most likely be late. The crossing takes around ten hours then it will be another three or so before we get through customs. We expect to finally make it into Tunisia either very late Saturday night or the early hours of Sunday morning, so there probably won't be an update from us tomorrow – unless there is some wifi on the ferry. Wish us luck!
Ju x