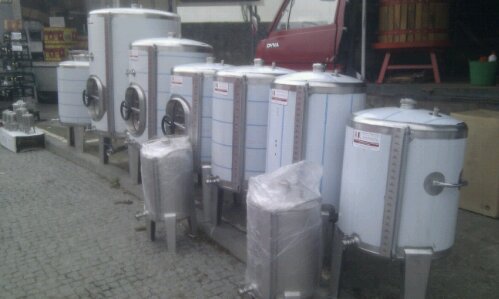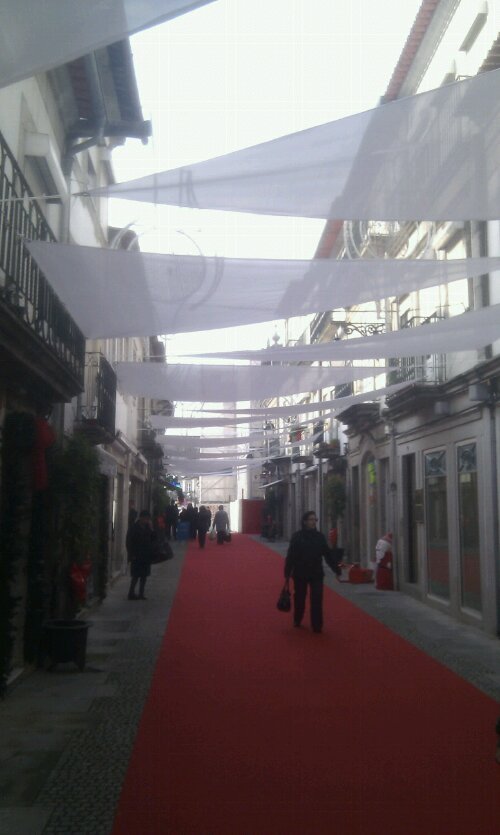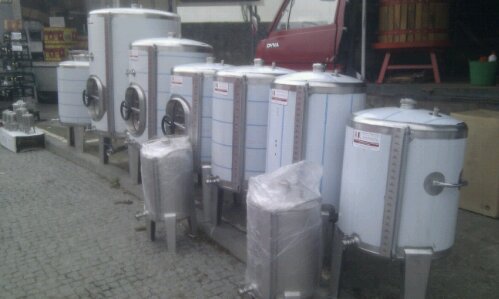 We're here N41.55254 W8.37515
Weather – cloudy and light rain
We'd settled into our car park last night and ate only to find it getting busier with groups of people talking by Dave and a car with it's engine running and stereo on loud, so we decided to move. We demisted the windscreen as well as we could, stacked the pots in the sink and drove to the lower car park right next to the sea. There were a few people night fishing and also the other 'Dave' who had left the upper car park earlier – methinks they've stopped here before. It was much more peaceful there and we got a good night's sleep, although I was irrationality worried that the handbrake might magically undo in the night and we'd roll into the water.
We were woken by our alarm at 7am – the one clock we forgot to change the time on when we crossed the border – so it was still dark. We dozed until 9am then I leapt up for our weekly budget. We spent €211 last week and are averaging (without repairs) €38 per day. We do this by mainly eating in Dave, drinking cheap boxes of wine, parking in free places as often as we can and not visiting any attractions that Charlie can't go in – he saves us a fortune. I don't think we're missing out on much as neither of us are all that interested in old culture or religions.
We drove over the bridge back to Viana do Castelo and then along the waterfront trying to find a parking space as we're back in the land of paying for car parks – didn't really have to do that much in Spain. We figured if we went a bit further out of the town it would get quieter and easier to park, but the traffic got worse, as did the double parking, then we saw why – it's market day. We made a u-turn and headed in the opposite direction and found a muddy patch with cars parked on it. There was loads of space in the middle, but the edge was full of cars. We drove around then had to turn back on ourselves, it was then we spotted a bit of a gap. We made for it and the guy who'd abandoned his van over most of the entrance soon jumped back in and moved it to make way.
We walked up into the town centre looking for the tourist information to get a map and more details on the new toll system which it appears finally got all switched on yesterday – good timing – but no luck, so we wandered the old streets and gazed at tasty looking pastries in shop windows before heading for the market.
As we wandered around amazed at the amount of bedding needed in one country we heard a shout – it was Marc and Jacqui from Germany who we'd last seen in Santiago. We grabbed a hot drink at a cafe and had a good catch up. They then went on to explore the fort while we carried looking a wine making kit at the market – at least that's what we think it was, could also have doubled for a decompression chamber for scuba diving.
After a quick bite to eat in Dave and a stop at E. Lecrec the French supermarket which was just outside of the town selling mainly french food with a label in Portuguese stuck on (for a lot more than it would have cost in France), we headed for Bom Jesus aire just outside Braga.
We've severely fallen out with satnav now as for some reason she brought us in from the north so we had to climb up narrow cobbled streets. She tried to send us up one particularly narrow bit and we refused telling her there was a road block, so she redirected us back to the main road, then up more narrow streets back to the same place. She said there was no other routes available, so up we went, until it go so steep that Dave's wheels were spinning and we were going nowhere. A nail-biting narrow reverse by J got us out of that pickle, so we headed back to the main road and reset our destination. Third time lucky? No. At least this time she tried a new route, but once again opted for an undriveable steep path. So we got out my phone and tried Google maps. In the end high up on a narrow wet road, we changed the co-ordinates from the ones given for the aire to heading for the Bom Jesus tourist attraction. Finally we found somewhere to park. So we're now overnighting in the coach car park, hoping it won't be a busy day tomorrow for one of Portugal most famous sites. After J downed two much needed beers we heard someone pull up along side us and a knock on the door. Then the most wonderful sound – Marc shouting hello, they'd been to the aire we'd tried to find then came looking for us when they saw we weren't there.
We've had a three course meal in Dave tonight, soup, paella and choc pud as well as a good catch up and an entertaining German lesson. I feel much safer now those guys are next to us even though we're not entirely sure where we are. Guess we'll find out when it gets light.
Ju x