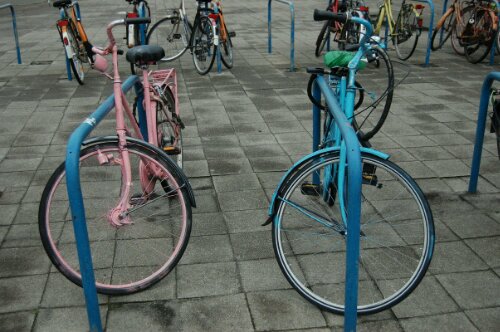 Dave the motorhome has just shuddered as the first of the day's sun has warmed his cockles. He's got his feet up on cropped grass alongside a sculpture of reeds, nestled with a crew of Dutch vans for the night in a cosy corner of the Groningen park and ride (N53.23988 E6.59714). The place is called a Transferium here, which makes Ju giggle.
7am and our sleeping spot became payable. 7:20am and I got up and popped €1.50 in the machine, buying us until 10:20am. No more kip though, the traffic ran a few meters away as folks headed past to work. Instead we got up, made the most of our last few hours of 3G dongle Internet, and headed for the sea.
We last saw the ocean in Dubrovnik, the glinting, pure blue Adriatic disappearing behind a twist in the hills as we headed nervously for Bosnia. Although in the opposite direction to the Netherlands, and Google Maps showed only the tiniest of beaches, we headed North to see it again at Norddeich, just a few clicks away.
As we approached, we both got the same feeling. The flat lands, grim grey, wind and rain, and the set back houses? We're driving into Lincolnshire, or specifically Skegness (known tongue in cheek as Skeg-Vegas)? A blob of blue on the sat nav is hardly a suitable indication of the majestic power of the North Sea. A better one might be the miles-long high dyke which hid it from us. Pulling up, paying up, and leaping up the dyke steps we saw it, in all its dirty, rain splattering, gusting grimness. Yep, this morning we visited Skeg-Vegas.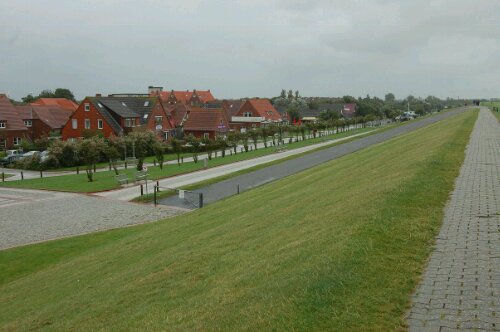 The beach was indeed tiny. Sand clearly being no match for the lashing waves (although the kite surfers clearly were), the last few meters of beach was a concrete ramp. On the sand comically stood real-life working versions of the beer seat we used in Hamburg. Only here they were being well and truly battered by the elements; some had given up and flung themselves backwards in despair. All were locked. It seems you come here, of your own free will, and then make payment to hide to some small degree from the awful weather. Funny?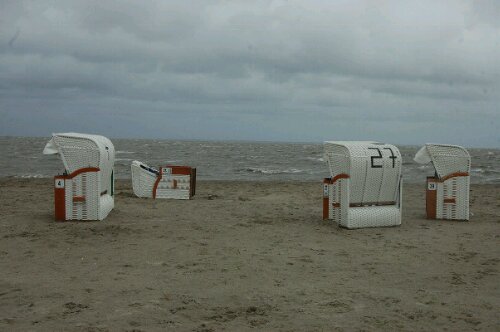 We chose to hide elsewhere, the last chance to nosh Currywurst in Germany proving too strong a temptation. Charlie was allowed into the seaside restaurant, the place had zero fish and chips, no wobbly plastic pints of lager and no cash grabbing slot machines. Shame about the fish and chips.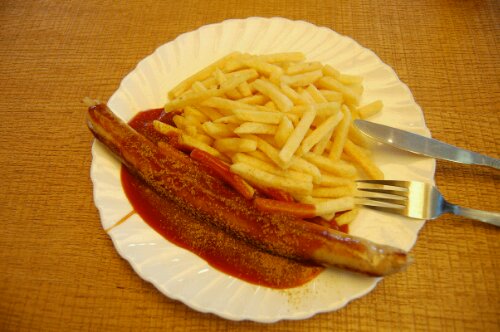 Setting course for the Netherlands, Dave pushed on through the pouring rain. We started to feel right at home as the traffic ground to a halt time and again on the motorway, and more British weather hurled Dave about. A chap sat miserable on the back of a reversing truck collecting cones provided light relief when he missed one and went a bit ape. I like to think my honking of Dave's weedy horn was uplifting for the soaked youngster.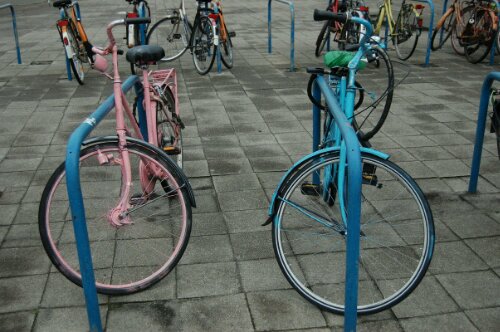 We're not far into the Netherlands here, maybe a 30 min drive, and are parked in the middle of nowhere, but it already feels different. We're alongside a small canal, and the businesses around us are using them for fences. There's a quirky feel to the place. A massive unreal climbing wall leans out behind us, freaking me out just imagining being on it. There's a lake, golf course, artificial mountain biking hill, ski centre, ice skating arena and swimming pool all scattered around. The houses each seem sculptured and modern. A 6 year old just cruised past on a unicycle. And it's stopped raining, huzzah! Groningen is not going to draw us in methinks, it's Friday night curry and film for us. Really looking forward to more Netherlands though, having worked here for a short time I found the locals a laid back, humorous bunch, they like life, like us. Happy weekend folks!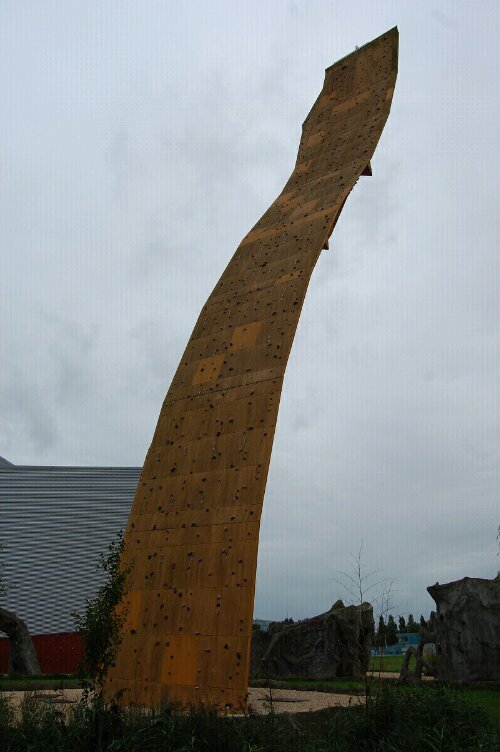 Cheers, Jay