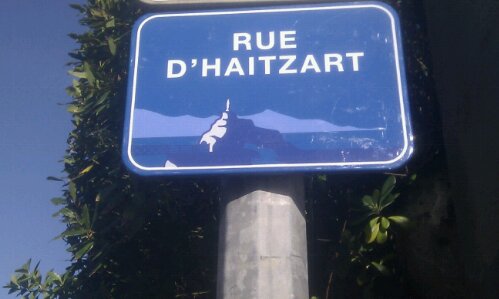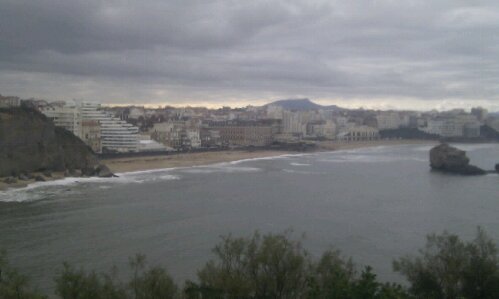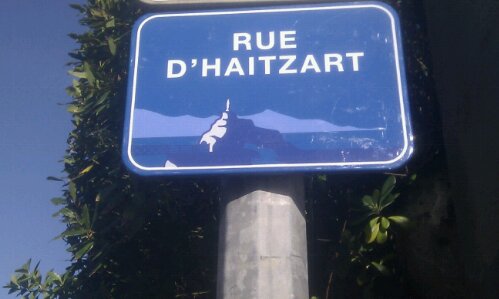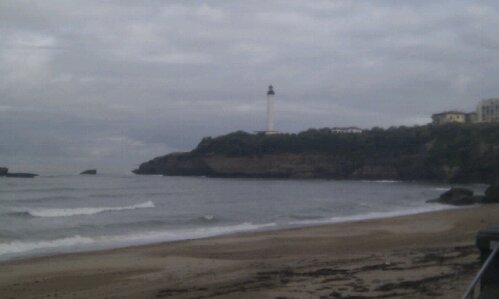 Day 30
Distance – 2529kms kms
Weather – sunny afternoon
To help us dry out from yesterday's rain, we'd hit the vin chaud (heated red wine with sugar) around 4pm. So when we were feeling a little groggy this morning we decided to stay put, leave Dave at the aire in Anglet and walk the couple of miles along the coast to Biarritz.
We set off just before 10am, and as we wandered along the coast something strange started to happen, the cloud cleared and the sun came out! This was before we'd walked over the bridge between the rocks to see the statue of the Madonna and child, so don't think it will class as a miracle, but after several days of rain it was a welcome change. Also as the cloud cleared we got our first sight of the Spanish mountains across the bay – they're a lot closer, and bigger than we thought.
The sun made us slightly giddy at the number of amps the solar might be pumping into our poorly battery, and we splashed out on a crepe and drink while sitting in the sunshine watching the surfers in the bay below us.
We needed to find an internet cafe while we were in town, so we loitered outside a tabac to use it's free WiFi to find one. We logged on for 15 mins (1euro20c) to sort out some paperwork for the house rental and downloaded as many Spanish and Portuguese campsites as we could find in the remaining time.
With the sun shining we decided to make the most of it. We invested what we would have spent on return bus fare on sarnies to fuel us to walk back. On the money front we're currently averaging just under 40euro per day – not including Dave's repairs – this is at the low end of our daily budget, but then we're not spending anything on campsites – pretty sure that will change when we go into Spain and Portugal.
For the last kilometre back to Dave and we took off our walking boots and socks and walked along the beach. The sea front had come to life with people sitting out making the most of the sunshine and we agreed it wasn't a bad way to spend a Tuesday afternoon – that was once we'd worked out that it is Tuesday today!
We got back to Dave just after 4pm with rosey cheeks from catching the sun – well we'd set off dressed for more rain this morning. Tonight it's my turn to conjure up something for tea, but it'll be quick and easy as we're all shattered. It's going to be tough staying awake to 10pm tonight – it gets dark around 6.30. No doubt we'll see if we can squeeze another episode of Still Game out of the laptop before it's battery finally runs out, then it could be another scrabble tournament, tough choices!
Ju x