Dave the motorhome, or more accurately his driver, is taking a break from the endurance test of the Italian road. We've remained in our quiet, pitch dark roadside spot a mile from the remarkable town of San Gimignano.
Now that the aged couple with the ladders have given up harvesting olives around the corner, carrying their ladders and nets away, we're left with half-hourly passings from the local bus (devoid of passengers) for company. He finishes his rounds at 8pm, and the place then turns deathly quiet. We thought we may have company when a Polish motorhome pulled alongside, but they were just using the service point next to us, and foraging for an unknown leaf in the bushes, maybe Bay Leaf, we can't tell, sadly.
It turned cool last night. Not cold, but it was a good sign, the stars were out, followed by today's unimpeded flow of sunshine, warming our faces. The clouds which carried a couple of days rain across Tuscany left behind an array of floods, featured heavily on a huge TV in town, and a few unfortunates even perished. To us it was just a couple of typical English days. I mused; although Britain beats itself up when traffic can't pass in the snow and ice, it can cope with a bit of rain.
San Gimignano had an immediate impact on us yesterday. Our trip's taken us to a fair few well-preserved medieval towns, but none have been quite like this one, this one feels alive. A few thousand people still live inside, balancing off its pack of stalking tourist shops (unreal, overpriced, but always tasteful) with washing flapping high on draw-string lines, tiny cars squeezing into garages, a passenger shouting thanks and hauling off a six pack of mineral water, and signs in Italian requesting aid for compatriots shaken by an earthquake. It's the first of these ancient towns I've wanted to visit twice.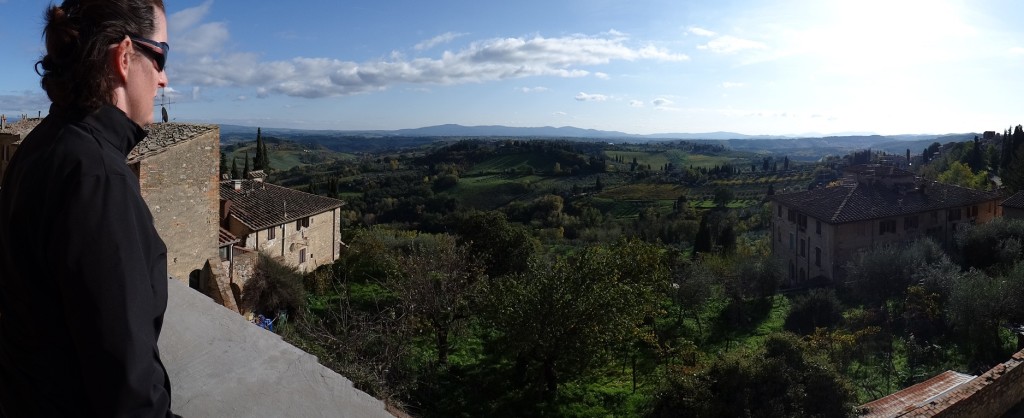 The small bus running past us would, for €1 each, carry us the mile into the town and back again. I wonder how it makes money, since walking in the sun, along a ridge punctuated by renovated farm houses and looking up at the town's tall towers easily drew us away from the stop. That's something else unusual: towers were a thing of power in these old towns, handy for both keeping an eye out, and poking at the sky a finder of authority in a highly fragmented 'hate your neighbour' Italy, but building 70 of them was perhaps a bit much? In a San Gimignano of old, when they weren't rucking with the next town, they were rucking with each other, factions building taller and taller towers to demonstrate their virility or some such. Most are gone now. Depending on which source you believe, or how good you are at counting once you've run out of fingers, there are somewhere between 12 and 15 left.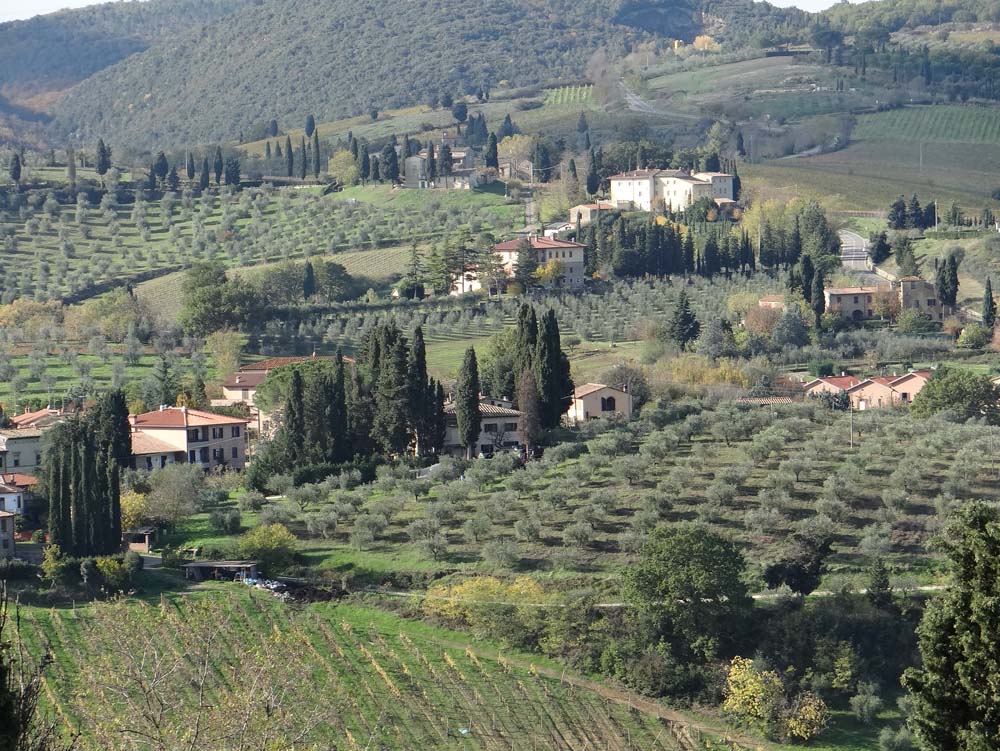 The walk passed in minutes, even with a muddy detour into a vineyard looking for a shot of the town sans-power lines. In through a stone door, the view of the main street again thumped me. This place is unfathomably old. The Etruscans, fore-runners to the Romans, kicked off the settlement over 2200 years ago, but the current incarnation, a jumble of crumbling masonry, arches and anarchic red mouldy roof tiles dates from around the 13th and 14th centuries. It's extraordinary to think that half the population, killed by the Black Death 650 years ago, might still recognise the layout of the streets, maybe their own homes if they were to walk here again.

Although our Rough Guide devotes pages to the frescos in the duomo (since the place no longer has a bishop it's technically no longer a cathedral, but who's picking the nits?), we chose not to go in. Oddly there's a perspex sheet alongside the entrance so you can get a good look at them from outside without paying, so we did. We couldn't spot the unlikely scene of Noah drunk and exposing himself, but (once Charlie had been exercised chasing his bits of dry dinner up and down the duomo steps) decided instead to invest our cash in the best Gelato (ice cream) IN THE WORLD. So said the sign above the door, albeit up until 2009, and the signed thank you letter from Tony Blair inside only served to add gravity to their claim. Our verdict: fabulous. The ice cream that is, not Tony Blair.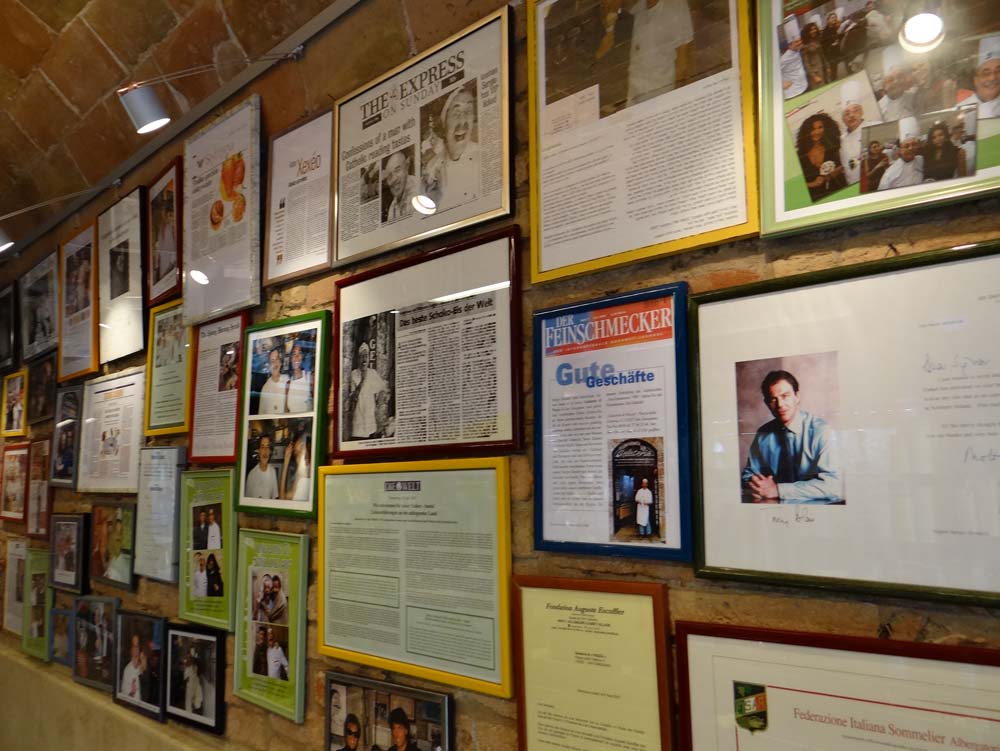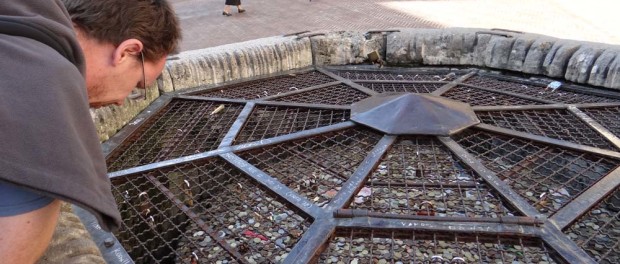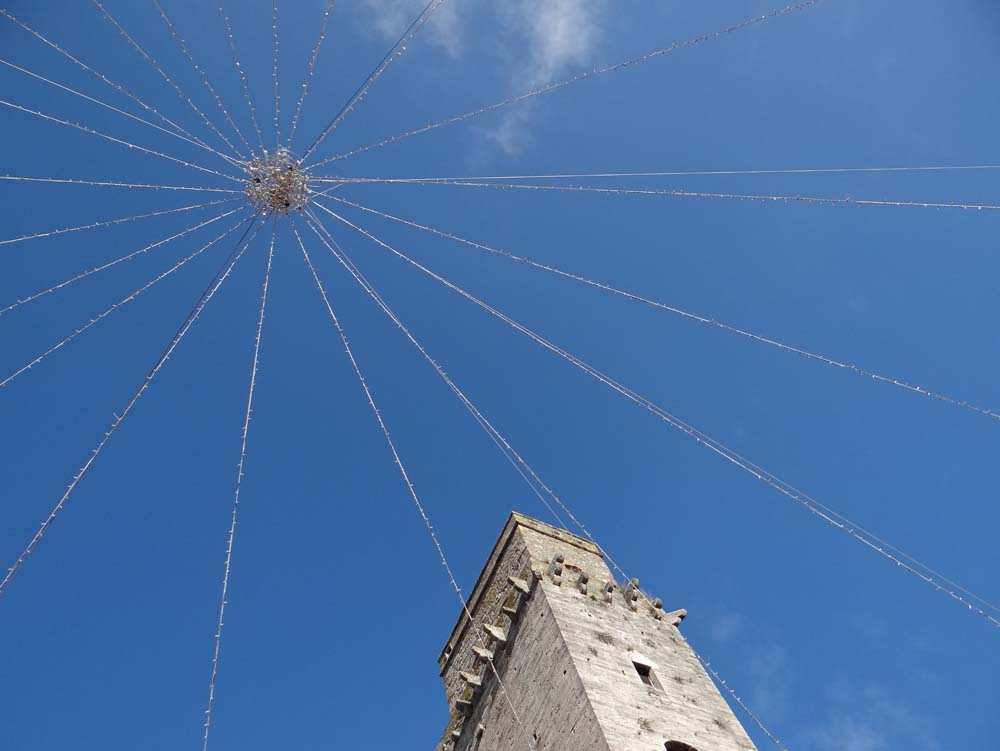 After a couple more hours wandering the streets and the path around under the walls, we turned back, nipping into a small shop on the way out to buy some Salumi de Cinghiale (wild boar sausage). The poor lady inside must have almost lost her soul to the river of tourists we had added to, becoming increasingly brusque with Ju within a few seconds of her entering the shop. When her attempt to flog us an entire, fat salami failed, despite her assurances it was vacuum packed, wouldn't smell and we could take it on an aeroplane, she thumped it back into the chiller as though rounding in on Mike Tyson. A second attempt to flog half a sausage also failed and with me almost dancing about outside in fits of laughter, pointing the camera in her face probably didn't help her mood. Nevertheless, we bought and loved a €3 piece of the sausage, while she's probably still fuming. If you're heading for San Gimignano, can you do us a favour and check if this woman has calmed down yet?
Italian food, even the versions of it procured from Lidl, is a sensation. I'll never look at or think about food in the same way again. Even the names of it seem sensual. Facaccia – Pano Tip "O" Con Strutto E Olio Di Olivo (bread and olive oil), Gorgonzola Dolce (a soft strong cheese), Pomodori Secchi (sun-dried tomatoes). And that was just a quick lunch, washed down with an unlikely Latte Parzialmente Scremento (skimmed milk!).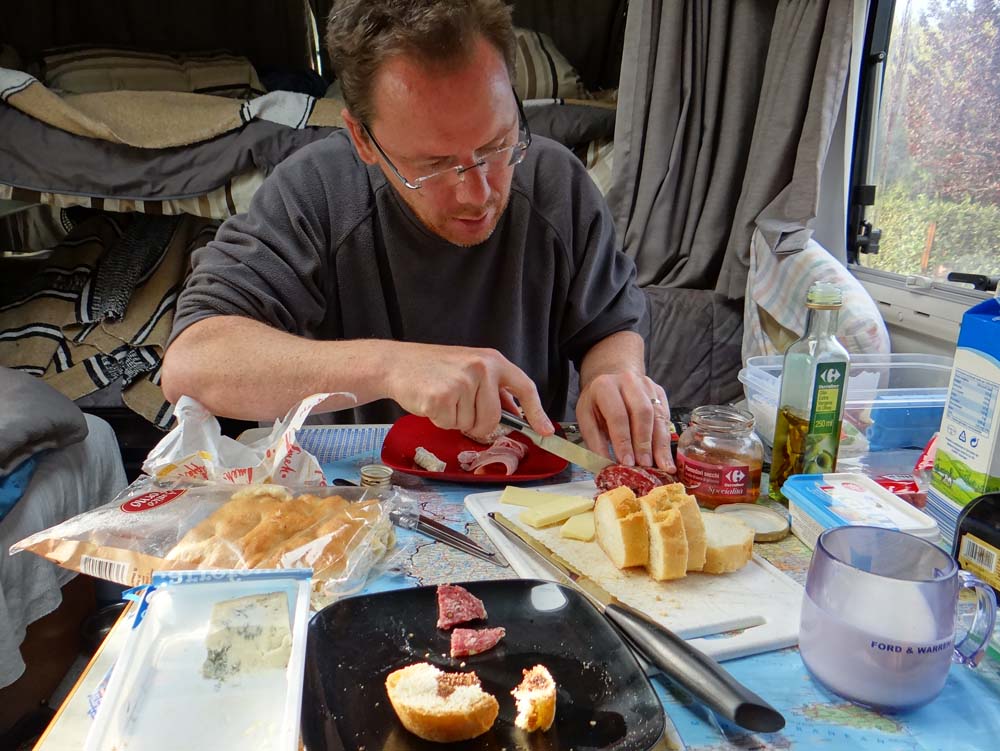 Tomorrow, we'll move on, more of Bella Italia awaits, what a treat.
Cheers, Jay