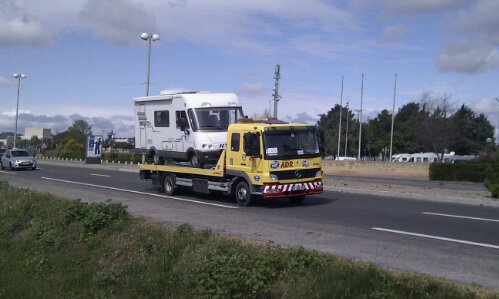 We're here: N43.57317 E2.96843
The weather is: a bit grey, but we don't care – we're back on the road!
Last night we were invited for drinks over at campingly.com's van Dolly. She's a bit newer than Dave, but is the other model of Hymer we were considering (B584), so it was great to pop in for a nosey and introduce team campingly to bricks of red wine!
This morning we were up early and headed to the garage to see if Pascal was back, and if Dave might be ready sooner than 4pm. As soon as we walked in Pascal headed out into the garage to find out what was going on. When he returned Dave would now be ready in an hour! We headed back to the Etap to do some last minute wifi stuff, pack our stuff and then we were gone – so long room 318.
Dave's bill was only a €30 more than our original quote. The extra parts had cost quite a bit, but somehow – despite it taking 3 days – the labour costs were 2 hours less. We coughed up the €1400 only wincing slightly – Dave was back!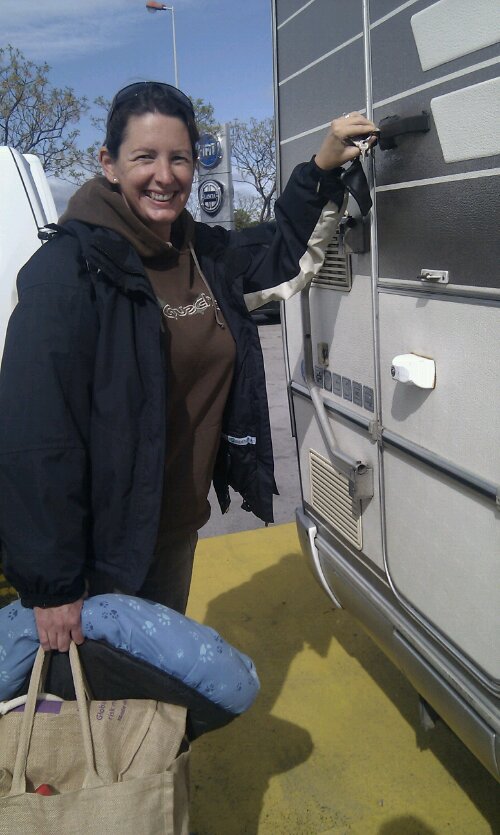 It was like the first time we picked him up, we were so happy – we'd seriously missed Dave. J could barely contain himself as he engaged first gear. We drove about 100m to the Carrefour carpark and did a little (unnecessary) reverse to celebrate.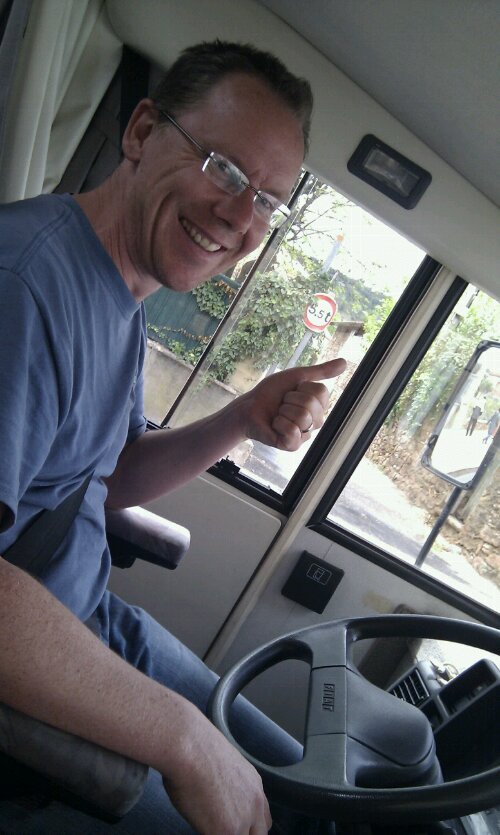 As we were heading off to do a major shop – it's been nearly 2 weeks – we got an email from team campingly, Dolly was sick. She'd not even made it off the aire and was waiting for a breakdown truck. We headed over to offer our support, as we arrived the breakdown truck turned up and 30mins later poor Dolly was winched on the back and off to visit Pascal at the garage. We hope breakdown fever isn't contagious, or we'll be to blame. We waved goodbye as there was nothing more we could do, and headed back to our monster shop (over €80, but then we did have to fully restock the fridge).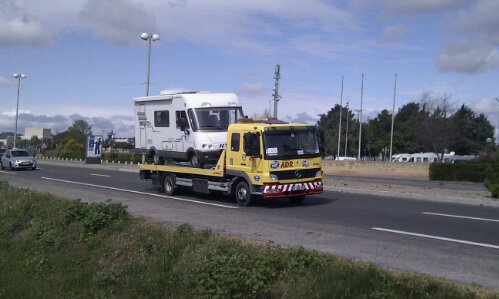 A quick trip to a petrol station for LPG, then to a supermarket petrol station for diesel (as it was around 10c cheaper than the diesel at the LPG station 100m down the road!). That's it. We're fully stocked, tanks all filled and back on the road again.
We let out a cheer as we finally left Narbonne and headed north to the Haut-Languedoc Park to a small town called Mons. We stopped off for a late lunch in a layby with a fabulous view of Roquebrun.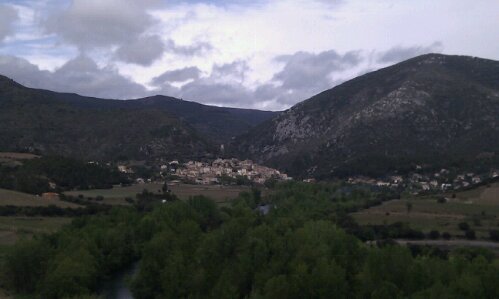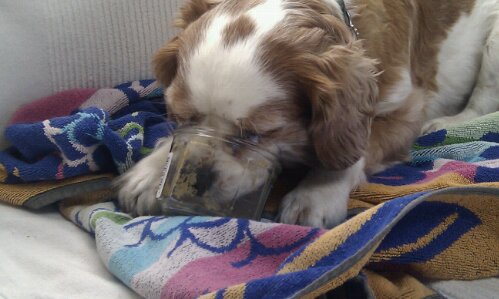 We arrived at the aire which is free out of tourist season, according to the signs that starts on 1 May, and is at the foot of the Heric Gorge.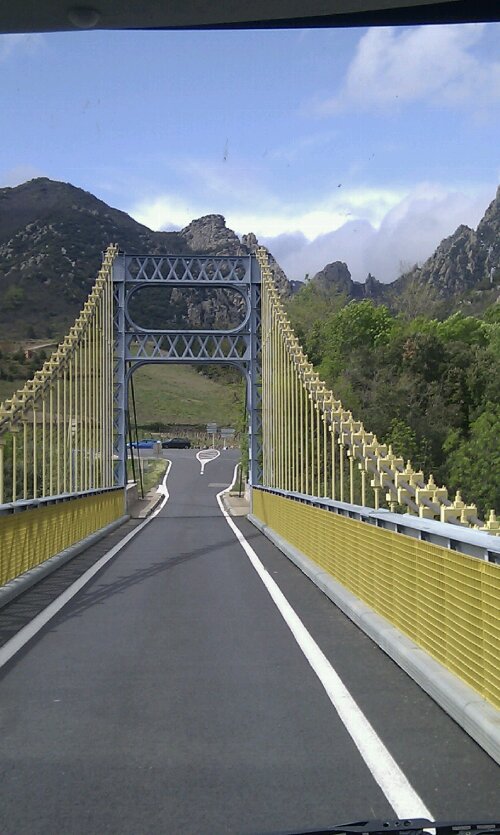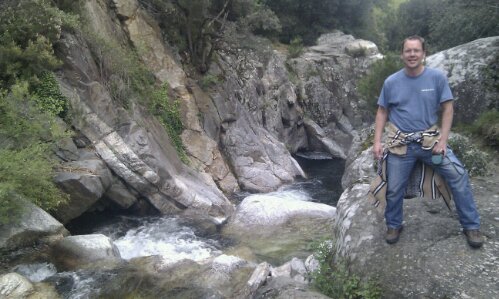 It's 5km up the gorge to the small hamlet of Heric. As it was getting late we walked a short way up it along the narrow road which follows the path of the river at the bottom of the gorge. The scenery is amazing and only marred by one french man having a pee on the rocks!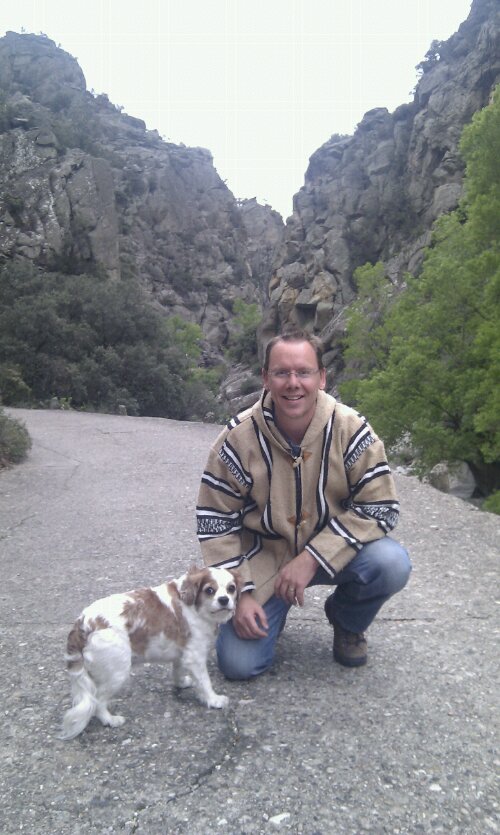 We headed back to Dave anticipating all the lovely food we've got for tea. We're back to doing what we want and going where we want – maybe tomorrow we'll walk the full route up the gorge with a picnic.
Ju x