Zagan the motorhome's in storage. His water system's been drained down to avoid freezing, and he's stood surrounded by hundreds of caravans and vans at a farm about a mile from where we live, in stasis. Although we spend long periods away, we opted to pay the £365 a year to keep the storage space so we could just drop in and out of the UK without worrying about where we could leave the van. There's a parking space at our house but (a) the tenants have it as part of the deal and (b) the van wouldn't fit in it anyway!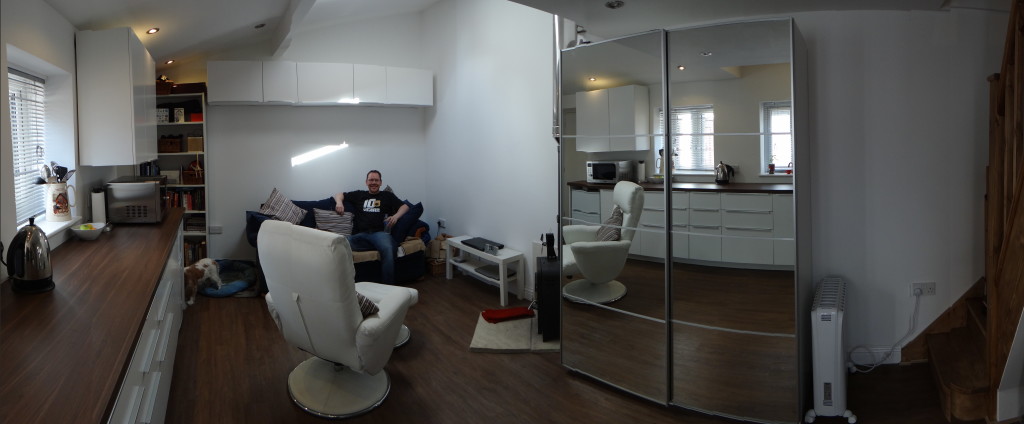 What's changed? Ten months away's not long in the big scheme of things. The lady at the passport office in Harwich thought otherwise and was astonished we'd been roaming about for so long, but from our eyes much looks the same. The traffic driving home was fine, and I managed to persuade my brain not to drift back to the right. Arriving home we unloaded our clothes, food and the like from Zagan into the Cooler, said hello to the tenants who handed us a massive box of post, and hugged my parents who'd got the fridge and heating going for us. Ju's been on a wash-a-thon since then, and Zagan's been in for an MOT and service – more about the results of that, and the other things we've needed to do to get back on the road, in a later post.
And just like that we're back. Apart from the novelty of just plugging gadgets in without checking the battery condition then clicking on the inverter, and just using water willy-nilly, and being able to fire up our wood-burner, and not needing to flick the fridge between 12V and gas, life's just continuing. I guess the biggest thing I notice about being back is how I become more used (not completely used) to not working. During the week daytime we've been getting lots of stuff done. There are no queues, no traffic, no rush, most folks are at work. Whenever I used to have a day off I'd feel bad about being seen in the street between 9am and 5pm, but no more. In fact it's almost a shock folks have to be at work so much. I know, I know, it's crazy, but it really drives home to me the financial situation we've worked ourselves into.
That said, as we drove home we chatted about the possibility of 'bigger' travel projects in the future. North America, Australia and New Zealand are probably the first 'non-Europe/north Africa' targets, maybe after Asian Turkey. These may well end up costing more than our£15k a year budget allows (or they may not, we need to do the research) and, if we want to do them before age 55, we'd either have to eat into our capital or, ahem, do some work. The latter was always an option in our minds, but we're not looking for work just yet…
We're just off out now to catch up with Ju's family in Nottingham. As it's Bonfire Night here in the UK Charlie's being dog-sat at my parents (thanks folks), because he's scared silly of the KABOOMs of fireworks which go off all night (one went off at 7am this morning). Tomorrow we're having a Buckley family get-together and then on Monday, wait for it, we're in a HOTEL! Yeah baby! We've booked a hotel in Nottingham for the night, which has a, wait for it again, a BATH! Oooh yeah, we've not seen a bath for I don't know how long, at least a year (we've had a few showers of course).
Right-o, better go, cheers, Jay