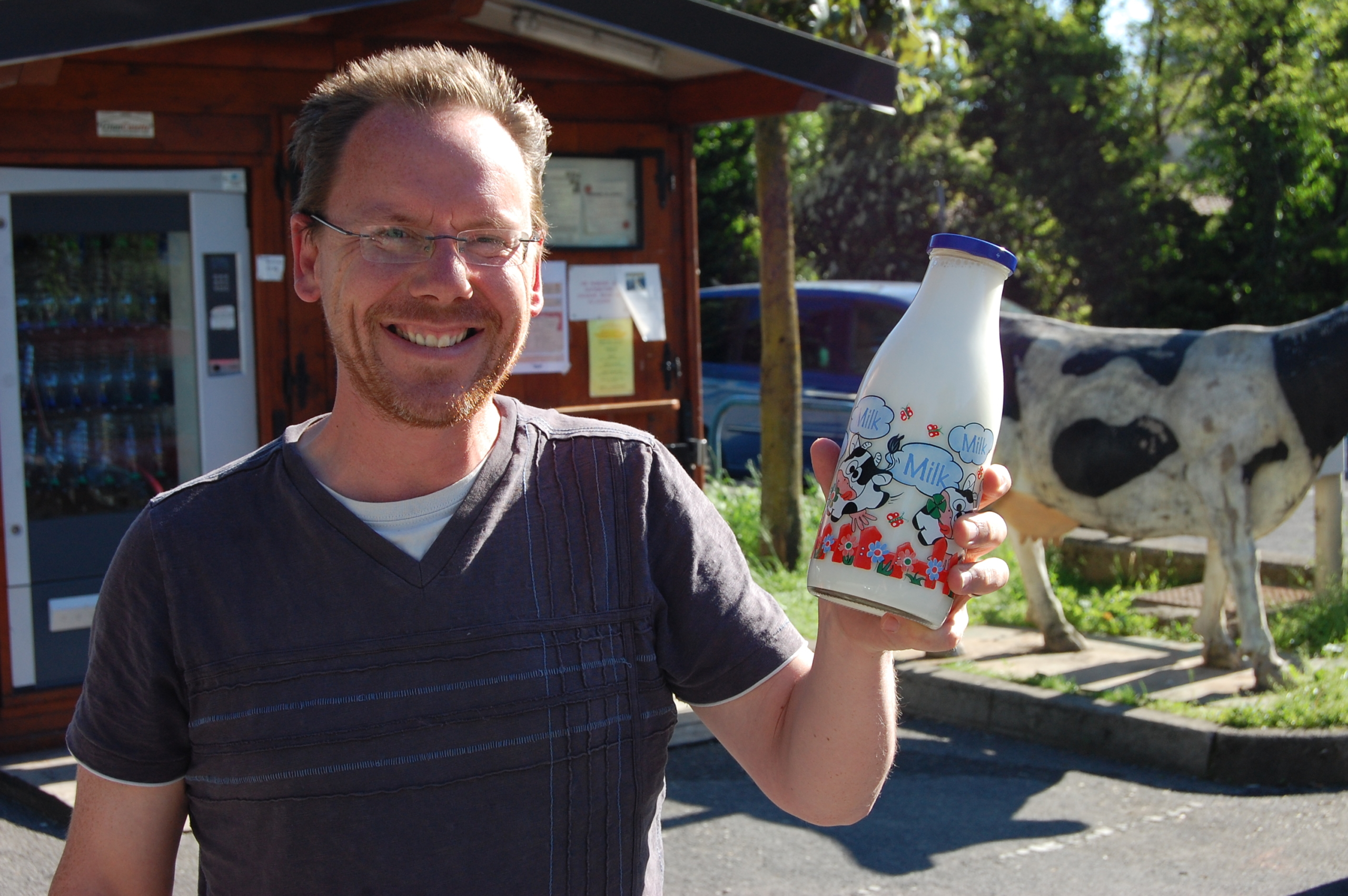 We're here: N45.73622 E9.71995. It's a small car park in the city of Alzano Lombardo. We usually avoid cities, and we thought we were continuing this tradition by coming here; it's a small town on the map, and a small town in reality, but for come reason has the title of 'city'. We're not far from Milan here, but the small towns of Italy are fascination enough for us. We're happily sharing our car park with another milk machine; this one accompanied by a full size plastic cow: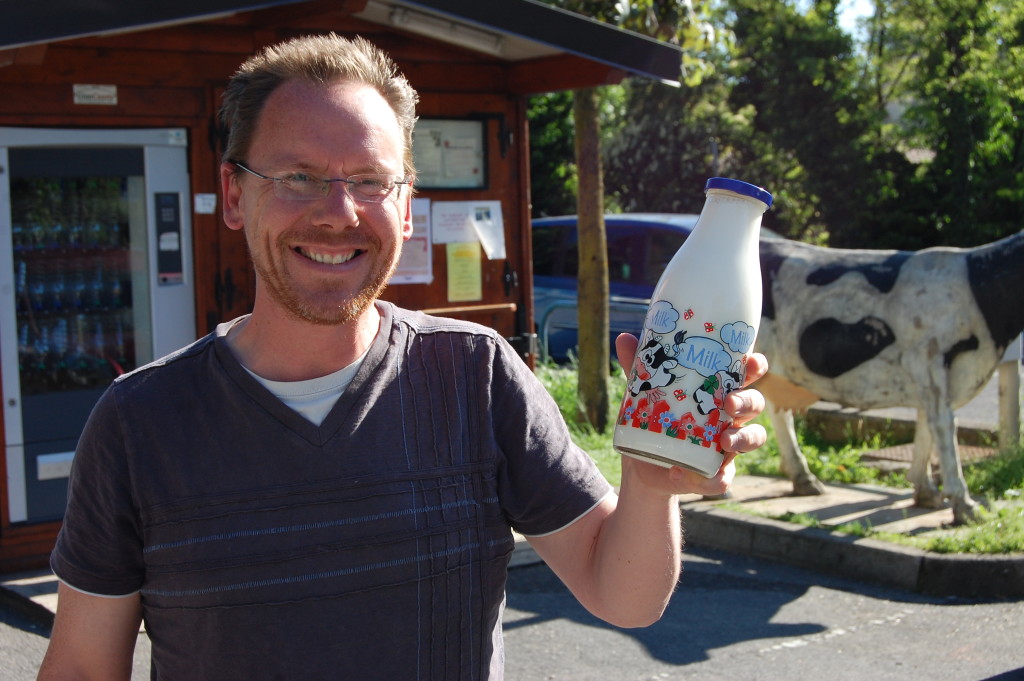 The weather is: sunny, breezy and warm. It's 25 degrees in Dave at the moment. There are fluffy white clouds in the distance, masquerading as mountains. No, wait, there are mountains over there too; I must be looking west back towards France and the Alps.
Once the euphoria of our 'topping out' on Mount San Giorgio in Switzerland had abated, and we'd snapped the view from a few hundred different angles, we turned around to walk back down. We nipped into the stone built walker's refuge for a moment. The place was well kept, equipped with a huge log fire, and with bottled water and various cans of pop, with an honesty system for payment. You could even pay using little paper slips with your bank details. The visitor's book covered 2011 to 2012, and it was already pretty full. We searched in vain for any words of wisdom left by our compatriots, the nearest we could find were the names and cities of three guys from the US.
The descent was, perhaps unsurprisingly, as steep down as it was up. Our toes crammed forward in our boots and our thighs pumping, we edged down the path. At least two of us did, Charlie was on a stick-chase-athon, legging it up and down the hill after bits of wood. He finally settled on an oversized bit which he carried to the bottom, entertaining an elderly couple who'd just finished watering the plants at the immaculate graveyard.
Our evening on the campsite was uneventful, we watched the moped-powered comings and goings of the site owners on their matching machines, one of which had a nifty trailer attached to it. Neither wore a helmet; we're guessing this relaxed attire was more due to our location in the middle of nowhere than an overall Swiss the-devil-may-care attitude?
We BBQ'd a few frozen steak hache, drank a glass of wine and watched an episode of Life on Mars. 9:30pm and we're both bushed, but strangely incapable of sleep. I used my remaining wakefulness to live it up at Hitler's 'Eagle's Nest' with the 101st Airborne, reading Band of Brothers. Those guys deserved every last drop of alcohol they managed to get their hands on.
Exiting the campsite we headed south for the border with Italy; a Swiss petrol station delaying us with a reward of €1.59 a litre diesel. Hardly cheap, but cheaper than any Italian station we've seen – or at least we think, as we still haven't got our heads around the Italian self service discounts work. The border itself seemed to be right in the middle of the town of Chiasso, the most southerly spot in Switzerland. Coming back into the EU, the guard nonchalantly waves us through, no passport or animal checks.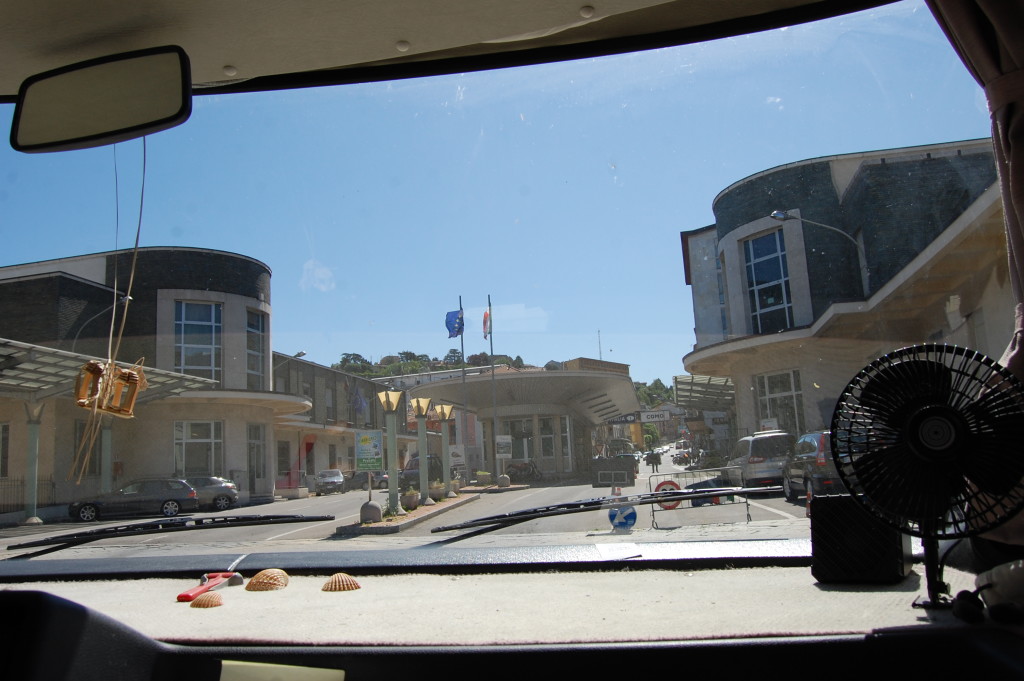 We'd had a message from Marco who was camped near us in St Tropez, he lives near the campsite we'd just stopped at and works in Como. He kindly invited us for lunch, but by the time the message comes through on the phone (as there was no signal at the campsite) we're already on the outskirts of Como. Hopefully we'll get to meet up another time.
From this point on my recollection is mainly driving-based. The easy going cruising on empty Spanish and French roads, and Italian ones to a greater extent, has made me soft. The Lombardy roads seems to demand more attention, like in the UK there are too many cars for too few roads, and having a dog-slow Dave holding the whole thing up isn't helping. Having said that, Dave's lack of speed probably saved us from a head-on collision today. As we rounded a corner, we found the surreal situation of our lane being taken up by an oncoming white car, which was overtaking a lorry on double white lines. His expected rapid acceleration and nip back in front of the lorry didn't materialise and with me flashing lights and yelping obscenities (at the gods, not at him), I lunged Dave over at the last minute in the right-turn-only lane next to me. Luckily no-one wanted to turn right, Dave's handled the mishandling nicely and with a sigh of relief we were on our way.
As our food supplies have starting to dwindle, my curiosity about the contents of Italian supermarkets has come back. We spent two hours today in a huge Auchan, wandering the isles and choosing an array of delicacies, cheap lager, bread, fresh vegetables and even a couple of bottles of local red. That's right, we bought wine in bottles. Seven months of drinking the absolute cheapest wine we could find (including some donkey-wee stuff we got in Morocco) have set our wine-tasting baseline. Anything costing more than 'fillthy cheap' is going to taste like nectar, and it does.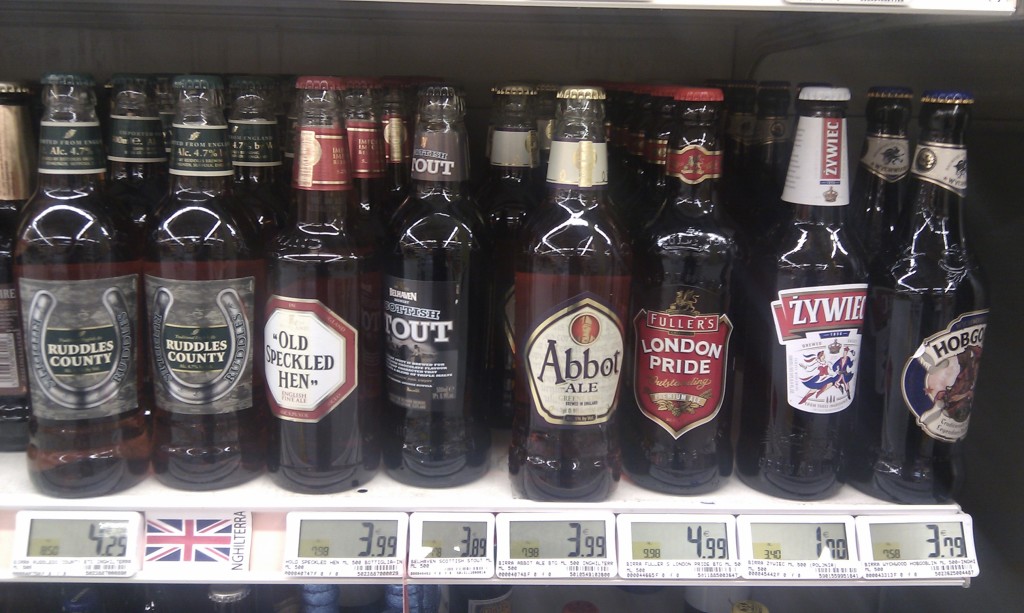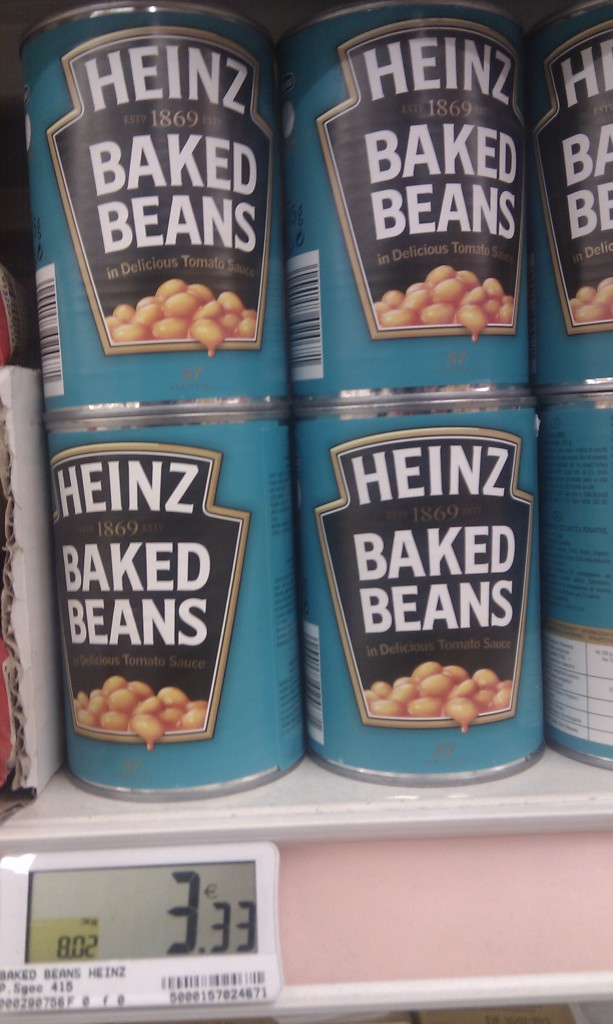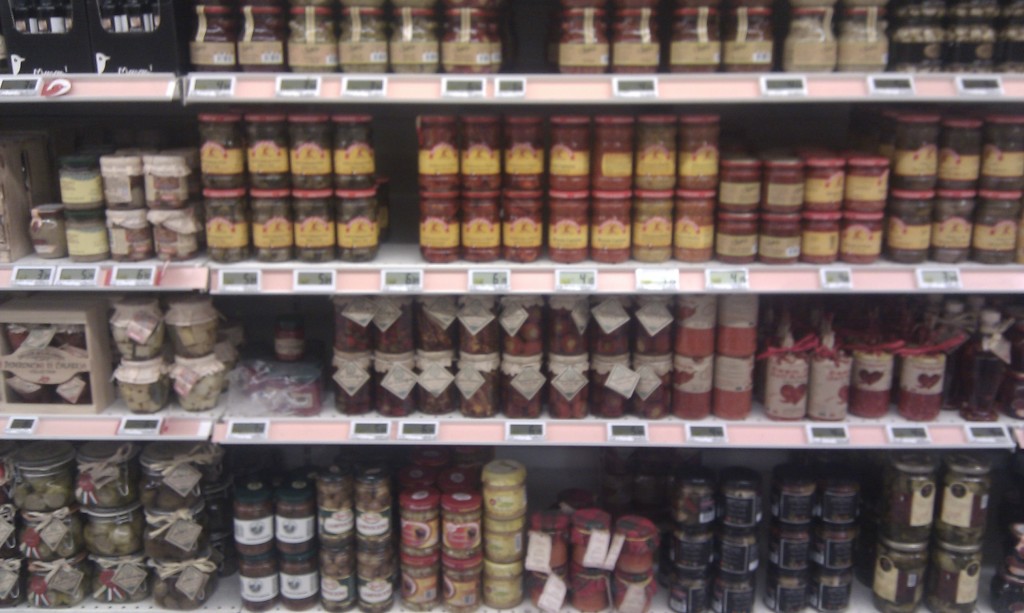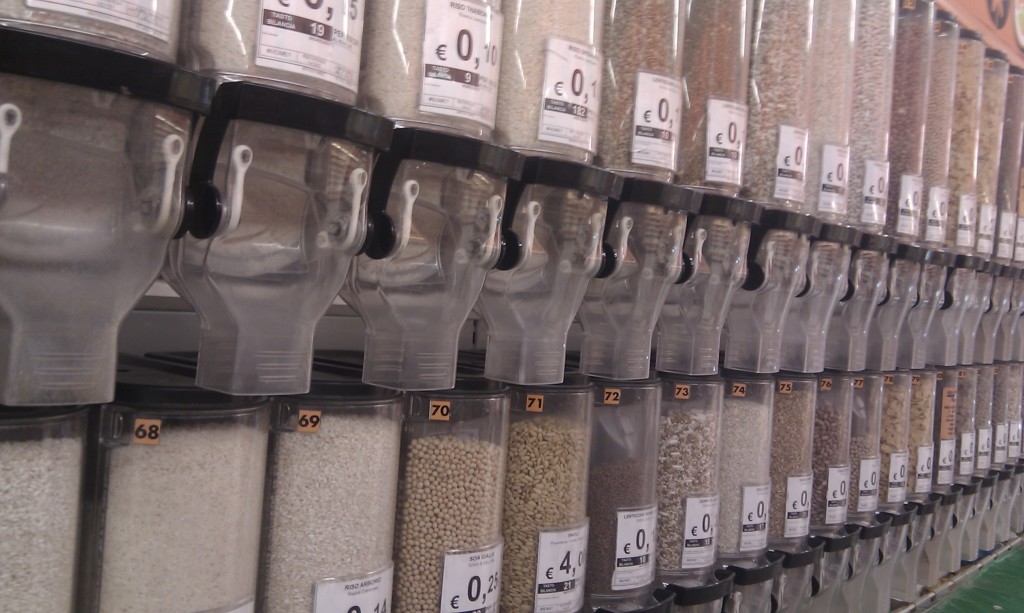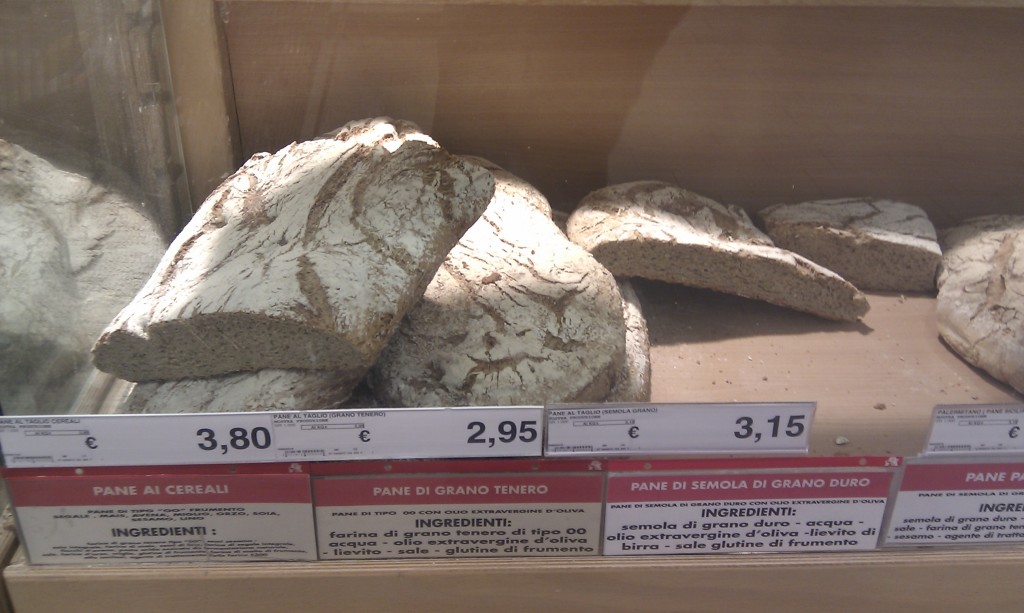 We've headed here as it's (a) in the general direction of Venice and (b) it is shown as a free aire on our database. We're so tired we skipped Bergamo, the nearest town, although we'll probably check it out tomorrow. While Ju had a kip, Charlie (reluctantly) and I took a walk up the hill behind us. From there the green foothills of the Alps rise to the right, and a huge plain heavily dotted with houses and businesses flows out to the left.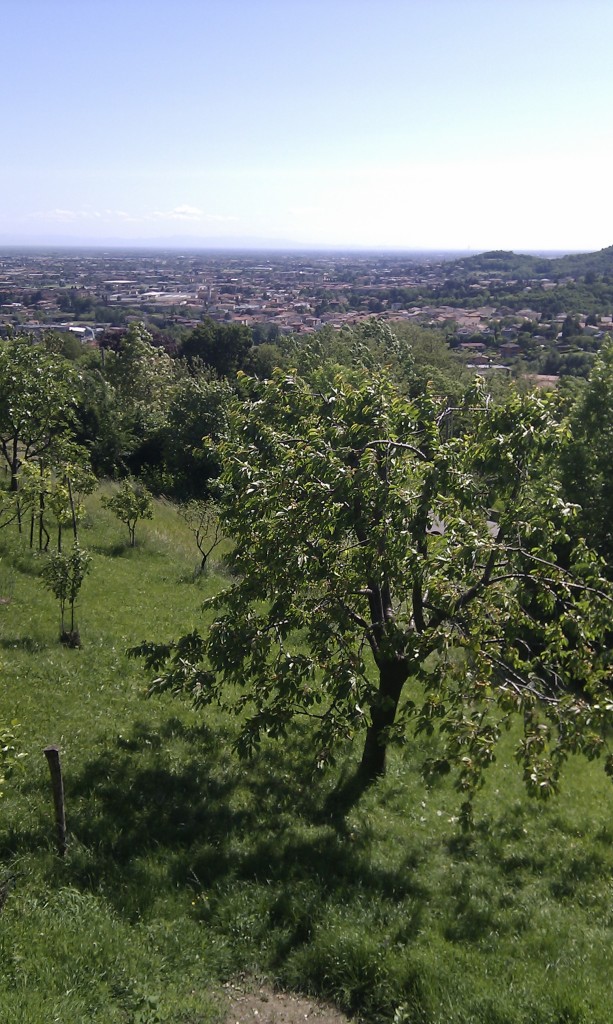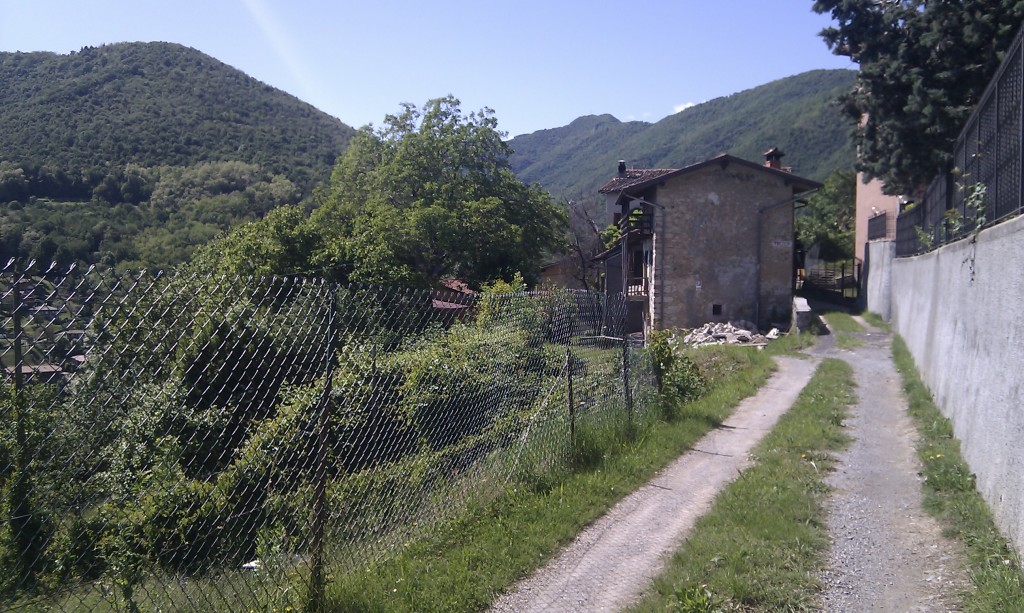 Right, I'd best be off as I insisted earlier that we buy some fresh pizza dough, and we need to work out how we're supposed to cook it!
Cheers, Jay