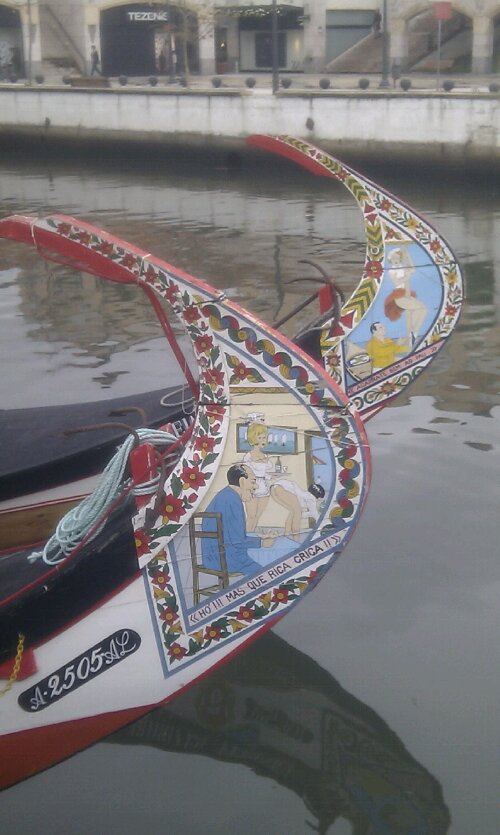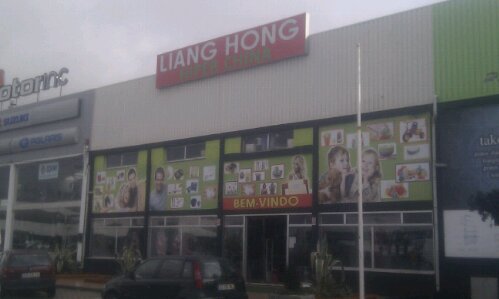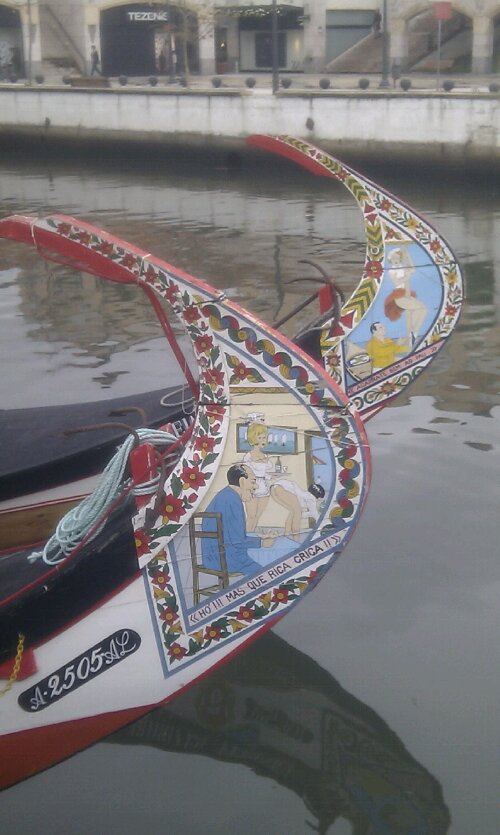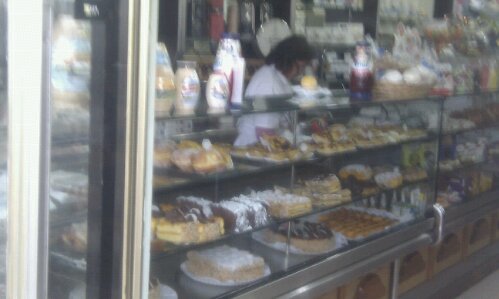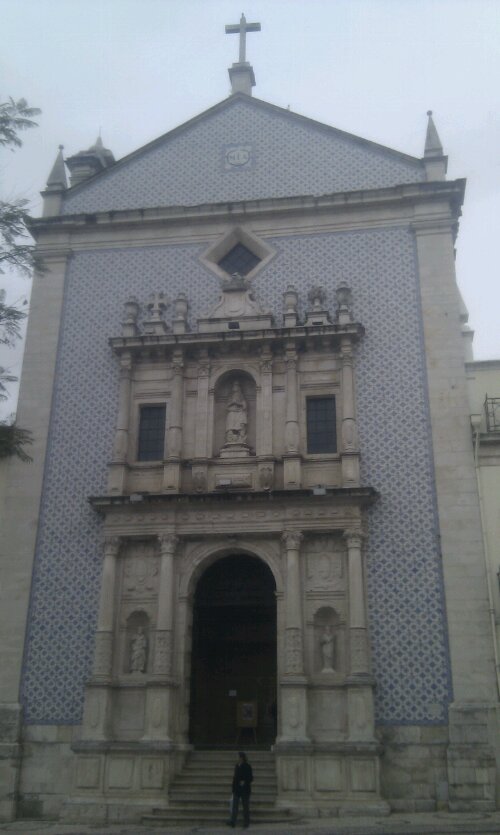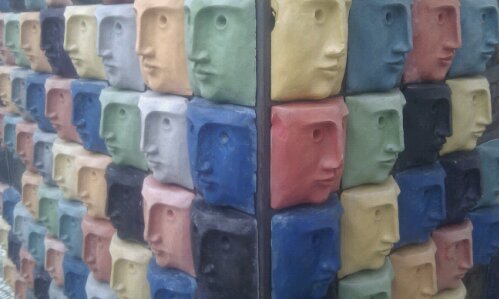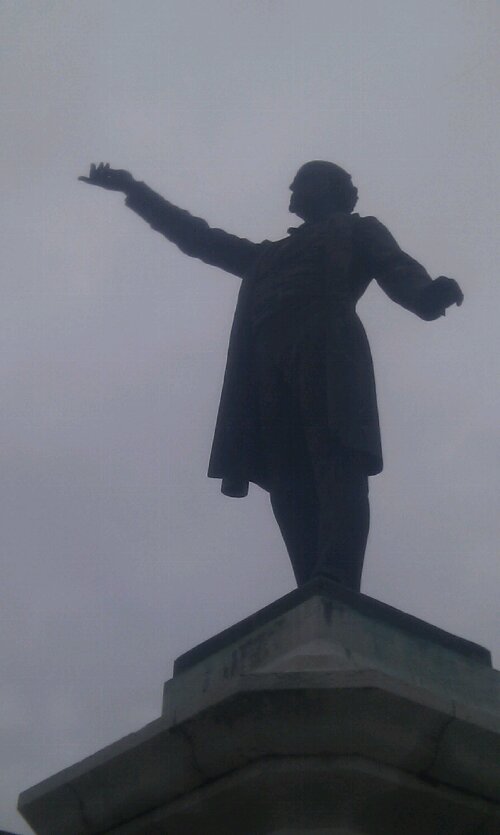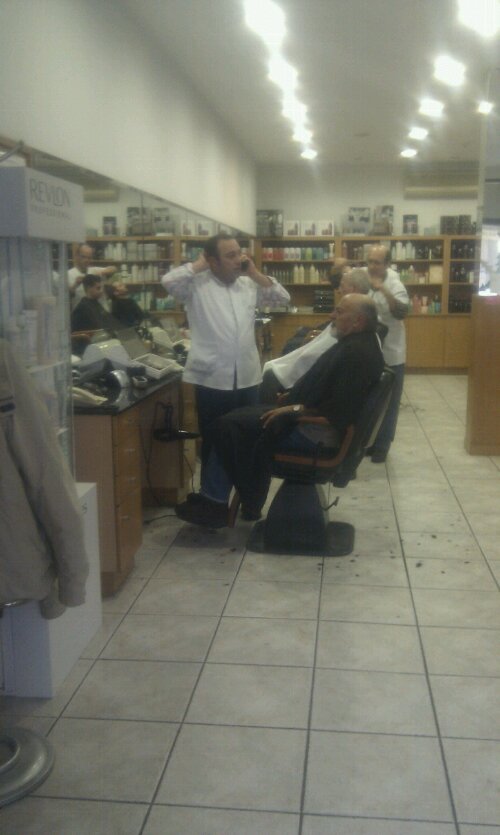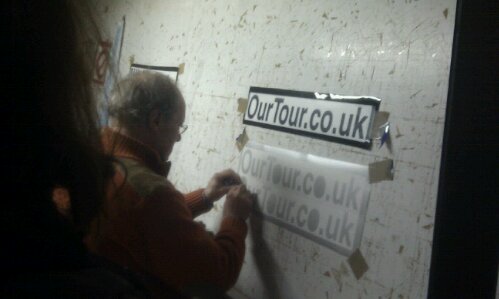 Weather – torrential rain while driving, dry but cloudy in afternoon.
This morning it was cold and raining, so I have to confess that I only set foot outside Dave once, and that was to collect the levelling chocks as we left. J was (and still is) basking in the glory of the stew he made last night and my head was thick with the copious glasses of port we drank.
We programmed satnav and spent several minutes recalculating the route, but even then today saw a significant amount of satnav ignoring as we used the map to navigate through the web of old and new toll roads surrounding our destination of Aveiro.
Described as the Venice of Portugal in our guidebook, we headed here expecting a nice safe Aire for the night, beautifully painted moliceiros (gondola type boats) and a network of canals. What we didn't expect to see were 'ladies of the night' promoting their wares at the side of the main road approaching the city and the Aire transformed into a waste recycling station -complete with dodgy man guarding the entrance and pale yellow water from the drinking taps. But those things aside, we found a place to stop for the night between one of the two canals – not quite a network – and the main motorway, earplugs in tonight!
It's not quite Venice, but it is real Portugal and wandering around gave us a glimpse of what life is like. Houses decorated in an array of coloured and patterned tiles, including many run down and derelict ones. The traditional boats, are beautifully decorated but the art seems to be British seaside postcard inspired – see photo. And through the middle of what was probably once a lovely town there's now a two storey shopping centre all geared up for Christmas with the same shops you see in every other shopping centre around Europe. Which to me is a shame, but if that is what is needed to keep the city alive, then you can't really argue against it.
We walked about taking in the sights and sounds (Last Christmas by Wham being the favourite choice it would seem) and looking for some Christmas cards to send home, but we couldn't find any. We tried bookshops, newsagents etc but it looks like they don't send any – so sorry everyone we won't be sending cards this year.
We'd been inspired by Chris and Tina's van which promotes their website on the side of it. Always wanting to increase the number of visitors to our blog (and potential clicks on adverts), we thought we'd try and do the same on Dave. This morning we bought coloured card and glue from a chinese shop to 'Blue Peter' something, but as we walked back along the canal to Dave we realised all the boats have their names on them so the lettering must come from somewhere. We stopped and asked at a boat/agriculture repair yard and with the help of a friendly passer-by who spoke English we got directions to a man who could make the lettering for us. It was a tiny place tucked down a side street with an old lady at a pc and two miniature dogs, but they had the technology we needed. The man who spoke little English was a whizz with Quark and in next to no time we had OurTour.co.uk in sticky backed plastic ready for Dave's rear bumper. As it was only €5, we got two more in silver for either his sides or windows. So tomorrow parts of Dave will get their first clean and his new decals added.
Marc and Jacqui came a different toll road avoiding route to us as they needed to stock up on food and LPG. So they arrived while we were out. They've offered to cook tea for us tonight, so we're chilling out before we head over there later, and at some point we need to plan our next destination.
Ju x
PS – not sure who the statue is or what he did but he must have done it very camply to wind up with a pose like that for eternity.