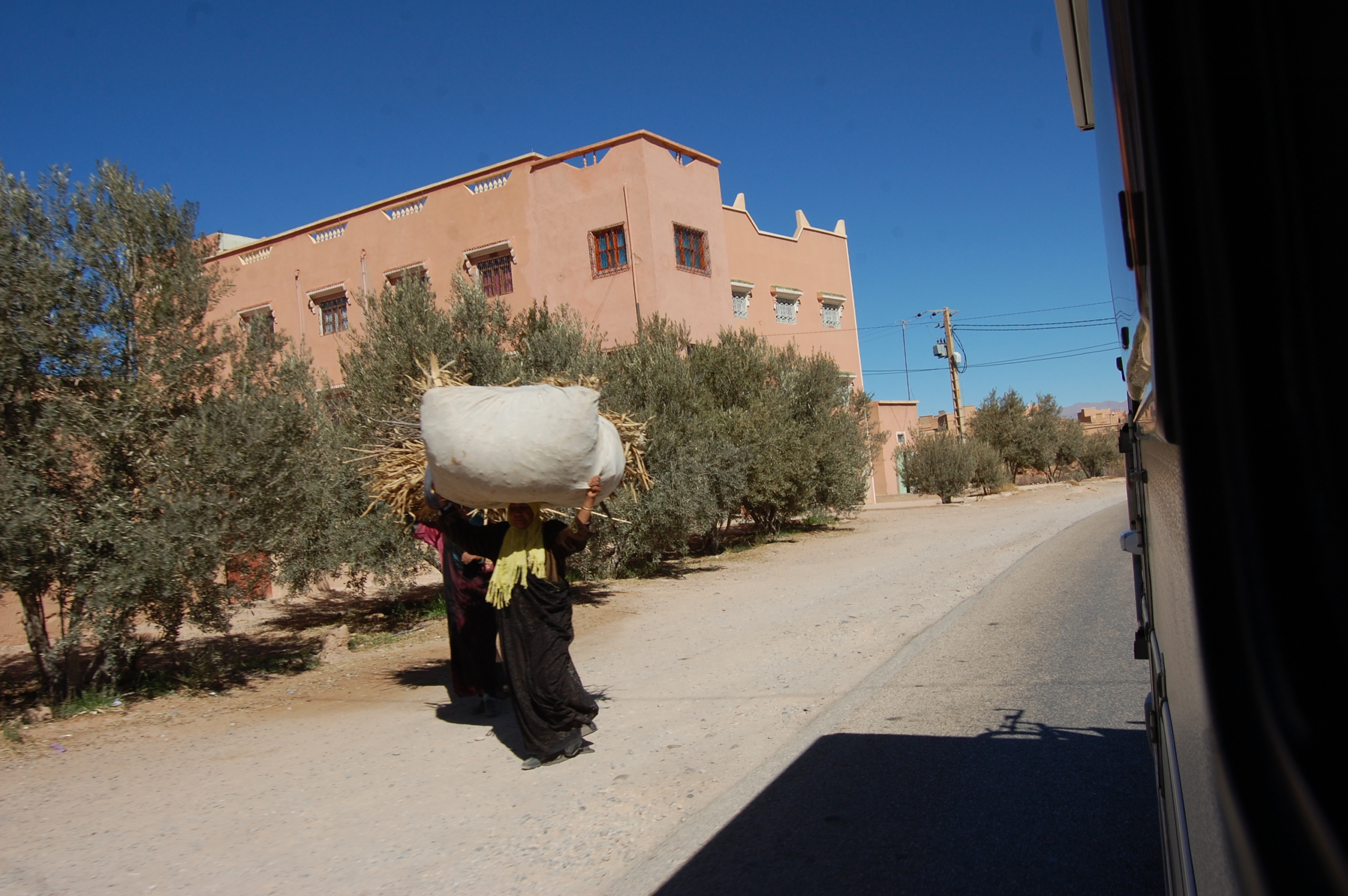 We're here: N30.9230 W6.88678
Weather – it was flippin' freezing last night, but hot and sunny today.
Our meal last night was tasty (if a little expensive as we were paying hotel prices), still we treated ourselves to a bottle of Maroccan wine – at approx £11 it wasn't cheap, but needs must.
As we were parked in the hotel car park we had no electricity hook-up, so no heater overnight, on what was of course the coldest night we've had for a while. The temperature in Dave plumeted and poor Charlie curled up into the tightest ball he could to keep warm (we've had to confiscate his sleeping bag as it was too static – the air is so dry here), so J took pity on him and threw one of our sleeping bags over him. It was 8c in Dave when we got up, so the gas heating went on for half an hour to take the chill off.
We were soon on the road heading back down the Dades Gorge. We stopped off at the unusual rock formations that we'd passed on our way up yesterday and went for a walk down to the river and along it to see them more closely. It's known as "The hills of humans", and it does look like a load of people (if you squint!). Passing a small house in the way to the river we found ourselves accompanied by a couple of small boys who insisted on trying to show us 'la route'. It was pretty obvious where the path was so we did our best to ignore them, as we knew they were just little 'faux guides' in the making. On the way back to the vans, the demands for bob-bons, dirhams, clothes, pens all started, culminating in a request to hand over Charlie. Once I'd stopped laughing I stopped walking, brought out my best French and told them to (a) go to school and learn something and then (b) get a job and earn something. They listened solemnly, although the cheekier one continued to push, so I basically told them 'enough guys'. They wandered off in a huff. Whoever keeps giving these kids stuff for no services rendered is going to seriously mess up the next generation of kids here, and the tourism industry with it.
Our target today was Ouarzazate and with just a quick stop off at a roadside shop for some supplies (bread and fruit for Chris and Tina, two types of cake for us) we made our way across 100km of plain with the High Atlas Mountains covered in snow to our right. You could see where the water from the melting snow should make it's way across the plain (and the road in many places) but right now it's just dry river bed.
We reached Ouarzazate and Tina and I went to check in at the campsite reception. It's much busier than we thought it would be in early February, and the majority of vans here (as usual) are French. The guy at reception took my passport, then gestured for the other one I was holding and filled out all the details in J's name – same thing happened to Tina. It looks like we women aren't allowed to do the paperwork!
After a quick rest J and I went for a walk into the town, we're not sure we actually reached it, but we had a good long walk with Charlie and stopped at a patisserie which smelt so good we had to buy some goodies for breakfast (we're officially out of cereal now!).
We're back at the campsite now and I'm cooking up bangers and mash for tea – along with some gravy (we found bisto granuals at a supermarket in Spain).
Finally I'm pleased to report that things are looking up on the Ribena front. Fellow traveller Adam (europebycamper.com) has tweeted to say that you can get it in Morissons at Gibraltar. So there is light at the end of the Ribenaless tunnel (J's now wondering what real ales might be in stock too!).
Ju x