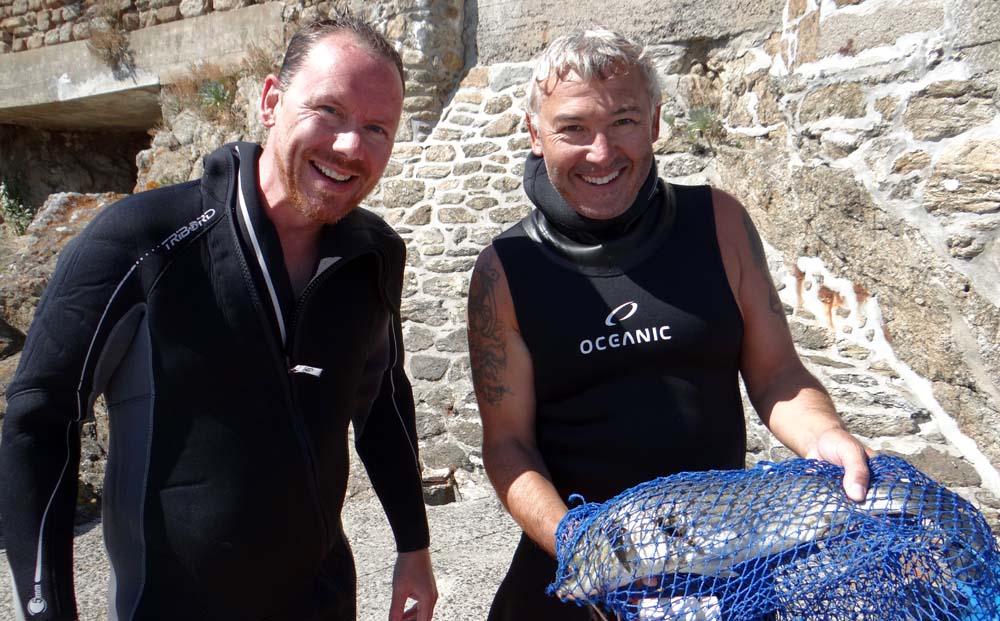 Dave the motorhome hasn't moved his tyres once again, he's starting to like Rose and Paul's way of doing things – drive for a bit, stop somewhere and sight see using the car. He hasn't had to move a cylinder, sitting on the motorhome camping in Rotheneuf, about 7km outside of St Malo.
We dined like kings on all the free seafood that Paul and Jay had collected the day before. After sitting out until it got dark we moved inside for another movie night – our bedtimes are getting later by the day. With that our wake ups are getting later too – this morning it was five to ten before either of us surfaced – if we'd done the same this time next week we'd be just in time to open the curtains and watch our ferry sail past!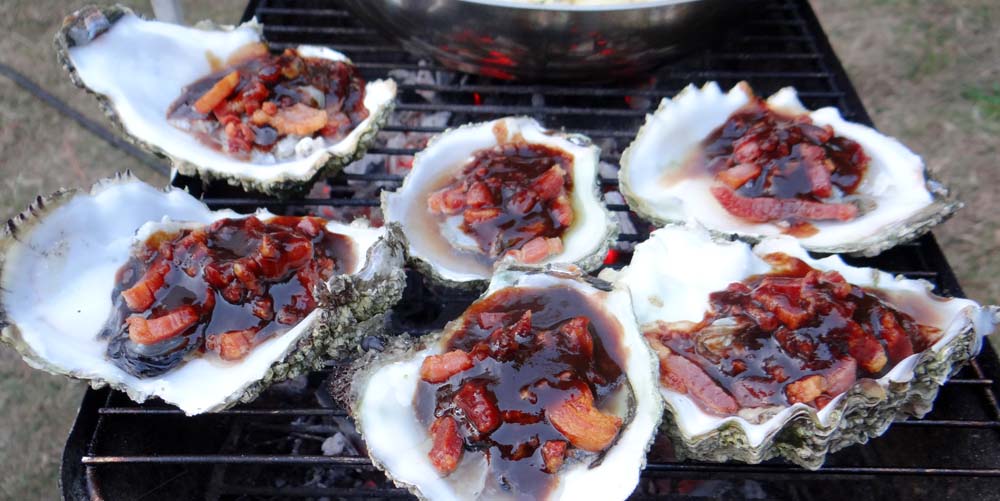 Today we'd planned a relaxing day (aren't they all?!), the boys were off spear fishing, Rose had a bit of food shopping to do, and I had some work to do on my CV – have you ever tried to start one from scratch after two years of being out of the loop, it's not easy! After a very late breakfast, Rose dropped the boys by the water and headed to the shops while Charlie and I stayed by the vans – Charlie isn't allowed on the beach here until 30 September.
After a couple of hours Rose, Charlie and I jumped into the car and popped over to the beach to see if the men were back from hunting. They were just walking out of the water, perfect timing, and were carrying one huge fish in their net. Paul had speared it right through, and then had to stab it quite a few times in the head to kill it, Jay described it as a momentous fight – I'm so glad I wasn't around to see it. Jay got to see a cuttlefish close up and watch it change colour and also had a couple of goes with the spear gun, but those fish are speedy blighters.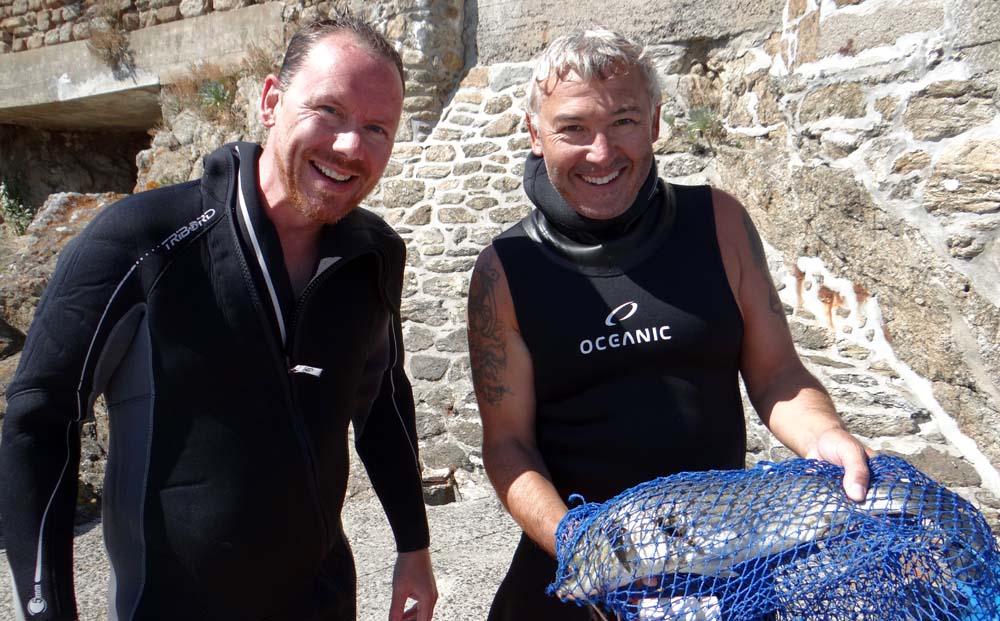 We chilled out in the sunshine and chatted, but feeling that we hadn't really seen our local surroundings we set off for a walk around Rotheneuf. There are two main tourist attractions here in the town (three if you count the chocolatier, which I normally would but it was very expensive so we just looked through the window). One is the house of Jacques Cartier who set sail from St Malo in 1535 to discovered Canada, his house is now a museum. The other are the Rochers Sculptes – the work of Abbot Fouré, a deaf and dumb priest who chose who chose sculpture as a way to express himself. Over 25 years he carved out the granite rocks by the shore using only a hammer and chisel, creating "The Hermit Village" which contains about 300 carved figures.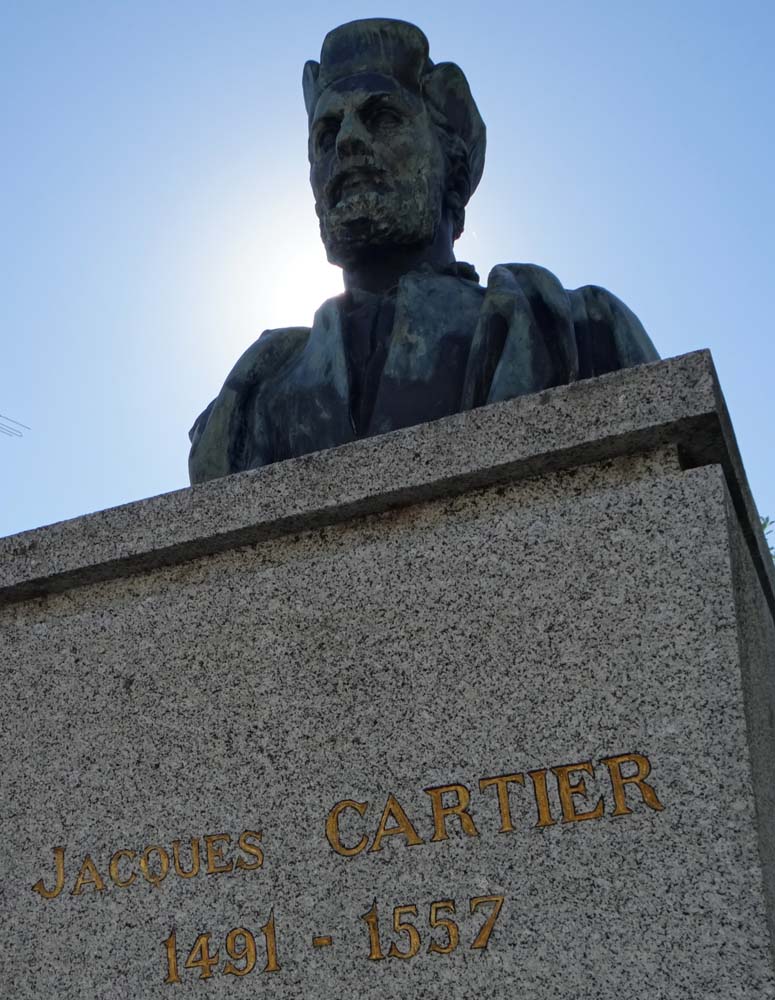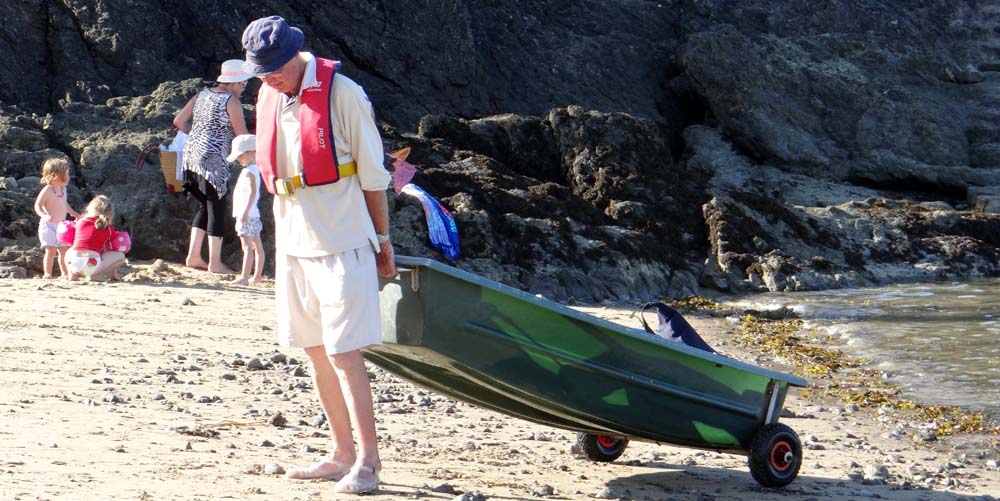 We'd already driven past Jacques house and didn't fancy a museum on a sunny day like today, so we followed the signs to the Rochers Sculptes. Reaching the car park we made our way past a very posh looking restaurant next to which sat a little wooden hut. Outside it hung a couple of racks of postcards and a sign €2.50 to see the sculptures. At this point we knew nothing about them, we'd only seen the signs pointing to them, so we peered at the postcards. They showed loads of figures carved in the rock. We debated for about five seconds and decided we'd rather spend the money on an ice cream – sad I know, but the budget is getting tight.

We followed a path along the coast and from the next headland could make out people wandering among the sculptures and some of the carvings themselves. As we turned to head back up the path I noticed an anchor carved on the rocks. Looking closer there seemed to be a worn body above it, maybe we were on Abbot Fouré's practice rock – we'll never know.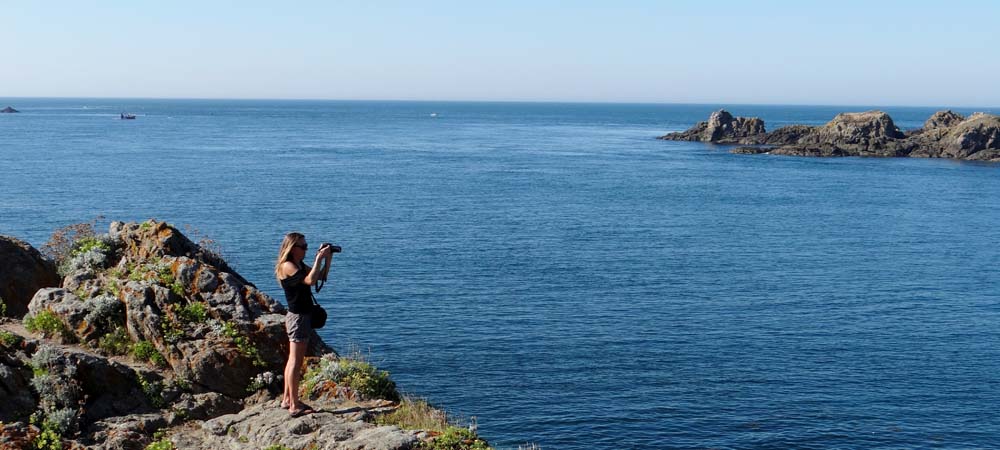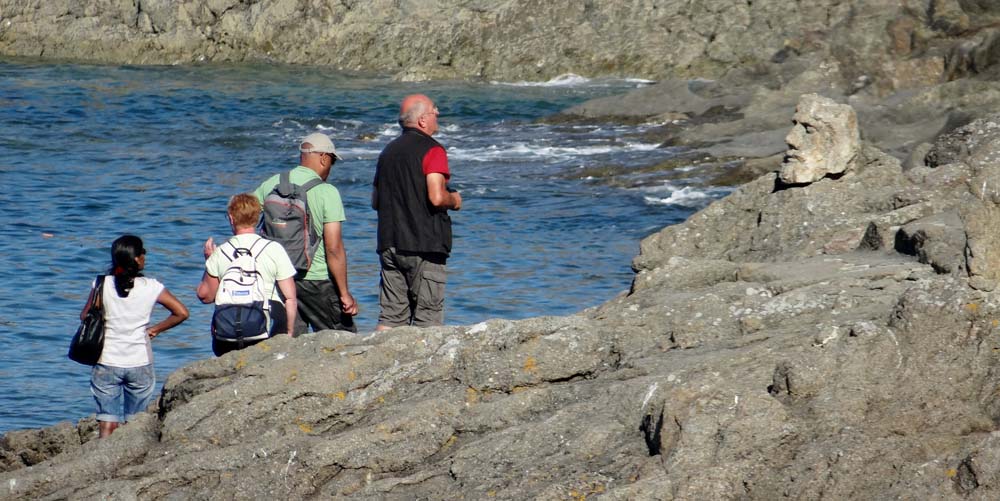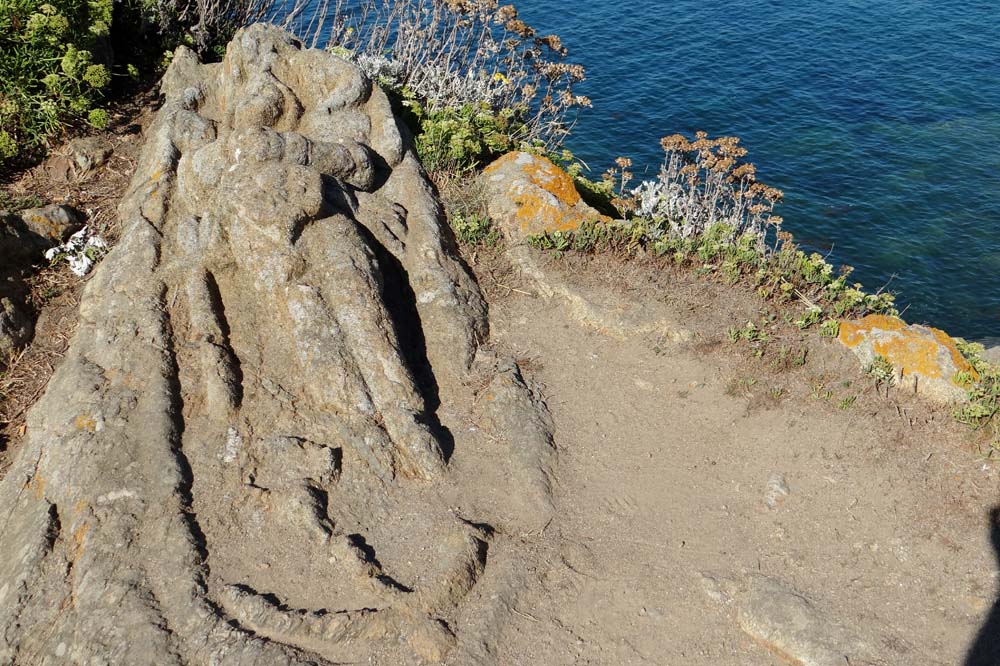 Back at Dave it was BBQ time. The wine was opened and the massive fish, gutted by Rose, was salted up and grilled on the BBQ along with some kebabs and sausages. We heated up a Spanish omelette (on offer in Lidl!) and had the last of our salad sitting in the sunshine, it felt like a proper holiday.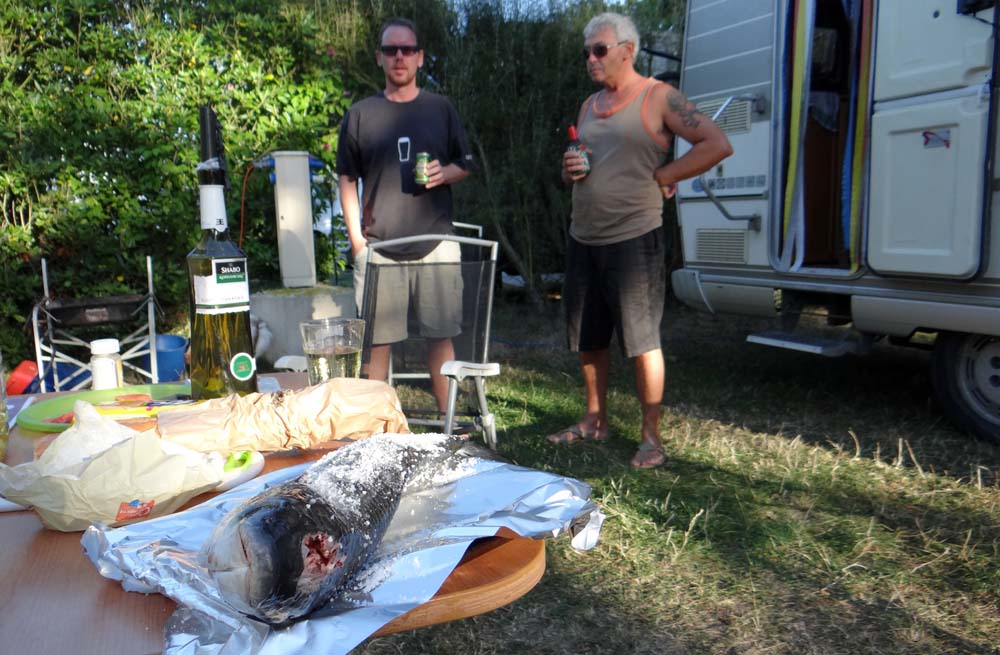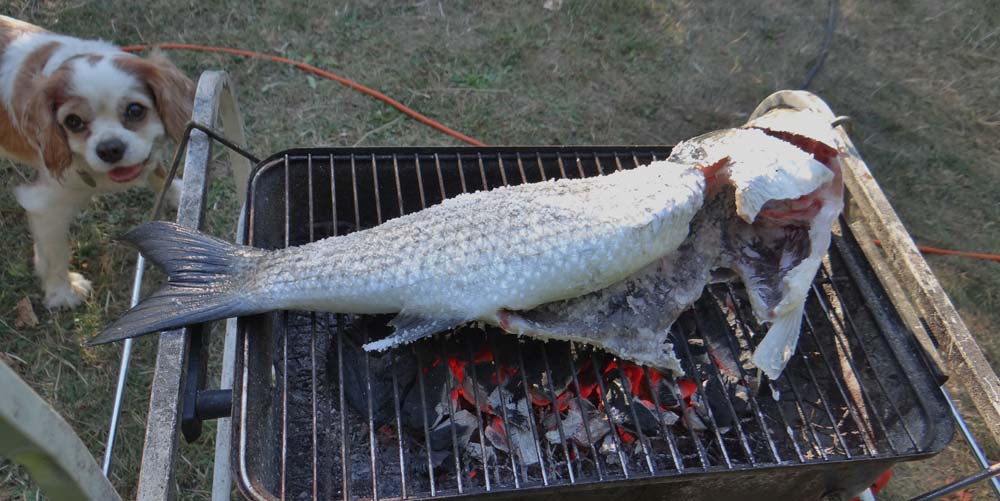 We've been so lucky to meet up with Rose and Paul for these last few days, they've really helped to lift our spirits. It's a big help talking to like minded people who are going through the same situation and emotions, leaving our home, jobs and family to embark on this adventure was scary, we never dreamed that going back would be just as nerve racking, but it is.
This time next week we'll be back home in the UK, it's still a very surreal thought at the moment, but one that is becoming ever more real. We're starting to look at jobs on the internet, houses to rent, places to house sit, campsites to live in – we still really don't have a firm plan. Until we get jobs I guess we won't know where we'll live, which is a very strange sensation. Our adventure may be coming to an end, but we've certainly got a new one ahead of us.
We've also discussed what will happen to this blog when we get back. We're starting to find it a bit of a chore, but I think that is more because we're in France and doing normal holiday stuff so it doesn't feel like we've anything exciting to tell you. We get such great comments and emails from people who are also out there on the road or planning their first or next adventure that we don't want to stop altogether, so we've decided to keep it going. It won't be updated every day, but when we have news or something to say we'll post something. If you want to see what life is like once you return from a trip like this, then be sure to subscribe to receive email updates whenever we post something – the form is at the top of the box on the right of the screen.
Ju x