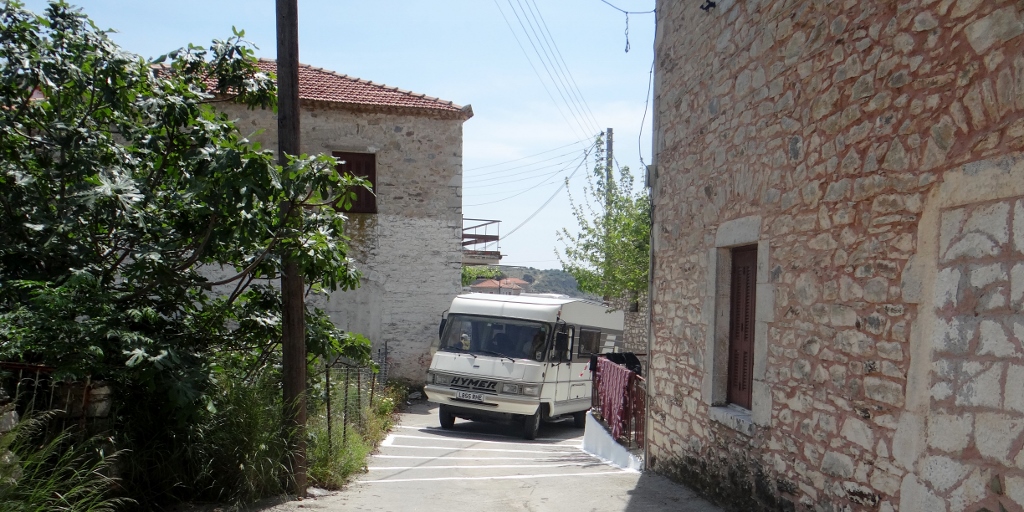 Dave the motorhome has all his windows and skylights open as at 5pm it was still 30°C. Fortunately he's picking up a very faint sea breeze as he's parked right by the beach, in the most amazing setting, next to the tiny hamlet of Neo Itylo (N36.69328 E22.38920).
Last night we went out for a meal, the restaurant we'd planned to visit with a lovely view over the harbour was empty, so we wandered along the harbour side. People sat chatting outside the bars but people inside, or outside, restaurants were few and far between. We'd waited until 9.30pm knowing how late the Greeks eat, but maybe because of the number of British and Germans in the area, dinner is served earlier here. We found a small restaurant with about eight people eating and sat down. We still haven't fully mastered ordering in Greek restaurants, we always order way too much, but last night was pretty close. Jay went for meatballs and a local dish which is basically gigantic baked beans, I went for chicken and a side dish of deep fried eggplant. As the main dishes also came with chips too we had plenty.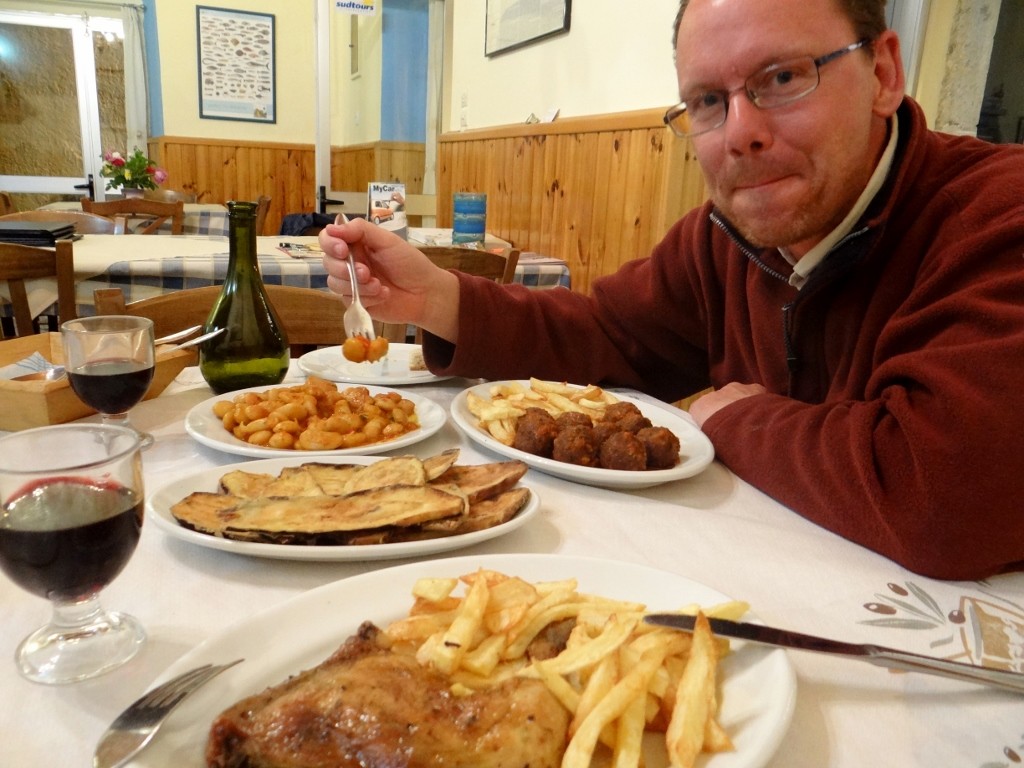 All courses arrive together, even if you've ordered starters and mains, but it makes for much more enjoyable eating as the food goes in the middle and everyone digs in. Half a litre of the local chilled red washed down as much as we could, the rest was slipped into a plastic bag for food connoisseur Charlie. I nipped for a wee and was proud that without any signs I'd remembered to put the loo roll in the bin and not down the loo, when disaster struck. I went to flush the toilet by pulling the little chrome toggle on the top of the cistern and the whole lid section lifted up – oops. Putting it back in place I then pressed on the toggle, this time the cistern lid fell into the waterless cistern with a thunk – panic. I fished it out and rested it as best I could back in place, put the loo seat down and legged it back to the table, praying the only other female eater in there didn't need to go before we left.
Stuffed full of food and hardly able to move the waitress delivered two deserts to our table, compliments of the restaurant – yes we were full but this was free cheesecake and a chocolate pud, of course we managed to force them down. We slept like stuffed logs with the sound of the sea lapping on the beach beside us.
This morning Dave was given a clean out, sand and dog fur accumulate at an alarming rate these days. Soon it was time to bid a sad farewell to Denis and Carol, however once again we got talking. We could chat to those two for days about their adventures, so eventually Carol had to pull Denis away and force him behind the wheel; the local bus was due and they would be blocked in if they didn't leave. We wandered up to the local newsagents which we bought the top up voucher from yesterday and while Jay got it swapped for an internet one, I browsed the newspaper stand and was surprised to see a copy of Woman's Own!
Heading back to Dave we nipped into the small shop behind where we had parked as I wanted Jay to enjoy the wonder that I had yesterday when I went to get some bread. It looks like a tiny seaside shop selling postcards, sunglasses and plastic bucket and spade sets, but step inside and there is a veritable supermarket's worth of stuff including a cheese and meat counter, a selection of tasty cakes and a freezer full of mini ice creams that you buy by the kilo. We picked up some Kalamata olives as our friend and font of information Rose from 731 Report tells us they are the best they've ever tasted. As we reached the till to pay the draw was open with all the money on show and no staff around, people here are so trusting; we've lost count of the number of mopeds we've seen with the keys still in or trucks with the windows left down all day – it's such a refreshing change.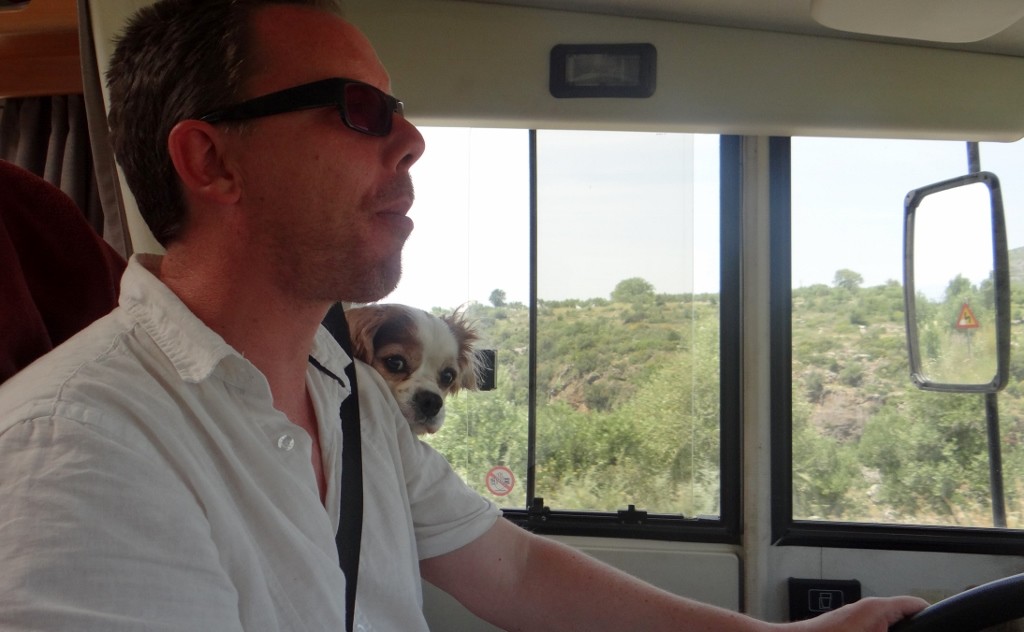 Eventually we hit the road following the coast south, we wound our way along narrow lanes lines with olive trees, their branches reaching out to grab Dave as he passed. Entering a tiny village we were stopped in our tracks by a parked car, the gap just wasn't big enough for Dave to get through. The owner of the car appeared and drove it through the town, turned around and passed us at a wider section of road.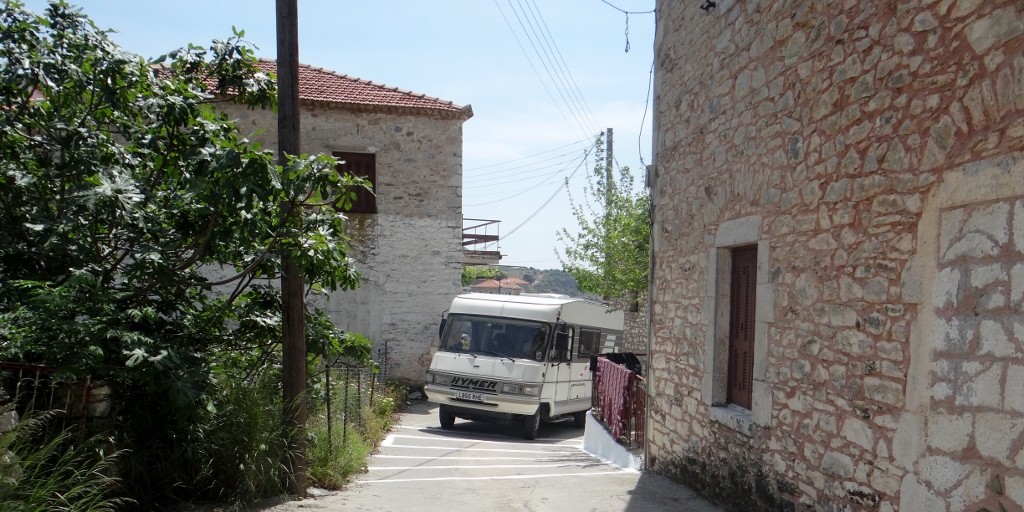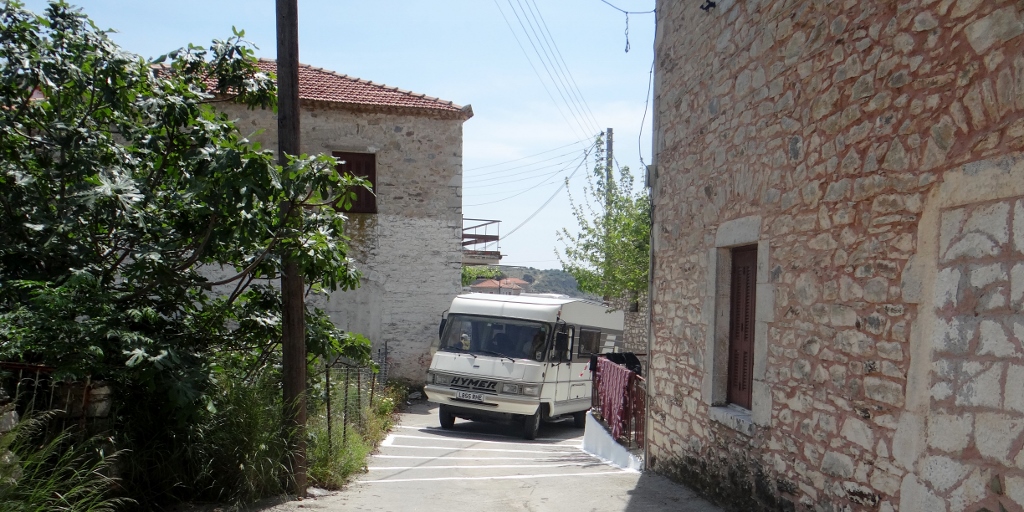 Ducking as we drove under low balconies, we breathed a collective sigh of relief as we escaped the village. It was followed by a sigh as the road petered out into a dirt track – we were going to have to turn around and go through it all again.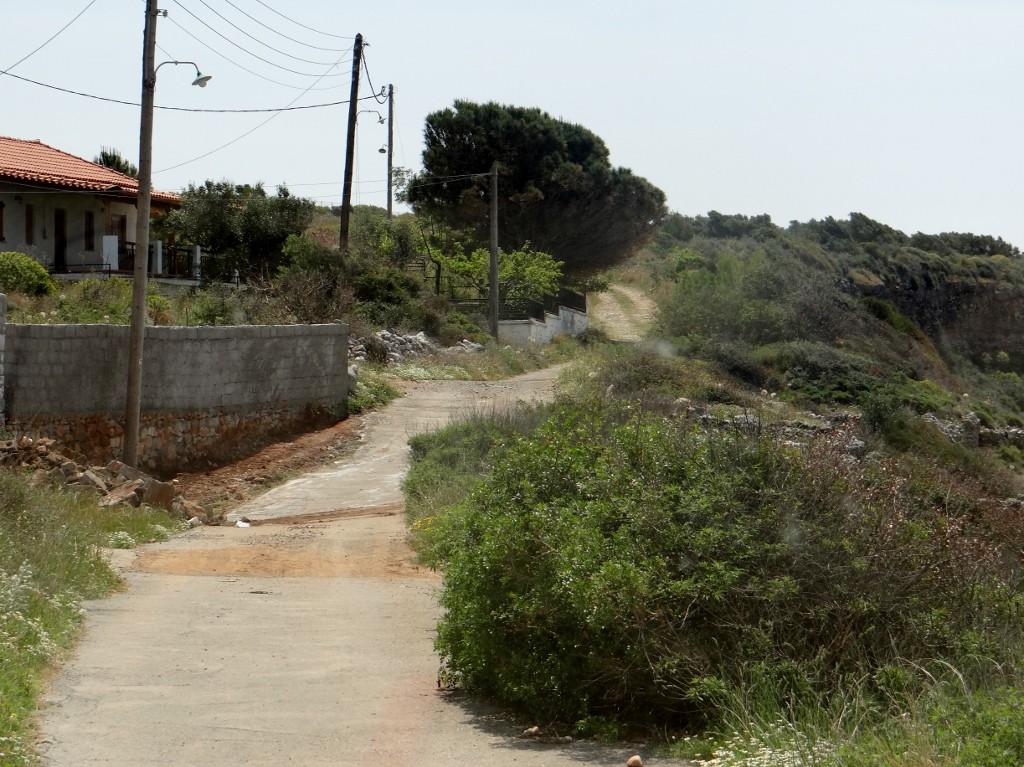 Half an hour later we were back at where we'd slept last night, so we retraced our tyre tracks back to the main road and followed it as it climbed up over the headlands. We stopped for a spot of lunch at a lay-by offering a stunning view back down to Ag Nikolas and Stoupa before trundling along through tiny villages.


In Ag Nikonas a mystery presented itself. The road had two bricks on it, then further on a plate and another brick, all being closely watched by a man. It was like solving a puzzle before you reached the objects – an errant tyre track in a fresh patch of concrete by one of the bricks gave the game away; DIY road repairs. Jay danced Dave around the objects under the watchful eye of the repairer, who nodded his approval at our cautious manoeuvre.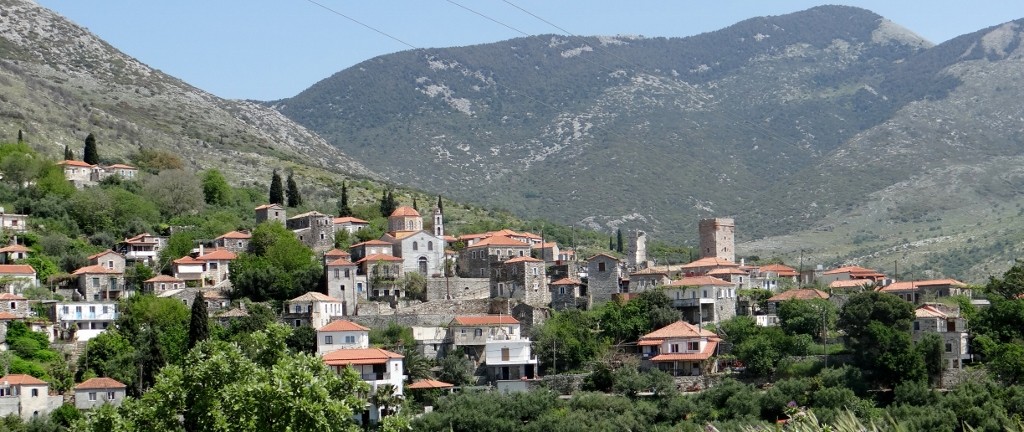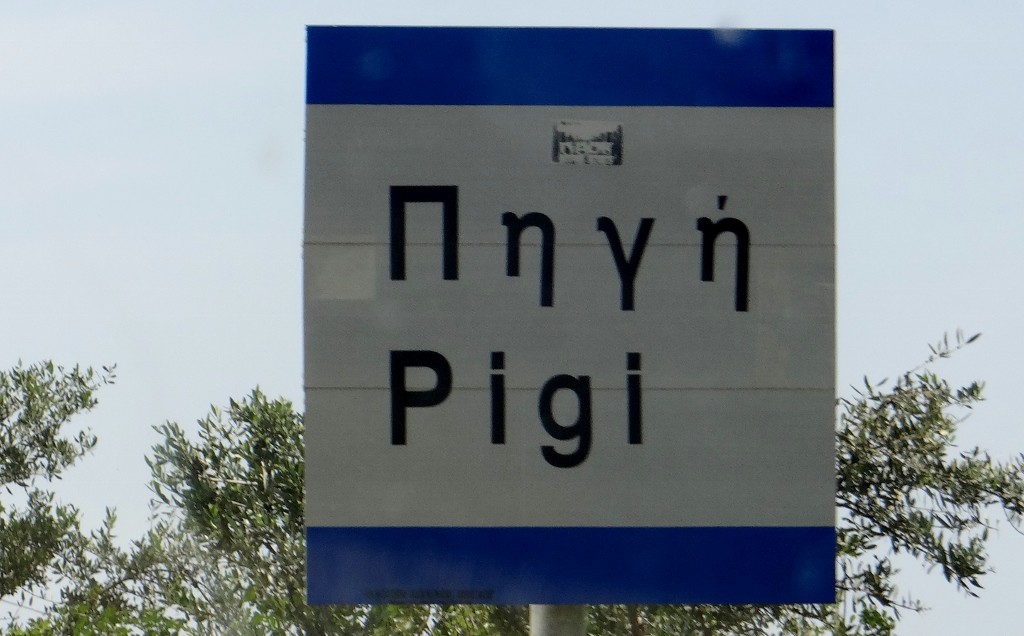 The road stretched out along a peninsular, working its way downwards before turning and dropping us back down to sea level at Neo Itylo. Following Denis and Carol's instructions we drove on past the Free Motorhome Parking signs (a local taverna offering parking in exchange for buying a meal) and carried on to the beach. Here we joined three other motorhomes by the beach. Our position in the middle of the bay (as opposed to the taverna which is perched at the side), gives us a stunning view. Behind us the land rises to join the rocks of a cliff face glowing orange in the afternoon sun and either side of us lush green peninsulas thrust out into the sea.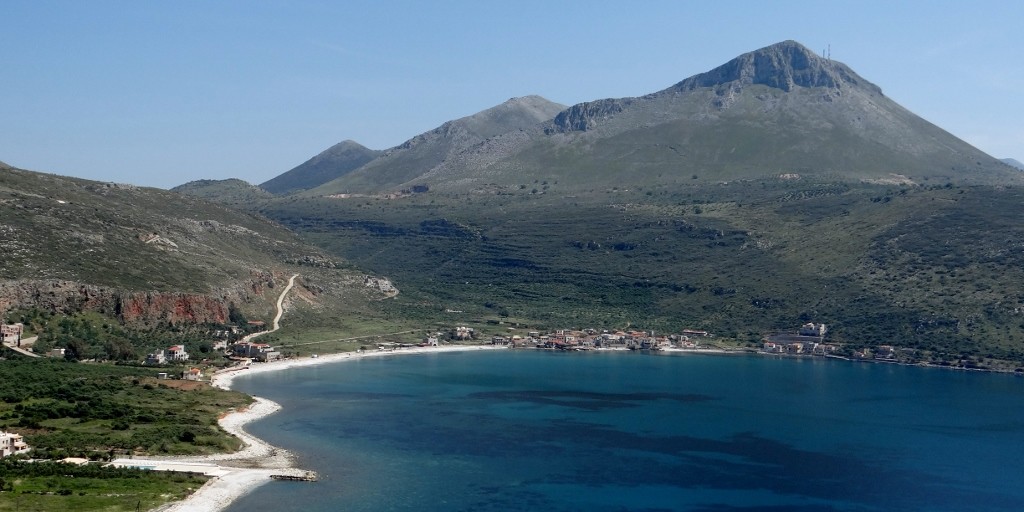 Charlie has had a couple of hours of stone chasing on the beach, but we had to come back into Dave as the heat from the sun was just too strong. Jay has been for a snorkel and now at 6.30pm the heat of the sun is finally relenting and we're down to 28°C. It's a good job there are some beers in the fridge!

Ju x