Dave the motorhome is feeling rich, he's in a paid camper only car park (N40.78052 E17.24509)! He hasn't paid to park for ages, but as we're in the tourist magnet town of Alberobello he's coughed up. It's free overnight, but to park in the day it's €8 – after so much free camping I was looking around expecting electric hook-up for that price.
Last night I really didn't sleep well. The signs around the car park said you couldn't park on festival days, but of course they don't mention when the festival days are. Looking on the internet didn't help; there are a couple of local saint festivals on April and August, but no mention if Easter Monday counted as one. Jay went on a walk and found a football stadium car park we could move to. It was about 500m away and empty – Italian's don't do walking – the only problem was Dave was cornered by Italian cars. We couldn't get out of his space, let alone the car park and through the car lined streets. So we waited.
10pm, our usual bedtime came and went, we were still blocked in. 11pm, nothing had moved in fact more cars were turning up. I remembered the parking signs in Ostuni, you had to pay 9am to 1pm and 7pm to 2am. In the UK most parking is 8am – 6pm, only a crazy place like Italy would have peak parking time until 2am. Around 11.30pm Jay was the first to submit and head for bed (apart from Charlie of course, who had been snoring since 8pm). Thankful that the clocks had gone forward I was able to last it out until midnight, but still nothing moved.
Sleep was fitful, a quick glance out of the curtains at any noise which might indicate a market about to set up around us. Shutter doors went up and down throughout the night, around 4am the bin lorries did a round and a few of the cars had left. 5am and the bloke driving the car nearest to us was dropped off to pick up it up – the strange thing being all this time there were still cars driving around the town. After 3am back home only taxis dare to venture out. When the sun rose just after 6am I finally nodded off, waking at 9.30 we figured Easter Monday isn't a festival day after all.
Alberobello was only a short drive away. We followed the motorhome parking signs and edged our way through the heavy traffic to a large car park with several Italian motorhomes in it. After ten minutes of deciphering the numerous signs about parking restrictions (we finally worked out this car park is motorhomes only, you pay from 9am – 10pm but it's free overnight) I then spent another fifteen minutes trying to work out the ticket machine. It doesn't help when it only takes coins and one of the most helpful signs they could have put up: 'change machine around the corner', isn't there!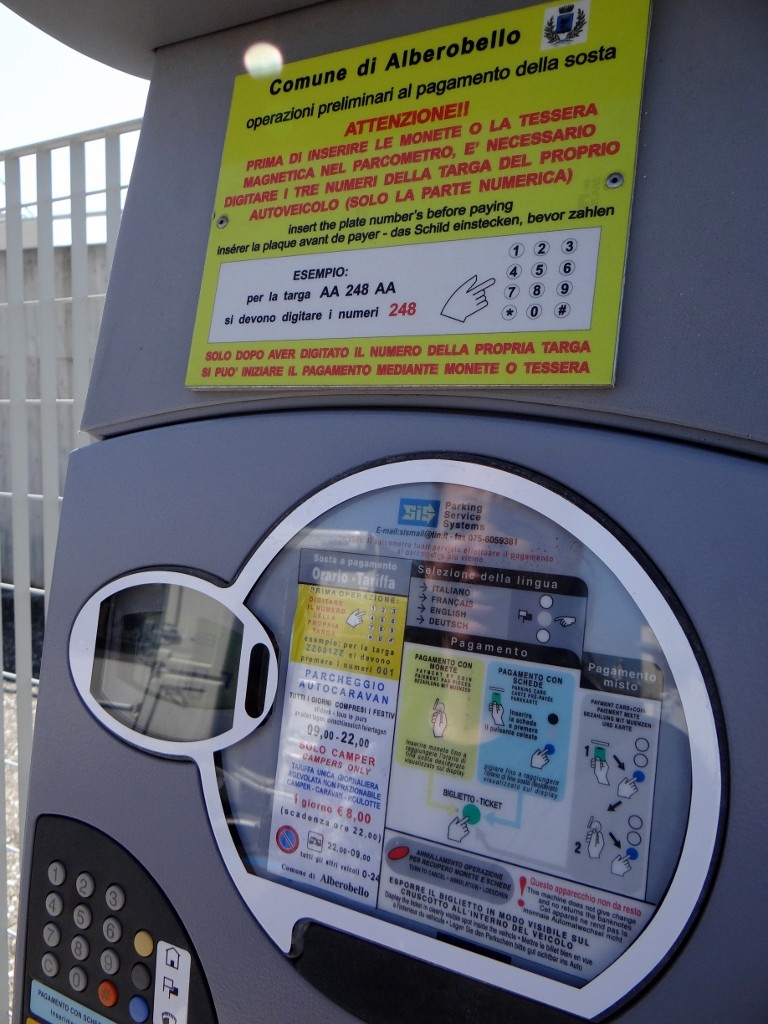 The sun was out, the sky was blue and there were crowds of people walking down the road in one direction, so we followed them. The local volunteer 'protection civil' were out in force blocking off roads, car parks were packed and the police were ticketing illegally parked cars – something must be going on in the town to warrant this much activity. There was something happening, but it wasn't an organised event; it was a day long passeggiata of people making the most of the bank holiday sunshine.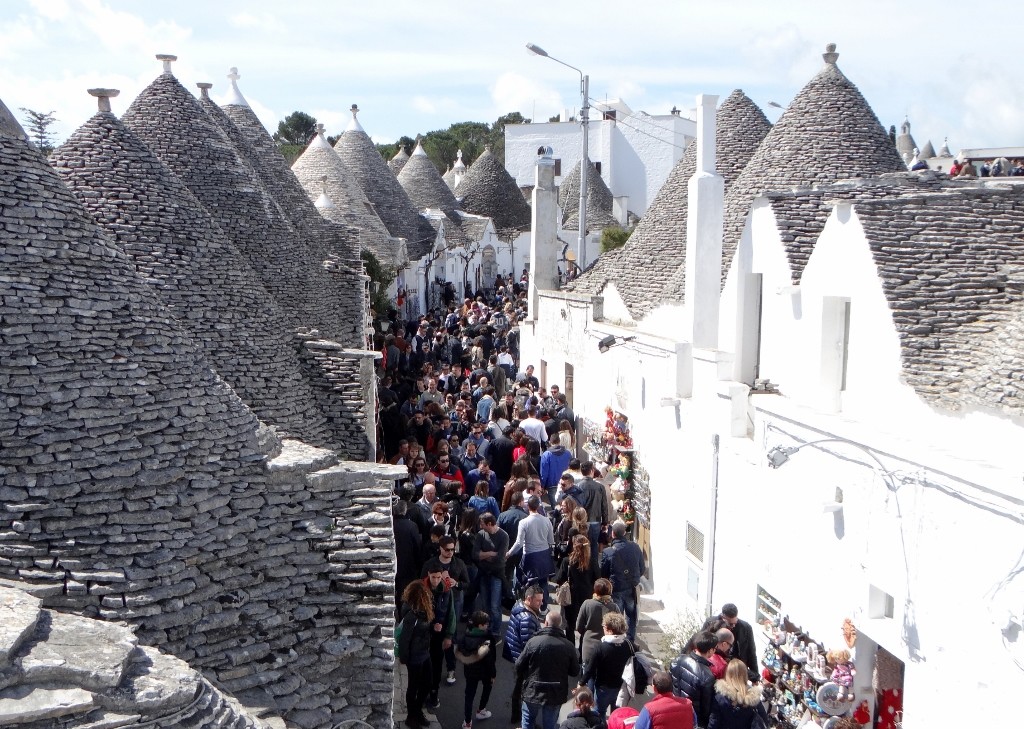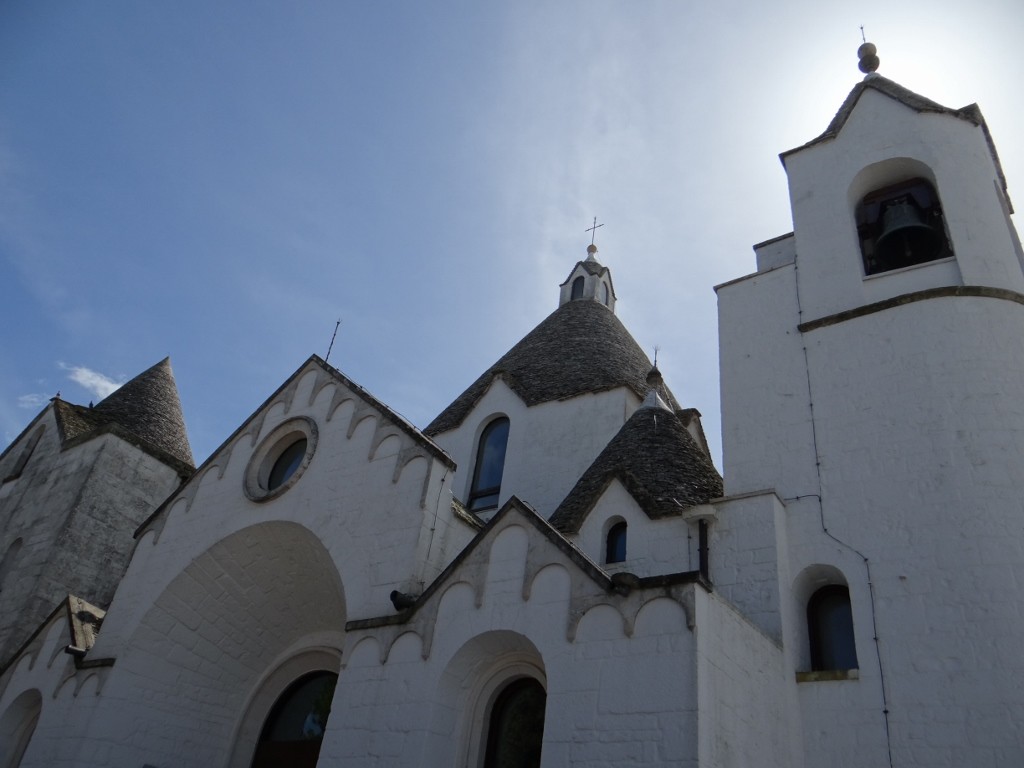 We joined in with the flow of people wandering down the narrow streets between the conical shaped houses. Here there are over 1500 in one area, so if you want to see a Trulli house, this is the place to be.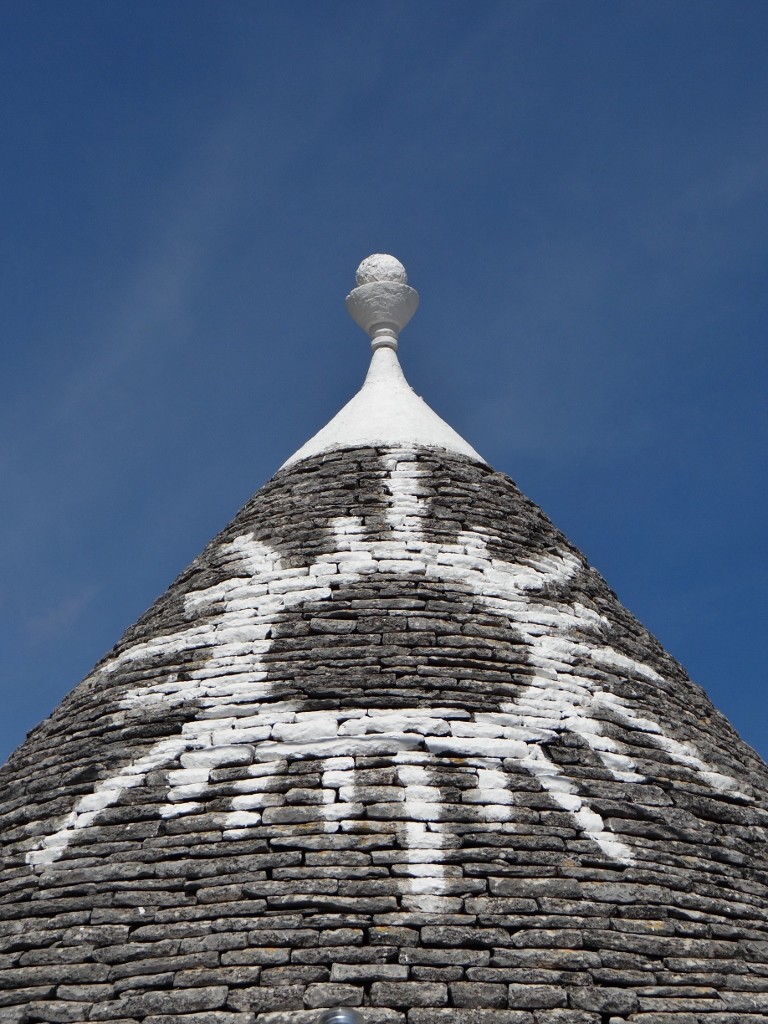 However they houses almost played second fiddle to the people as the Italians have a way of filling any space they are in with noise, passion and life. The side streets, where the Trulli had not been turned into souvenir shops and cafes, were deserted so Charlie could be put down to walk for a little bit – poor fella.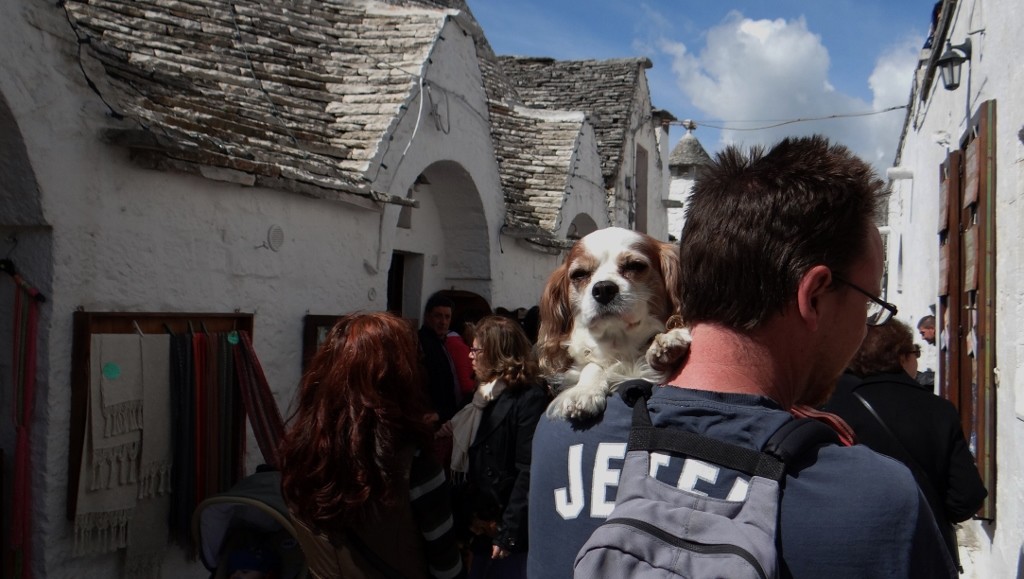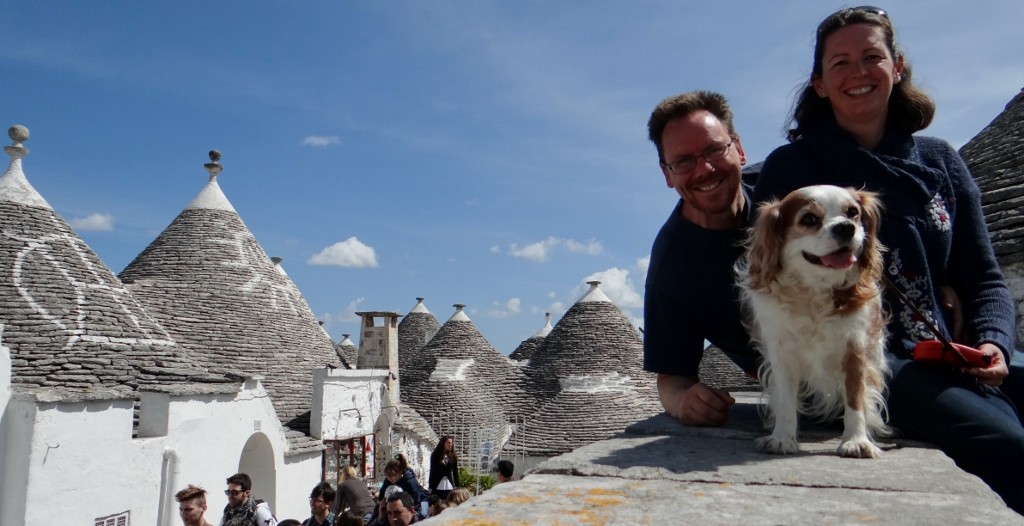 After a couple of hours we headed back to Dave for some lunch and to add the first of your travel stories onto our Your Tour pages. The town is on two hills which used to be split by a river (this has long since dried up) so this afternoon we headed out again to explore the other hill top.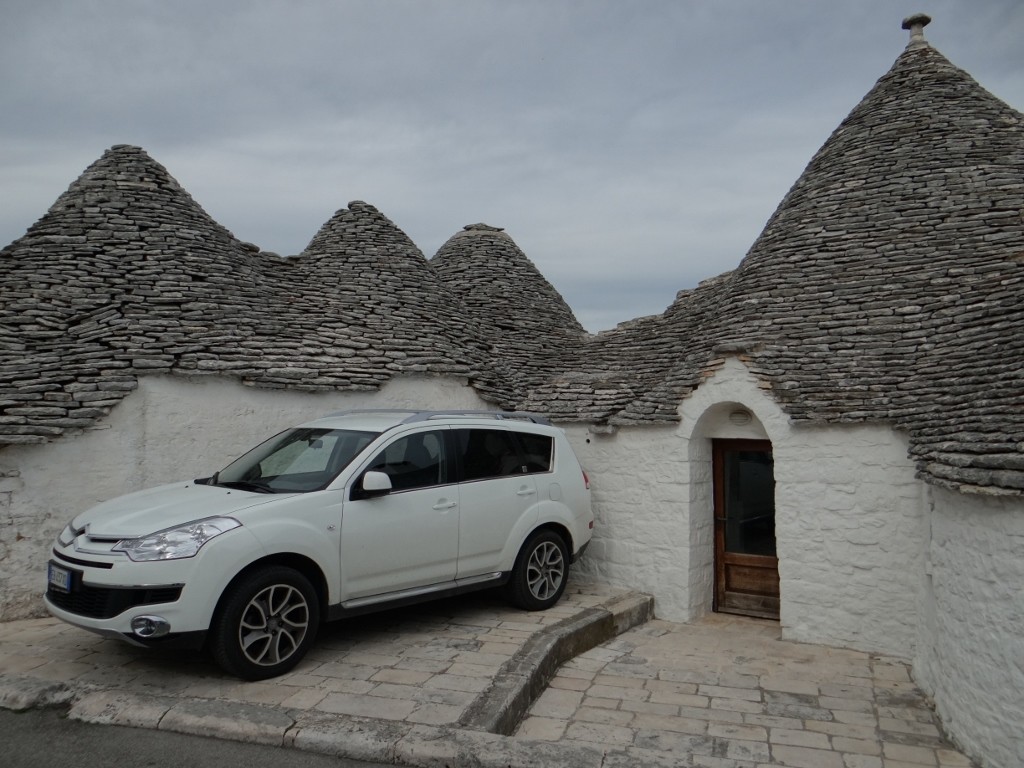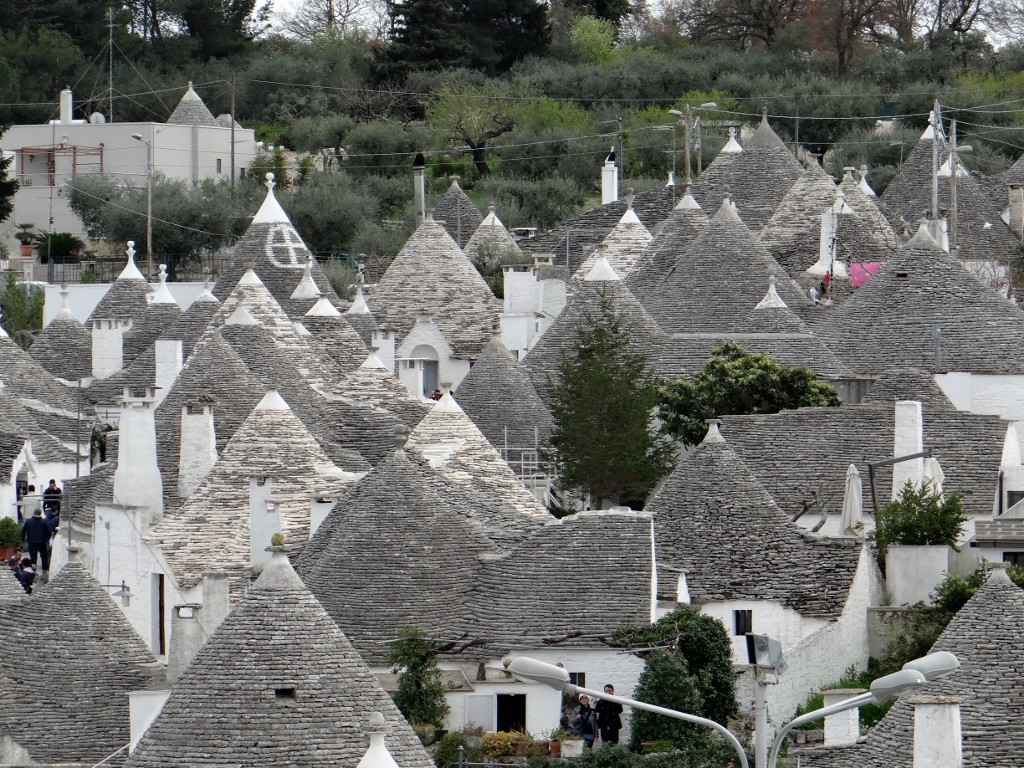 By now the sunshine had turned to light cloud, not so good for photos, but it didn't quell the number of people – the piazzas were full of families, the gelaterias were doing a roaring trade and the tat shops will need to order a redelivery of bird tweet whistles first thing tomorrow.
I really like it here, but I think it will be a totally different place tomorrow. Most of the Italian motorhomes have left, work calls for them in the morning. But we don't have work tomorrow – or the next day :) – and we're not going anywhere tonight, so my Easter Strongbow has finally been opened.  I've helped a fellow non-Italian motorhomer to decipher the pay machine (thank goodness it wasn't just me struggling), Charlie is snoring (again) and Jay is savouring his Easter bottle of Old Speckled Hen. Hope you've all had a great Easter too.

Ju x