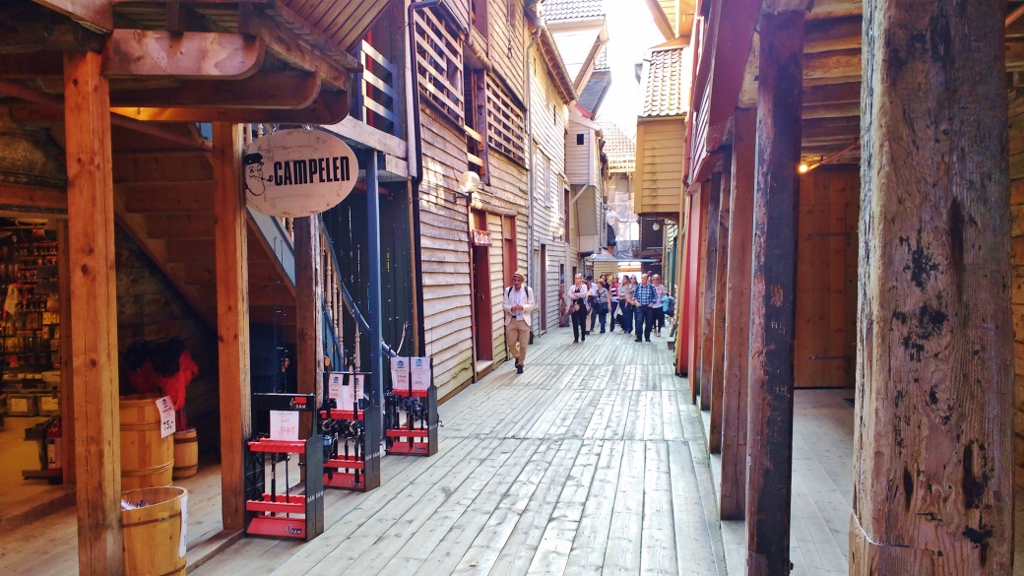 Zagan the motorhome has spent the last couple of days at eye level with a trampoline, enveloped by someone's garden in the rather strange Midttun Motell and Camping, 13 kilometres from the centre of Bergen (N60.32086, E5.36483).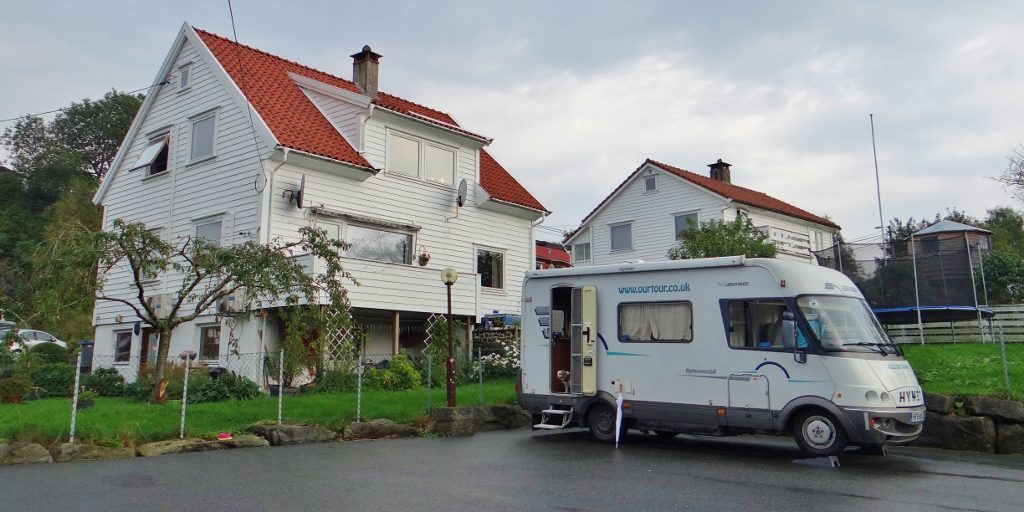 Before we left our overnight spot by the waterfall, I contacted the Tourist Office in Bergen, as I could only find once place we could park in Bergen, and had conflicting reports as to if it was open. Their reply came through and told us that the spaces at the Bergenshallen aire closed on 1 September, and were now used for something else, so we would have to go to a campsite. We already knew that all the car parks charged in the town and space was at a bit of a premium. Also, being honest, since our friends Richard and Jenny had an attempted break in  in Trondheim, we're a tad less confident than we were when it comes to feeling totally safe in Scandinavia. So after a quick drive by of a potential spot at a train station out of town, which ended up as a no good due to building works, we made our way to the closest campsite to the town.
Jay let out a bit of a gasp when I told him that to park in what is effectively a car park it was 250 Nok a night (about £25), with WiFi, electricity and showers all being extra. But with few other options, and feeling a tad frazzled from a lot of driving, we booked in for a couple of nights. Before long the sky roared with thunder and the rain started, so instead of two days looking around Bergen we opted to stay in the van and chill out. In the evening when the skies cleared we took Charlie for a walk to scout out where the tram went from and found a nice little town just 10 minutes down the road from the campsite. The whole place had the smell of fresh coffee, which is always welcoming, and we later discovered that between the camping and the town is Norway's largest coffee producer Friele. Our noses were in for a treat over the next couple of days.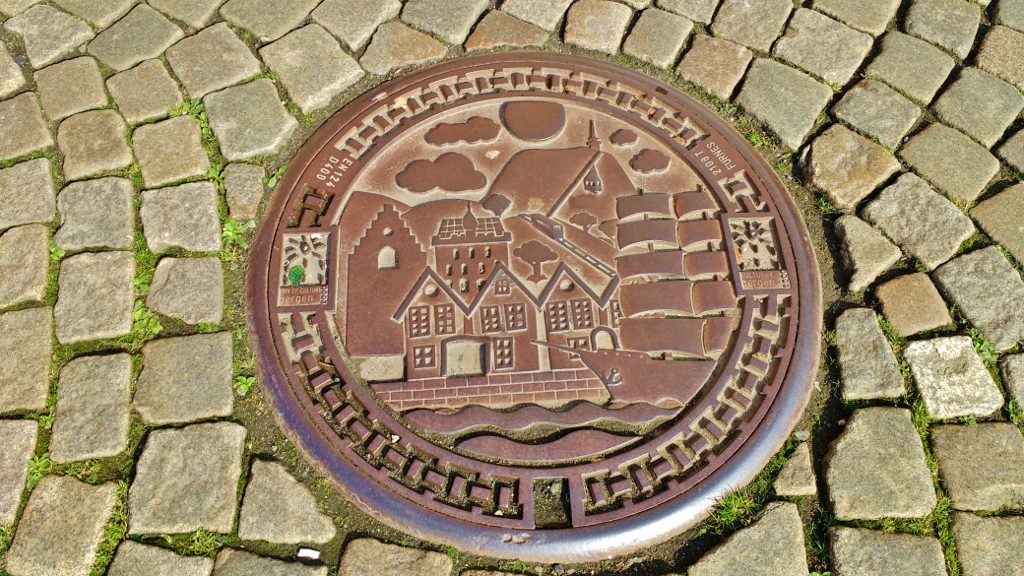 We woke on Thursday to one of those mornings like you get on holiday around the Med. It's still cool and a bit hazy, but you know the sun will soon burn it off and you're in for a scorcher! Wrapping Zagan's silver screens around his windscreen and closing all the thermal curtains we topped up Charlie's water bowl before heading off for the tram. Normally Charlie goes pretty much everywhere with us, but these days he isn't a fan of walking too far, and we knew Bergen would be some legwork. After long discussions we agreed to leave him to sleep in the van, and we would come back if the weather got too hot.
The tram in was quick and easy, just 36 Nok each (one way). As we were whisked along we passed Bergenshallen, only to see a row of campervans happily parked up – grrr! It did put me in a bit of a bad mood for a while as we had just forked out £50 for something we didn't need. But it's one of those things, some you win, some you end up paying a little more than you should, it wasn't going to ruin our day – but if you are ever visiting Bergen pop there first!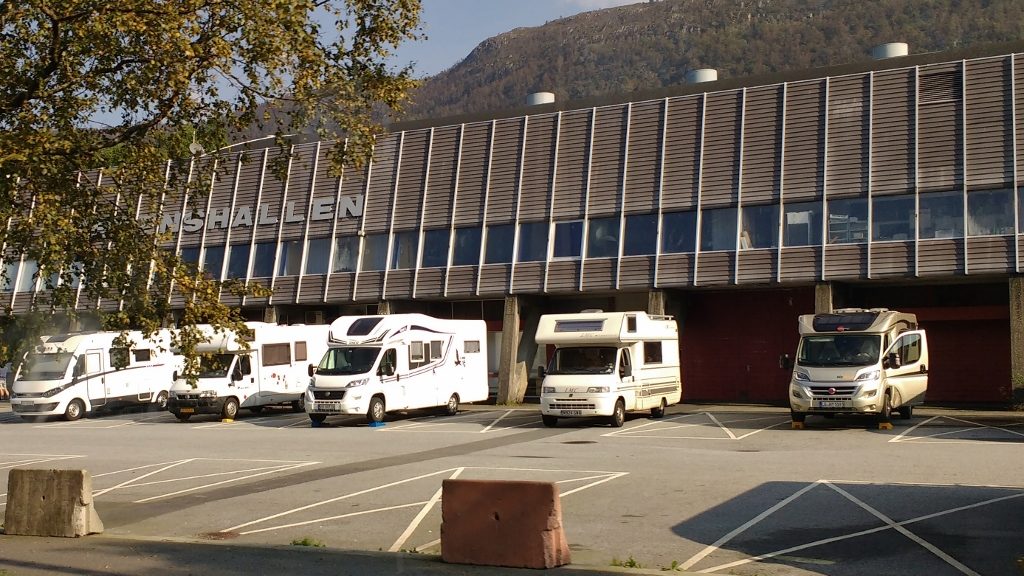 Arriving in Bergen the city felt lovely. It was warm and sunny and we had been dropped off right in the centre next to a small garden, a flowering bandstand and a fountain. Knowing that the city is small enough not to get lost, we just wandered around. Firstly heading for Johanneskirken (St John's Church – but no one knows which St John it is named after) which rose up on a hill among the wooden houses. We haven't been in a church for ages as for some reason they tend to charge an entry fee in Norway, but a sign outside said the church was open so we ventured in. The interior was very plain with an unusual image of Jesus painted over the altar, instead of the usual image on the cross, he had his head bent in prayer.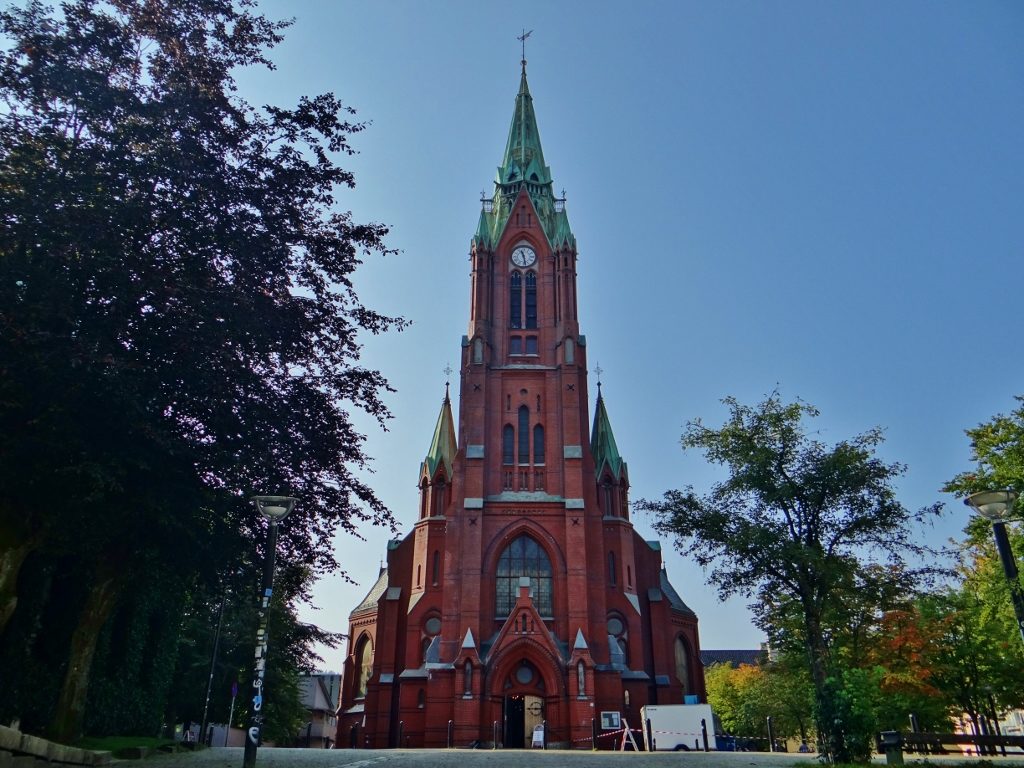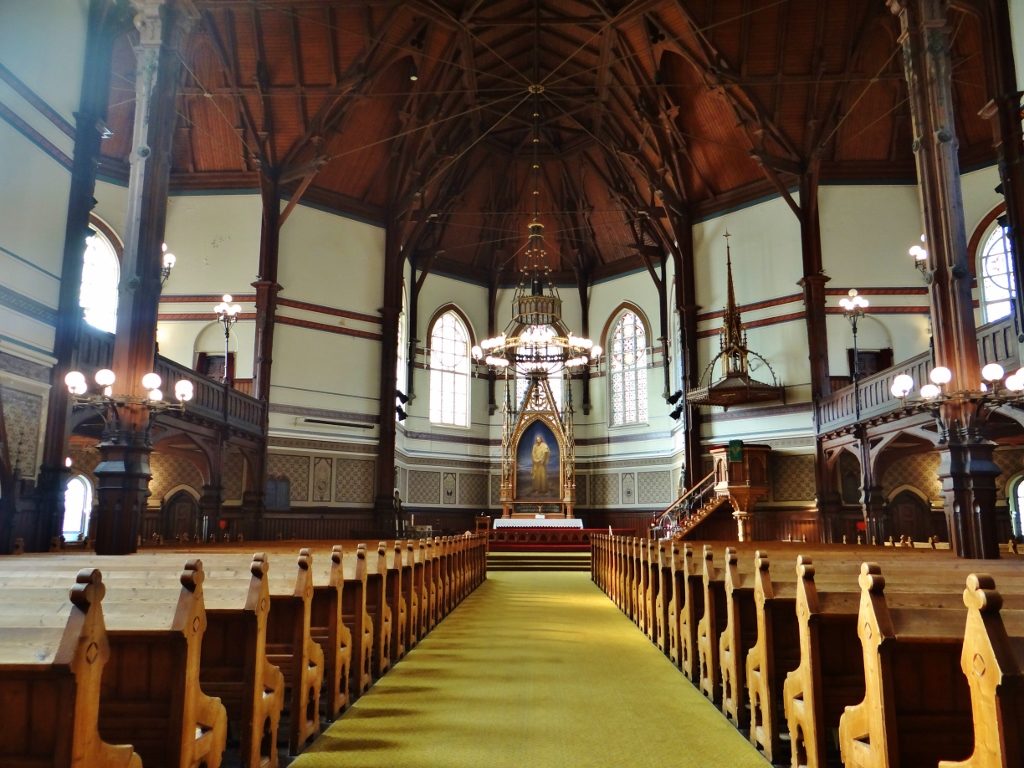 After that we wandered around the cobbled streets with wooden houses, looking out over the port we saw the Hurtigruten, for the last time, docked ready to start its journey up the coast we have just travelled down in the last two months. Office blocks replaced the wooden houses for a bit then we were on the edge of the harbour opposite the UNESCO listed Bryggen (wharf). The multicoloured wooden houses looking very much like the miniatures you could buy in the souvenir shops.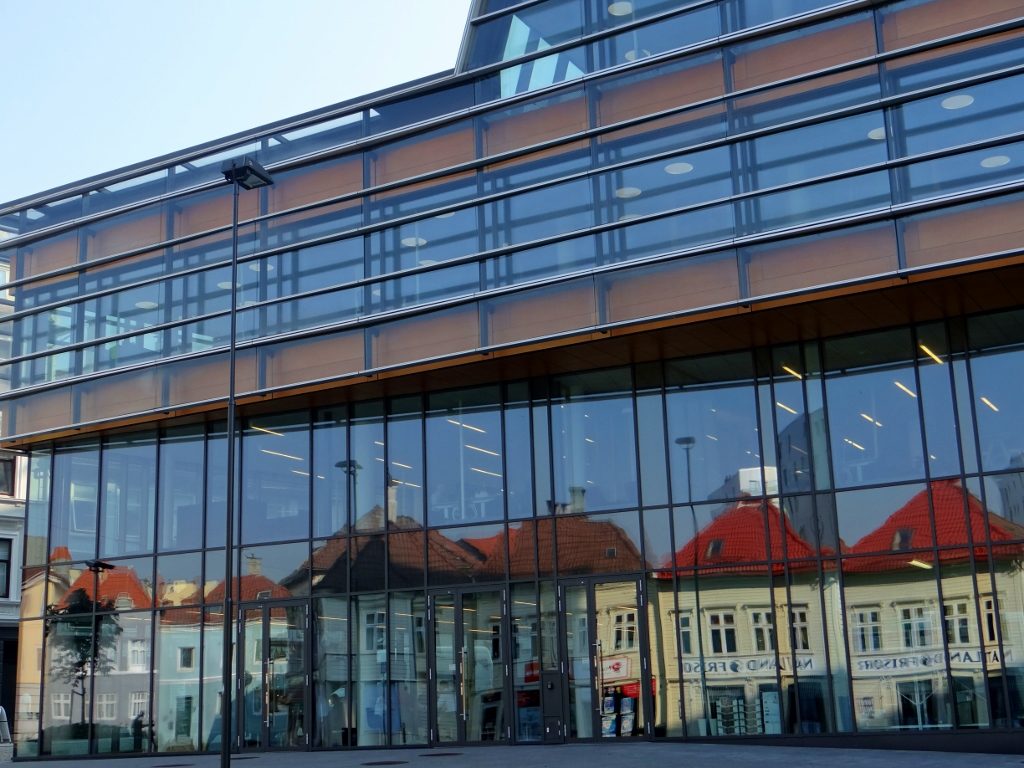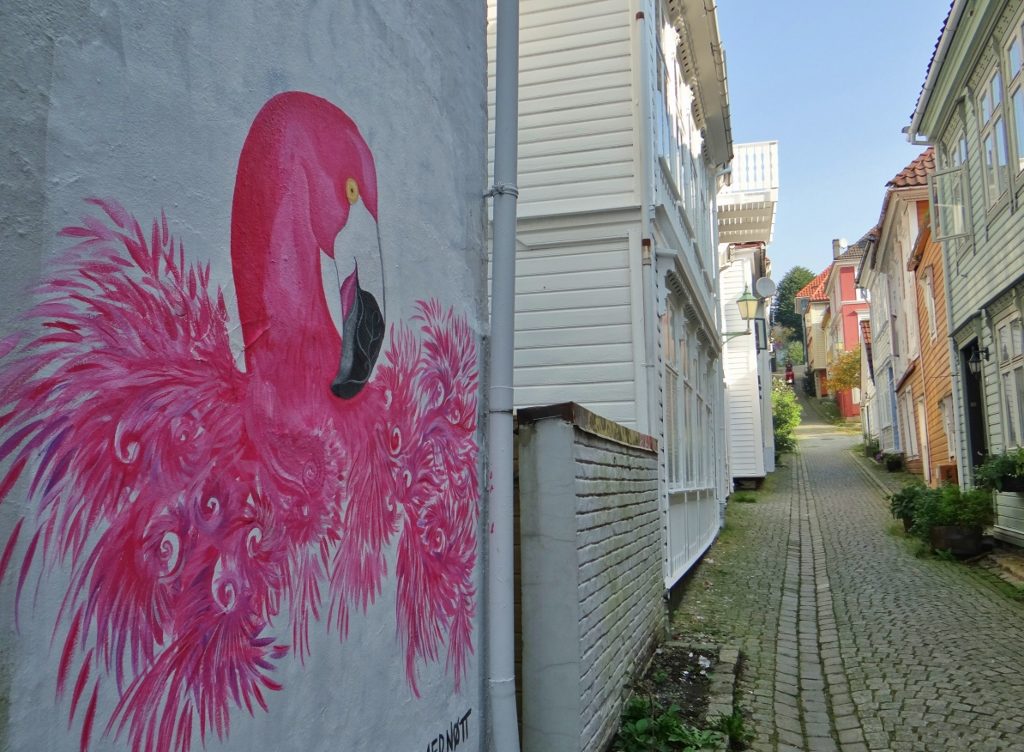 A walk along the quayside and I was keen to visit the famous Fish Market I had heard loads about, but I have to say I was a bit disappointed when we got there. I was expecting a proper fish market like we have seen across Europe, white tiled walls, tiled wet, slippy floors, ice and traders shouting out their best offers. If Porsche were to do a fish market, I think this would be it. Glass walls, sleek counters (only two of which had fish on them, the others selling some veggies or souvenir tins of caviar), not a raised voice, black and white clad waiting staff and restaurant tables and chairs.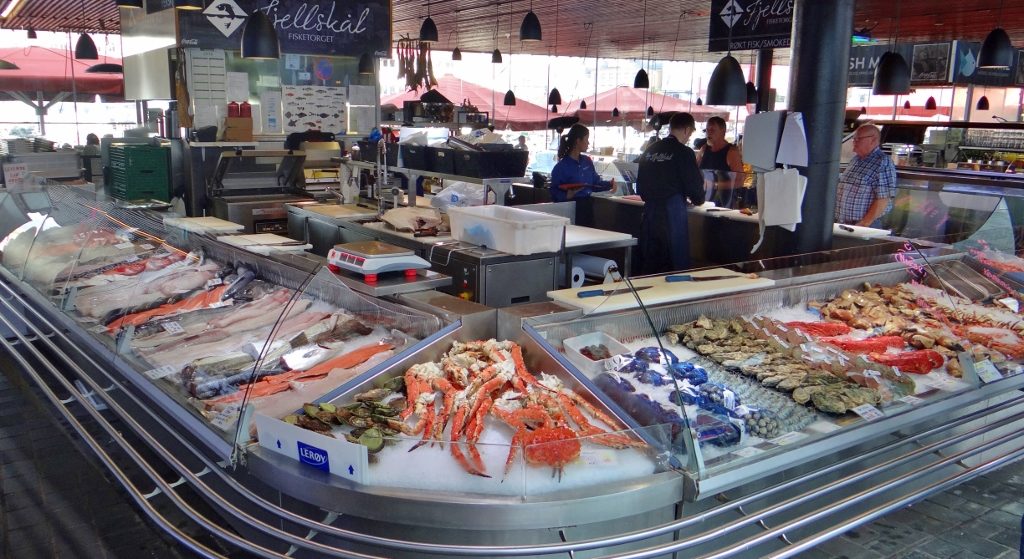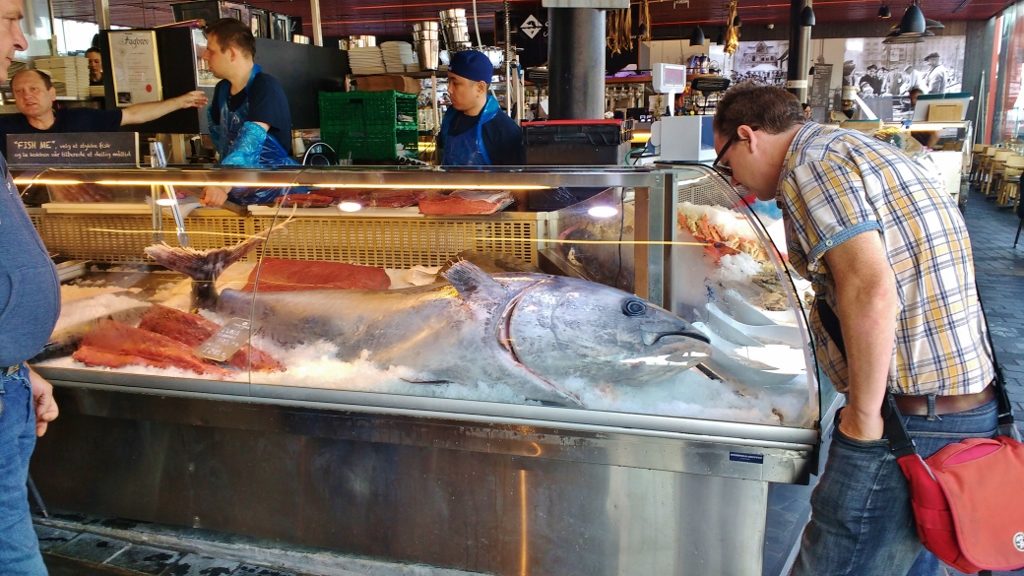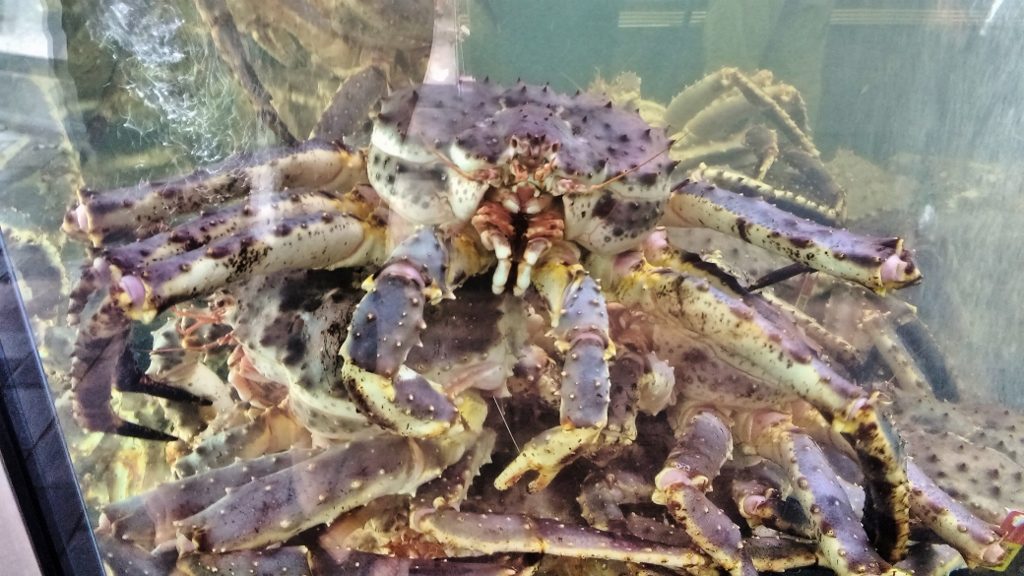 After a very quick look around, we parked ourselves on a bench in the sun overlooking the water with the restaurants behind us and had a chocolate bar for lunch. Then Jay did something very unexpected, he suggested we have fish and chips from the fish market for lunch as an early birthday treat for me. Fish and chips is one of the main foods we talk about when we sit and discus what foods we are missing while in Norway, so I wasn't going to say no. I wandered back into the fish market and ordered a large Norwegian fish and chips to take away. At 150 Nok (£15) we weren't going to have one each, but there was plenty of food for both of us. We sat in the sun on the quayside, eating various types of fish and batter and breadcrumbs while the tables three feet behind us were full of folks in the shade eating the same stuff but at a higher price because it was off a plate – personally I think ours tasted best.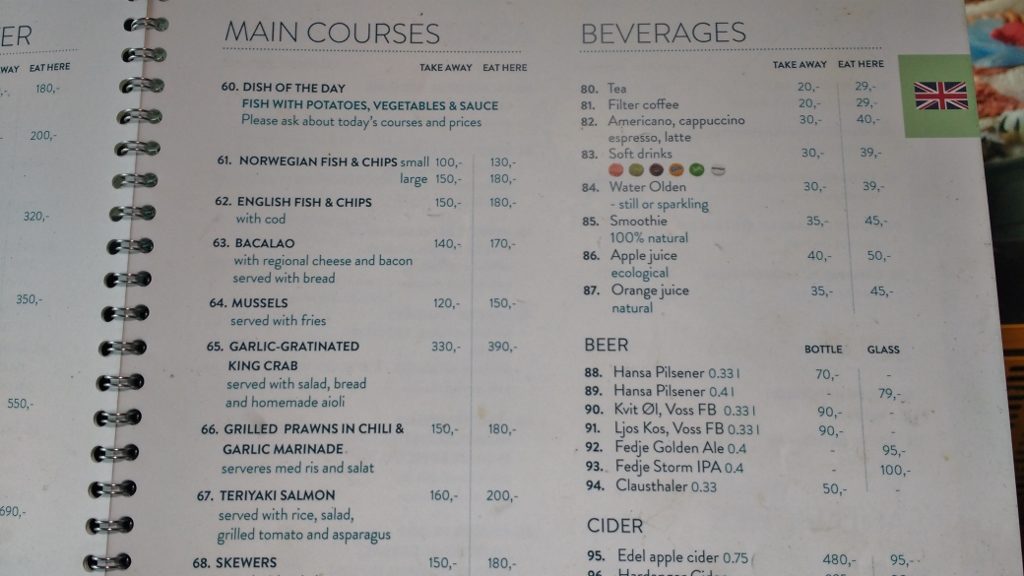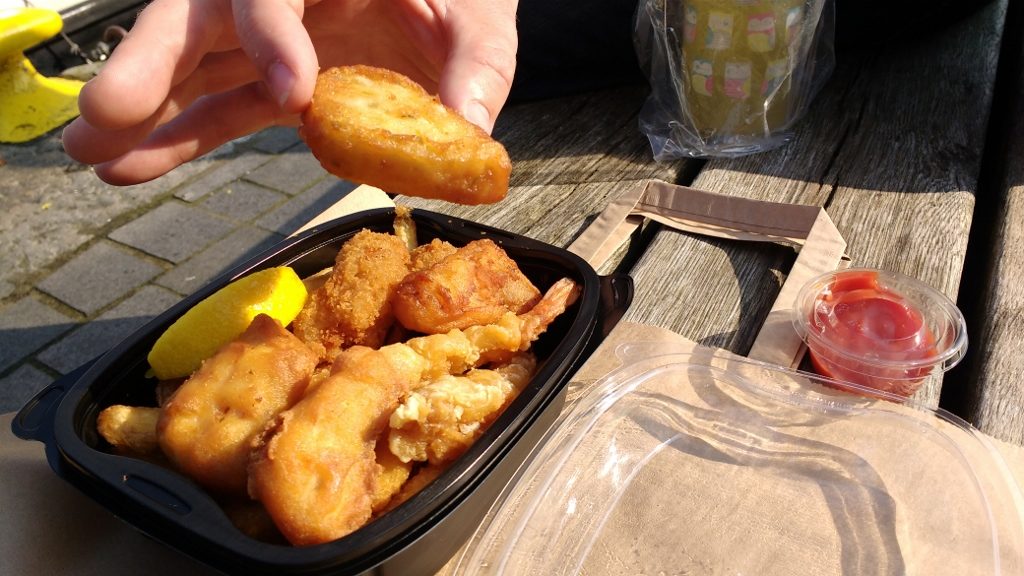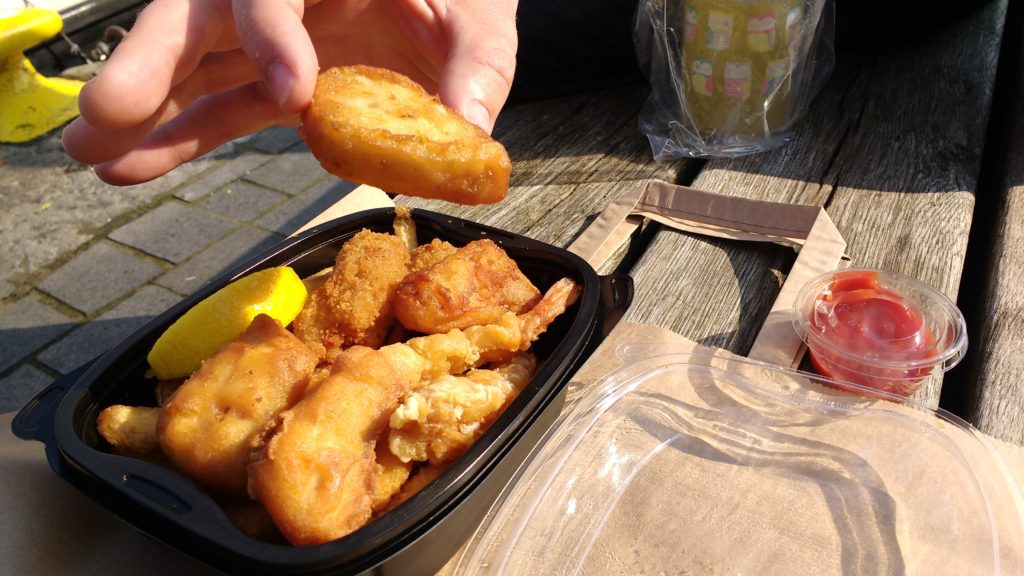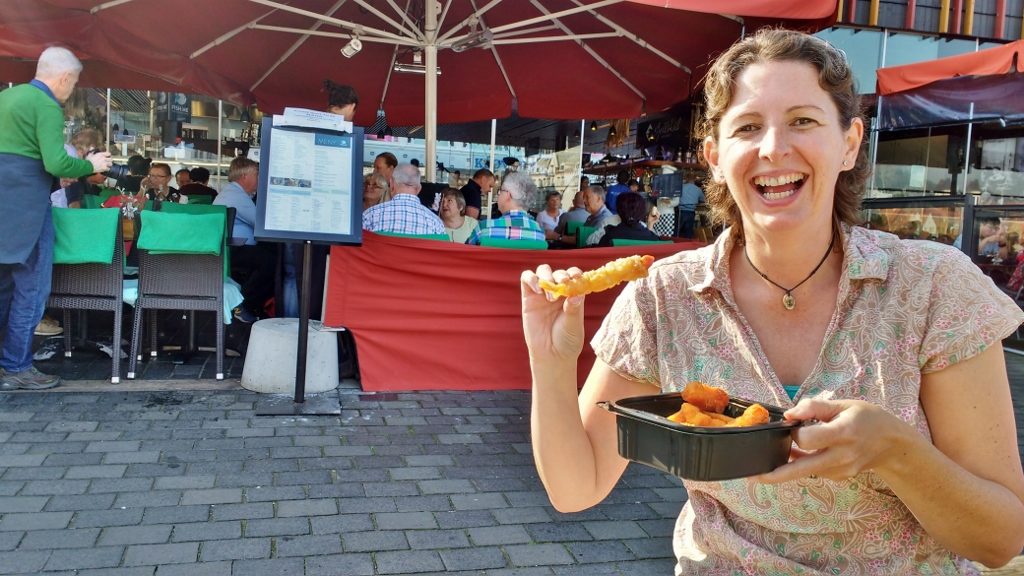 After lunch we walked around the end of the harbour and saw stalls set selling the same stuff as in the indoor fish market, alongside reindeer, elk or whale sausages, at about the same price – so I'm not sure which was the true fish market, to be honest, I didn't care, I had a very full tummy. Reaching the Bryggen we stood to admire the old buildings leaning in on each other (set on a wonk by a munitions ship exploding nearby during WW2), before heading between them into a network of narrow wooden alleyways, each filled with souvenir or arty shops.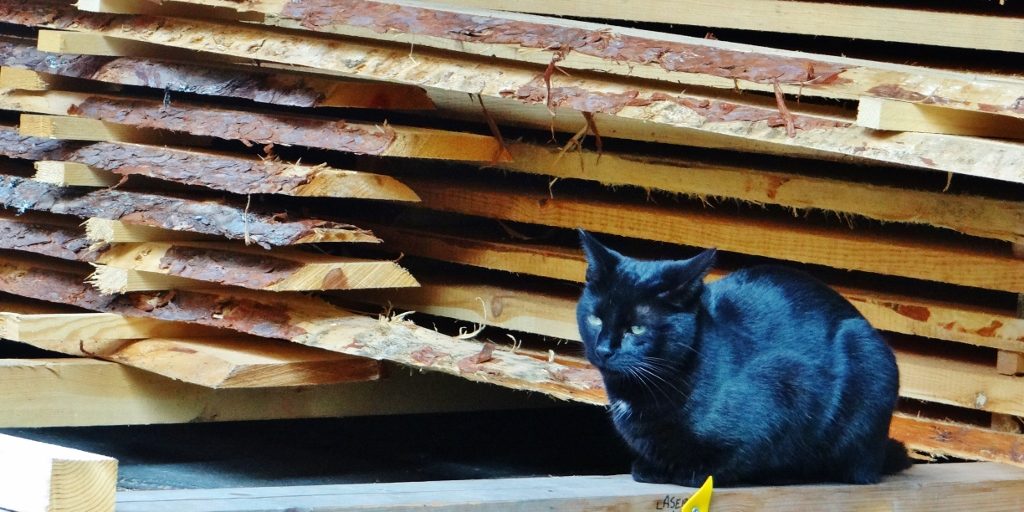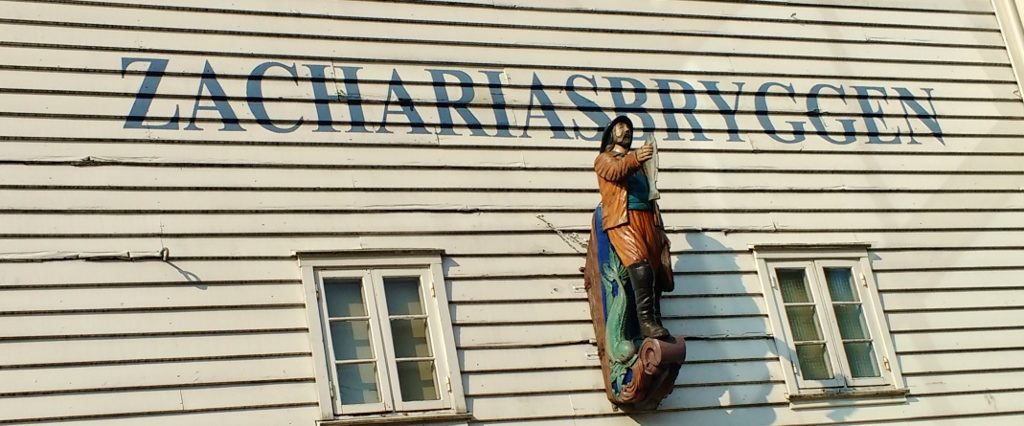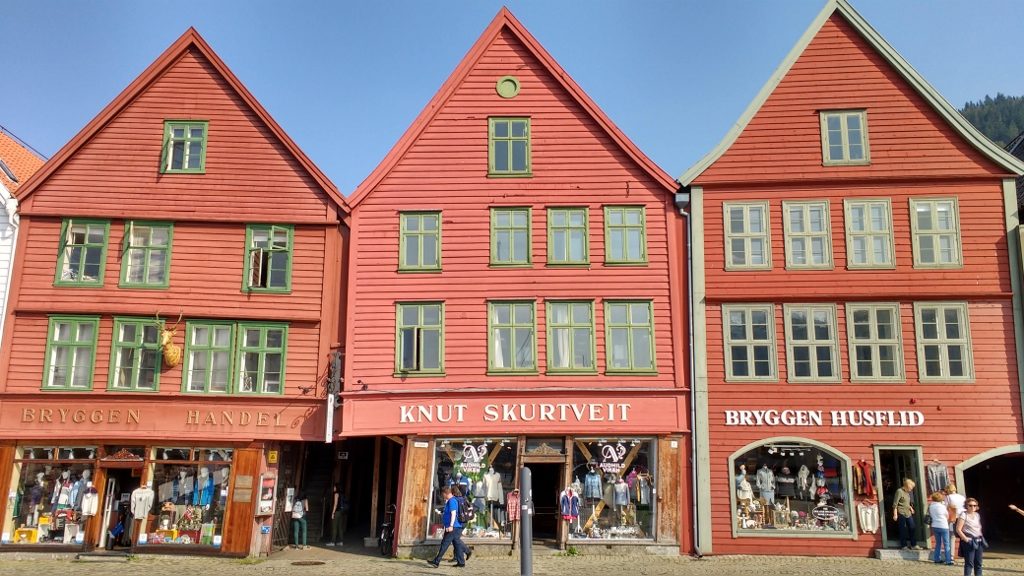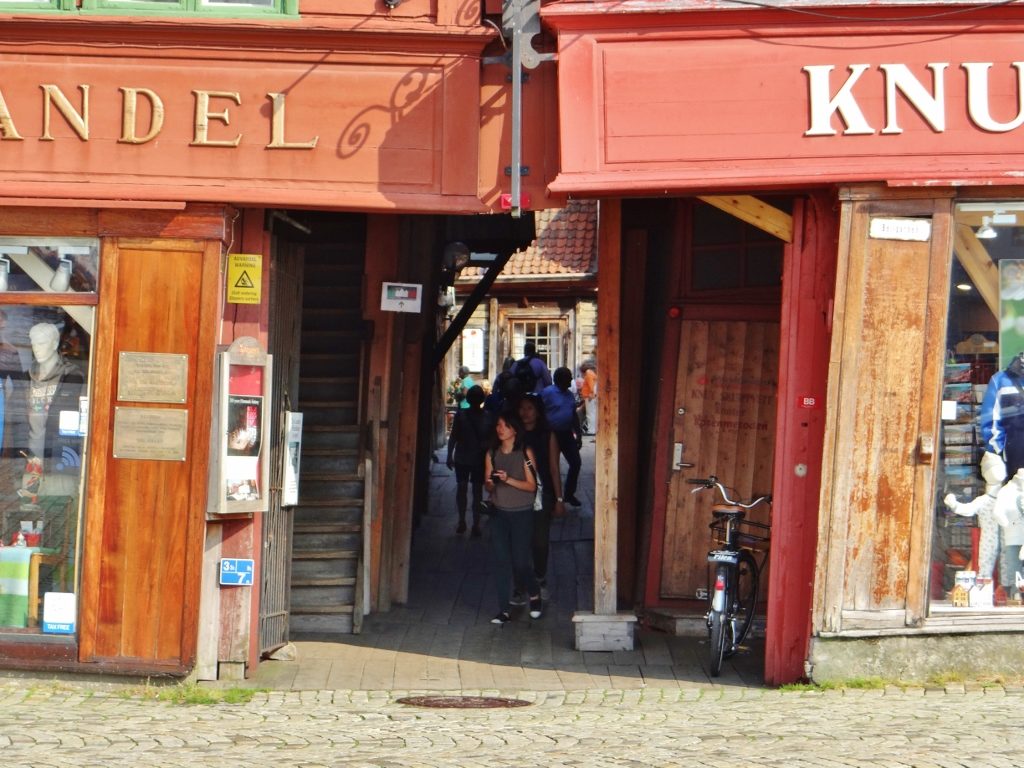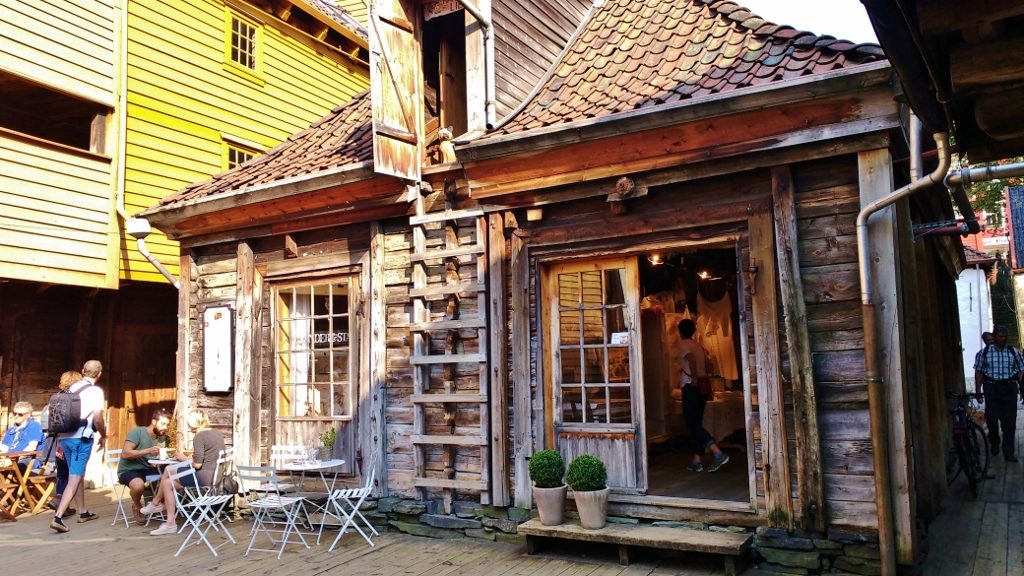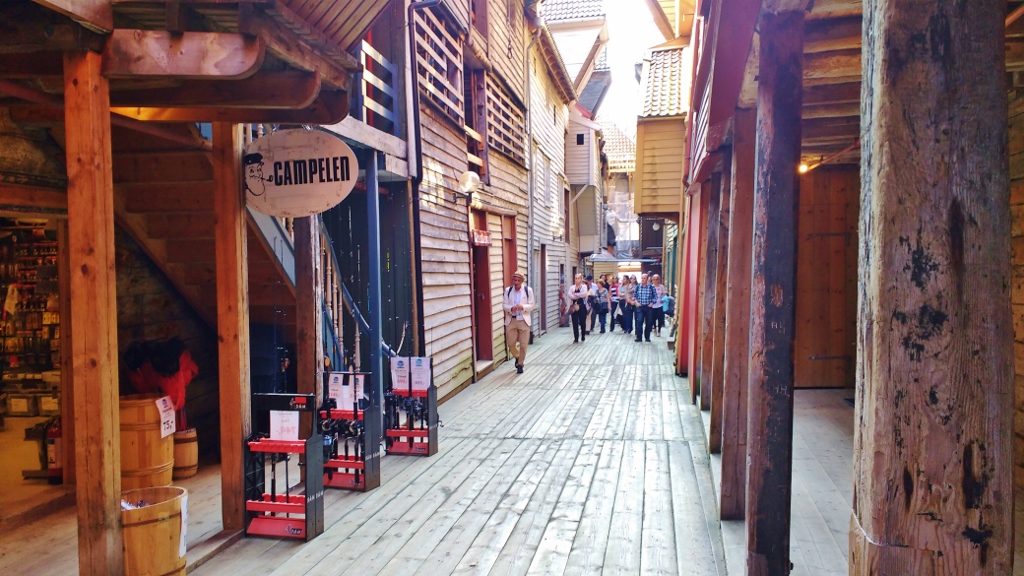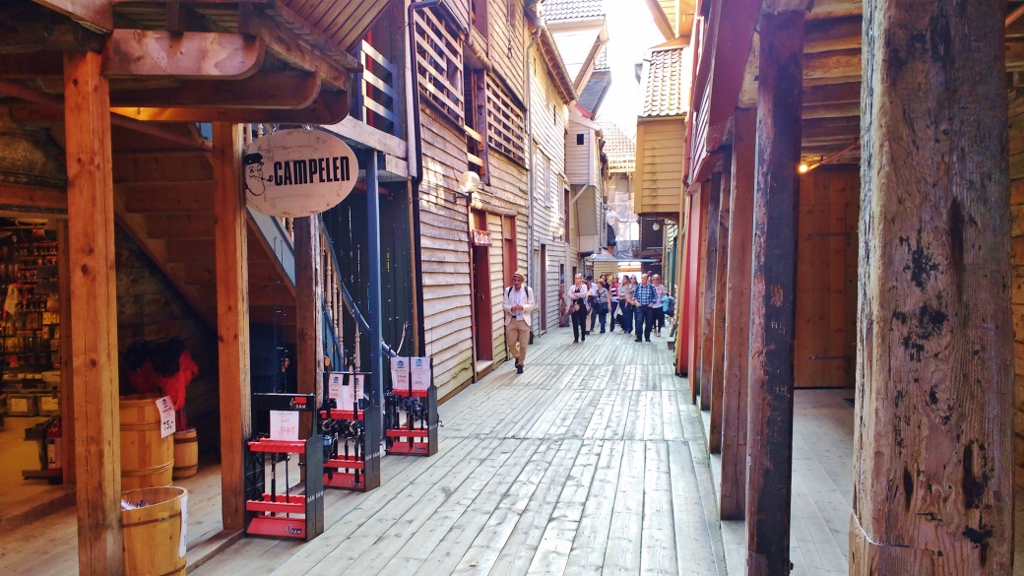 After a few hours of wandering around Bergen the temperature started to rise into the high 20's. We decided to forgo a trip up the cable car or Funicular railway and headed back on the tram to release the snoring Charlie. When we got back I made the most of being on a campsite and got a load of washing on and as we were hanging it out to dry, Andy, Anne and 8 month old Finn the dog from Adventures in Our Van pulled up next to us. They had emailed us when they realised we were in the same area. So we spent the rest of the afternoon and evening sitting in the sunshine chatting about plans and adventures to come, before retreating into Zagan once it started to cool. They are a couple of weeks into their six week trip and are heading north, so while we won't see them again on this adventure, I'm sure we'll meet up either on the road or pop in and see them back at home in the future.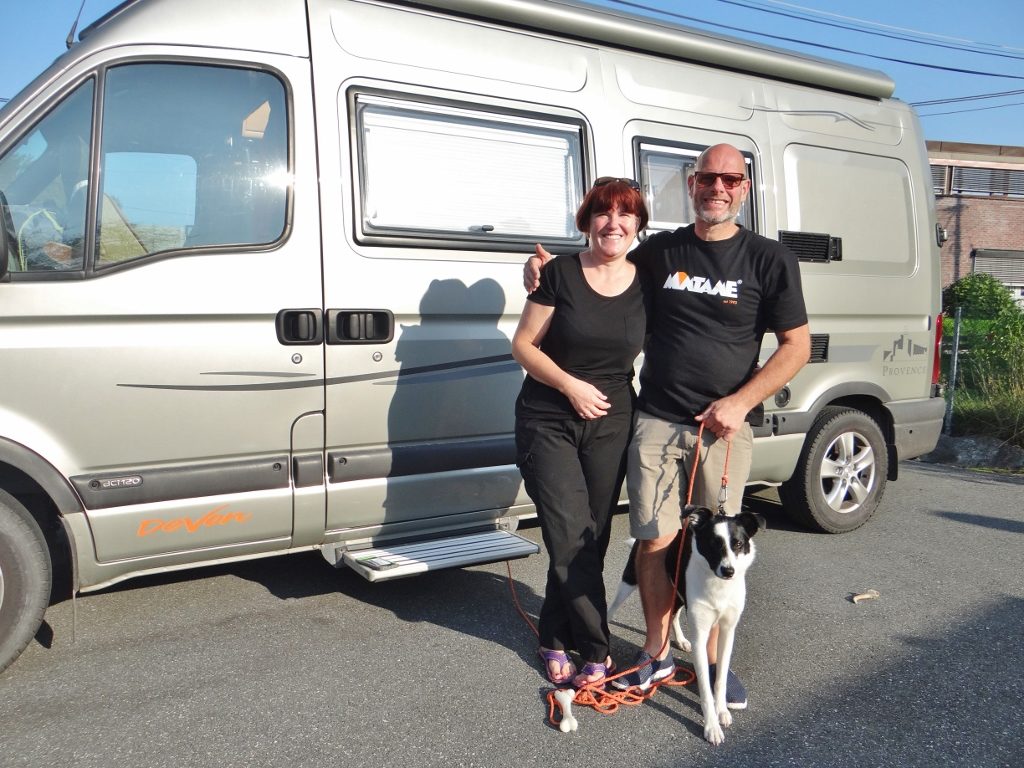 Ju x