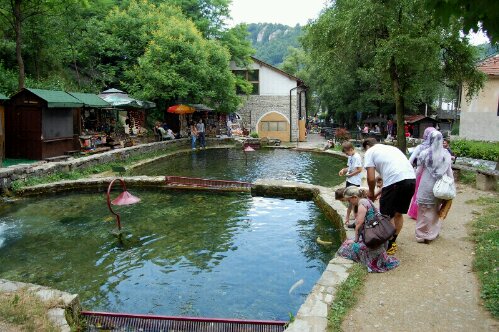 Dave the motorhome is resting on the banks of the river Vrbas (I think), just south of Jajce in Bosnia and Herzegovina (N44.23530 E17.30460).
We slept well last night. Dave had kept his cool from being parked under a canopy of trees all day and it was a nice change to want to wrap up under a sleeping bag.
We didn't wake til gone nine as the tree boughs kept the heat of the morning at bay. Paying our 44KM (€22), not bad for a campsite next to a capital city, and we're on our way again. Avoiding what appears to be the only toll road/motorway in the country, we bumbled along through tiny villages made up of Swiss style chalets. We laughed at the signs for obligatory snow chains over winter, right now we couldn't imagine it ever getting that cold here.
Winding our way along a lush green valley, it's sides edged with trees, the only way to tell we weren't in Switzerland was the slight unkemptness of it all. Far too many chalets awaited rendering to transform them from breeze block ugly ducklings into chocolate box swans, the lower levels of some chalets housed shops selling agricultural and ironmongery, products spilling out onto the dirt ground in front. A few abandoned buildings sat neglected, the land around them taken for parking or farming.
We passed many houses being built, usually by just one man wearing a vest and jeans – self build is the order of the day here – maybe money runs out before the render can be applied, maybe the renderers are all busy patching up buildings elsewhere? It's a shame as the countryside around is beautiful.
Reaching the town of Travnik we pull in for a leg stretch among it's towering minarets. We counted nine, we're told there are 14. Here men dress similarly, shorts with t-shirts or football tops, but the women's dress ranges from western 'vest top and tiny denim shorts' to full 'face covering' Burka, and everything in between. They say East meets West here and in this town it's clearly evident.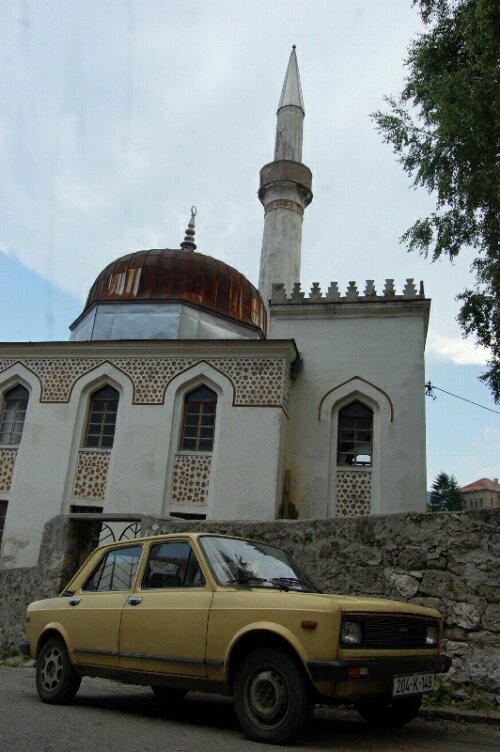 We climb up to the pale coloured medieval castle perched on a rocky hill side, protectively watching over the town. It was built in the 15th century to fend off the Turks, but never tested – the Bosnian state was already collapsing and it's defenders surrendered. Inside was a small museum, one area containing information on the history of the region, another outlines the extensive restoration which took several years from 2000. Another case of Trigger's Broom (so much new, none of the old remains)? Looking at the photographs it's improved the site and returned it, sympathetically, to some of its former glory.
A walk through the tiny alleyways between homes brings us to Plava Voda (Blue Water), where an icy mountain stream gushes into the town. The air here is cooler and people sit in the restaurants along its sides enjoying drinks and the freshest fish, which could be found minutes earlier swimming around in pools of water diverted from the stream just along from the restaurant. The eateries even sell fish food so children can pay for the privilege of fattening up the catch of the day – genius!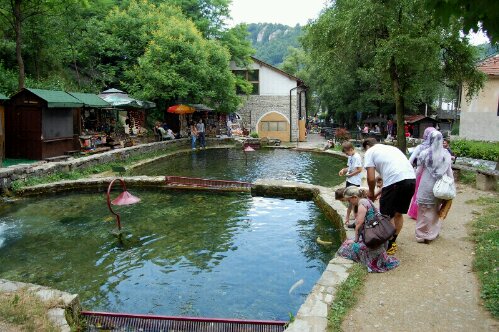 We carry on north aiming to reach the citadel at Jajce, but a long stretch up a hill behind a fully loaded logging lorry slows us down – the driver waving to another fully loaded logging lorry going over the hill in the opposite direction. 'Why don't they do a deal and agree to supply each other's destination?' asks Jay, rather sensibly, it would certainly save many gallons of fuel – especially as another four fully loaded lorries pass by on our way back down.
Getting on for 4pm, I'm flagging in the warmth of Dave's cab, there's only a warm breeze fighting its way through the windows. We pass a sign for an Auto Kamp, looking down from the road we see a stretch of grassy riverbank. Jay pulls Dave into a pirouette any ballet dancer would be proud of and with a smattering of my dodgy school girl German with the 'Chef!', and 20KM (€10) later, we're parked up on our own riverbank. Crickets jump around your feet in the grass and the river is cooling our bottle of beer.
After visiting the loos Jay is very pleased he hung the beer upstream of the little cabins, as the waste pipe goes straight into the water. Pondering if anyone might be doing the same upstream from us, we figure that the cheap beer will more than kill off any 'surprises' the river sends our way.
Charlie shatters the peace with his constant barking at the water, like Lassie trying to warn of someone trapped down a well, and thunder crashes in the distant sky. The 'Chef' wanders down to see us from his home/hotel/restaurant across the road and gives us a huge punet of raspberries from his garden. He's puzzled as to where we are from. Pointing at Dave he says 'Italia?'. 'Ja, und Deutsch' we reply, in the end he walks to the back of Dave to view his sticker – 'Ah, G. B.' he says and smiles, probably now understanding why we don't speak any language well.
Have a great weekend.
Ju x