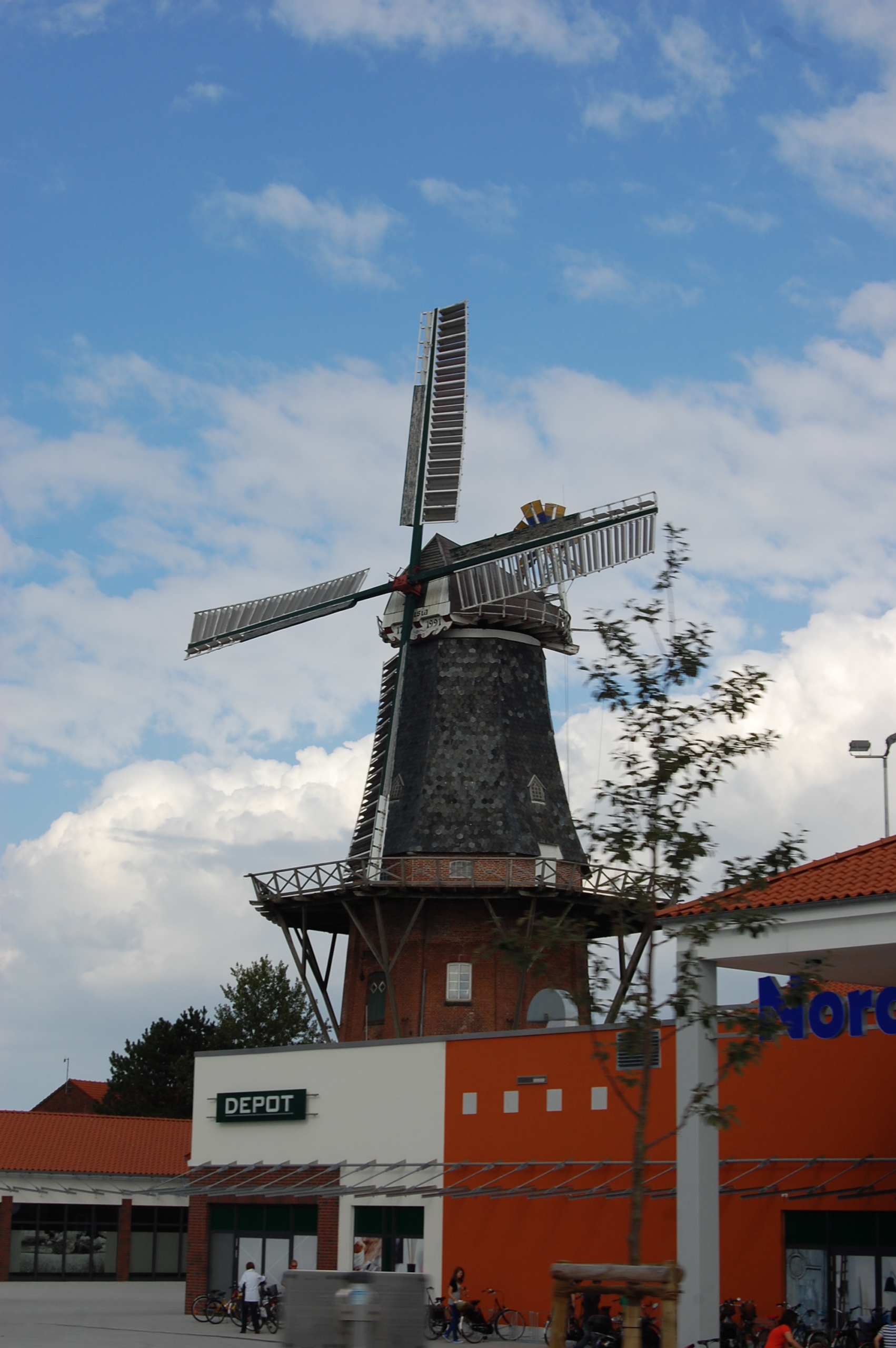 Dave the motorhome is parked in a car park in Norden, Germany (N53.59073 E7.21191).
Last night we shared a bottle of wine round at Geoff and Maggie's van, but Jay and I were flagging from quite a bit to drink the night before and a full on day of sightseeing around Hamburg. By 10pm we had to call it a night, but not before we got the address for their blog. They update it using internet cafes, so it's a tad out of date at the moment – they are now in Germany and heading south!
This morning we woke to wonderful news. Those of you who have been reading our blog for a while will no doubt remember Chris and Tina – we travelled across Northern Spain and Southern Morocco with them. Well their Big Trip, turned into a massive adventure as Tina found out she was pregnant. This morning we found out that yesterday she gave birth to a beautiful baby girl called Libby. We're so happy for them both and can't wait to meet her.
It was decision time this morning – where to go next? We have two weeks until we sail back to the UK for Dave's MOT and The Netherlands, Belgium and a tiny bit of France between us and the ferry port. We don't know what there is to see around here, so if anyone has any hints or tips of what's good, please get in touch.
Firstly, we stopped off at Aldi today with plans to do a BIG SHOP – Dave's cupboards and fridge were quite empty and we'd been warned that food is more expensive in The Netherlands than Germany. However as we got out of Dave I remembered Aldi and Lidi in Germany don't take Visa or Mastercard – the only two cards we have. So we walked to the closest cashpoint. Unfortunately the lovely souls as Hamberger Sparkasse (Bank) charge €4.95 for a cash withdrawal that's not from their card – eeek!  With no other cash point around we headed back to Dave and raided cupboards and wallets. Between us we had €60, and a further €3 token from the Pfand (deposit) on all our empty beers bottles!!), so phone set in calculator mode we shopped very carefully, deducting prices as we went so as not to go over our budget. We managed to get quite a trolley full and still had €10 left!
As I'd finished packing everything away, using loo roll to wedge the few bottles left in the drinks cupboard because we didn't buy any more beers – we'd not be able to get the pfand back, a woman approached Jay and started speaking to him in German, he apologised and she switched to her school English, which was pretty good. She asked if we were on holiday and how long we'd travelled for, then she told us of her planned adventures into Africa. She and her husband had plans to tour Morocco and Mauretania. She showed us a photograph of their Wohnmobile (motorhome) it was a huge tyred adventure wagon, the picture was taken in Senegal, and we thought we were having an adventure!!
Africa is too far away at the moment, so today it was the lure of the sea which took us North – it's been a while since we've seen it. The land around Dave became flatter, and wind turbines and windmills appeared to be all around us – are we sure we haven't crossed into The Netherlands already?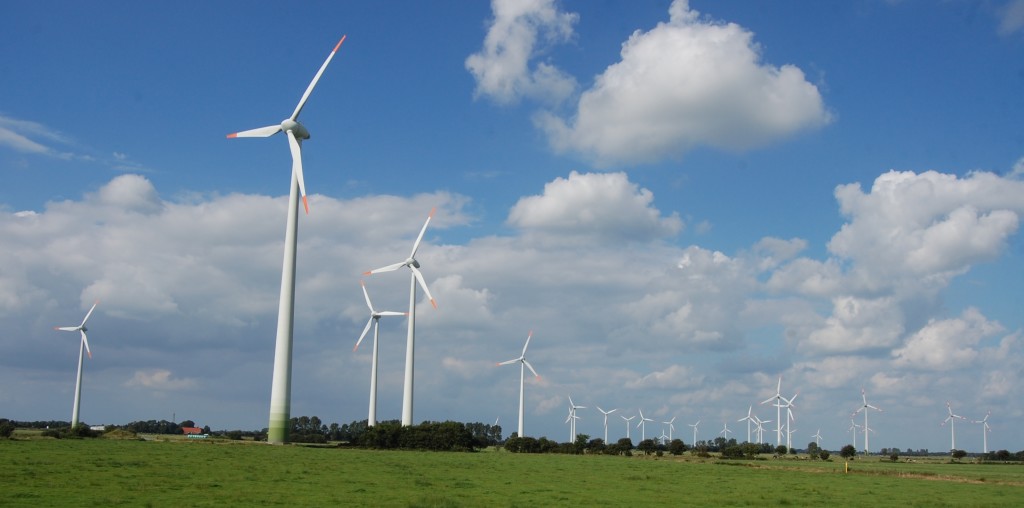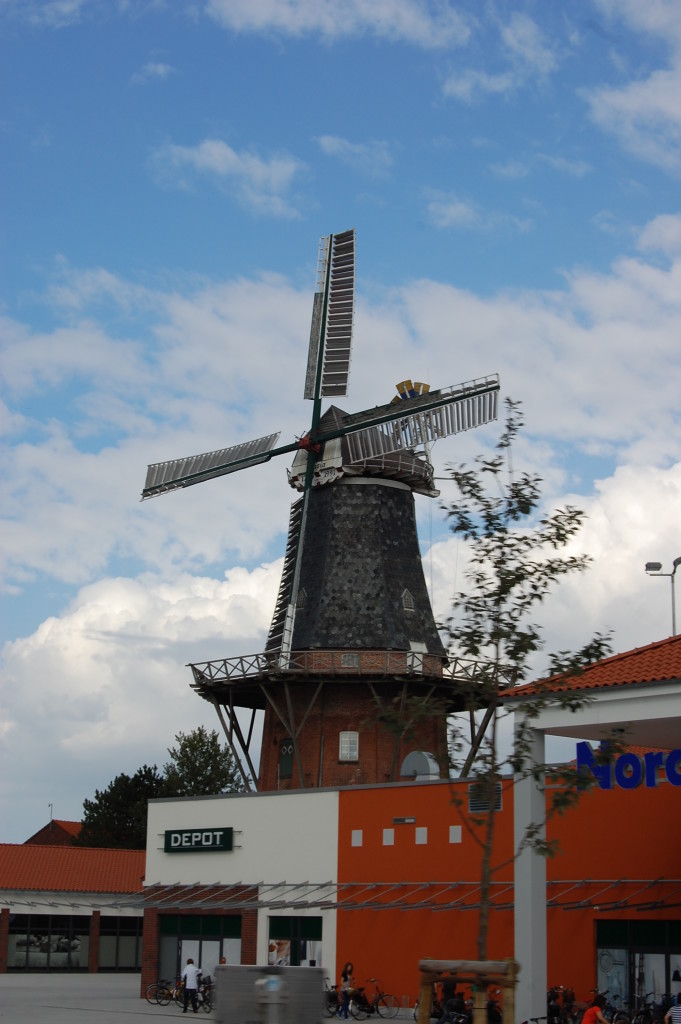 Houses changed from large three storey buildings with coloured render, to one or two storey red brick with brown or terracotta tiles, they reminded me very much of British houses.  Motorhome parking by the sea was really expensive, so we've opted for a cheap car park in the town of Norden tonight before heading out for some beach action tomorrow.  If Charlie had a clue what was going on I don't know who would be the most excited between the two of them.
As a large part of today was spent on the autobahn, I took a short video of what it's like driving along in Germany, and also a sound clip of the local radio and our new favourite singalong song – Ich liebe diese Tage.
Audio clip: Adobe Flash Player (version 9 or above) is required to play this audio clip. Download the latest version here. You also need to have JavaScript enabled in your browser.
Ju x
PS – as there aren't many pics today, here's Charlie getting all demanding for some of our spare rib bones from the other night!!