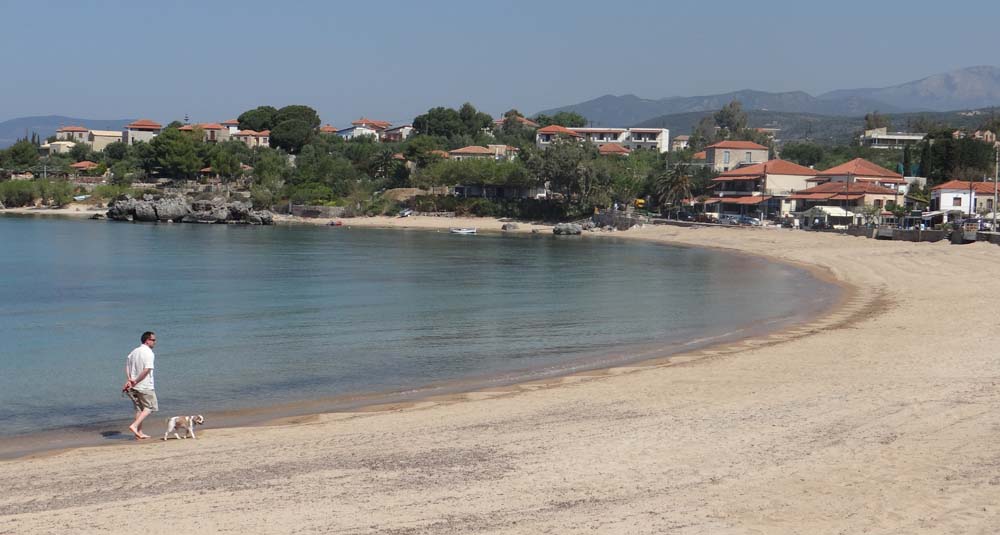 Dave the motorhome is struggling to accept a couple of things: (a) just how beautiful this part of the world is and (b) what incredible places we can stay, for free, welcomed into people's small communities. We're currently slotted alongside a fellow British couple and an Austrian-registered van at Agios Nikolaos (Saint Nicholas) on the Mani peninsula (N36.82279 E22.28327).

Yesterday afternoon a creaking noise had us out the van to try and work out what was going on. A fishing boat, one of the typical one-manner craft with a canvas sun-protector and a small outboard, was being lifted back into the sea. The fisherman stood with the guy operating the lift on his flat bed truck, while his two kids and wife stood a distance away, alongside his car, smiling at me as I walked past. Boat safely re-floated, perhaps after a winter scrub and paint, they left. It struck me what a precarious existence these families have, but also an existence that's pretty much full of freedom. About 6pm each afternoon the boats head out. Each morning they sell their catch, often from the side of the boat or from small stalls alongside the marina. Simple, beautiful, but precarious.
OK, I admit it, I nearly tripped over my bottom lip as we left this morning. Our hideaway spot, within a stone's kick of the pure blue sea, looking out over 'my' island, wasn't somewhere I wanted to leave, ever. We fantasised about buying the island and living there, a small boat tied up on its tiny beach, the house and stone walls repaired, a couple of goats for company. Well, I did. Ju prefers a bit more contact with the living world, I'm turning recluse!

After filling Dave's water tank from the quayside tap, tip-toeing between the ducks and geese, the fishermen stood around a little van completely ignored me. The fact our van had been shoe-horned in between the cliff, the quay, a tiny church and a stunning view seemed lost on them. All the time we were there they were pretty disinterested in our presence. A couple of young couples had arrived yesterday to sit and talk, one leaning on Dave while Ju sat inside, again our sense of unease at taking liberties seems only matched by their sense of ease with foreign folks and vehicles squatting in their evening wooing spot!
Heading south within a few minutes we turned off the road back towards the sea, into Stoupa. Following a few signs for 'Free Parking', we happily found it was indeed free parking, not an enterprising shop or taverna owner. Alongside us stood a brand new church, all concrete, rebar and coloured glass windows, but for the bottom 6 foot which looked like it had been dipped into 'stone-clad' coloured paint. A brief bit of excitement at the infants school followed as the nippers went a bit wild for Charlie, and we walked into the town, glad we didn't have to try and squeeze Dave down the narrow roads.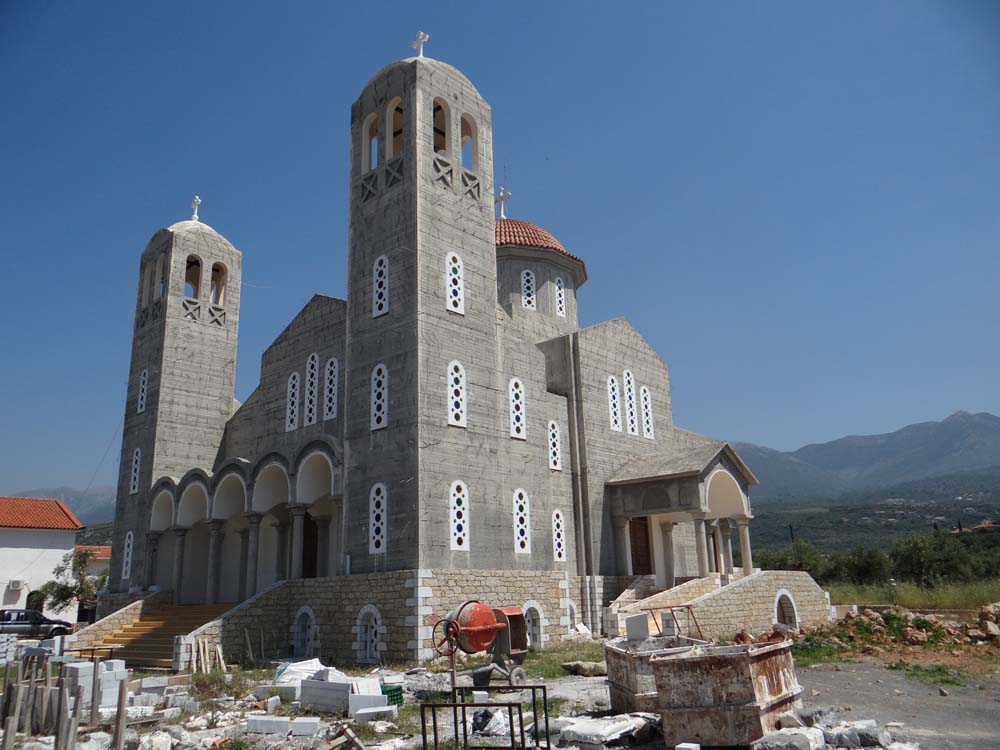 Stoupa's a beautiful place. Whenever I read about it, the source says something like 'it's becoming more popular with package holidays' or 'it's becoming quite developed'. It's all relative, unless you're here in July or August I suspect you'd find it much the same we did, a laid back, near deadly quiet and beautiful place. Only in such a relatively isolated and stunning part of the world like the Southern Peloponnese can such a place be thought of as developed! We wandered around for a while before taking our leave. We suspected we might be able to stay next to the church where we'd parked, but then again, this is a resort, perhaps we would actually be shifted on?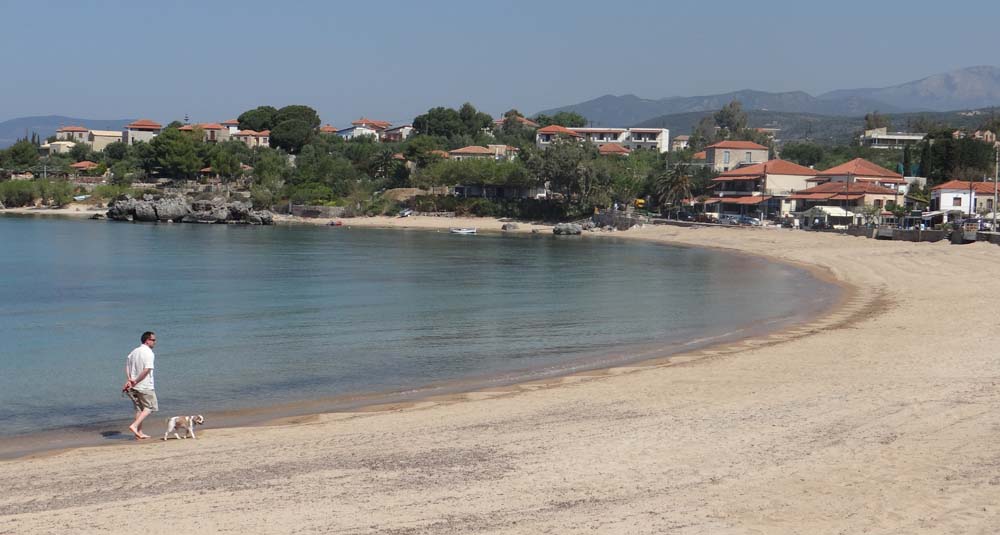 More short minutes on the coast road and we found ourselves here, chatting with Denis and Carol. We've seen maybe 4 or 5 British motorhomes here in Greece and it's a pleasure to speak with compatriots, especially ones with so much experience of the country. They've been travelling independently in Greece for many years, clearly love the place like a child and have a fabulous knowledge of it. Stood in the sunlight we shared stories and pored over maps, helping us out immensely for the coming weeks.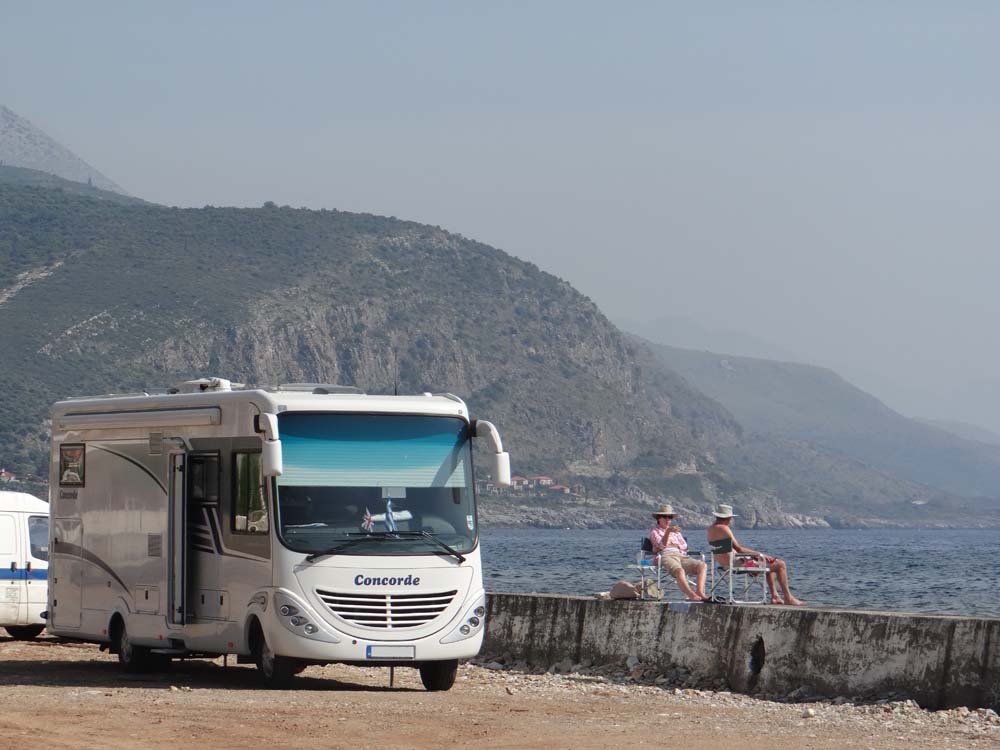 Greece doesn't seem to instil much desire in me to do much of anything, but to sit and breathe the place in. The mountains behind us swoop up to the sky in a gigantic bowl of green, lush with trees and plants. We've walked a while and I've managed to edge myself over the rocks into the sea for a snorkel, but the real lure of the place for me is the natural beauty all around. That and the beer, time to hit the taverna.

A few more pics of Greece: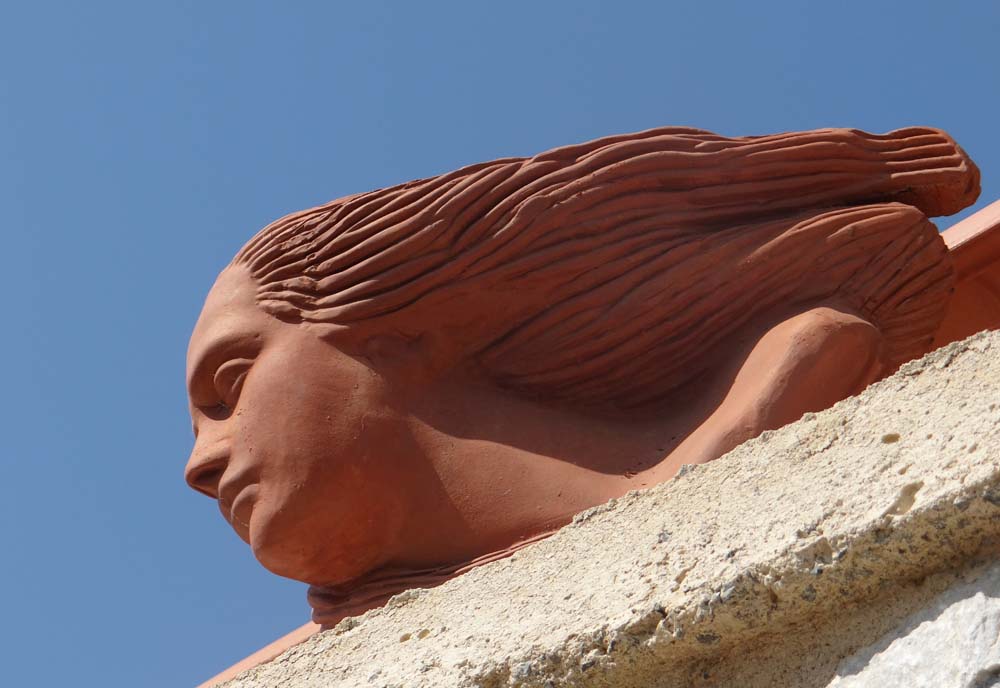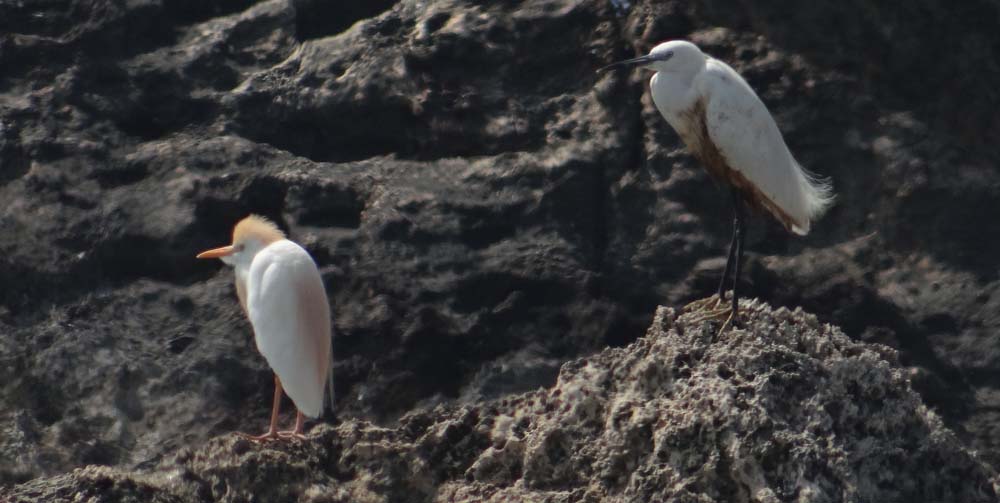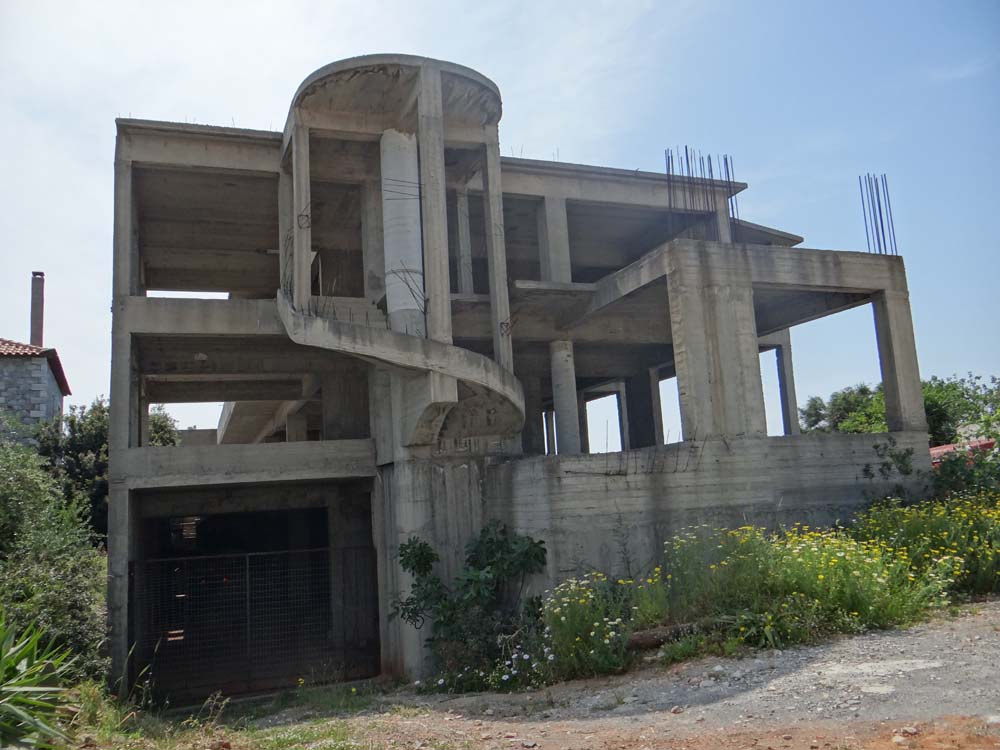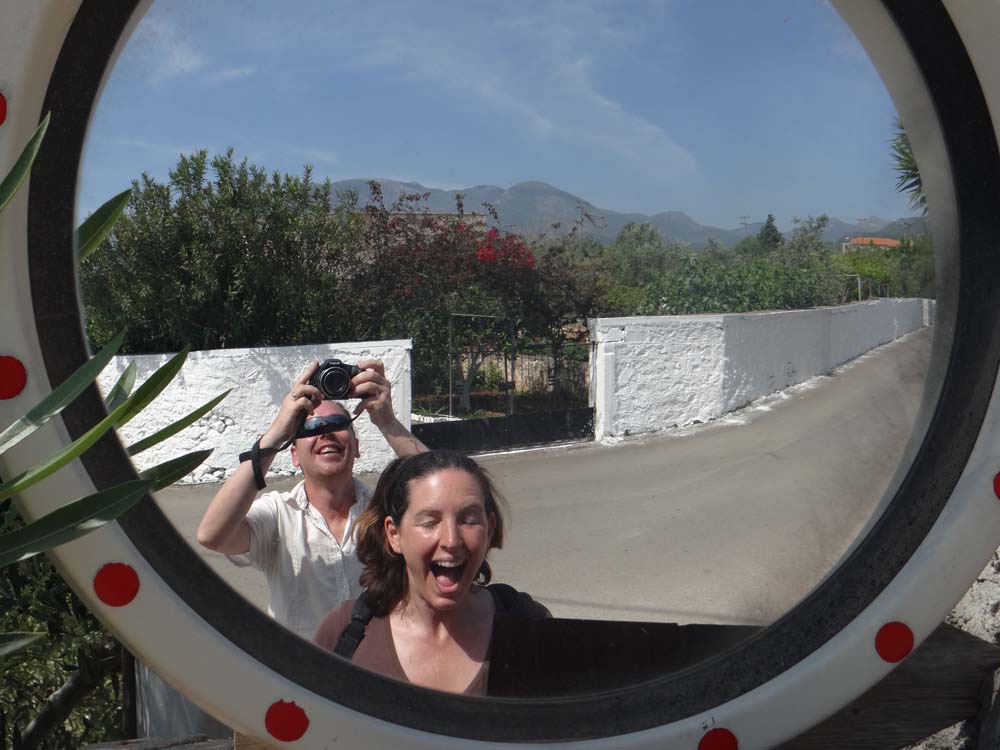 Cheers, Jay
Grrr! The Internet's not playing. Our Cosmote SIM's run out of data and although we've bought a top-up code their site refuses to accept it. We've used our directional WiFi antenna to hook-up to a taverna's network but even though it can pick up a signal from the moon, it cannot give us enough signal to upload any more photos. I give up, will add 'em later. Time for that beer.
Follow-up on the Cosmote thing. Turns out you either buy top-ups for your phone or for t'interweb, you have to say when you buy the token! The chap at the small shop we bought it from exchanged it for us, no quibbles, asking if we'd used the phone one but not actually checking, just trusting we weren't conning him. Awesome.