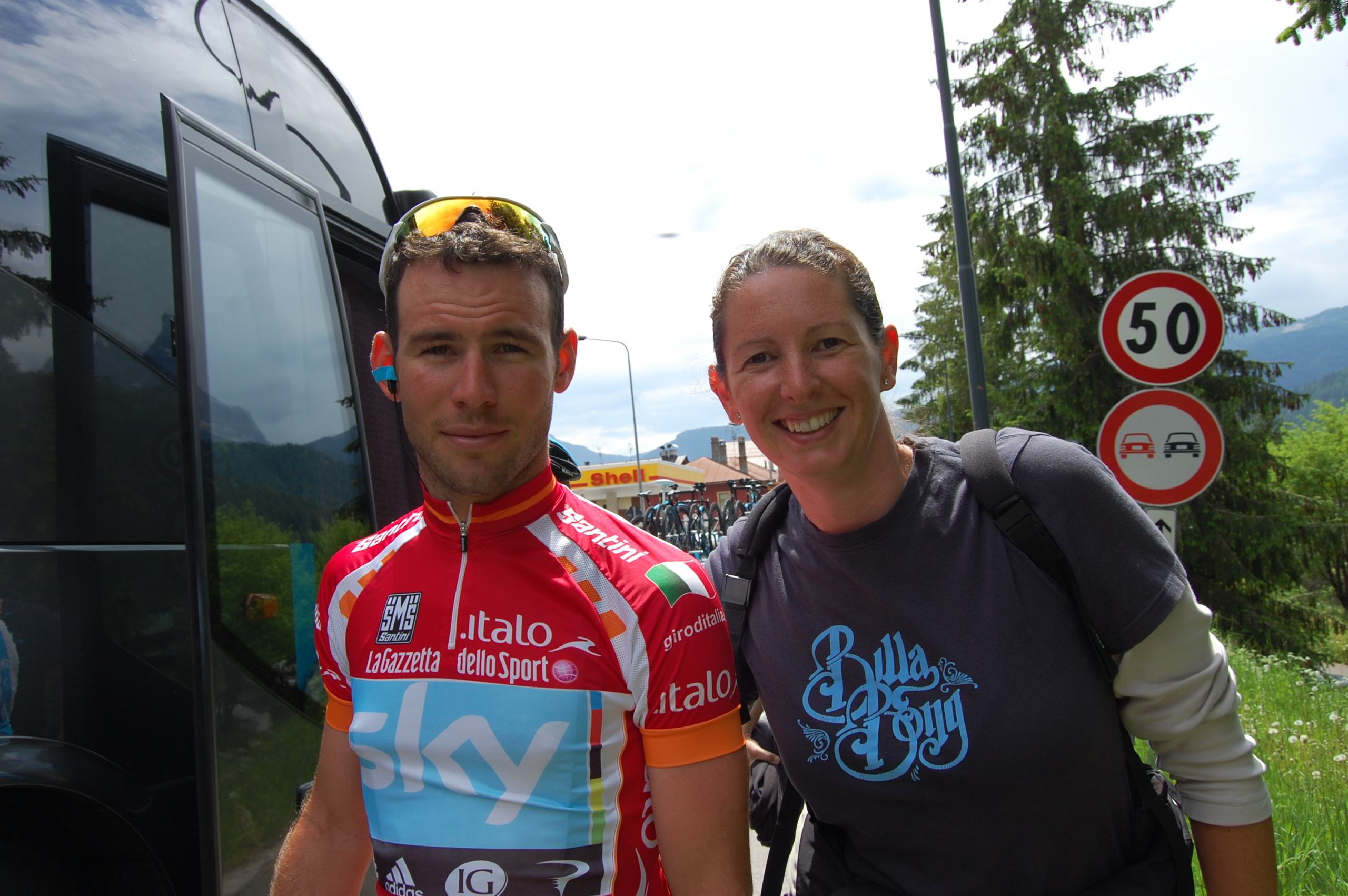 We're here: N46.13791 E12.21429. It's a large car park in Belluno, about 2 hour's drive north of Venice. We came here as it has a service point, and Dave was in dire need of one after a few days on the mountain. The place looks pretty nice though, we'll investigate tomorrow as it's 9:30pm now.
The weather is: hot and wet. No, hot and dry. No wet and windy. Changeable, that's what it's been, although it's now settled down to plain old muggy – 27 degrees.
When we woke this morning Ryan and Verena's motorhome was already gone. They'd told us last night they were off to Croatia today, a drive of about 4 hours, and wanted to be on a beach by lunchtime. We'd all shaken our heads at just how much freedom we're enjoying at the moment; we're a privileged bunch. With their departure, the only people sharing the mountain with us were a few orange-clad sweeper-uppers, who shuffled down the hill grabbing coke cans and the like; leaving enough scraps to keep Charlie scrabbling about whenever we let him out.
We were a little fearful Dave wouldn't get off the grass verge, but Ju drove him straight off in a cloud of soot, and we headed off up the final couple of km up the hill, following the route the riders had taken. I expect they were mighty relieved when they hit the top of the Passo di Gaiu, we were relieved, and more in awe of the panoramic vista. An enormousness ring of gold-grey mountains, throwing off their tree-green blankets and reaching up to scratch at the sky. The Dolomites and the towns in them are wonderful, a chilled out version of the French Alps, and I could have happily stayed in them for weeks. However, Venice calls, and then we have a rendez-vous with friends from home. Jon and Anne are taking an epic road trip to meet us in Slovenia in a couple of weeks; we can't wait.
We'd programmed out satnav with an aire at Cortina D'Ampezzo, a little north of the pass, as we were in dire need of a service point. The road twisted about, doing it's best to throw us off, and leaving us in yet more awe of anyone racing a scrawny-tyred bike down it. Finally, after a few incredulously brave/stupid overtakes by some desperado locals, we came into the town. The Rough Guide tells us it's a lush spot, having hosted the 1956 winter Olympics, and now attracting the 'rich, beautiful people'. Ju passes on one count, I fail on both. It's a nice looking town, but we find the motorhome aire, which is a disused landing strip (cue me driving Dave down it humming the Dam Busters theme) has no service point and looks scruffy.
The next plan has us heading south; we program in Belluno and let Dave again loose on the open road. We knew the next stage of the Giro was due to follow the same route as us, and Ryan had warned us it would be manic. No problem: the riders would be well ahead of us and we'd seen how fast everything gets packed up.
Err, oops. As we pootled along a road block abruptly appeared at the entrance to a small town (San Vito di Cadore). Ah. We pull up and one of the officials speaks English. I jokingly ask him if the block is due to the Giro? Straight-faced, "yes" he tells us, "the road will open again in 5 or 6 hours". Decision time: either drive an hour or two out of our way, or go watch the start of Stage 18, no decision, we drive back up the road a couple of km and abandon Dave.
Walking back down the road, the intimacy of the cycling sport is once again demonstrated as the team buses drive past us, their drivers smiling and waving at us (we were the only fools walking this narrow road). Once in town, Ju sauntered over to the Team Sky bus and asked if she could get a photo with Mark Cavendish (current cycling World Champion, fellow Englishman and renowned loud mouth). "Sure, he'll be out in 40 minutes". Get in! We kill some time walking down to the pink-clad town centre where TV crews, PA systems and hospitality areas are all building the atmosphere.
Back to the bus, out comes Cav on cue and Ju wastes no time getting a photo with him. He plays along, and comes across exactly the same as on the telly: short (physically, and on words) and kind of acts like he's surprised someone wants a photo with him. Oddly (for us), there's no-one else at the bus and off he rides to the start area. Following, we skip the area where everyone's listening to an Italian announcer, not understanding a word of it.
Further up the road, the fences are out but there's no-one there. Ah well, we figure the riders have to come past us so we stand and wait. Before we know it we find ourselves surrounded by a five deep crowd and within back-slapping distance of the Manx Missile himself as he comes to the fore with the other race leaders. Ju once again doesn't hold off, asking how is two week old daughter is, promising we're not actually stalking him, and grabbing a sneaky autograph. Although he's busy chatting up the brolly dolly (in fluent Italian), he once again plays along, signing bits of bobs for kids as well as us grown ups.
Start time and the local mayor, proudly sporting an Italian flag sash brings down the flag. We watched in amazement earlier as someone demonstrated to him how to do it: not like this (he waves the flag from side to side), like this (dropping the flag vertically). So we now know how to start a bike race, handy knowledge I'm sure. In a flash the riders are gone, at cruising pace for them, suicidal hurtling for us. Almost immediately the packing up begins; mazing really, everyone's in party mood it seems but no party is to be had.
Several hours later, the road opened up. We'd entertained ourselves with a few emails anddumbly staring at the surrounding mountains, which felt near enough to reach out and stroke. I even found myself reaching out for the them at one point. The rest of the time we lolled on a patch of grass, watching the officials turning most people around at the road block and seemingly randomly letting the odd car through. One smartly dressed mature chap arrived in his Black 4×4 Audi and after a seated argument confidently strides from his car up the road block. Picking who he must have decided was the most senior official, he went off on one, waving his arms about and shouting. Free entertainment for us. He didn't get through, but the road opened a few minutes after he drove off in a huff.
So, here we are. We've loved today's luck; getting to meet a champion, and are now bushed after all the excitement. Ryan's dropped us an email: they're on a Croatian beach. Brilliant! We're both tired so are going to chill out a bit here and look around the town, Venice will still be there in a couple of days?
Cheers folks, Jay