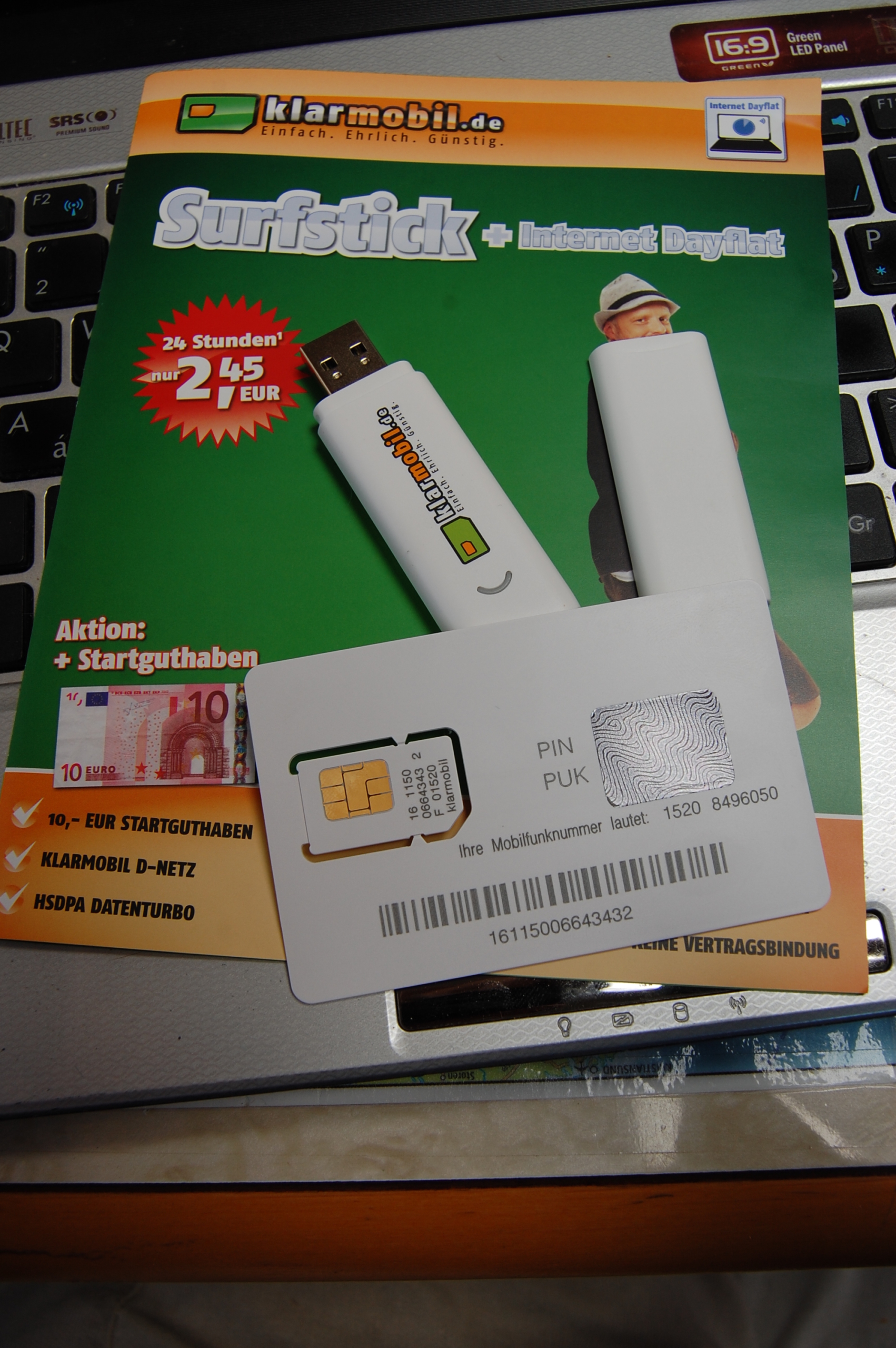 Today we bought a 3G dongle and prepaid SIM for accessing the Internet from our laptop in Germany. We are in Schwandorf in Eastern Bavaria. There are a few notes below on our experience:
First off we visited a T-Mobile store. The assistant was very friendly, speaking English and walking around the store to show us what was available. We explained we wanted a pre-paid SIM for 30 days, and had no German address or bank account. She had two options: the first and best was a combined SIM/dongle rebadged package for €20, plus €2.95 per day, with a 500MB cap each day after which you weren't charged extra, but the speed was limited. The other option was a SIM-only package direct from T-Mobile at €4.95 a day. We took the information and left, she happily photocopied information and gave us leaflets in a folder.

The second shop was an independent shop, carrying a Kermit green mobilcom debitel logo. The shop advertised T-Mobile, Vodafone, O2 and e-plus logos on the window. The assistant was yet again very helpful, speaking English. After explaining what we needed, she explained the cheapest package included a USB dongle (an xsstick p10+). It is a rebadged Vodafone solution, with the dongle carrying a klarmobil.de logo. The cost for the dongle/SIM package was €39.99, which includes €10 online credit. You then have three options: 1. Pay €0.95 per hour, with a 500MB cap 2. Pay €2.45 for 24 hours, with a 1GB cap, or pay €24.95 for 30 days, with a 3GB cap.

We explained how Germany is between 2 and 3 times more expensive than other countries, and that we just needed the SIM. The assistant was understanding and said for some reason Germany is very expensive for data. We decided to choose option 3 from the above list, paying a total of €55. The assistant needed a passport to register against the SIM, but used the shop address since our postcode would not work. She also registered the top-up on our behalf, saying she'd do it four hours after we bought the SIM, as not having a German bank account could cause  problems.
We've only used the dongle for a few minutes but all is working well. The XSManager software which comes with it keeps a track of daily and total use, so we have a good idea how close to the limit we are. We douby we will exceed the 3GB cap, from past experience. If we do, we'll call the shop back for assistance.
Update: we nipped into an O2 shop today, and they did a prepay SIM for €5, then €15 for 1 month for 1GB, or €25 for 1 month for 5GB. This would have been the deal for us, but we're not sure if O2 require a German bank account or address.
Cheers, Jay