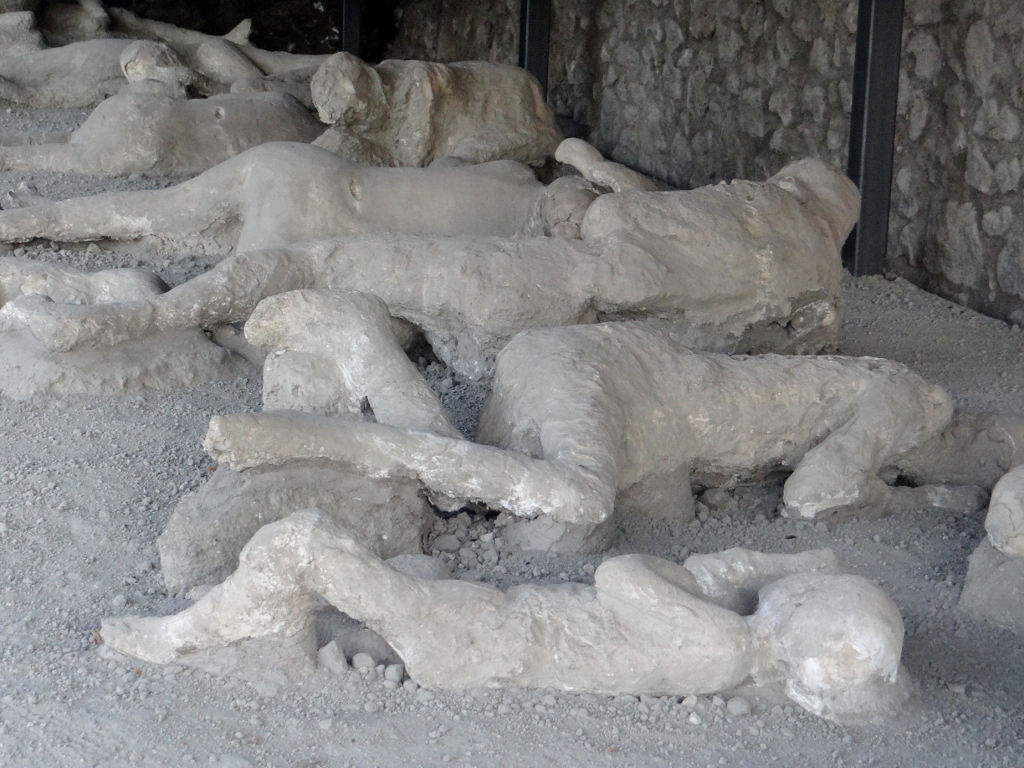 Dave the motorhome is probably parked on top of some of the ancient ruins of Pompeii, Camping Zeus is so close to the site there must be a few bodies under it (N40.74927 E14.48096).
Throughout the evening last night a fleet of eight Fiat Pandas raced up and down the volcano, the owner of the kiosk we were parked next to explained they were testing the new version – to us it looked the same as the millions of others on the road around here. The kiosk closed around 5pm and the owners walked over to say farewell, they'd be back around 10.30am if we wanted a cappuccino.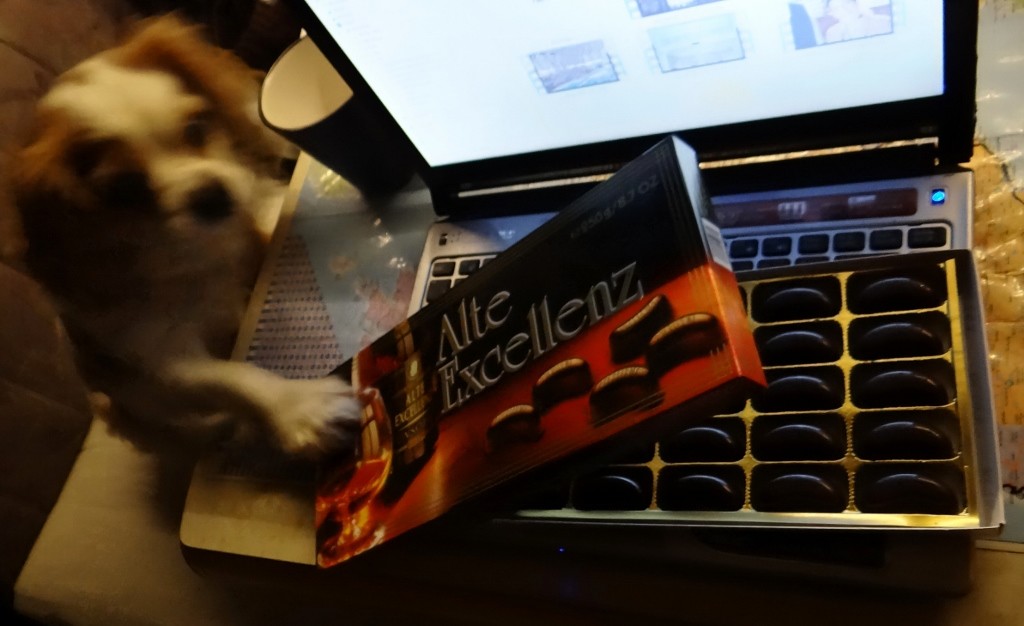 Armed with torches around 8pm we braved the dark to take Charlie for his evening walk. It might have been the freezing temperature, the pack of wild dogs barking, Jay and I nervously probing the darkness with the torches trying to spy the wild beasties or the fact that we were on the side of a volcano; whatever it was he didn't want to do his business, so we all retreated back into Dave and prayed he wouldn't want to go out in the middle of the night.
Italians keep much later hours than we do, so we were naturally apprehensive, but not overly surprised when cars continued to park up in the car park well into the night. It was almost as if Dave was invisible, a couple of blokes even stood next to him admiring the view and chatting until they're called back to their car by a beep of the horn from a chilly passenger who wanted to get going. This morning it was the turn of the park rangers who arrived promptly at 9am and started hacking branches off trees and setting fire to them, obscuring the morning sun with the smoke.
We drove up the couple of kilometres to the car park, coughed up €5 to park and a further €8 each to climb up to the crater – and it was worth it. As we worked our way up the path cut into the lava, walking on tiny bits of pumice which no doubt rained down during a previous eruption, the views of the Bay of Naples were amazing. With not much growing up here to block the view we could clearly see the outer volcano Somma as we climbed Vesuvius's cone in its centre.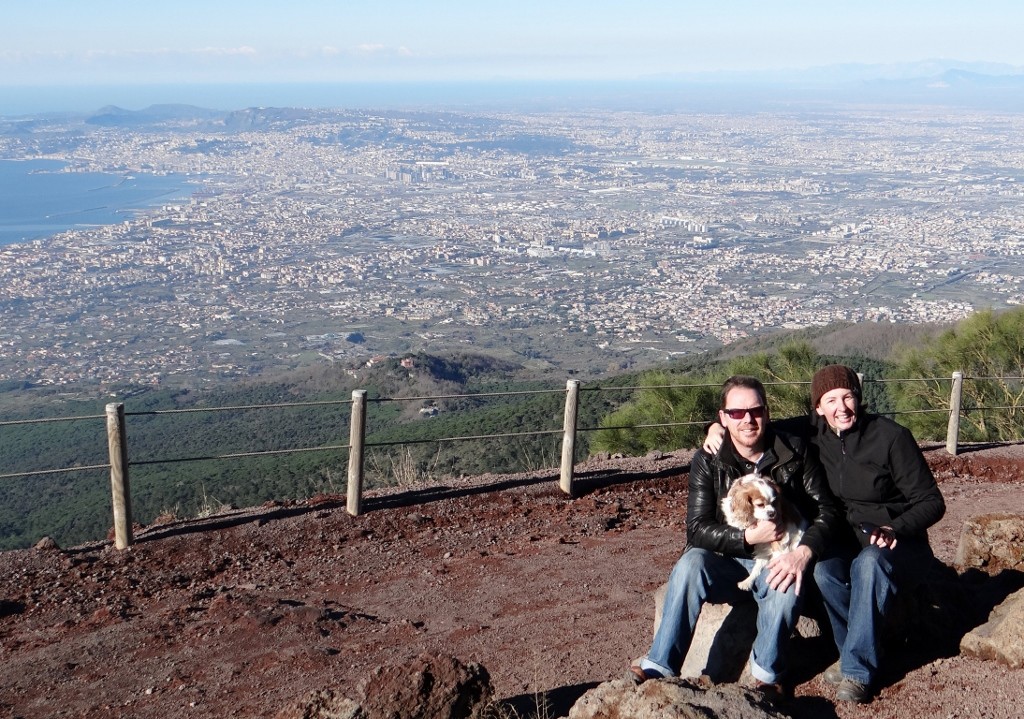 Reaching the crater we peered over the edge expecting to see, well, a crater, but we weren't prepared for just how big or strangely beautiful it would be. Hues of browny red earth/ash/rocks formed layers down into the pit below (somewhat reminiscent of a sarlacc from Star Wars – the one they feed people into), grey rock formed a semi-circular wall and steam billowed from the sides. Hang on a minute, we thought this thing didn't steam any more, and there was lots of it – gulp!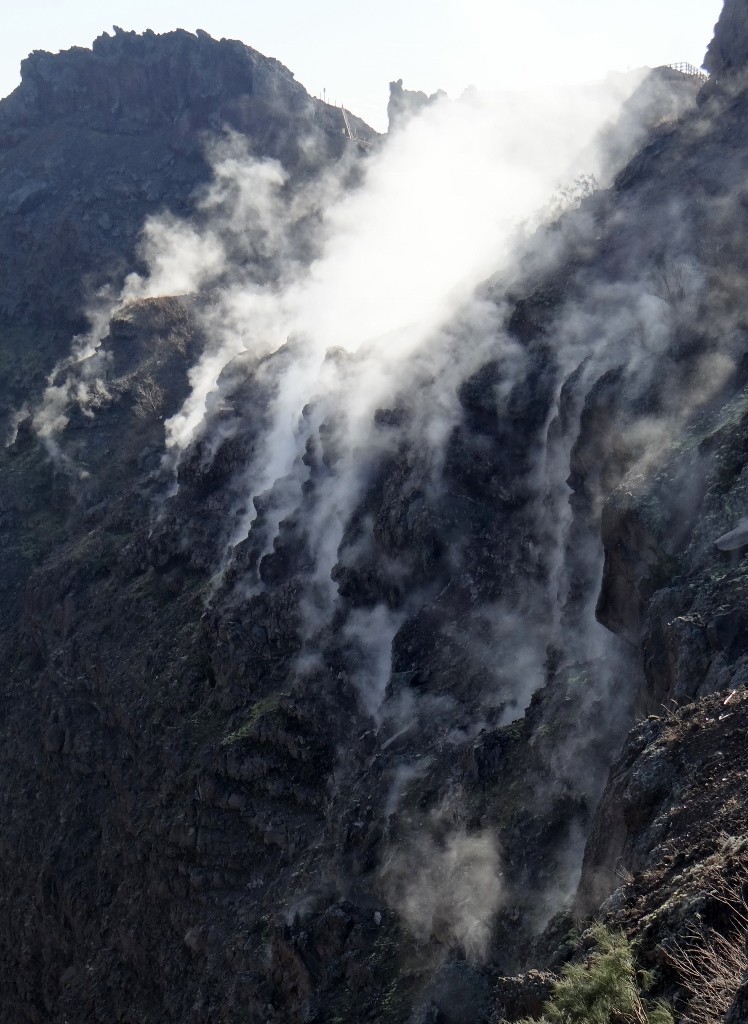 We followed the path around half of the crater and drank in the views, it's one of those things that will stay with me for the rest of my life. All too soon the wind started to pick up and we'd reached the end of the path. As we hadn't paid the guide to get out of his Fiat Panda parked next to a souvenir shop on the edge of the crater – I kid you not – to take us around the whole rim, we headed back the way we had come and down to Dave. Still sitting in the shadow of the volcano Dave was a tad chilly, but the drive back down soon warmed him up.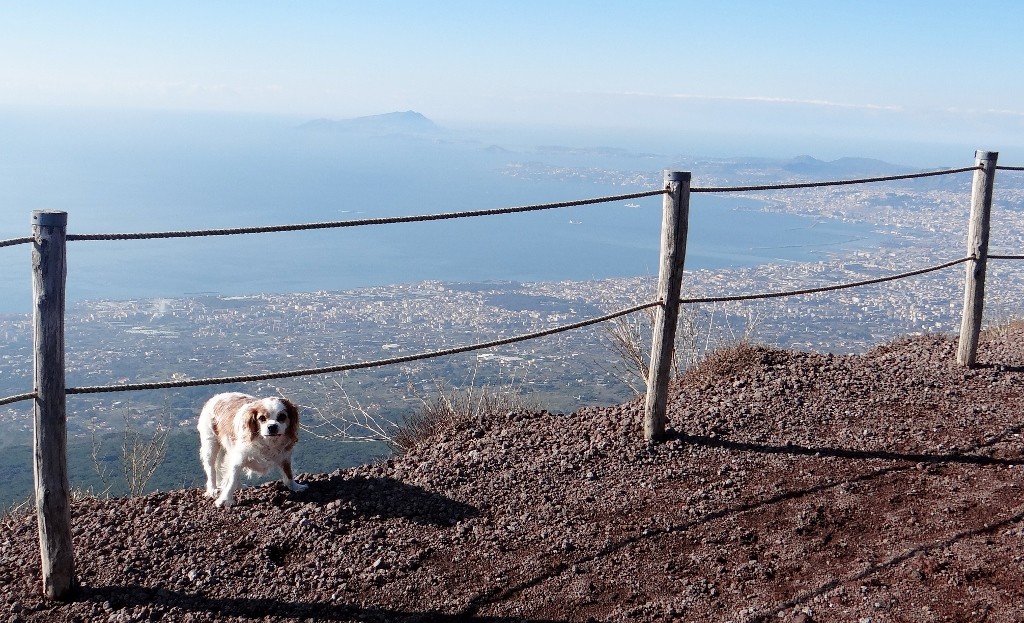 Coming back down was so much easier than going up – especially as we took the right road back down and not the narrow one through houses – and we reached the toll booth for the Autostrada in about 20 minutes. The Autostrada goes over a couple of different rivers of lava from previous eruptions, but as we flew along we couldn't see much – we had to fly along, the locals were swarming all over us.
Our database had numerous people complaining about the campsite saying they only put up with it because of its location. We had no problems and found ourselves a space among the orange trees; heavy with fruit. The receptionist told us we're OK to eat them, they're falling to the ground and bursting, so we have several sitting in Dave warming up ready to be squeezed for juice.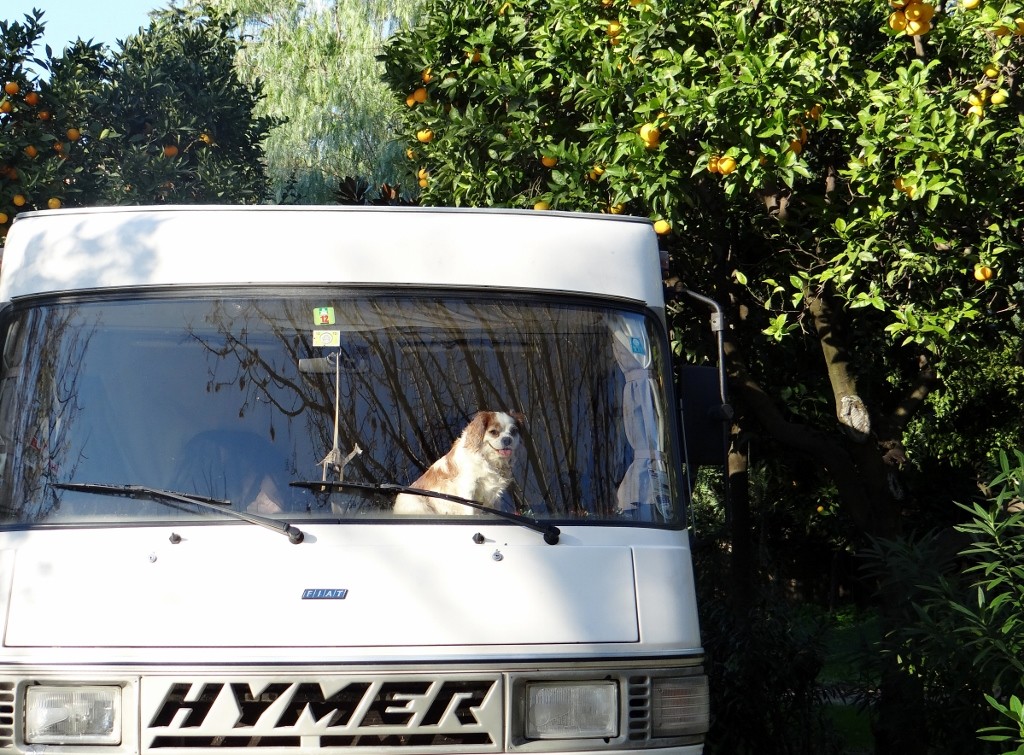 After a quick lunch, and an empty of my pockets of several bits of volcano, it was 2pm and time to hit Pompeii. We could probably hit one of the ruins with an orange thrown from Dave they're that close, instead we walked over to the ticket office and paid our €11 each to go in. Confused by the map we walked past the Roman baths with erotic frescos (which turned out to be shut anyway) as we climbed up a steep cobbled road into the site. It's a very strange place. You kind of expect it to be a bit odd, but it's a whole town in ruins (a bit like the Meski Kasbah we visited in Morocco) with certain bits giving you an inkling as to what life was like.
Houses with signs written on them – slogans or names, a grid like structure of streets lined by tall house walls, the streets rutted from carts and huge stones in places for traffic control, fast food stores with holes in the counter for bowls to hold the food, mosaics on the floors, frescos on the walls – yet it's all thousands of years old.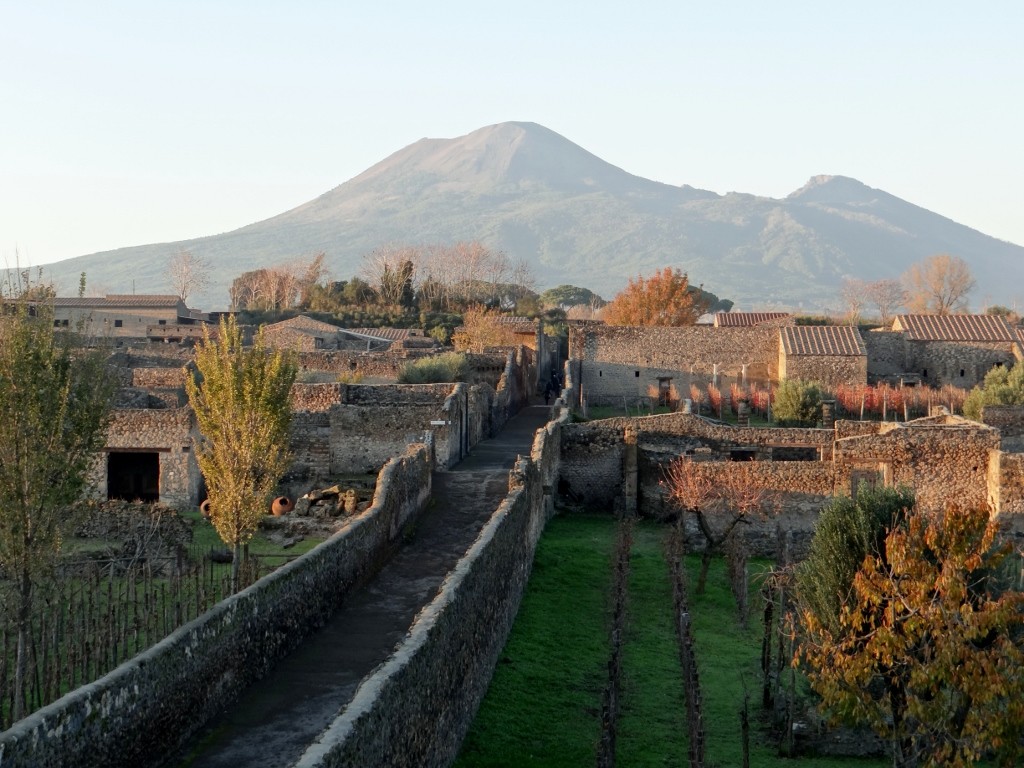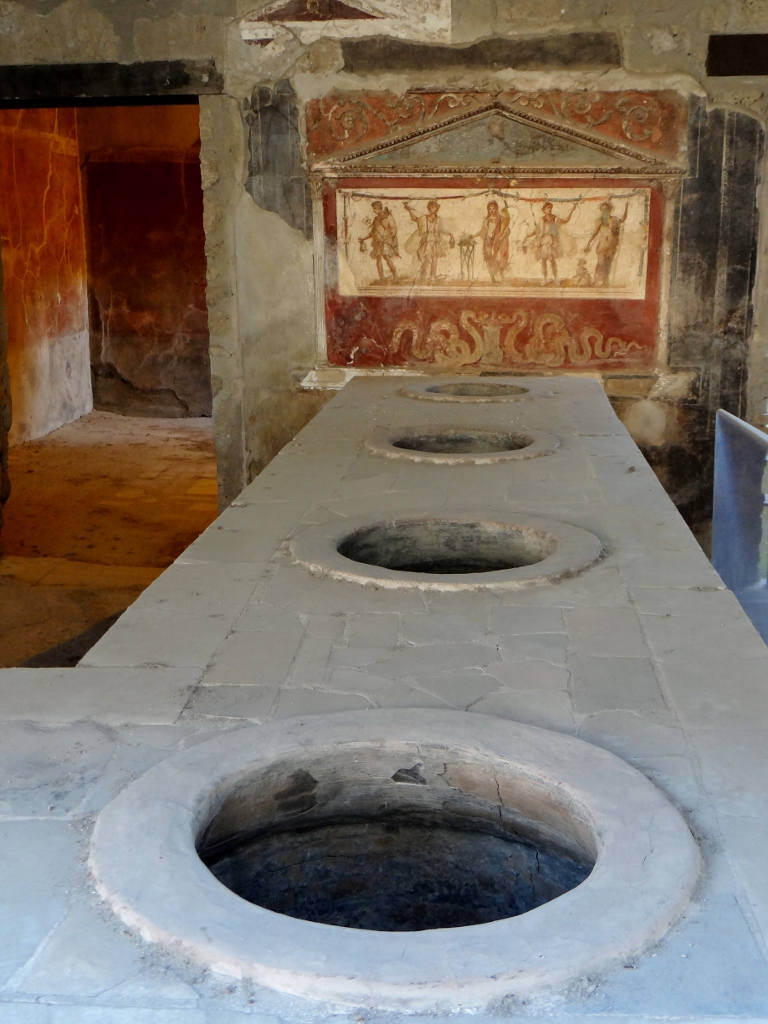 Pompeii has always been on my to see list ever since I'd learned about it at school. I was really happy wandering around the ancient streets, it was so easy to imagine living all those years ago. However I was a bit disappointed that so much of it was sealed off. Buildings raved about in guidebooks were padlocked shut and no entry signs were everywhere, this spoiled not only our enjoyment but that of others too who I overheard complaining about the audio guide telling them to go into places that were padlocked shut. I know its constantly undergoing restoration, but I was very surprised at just how much of it was closed to the public. I thought it must be because it's December, but Jay's been on the internet and tells me it's because there's no money to guard it all and stop people graffiting or taking bits of the place. This could also be part of the reason why so many items have also been removed and are at a museum in Naples – we knew this before we went in, but it's still a shame that they couldn't have been left in situ.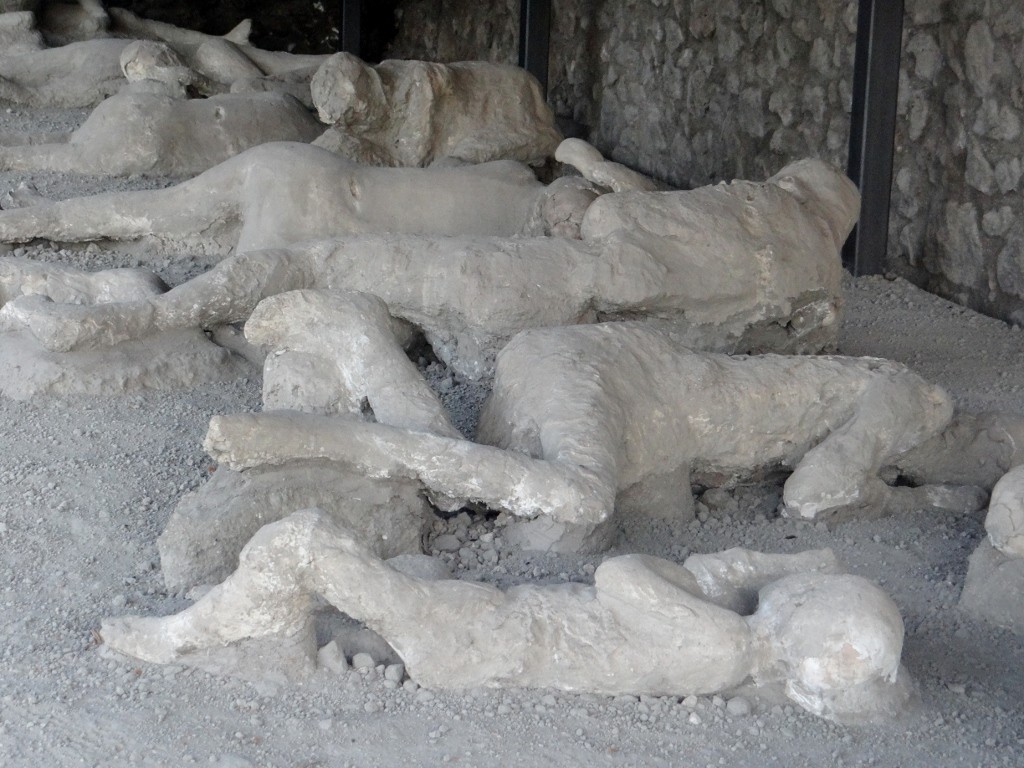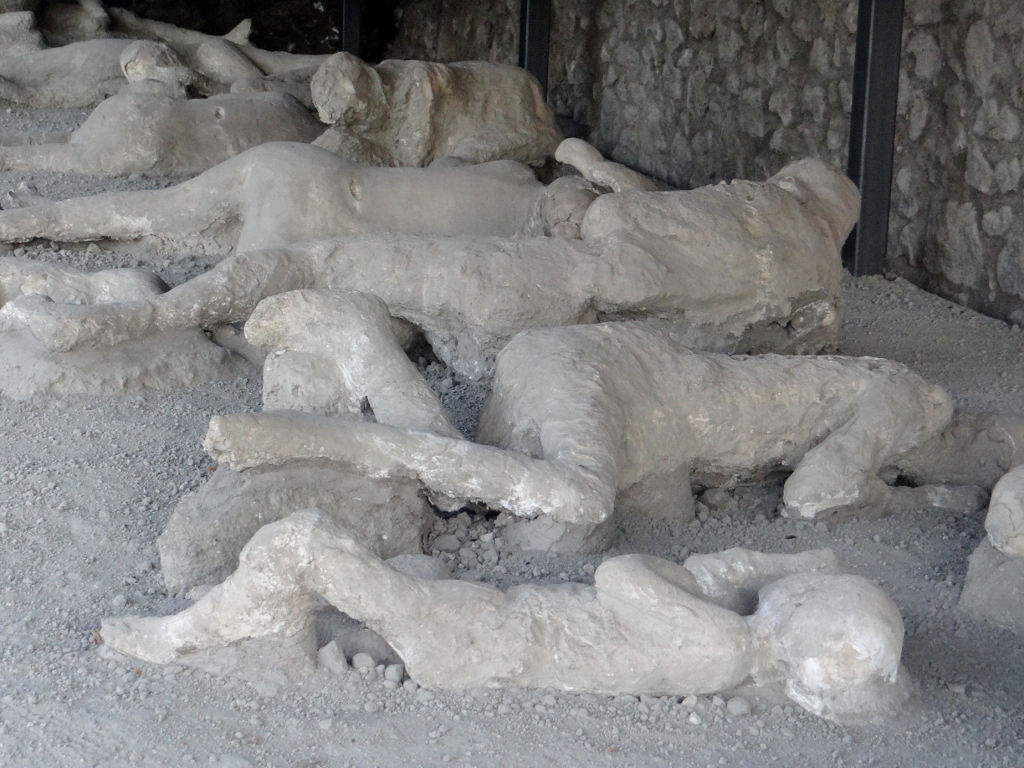 We had rushed into our visit, figuring three hours would be plenty and it could have been if we'd planned what we were going to see – I never realised how big this place is. If you're planning to visit here my advice would be to go to the information desk and get a map and guidebook (they're free) then spend a while planning your route so you get to see everything you want to – we did, but only just as the light was fading and we left about 10 minutes before the site closed. I think my abiding memory of Pompeii will be walking around its streets, an amazing feeling – and being entertainment at every intersection by lost looking souls consulting their maps, us included – be warned it's quite badly signposted.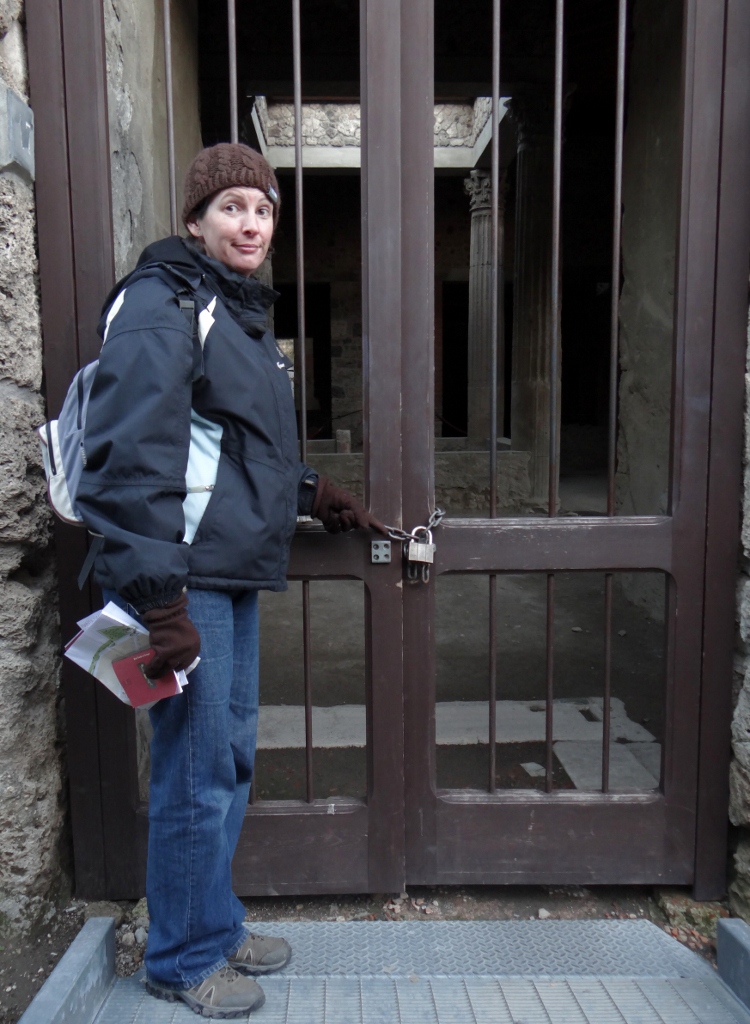 Ju x
Bonus pic not related to ruins or volcanoes!