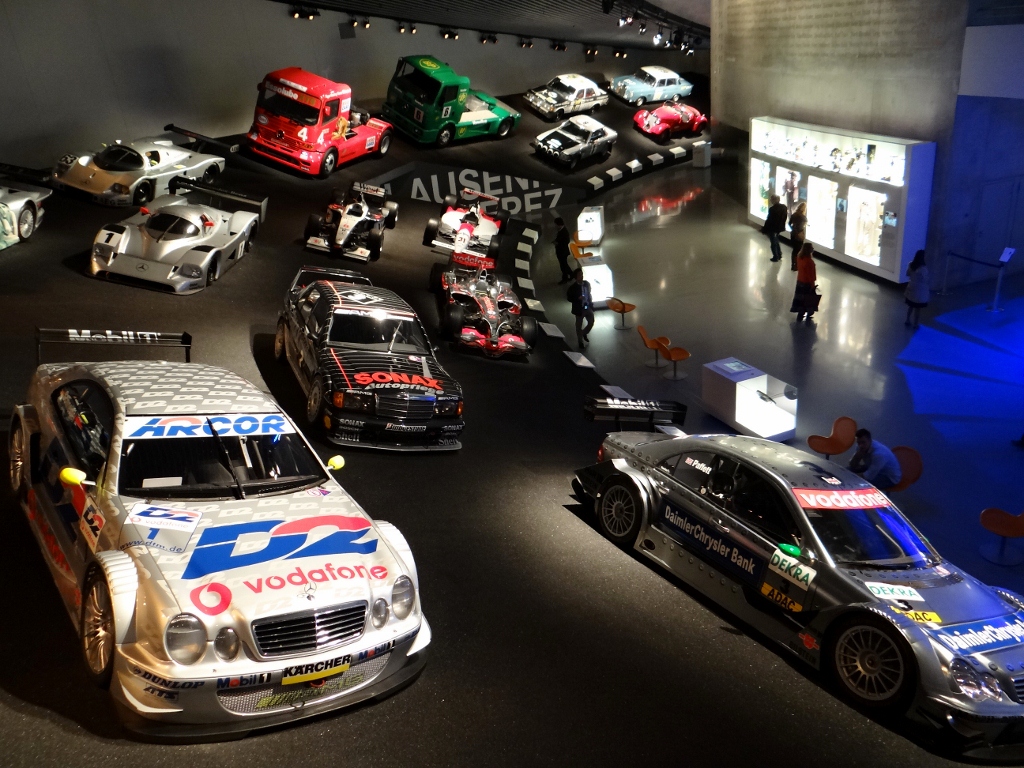 Dave the motorhome is still taking up the majority of Jacqui and Marc's driveway in a lovely area of Stuttgart. Cross a couple of streets and you're in open fields – Charlie loves it here and doesn't want to leave, even though his love of Mucky (Jacqui's rabbit) is unrequited.
Today we had a plan, breakfast at nine am, showers and a long pooch walk for Charlie before we left him in Dave and set off for a typical day in Stuttgart – well typical if you're a tourist and into motorcars and beer!
We took the U-Bahn then the S-Bahn over to the Mercedes-Benz museum where we took the space age looking lift to the top floor then worked our way down the spiral building and through the years from the past to present. If you read my blog post from the Nurburgring you'll know I'm not a big car buff, but this place held my interest for a good few hours – it would have been even longer if a rumbling stomach hadn't forced us onto our next destination – the Volksfest.
We chose the Mercedes museum over the Porsche one because it's situated right next to the Volksfest site, which was a good job as it was hammering down with rain as we nipped between the two. Fortunately we managed to get into one of several huge drinking halls where a band was playing and lederhosen and dirndl clad people were already dancing on the seats. I asked for a small beer, I couldn't hear the reply, but it looks like drinks don't come small in these places!  Along with our favourite pigs knuckle we drank and ate well listening to the band and watching the late afternoon drinking session get into full swing.
Knowing Charlie was stuck in Dave we headed back, only to find that Marc's sister had kindly taken him for a walk in the afternoon with her dog – although we hear Charlie was somewhat reluctant to get out of Dave until food was offered.
A few more beers were supped this evening as we talked travels while our clothes were being washed – we'll leave here smelling sweet! It's been a great day, and here are loads of pics as they tell the story much better than I can (and it's late!).
Ju x