We're here: N44.42693 E4.30074
It's an aire in Saint-Alban-Auriolles. We don't know what the town's like yet as we're starving so haven't been out the van yet. From where I'm sat, I've a view of a sunny, grassy back garden and the cottage stone wall of the unfortunate bloke who has me staring at him with my feet on the dash. His geese have just honked their displeasure.
The weather is: sunny! Started off drab and grey but we're now on full on blue sky.
We kicked off the morning with a quick jacking up of Dave, removing the engine guard and looking for the speedo cable. After a bit of grunting and furtling, I found it, not loose as expected but correctly installed. Hmmm.
A quick Jay degrease and Ju reminded me there's a market on today. The small town was pretty much shut off with stalls selling beautifully laid out fruit and veg, blankets, nic-naccery, spices and other stuff. Our 'we're spending no money this week' plan, which we'd already broken, got a bit more broken with the purchase of some fat white asparagus. €3 a kg sounded cheap, and all the housewives were after the stuff. Having no idea how much a kg would be, I got a demi (half a kilo). Turns out that's a fair bit, but Ju's cooking it wrapped in cured ham and it smells delicious. I got in a couple of sweet potatoes too for good measure.
Carrying my veggy prize, we headed back to Dave. Smoke billowing out above the trees? The steam engine railway was firing up to head off along the valley. I elbowed my way past a few more excited men with cameras to take a few pictures and we waved off the families inside as the train slowly pulled away.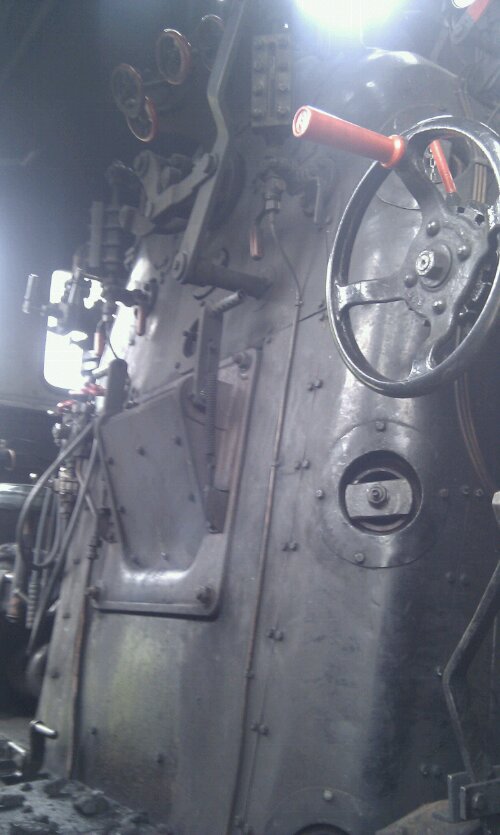 The service point at the aire had been given a lot of grief on campingcar-infos.com for being broken all the time. The mayor must have taken it as a challenge as it was working fine, and free! The police had also popped round the night before to give Ju a leaflet saying we could stay for 3 days. Fabulous. Exiting St Jean du Gard was complicated by the market, but we tucked our elbows in and squeezed through and out to the open road.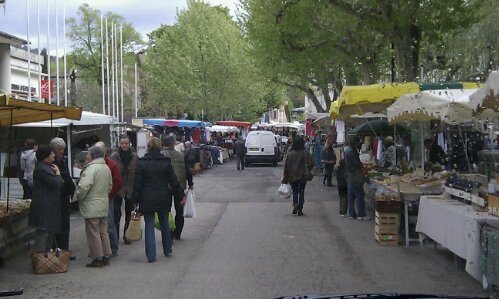 Dave twisted his way out from the remaining hills and onto the flatter land below, with vineyards and stone villages appearing along our flanks. Soon enough these were replaced with the cacophony of signs which signal the arrival of a French industrial area, this one outside Ales. Renault, Seat, Citroën and finally a Fiat main dealer. In we go. The exchange went something like this, with our half in bad French:
Us: hello, we're English, sorry our French is bad
Maitre de Fiat: OK (laid back and good humoured)
Us: Fiat fixed our clutch in Narbonne but now this is broken (showing photo of speedo on phone)
Maitre de Fiat: Hmmm, the document you have is only a guarantee for the clutch parts
Us: yes, but it (point at phone) worked before the clutch repair
Maitre de Fiat: shrug.
Us: can you look at it?
Maitre de Fiat: sure. He takes the details from the V5 and asks me to sign a print off. We don't sign
Us: do we have to pay? We don't think we should pay?
Maitre de Fiat: yes, you have to pay.
I'll save you 10 minutes of your life here! This went on for a good while, with a 2hr break for lunch, and a phone call back to Fiat Narbonne. The end result was his guys checked the van and said the cable had snapped. We thought this an amazing coincidence but thought, what the hell, we're off. We'll use the GPS as a speedo until we decide what to do.
As we cruised off up the road, I flipped Dave through a few smooth gear changes which calmed me down. The Maitre de Fiat had got the better of me, but it was a fair fight (with Ju refereeing) and we shook hands at the end. No hard feelings.
Next stop: the village of Vogue. It was circled on our map as one of the 1000 French places to see. We reckon it must have ranked #1000 as it was uninspiring. Being generally closed, devoid of life and undergoing a load of roadworks didn't help.
Turning Dave around, yet another 1000 ranker beckoned: Balazuc. Sat a km off the main road and on a steep bank of the Ardeche, the place delivered. Stone houses, many with trailing vines and nice purple plants, small shops and a view down over the bridge, all bathed in sunlight. Smashing. We read a sign telling us the bridge was totally immersed during a massive flood in the 1800s and survived intact, only to be deliberately destroyed in 1944 to hinder the Nazis.
By this point we were bushed so headed here. I'm near the end of a stubby bottle of beer, and the van next door has another King Charles Cavalier. Time to sup up and get outside.
Cheers! Jay