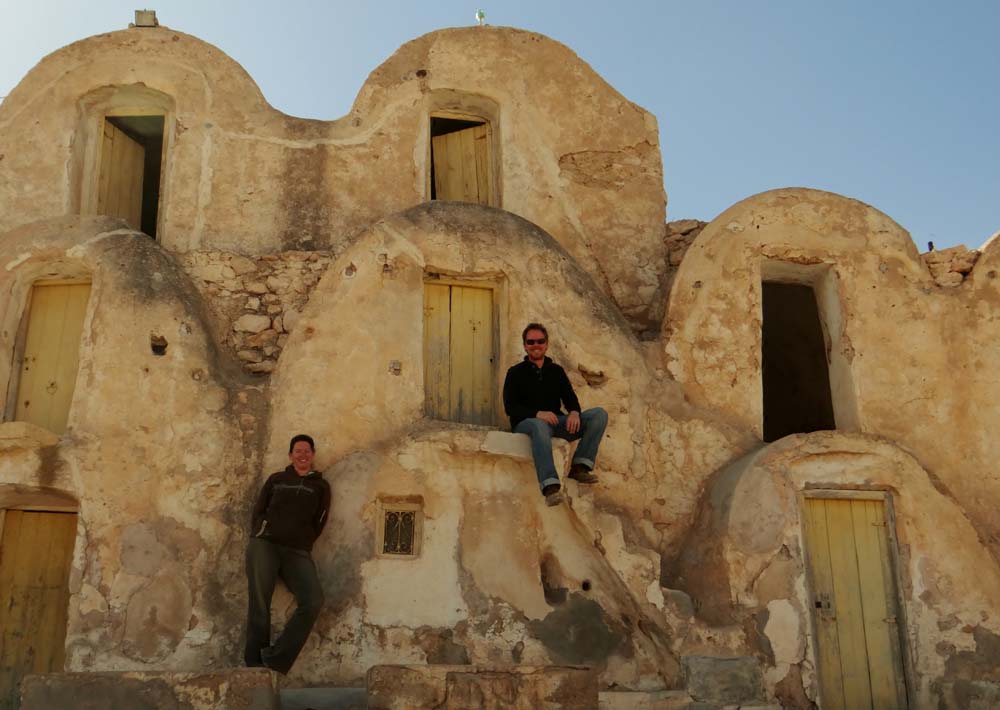 Dave the motorhome is attempting to pretend he's not here, parked up in the fortified ksar courtyard of Hotel Les Gorfas, which is shut (N33.36878 E10.43677). Although the hotel is closed, it's such a great location to park up and everything around it is closed too (a bunch of cafes at the entrance), we've decided to wing it. So far, so good, and it is normally available to motor homes, as the collection of stickers on the hotel door testifies. We're finding Tunisia to be almost devoid of tourists, never mind people in motor homes, it's pretty bad for the industry but they seem to take it in their stride, just saying 'yes, there are no tourists this year'.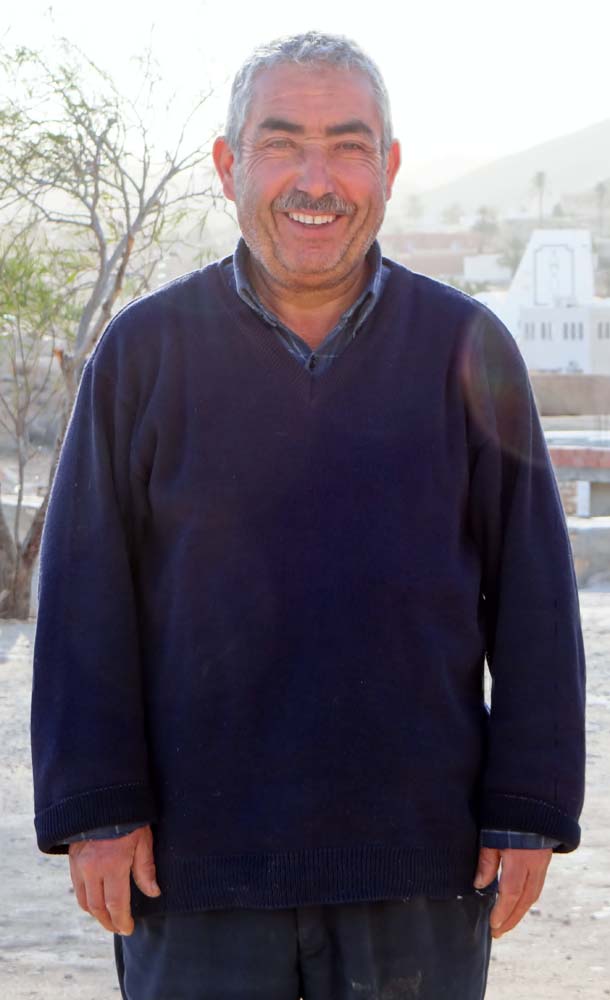 Chez Abdoul's turned out to be a top spot. His little restaurant, as cold in winter as it probably is hot in summer, turned out a meal of egg and potato 'Briks', a mutton couscous for me and chicken couscous for Ju and finally a pudding of baklava – a sticky filo pastry filled with chopped nuts. Water was included, as was sweet green tea and a manically loud telly in the corner. David Cameron appeared on it at one point, during a long piece at the Algerian In Amenas facility. The locals seem to like him, giving the thumbs up when he's mentioned, as he's seen as being more pro-Arab than Tony Blair, which wouldn't be hard? The TV, which the waiter stared at between courses like Allah had just appeared on it (there we no other punters), went on to some crazy show, a cross between Question Time and Play Your Cards Right. We stared at it too.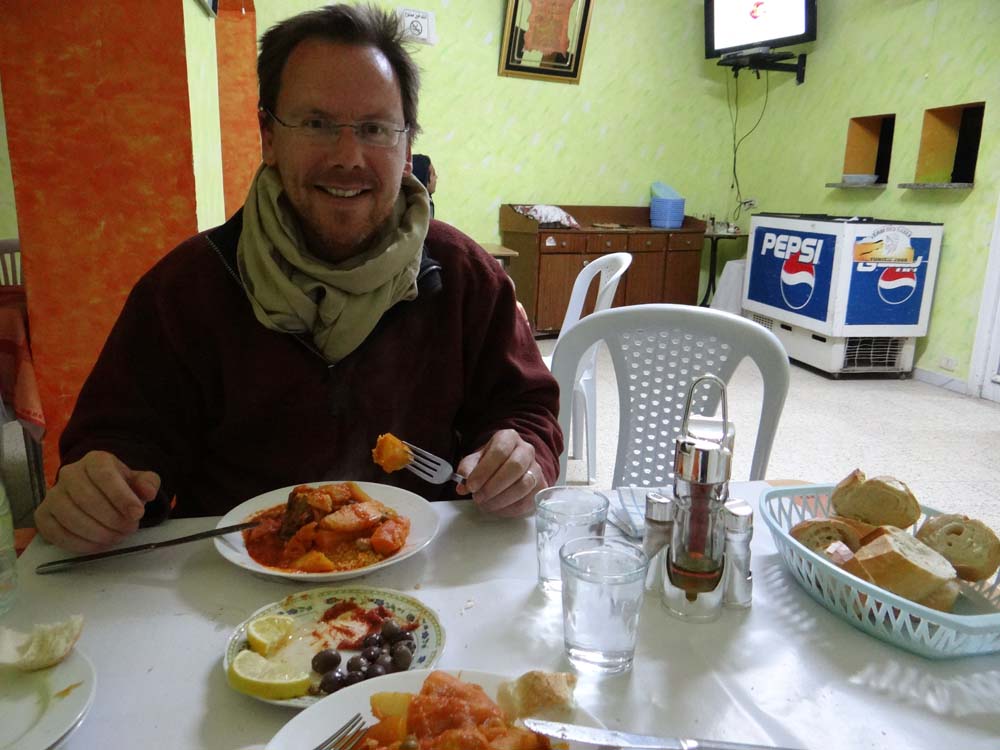 I must apologise before I go any further. There will be gushing below. Much gushing and going on about stunning scenery, incredible landscapes, like driving in a dream, all that kind of stuff. And there'll be photos. Loads of them. Like being stuck in a neighbour's never-ending slideshow. Sorry, but it is just so, well, pretty here.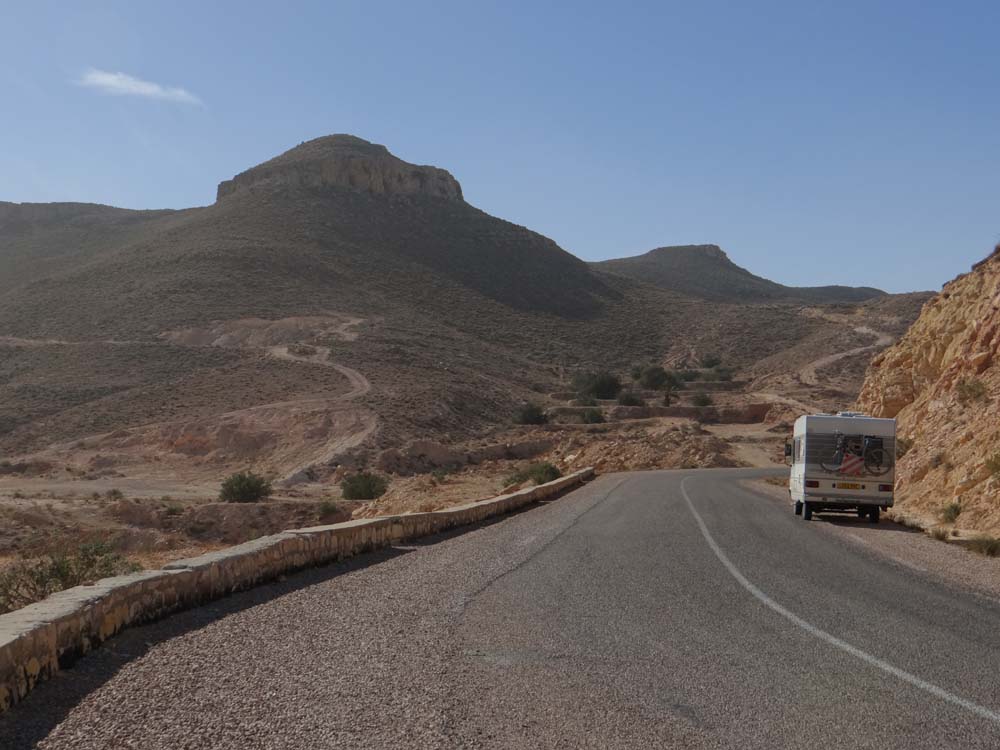 Up at 7:30 am for the sunrise over Matmata, I nipped out for a last look around the pit dwellings. One had been re-purposed as ground-fill, a third full of rubbish. One was abandoned, the doors half filled with rocks. One was still in action, a dish pointing up from the hole towards a geo-stationary satellite in space. The screech of cockrells morphed into hammering as the top halves of men appeared behind the walls they were building. Matmata is obviously changing, and quickly, which is quite a sight for a North African town. All the others we have seen seem to have stood still since the French left.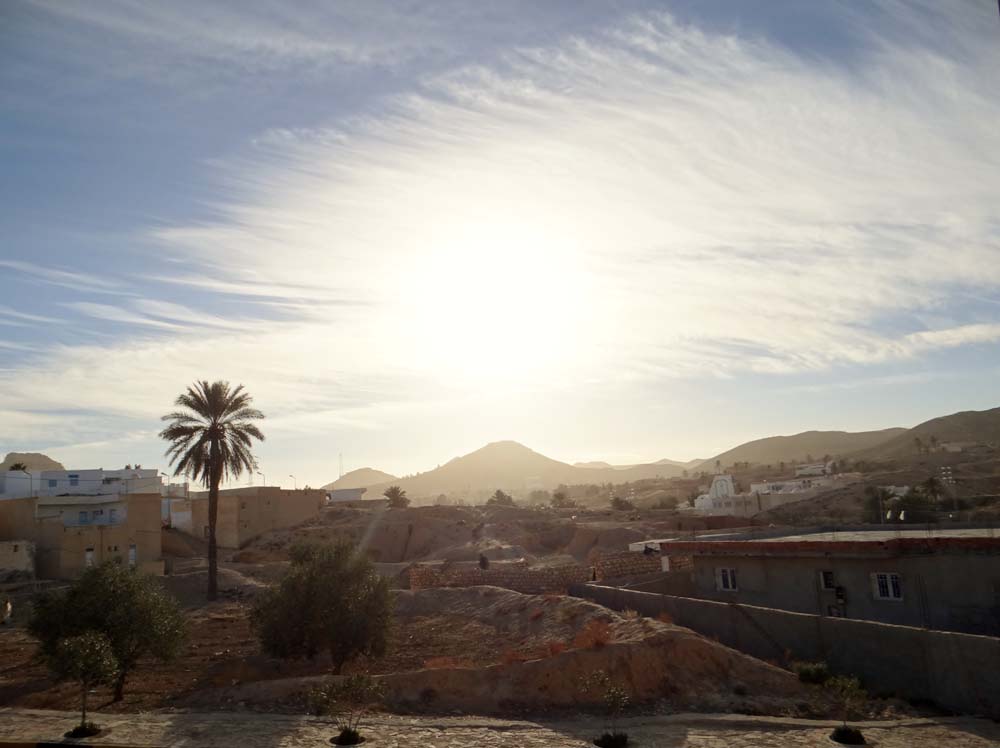 Once we'd bought some water, bread and spuds in one of the teeny shops, and said goodbye to Abdoul (promising we'd write something on our website about his motorhome stopover), we pointed Dave east and set off out of town.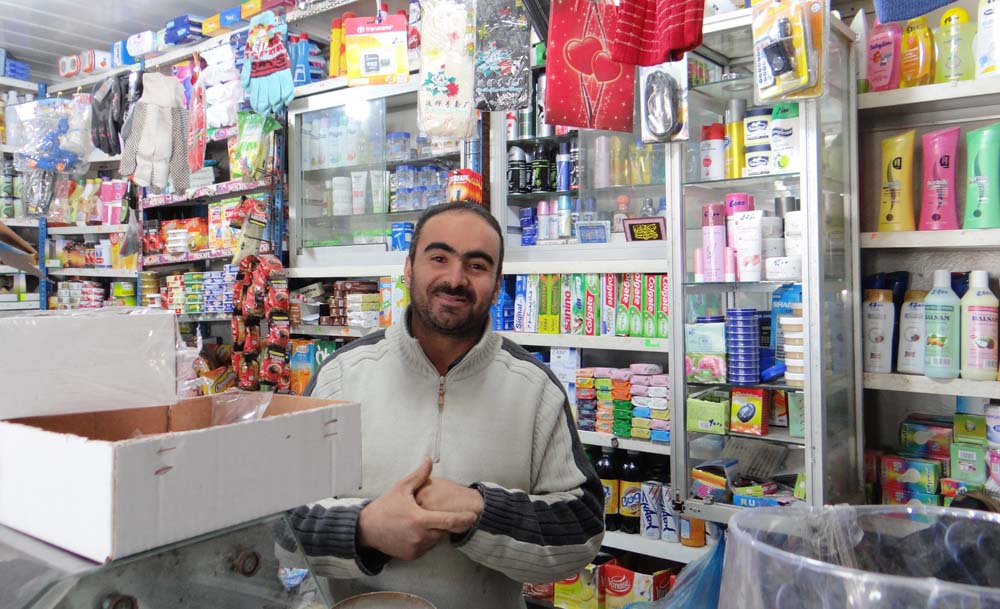 About two minutes later Dave ground to a halt, nope, not broken down (yet, gulp) but the view was arresting. OK, OK, I'll try not to gush. It was just a flipping beautiful drive, we stopped maybe five times to breathe in the cool air on the edge of yet another incredible view. The road between Matmata and Toujane is a road through the sky.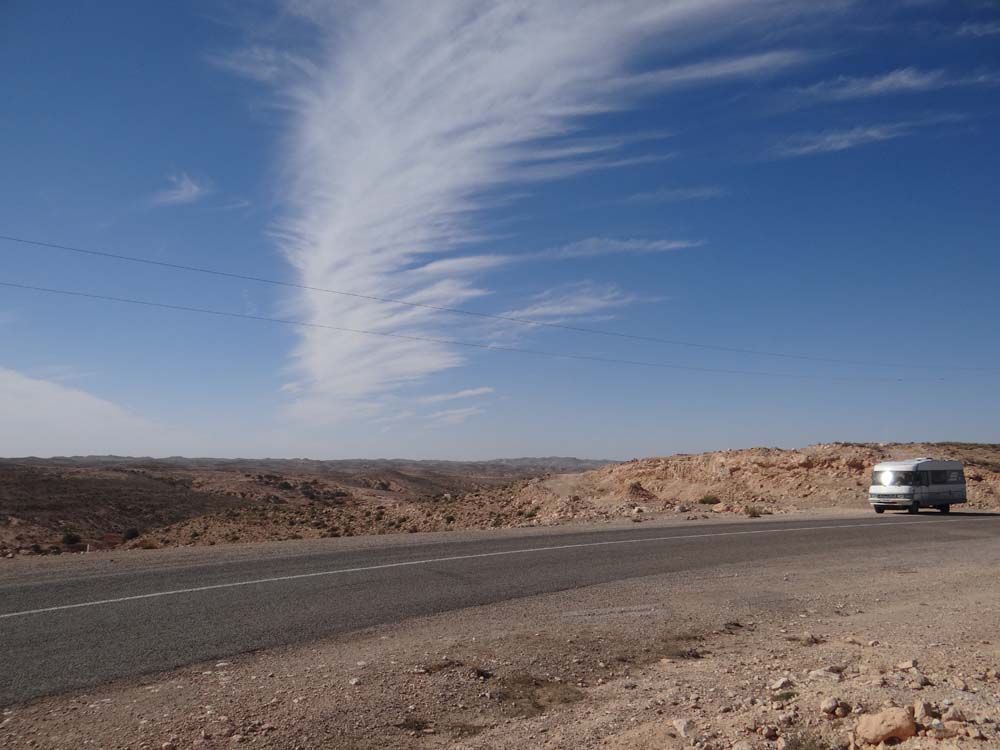 No-one bothered us, although lots of folks waved from afar in among the rocks. Only a boy shepherd made a play, walking on our side of the road as he pushed the flock along, sticking his thumb in his mouth. We guessed he wanted food. We used our usual smile-and-wave to ignore him. Afterwards we talked. These folks are poor, should we give to beggars? Is giving to a beggar charity? There are no easy answers. My cringing recollection of Morocco's current generation of kids, thousands of them transformed into professional beggars by Westerner like us (why bother going to school?), makes it easier for me to decide. We pay those who provide a service. If we give, we only do it when people don't demand things from us first, this seems fair (and being British, fairness comes first, what ho!).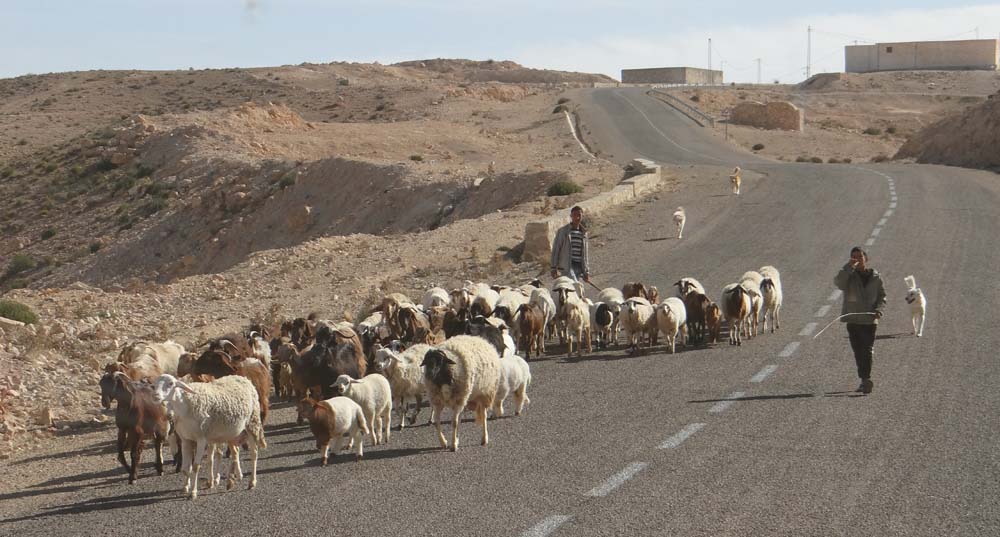 Toujane is a tiny little place, the road narrows to a car and a half wide to get through. Rounding a bend the packed terrace of houses popped up like jack-in-the-box, the hillside around sporting a walled skirt of stay-back-you-darned-falling-rocks defences. Driving slowly, the cottage industry of red patterned carpet making flapped about in the breeze. Men lay around on the ground, idly watching us past, lifting a hand in greeting. Only one chap shouted the traditional salesmen's opening line of a hopeful 'bonjour?'. If they were blankets we'd have stopped, but carpets, Dave and Charlie don't mix, we cruised on.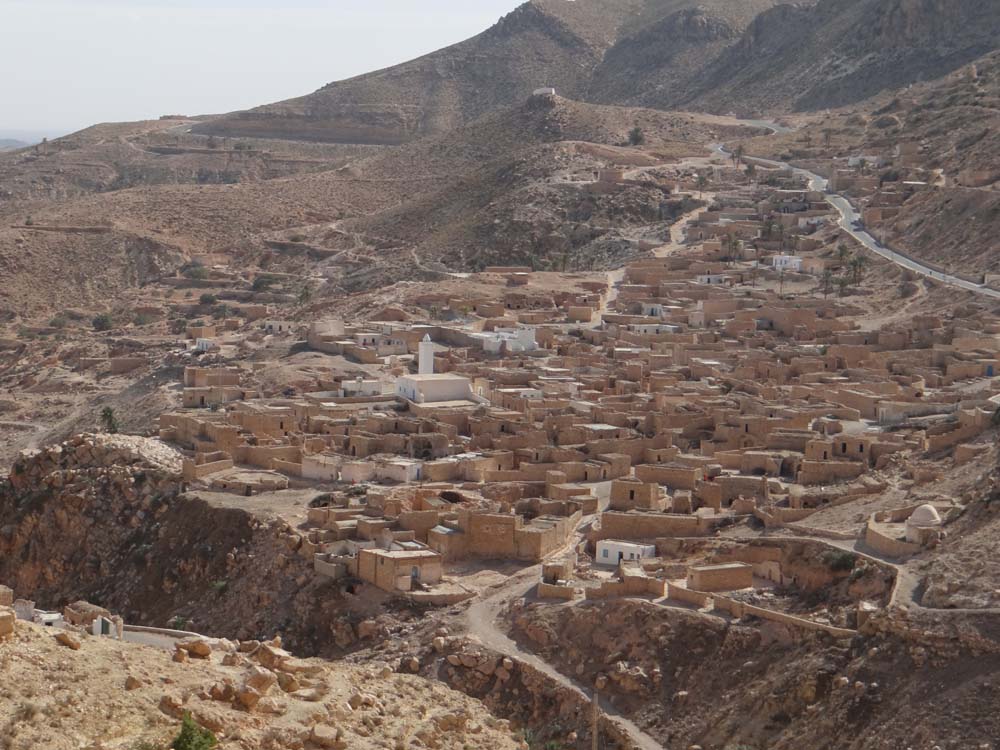 The road fell from the sky slowly, for a mountain road the C104's a benign beast, not a single hairpin bend or 25% drop in sight. Coming down onto the plain, we came down too, trundling along through nope-not-on-the-map-either little towns. Robed folks walked in the roads, oblivious to us, we slowed to a crawl until Dave's growl awakened them and they shuffled aside, surprised at the need to walk on the pavement.
We cruised on to here. Although we couldn't find here. There are no signs to it, just a reference in the Rough Guide to the '600 year old ksar of METAMEUR has a dramatic silhouette, standing isolated in the plain'. Dramatically, we found it by chance, no sign of a silhouette, Ju somehow smelled it out, and we came and had a look around before deciding to shift the barrier at the courtyard entrance to one side and slot Dave in a corner, regardless of the very much locked-for-ever look of the hotel which takes up a few of the ghorfas.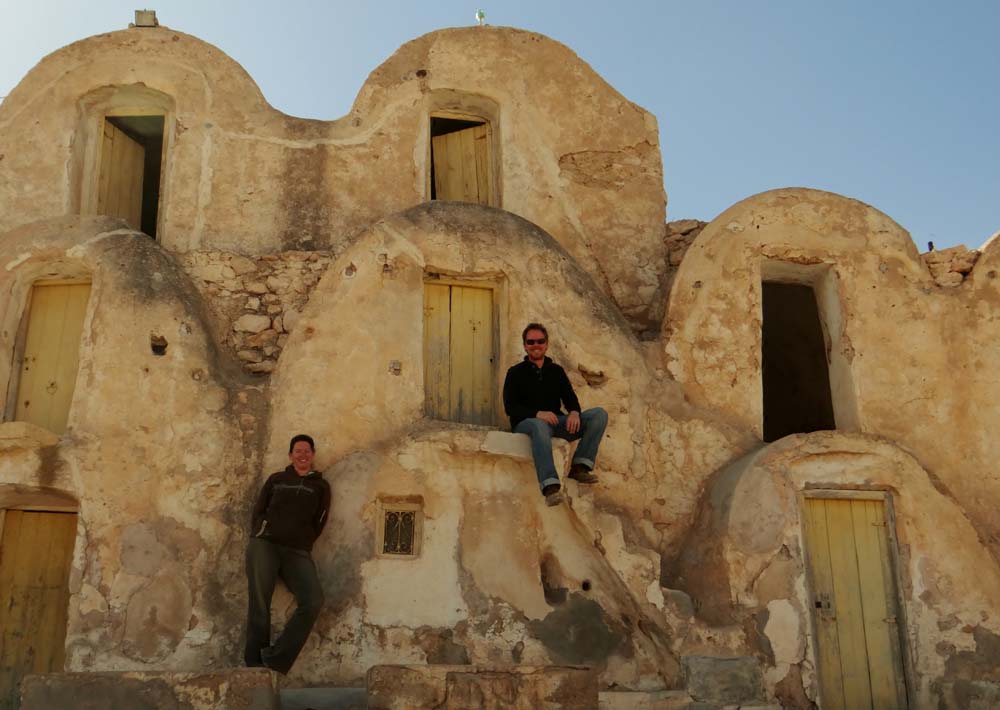 A bit of definition, for me as much as anything:
A 'ghorfa' is a room with a small door and a barrel ceiling, in oldern times they were used to store grain.
A 'ksar' is a building made up of ghorfas, built alongside one another and stacked up to eight stories high. They're built into a courtyard shape, with the blank wall at the back of the ghorfas facing outwards, making them harder to attack.
'Ksour' is the plural of ksar. There's rather a lot of ksour around here, we're on the trail tomorrow to see more of 'em.
The courtyard we're sat in would have, and perhaps still is, been used by nomadic farmers on a Friday who would come to pray at the mosque (about ten feet from us again, 5am wake-up call anyone?) and then sit about and shoot the breeze in this here spot where I'm virtually shooting the breeze with you, a wonder of the modern world. Oh, and our Orange dongle thing has come good, it's uber-fast here.
Finger's crossed no-one will come and shift us on, we're looking forward to a chilled-out night in an incredible little corner of the world.
Jay