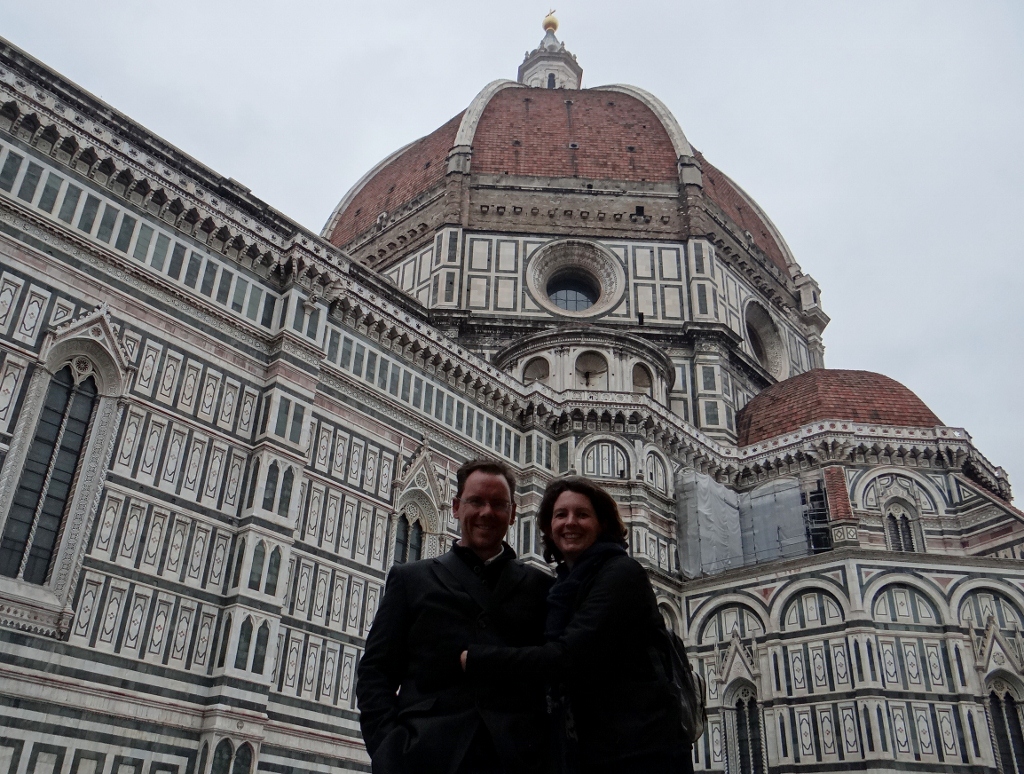 Dave the motorhome is behind high security fences and several gates at Social Camper Firenze a sosta (N43.76236 E11.20930) just outside Florence – he feels quite snug and secure as included in the cost is electricity, so the heater is on and everything is charging.
It was decision time this morning, head to another free aire in Pistoia (an important metal working centre who's legacy is the pistole, originally the name for a dagger, then given to the first local firearms), see what the town is like and maybe get the train into Florence, or go straight to Florence and stop in an expensive sosta or campsite as parking seems to be non-existent. Pistoia was given the bullet, and we made tracks for the most expensive sosta in Florence (but with the best reviews).
Leaving Vinci we drove along narrow lanes past small groups of people harvesting olives. Countless trees around them, they laid netting at the bottom of each one then painstakingly raked each branch with a hand rake slightly smaller than a dustpan brush. The work may have been laborious, but they were in the most breath-taking surroundings. Even on a grey day like it was today the seemingly endless fields full of multi-hued grape vines in their military rows looks like a something you'd see on a postcard (and probably do).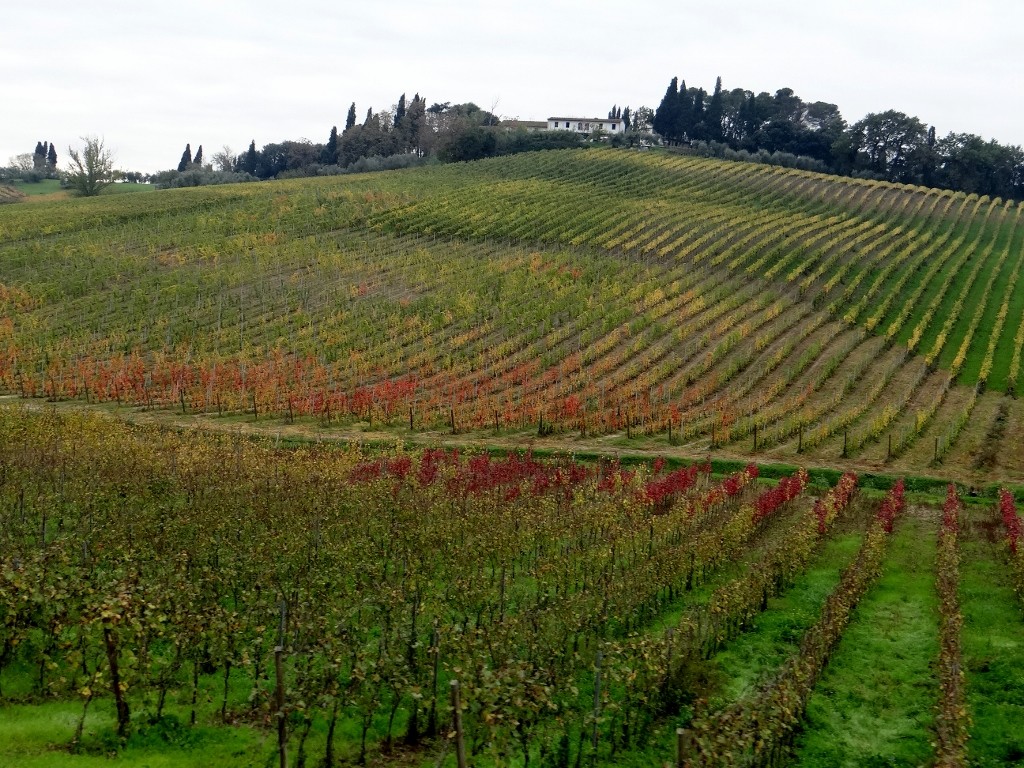 The tiny roads merge with a nice big dual carriageway which whisked us into the centre of Florence (which is called Firenze in Italy). The dual carriageway becomes a single lane road and most of the traffic turns off. The streets are un-nervingly quiet as we pass what looks like a ZTL sign. ZTL (Zonea Traffico Limitato) are forbidden unless you're a local or a delivery driver. But unlike the Umweltzones we nipped in and out of in Germany where the police have to catch you in them, here there are cameras at the entrance and a heavy fine can land on your doorstep up to a year later. Unsure as to what the sign was we were very relieved when we found the sosta, tucked down a passageway between some houses and next to a garage, and parked Dave.
Charlie's still on bed-rest, but no longer yelping when he moves and is obviously on the mend, so we took him for a quick leg stretch around the sosta then headed out to catch the bus. Weaving our way down the narrow streets at great speed we were so glad we decided not to try and get anywhere nearer to the town. ZTL aside, the roads here aren't made for us, or rather our nerves aren't made for them. The bus driver however is a different character, quite happy to beep at cyclists to get off the road so he could squeeze through the gap between the walls and turned in wing mirrors of parked cars.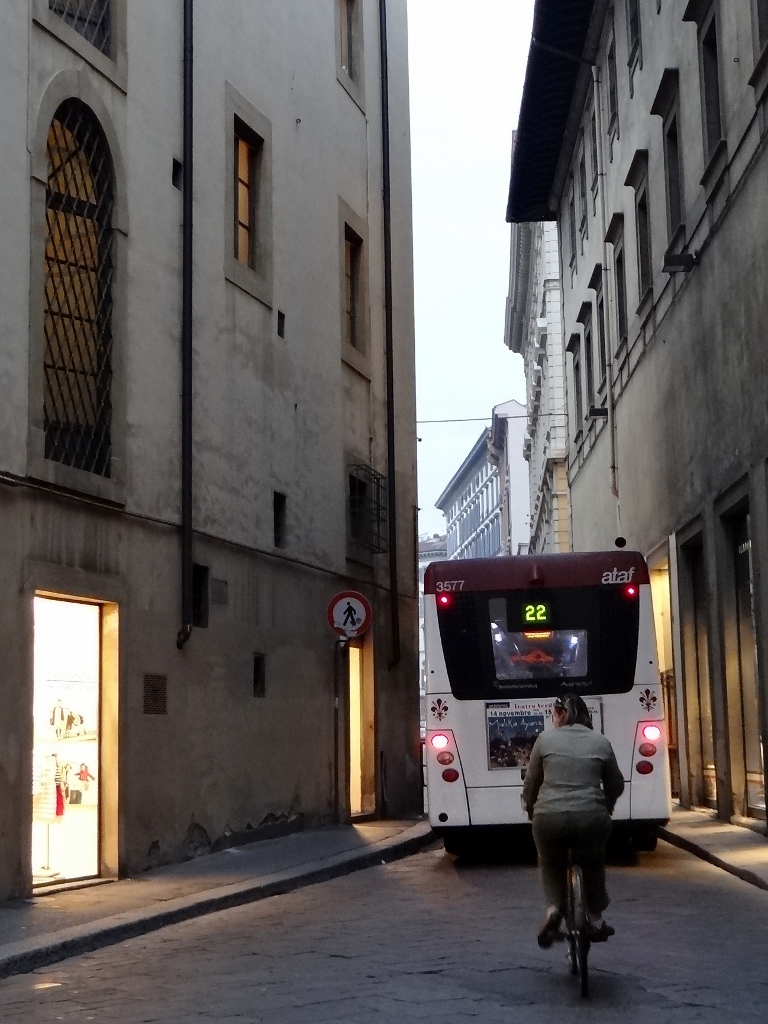 The receptionist at the sosta had given us good directions and a map, we'd done a little reading up so knew the main sights we wanted to see. We had a few hours before we had to get back for Charlie, so it was going to be another whistle-stop tour (I'm not sure we do any other kind!). Walking along the banks of the River Arno, which has followed us down from Pisa, we have a great view of Ponte Vecchio, the only bridge not mined by the retreating Nazis in 1944. It's loaded with shops, overhanging sides propped up by wooden supports, and in the past they were butchers, fishmongers and tanners until in 1593 when Ferdinando I had had enough of the smell and chucked them all out and only allowed goldsmiths to occupy the premises. Needless to say we didn't stop long on the bridge, jewellery shops are a bit outside our budget.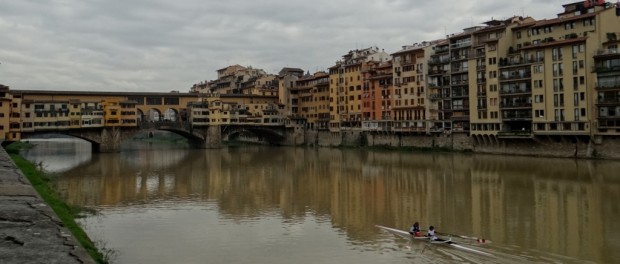 Making the most of being Charlie free we opted for a bit of culture (he's not a big fan of it) at the Galleria degli Uffizi which is one of the oldest and most famous in Europe and houses Italy's greatest art collection – well if you're going to visit just one, it might as well be the best! Guidebooks and websites warn of a two to five hour queue to get in, we had a five minute wait and that was while we worked out which entrance we needed to go in – it's up to Italy's usual standard of confusing. Once through airport style security, presumably brought in after a mafia car bomb destroyed part of the building in 1993, we first of all headed to the loos – normally I wouldn't mention that, but even walk down into the underbelly of the building took us past ancient building remains which would have warranted their own tourist office in other cities.
A photography ban in the building was enforced by museum staff in every room and there were over 60 rooms set off two long corridors lined with marble statues and busts, portraits and a most elaborately painted ceiling. The first rooms were all religious paintings adorned with gold leaf, some of them bigger than Dave. Each painting had a short description about when it came to the museum and it's history which was sometimes more colourful than the painting itself – one of Madonna and child was stolen and ended up in Hermann Goering's personal collection!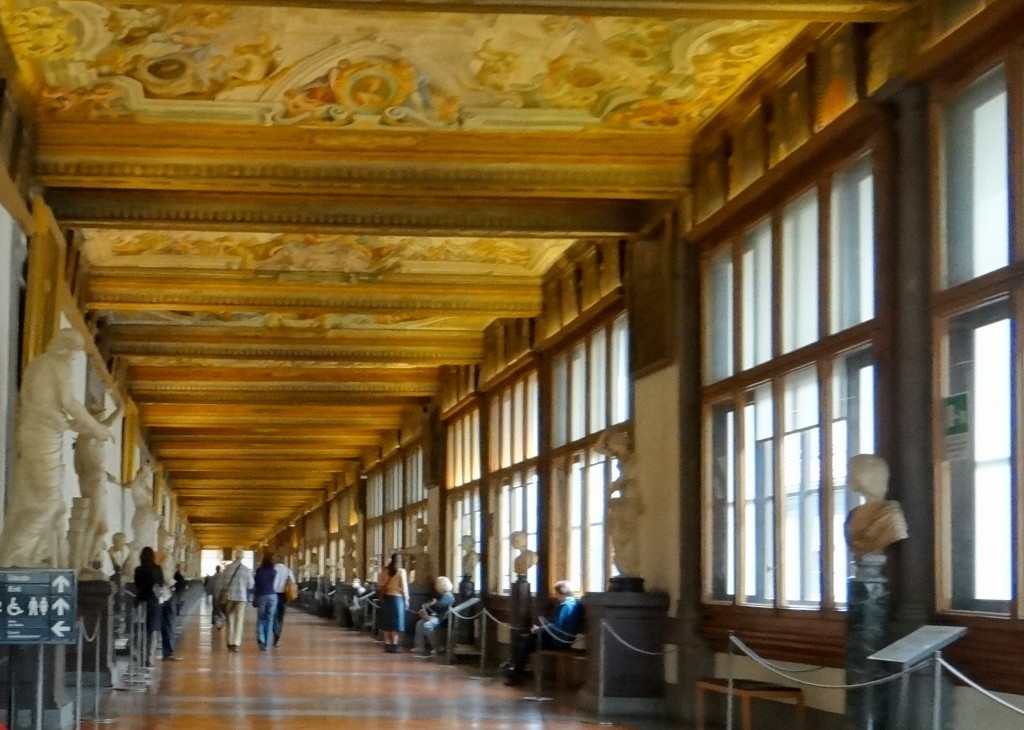 We worked our way through time taking in works by Giotto, Botticelli, Leonardo da Vinci (well only one of his), Michelangelo, Rubens, Van Dyck, Goya and Rembrandt – and these are just the ones I'd heard of. I recognised several of the paintings, but there was so much to see we got 'cultured out' after a few of hours and started wandering past most of them in a bit of a daze, making a bee-line for those behind glass screens or with a tour group surrounding them. Making it back into the street we headed to the Piazza Della Signoria to see a fake David. The real statue of Michelangelo's David is tucked away in a museum nearby where you have to pay for the privilege of seeing him, but where he originally stood, until 1873, there's a copy – and personally I doubt I could tell the difference. The strangest thing was that surrounded by many other beautiful statues in the Piazza, he didn't really look anything special.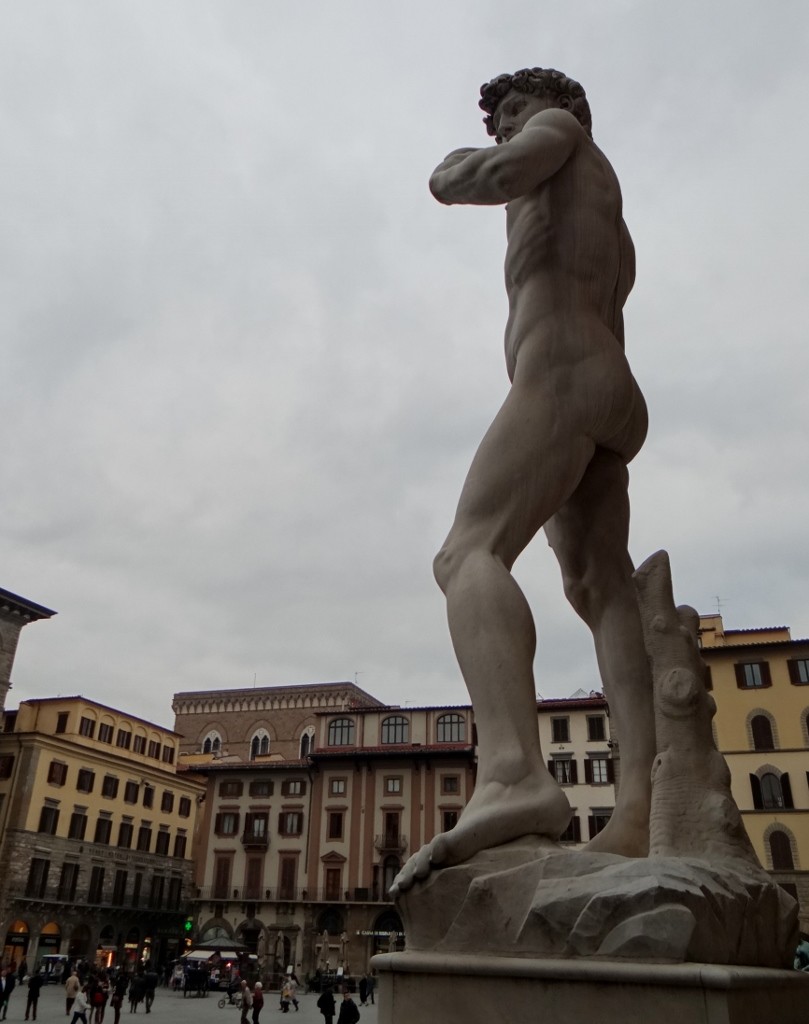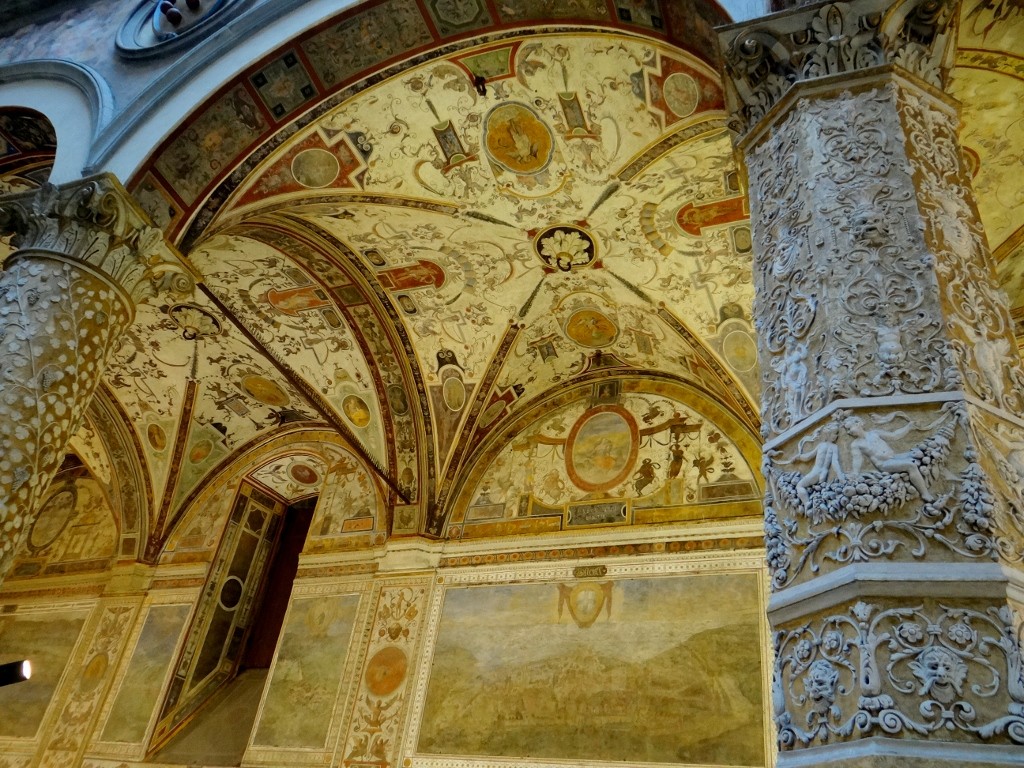 Each turn brought in front of us an ornate building, a picture postcard scene or years of history. With time moving on we headed north to the Duomo, one of the world's largest cathedrals which can hold up to 10,000. As the Duomo, it's Campanile (bell tower) and Romanesque Battistero (Baptistry) came into view their scale dwarfed the surrounding buildings. The colourful red, green and white marble exteriors (a later replacement for the unfinished original) might have looked gaudy elsewhere, but seemed to fit in here. On top of the Duomo stands the enormous, octagonal, terracotta tiled dome which we'd become familiar with at Leonardo Da Vinci's museum as it explained the various cranes used to build it.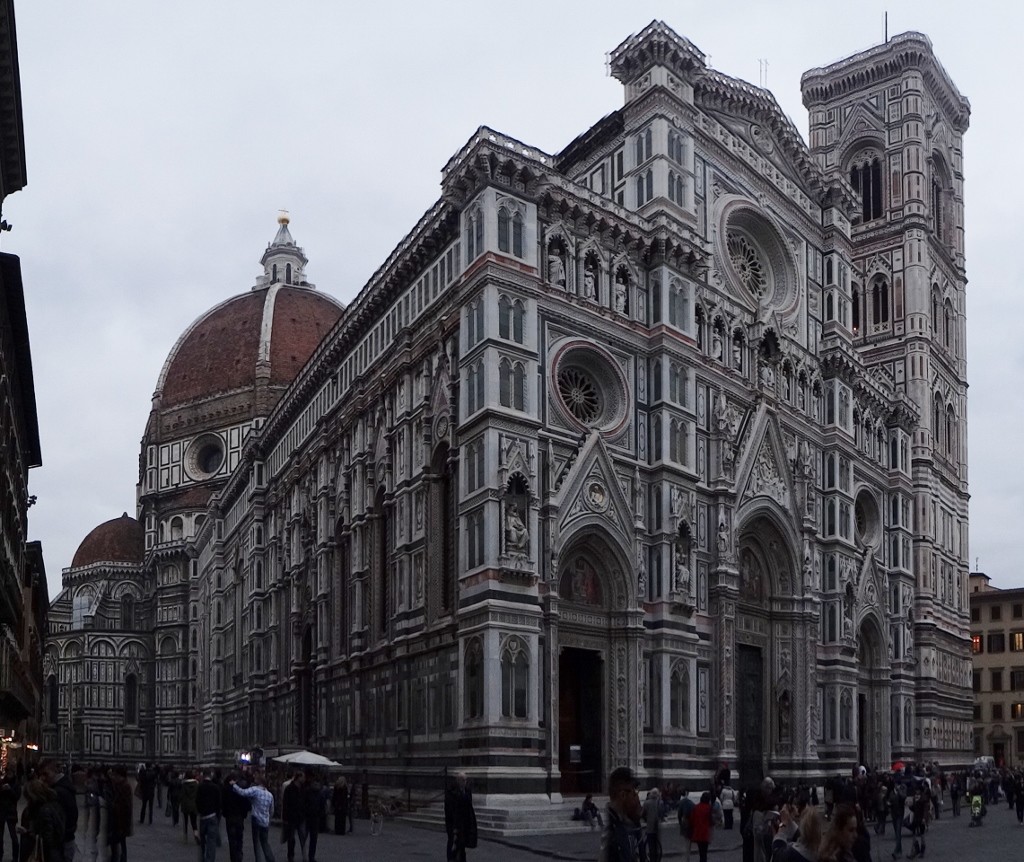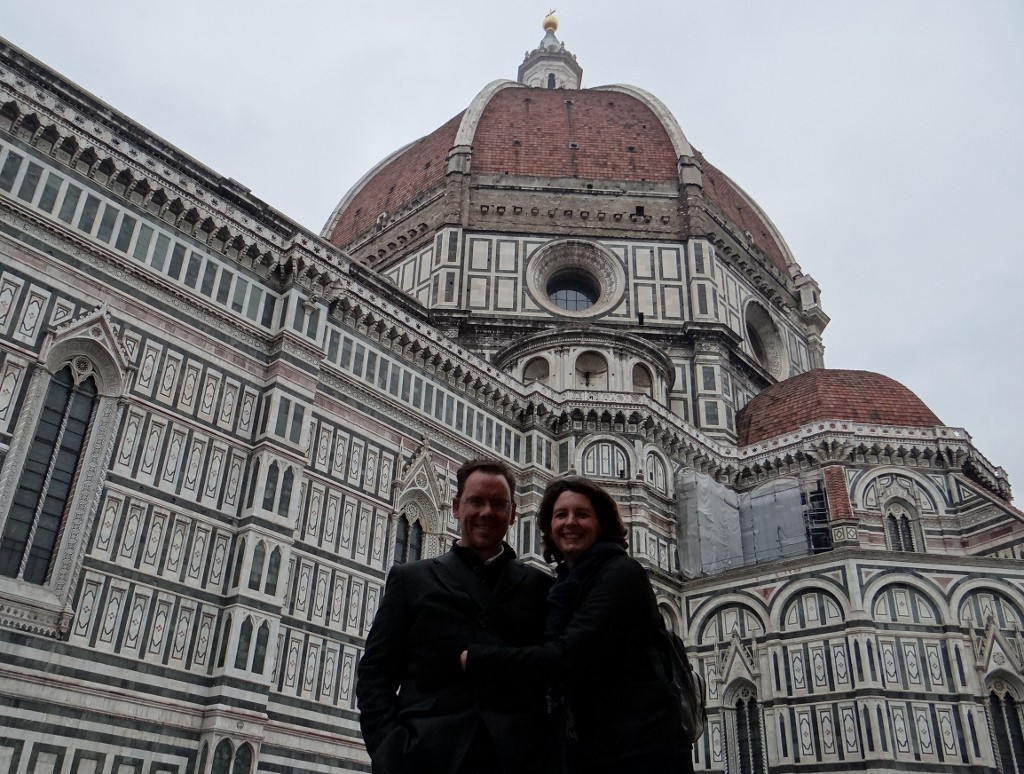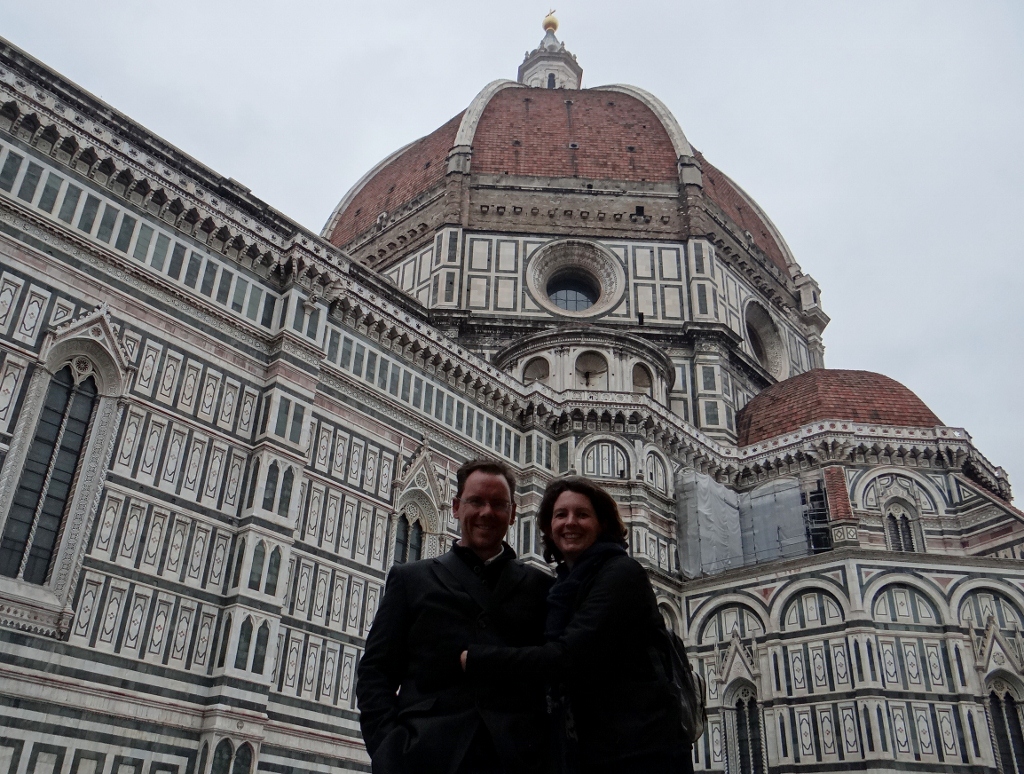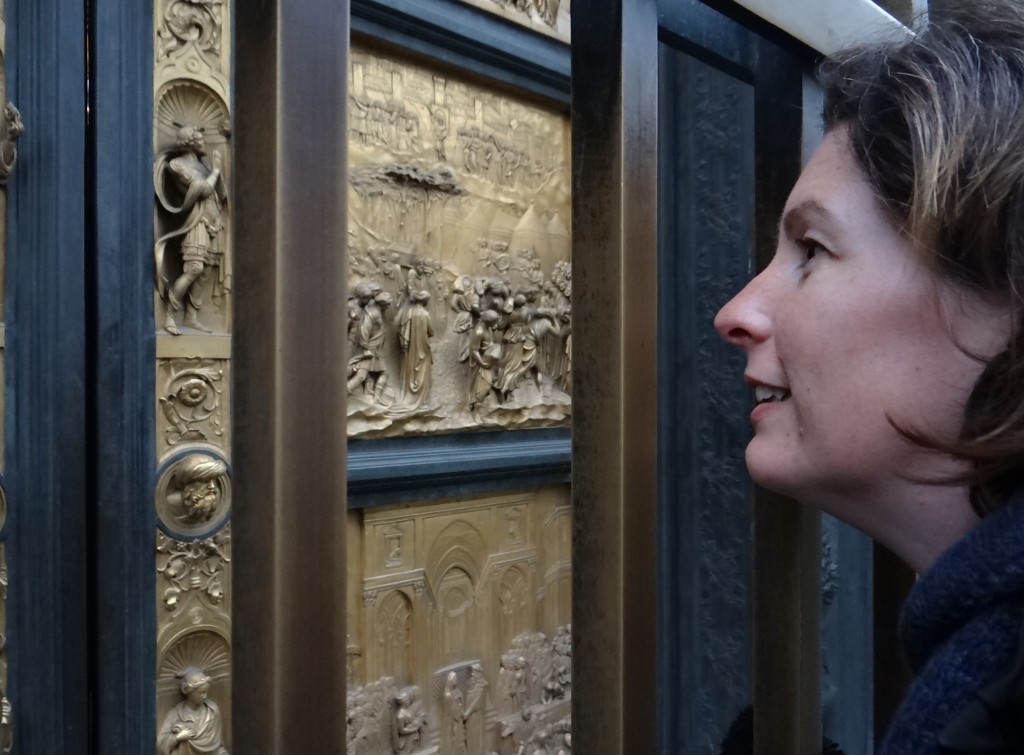 There was a long snaking queue to visit the Baptistry, a short queue to go up and around the dome and 414 steps to reach the top of the bell tower – so we opted to go inside the Duomo as there were no queues, just a few steps and most importantly it was free. In contrast to the exterior, inside was plain which made it quite TARDIS like. The two exceptions being the elaborately tiled floor and the fresco on the inside of the cupola which added a splash of colour.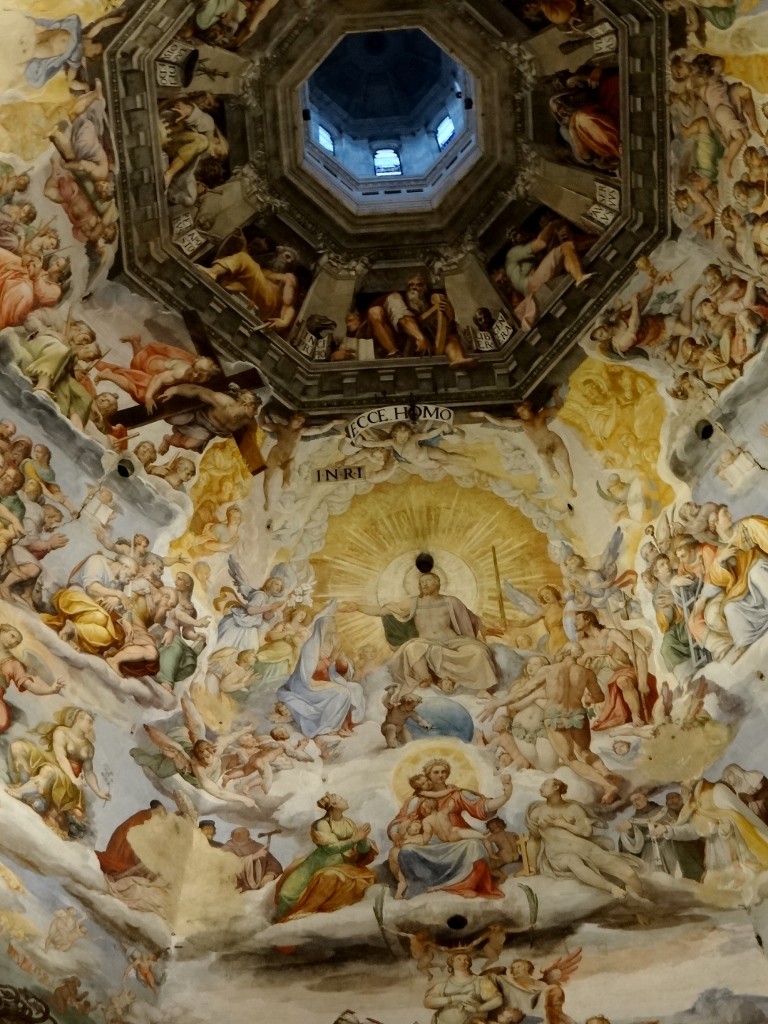 Outside the neon lights advertising hotels and bars were turning on and dusk was coming. We walked across town and caught the bus back to Dave and a happy to see us pooch. I'm sure there's plenty more to see in Florence, we've probably only scratched the surface. But with a grey cloudy day and a poorly pooch waiting for us I'm happy with what we've seen. Time to be moving south and getting some sunshine – as the weather forecast says rain for the next few days.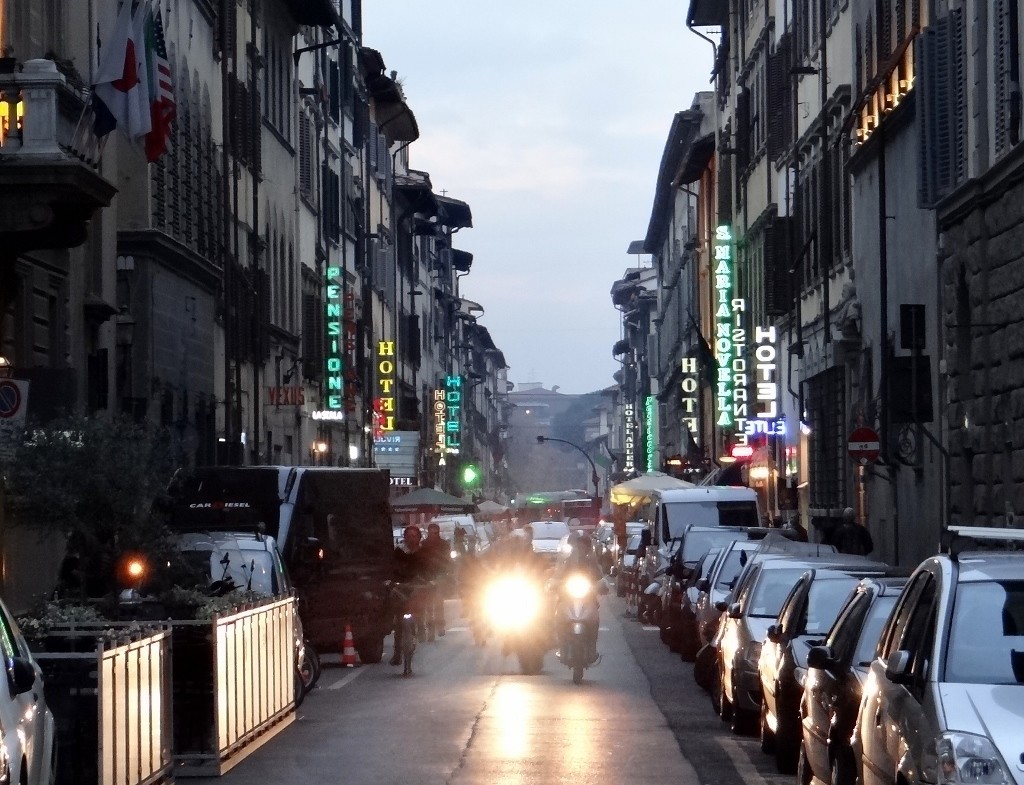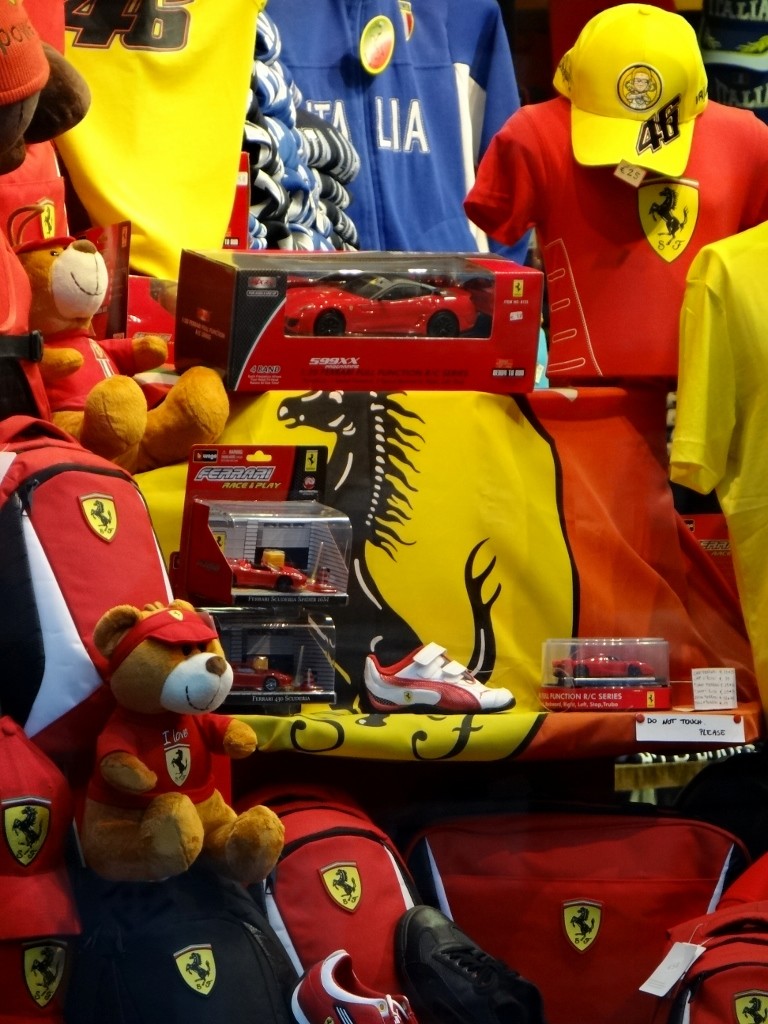 Have a great weekend.
Ju x