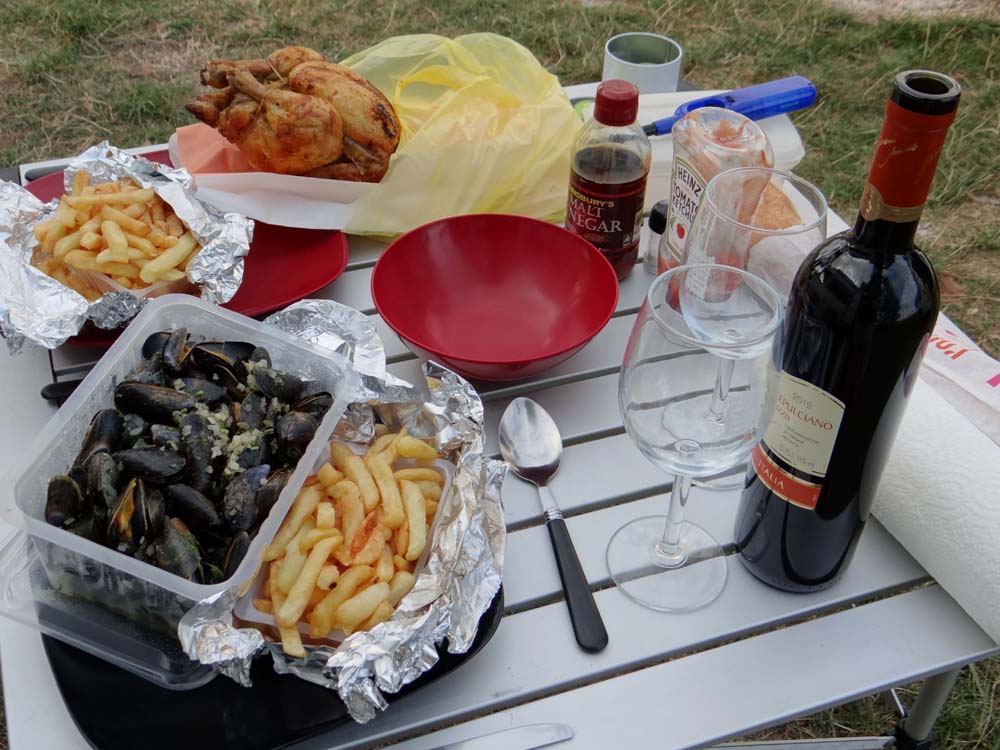 Dave the motorhome is loving Cathy and Mike's recommendation for an Aire. He's parked up with around 50 other motorhomes, all of them lining the waterway leading to the port at Mortagne-sur-Gironde (N45.47505 W0.79667). For just €7.50 a night he gets a great view along with water and electricity – it's no wonder this place is so popular.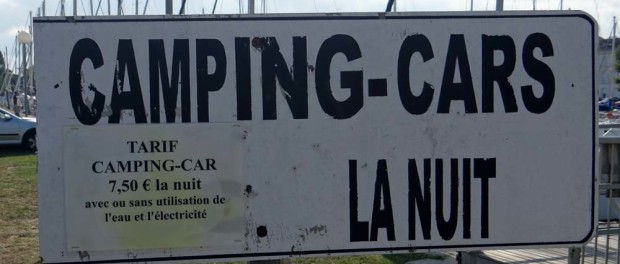 Last night we sat and chatted the night away with Cathy and Mike, while Charlie and Chico slept. From the tales they were telling us it looks as though Charlie may have lost his title as pampered pooch to Chico, the little bundle of fur has a toy basket about four times his size and expects Mike to feed him in bed at night before he'll go to sleep. Around 1.30am, as Jay tried to get his blog post to upload, a motorhome arrived at the aire and drove around looking for a space. Unsurprisingly there wasn't one, so it went on its way – to where, who knows. It is a very strange phenomenon to us, as we like to be parked up way before dinner, let alone before it gets dark.
This morning we were woken by the sound of motorhomes using the service point next to us, several of them were quick off the mark to ensure they 'missed' the police coming around to collect the money. When they knocked on our door to check we had paid I had to answer as Jay had just got out of the shower. It would seem that I made up several new French words explaining to her that we had paid and would be leaving that day, but she got the gist of what I was saying and smiled at my pathetic attempt to speak her language.
Once Dave was ship shape and ready for the off we said a sad farewell to Cathy and Mike. We'd only known them a few hours, but they were really interesting folks to speak to. If we're ever down their way in Spain we'll be sure to pop in for a beer to two! Then that was it, time to turn around and head home, we'd gone as far south as we would on this final part of our tour – now it's north all the way (and a bit west then east maybe!).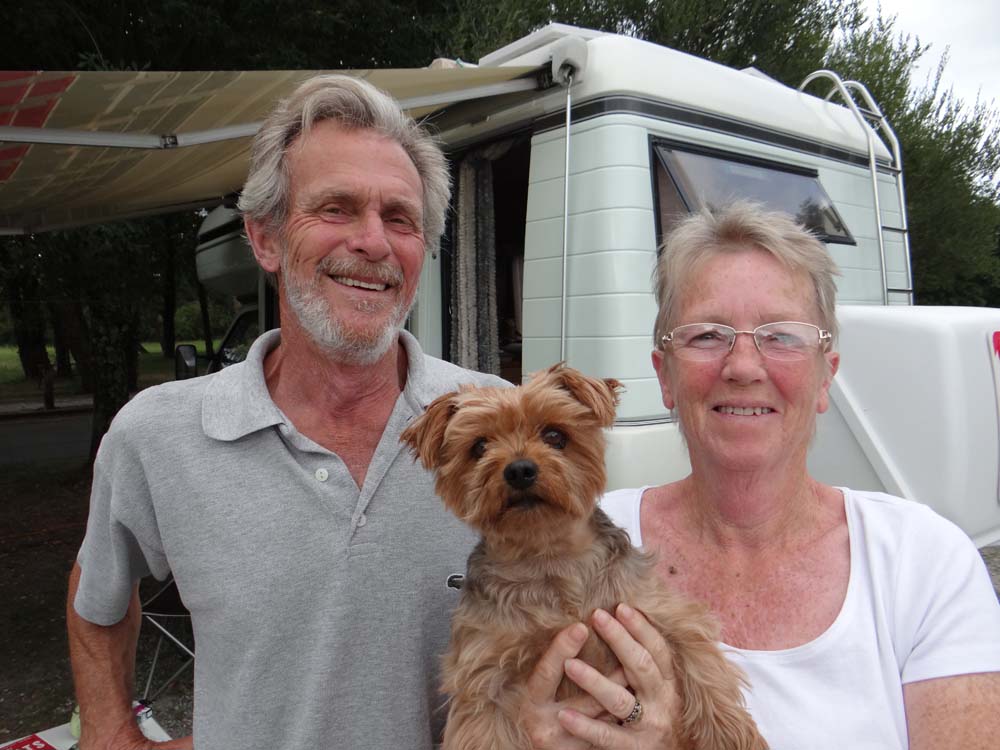 Satnav directed us to the town of Sanguinet where we followed a convoy of cars, which were stuck behind another motorhome, as she didn't have a clue about a new road which cut out the town centre. She chirped at us to turn right and I studied our map to make sure that this was vaugely in the right direction then all of a sudden BANG!!! I looked up to see Dave's wing mirror flat against my window, shattered into pieces and slipping in slow motion from its frame. Jay pulled us over onto the curb and we both looked at each other to check we were OK. We were both shocked, but otherwise unhurt, and Charlie was non-plussed about the whole situation.
Climbing out of Dave I could work out what had happened. There was a transit sized van parked on the pavement and the road was one of those ones that are wide enough for two cars, but anything else and you need to slow down and move over a bit. That's what we'd done, a car was coming in the opposite direction so Jay moved over a bit, not spotting that the van's wing mirror was just over the edge of the curb on the road. Jay wandered over to chat to the two equally stunned blokes who had been sitting in the van as I grabbed a dustpan and brush to get the broken bits of mirror off the pavement.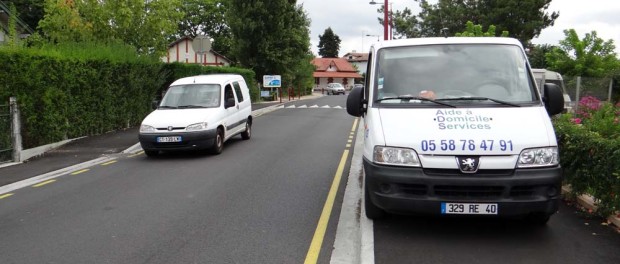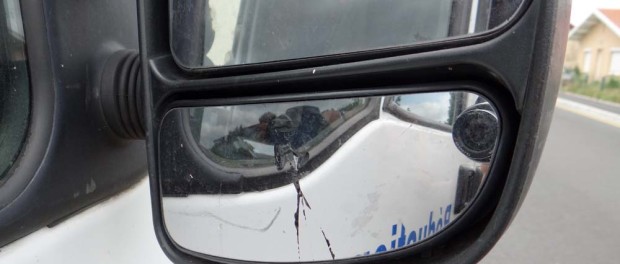 Everyone was fine, but either because the van was a company one, or because that's how things work in France, the next hour was taken up filling out a 'Constat Amiable D'Accident Automobile' form, something which all drivers in France carry (come back Ljubljana, coughing up €45 was much easier than all this form filling!). The details of what had happened were slowly completed as the whole form was in French, insurance forms in English are bad enough, and even the French fellas from the van had little clue what went in some sections. They spoke no English, so Jay was translator while I finished clearing up the broken mirror and moved on to taking photos of the scene. It looked like their mirror had only cracked a bit at the bottom, so fingers crossed the company might not put it through their insurance, we'll have to wait and see. When I called our insurance people this evening to let them know there might be a claim coming I was told it was out of hours and to ring back tomorrow.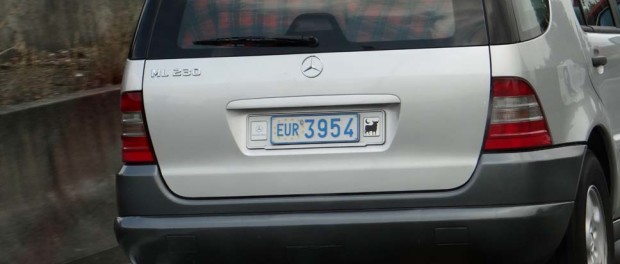 Paperwork completed and passenger wing mirror-less we set off again, suddenly it felt like there were cars coming at us from all angles and the road had narrowed by a couple of feet, just like it did when we first arrived in France all those months ago. After a bit of a traffic jam and few hairy moments where I had to hang out of the window to check Jay could move into the right lane on the motorway, we stopped off at a retail park just north of Bordeaux. The French version of Halfords only had car sized wing mirrors – Dave has huge wing mirror ears – so they recommended going to a motorhome dealership.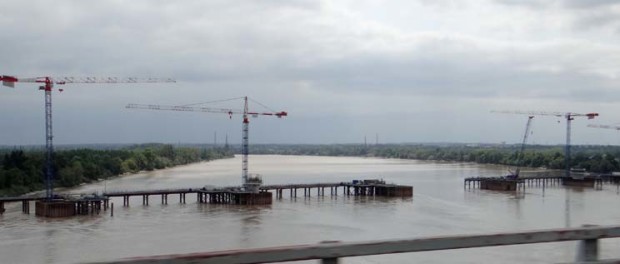 Without a clue where the nearest one was Jay hit upon the idea of taping the smashed mirror back onto Dave as it would be better than nothing. So half a roll of duct tape, and a wooden skewer for support later, Dave is now sporting a mirror which shows us multiple versions of whatever is going on behind him, which is far better than me hanging out of the window. France is littered with motorhome dealerships, so I'm sure we'll pass one soon enough to get a replacement.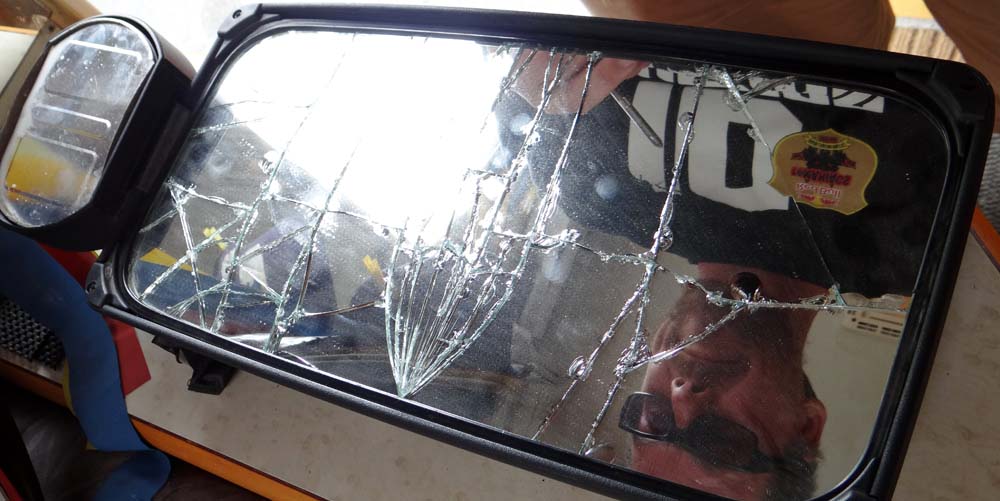 The rest of our trip was pretty uneventful, winding our way through mile after mile of vineyard lined road, dotted with advertising boards for local Chateaux, Pineau and Vin en Vrac sellers. Normally we'd be tempted to stop off and fill up our 5l barrel, but today I just wanted to get parked up and relax. Around 3pm we reached Mortagne-sur-Gironde and followed the signs for the port, dropping down a pretty steep hill in the process. When we arrived we were greeted with a marina full of shining white yachts, next to which ran a line of equally shining white motorhomes – these two modes of transport fit together so well, with similar needs.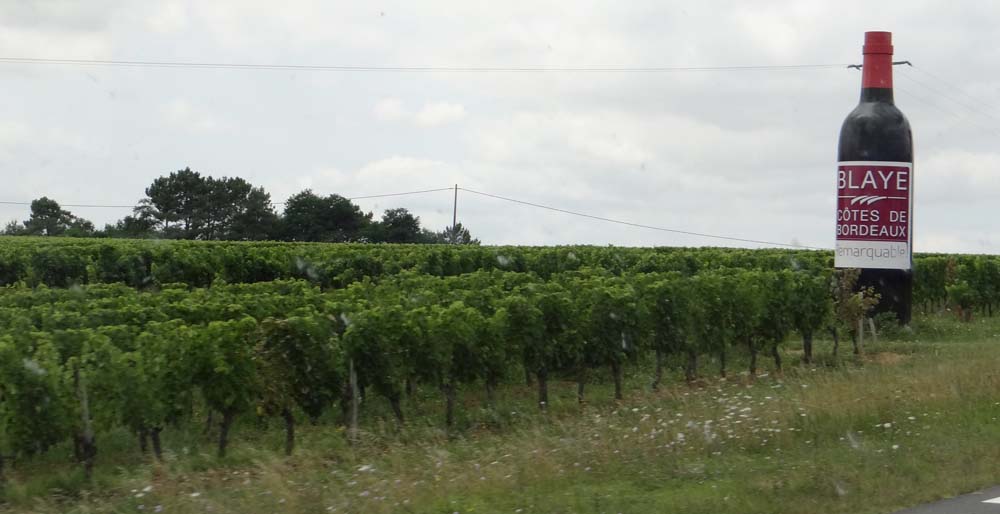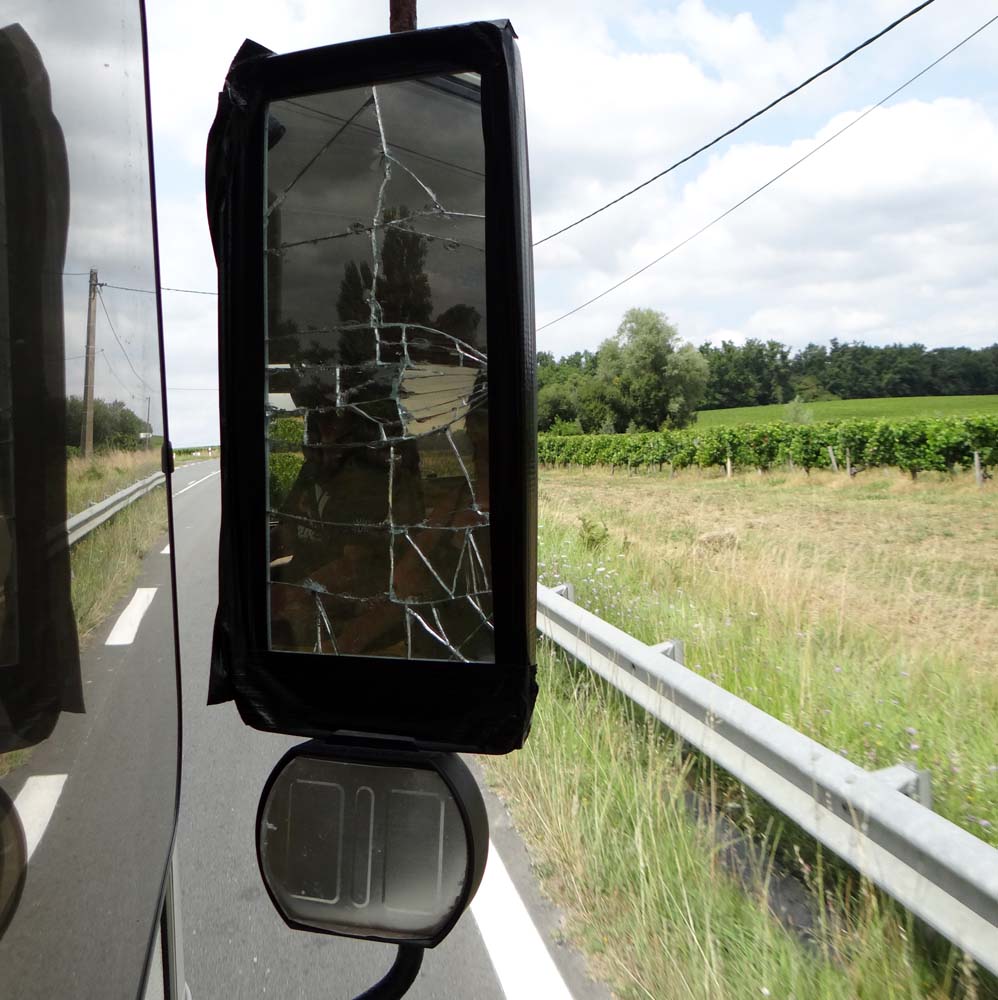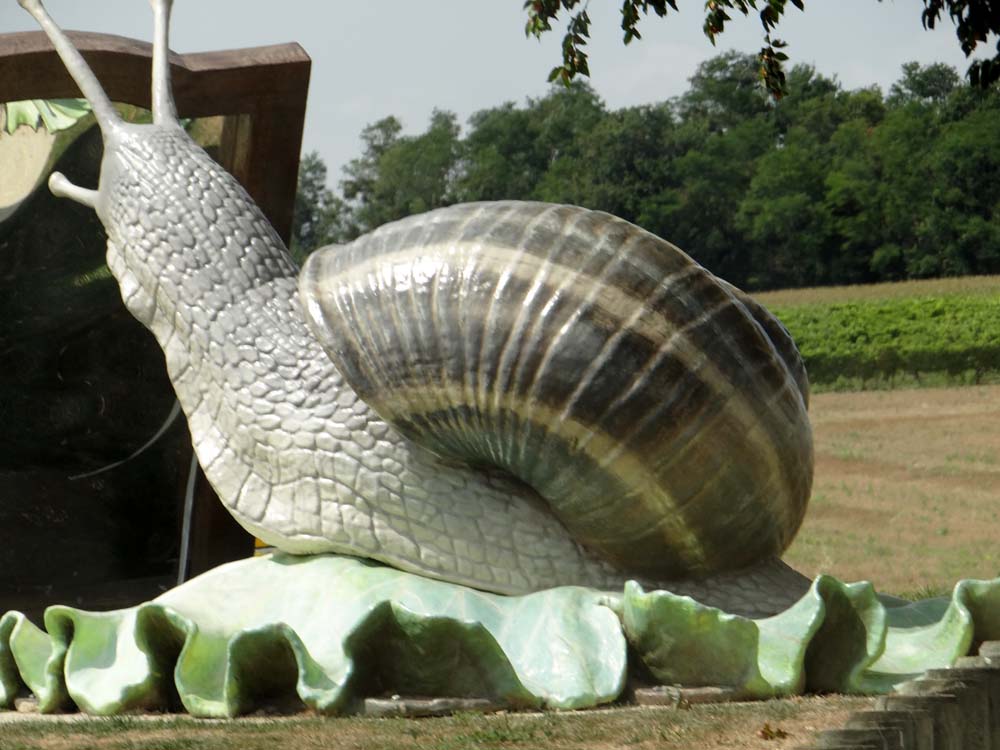 We slotted into a space and got out our camping chairs to relax. After five minutes Jay was up and about, cleaning Dave's windscreen then adjusting his clutch – it was as if he was trying to make up to Dave for knocking his wing mirror. After a beard trim Jay decided it was time for a hair cut. He sat in the camping chair shrouded in a towel as I hovered over him with some scissors and a comb, and it was at this moment that Neil and Julie pulled up in their motorhome and parked up next to us. After Jay had been shorn we got chatting to them about all things motorhome, this is their first trip abroad in their van as previously they'd been caravanners, so they were making the most of the Aires (caravans aren't generally allowed to stay in them). We chatted for about an hour while Charlie and their 'Bug' (Boxer / Pug Cross) Tilley eyed each other up suspiciously.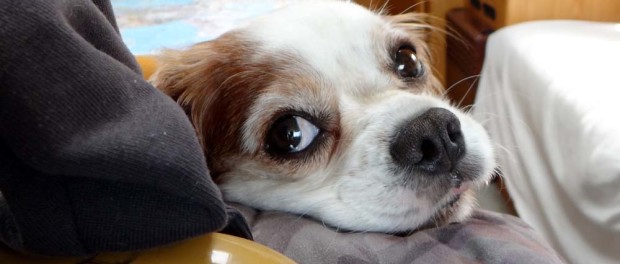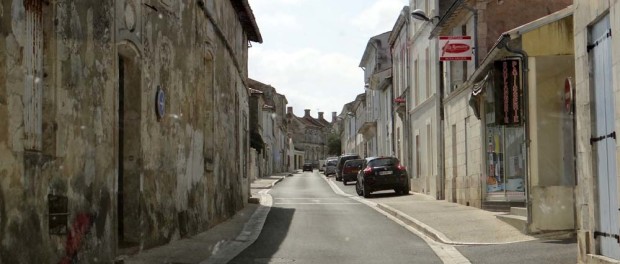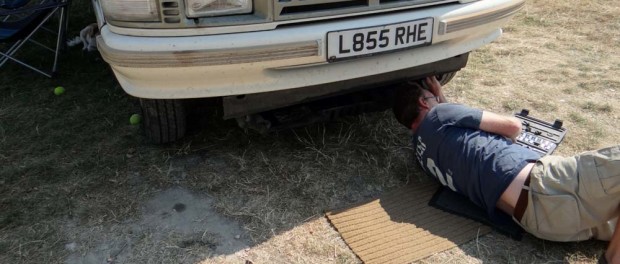 Strolling along the waterfront we popped into the little stalls at the end of the row of camping cars and put in our orders for tea – moules frites for Jay and poulet rosti and frites for me, all drenched in, or stuffed with, oodles of garlic. The stalls have undoubtedly sprung up to serve the motorhome population, one serves drinks and souvenirs, another is an extension of a boulangerie, one sells fresh sea food (this one had a queue as the French people obviously have a clue what to do with the stuff) and finally our little stall did takeaway food. What more could you ask for?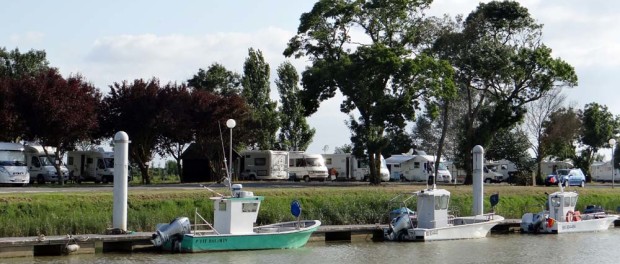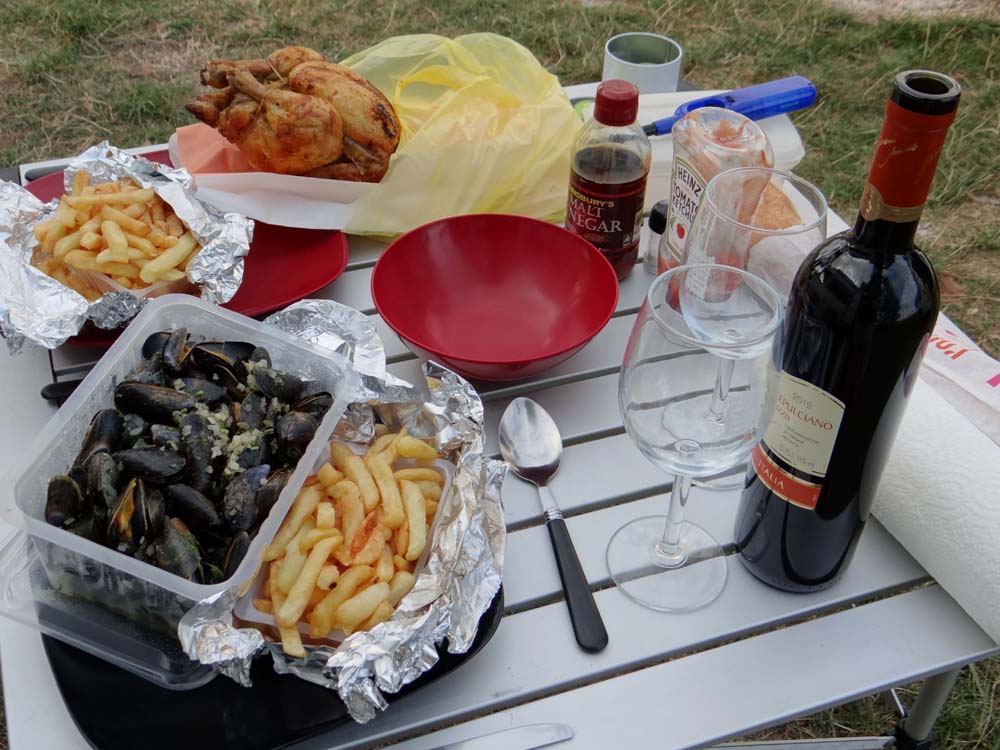 We returned to Dave laden with food, opened a bottle of Montepulciano D'Abruzzo wine that we'd picked up in Lidl for €1.79 (seems no one in France buys Italian wine so it was cheap, cheaper than when we'd bought it in Italy!) and sat watching the sun set over the water as boats drifted by. A perfect ending to what Jay has termed, a smashing day!
Ju x