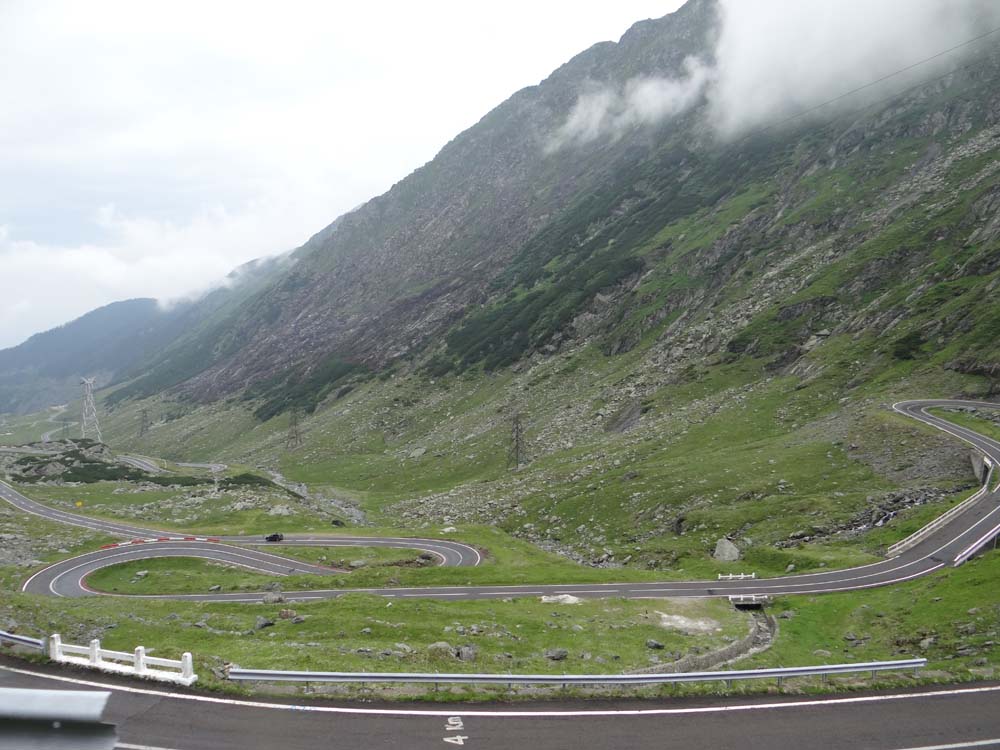 Dave the motorhome's in a Romanian field near Sibiu, and the village of Gusteritja (N45.81439 E24.19867). We're now north of the Transylvanian Alps, also known as the Carpathians, also known as the Făgărășan Mountains. Read on to find out why (why we're here, not why mountains have a shed load of different names – I've no idea!).
We spent last night alongside a late-melt, blackened snowfield at the top of the Transfăgărășan Pass, the highest paved road in Romania, and I was on top of the world. When we'd splashed our way out of the dimly-lit tunnel which pokes a lengthy hole through the insurmountable rock at the high point of the pass, I instantly wanted to stay the night. The place was extra-ordinary, for any number of reasons. Mine were: (1) it's one of those places where people gravitate, folks from all kinds of backgrounds on all kinds of adventures, the place was alive (2) the sharp-edged bowl of mountains around us were immediately beautiful in themselves and (3) history was carved into the valley below us.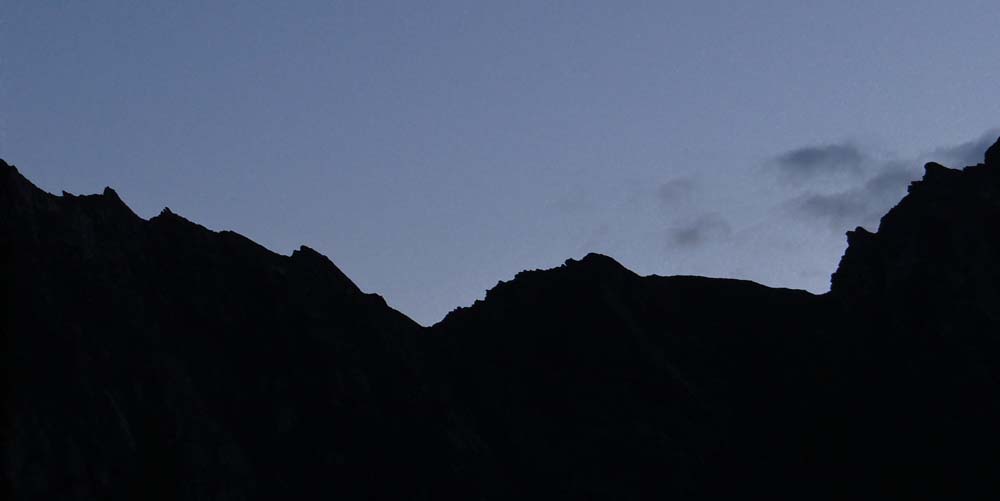 I'd read up a little on the road in an attempt to understand a bit about it. Nicolae Ceaușescu had it built, using Romanian armed forces personnel over a four year period, opening it to 'grand fanfare' in 1974, when as I was 2. An unknown number of people died building it. No records were kept, unbelievably, but sources quote between 38 and 40 folks perished, so you can guess a good number would have been badly hurt too. Stood at the top of the pass looking north, the sight is quite beautiful, a strange adjective to be using for a road, but the way in which the lace of grey is wrapped around the mountain side was to me just that. I imagine Nicolae stood in the same foot-worn spot as everyone who climbs this pass, although perhaps he felt something other than wonder when he stared at his achievement.

I say 'his achievement' since despite the fact other's were pressed into making the thing, it must have taken an effort of will to convince himself it was possible. All roads and bridges look viable when you can see them stood there before your eyes. Seeing a mountain side rising before you and imagining a road, not just any road but one easily passable by an asthmatic 3 tonne 20 year old portly motorhome, must have taken a leap of imagination. Perhaps only a dictatorship can build these extra-ordinary things these days, I'm not sure.
Why he did it seems to be a mystery. Some say (sounding a bit like Clarkson there, ahem), that he did it out of pure ego, to conquer nature. Others that he needed a road to get his troops over the mountains in the event the Soviet Union invaded, as they had done in Czechoslovakia in 1968. Other still that the whole thing was an exercise for the army. While stood on the snow and being plied with Romanian lager and home-brewed, 50% proof Pálinka, I'd asked George (the snowboarder) what he thought about the road's past. He was pretty non-plussed about it all, Ceaușescu was shot about the time he was born, he was just interested in snow-boarding and enjoying his life. He didn't seem particularly proud of his country's monumental collective achievement in blasting the thing from solid rock.
As an aside, Romania has a 0% blood alcohol level drink-driving limit, and I'm a bit wary of seeing off more than a pint or two at night (Ju will fairly disagree). George told me a story which amazed me though. He'd been up all night on the sauce a short while back, being caught driving home at 4am by the rozzers, presumably totally twisted. The punishment? A 3 month ban, no fine, no re-test. I laid it on a bit thick at this point, telling him the same offence in the UK would mean you lost your license for a year, you lost your job, your wife, all your money. He laughed, telling me he also had the option of taking a re-test, and if he'd done that the total punishment would have been a month's ban. As I listened I wondered who was driving him and his mate's Skoda down the mountain, as they were all knocking back lager and Pálinka, essential juices for snow-boarding.
Back into day-to-day life, the evening passed without event. Traffic all but stopped at about 9pm and the food stalls mostly closed. Generators hummed and we noticed small caravans around the back of the stalls, a small community of people live on the pass in summer, some of them gathered to eat corn on the cob as the light failed. Dave's heating was fired up, the noxious smell of burning dust filling the living area for a while. We watched House and then Palin, as he dryly observed his way across the Ukraine a few years back.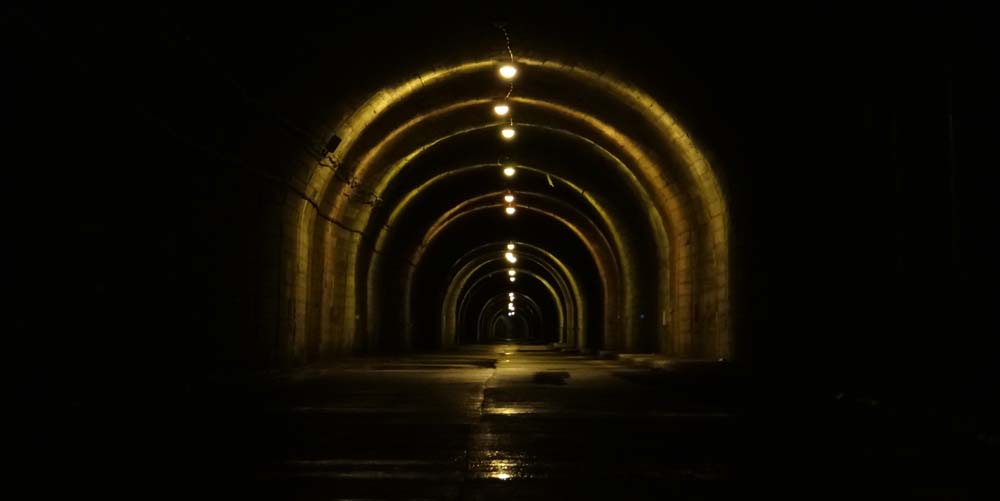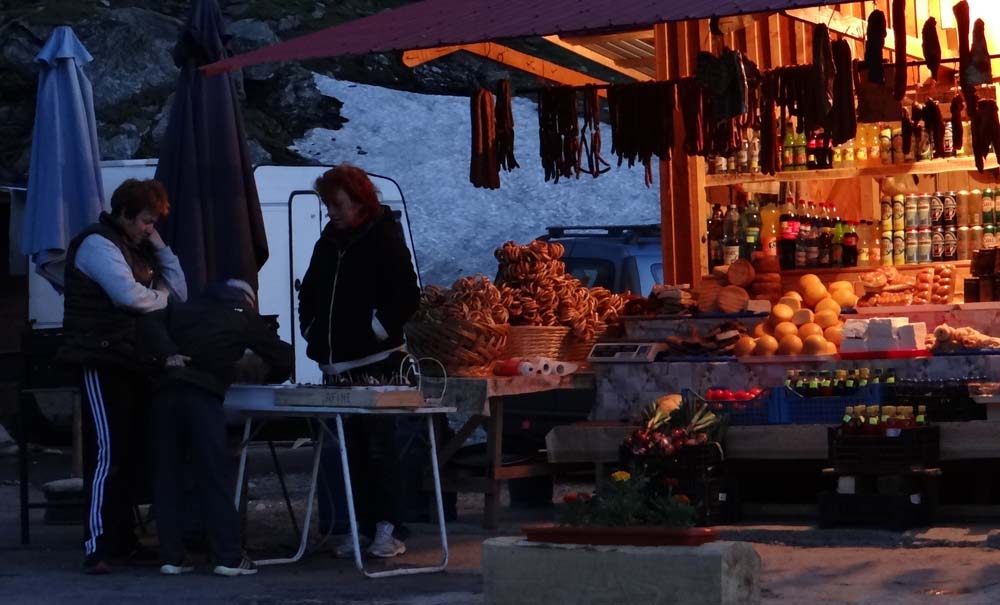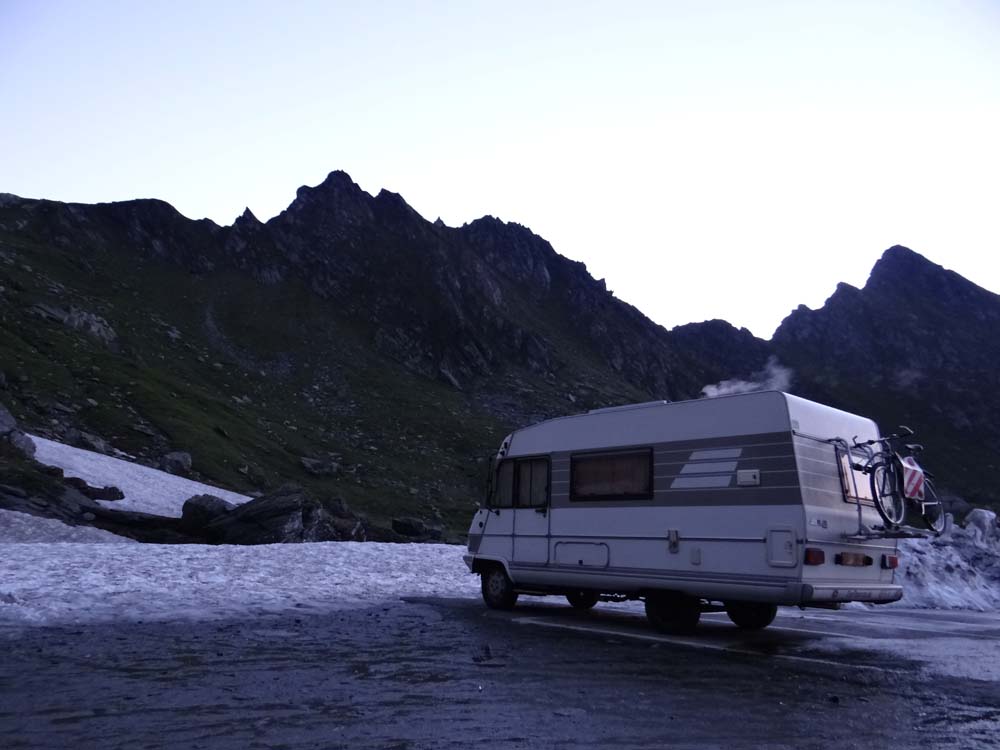 This morning Ju was struck down with the man flu, and Charlie anchored his paws into the snow in objection, so I nipped up the mountain side on my own, ignoring the fact it was raining, that fine rain, that gets you really wet. Paths criss-cross the rock and grass, the one nearest us marked every few meters with small St George crosses painted onto the slabs of granite, or whatever age-old stuff it is. My lungs burst and legs stumbled and slapped on the uneven ground, but I got all up there and grabbed a photo or two. A sign at the top pointed further along the path, 6 hours to the next town, and back down to where I'd just come, 15 minutes!

As a few more cars started to arrive, we pulled Dave out of the car park, gave a thumbs up to the already-sodden cash collector, and rolled off down the hill. The north side of the Transfăgărășan is by far the most impressive, as you can see long sweeping sections of road from above, so much so that we barely made half a mile between stops to gape down at it all. The road itself is good quality, wide, safe. As long as you stay on it; a few bits of original concrete 'crash barrier' remain, along with short sections of seemingly randomly-placed new stuff, but it wouldn't be wise to rely on either of 'em to keep your truck shiny side up. Riding down the hill had me on a high, a truly wonderful addition to an already out-of-this world journey we're tripping our way along.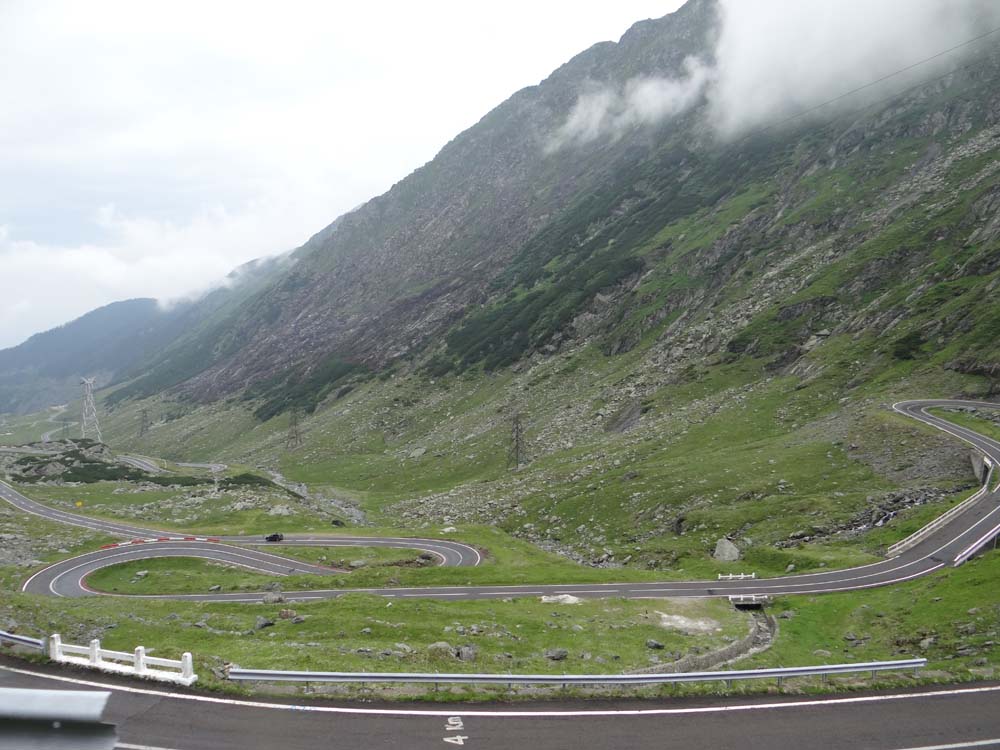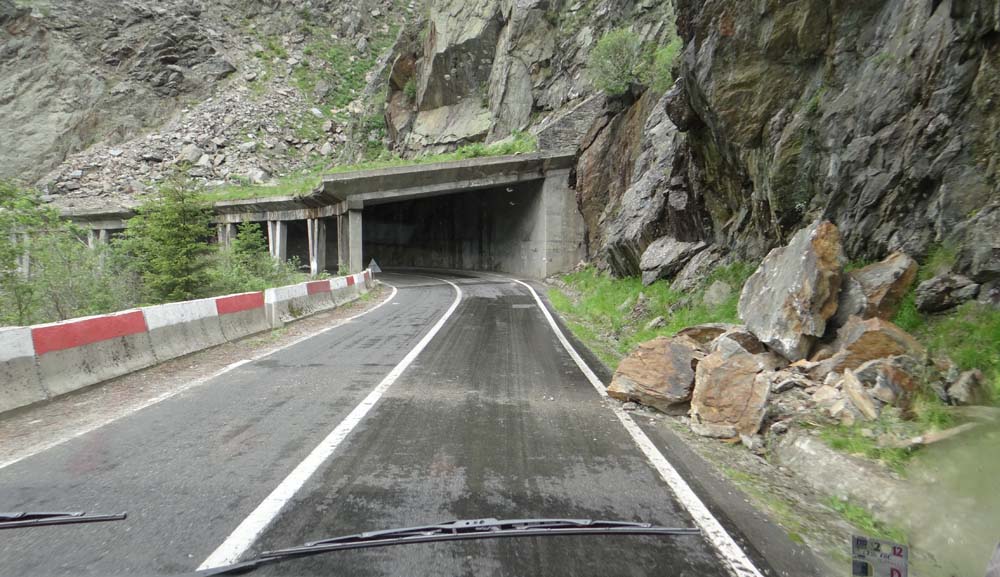 Signs direct you to cascades down back among the trees. Pulling over and seeking them out, we were a bit unimpressed, they're miles back up the hillside, perhaps best seen from the cable car which sets out from the viewing point. Back onto the road, we were smiled and waved at by a crew of guys dishing out oblong-shaped sections of new tarmac into miles of newly-cut holes, and pottered along towards Sibiu.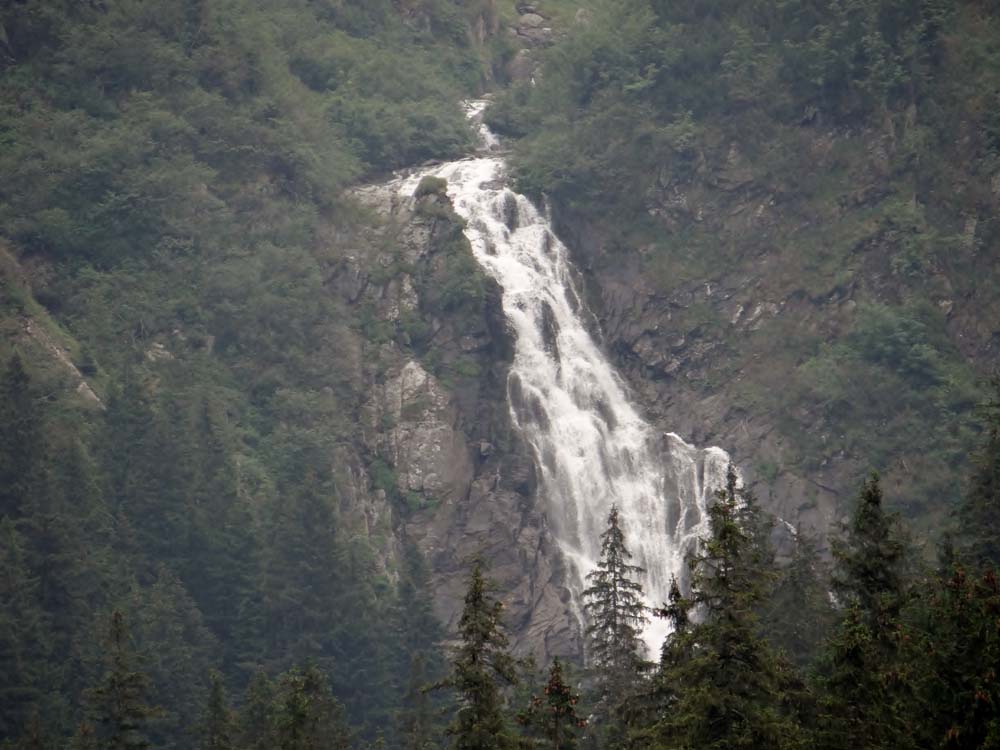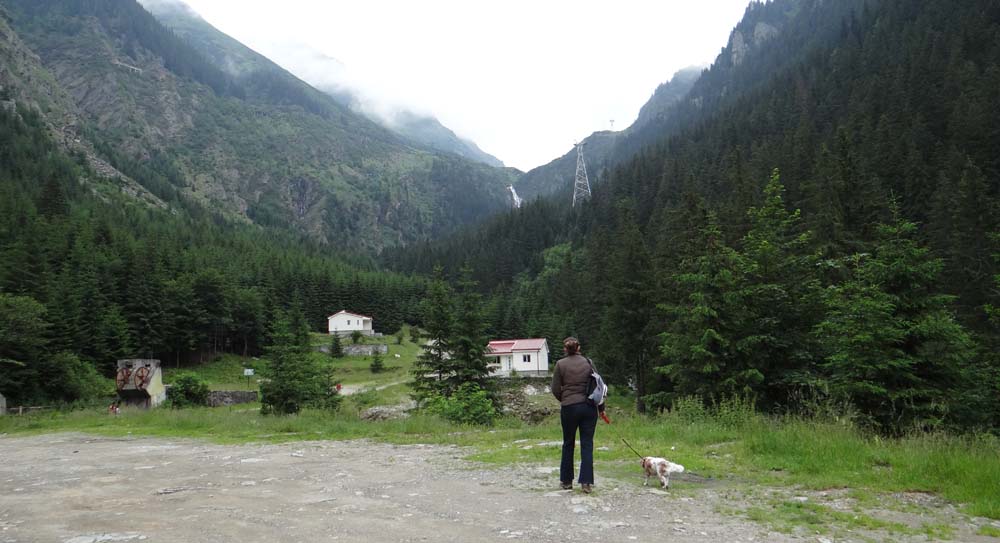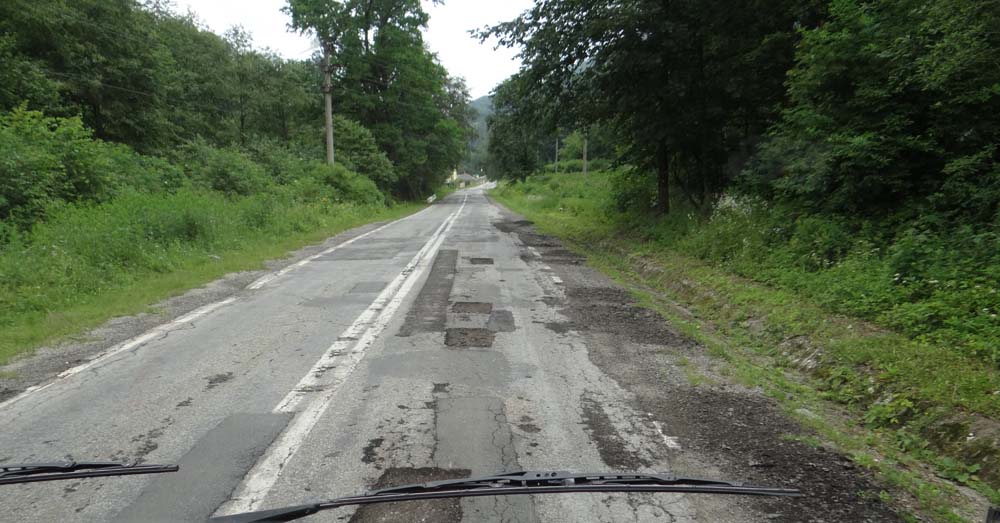 Why Sibiu? Red Bull, that's why. One of the bikers we met yesterday had a 'Red Bull Romaniacs' sticker on his fairing, telling us the event's currently in motion down on the plain below. Where? "At Sibua, well, a few km away". Red Bull's website shows umpteen pictures of brightly-clad blokes howling about the place on massive thunderous off-road bikes, looked like fun. Today is Day 4 of 5, so we got a map of where the event finishes tomorrow, reasoning we could get there before all the space was taken up and find somewhere to park Dave up.
Actually, no, that's not quite how it worked out. We drove into Sibiu expecting to see massive 'Red Bull This Way Folks' banners. Nowt, not a sausage. Instead we pulled into a Penny Market XXL (which is like a normal Penny Market, which about the same range of stuff, but in a bigger shop so the aisles are huge) and stocked up on goodies. Only then, as the rain cleared and baking humidity returned did we try and suss where we should be. Red Bull's flashy website nearly melted our phone, but we got the map and GPS co-ordinates, found out we needed to back-track and off we went.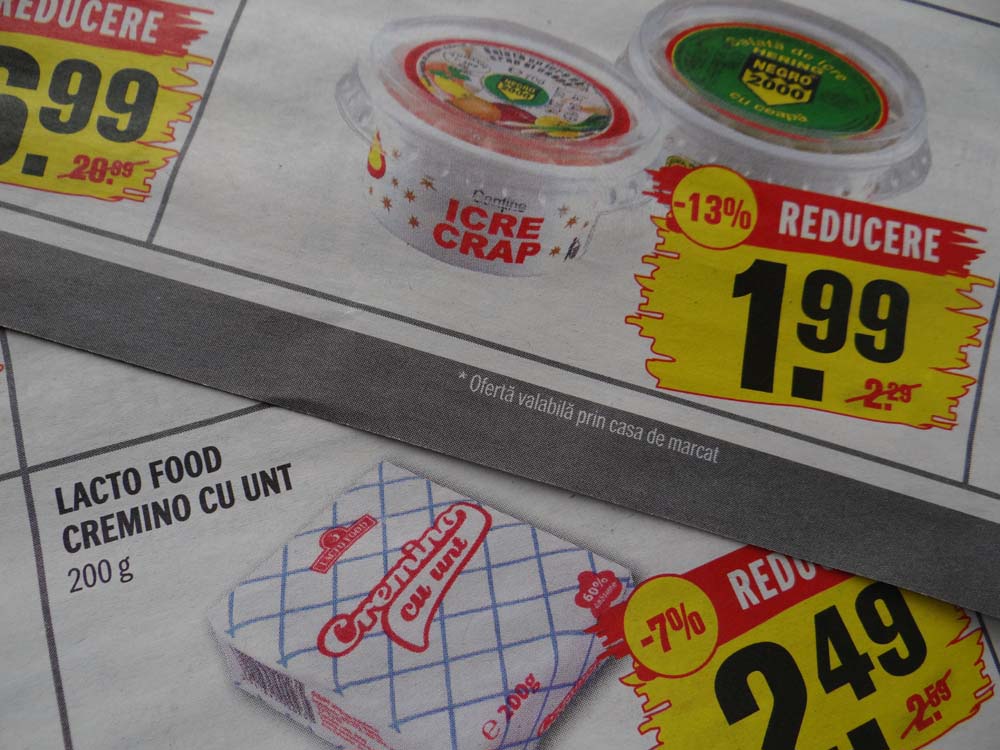 About an hour later we arrived here, on a muddy track next to a field full of cows having tested Dave's suspension on a couple of miles of dirt track. Villagers have stared at us, dumbfounded by this box on wheels rocking its way past with a King Charles Cavalier Spaniel perched regally alongside the drive like a sea-farer's parrot. What can only be described as a peasant (not meant in a derogatory way, I just can't think of a better word) guided us in the right direction at a moment of doubt, indicating we could find the motor-cross track by listening (good advice) and then asking for ciggies.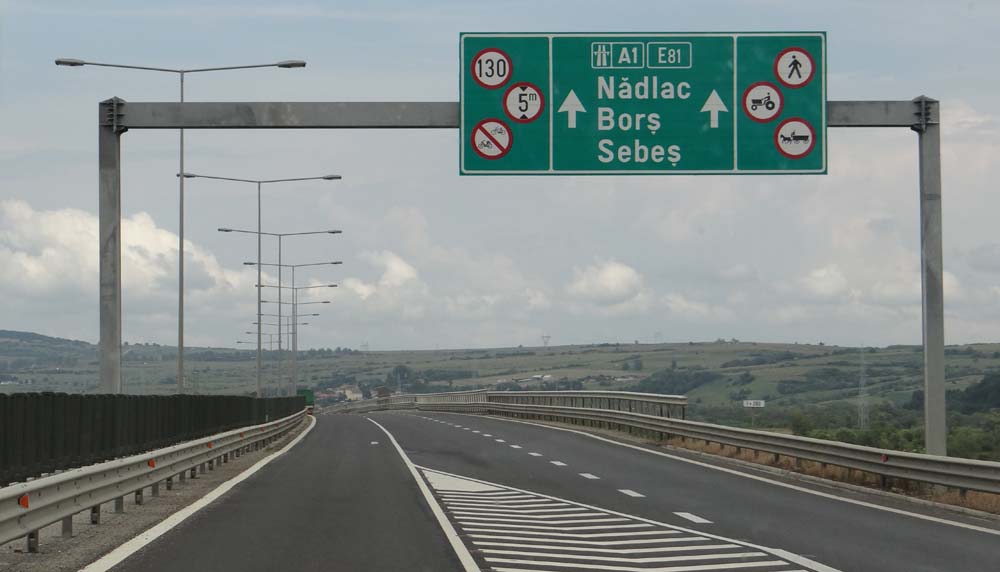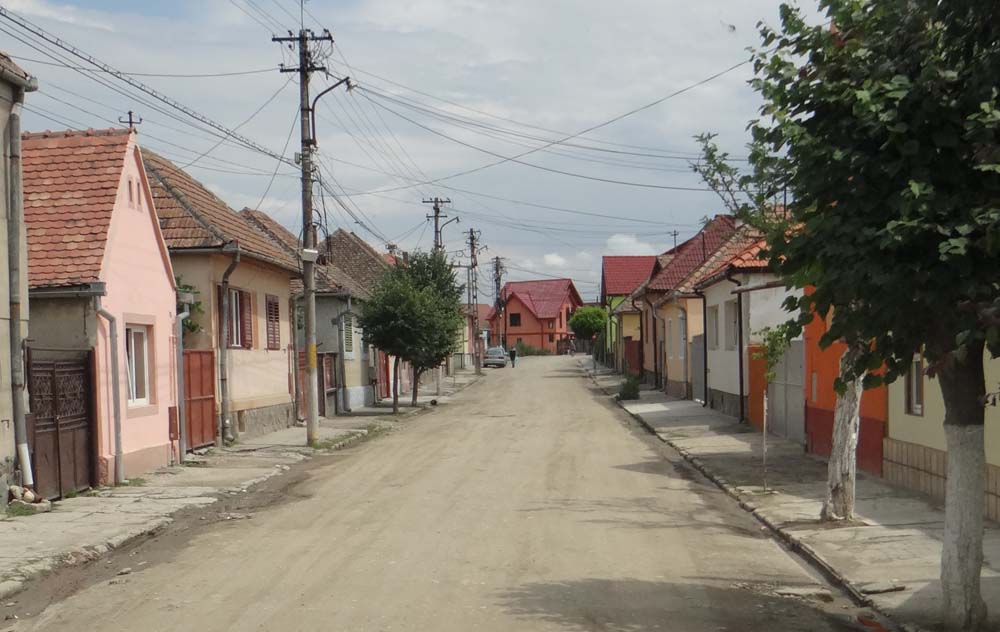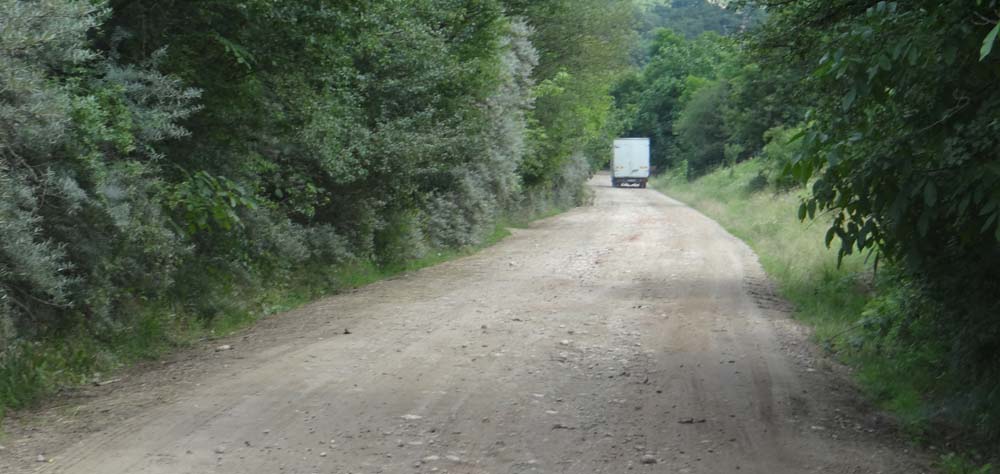 We followed a couple of unbranded white Romanian trucks here, halting just short of the hill climb they've tackled to get to the staging area at the end of tomorrow's action. Since then a whole raft of vehicles have come and gone in the rain, but not a single Red Bull logo in sight. I'd naively imagined some sort of F1 set-up, with shiny multi-million quid vehicles driving into position and hydraulically re-arranging themselves into five star hospitality suites. Nope, it's mud, and a few cows. Now we just need to try and find somewhere to slot Dave where he won't form part of the track tomorrow!

Cheers, Jay