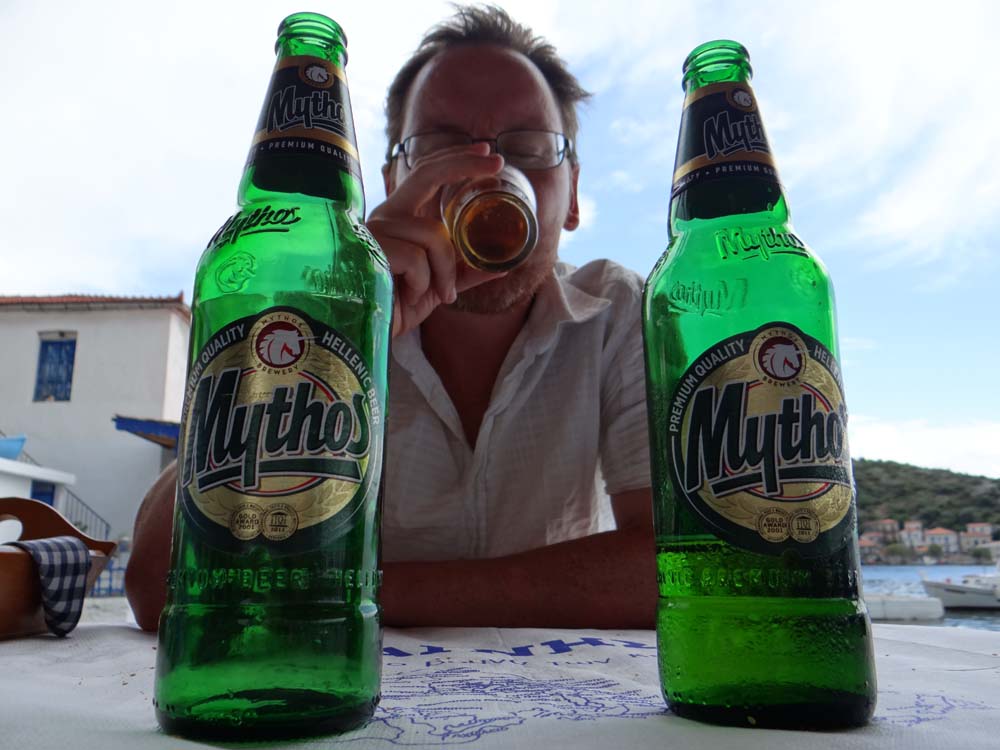 Dave the motorhome's made it to the southern tip of the Pelion Peninsular, and is parked up alone on a small headland car park overlooking Ayia Kyriaki (N39.09313 E23.06513). We're at the mouth to the Pagasitic Gulf, which is funnelling ships of various shapes and sizes past us as they head for or leave the big port up at Volos. We're at one of those places which is hard to get to, so few people bother. It's beautiful.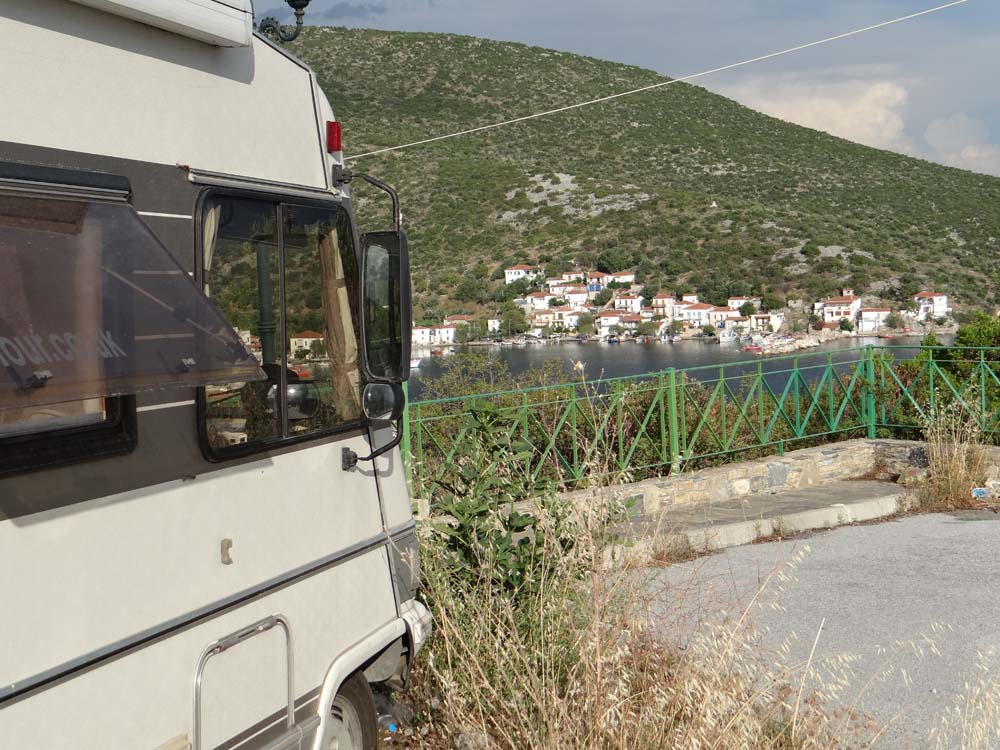 Yesterday as Ju was tearing her hair out trying to get the Internet to accept our existence, I nipped out for a walk and spotted this fella. He was holding perfectly still, until I, having had a chance to see he wasn't an adder, got brave and stuck the camera in his face. At this point he legged it and I just about required new pants.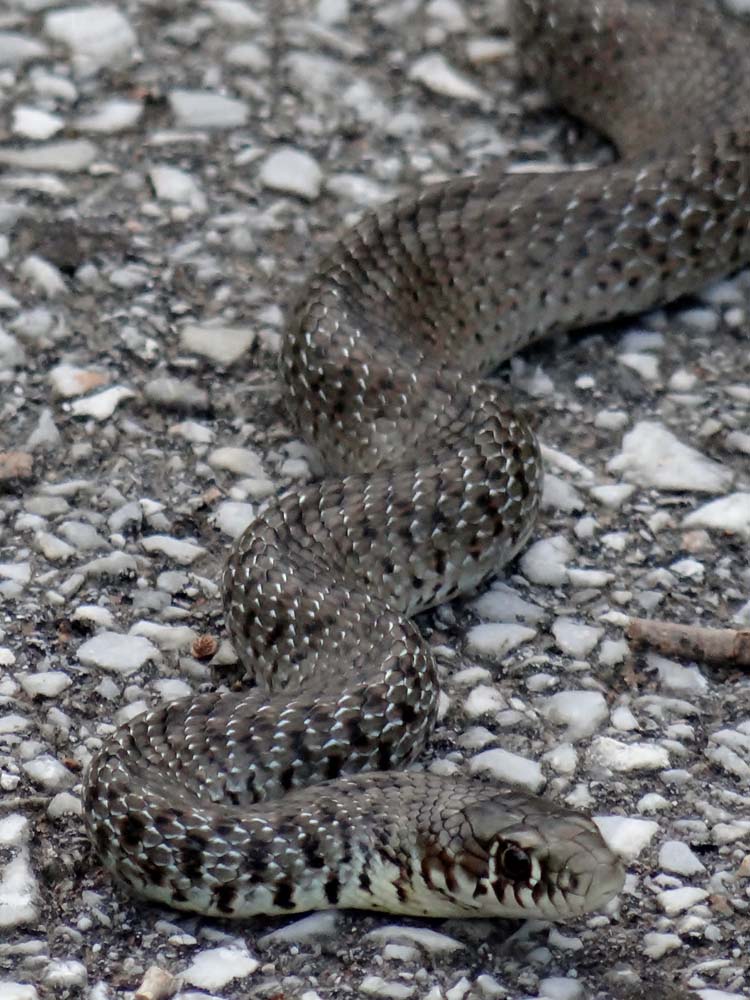 On the way back to Dave a fox caught my eye too, stood in among the lush fern under the olive trees. For a few seconds I was back home, in among the woods at Moorgreen near to my home town in Nottingham. Reaching for the camera saw the fox disappear in a blink. This morning Ju reported she'd been awake half the night listening to the night noises, things tapping on Dave, scratching and scrabbling about. There are a fair few weasel creatures knocking about, the unfortunate ones appear comic-strip flat on the road from time to time. Maybe they'd found Dave and his Lidl stash of luxury choc chip cookies?
As I listened to Ju's weasel-induced lack of kip tale, I went to open Dave's door. The heat poured straight through it, like something from the film Backdraft. For much of the past few days the sun's beaten down and pulled the temperature up into the 30's. Our battery's brimming with energy from the solar panel and the few hours we spend driving, easily enough to power our array of gadgets.
This morning's beautiful dilemma: which way? All along the east coast of the Pelion there are to-die-for coves. They're each reached by the long road which branches from the main north-south track, and on leaving the place you have to drive all the way back to this main route. The only coastal routes are dirt tracks, good for donkeys and 4 by 4s. We'd had the perfect cove, the ones further south could be no better, and we fancied seeing some people, so we decided to make a run for the end of our current stretch of land.
Heading out from the car park Dave's engine did its usual thumping, non-turbo job of pulling us up the first gear switchbacks and we emerged onto the main road feeling a little triumphant that we'd been down there, found such a lovely spot, and made it back out without been savaged by weasels in the night (Ju's going to hate me for this).
As the Pelion played out in front of us, the steep mountains sunk to hills and the weird England-lushness of the place gave way back to red rock and SAS-tough trees. The road straightened itself out and we cruised for an hour, just taking in the sights and feeling the sun on our arms and faces. As the road hugged the sea front alongside the village of Milina we pulled into a dry river bed and relaxed a while. There were a few folks about, even a British-registered Range Rover, and a campsite set amid thick olive trees. It looked lovely, but free camping wasn't allowed and we'd got a destination in our heads.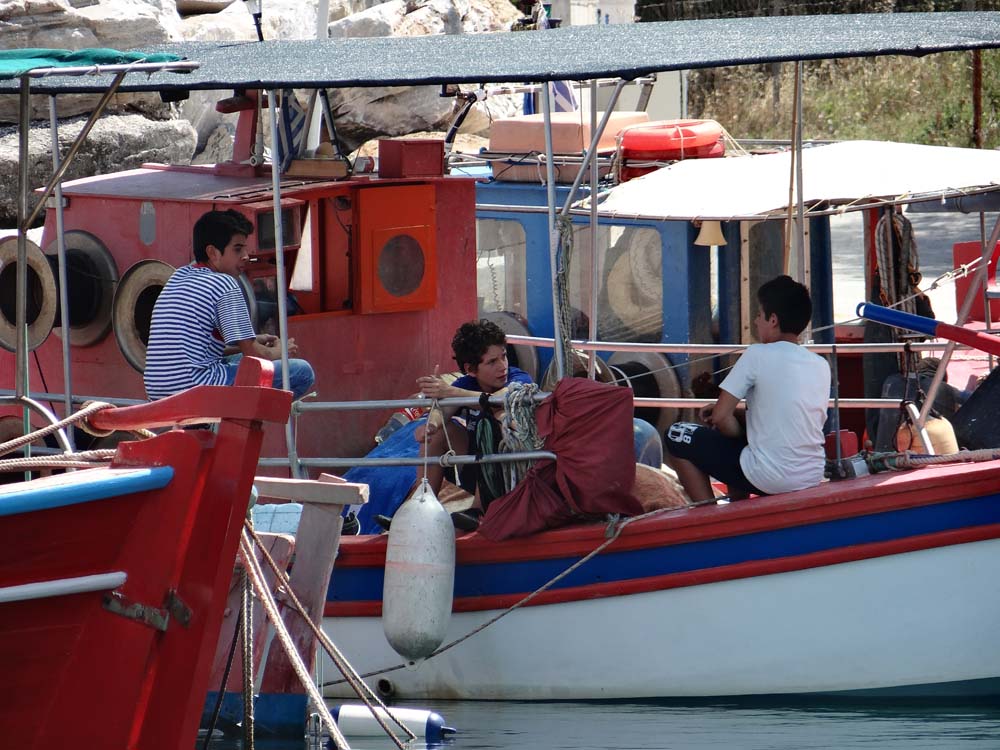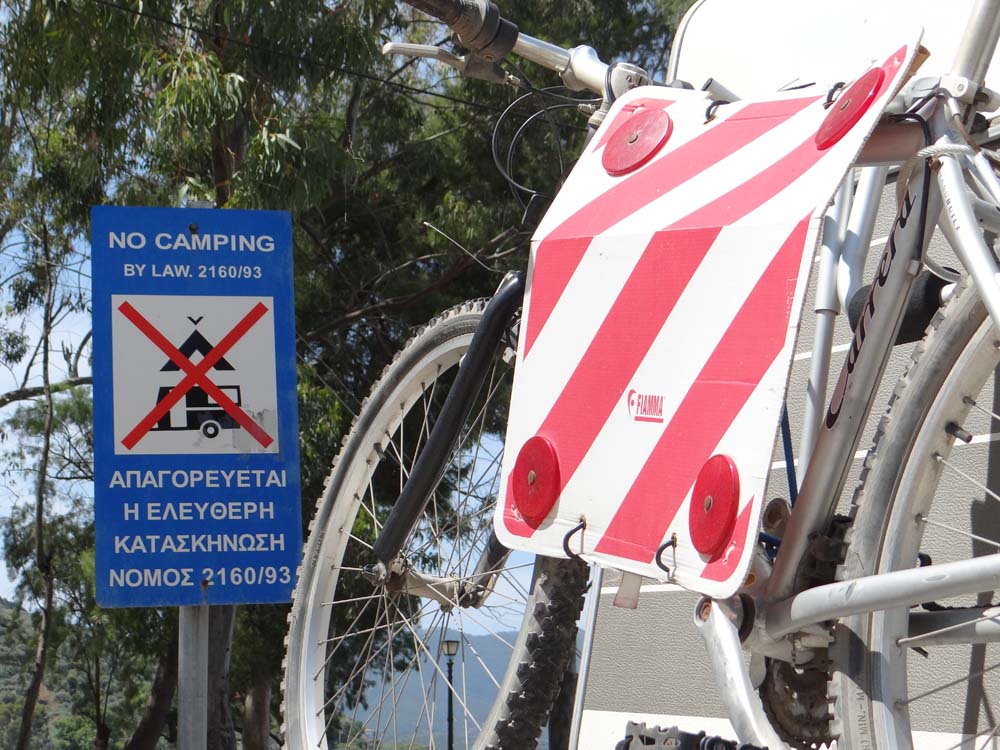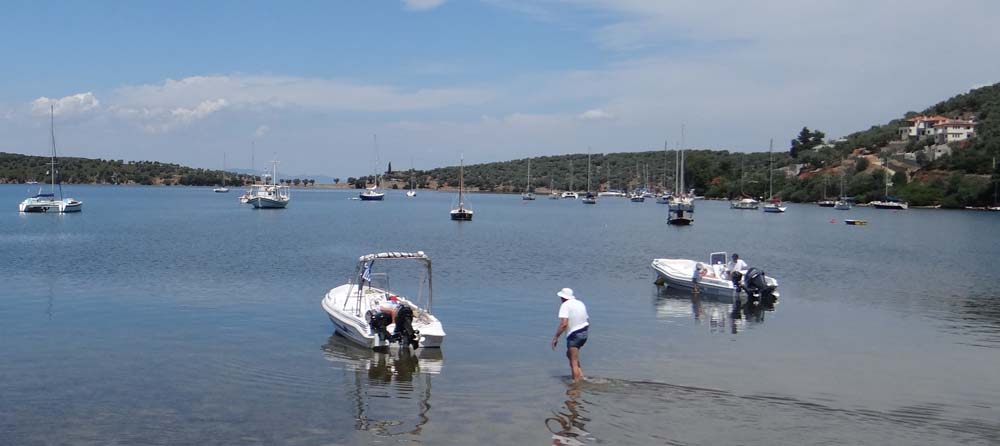 As we drove further south the road became even easier, Dave once made it into 5th gear before a corner caught me out a little and I eased off. The remote corner of Greece we were heading for was used to hold political prisoners during Greece's post-war civil war, and had little road infrastructure to speak of. That's all changed, the roads here now are excellent, a little too good, as though someone with access to an EU pot of cash in Brussels went a bit mad with it. A few snaps from the road: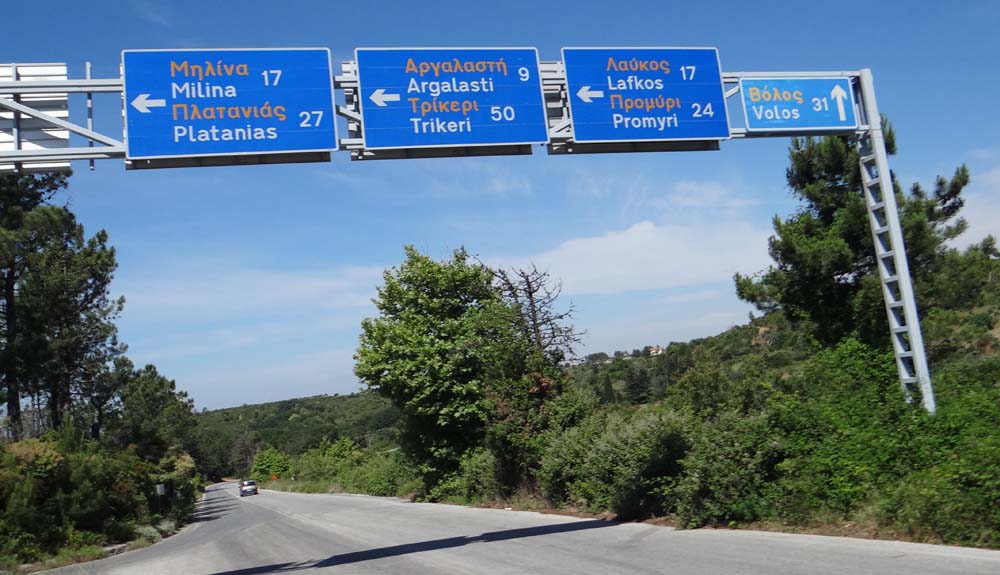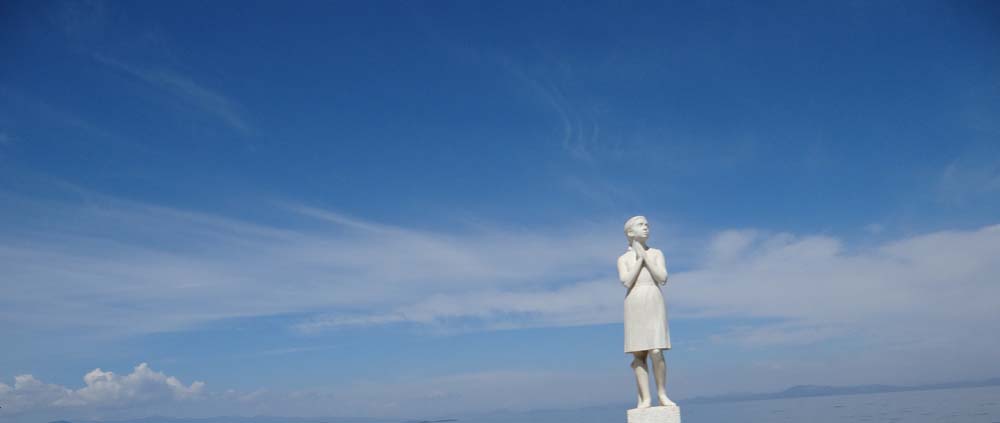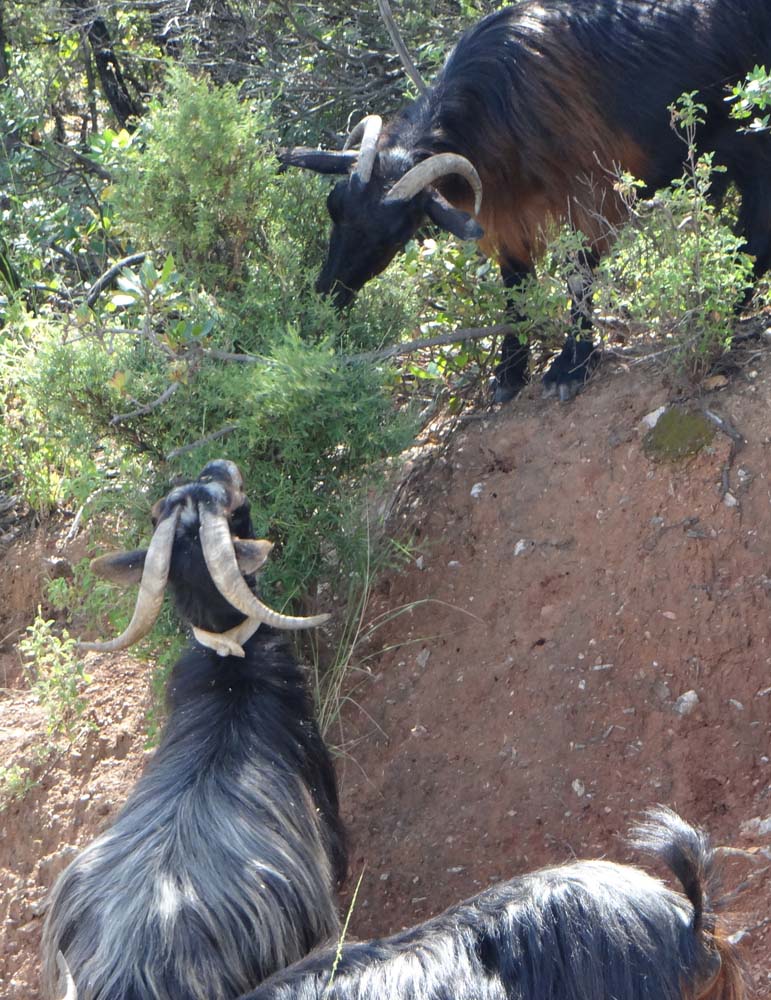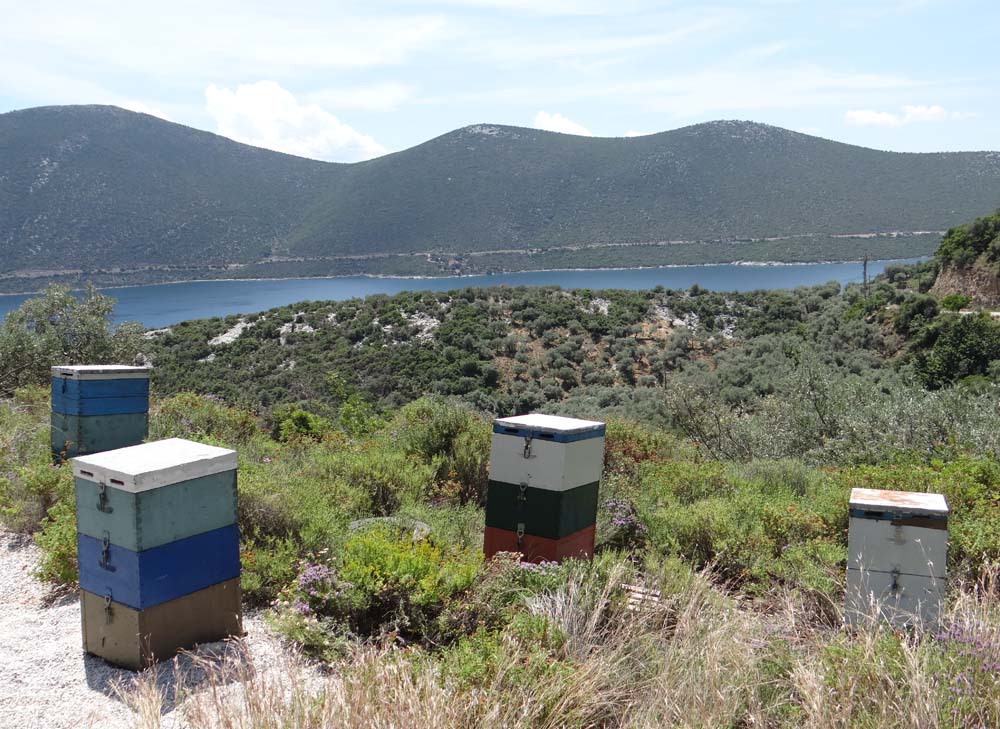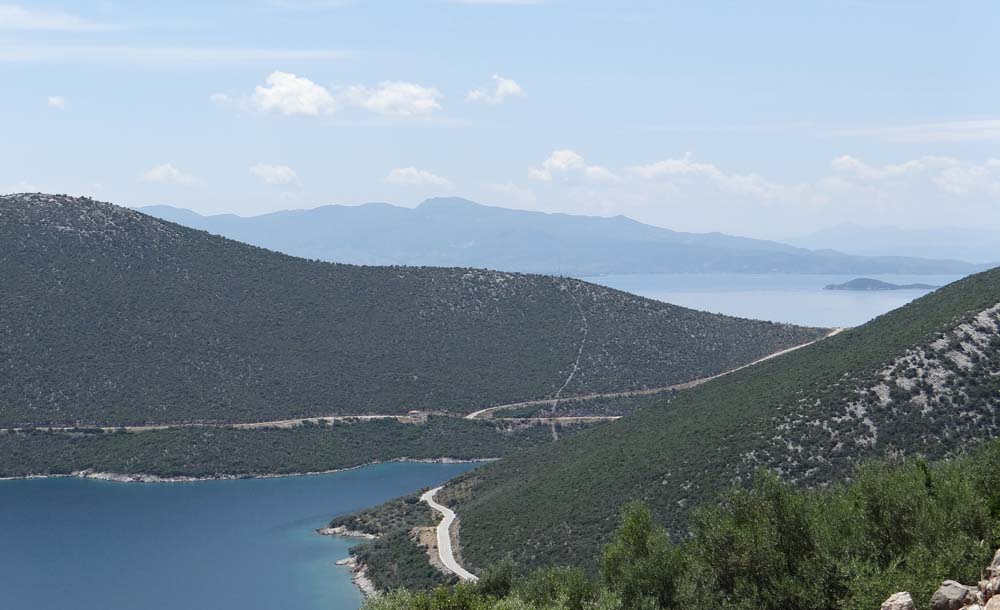 As the route cruised alongside the sea, we came to an unexpected junction just before Trikeria. Left would cut out a loop around the pointy end of the peninsular, and take us to our destination more quickly. But this would miss Trikeria, which our old-as-the-hills Rough Guide indicated might still be a land of donkeys. Right we went.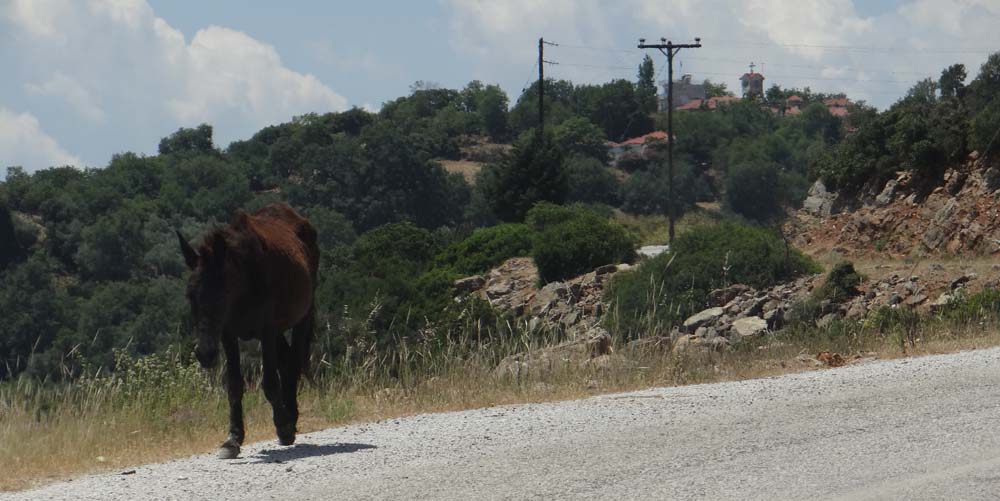 Turns out I'll have to make do with the donkey-love we got in Morocco and (to a much lesser extent) Tunisia. The Trikerians all ride quad bikes these days, which our waiter later told us they refer to as 'pigs'. Ride pig, ride!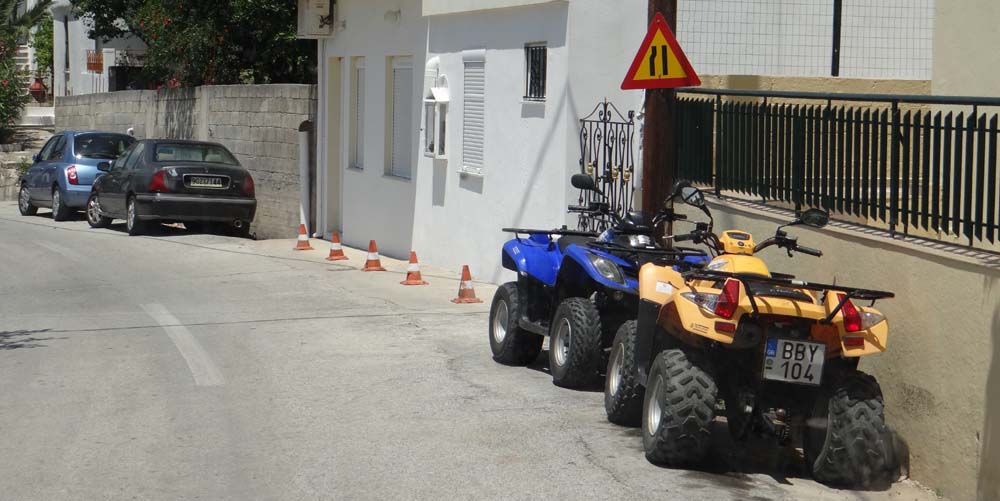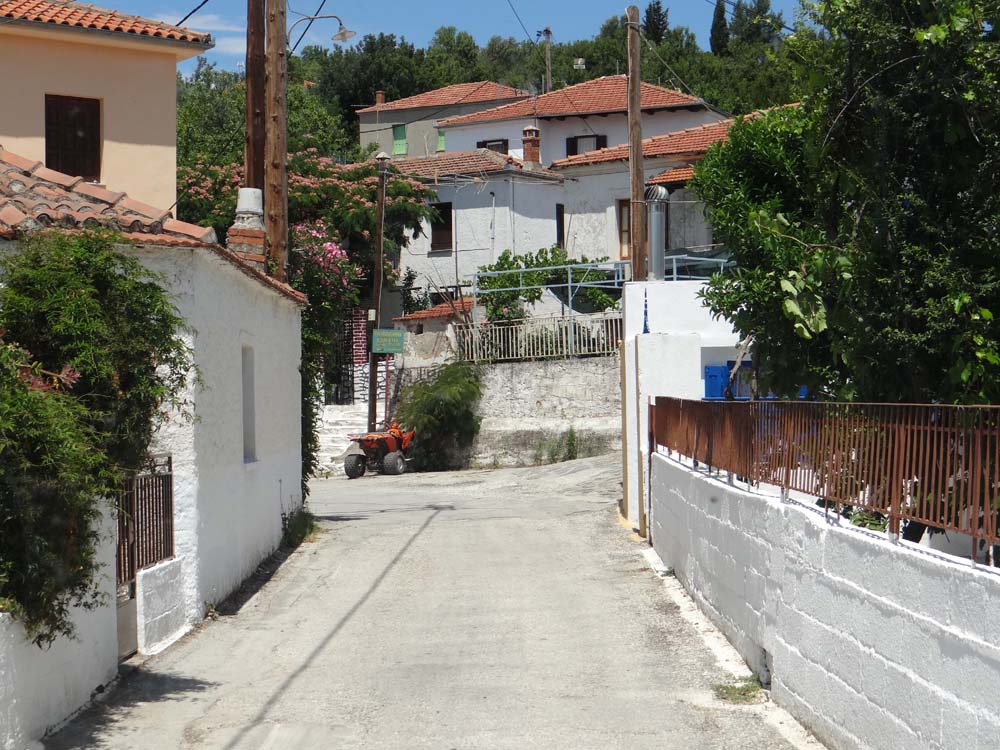 Over the hill and around the corner: Ayia Kyriaki appears. If you look the name up on WikiPedia then somewhere in the Dodecanese islands appears. We're not there. This place is a small community of folks who live on the edge of Greece, itself on the edge of Europe. The big fat road brings in us tourists, but there are only a couple of tavernas, a big boat yard seems to provide the mainstay of employment. Oh, that big fat road, well it ends just as you get into the village and turns into an iddy-biddy thing, a Dave-trap, as it disappears into the back streets of the village. There's a lovely sea-side car park on the other side of the village (ah, that's where the left fork lead to) but no way to get to it unless we backtrack a fair few miles, hence we're in the scruffier spot this evening.
The Rough Guide talks of this being the most attractive spot on this coast and it's not wrong. Even in the rain and thunder, which forced us (ahem) into a taverna for lunch and a spot of Hellenic lager, couldn't dampen the view. The waiter (who happened to have the same name as the owner, err, hang on, no he owns the place) spoke great English and was wandering about demonstrating excellent low-pressure sales technique. He let himself down a bit when I asked him for details on how to cook the 'pan-fried' feta and tomato dish we loved: 'ah, its easy you just stick it in the microwave'!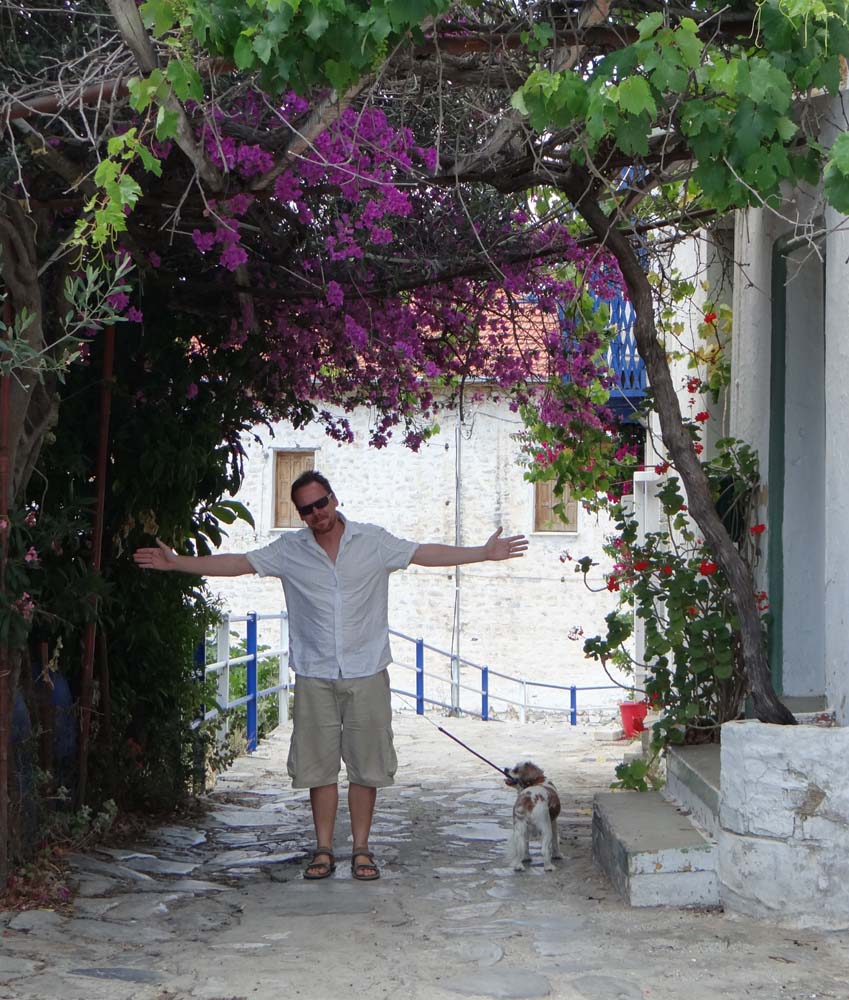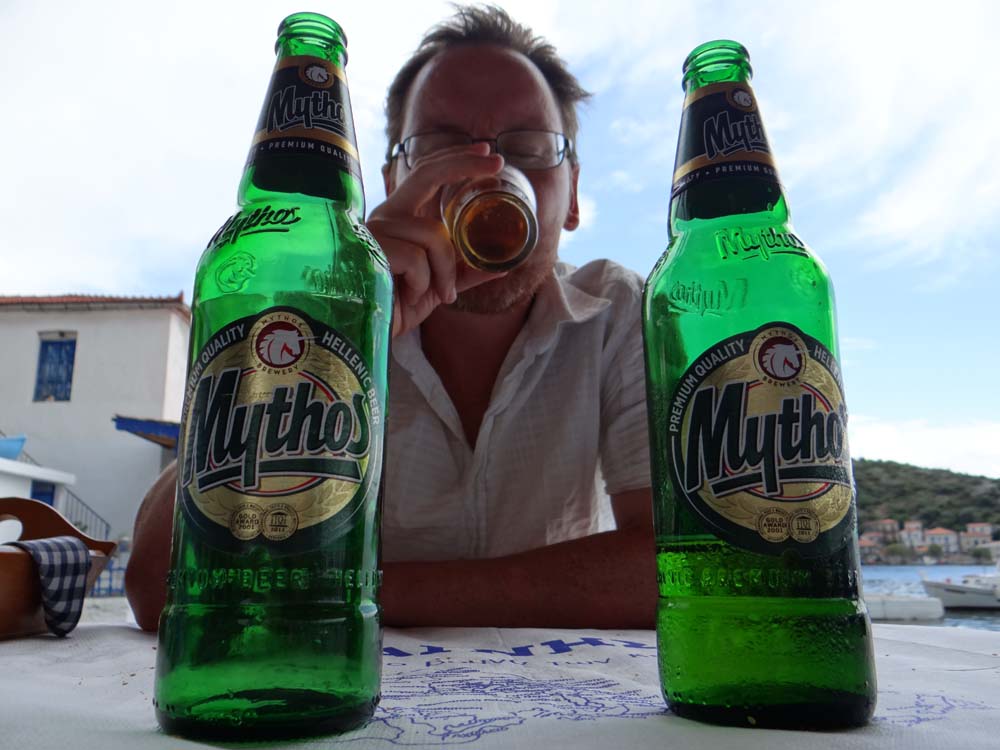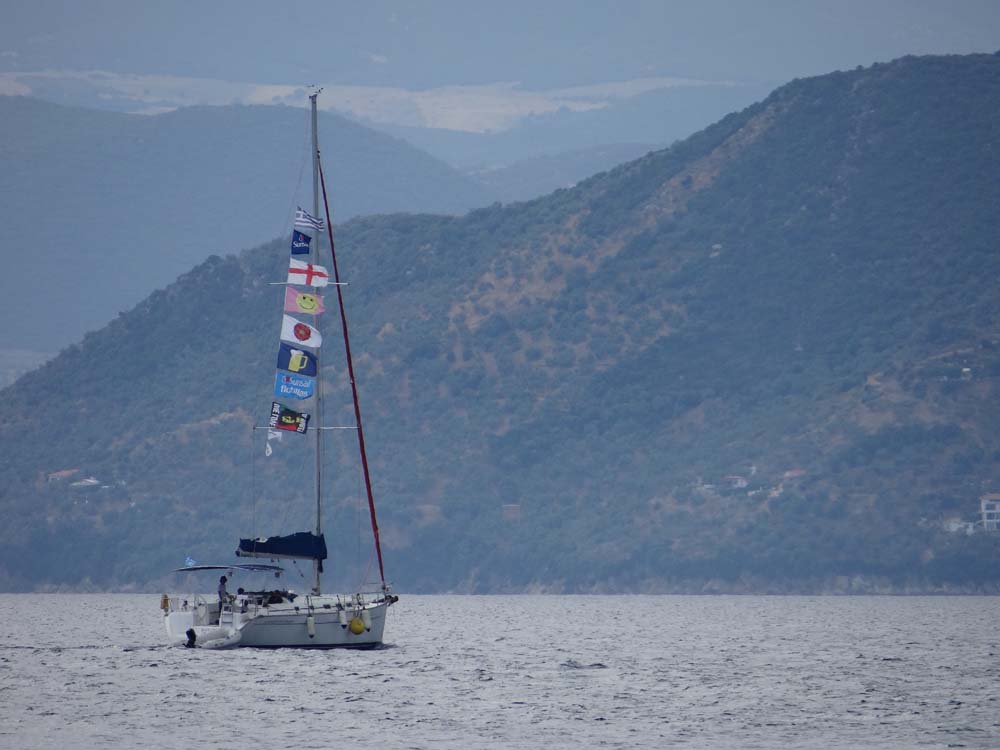 With a couple of Mythos beers in me Ju took to the wheel and steered Dave up here. She doesn't drive much, and I think she loves it when she does, but hey if she drives too then leaves me with zero jobs! Once we got up here and found that the Internet worked we got started on our next little project, something to keep us entertained for a while and maybe earn us a few quid as we travel, all good fun and good experience for the future – all will be revealed soon. Loads of photos of Ayios Kyriaki: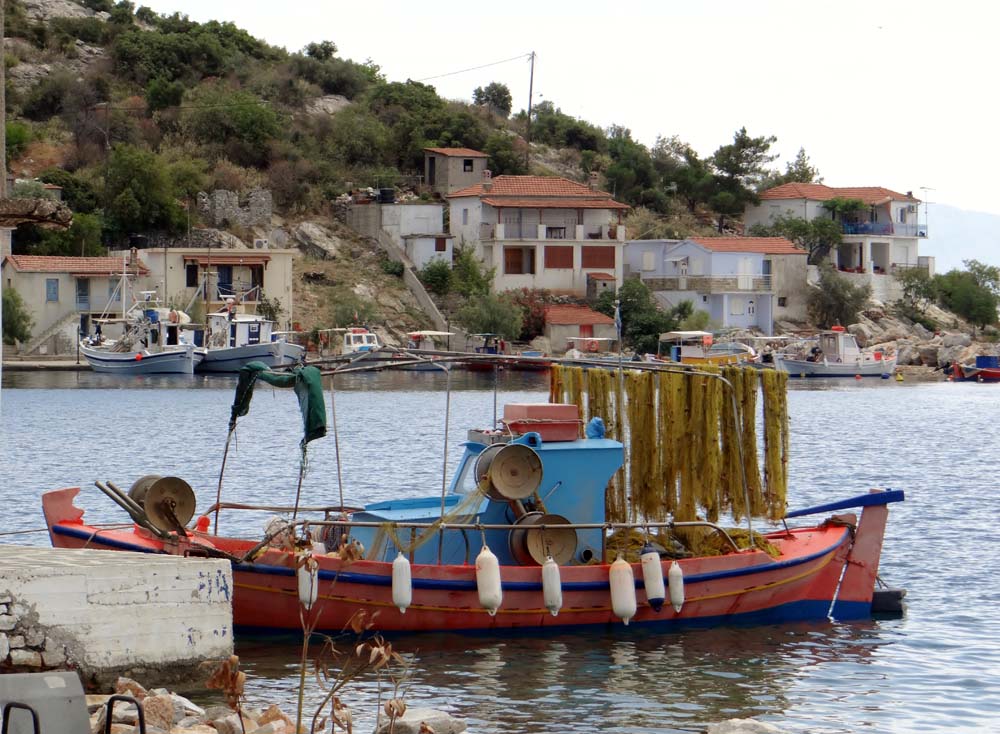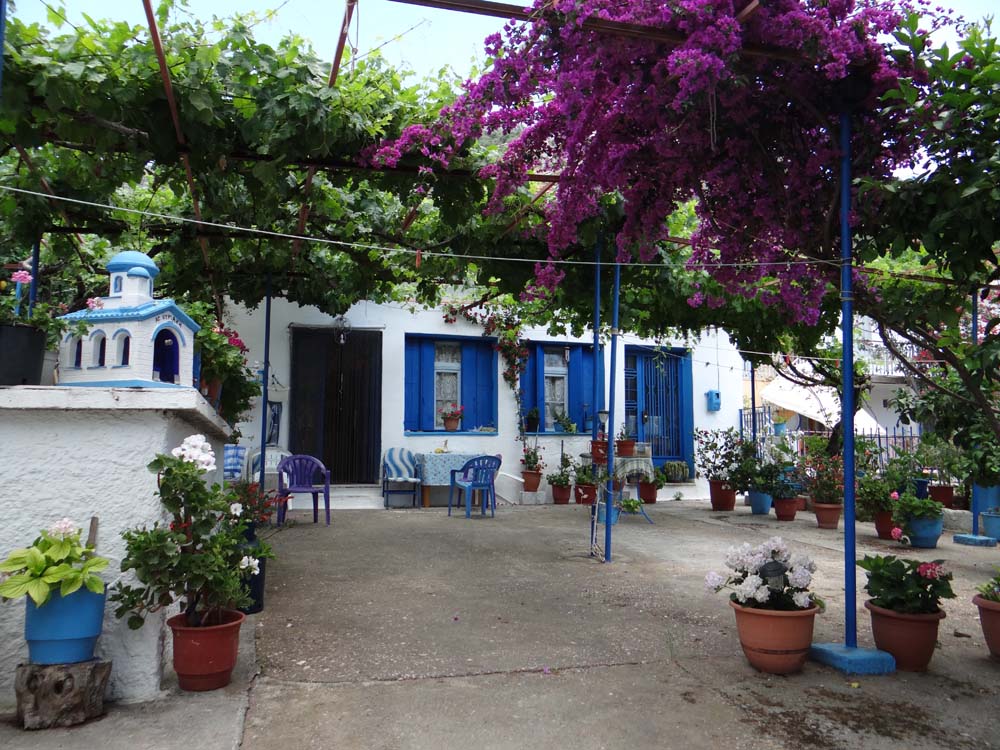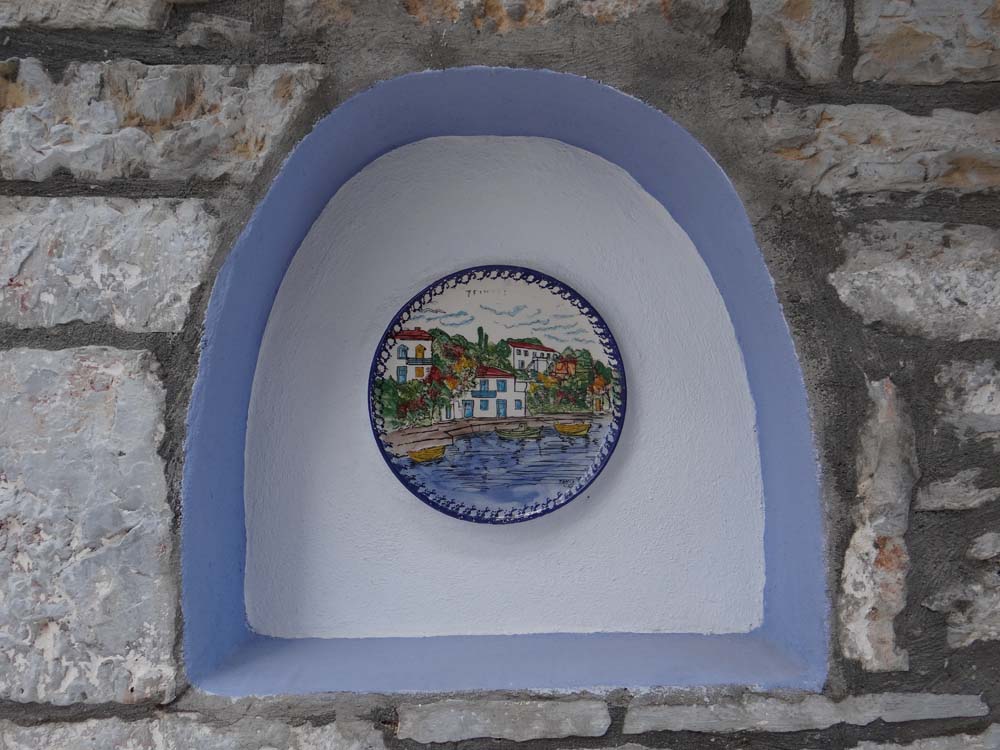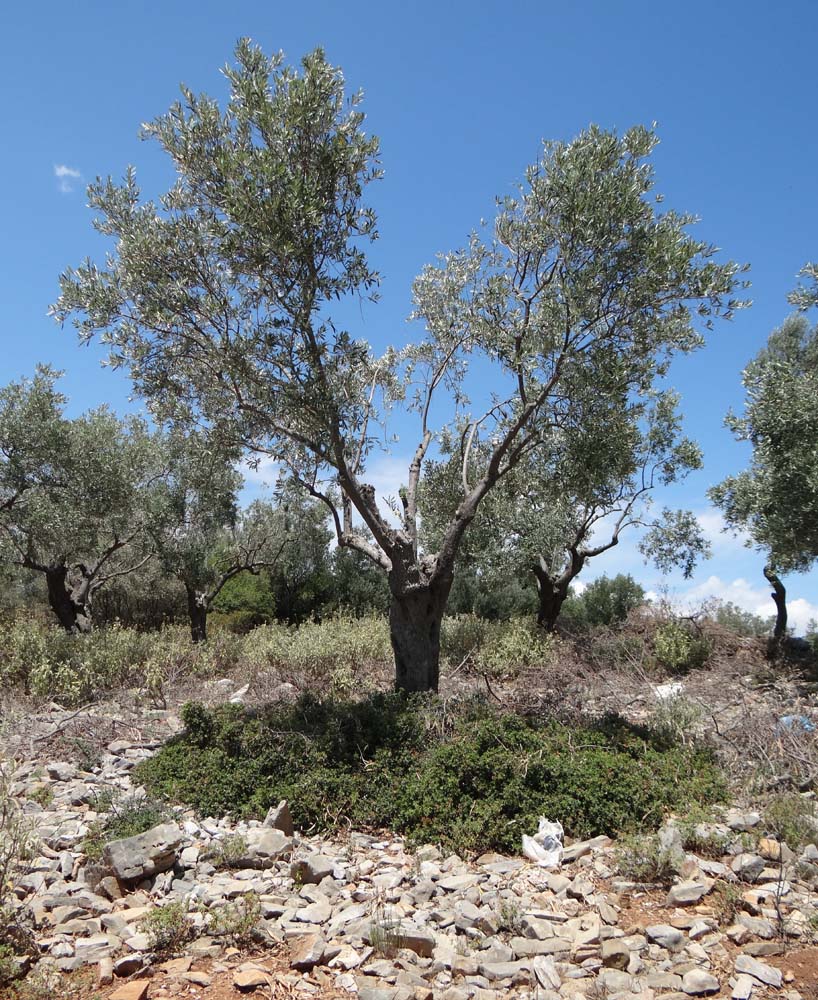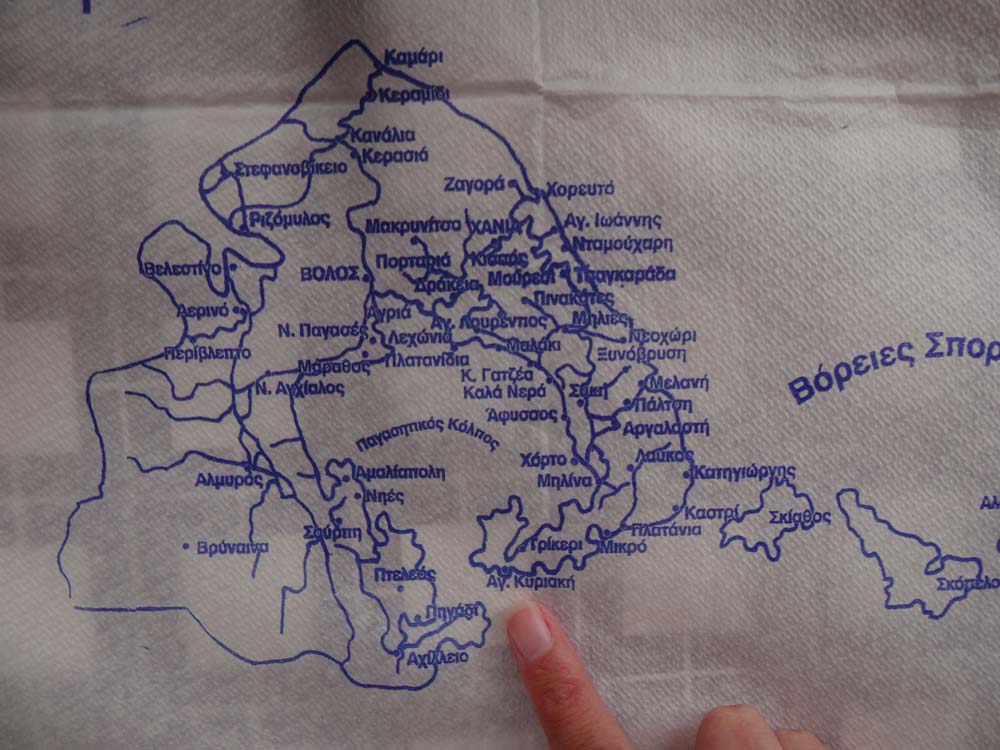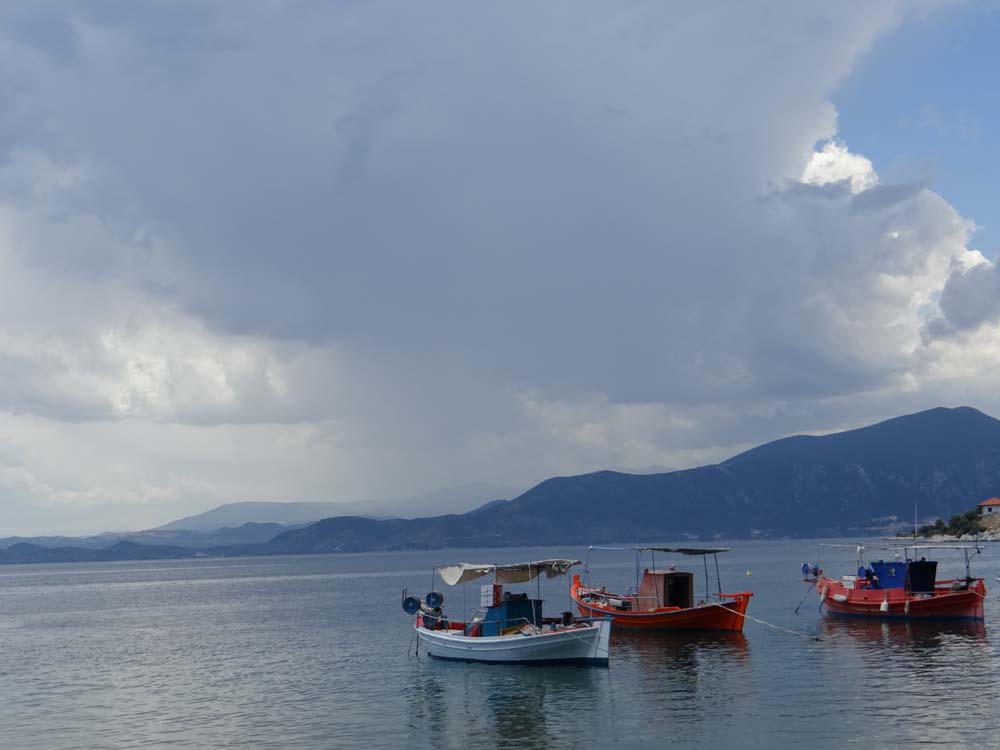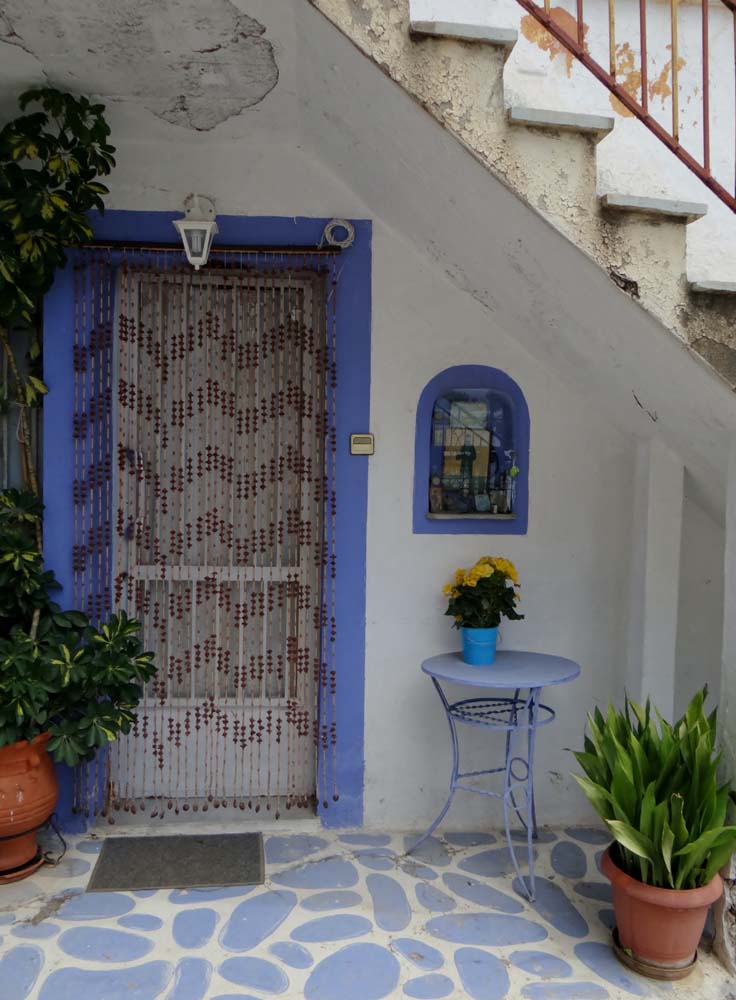 Right, it's dark, the lights in the bay are shining on the still ocean and I've a glass of wine in my hand, at least I will have in 30 seconds. Take it easy folks, cheers, Jay
P.S. A BIG thank you to everyone who's ordered stuff through Amazon on our site. It costs you guys no more as the cash comes out of Amazon's profits, a win-win! Charlie's especially thankful to whoever bought the GPS gadget thingy below, it's given us £7, which will keep him in quality snacks for a good few months!