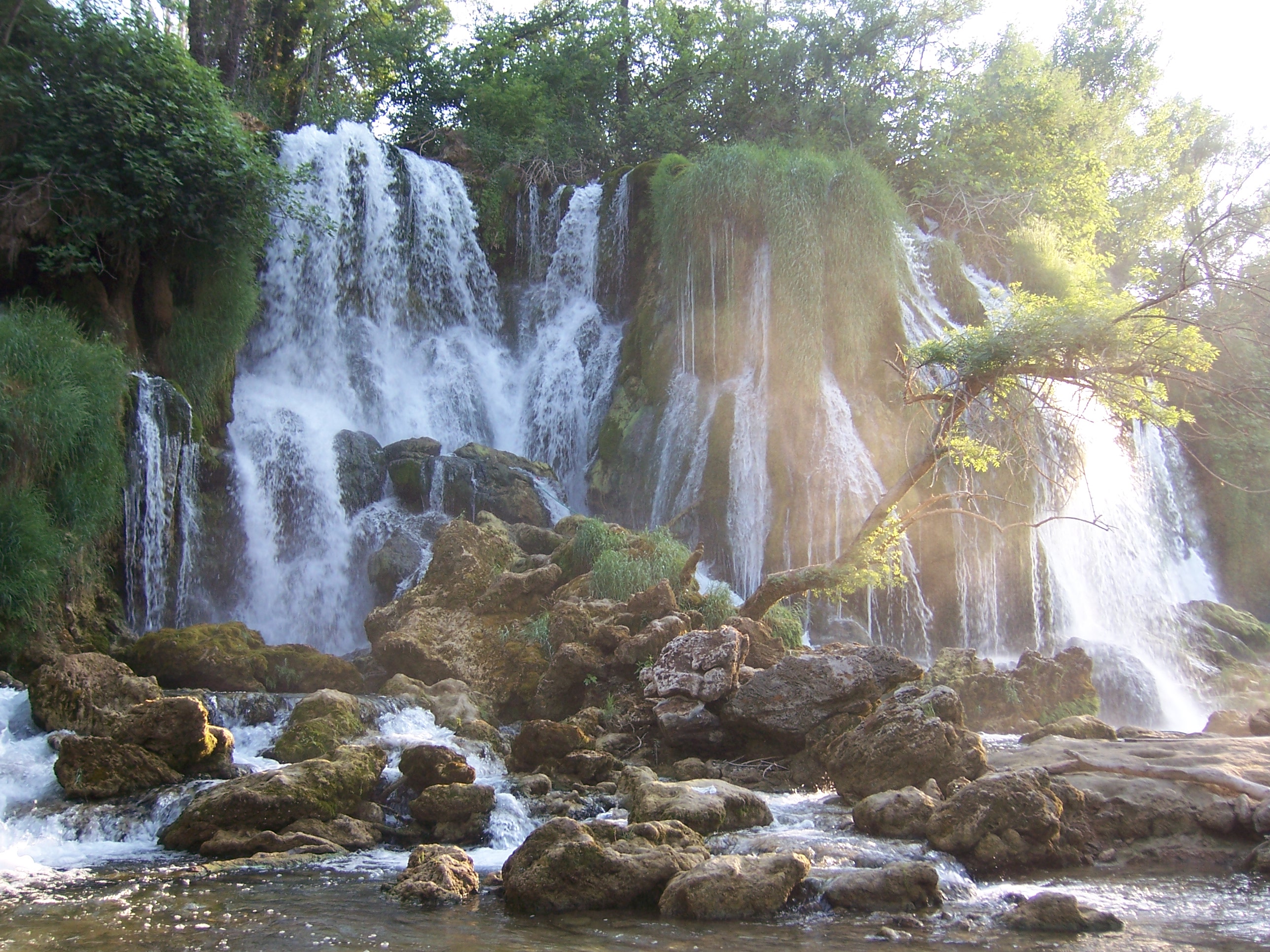 Dave the motorhome is at the Vodoprad Kravice waterfalls (N43.15849 E17.60839), in Bosnia and Herzegovina (henceforth known as Bosnia for brevity). We're officially allowed to stay overnight, the shrewd lass doubling as guardian and snack shop owner has minted us for €10 for 24 hours parking (give or take a few hours).
Having reached the pointy end of Croatia, we'd decided to brave it and head north through Bosnia, rather than retracing our steps. A land little spoken about in motorhome circles, databases of parking spots oddly empty and seen by some UK companies as not even part of Europe. The obvious talking point is the recentish war, ending in 1995, the same year the fighting concluded in neighbouring Croatia, under the Dayton Agreement. A Czech lady, who had a Bosnian father, asked 'why are you going there? There's nothing there? We came anyway, we are curious.
Approaching the border at Brgat, Croatian customs check passports and wave us on. The blinds down, the official's face is hidden. No man's land of a hundred meters and the second border post, marked with a yellow Bosnian flag, drooping in the heat. We have no insurance for Bosnia, it's not part of the EU, and UK insurers must think it's not part of Europe either. We're nervous of these real borders, ones manned with armed guards. But what's this, a pooch, a tiny ball of black puppy fluff, all teeth. The guards manly ignore him playfully tumbling and testing his teeth. We jump out and announce we need insurance. The uniformed guard slaps a plain dressed, shifty looking chap, 'this is insurance man'. Insurance man smiles. Pay day. We smile back, lambs with euros. 'Where you go?' he ambiguously asks? 'Sarajevo' we say, twisting the end of the word into a retaliatory question. 'How long you stay?' he asks, flicking through a stack of papers in a leather binder. Cutting the story, he wants €75 for two weeks, €55 for 5 days or €35 for 3 days. He'll take Croatian Kuna he says if we have no Euros, no mention is made of Bosnia's actual currency, the Convertible Mark. When we opt for the five day variant of this rip off, I sneak a look into the portakabin while he writes out the insurance paperwork. Three uniformed officers are on duty, one is single finger feeding our passport details in, the others are handling cold beers, smiling. It's 10am, good time to cross maybe, while the guards are sober. The insurance paper comes back with 90 KM written on it, about €10 had quietly slipped into a pocket.
Bosnia, this far flung southern bit at least, is a hilly Mediterranean type place. The road is smooth, with the odd whoomph of a dip, catching out the unwary (us). The upper valley slopes have little scrub,like Bosnia itself is baring its tufty-haired chest, demanding 'what you lookin at?'.
Dave's diesel is being rapidly depleted, a modern petrol station appears (the first we see in maybe 20 miles). The attendant asks for Euros. We show a Visa card and my, literally, empty wallet. He gives in and takes the card. Diesel costs 2.29KM a litre, about £1 a litre. Cheap to us, not to the locals maybe, it often feels like the road's been laid just for us, a grey version of the VIP carpet.
Trebinje looms. We're still running rather nervous and opt to keep going. At Stolac we man/woman up and pull in to a small, busy car park, nothing but BiH plates. A passing policemen, a thin fella, benign in faded clothes, helpfully points out the one bank in town. A new and curious currency later, we retire to a bar, the outdoor tables full of twenty-something men in vests, some drinking others smoking. We survey the scene, speaking quietly to one another.
Behind Ju, the bar wall raises up to an apartment. The render is pock marked with bullet impacts. The illuminated sign is smashed. In front a JCB is working inside a dilapidated building, thumping it apart with a pneumatic hammer. To our right, one of the few new things, a pencil shaped minaret topped with loud speakers, reminding us Muslims live here. Another minaret has a sign attached; it was dynamited in the war and was rebuilt with, interestingly, EU money.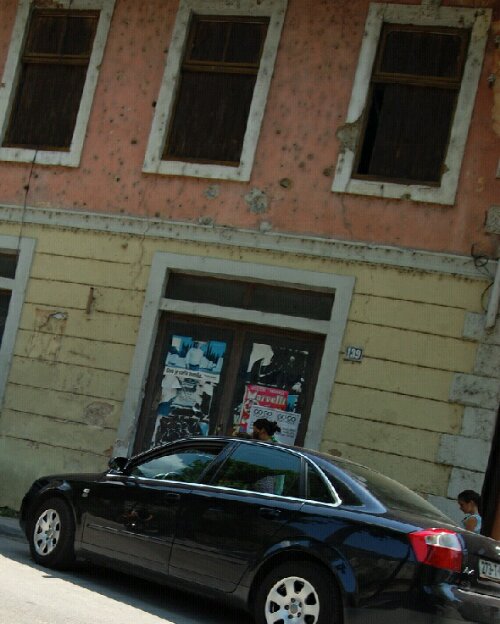 A walk up the hill to the ruined old town above was abandoned, eagle eyed Ju had spotted minefield signs, overgrown, on the other side of the hill. As we wandered back, the hauntingly beautiful call to prayer, reminded us of Morocco, but here women wear western clothes, none of the ale-swilling fellas made off to the mosques. Croatia has, along the Adriatic at least, wiped away the war. Here it is clear and present, roofless buildings stand empty, house numbers rendered useless, opportunist trees poke through glassless iron-barred windows. Ageing destruction abounds, and the men sit and drink.
Northwards towards a campsite, roughly in line with Hvar, we get lost. Satnav shows a tiny car floating along, TomTom doesn't think Bosnia is in Europe either. A nameless town draws us in, and Dave is parked roughly under a tree, desperate for shade. Charlie heads outside, drawing the attention of a car full of men who pull in beside us. More jumpiness. They look for all the world thugs, thieves, drug pushers, pimps, anything but good honest men. Of course, it turns out honest men they are, slowly stroking Charlie, speaking in a few German and English words. They invite us inside, pointing at a lonely photo high on the wall. It shows a small waterfall, 25m, but spread wide around a lake. They're clearly proud of the place, and make it clear we'll be cooler there, concerned at Charlie's panting. An offer of a drink is declined, jumpiness not entirely defeated.
And that's why we're here. The waterfalls are lovely, packed with sweating tourists from across Europe, coaches bringing more. Heat drifts away as the path drops into the ground. A father and son combo walk and talk us down the path. The elder gent, bald and sporting a t bag shirt, is visiting family in Mostar. He made a sharp exit in the war, and was given one option of a place to settle: Sweden. He learned Swedish and English, working for Swedish immigration to keep people out, he jokes. His mohicaned son was born in Sweden, and talks like a machine gun, perfect English, taught from video games he says.
A dip in the lake and a head-hammering waterfall photo or two, cooled us off. Ju's back down there now with Charlie, it's been over 40 up here, the locals leave car windows open. Time for me to head down too.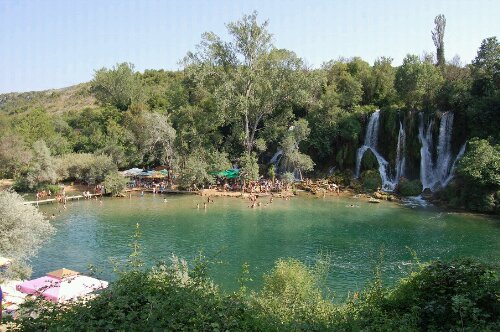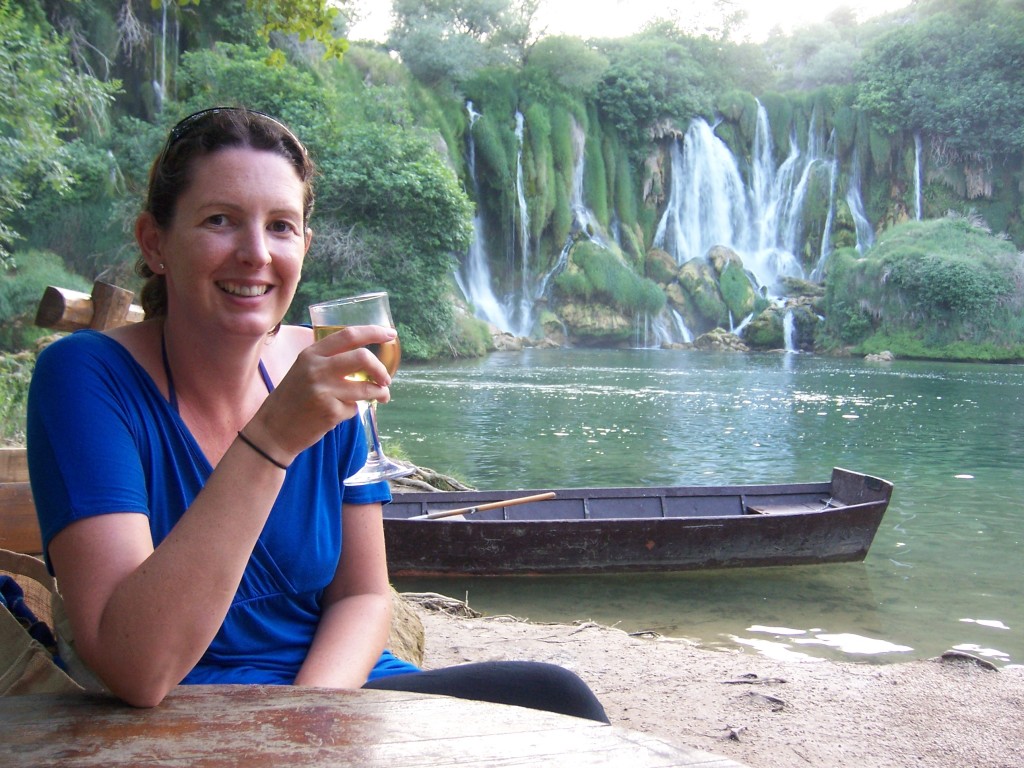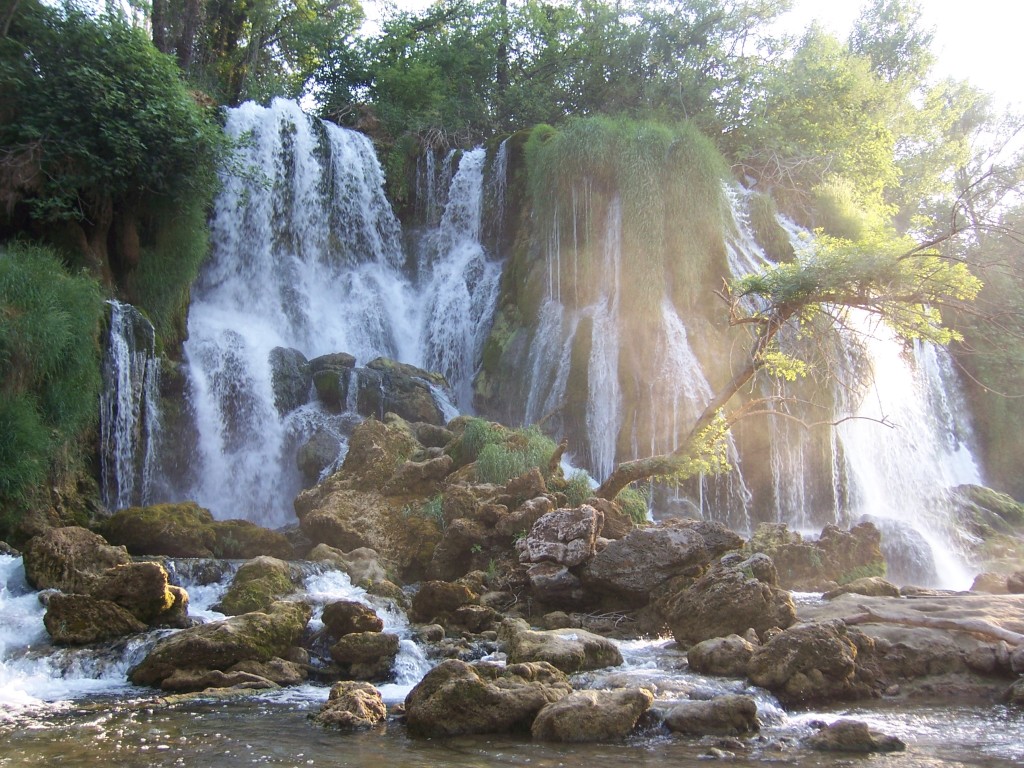 Cheers, Jay