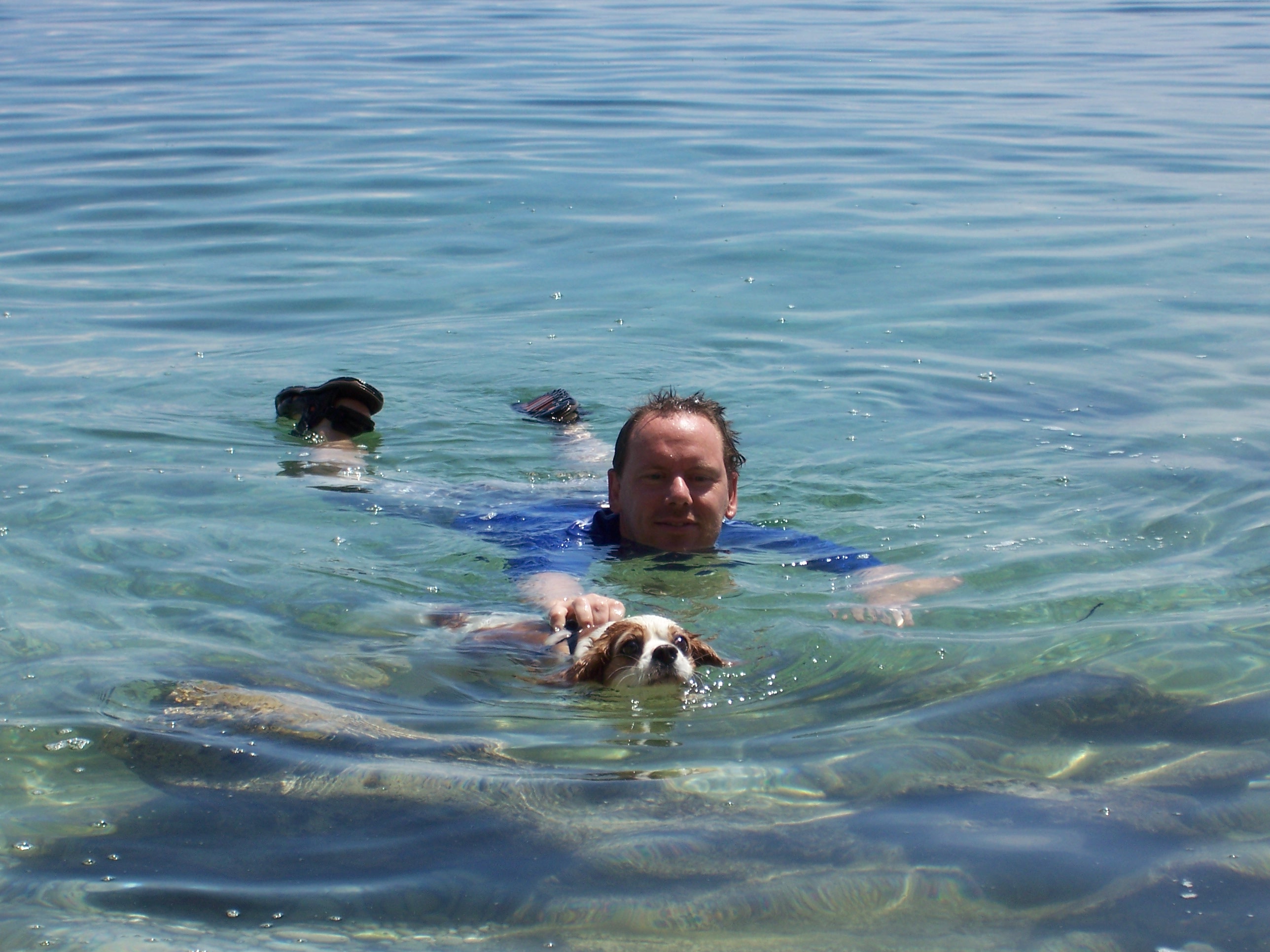 Dave the motorhome is still parked up at Autocamp Moscenicka Draga in Croatia.
We took Charlie out for his late night walk last night and as we stepped outside Dave there was a cheer. Sadly it wasn't for us. The site is full of Dutch and German motorhomes so we figured one of the teams had scored in the Euro 2012 match. Instead of walking around the site, we strolled down into the little village, past the few bars with TV's and projectors hanging up outside. Germany had scored and they were now in the lead going into half time. I suspect many of the people who got up and left the bars just as the teams left the pitch were Dutch.
This morning Jay suggested we stop here another day – despite grumbling yesterday when he saw the price list. I suspect it's something to do with the location. The site is about 100m from the beach and there are several areas of rocks to snorkel around. I was happy to stop another day, it would mean I could finally get some laundry done (I know it's all work, work, work with me). We agreed to get some chores done then have a holiday day on the beach.
Door hinge fix five hadn't set properly, so we cleaned it down and started again, this time thoroughly mixing the nasty glue before applying it to the hinge. Then we spent half an hour of hand washing some of our dirty clothes stash, as I couldn't get the washing machine to work, then packed our stuff and headed for the sea.
The main beach was packed. We found ourselves a nice little cove between some rocks to chill out in and set up camp. The beaches around here are stoney, so Charlie took great delight in chasing stones …. for hours. Jay got ready to snorkel then took Charlie in for a swimming lesson as the sun was beating down on us – yes by the time we'd done everything back at Dave it was now midday! I videoed his lesson, as you can see his legs know what to do even when he's not in the water, and just ignore the look of terror in his eyes, we're sure he's loving every second.
After a few hours by the sea the clouds came over and it started to rain slightly. We had an umbrella with us to give Charlie some shade to sit in, yes we are far too soft on him, but we'd both had a bit of a swim and were getting a bit tired of throwing stones for Charlie. It's not like he brings back the one that you throw, but instead digs around at the edge of the water and picks up the biggest. We packed up and followed the crowds heading back up the road to their cars.
The washing machine on the site was now working, and as the rain didn't last that long, the rest of our laundry went in it. It's all outside drying, we're all inside reading (Jay), sleeping & snoring (Charlie) and writing this (me). Jay cooked Paella for tea, so now we've eaten all our emergency tasty tins – looks like we'll need a Lidl soon, good job there are plenty of them around here. As I'm typing this a cheer has gone up and fireworks have gone off (either that or someone has been shot). It looks like Croatia might have scored. Time to finish up here and head down to the bars for some people watching.
Tomorrow we'll head further around the coast to an ACSI site we've seen in the book. It's not as big as some of the monster sites further north – we've heard things get quieter the further south you go – and will only cost us €16 a night, we can just about stretch to that. It's a shame we're having to fork out for campsites, as it's really cheap to eat out here, but the campsite costs are using up most of our budget – perhaps we'll have a weekend splurge when we find a nice looking restaurant, after all it is Friday tomorrow.
Ju x
PS – hinge fix six has set and is in place, fingers crossed there will be no more hinge updates required.