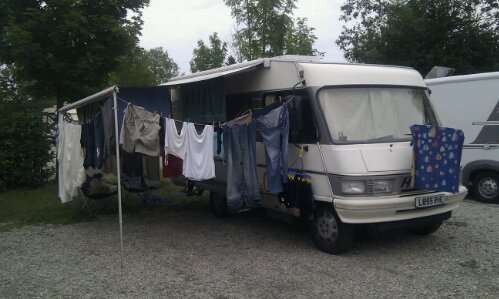 Dave the motorhome is weighed down in the Max 1 campsite in Bad Fussing, Germany (N48.33262 E13.31450).
Waking this morning we drew back Dave's curtains to what looked like an advert for a caravan magazine. A flash, soft top BMW and an even flasher (if that's possible) caravan complete with its own crest were accompanied by a smartly dressed, tanned and groomed family sitting round a table complete with table cloth and real glass glasses of orange juice. They seemed at the opposite end of the camping scale to us, wearing the same dog fur covered clothes as yesterday, and possibly the day before too. We need to shape up and give Dave a clean, and they need to park somewhere less incongruous than a patch of grass by the road.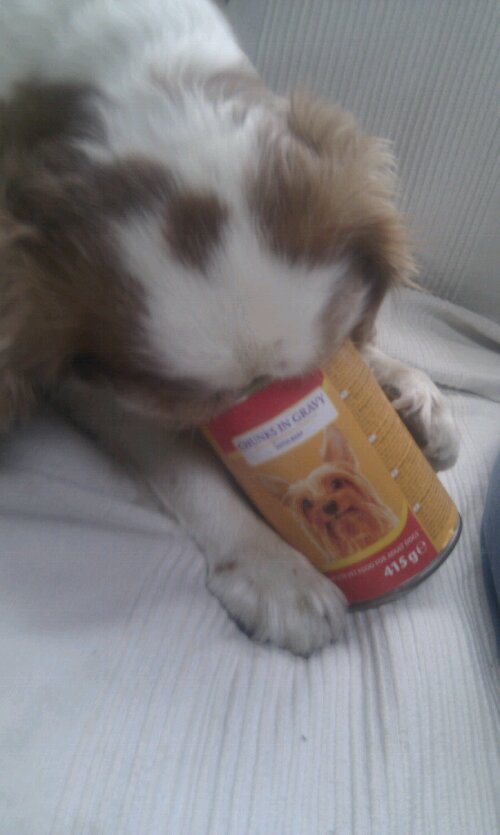 The laundry situation in Dave, was only mildly appeased with the hand washing we did in Prague, a laundrette needed to be found, and quite urgently. Talking to fellow motorhomers at the Stellplatz the conclusion was reached that we'd need to head for a big city/town or a campsite. A campsite? A dull bell rung in my head. While we were in Austria I checked for sites still taking camping cheques and found one just over the border in Germany – it may have taken us a few weeks to get here, but we're just over that border now. Campsite located, website checked to ensure they're still accepting cheques – they stop tomorrow – and away we go.
Trundling along the motorway our current station starts to fade, pressing the button for the radio to scan the airwaves it stops at our old friend 104.6 – four fm (pronounced fear fm in German!). The DJ's speak English most of the time, the language the news is announced in depends on the time – we think it's English on the hour and alternating French and German at half past. The best part comes when the DJ interviews someone, the ask the question in English, the reply comes back in German. We're unsure who the target audience for the station is, but at least we can catch up on the news. Today's sport report tells us that Usain Bolt, the fastest man in the world, is at the Olympics hoping to still become the fastest man in the world – it reminds me of local radio stations, I suspect they think no one is listening.
Passing huge fields of solar panels and building roofs virtually tiled in panels, all facing in different directions it starts to rain, not much electricity being generated today. Several roads leading to Bad Fussing are closed, no warning that we (or the car behind us) can see just a barrier across the roads. Satnav keeps calm but I suspect inside she is seething as we once again disobey her instructions. Finally we spot a sign for a campsite and follow it, it turns out to be a sign for another campsite, but fortunately in this vast area of green land and space our campsite is situated right next door as if there was a campsite argument one day and the waring factions decided to split.
The receptionist doesn't speak English, but we get registered and in, along with our all important key fobs for the bathrooms. I'm given a booklet with a map of the sites, several pages outlining the facilities, a page of rules for dogs – written by the campsites dogs – and a couple of pages of rules for humans. It's all in German, so we plan to only obey the obvious ones. Three loads of laundry go in (in one of the two laundrette on the site) and get hung up around Dave's awning – people stare, perhaps I've broken campsite rule 12.6.3, but I don't know. Besides drying in the sun is better for the environment, and more importantly free!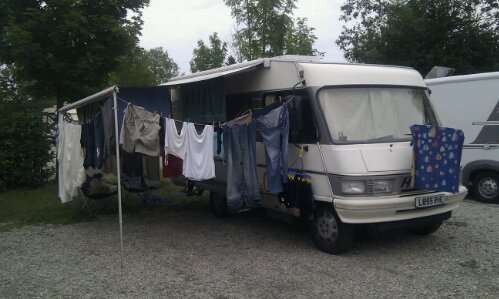 Taking Charlie for a walk around I find a natural swimming pool, a huge pool next to a smaller one which is roped off and full of reeds to filter the main pool. Sun loungers are dotted around the pool edge on manicured lawn. In yet another shower block I find the Hundbaden – a whole room dedicated to washing your dog. The walls tiled in beige and brown with strips of natural stones wouldn't look out of place in a spa. We nip back, grab Charlie's shampoo and before he knows it he's not enjoying a doggy spa. He opted not to use the hairdryer provided, preferring to dry au naturelle.
Walking back from the spa we pass the campsite restaurant, it looks great and as today's special is suckling pig with potato dumplings for €8, we won't be cooking tonight. We meet the other Brits on the site who have familiar accents to me, they're from a town just a few miles from where my Dad grew up – it's a small world.
Everything is hanging out drying, the pool is calling and Charlie is almost dry and snoring. Let Saturday night begin!
Ju x